People are escaping to the outdoors for getaways now more than ever. The idea of sleeping in the woods can be daunting, but it doesn't need to be complicated. An epic family camping adventure comes from planning and preparation.
This guide is filled with tent camping basics, with everything you need to confidently get out for your first night sleeping under the stars. And while we had tent camping in mind for our beginner's guide to camping, many of these tips apply to different types of camping. Whether your adventure is in an RV, camper, or cabin, read on for the most helpful first-time camping tips and how-tos.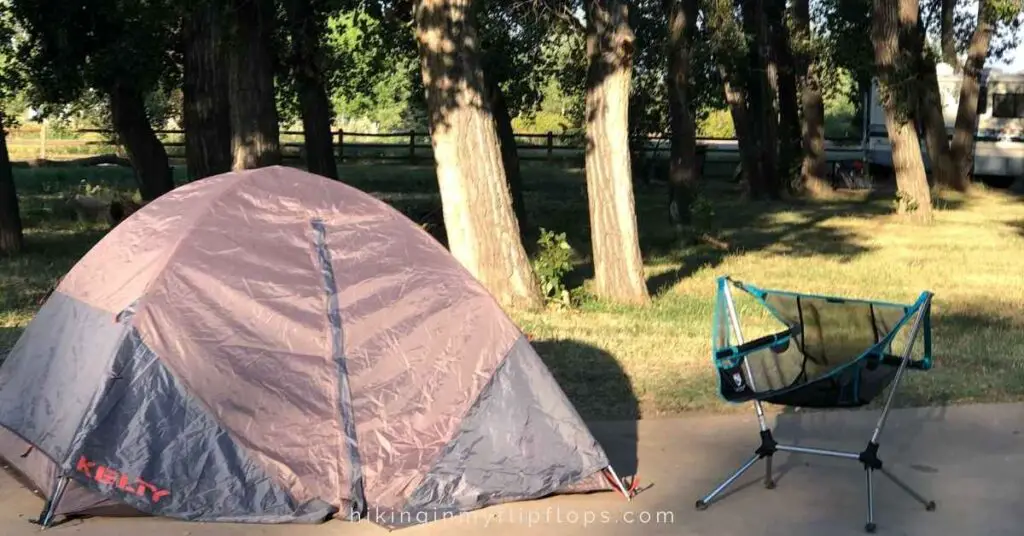 Why Go Camping?
It's one of the best outdoor adventures, and there are so many reasons to plan a family camping trip:
once you get your basic camping essentials, camping can be a very affordable getaway with friends or family
it's the best way to be connected to nature, surrounded by the forest and wildlife
there is a quiet or stillness when you're away from distractions at home (like all those electronic devices)
kids and adults learn to be resourceful and even some basic survival techniques, like making a campfire
plenty of quality time with family, whether you're camping with teens or have younger kids, spend time working together setting up camp or talking around the campfire
How to Plan a Camping Trip
Camping is one of our favorite outdoor family activities, so we've had a lot of practice streamlining our planning. Being well-prepared can almost guarantee a successful camping trip.
Since we're talking about tent camping for beginners here, we recommend camping at an established campground rather than dispersed or backcountry camping. If camping means immersing yourself in nature, then look for primitive campsites at developed campgrounds where there is access to amenities.
The Best Time to Go Camping (and for How Long)
Plan for your first time camping when the weather is mild. Avoid cold weather camping when more planning is needed to keep you warm. High summertime temps can get uncomfortable, especially at night.
Keep in mind: Desert and mountain locations may have extremely low nighttime temperatures even though summer days are warm and sunny.
Choose a day when you can make an early arrival until you're comfortable with tent camping basics. Setting up camp in the dark can be difficult and frustrating – and one of the most common camping mistakes that even experienced campers make.
Plan a short trip when camping for the first time. As a beginner camper, a short trip means you won't need as many supplies.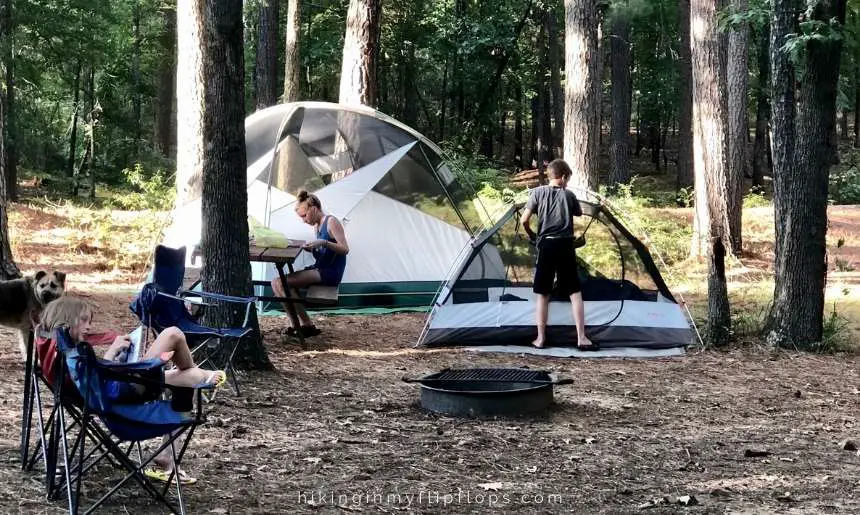 Finding a Campground and Choosing a Campsite
Finding the perfect place to go camping is just as important as when you go. There are many options, so think about the type of experience you're looking for, including activities, amenities, and campsite location.
Choose a campground based on the amenities (or lack thereof if you want a more primitive camping experience). Some are limited to a picnic table and a fire ring at the campsite, with access to vault toilets and a potable water source. Other campgrounds have resort features like pools, restaurants, organized outdoor activities, and even glamping accommodations.
Tent Camping 101 Tip #1: Glamping is a "luxury" style of camping and can be a great way to ease into your first-time tent camping. Look for rustic cabins, yurts, or canvas glamping tents.
When selecting a campground, consider choosing one with plenty of designated tent sites. Setting up a tent in a sea of RVs and campers can really take away from the camping experience. 
Tent Camping 101 Tip #2: If you need to be connected during your trip, make sure there is WiFi or cell service at the campground. And check out these tips on charging your phone while camping.
Keep the distance to a minimum and camp close to home for your first trip. If you forget something, are camping with young children who aren't sleeping well, or unexpected weather rolls in, you can get home if you feel unprepared. (We've made trips back to the house for all of these reasons over the years!)
If close to home isn't an option, try to find a campground close to town where you can get to grocery stores and gas stations for supplies if needed.
Tent Camping 101 Tip #3: The camping reservation process can be frustrating at the most popular campgrounds, so reserve early – up to 6 months or a year in advance. National parks and many state parks fill up quickly, especially on holiday weekends and late spring through early fall.
Campground and Campsite Resources:
Tent Camping 101 Tip #4: Campgrounds with the name "resort" often mean amenities like a camp store, pool, mini-golf, laundry, hot showers, and sometimes even a restaurant on site. Chains like KOA and Jellystone Park have so many amenities that you won't feel like you're roughing it.
How to Choose a Campsite
Campsites are often described as RV, tent, or primitive sites. You may want to avoid campgrounds with sites that mostly accommodate RVs and campers.
Choose reservable camping sites over first-come, first-served (FCFS) sites for your first-time tent camping so you know what to expect at your campsite. If you do choose an FCFS site, your best chance of getting a campsite may be in the middle of the week.
Check whether the site is a walk-in. These are great for your first-time tent camping, but plan for a short walk to the site. 
Tent Camping 101 Tip #5: If you do choose an FCFS site, your best chance of getting a campsite may be in the middle of the week.
RV sites will have hookups for water, electricity, and/or sewer and sometimes allow tent camping at the site. Campsites with electric hookups may be a good solution if you don't want to go camping without electricity.
Tent Camping 101 Tip #6: Location matters: You may want to be close enough to bathrooms for easy access or farther away if you are a light sleeper and the foot traffic will keep you awake. Look for the proximity to trailheads, the camp host, RV campsites, and the campground entrance on the campground map.
Plan Your Camping Menu
Outdoor meals are one of the best things about camping. Everything tastes better when cooked outdoors, especially after a day full of playing and exploring around the campground.
Tent Camping 101 Tip #7: Make meals simple when camping for the first time. Choose a menu with make-ahead meals or that has few ingredients.
What is the Best Food to Take Camping?
There is no right answer to this, so you can generally follow what you like to cook and eat at home.
Plan a camping menu that works with your activities. If you plan to be out adventuring all day, then don't plan to cook chili from scratch.
Make-ahead meals are great for arrival and departure days so you can focus on setting up and breaking down camp. We have a tradition of bringing donuts for our last day of camping breakfast.
Don't forget the drinks, snacks, and a way to make your morning camp coffee!
Family Camping for Beginners: Meal Ideas
The best meals are cooked right over the campfire, from hot dogs or gourmet with cast iron or dutch oven cooking.
Tent Camping 101 Tip #8: Plan a meal around non-perishable food like ramen, mac-n-cheese, or tuna. Having ingredients that don't need refrigeration also provides a backup meal if we have trouble keeping food cold in the cooler. Dry pasta with a jar of sauce is an excellent option that everyone loves (just be sure to have a way to boil water at the campground).
Make a Packing List with the Essential Camping Gear
Making a complete list of everything you need is a planning step that even the most experienced campers take. Consider sticking to the camping basics to keep it simple for your first time camping.
There are just a few things you'll need for tent camping for beginners.
Tent Camping 101 Tip #9: Use what you can from home. Over time, you can build up your collection of camping equipment, focusing on more compact and easier-to-pack gear.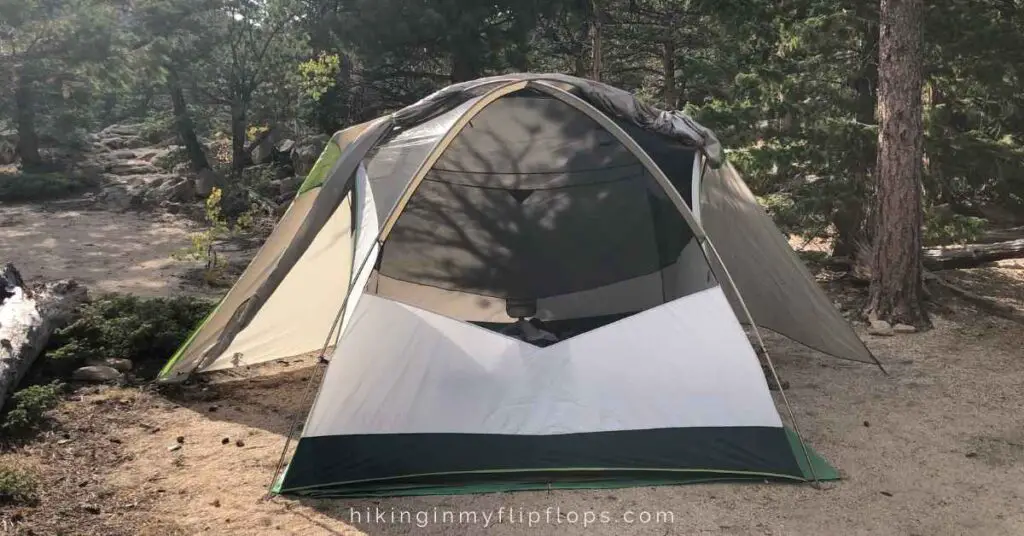 Camping for Beginners: Gear for Sleeping
The most essential item on your list is the tent. This is your most significant camping investment, so consider borrowing a tent for your first camping trip. Renting is also an option, but we've found that the cost is right around the same as some inexpensive tents for a weekend rental.
Tips for purchasing your tent:
there are several types of camping tents, but the size and the type of tent are the most important things to pay attention to
make sure a rain fly is included in case of heavy rains
a quality tent is good, but if you don't want to make the financial commitment, stick with a highly rated, affordable one
Coleman's Sundome Tent is one of the top recommended tents for beginners for the price and size
Tent Camping 101 Tip #10: Tent options can be overwhelming, but this guide to choosing the best tent for your family can help narrow down the options.
Once you have your tent, fill it with sleeping gear.
Go classic with sleeping bags paired with a sleeping pad or cot
Want to hold off on buying gear? Bring your inflatable air mattress, blankets, sheets, and pillows from home. Make sure you have a way to inflate your mattress if you need to plug it in. 
Tent Camping 101 Tip #11: Pay attention to the temperature rating of your sleeping bag because you don't want to be too hot or too cold
Build Your Camp Kitchen
Add everything you'll need to prep, cook, serve, eat, and clean up after meals with you to the campground.
Tent Camping 101 Tip #12: Disposable items are easier to clean up but create a lot of trash. We bring the non-breakable dishes we use for outdoor meals at home and everything we need to wash dishes at the campground (like a wash bin and biodegradable soap).
Pack plates, cups, and cutlery for eating and serving.
Have paper towels for quick cleanups.
Bring a camping stove with pots or pans for cooking.
Don't forget any additional items you will need for cooking based on your camping meal plan, like measuring cups, can openers, and food storage for leftovers.
Tent Camping 101 Tip #13: Even if you plan to cook over the campfire, plan to bring a camp stove as a backup if the fire doesn't work out.
Camping for Beginners: What to Wear Camping
Start with the same packing list you use for any travel, but opt for comfortable clothing that you don't mind getting dirty.
Consider extra layers for chilly nights and extra socks when feet get extra dirty.
Slip-on shoes for flip-flops are always nice to have for late-night bathroom trips.
And don't forget anything else you might need for activities you have planned during your trip, like hiking boots or swimsuits.
Toiletries and Personal Items to Bring Camping
Don't forget to add essential personal items to your list, like toothbrushes and toothpaste, deodorant, and a hairbrush or comb. Bring washcloths, shampoo, conditioner, soap, and towels if there are showers at the campground.
Consider bringing toilet paper, especially if the campground has only vault toilets (also called pit toilets).
In the summer months, bug spray and sunscreen are also essential.
Little Luxuries and Comforts of Home
You might be roughing it in the wilderness, but it doesn't mean you can't have a few comforts of home. A fan to circulate air if it's hot, an extra comfy camp chair for lounging, or go all out with an inflatable sofa for hanging out!
Camping for Beginners: Other Essential Gear
Bring a camp chair for each person to relax around the campfire.
You'll also need lighting around the campsite and in the tent after dark. Headlamps and flashlights are useful for seeing from a distance. Lanterns and string lights provide light over a broader area.
Pack up items for the best part of camping: the campfire. At the very least, you'll need a lighter and/or matches. Also, consider a firestarter to make it easier to get the fire going, a hatchet to create kindling, and a fireproof glove to handle hot logs.
A few tools and repair items like duct tape, a tent repair kit, bungee cords or paracord, and a first aid kit are also camping essentials.
And don't forget supplies needed to refill items like extra propane for your camp stove and batteries for flashlights.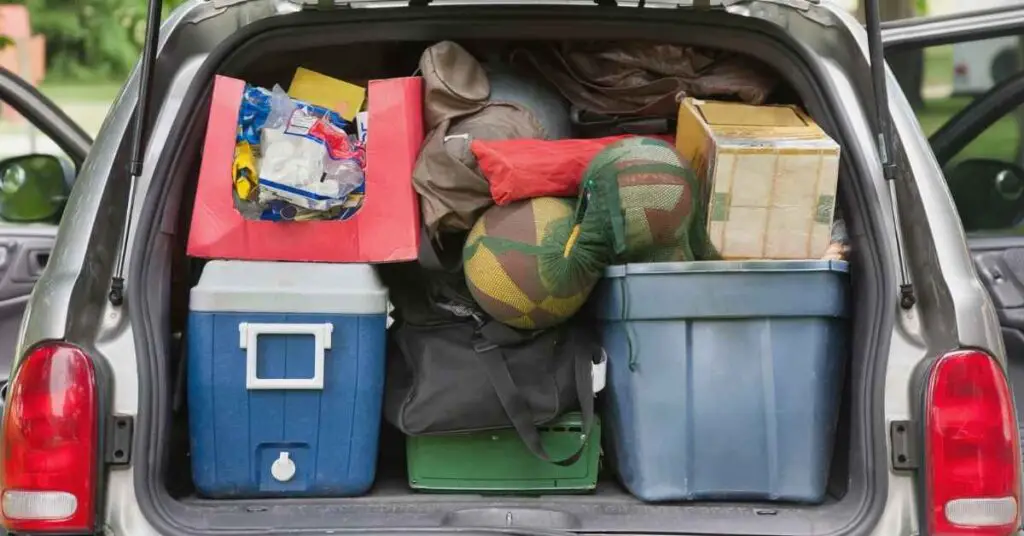 Pre-Trip Tips for Beginner Campers
do a dry run in your backyard to practice pitching your tent, including staking down the tent in case of wind and putting on the rainfly in case of rain
monitor the weather forecast to be prepared for rain or changes in temperature (you'll want to bring layers for any weather)
research the campground for amenities, like availability of drinking water, a place to purchase firewood and ice, and events and activities around the campground
plan how you will pack your car for your camping trip to keep items like the tent and cooler accessible when you arrive at the campground
Arriving At the Campground
Check-in and Registration
If you don't have it already, be on the lookout for information on check-in and registration as you arrive at the campground. If you reserved a specific site in advance, you might be able to go right to your campsite and start setting up. 
If available, get a campground map from the office or a ranger to locate activities and amenities around the campground.
Setting Up at Your Campsite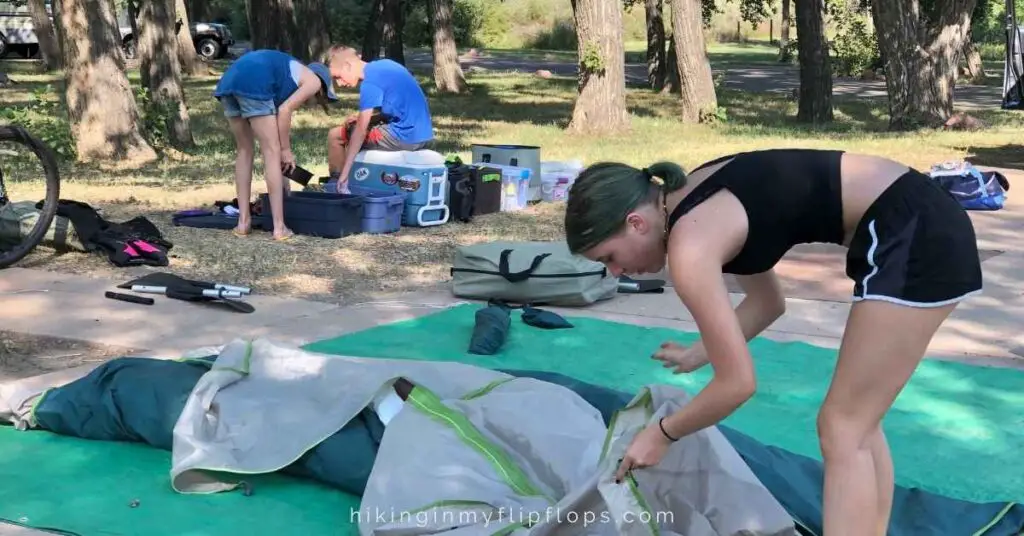 When you arrive, scope out the campsite to look for a flat spot for pitching the tent. The ground should be level and free of rocks, pinecones, and sticks that could poke holes in your tent or lead to restless sleep. Moving the picnic table to find the right spot is often ok, as long as you put it back where you find it when breaking camp.
Plan on about 30 minutes to an hour to set up. The more hands helping, the faster this goes, so don't be afraid to assign jobs to everyone!
pitch the tent, fitting the tent footprint (or a tarp or ground cloth) underneath with any extra material tucked up and under the tent 
set sleeping bags or beds up inside the tent
put camp chairs out around the fire pit
get your camp kitchen organized
prepare for dark by getting camping lights out (flashlights, strings lights, and lanterns) 
start a campfire (if you're not heading off to explore right away)
Use your vehicle for extra storage space if needed. We keep items like games and activities, bottles of water, and other gear in the back of the car. We also store firewood under your vehicle to protect you from any rain or moisture from morning dew. 
Tips for Building an Epic Campfire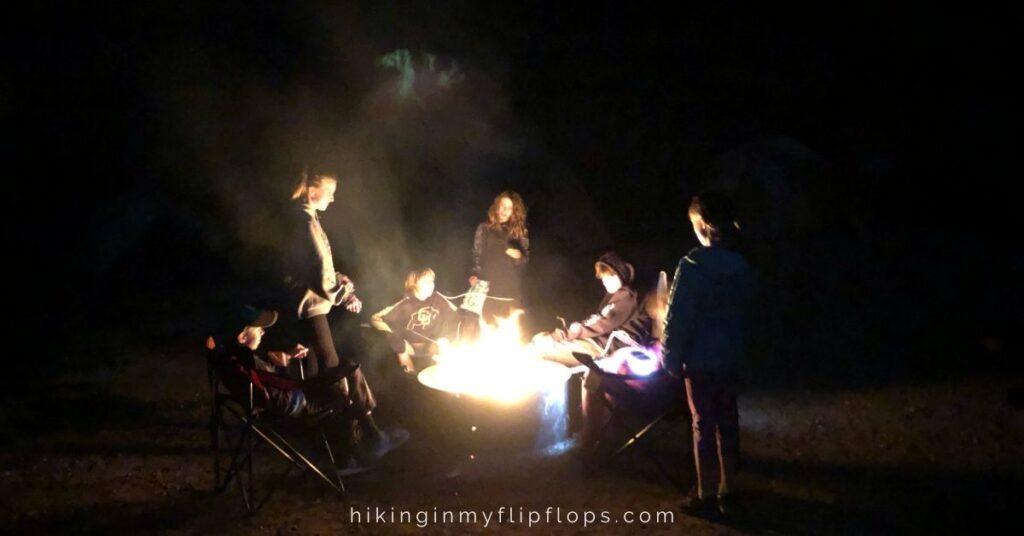 Camping just isn't the same without a campfire. And if you're relying on a campfire to cook your meal, it's essential to know how to get a campfire started.
Make sure to have dry firewood, preferably bought at the campground or nearby. Plan on buying at least one bundle per day. You may use more if the wood is very dry and burns quickly or you make multiple fires each day. 
Bring backup lighters or matches (in case matches get wet or lighter fluid runs out) and a fire starter to help get things going. 
Start the fire with kindling (very small pieces of wood, twigs, or dry grass), then lay on larger logs as the fire takes hold.
Cooking over glowing logs rather than flames allows food to cook through without burning on the outside. 
Tent Camping 101 Tip #14: Some campgrounds prohibit campfires in hot, dry weather to prevent forest fires. Make sure to check that there are no fire bans in the area if you don't want to camp without a fire.
Car Camping for Beginners: Safety Tips
Keeping Bugs, Critters, and Other Wildlife Away
Yes, there will be bugs and critters at your campsite! It's part of the fun and connecting with nature. We still want to keep our distance for our protection and theirs.
Don't leave food or trash out. Keep food secured in containers and preferably in the car when not using them. Never keep food in your tent. 
Zip up the tent doors, placing the zipper pulls at the top of the door to keep unwanted guests from making their way in through a little gap in the tent door.
Mosquitoes can make a camping trip miserable. Have bug spray and anti-itch cream for bug bites on hand, or try these other ways to combat mosquitoes when camping. 
Don't feed any wild animals that come to your site because they'll just keep coming back for more of your yummy treats.
Bear Safety for New Campers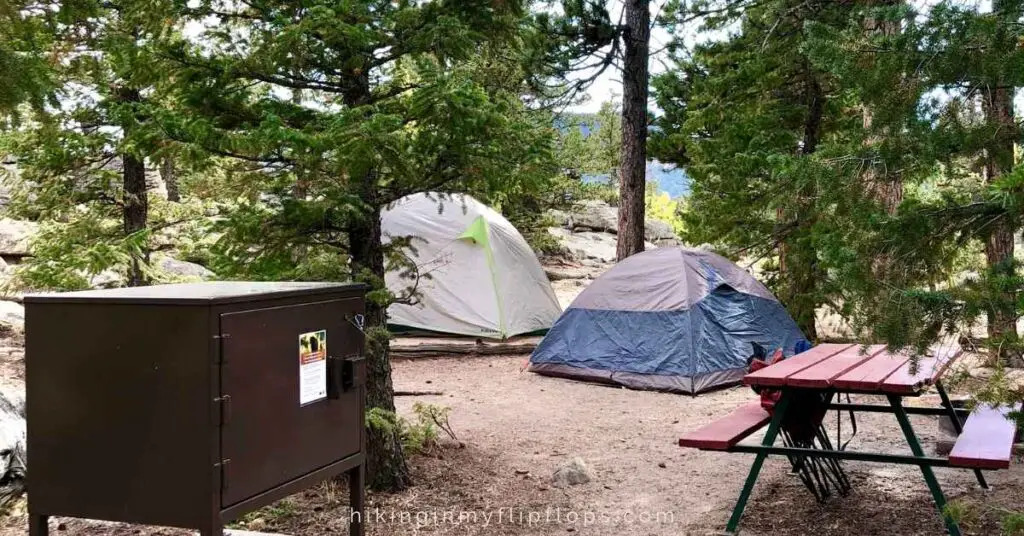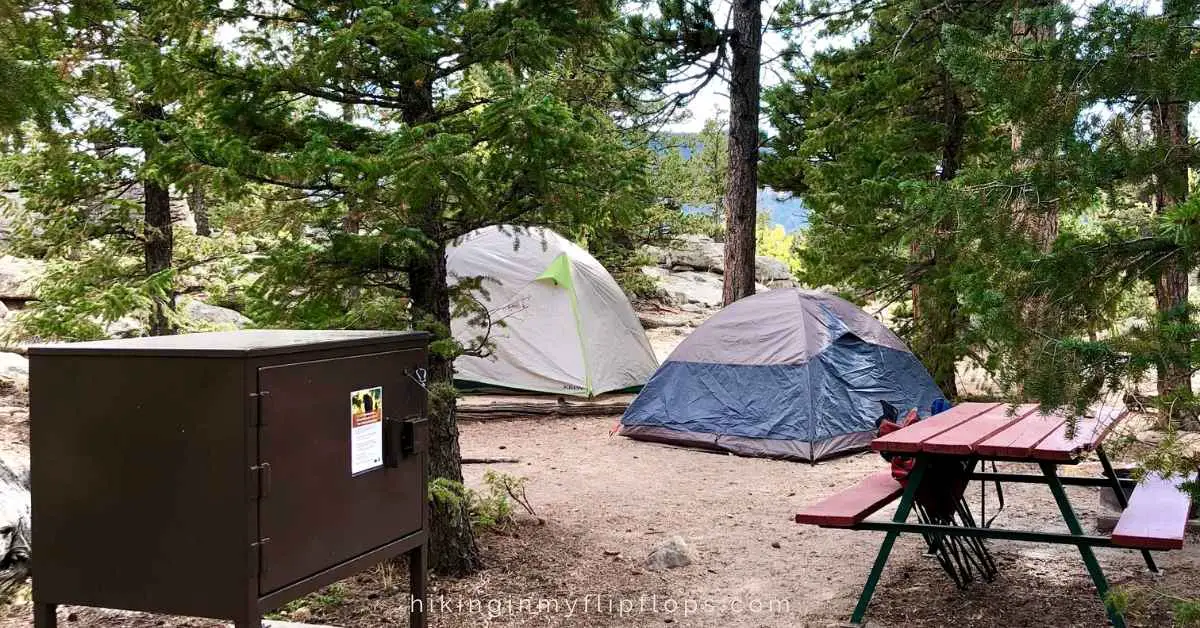 Many of the best places for camping are also home to bears, which means extra safety precautions for bear country. When camping in these areas, be sure to follow the advice of the campground and rangers, which may include packing bear spray.
Read more on staying safe from bears while camping here.
Tent Camping 101 Tip #15: Bears will stay away if nothing is to attract them to your site. If a bear locker is provided at or near your campsite, use it to store all food, toiletries, and other scented items. Otherwise, these items can be stored in your car.
Fire Safety
Campfire safety not only protects you but protects the land from wildfires.
Be aware of any fire dangers or restrictions in the area.
Keep kids away from the fire and the fire rings and grates that get as hot as the fire itself.
Ensure your campfire is completely out before leaving the campsite or going to bed by drenching it in water. Keep watch for a few minutes to make sure it is completely out.
Camping Etiquette for New Campers
Read (and Obey) the Campground Rules and Regulations
Campground rules can vary, so make sure to get familiar with regulations set for safety reasons or preserve the land you're using. 
You will find information on trash pick up, gathering of firewood, use of trees for hammocks and paracord, quiet hours, and check-out time.
Leave No Trace
Picking flowers, feeding animals, and leaving trash negatively impacts our land. As tempting as it may be, always remember the basic principle of Leave No Trace: "Take only memories, leave only footprints."
The campground rules will provide information on trash disposal, collection of wood for campfires, and other ways you can help leave no trace.
Be a Good Camping Neighbor
It's entirely likely you won't be the only one at the campground, so we're including a few camping etiquette tips in the beginner's guide to camping. Following these few simple guidelines will make everyone's camping experience better.
Camping Do's
respect quiet hours so your fellow campers can enjoy nature
leave the campsite just as you found it (remove any trash, replace the picnic table if you moved it, etc.)
keep pets on a leash
Camping Don'ts
walk through other's campsites 
move fire rings without permission
keep lights too bright at night
Things to Do: Fun Camping Activities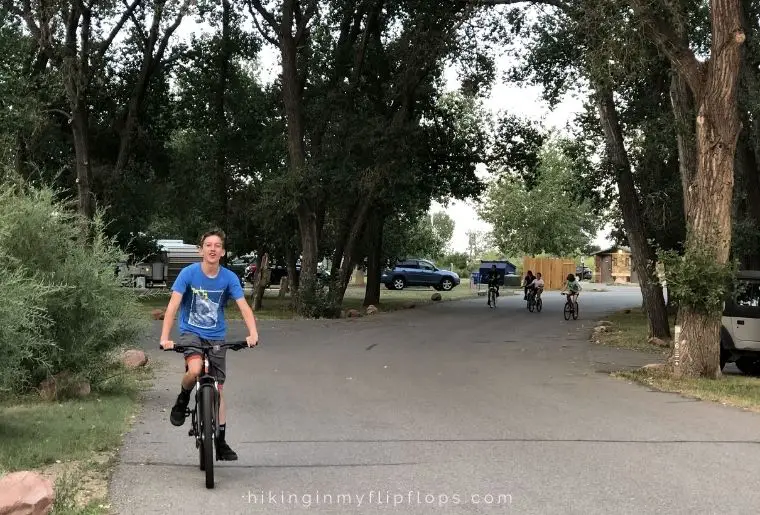 Before your trip, research the campground for the amenities offered. Look for camping activities like nearby trails for hiking, lakes for swimming, and rivers for fishing. Make sure to include any gear needed for activities on your packing list, like a water bottle, swimsuit, or fishing pole for each person.
While camping is an excellent way to slow down and embrace the outdoors and nature, prepare a few things to do while camping, especially at the campsite after dark. It's also good to have some activities planned in the case of unexpected rain. 
A Few Camping Activity Ideas 
Read a book
Play outdoor lawn games, like cornhole or washers
Cook a gourmet meal (because outdoor meals are one of the best parts of camping!)
Take an afternoon nap
Camping Activities Especially for the Kids 
Camping-themed scavenger hunt
Play card or board games
Make hiking snack necklaces
Find new bugs, leaves, and rocks
More Useful Tent Camping Tips for Beginners
Prepare for Any Weather
Sweltering hot days, nights that reach bone-chilling low temps, or miserable rainy weather can make or break a camping trip. 
As you keep a watch on the weather before you leave for your camping trip, consider a few extra items instead of being tempted to cancel your trip. Check both the high and low nighttime temps and the chance of rain during your trip. Add just a few items to your gear to be prepared for any weather.
a canopy protects from rain or provides shade when camping on hot days
small cooling towels are easy to pack and work really well in hot weather
hand and foot warmers provide warmth on those really cold camping nights
Tips for Camping with Dogs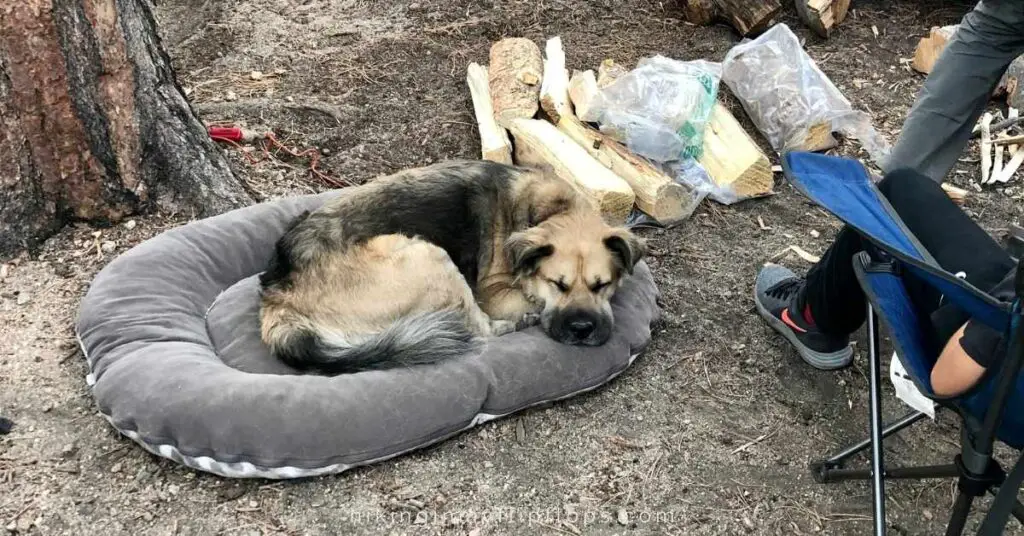 Many dogs love to get out for a camping trip as much as their owners do. We often bring our dog along with us, and she has always been welcomed at the campground – but we still always check ahead to be sure. Leashed dogs are always a must, so they don't wander into other campsites or chase wildlife.
Keep in mind that your dog may not be welcome everywhere. Inside buildings or hiking trails may be off-limits to pets.
Make sure to secure pet food the same way you do with your food. Critters aren't picky and are just as happy to find a stash of your dog's food to feast on.
Don't forget to bring gear for your dog too. Bring their bed, food, bowls, toys, and leashes.
Pack extra water for your dog and have a shady place to keep cool in hot weather. For cold weather, keep your dog warm while camping with items like extra blankets, and take advantage of the extra body heat in the tent at night. 
Frequently Asked Questions
---
Are you new to camping? Ask us any questions you have on family camping for beginners in the comments section!
---
Click below to save these camping basics for beginners on Pinterest!