People are escaping to the outdoors for getaways now more than ever. The idea of sleeping in the woods can be daunting, but it doesn't need to be complicated. This guide to tent camping for beginners shows you just what you need to confidently get out on your first camping trip.
While we wrote this beginner's guide to camping with tent camping in mind, many of these tips apply to different types of camping. Whether camping in an RV, camper, or cabin, read on for some great tips in this camping tips for beginners.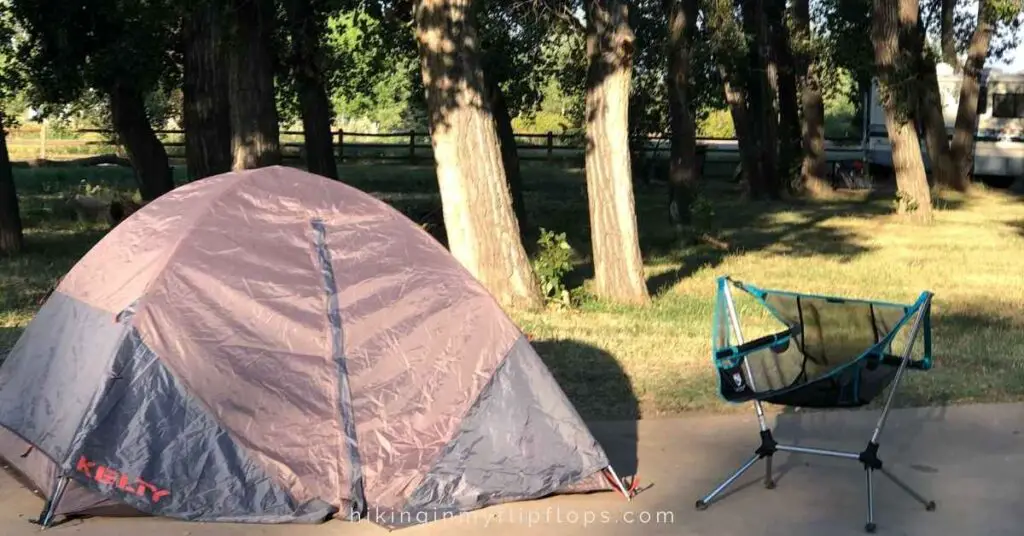 How to Plan a Camping Trip
We simplify planning for one of our favorite outdoor family activities into just 3 steps when planning a camping trip. First, we find a campground and choose a campsite. After our reservation is made, we determine what gear we'll need. Then the fun part – we make our camping menu.
1. Find A Place to Go Camping
The first of our camping tips for beginners (and seasoned campers) is, to begin with finding a place to camp. There are many options, so think about the type of experience you're looking for, the kind of camping you're doing, and the amenities you want.
Where to Find a Campground
Use reserveamerica.com and recreation.gov to find campgrounds in State Parks, National Parks, and other public lands. These generally have fewer amenities but are more immersed in nature.
Use Google maps to search "campgrounds state" or, more specifically, "private campgrounds state." Private campgrounds can often give that same outdoor experience, but can also have more concrete than grass or sit next to a highway. 
The Dyrt is a campground finder and review site, and has recommendations for RV and tent camping for beginners and as well as more experienced campers.
AllStays Camp & Tent is a paid app to locate tent sites, with a separate app for all types of campsites (tents and RVs). We have not used either app, but the reviews look promising.
Pro Tip:
When searching for campgrounds, especially private campgrounds, be sure that it's not an RV-only park or seasonal campground.
What to Look for in a Campground
Campground Amenities & Features
---
Finding the perfect campground can be overwhelming. If specific amenities are essential for your camping experience, narrow the options down by what the campgrounds offer. 
The most basic amenities typically include firewood for sale and bathrooms at the campground. Some campgrounds have resort features like pools, restaurants, and organized activities.
Look for things like camp stores where you can restock on firewood and ice, showers, and lakes or pools for swimming.
Camping resorts often have everything you'll need at the campground. Camp stores, pools, mini-golf, laundry, hot showers, and sometimes even a restaurant on site. Chains like KOA and Jellystone Park have so many amenities, you won't feel like you're roughing it at all. Keep in mind that many of these types of campgrounds tend to have more RVs and campers than tents, which may take away from the outdoorsy and wild camping experience.
Types of Campsites
---
Campsites are often described as RV, tent, or primitive sites. Look for campgrounds with the type of site that gives you the camping experience you're looking for.
RV sites will have hookups for water, electricity, and/or sewer. Tents are sometimes allowed on sites with RV hookups, but it's best to check with the campground. A tent surrounded by RVs and campers isn't always the best experience, even if they do. However, RV sites may be a good solution if you need access to electricity.
Tent sites may have an electric hookup, but it's not too common – especially in public campgrounds. This type of campsite often has parking available right at the site with easy access to your car.
Primitive campsites will most certainly not have electricity available and may have parking a short walk from the site. 
While it's unlikely you'll come across backcountry sites in your search, it might be good to know that these are hike-in campsites, usually with no more than something to mark the spot. 
Choosing a Campsite
Once you've landed on a campground or two, it's worth taking a little time to research the campsites before choosing one.
How to Research Campsites
---
The amount of information provided can vary between campgrounds, but it will give you an idea of what to expect.
The campground map will show the site proximity to restrooms, RV sites (tent campers usually avoid being surrounded by RVs and campers), the campground host, and an idea of the distance between campsites. 
For tent sites, check to see if the site is a walk-to (usually no more than a few hundred feet) or drive up sites. 
Check review websites like the Google maps (the satellite view can be useful too!), The Dyrt, and CampsitePhotos.com for site recommendations from other campers. There are also some great books with campground details for site recommendations.
Check out the availability of a few campgrounds, and if it looks like it could be tough to get a spot, find when the reservation window opens. Many are 6 months to a year in advance.
Pro Tip:
In many cases, plan ahead – way ahead. National Parks and many state parks fill up quickly, especially on holiday weekends, late spring, and early fall.
Campgrounds may also have first-come, first-served sites available (FCFS). Be sure to arrive early to snag one of these sites and prepare a backup plan if those are already taken.
2. Get Your Camping Gear
What Do You Need for a Beginner Camping Trip?
There are just a few things you'll need for tent camping for beginners. Most of the packing list is gear for sleeping, eating, and relaxing. You'll also want to have a few emergency/repair items and something to find your way around after dark. Get more recommendations on building a camping checklist here.
Some gear can be from things you have at home. Over time, you can build up your collection of equipment, focusing on space-saving camping gear that will make packing for your trips faster and easier.
A Tent and Bedding
This is the most significant camping investment you'll make and is often the hardest decision. There are many options for all camping budgets, but you'll want to do some research, so you choose the right tent for you.
How do you choose? After buying our 5th tent, we finally found the best way to narrow down the options. Find the best way to find a camping tent here.
Find a sleep system that works for you. This can be any combination of a sleeping bag, air mattress, sleeping pad, cot, pillows, and blankets. 
If you're up for a little more adventure, skip the tent and opt for sleeping right under the stars in a hammock!
Gear for Your Outdoor Kitchen
Bring everything you'll need to prep, cook, serve, eat, and clean with at the campground. Making meals too elaborate is time-consuming (but so delicious in the outdoors!), so you may want to plan some meals that require less gear.
Camping Chairs for Chilling
Relaxing by the campfire is one of the best parts of camping, and a good, comfy camping chair makes it even better. 
Chairs are not all created equal, though. Extra comfy chairs, like a gravity chair, are bulky and can be challenging to transport. Ultra-portable chairs pack well but are not always good options for curling up by the campfire.
Other Camp Gear
Lighting
---
Without all of the light pollution coming in from the city, a campground can get really dark at night. Have some reliable ways to make your way around the campsite and for middle-of-the-night trips to the restroom. Read more lighting ideas for your campsite and tent here.
Lanterns are best to light up larger areas, like the picnic table or the inside of the tent.
Have a flashlight to light up the path ahead of you. These are great for a middle of the night run to the restroom. 
Headlamps are a hands-free version of a flashlight, useful when cooking or starting the campfire. Choose one that has a red light setting, because these are dark sky friendly.
Whichever you choose, make sure you're prepared to keep the light going. You may need extra batteries or fuel, or remember to charge solar-powered lights in advance.
Keep in mind:
Solar-powered lighting is excellent because you don't risk batteries dying in the middle of your trip. However, if a solar light goes out, you're stuck until you can power back up in the sun.
Gear to Build a Campfire
---
To build an epic campfire, we carry the following items:
lighter and/or matches (at least 2 so we have a backup)
fire starter
hatchet to create kindling from the firewood
fireproof glove to handle hot logs.
Preparing for Small Emergencies
---
Be prepared for emergencies and gear repair by packing just a few smaller items:
duct tape
tent repair kit to repair tears or holes
extra tent stakes in case of high winds or broken stake
small tarp to protect from unexpected rain or to provide additional shade
first aid kit to treat minor injuries or illnesses
bungee cords and/or paracord to hang items like tarps or strap things down
3. Plan a Camping Menu
What is the Best Food to Take Camping?
Follow what you like to cook and eat at home. You can make almost anything at a campground that you can make at home. Make a gourmet meal if that's your style, or stop for pizza on your way to the campground if that is more your thing.
Outdoor meals are one of the best things about camping. Everything tastes better when cooked outdoors, especially after a day full of playing and exploring around the campground.
Choose a menu that works with your activities. If you plan to be out adventuring all day, then don't plan to cook chili from scratch.
Shelf-stable (ramen, mac-n-cheese, tuna) are good back up meals in case the ice isn't holding up in the cooler for some reason.
Make ahead meals are great for arrival and departure days so you can focus on set up and breaking down camp. 
Meal Ideas for Your Tent Camping for Beginners Menu
New campers shouldn't miss out on the traditional camping meals like cooking hot dogs, foil packs, mountain pies, s'mores cooked over the campfire. These are outdoor versions of some favorite meals you cook at home. 
Plan some no-cook meals for rainy or hot weather or when there's just not enough time to get that fire ready. 
The best meals are cooked right over the campfire. Go simple with hot dogs or gourmet with cast iron or dutch oven cooking.
We also like to have a meal or two that has ingredients that don't need refrigeration, just in case. We'll always have food and drinks that require a cooler, and these tips found here will ensure your food stays cold throughout your camping trip.
Arriving at the Campground
Some campgrounds have an office for check-in; others have a gated entry or just a kiosk with information. Signs on the way in will have information on the check-in process. If available, get a campground map from the office or a ranger.
Setting Up Camp
When you arrive, scope out the campsite to find a flat area for pitching the tent. Make sure the site is free of rocks, pinecones, and sticks that could poke holes in your tent or lead to restless sleep. 
Plan on about 30-45 minutes to set up. The more hands helping, the faster this goes, so don't be afraid to assign jobs to everyone!
pitch the tent
set up inside the tent
put camp chairs out around the fire pit
get your camp kitchen organized
prepare for dark by getting flashlights and lanterns out 
start a campfire (if not heading off to explore right away)
Exploring the Area
Once your campsite is set up, take a walk around the campground. Find the bathrooms, trailheads, camp store, and other campground amenities, so you can take advantage of everything the campground has to offer.
Once you have the lay of the land, set the older kids off to explore independently.
Tent Camping for Beginners: Things to Do While Camping
Take the time to embrace the outdoors and nature. Hiking, fishing, and geocaching are all usually available at campgrounds.
Things to Do at the Campsite
Read a book
Play outdoor lawn games, like cornhole or washers
Cook a gourmet meal, because outdoor meals are one of the best parts of camping!
Take an afternoon nap
Camping Activities for Kids 
Camping themed scavenger hunt
Play card or board games
Make hiking snack necklaces
Find new bugs, leaves, and rocks
Find more camping activity ideas here
Basic Safety and Etiquette Tips For New Campers
How to Stay Safe While Camping
Bear Safety for New Campers
Many of the best places for camping is where bears also live, but that also means extra safety precautions for bear country. When camping in these areas, be sure to follow the advice of the campground and rangers. 
Bears will stay away if nothing is to attract them to your site. If a bear locker is provided at or near your campsite, use it to store all food, toiletries, and other scented items. Otherwise, these items can be stored in your car.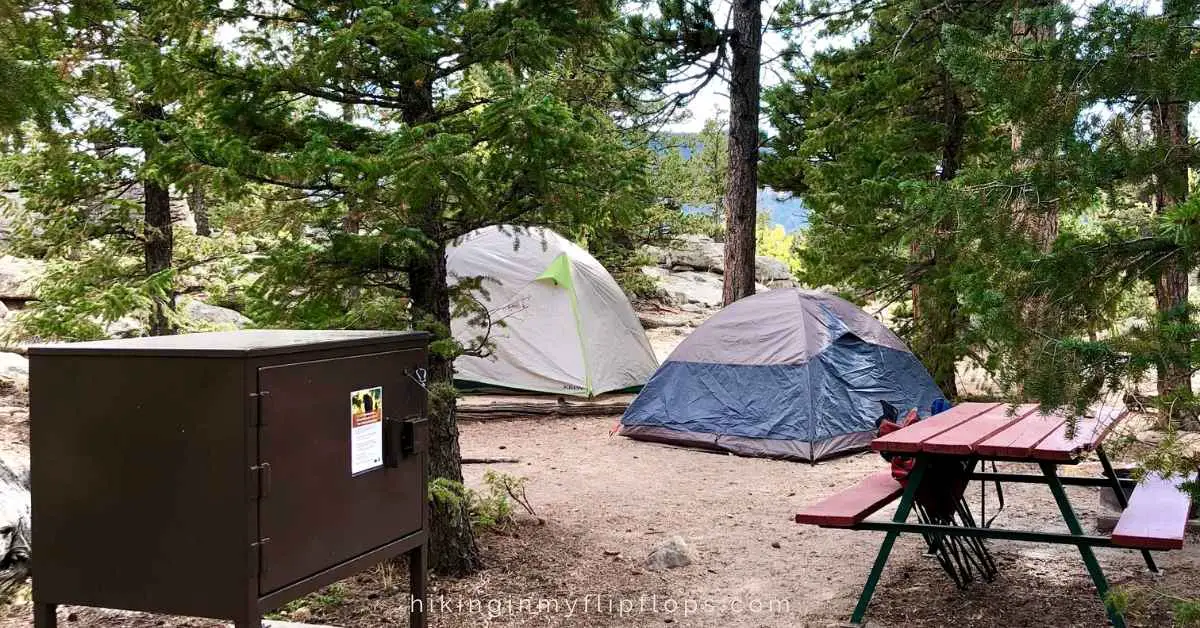 Fire Safety
Campfire safety not only protects you but protects the land from wildfires. 
Keep kids away from the fire and the fire rings and grates, which get as hot as the fire.
Ensure your campfire is completely out before leaving the campsite or going to bed by drenching it in water. Keep watch for a few minutes to make sure it is completely out.
Campground Etiquette
Leave No Trace
Picking flowers, feeding animals, and leaving trash negatively impacts our land. As tempting as it may be, always remember the basic principle of Leave No Trace: "Take only memories, leave only footprints."
The campground rules will provide information on trash disposal, collection of wood for campfires, and other ways you can help leave no trace.
Be a Good Camping Neighbor
It's entirely likely you won't be the only one at the campground, so we're including a few camping etiquette tips in the beginner's guide to camping. Following these few simple guidelines will make everyone's camping experience better.
DO
respect quiet hours 
move the picnic table back where you found it
keep pets on a leash
DON'T
walk through other's campsites 
move fire rings without permission
keep lights too bright at night
Related Reading: 19 Common Camping Mistakes We All Make (and How to Avoid Them)
More Camping Tips For Beginners
Keeping Bugs and Critters Away
Yes, there will be bugs and critters at your campsiIt'sIt's part of the fun and connecting with nature. We still want to keep our distance, though, both for our protection and theirs.
Don't leave food or trash out. Keep food secured in containers, and preferably in the car when not using them. Never keep food in your tent. 
Zip up the tent doors, with zipper pulls at the top of the door, so unwanted guests don't make their way into the tent.
Mosquitoes can make a camping trip miserable. Have bug spray and anti-itch cream on hand. 
Don't feed any animals that come to your site because they'll just keep coming back for more!
Tips for Making the Best Campfire
Camping just isn't the same without a campfire. And if you're relying on a campfire to cook your meal, it's essential to know how to get a campfire started.
Firewood dry wood bought at the campground or nearby. Plan on buying at least one bundle per day. You may use more if the wood is very dry or you make multiple fires each day. 
Bring back up lighters or matches (in case matches get wet or lighter fluid runs out) and a fire starter to help get things going. 
Start the fire with kindling (very small pieces of wood, twigs, or dry grass), then lay on larger logs as the fire takes hold.
Cooking over glowing logs rather than flames allows food to cook through without burning on the outside.   
Preparing for Any Weather
Sweltering hot days, nights that reach bone-chilling low temps, or miserable rainy weather can make or break a camping trip. 
Always check the weather before you leave for your camping trip to plan accordingly. Check both the highs and low nighttime temps and the chance of rain during your trip. Add just a few items to your gear to be prepared for any weather.
a canopy for protection from rain or to provide shade on hot days
small cooling towels are easy to pack and work really well
hand and foot warmers provide some heat at night
Read more tips for staying warm in cold camping weather here and how to stay cool when camping in hot weather here.
Frequently Asked Questions
What do I need for a beginner camping trip?
Keep beginner camping trips simple. Bring a tent, sleeping bag, lighting, food & water, and firewood. In addition, you'll need matches or a lighter to start the fire and any kitchen items for making and eating your outdoor meals. 
How do I prepare for my first camping trip?
Camping is all about learning what you enjoy on a camping trip and discovering new ideas and gear to make it even better.
Whether it's your first trip or 100th trip, use these 3 tips to prepare for your next camping trip:
1. Research the campground. Learn about the campground rules and amenities so you can plan accordingly.
2. Have a good camping checklist. Check – and then double-check – so you don't forget anything.
3. Check the weather. If there is a chance of rain or cold nights in high elevations, ensure you're prepared with the proper gear.
What to bring camping for the first time?
Make your first time camping easy by planning a one-night camping trip close to home (or even in your backyard). Use only the basic camping necessities: a tent, something to sleep on, firewood + fire starter, flashlight, a camp chair, and food/water, so you can get an idea of what you'll want to have at the campground. 
From there, you can make notes on what you would like to have to make your trips more enjoyable. 
How can I improve my camping experience?
As a new camper, the best way to improve the experience is to think about why you want to camp. 
If you want to challenge yourself or truly immerse yourself in nature, consider backcountry camping to improve the camping experience. Others seek more comforts of home while enjoying nature, where the best camping experience includes a good bed, satellite TV, and air conditioning in a camper or RV.
What do I need for camping with a family?
Camping with kids is one of the best experiences! The wilderness, and often the campground, provides a lot of entertainment for the family. From simple hikes, exploring around the campsite, and playing on the edge of the water to swimming pools, mini-golf, and bingo nights, many activities don't require special equipment or gear.
Final Thoughts on Tent Camping for Beginners
Tent camping may seem complicated, but it isn't. Start simple with just the essential gear and build from there.
Take your first camping trips close to home to help prepare for anything that may not go as planned. You can always run back home for any additional gear.
---
Are you new to camping? Ask us your tent camping for beginners questions in the comments section!
---
Click below to save the beginner's guide to camping on Pinterest!