Who knew there were so many different styles of camping? There are so many ways people interpret this outdoor adventure. It can mean something different to everyone, ranging from sleeping under the stars with minimal gear to enjoying modern luxuries in the wilderness.
In this article, we're breaking down different types of camping, so you start your camping adventure off right – or get inspired to try new ways to camp.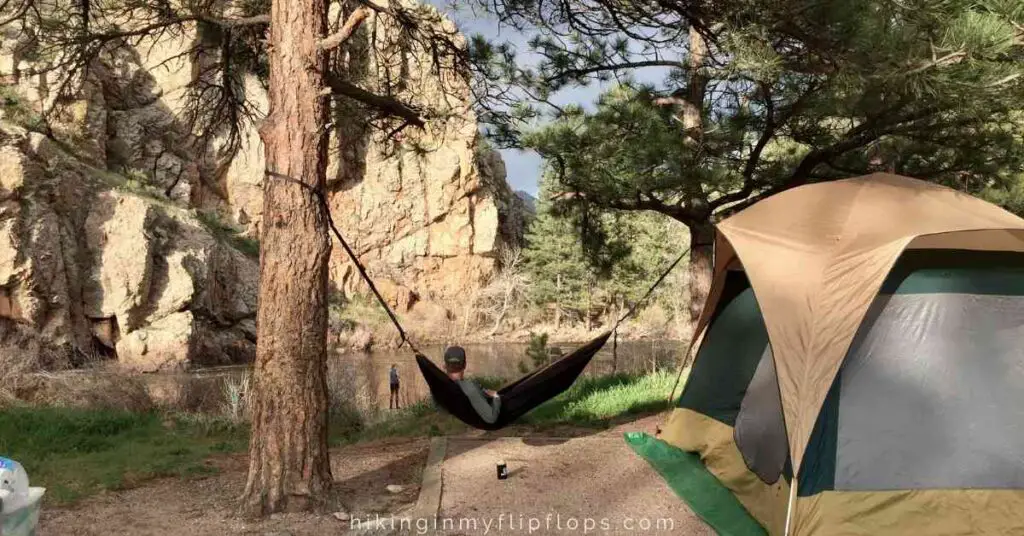 About the Different Camping Styles
Our youngest has described camping as "A place where you go into nature, find a place to put your tent or camper, make a fire and cook dinner on it. Then you do things you can't do at home like go hiking, play games you can draw outside, and spend time with family because at home we all do other stuff." And we sure can't disagree with that, because no matter what inspires you to get outdoors, it's all camping!
This can be a really confusing topic because there is no set terminology to describe the different types of camping.
The shelter and campsite access generally define the different ways of camping. Some of the terms are used interchangeably (whether they should or not) or have multiple meanings, so we're avoiding some of the finer details to make it less confusing.
Types of Tent Camping
While camping can mean many different things, even tent camping has many variations. Knowing the difference and what to expect on a camping trip can help you plan and get prepared with the gear you need to add to your camping checklist for the form of camping you're doing.
Developed Campground Camping
This might be the most common of the camping styles, especially for families. It is occasionally called front-country camping. Some call this "car camping" because your car can be used for gear storage since it is typically parked at the campsite.
A developed campground has defined campsites that almost always have a picnic table, fire ring or pit, and a pad for setting up your tent. These campgrounds also have a range of amenities – from the basics (restrooms and potable water) to resort-like features (pools, arcades, and on-site restaurants).
Rangers or hosts are frequently on-site to ensure campers follow the campground rules and assist campers with anything they need.
Related Reading: How to Choose a Campground for a Camping Trip You'll Love (+ 11 Simple Tips)
For some, pitching a tent in a sea of RVs can take away from the wilderness experience of sleeping outdoors. In that case, you may want to avoid campgrounds with RV amenities, like full hookups and allow generators.
Developed campgrounds tend to be in high demand in the peak seasons, especially at state and national parks. Be sure to check the reservation schedule and book your campsite early!
Backcountry, Dispersed, or Primitive Camping
Backcountry, primitive, and dispersed camping are often used to describe a way of tent camping without amenities and away from civilization. They aren't exactly interchangeable terms, but all represent camping styles out of the crowded developed campgrounds.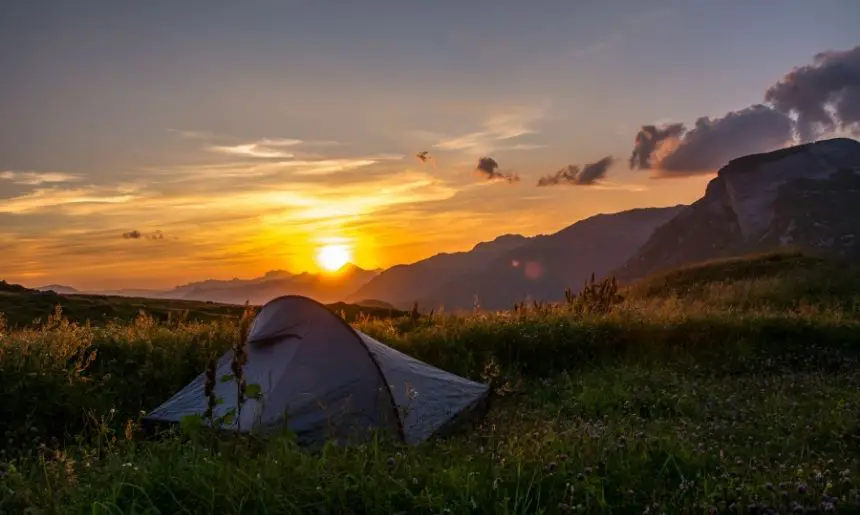 It's always a good idea to research the camping area ahead of time. These campsites may or may not have some of the key features we expect at a developed campground.
a defined or numbered campsite: instead, they may only offer a clearing for a tent and a spot for a fire
restrooms: if they do, they are often vault toilets
potable water: make sure to check this before your trip, so you can bring your own or make another plan to get water
trash removal: if not provided, you will be expected to pack out all your trash
paved roads: access to the campsite may require 4WD or AWD
You Might Also Like: 17 Valuable Tips on How to Stay Safe from Bears While Camping
Some campgrounds or camping areas aren't accessible by car, so a walk on a short hiking trail might be required. The distance to the site can be short (a mile or less), so it may be a good preview of backpacking, which is a longer hike to a campsite. And in this case, a walk is required, so plan to pack only the essentials because you'll need to carry it all in.
Backpacking, Bikepacking, or Boat In Camping
Add a little more adventure to your nights in the wilderness by getting to your campsite without a car. Walk, bike, or boat to (usually) primitive campsites where the stars shine brighter than you can imagine.
Backpacking
---
Carefully selected camping essentials packed securely stowed in your backpack will prepare you for sleeping nearly anywhere in the backcountry. Lightweight tents, sleeping bags, and cooking equipment are designed to maximize what you can carry with you.
For the best experience, take the time to get properly fitted for a backpack so you can comfortably carry it for long periods.
Bikepacking
---
If backpacking interests you, but the idea of carrying all your gear for miles on your back is a deal-breaker, try transporting your equipment on a bike. All the camping essentials are packed in panniers attached to the bike for stowing gear. And we've seen more and more about bikepacking lately as it has been gaining in popularity. We love the idea of covering a lot of area quickly on a bike instead of spending hours a day on your feet.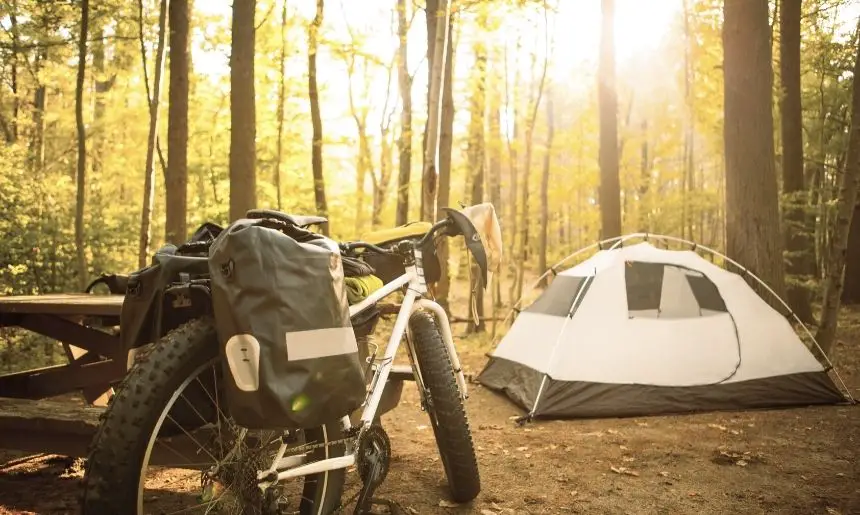 Bikepacking can also be a little easier for a family adventure than traditional backpacking. A few additional accessories for towing the kids on your bike, and you won't have to worry about tired little legs just a few miles in.
Want to learn more about bikepacking? Get the basics of bikepacking here.
Boat Camping
---
This one can take on many meanings. Rafting down the Colorado River, canoe camping along the Northern Forest Canoe Trail, or kayaking to a developed campground (like this easy-to-access campground near Loveland, Colorado) are all ways to experience boat camping.
Like backpacking and bikepacking, packing for a boat camping trip must be efficient since all gear will need to fit into the vessel with you.
Backyard Camping
Don't discount your own backyard for a good camping adventure! There are many reasons this could be the best option for sleeping under the stars. It's a trial run for families with young kids or anyone new to camping. And those that require access to some modern amenities can still enjoy a campout.
You can still do almost everything in your backyard that you can do at a campground while still having access to all the amenities you might need. And it's a great time to try out some new camping recipes since a backup plan is just a few steps away from your campsite.
Make it as close to a campground camping experience as you can.
"Pack" only what you plan to use on your backyard camping trip.
Set up a tent or two in the backyard, complete with sleeping bags and cots or pads.
Hang string lights from trees and along fences.
Make a fire and cook dinner over the campfire.
Plan for the same camping activities (find 45 ideas for things to do while camping here).
If we may offer some unsolicited advice, we do recommend leaving the screens in the house. Detach from the devices and immerse yourself in the experience.
You May Also Like: The Actual Cost of Tent Camping (with 5 Easy Money-Saving Tips)
Glamping
Glamping: short for glamorous camping, is where camping is infused with a little "glamor." What can be better than sleeping outdoors, with almost all of the comforts of home? This is one of the different types of camping that almost anyone can get into, and the list of gear needed for glamping is a little shorter than with camping.
Glamping sites often have heavy canvas tents that keep in the heat when camping in cold weather or cool air in the summer heat. They are semi-permanent structures and can have actual furniture. Look for glamping that has electricity running to the tent if you're not ready for camping without electricity, so you can charge devices and plug in the heaters, and may even have enough to power a mini-fridge or low-wattage microwave.
The rest of the experience is the real deal for camping, though. Walks to the restrooms, cooking outdoors over the fire, and spending more time outdoors than in are still part of the glamping experience. You can even venture beyond the tent on this one. You can also go glamping in yurts, huts, and sparsely equipped cabins.
Glamping is also a fantastic alternative to staying in hotels on a road trip.
Different Types of Camping Without Tents
Survivalist Camping
Survivalist camping relies on the bare essentials, a few critical pieces of equipment, and a lot of skills to survive in the wild.
This is the most adventurous of all types of camping and is not for the faint of heart. Survivalist camping requires a bit of research and a backup plan in case things don't go as planned.
Before attempting a survivalist camping trip, it's essential to thoroughly research and practice learning a few skills.
make a fire with just matches
forage or hunt for food
make a shelter for sleeping
locate and purify water
find direction using a compass
Camping Right Under the Stars with a Hammock or Bivy
Literally sleep under the stars on your camping adventure! Sleeping in a hammock instead of a tent is another popular way to go camping. Simply attach your hammock to two sturdy trees using straps (look for tree-friendly ones).
Camping in a bivy sack (or bivy bag) is another non-tent way to camp. With a bivy, you sleep on the ground, with a layer of protection from the elements.
REI has a good overview of hammock camping and an excellent guide for choosing the right bivy sack.
Car Camping
This is quickly becoming a favorite way to camp for our teens. After our gear is unloaded and set up at the campsite, the older kids set out their sleeping bags in the back of the 4Runner. They usually hang some strings lights and make it their space for the night.
SUVs, trucks, and hatchbacks work best, but laying across the back seat works too.
While sleeping in your car instead of a tent is car camping, though many mean camping with your car nearby when they say car camping.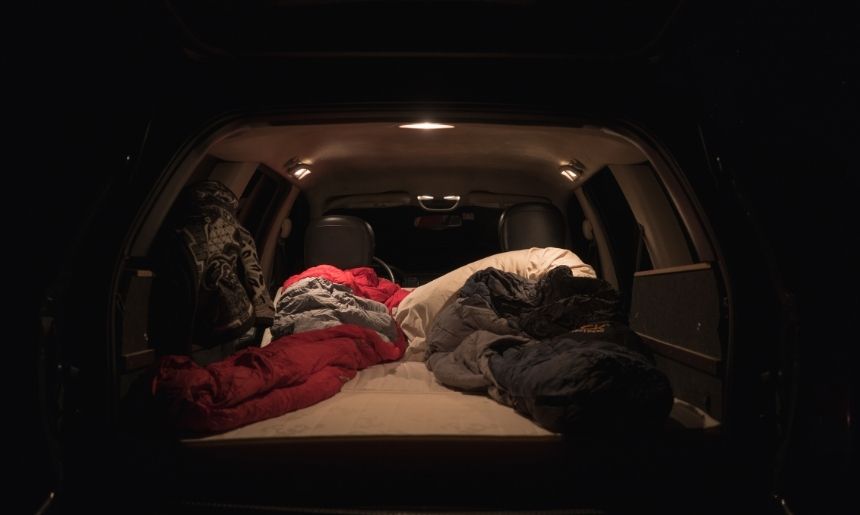 You have minimal access to electricity (be careful not to run down your car battery!), and water may or may not be available. Keep in mind that many areas don't allow sleeping in vehicles. Before planning this type of camping trip, check the rules and regulations first.
Van, Camper, and RV Camping
Get out into the great outdoors with a little home of your own – on wheels. It's a great way to enjoy the outdoor activities that come with camping, but with many of the comforts of home. It can make camping in not-so-great weather conditions more comfortable, like winter camping in the cold weather or hot summer days at the campground.
You can go basic, like an easy-to-maneuver teardrop or pop-up camper. Or go for a little more luxury, like RV and travel trailers with bunkhouses, outdoor kitchens, and full baths.
Boondocking or Dry Camping
---
RVs and campers can go backcountry camping, too, though it's not nearly as primitive as tenting in the backcountry. Boondocking or dry camping is without electricity or water. Without hookups, you're relying on the camper battery and water tanks for electricity and water.
Frequently Asked Questions
---
There is such a wide range of camping types that you are sure to find the perfect one for you. Go for a wild camping adventure in the backcountry or enjoy the great outdoors with many comforts of home in an RV or cabin camping. No matter which of the different types of camping styles choose, it is an excellent way to spend time in nature! 
---
Click below to save this guide to the different ways of camping on Pinterest!