Summer is just around the corner, which means it's time to start planning your camping trips! If you're a seasoned camper, I'm sure you've stumbled upon a campground or two that wasn't what you had in mind. And if you're new to camping, the variety of campgrounds can sometimes be overwhelming and downright confusing.
If you're not sure how to choose a campground for your next outdoor adventure, never fear – these tips will help you find the perfect place. In this guide, we take you through how to choose a campground with the process we use when planning a trip. But it doesn't end there – keep reading for a few tips on how to choose a campsite once you've chosen the perfect campground.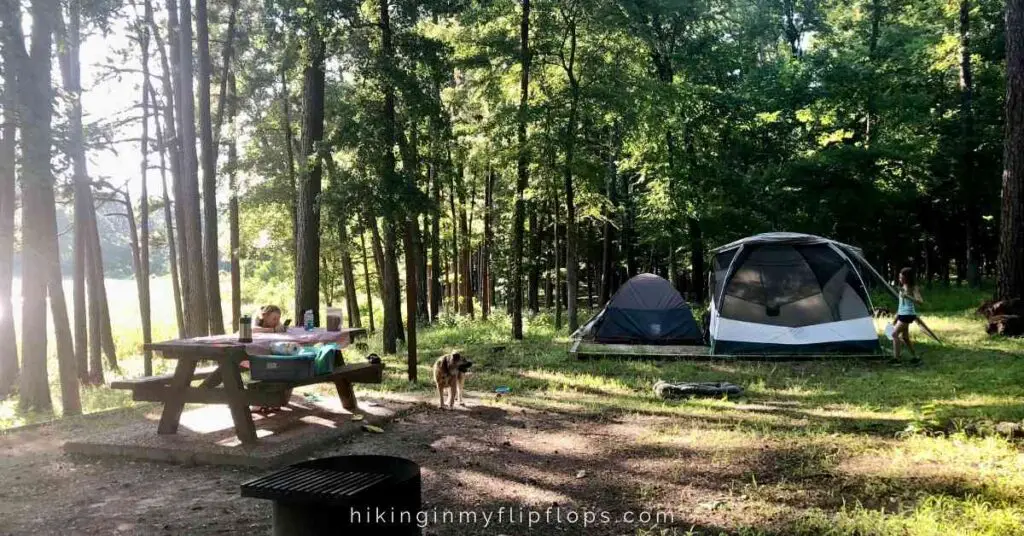 Where to Find Campgrounds
In our guide to tent camping for new campers who are just getting started, we covered a few ways to find campgrounds.
Google Maps is a great place to start. Simply search "campgrounds" after centering the map on the location you want. You can also Google search "campgrounds near" any city or town.
Our first stop is recreation.gov for campgrounds operated by federal agencies. After years of camping trips, I know that these campgrounds are generally a safe bet for the camping experience we are after. We also go to reserveamerica.com, where many state and county-run campgrounds can be found. These sites also offer online reservations, making it super easy to book your next trip.
How to Choose a Campground
1. Decide On Your Location
How far are you willing to travel? You may want to be as close to home as possible if you are just testing the waters with camping trips, especially when camping with little ones.
Do you have a particular destination in mind? Camping can be the main event, or it can just be your lodging when traveling somewhere. One of our favorite camping trips was to the Fort Wilderness Lodge at DisneyWorld.  Since the kids were pretty young for our first Disney trip, we decided that the campground had plenty of shaded areas outdoors to relax and play when we took breaks from the parks.
Or do you want to escape it all and get as remote as possible? Days filled with exploring new hiking trails and ending with dinner cooked over the campfire are some of the best camping trips!
In some areas, elevation may factor into your location too. Climbing the mountain roads means it's longer to get there. And weather may be quite different from lower elevations, even during the summer!
2. How to Choose a Campground Based on Amenities
Some campgrounds have no amenities at all – not even drinking water. Others have so many that your days can be packed with adventures – without even leaving the campground. This is something you'll want to pay attention to so you can plan your camping checklist accordingly.
If you aren't looking for the "roughing it" experience, look for a Jellystone Park in your area (with 30 locations, there is probably one close to you!). Give your kids the Yogi Bear experience with all the amenities you could ask for.
Some features to look for at campgrounds and campsites:
type of sites available (tent, RV, or even cabins or yurts)
type of restrooms / bath houses (they may be as simple and primitive as vault toilets or have the luxury of electrical outlets for hairdryers and private showers – or there may not be any facilities at all)
a sink for washing dishes
organized or near-by activities (historic sites, trails for hiking or biking, and lakes for fishing, boating, or swimming)
swimming (in pools, lakes, or creeks)
general / camp store (for peace of mind that you can grab any items you may have forgotten)
restaurants (an opportunity to take a break from camp cooking!)
campsite features (picnic tables, fire rings, drinking water, electric hook-up, and bear lockers are the more common features you might find)
State, county, and National Parks will be more limited in their amenities. Look for swimming pools, arcades, camp stores, pavilions, structured activities, and even restaurants at private campgrounds.
3. Campground Reservations
When traveling to a campground far from home, you don't want to arrive only to find no available sites. On the other hand, this could be an opportunity for a spot without planning so far ahead at campgrounds usually book up 6-12 months in advance.
If you need to know you have a site secured, go with a campground that takes reservations. If you prefer to plan as you go, a campground with first-come, first-served sites is probably a better way to go.
4. Campground Rules and Policies
Make sure you pay attention to the campground policies. Some key things to look for, depending on your plans during your camping trip:
max number of people
number of cars
number of tents at a campsite
if pets are allowed, and if they can be left at the site alone
if things can be attached to trees (like slacklines, hammocks, and make-shift clothes lines)
length of stay requirements
policy on alcohol
policy on generators (you'll want them to be allowed if you need to use one; you may want to avoid the campground if you're seeking some peace and quiet on your trip)
cancellations, in case your plans need to change
We also have come across some campgrounds that "close up" at night – meaning you can't leave the campground without waking the camp host to unlock the gate. We learned early on that this is something to look for when camping with our 5-month-old baby at a state park in North Carolina. In our experience, it's unlikely to find this, but it could be something you want to look out for.
5. Types of Camping
Choosing a campground for tent camping can differ from how to choose a campground for RVs. A tent camper may not be comfortable surrounded by big RVs and trailers. You may want to avoid campgrounds described as camping resorts or RV campgrounds.
If camping or glamping is the type of camping you're looking for, consider camping "resorts." Anyone seeking a primitive camping experience will want to avoid these campgrounds.
6. Cost of a Stay at the Campground
The more amenities, the higher the cost – generally. The costs to cover those amenities – like pools, playgrounds, and showers – are often built into the cost of the campsite. However, a "resort fee" is sometimes added per person, per day. If you're not planning on using the amenities, you may consider looking at other campgrounds.
You will also likely pay more when choosing a campsite with RV hookups, even if you're tent camping and not using them.
How to Choose a Campsite
Once you know how to choose a campground, the next step is picking out the best campsite. There are more features to a site than you would probably expect, but these tips on how to choose a campsite will help you narrow down to the best ones.
7. Type of Camping
When selecting a campsite, the type of camping comes in again. Some sites are only intended for (and possibly only allow – so make sure to ask before reserving) RVs or tents. If you have a camper and need hookups, pay attention to the electric, sewer, and water hookups at the site.
Even if you tent camp and don't want to go camping without access to power, look for sites with electric hookups.
8. Size and Space of the Campsite
Campgrounds can pack campers into small sites, while others give plenty of space between campsites. If you have a larger group or have a lot of gear in your camp setup, consider a larger campsite to provide you with all the space you need.
9. Location within the Campground
When choosing our campsite, we look for the proximity to the bathhouse, the camp host, and any amenities like the camp store, pool, and kids' activities.
Choose a campsite away from things if you want to experience a little more solitude during your camping trip. If you have small kids who might do better closer to restrooms or kids old enough to visit the camp store on their own, consider these in choosing your campsite.
Tent campers may also want to choose a campsite away from RV sites, where there is a lower chance of noise from generators running through the night.
Avoid campsites near standing water during mosquito season to prevent miserable, itchy bug bites.
10. Shade at the Campsite
How to choose a campsite can depend on the season. When camping in the heat of the summer, a shady campsite can keep your tent cooler during the day. Read more tips for keeping cool while camping in the summer months here.
In colder camping seasons, you'll want the sun to warm your tent up during the day to help keep you warmer at night.
How to Choose a Campground or Campsite with Online Research
There are several resources for checking the reviews of campgrounds before you commit to one. This information can also help with how to choose a campsite. We have a few favorite resources for selecting a campground and figuring out how to choose a campsite there.
11. Resources for Campgrounds and Campsites
Google Maps: Search the name of the campground to see ratings and reviews. In the reviews, look for what people liked and didn't like about the campground as well as photos posted by reviewers to get a better idea of what the campground is like. Sometimes, you can also get a more realistic view of the layout of the campground by zooming in on the satellite view. The artistic renderings in many campground maps are misleading.
TripAdvisor: There are some campground reviews posted here as well. Some listings also offer a summary of amenities and policies, but those should be confirmed on the campground website. Like with Google Maps, look at detailed reviews and photos.
Search in Pinterest and Google: Search the campground name + "reviews" on Google and Pinterest to uncover any websites posting a detailed review of the campground. Here, you'll probably find more specific tips to make the most of your stay at the campground that aren't specified on the campground website. You'll often find recommendations for the best campsites too.
The Dyrt: This is a good resource for reviews, finding campgrounds, and getting a summary of campground policies and amenities.
CampsitePhotos.com: This is by far my favorite resource for how to find a campsite. This website collects images of every campsite at many campgrounds, so you can see things like how much shade there is, how level the campsite is, and just get a better feel for the campsite before you make a final selection.
---
Camping can be a great way to get out and enjoy nature, but with so many options, it can be hard to know where to start. By following the tips on choosing a campground and how to choose a campsite, you'll be able to narrow down your choices and find the perfect campground for your next outdoor adventure. Remember, the most important thing is to relax and have fun!
---
Frequently Asked Questions
What makes a great campground?
A campground that gives you the camping experience you want is the only thing that makes a great campground. If you're seeking solitude and immerse yourself in nature on a tent camping trip, look for campgrounds that offer few amenities and a more primitive experience. On the other hand, if you're seeking more of a glamping experience with some modern conveniences, camping resorts might be the perfect fit.
What should I look for in a campground?
Look for amenities (bathrooms, laundry, activities, etc.) and policies (pets, campfires, max length of stay, etc.) that align with how you envision your camping experience. If camping with kids, you may want activities for them. If you need to charge your laptop or phone during your trip, look for campgrounds with electrical hookups.
---
Click below to save these tips on how to choose a campground and how to choose a campsite on Pinterest!