Whether you are new to camping or a seasoned camper, there seems to be a neverending quest to find that perfect gear list to seamlessly pack up the car for the next epic camping trip. But because every family is different, a family camping checklist can take time to make. What you need, what you use, and what isn't really important enough to take up valuable space in the car.
This list of basic camping gear for family nights outdoors will guide you through customizing your list. With this list, you won't need to worry about one of the most common camping mistakes: forgetting any of your camping gear at home.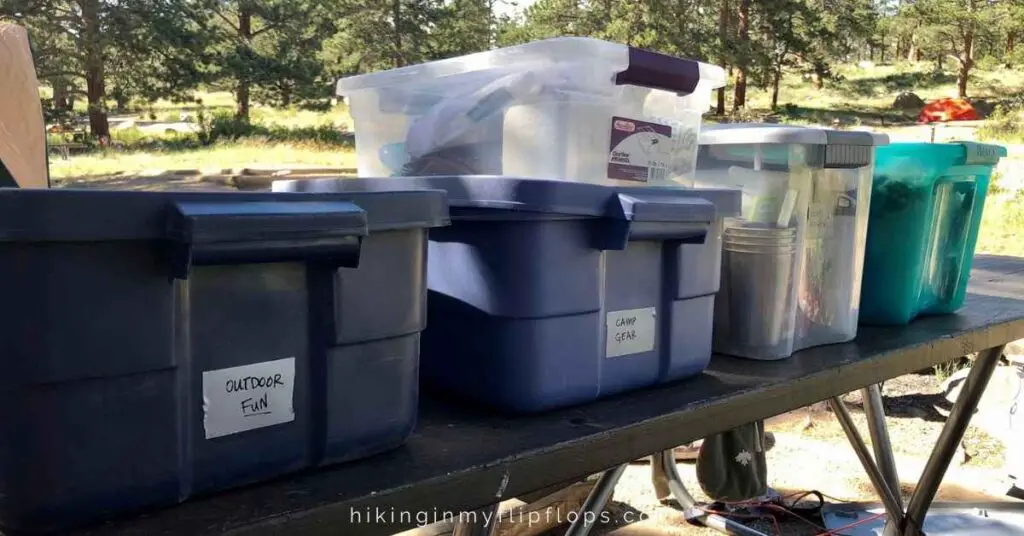 Family Camping Packing List
This list is the same list we use when packing for our family camping trips at developed campgrounds, where we have our car at or near the campsite. Glamping or backpacking? Adapt this list for almost any other camping style.
We don't always use high-tech camping supplies – we use Ikea kid's plates repurposed from when the kids were young and silverware from my husband's first apartment – but we do upgrade and replace them with space-saving camping gear. If you are making a family camping packing list for your first camping trip, consider using any items you already have at home. After a few trips, you'll know where you want to invest in solid gear.
And because we live and camp in bear country, we pack nearly everything in totes so that it's easier to load everything up in the bear lockers or the car at night.
Camping Gear for Sleeping
The most essential camping equipment to pack is the tent, so do spend some time looking for the right tent for your needs. We adore our Kelty tents but also love tents from The North Face, Core Equipment, and Eureka! too.
Related: The Easiest Tents To Set Up By Yourself: 6 Best Instant Tent Picks for 2022
Essential Camping Gear
duct tape
tarp for a backup ground cover or shade
paracord to tie up tarps, hang clothes to dry, etc.
tent repair kit for unexpected tears in the tent
a flashlight or headlamp for after dark
The Camp Kitchen Packing List
We make a separate list for food since our camping meals change for each trip. We keep salt and pepper packed in our camp kitchen tote, so we also have that on the list. Assuming you have food to stay cold during your trip, you'll need to have a good cooler for the trip.
Tableware
disposable or reusable plates for serving outdoor meals
eating utensils (forks, spoons, and knives), which can also be disposable or reusable
cups or Nalgene bottles
tablecloth to make wiping down picnic tables easy (use tablecloth clips to help keep it in place)
zip-top bags for storing any leftovers
aluminum foil for cooking over the campfire
we bring Koozies to keep drinks a little colder in the summer, but it's also a way for everyone to know which drink is theirs 
bring salt & pepper for simple seasoning
biodegradable soap and a sponge for washing dishes
dish towels
a multifunction bottle opener that works for both wine and beer
at least one trash bag per day of your trip
a propane stove for cooking camping meals, even if it's just a backup plan
the camp stove connector is separate on our list to double-check it's packed with the stove
Cookware and Kitchen Utensils
The easiest option is to buy inexpensive versions of these essential camp kitchen items to store in your camp kitchen tote. Make more space by taking things out you are sure you won't need.
nesting pots & pans
roasting sticks (collapsible ones are easiest to store in a tote)
cooking utensils, including tongs, a spatula, and a wooden spoon
paring knife
can opener
a portable campfire grate, in case there isn't one at the campsite
Camp Coffee Essentials
Early morning coffee at the campground can be the best part of the day and is essential to our family camping checklist! Make sure you have everything you need to make your favorite camp coffee. Tea drinkers can swap these for items required to make their favorite teas.
coffee cups, insulated if camping in colder weather
coffee pot (percolator, French press, or pour-over work best)
measuring scoop
extra mugs for hot chocolate when camping with kids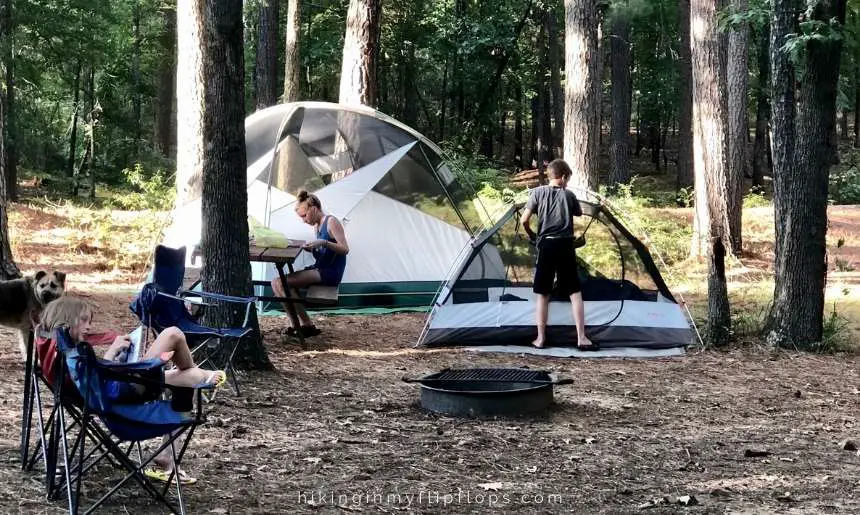 Related Reading: 11 Strategies that Make Packing a Car for Camping Easy and Efficient
Things to Pack in the "Outdoor Fun" Tote
We really do have this tote labeled "outdoor fun"! This tote is one of our family camping must-haves and includes things to do at the campground for both kids and adults. Fill this tote with anything the family can grab for something to do when they are bored at the campsite. These are excellent for playing outdoor games together or getting a little break from the outdoors.
This list changes depending on the weather, campground amenities, and planned activities during a family camping trip.
Campfire Essentials
Nothing is better than ending the day by pulling a camping chair up to the fire. Keep these items on your list, so you're sure to have what you need for an epic campfire.
firewood (but it's best to buy at or near the campground, if possible)
fire starters
matches or lighter
Outdoor Play & Games
Family Camping Must-Haves for Chillin' at the Campground
a Bluetooth speaker for background music at the campsite
hammock and straps (just make sure that tying things to trees is permitted at the campground, or get a portable hammock stand)
comfy yet sturdy camp chairs for sitting around the campfire
books and magazines
charging cords and portable chargers/power banks for phones and e-readers (especially if you're camping without electric hookups)
a canopy to block sun or rain
Related Reading: Tips and Resources for Choosing the Best Campground and Campsites
Household Items
hand sanitizer or hand soap (many campground restrooms don't have, or quickly run out of, hand soap)
disinfecting wipes like WetOnes that can be used on hands too
good paper towels for cleaning spills and washing dishes
toilet paper, because restrooms are often serviced only once a day and run out
Toiletries
baby wipes for quick clean-ups when showers are not available
unscented lotions for face and body
tissues (travel packs hold up better than those packed in cardboard boxes)
toothbrushes & toothpaste
lip balm
sunscreen
bug spray/lotion to keep the mosquitoes from biting
deodorant
glasses/contacts
medications
Add-Ons for Campgrounds with Showers
shampoo & conditioner
bar soap or body wash
washcloths (we use baby washcloths for camping because they are small and pack well)
flip flops, Crocs, or other waterproof shoes for in the shower
small bag or caddy to transport everything to the bathhouse
Camping Checklist for Kids
There are a few items to add to the family camping packing list just for the kids. Prepare ahead with giving these as camping-themed gifts for birthdays and holidays!
activities (coloring books, markers/crayons, cards, or board games)
extra socks
comfort items like blankets, stuffed animals, or favorite books for bedtime
Family Camping Must-Haves – But Only If You'll Use Them
These items should be part of your family camping essentials only if it's something you'll use at the campground. Otherwise, there is no need to pack it all for your trip.
Optional Items for Camping Activities
Your family camping checklist depends on the campground amenities or other activities planned for your camping trip. Pack swim gear for campgrounds with access to water and fishing gear if there is a lake. A backpack, good shoes, and water bottles are essential for hikes on nearby trails.
fishing poles if there is a stocked lake or pond nearby 
beach or pool bag to carry towels and other gear to the pool or lake
swimsuits
water shoes for rocky or murky waters
binoculars for spotting birds and other wildlife from afar
hiking gear (like sturdy hiking shoes, backpack, trekking poles, and something for carrying snacks)
water bottles or insulated tumblers for beverages
A Family Camping Packing List for Pets
Dogs love camping as much as we do, and most campgrounds welcome furry friends. If you're bringing your dog along on the family trip, there are a few items to add to your family camping must-haves:
Family Camping Essentials for Cold Weather
Stay cozy warm with a few additional items when camping in the cold. Check the high and low temperatures in the forecast – the days might be sunny and warm, but nighttime temperatures may be drastically different.
sleeping bag liners or sheets to add an effective layer of insulation to your sleeping bag
extra blankets for around the campfire or on chilly mornings
electric or propane heater to heat the tent before bed
hand and toe warmers
hats, gloves, and wool socks to keep warm from head to toe
Summer Camping Essentials
Camping in the summer months doesn't have to be a miserable experience. A few additional items will keep everyone comfortable while camping in the hot weather.
cooling towels
electric or battery-operated fan
extra water
a canopy for shade
---
Although this list is comprehensive, it's not exhaustive. Be sure to customize this list of basic camping gear for family trips according to your family's specific needs. Make sure your list includes everything your family will use, without too many things you "might" need for your trip.
---
Click below to save these family camping essentials on Pinterest!