There's nothing like a good hike to get some exercise, clear your mind, and enjoy a little time in nature. And, of course, what would a hike be without the snacks? Of all the things that go into our packs for a day hike, it's the hiking snacks that get the most attention.
We want to keep it healthy, and we like variety and portability. Here are some of the best hiking snacks to help make your day on the trails even better. From dried fruits and nuts to sandwiches and energy bars, there's something for everyone here. So grab your favorite day hike snacks and hit the trail!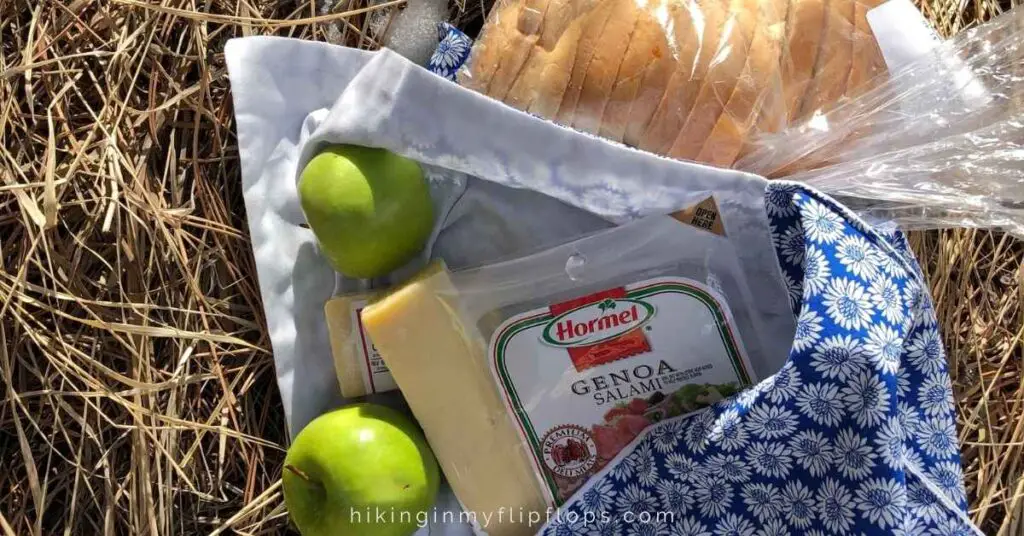 What are the Best Snacks for Hiking?
The best hiking snacks are nutrient-dense, with a balance of carbs, fats, and protein to maintain energy levels.
Choose hiking foods that are not too high in sugar. After delivering a quick energy boost, they can lead you to crash soon after.
Good hiking snacks don't need refrigeration, so you don't need to worry about ice packs.
Avoid foods that are easily smushed or crushed or are difficult to pack. That makes these options excellent road trip foods too.
Proteins like tuna, cheese, and beef jerky
Nuts and seeds that can be eaten on their own or be added to a trail mix
Fruits, choosing either fresh or dried fruits
Veggies dipped in hummus for extra protein
Homemade snacks, like apples with peanut or almond butter, ants on a log, granola bars, and energy bites
Packaged options such as protein bars, pretzels, popcorn, or yogurt in a tube
The Best Healthy Snacks for Day Hiking
Hiking Foods that Pack in the Protein
---
1. Tuna
Trail-friendly pouches of tuna don't need to be opened with a can opener or drained. Tuna sold by Safe Catch Elite is lower in mercury, making it a safer option for kids and pregnant women.
Add carbs by topping the tuna on crackers.
2. Cheese
Cheese sticks, Mini Babybel, and blocks of cheese pack well for day hikes. Freeze the cheese sticks or chunks of cheese for about 30 minutes, so they stay cold longer in your bag. Mini Babybel can last about 2-4 hours without refrigeration.
Sometimes we get fancy and eat cheese on a baguette (a crusty baguette travels beautifully!), especially when we're able to get out for a hiking date without the kids!
3. Jerky 
Beef and turkey jerkies are excellent sources of protein and don't require ice packs to keep cool. Jerky is also lightweight (easy to carry) and has sodium to regulate hydration.
Salami and turkey pepperoni are also sold in shelf-stable packaging, but any leftovers must be refrigerated.
Related: How to Make Hiking Fun for Kids: 11 Effortless Ideas
4. Nuts and Seeds
Pack up handfuls of protein-packed almonds, peanuts, or pistachios. If you prefer seeds, choose pumpkin or sunflower seeds. All of these options have 5.5g or more of protein per ounce.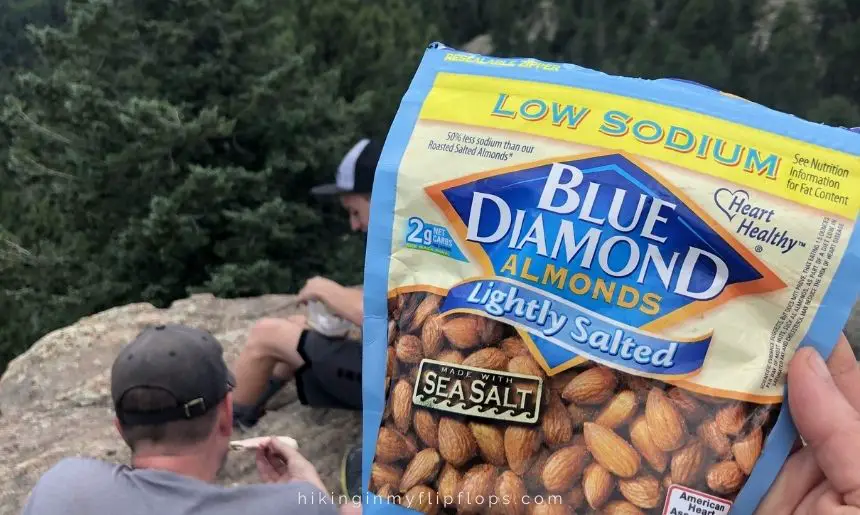 Fruits and Veggies
---
5. Fresh Fruit
Apples, oranges, grapes, and berries (packed in a container) all travel well. Bananas are easy hiking snacks high in potassium but can easily crush or brown in a backpack. *Always remember to pack out apple cores and banana peels. These fresh foods may be completely natural, but it doesn't mean they are healthy for wildlife.
Pro tip: try freezing grapes ahead of time. Even if they haven't thawed in time for your snack break, they are still delicious when frozen – especially on a hot day.
6. Dried Fruits
Dried fruits generally withstand backpacks better than fresh fruits. Dried apricots, mango, figs, banana chips, or apples have plenty of natural sugars for a boost of energy when you need it (and satisfy a sweet tooth). Or, try all-natural fruit leathers.
7. Fresh Veggies and Hummus
Carrots, celery, bell peppers, cherry tomatoes, sugar snap peas, and sliced cucumbers make the best snacks for hiking because they all pack well.
Bring a container of hummus or ranch dressing for dipping.
You Might Also Like: 7 Tips for Hiking with Your Dog For a Safe and Happy Hike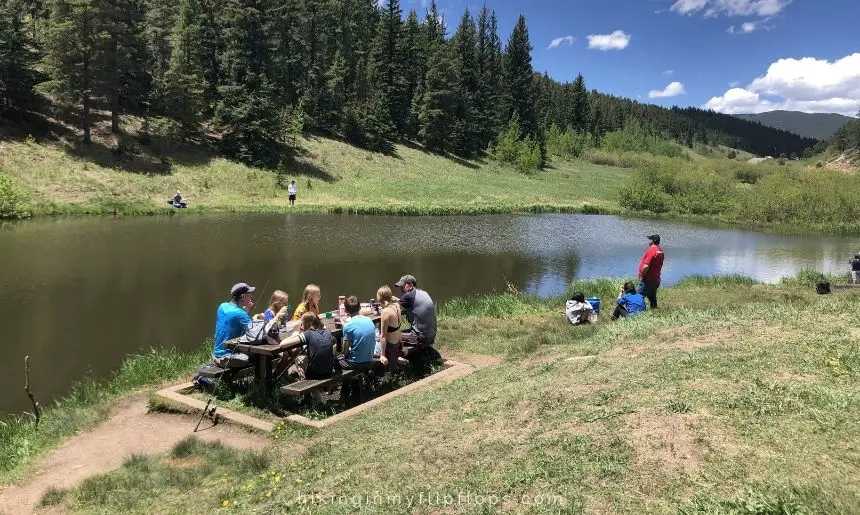 Homemade Snacks for Hiking
---
With some prep, your favorite foods can become easy hiking snacks on the trail while controlling the ingredients. You can increase the protein, lower the sugar, and use your favorite flavors.
8. Homemade Trail Mix 
The classic GORP (good old raisins and peanuts) is the ultimate trail snack, just as it is. It's also fun to experiment with different ingredients like M&M's, cereals, nuts, and other dried fruits.
Try a variety of ingredients that include crunchy, sweet, and salty foods.
9. Apples and Nut Butter
Partially slice apples ahead of time and use a rubber band or sandwich bag to hold them together in their apple shape. This helps prevent browning and makes it much easier to eat on the trail, especially for little hands.
Grab a pouch or small jar of nut butter (try Justin's variety of nut butter) or pack a small container for dipping.
10. Ants on a Log
Like most people, I ate countless "ants on a log" as a kid. The classic peanut-butter-filled-celery stick, dotted with raisin "ants," was a nostalgic snack to serve to my own kids. We soon added it to our best hiking snacks since it is easily portable.
11. Homemade Bars or Energy Bites
When you make your own, you can control the ingredients and make them just the way you like them.
Our favorite hiking snack is homemade Backpacker Bars, and we eat these up even if we're not hiking.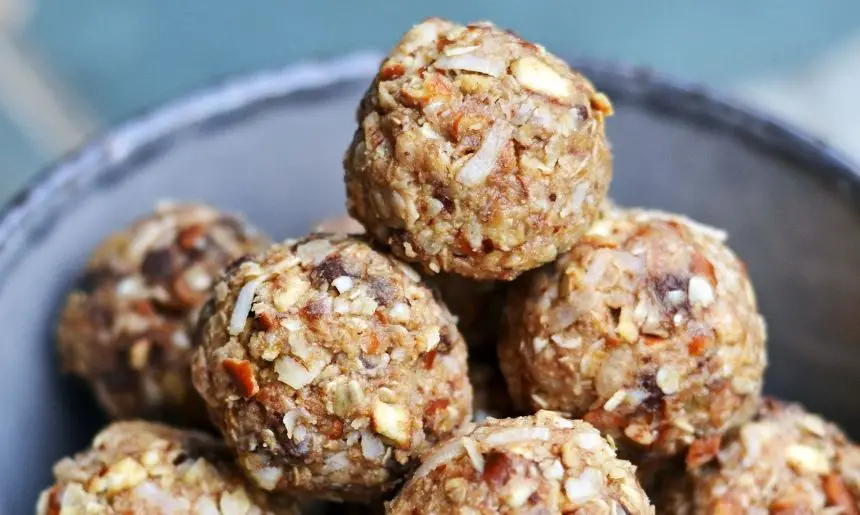 12. Pasta Salad
Larger pasta shapes are easy to eat on the trail. Try shapes like penne, rigatoni, and farfalle (bow ties) with a little bit of olive oil, Parmesan cheese, and black pepper.
13. PB & J
This classic has everything: carbs, protein, fats, and a little sugar. It's easy to pack up, is shelf-stable, and filling.
14. Bean and Cheese Burrito
We were skeptical, but we tried it, and it worked. Longer hikes require a little more energy, and these were perfect.
To make: Heat a tortilla and fill it with warmed refried beans and a sprinkle of cheese. Wrapping in foil will keep them warm for a few hours.
You Might Also Like: How to Hike: 8 Hiking Tips from an 8-Year-Old
15. Homemade Potato Chips
It is a much healthier alternative to store-bought chips, and they are just as good. We think they're better, actually.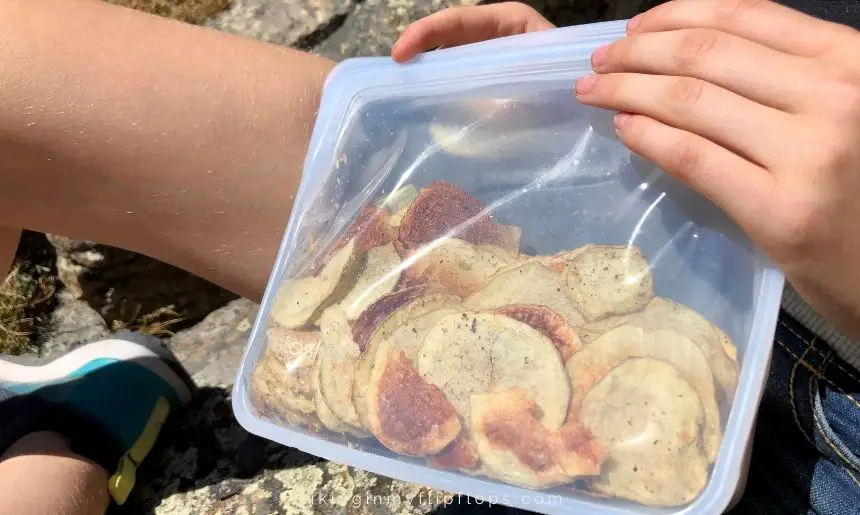 How to make homemade chips:
Use a mandoline (or a very steady hand) to slice a potato into very thin slices. Spray a microwave-safe plate with cooking spray and lay slices on the plate, ensuring they don't overlap. Coat potato slices with more cooking spray, salt, and any other seasonings you like.
Cook in the microwave for about 7 minutes. All microwaves are different, so cooking times may vary.
16. High Protein Muffins
Kodiak Cake's Flapjack & Waffle mixes make a great high-protein muffin mix. Our favorite is dark chocolate.
How to make homemade protein muffins:
Mix 2 mashed bananas, 2 eggs, 1/4 c nonfat Greek yogurt, 1 c unsweetened vanilla (or chocolate) almond milk, and 2 c Kodiak Cakes Protein Pancake Power Cakes, Flapjack & Waffle Baking Mix, Dark Chocolate. Pour into a muffin tin. Bake at 375 for about 15 minutes. Makes 12 muffins.
17. Graham Crackers and Peanut Butter
This is one of the best hiking snacks for a sweet treat on the trail.
Mix 1/4 c creamy peanut butter with 2 Tbsp powdered sugar. Spread about 1 Tbsp of the mixture on 4 graham cracker halves and top each with another graham cracker half.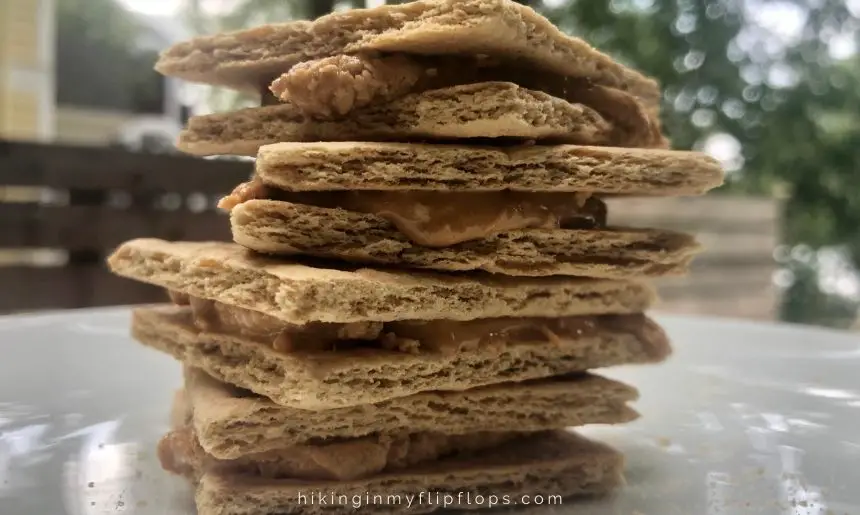 Packaged Foods for Easy Hiking Snacks
---
These (mostly) grab-and-go options make quick and easy hiking snacks. Look for snacks made from natural ingredients.
18. Protein Bars
Packaged bars are so easy to throw into your backpack, but some can be loaded with more bad things than good. – especially sugar. Check the nutrition label before buying to ensure it's reasonably low in sugar. We like bars from RXBAR, KIND (Protein), and ALOHA.
| | | |
| --- | --- | --- |
| | | |
| RXBAR Protein Bars, 12g Protein, Gluten Free Snacks, Chocolate Sea Salt, 22oz Box (12 Bars) | KIND Protein Bars, Crunchy Peanut Butter, Healthy Snacks, Gluten Free, 12g Protein, 12 Count | ALOHA Organic Plant Based Protein Bars - Chocolate Chip Cookie Dough - 12 Count, 1.9oz Bars - Vegan Snacks, Low Sugar, Gluten-Free, Low Carb, Paleo, Non-GMO, Stevia-Free, No Sugar Alcohols |
| $28.44 | $16.99 | $25.14 |
| Buy on Amazon | Buy on Amazon | Buy on Amazon |
19. Bagel with Cream Cheese
This mostly grab-and-go snack is quick to pull together. Toss a whole wheat mini bagel in your pack, with low-fat cream cheese packed in a small container or on the bagel. Keep the cream cheese (whether it's on the bagel or packed separately) next to cold water bottles and away from the sides of your pack to keep it from getting too warm.
20. Pretzels or Popcorn
Crunchy, salty snacks like pretzels and popcorn are low in fat but deliver energy from carbs. Toss a few handfuls into a hard-sided container to prevent your snacks from getting crushed in your pack. We also love peanut butter pretzels from Trader Joe's!
21. Yogurt Tubes 
They're not just for kids anymore. Pop a yogurt tube into the freezer the night before it goes into your pack, and it will be thawed by the time you break for a hiking snack.
22. Roasted Chickpeas
We love the sweetness in Biena's Honey Roasted Chickpeas, but they make savory flavors too. These are also easy to make at home.
23. Dry Cereal
Cereals like Honey Nut Cheerios, Frosted Mini-Wheats, and Crispix are easy to pack up for snacking on the trail.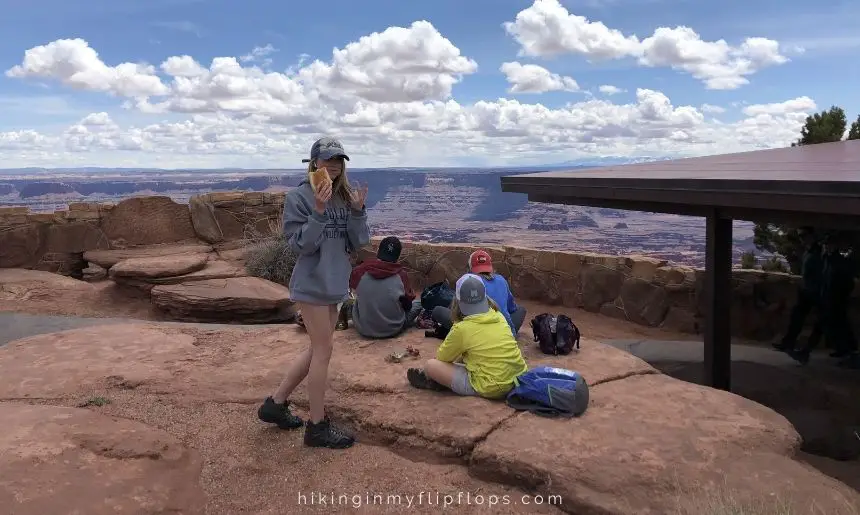 How to Pack Snacks for Hiking
Reuse Plastic Containers
Save a few of the plastic containers for packing up day hike snacks. Talenti Gelato is perfectly sized for pasta salads and crushable foods like chips and grapes.
Silicone or Other Reusable Bags
So many options for reusing those plastic sandwich and snack bags have come out on the market lately. A few of our favorites are Stasher bags and (re)zip brand bags.
How Much Water to Bring On a Hike
Always hike with plenty of water. At a minimum, have 8 oz of water, per person, for every hour of hiking. That's the equivalent of a regular-size bottle of water but opt for a reusable container whenever possible.
Increase the amount of water for strenuous hikes or when hiking in hot weather.
Carry water in a Nalgene bottle or easily carry it on your back in a hydration pack.
Insulated bottles will keep water cold for hours, but they can be heavier to carry. In sweltering weather, bring one bottle of ice water to add to other bottles with water that has gotten warm.
If hiking longer distances and concerned about running out, carry a LifeStraw to safely get more water from natural sources on the trail.
What to Drink in Cold Weather
Stay warm and hydrated in cold weather with tea or hot chocolate in addition to water.
Pre-warm your vacuum-insulated bottle (like Hydro Flask or S'well) with hot water, then add your favorite tea or hot chocolate.
---
Get ready to hit the trails with some of these favorite snacks that are perfect for a day of hiking. The best hiking snacks, including proteins and carbs, are excellent sources of energy for a day on the trails.
---
Click below to save these ideas for easy hiking snacks on Pinterest!