My college camping days were cheap. We had a small tent from an outlet center, a blanket and pillow from home, and hot dogs and beer for dinner. The night away was less than $20 on BLM land in Arizona.
Everyone always says camping is a low-cost way to take that weekend getaway. Then everyone starts telling you all the things you need to go camping, and you begin to see how expensive it can get. But it doesn't have to be that way – if you don't want it to. This guide to the cost of tent camping will show you exactly where to spend to make it your perfect night in the wilderness.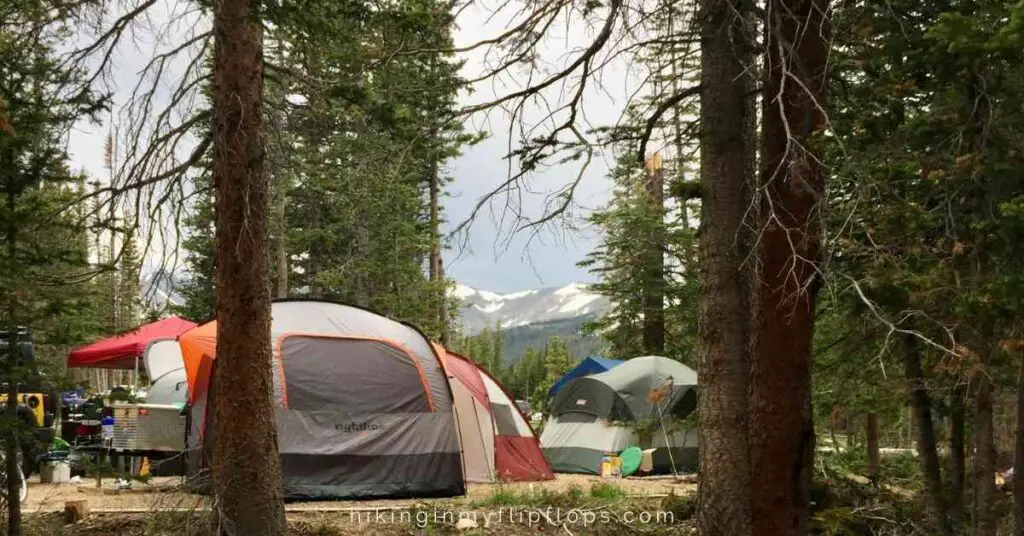 About the costs in this post: by tent camping, we're talking about the type of camping at a campground or other designated campsite and where you can park your car nearby. Backcountry tent camping, or backpacking, is another type of camping in a tent that requires some different gear (usually more specialized to minimize size and weight).
The Setup Cost of Tent Camping
Think about the cost of tent camping in two parts. First is the setup. Once you have the essential camping gear, there is minimal additional cost until you want to upgrade or add more equipment to make camping more comfortable.
To meet budgets of all sizes, we have recommendations for low-cost, mid-range, and options for spending more (the higher-priced option).
Low-cost recommendations typically focus on using what you already have at home. The downside to this is remembering to collect everything and pack it up, though keeping a camping checklist will definitely help. And these items are usually larger and/or heavier than camping versions, like pots and pans made for camping.
Gear in the mid-price range is inexpensive versions of the most essential camping gear.
High-end options are the most durable, lightweight, and packable camping gear – or probably not essential. It depends on how much you want to rough it vs. glamp – either way, it's all camping!
The Cost of Camping Gear for Sleeping
The Average Cost of Camping Tents
The cost of camping tents can vary. While you can find a decent tent for under $100, more durable tents with various features for a few hundred dollars. Click here for more about choosing the best tent for your family.
When you're ready to upgrade to a tent with a few more features, look for mid-range priced tents from REI, Walmart, Amazon, or direct from the manufacturer (like Kelty, Core, or Eureka!). We love our moderately priced Kelty Trail Ridge 6 (this model has been discontinued and replaced with the highly-rated Kelty Wireless 6). Price: $200-400.
High-end options include tents like the MSR Habitude 6, a high-quality tent with features such as durable zippers, plenty of standing room, and integrated porch light. Like the Teton Sports Mesa Canvas tent, others are made with extra durable materials to withstand more extreme weather – but come with a price tag to match. Increasing the size of your tent for a larger family (or if you just love having the extra space) will also increase the cost of camping tents. Price: $500 and up.
Sleeping Bags, Pads, and Mattresses
The most inexpensive way to get your sleep system for camping is actually a no-cost option if you can use what you have at home. For years, we used the air mattress we already owned for overnight guests at home, with blankets and pillows we pulled right off our own beds. The drawback of doing this is the smell of the campfire leeches to the bedding and will likely get dirty – which means you'll have a lot of laundry to do when you get home. Price: $0.
If you're ready to make some investment, plenty of mid-priced options are available. Inexpensive sleeping bags, such as the Teton Sports Trailhead, are around $50 and compresses down enough to store in your gear tote (we used these before upgrading and stayed warm even in chilly temps). The right pad or mattress depends on your comfort level. A foam pad is an inexpensive option if you're comfortable sleeping on the ground. Others like the durability of a cot. Price: $100 and up for a basic sleeping bag/foam pad.
It's time to invest in a sleeping bag when you're camping in cold weather and need a bag that keeps you warm when temps dip into the teens. I went all-in on The North Face One Bag that transitions between warmer weather and low temps – something we really need for camping here in Colorado, and it has been worth every penny. Another upgrade we made was the Exped Megamat 10. This sleeping pad is durable, warm, and comfy (and doesn't deflate in the cold!).
Money-saving tip #1 – how to save on the cost of camping tents, sleeping bags, and sleeping pads: rent, borrow or buy used when you can – especially if you are just starting out. If you know you'll take more camping trips but not in extreme weather conditions, don't worry about buying top-of-the-line tents or bags. Those are often for the coldest or rainiest weather.
Camp Kitchen
The lowest-cost option is to use as much from home again. Pot/pans (especially cast-iron), cutlery, melamine plates and bowls, plastic cups, measuring cups and spoons, cutting boards, and sharp knives can all be swiped from your kitchen. A camp stove is an excellent addition to your gear but not necessary if you're up for cooking everything over the campfire or planning all no-cook meals. Tip: plan your camping meals around kitchen equipment so you don't need too much. Price: $0.
Start building out your camp kitchen with moderately priced equipment. Start with a simple, single-burner propane stove (we love ours for travel, too) and a set of inexpensive nesting pots & pans (just make sure they aren't intended for backpacking, which will likely be too small for car camping). Price: purchase both for less than $100.
Money-saving tip #2 – how to save on camp kitchen gear: when you upgrade at home, add your older kitchen items to your camping tote (we're still using my husband's cutlery from his college days!). Also, look for multi-purpose gear – Nalgene bottles have marked measurements on the side that can double as a measuring cup.
Other Camp Gear
Investments in other gear add to the average cost of tent camping but can be done on a budget. Equipment for lighting, chairs, and coolers can cost nothing if you use what you might already have. If you want to go high-end, there are plenty of options there too, and it's easy to spend as much as $500.
Lighting
The least expensive lighting is to use flashlights you already have at home or use the flashlight feature on your phone (just make sure to have a way to charge your phone as this is a big drain on the battery).
If you are looking for camping-specific lighting, the best budget-friendly option is to invest in two types of lights. The first is something that provides a direct beam of light to provide illumination over a distance, like on your walk to the bathhouse. Flashlights and headlamps are both excellent for this. The second type lights up a larger area, like a lantern or string lights, to provide some lighting around the campsite after dark. Price: the headlamps and solar lantern will cost about $40
Higher cost options can include top-of-the-line lighting, like a Goal Zero lantern, and investing in a variety of lighting options. Go battery-free with solar-powered lights, headlamps for hands-free lighting, and string lights for that cozy camping ambiance. Price: can be $100 or more, depending on the type of lighting purchased
Camp chairs
It's easy to go no-cost with chairs for camping if comfort isn't as high on your list as saving money. Most campsites have a picnic table that can be used for seating, though it may not be close to the firepit. You can also bring an old blanket from home to sit right on the ground or look for big logs or rocks that can be placed around the campfire. Price: $0
A mid-priced option is to purchase a basic camping chair, like the Coleman Camp Chair. This simple and inexpensive camp chair has a small cooler built-in that can be used for your phone, bug spray, or other small items that are easily lost in the dark. Most importantly, the high-rated chair is perfect for pulling up around the campfire. Or go really budget-friendly with the Ozark Trail Basic Quad Folding Camp Chair for less than $10! Price: $10-50
There are two ways to invest in the cost of tent camping with chairs. Look for super-packable and ultralight chairs like the Helinox One. The other option is to pick up one of the really comfy camp chairs out there. Gravity chairs are a great option, but they can be bulky. We went with the Nemo Stargaze Recliner – they pack down really well but are also really comfortable (so comfortable that I'll pull mine out for movie night at home sometimes!). Price: $100 and up
Related Reading: 27 Best Heavy-Duty Camping Chairs for Ultimate Durability
A Cooler for Keeping Food and Drinks Cold
If you don't already have a cooler, it's probably time to buy one. Most moderately-priced coolers will do, but we like our Coleman Xtreme 62-Quart Wheeled Cooler, priced at under $100. The wheels make it easy to transport from the car to the campsite when filled with a weekend's worth of food. Price: $75-150
We all know the high-end option for coolers: Yeti might be the first brand you think of for the best of the best in coolers. But you can save on the average cost of tent camping with a lower-priced rotomolded cooler from brands like RTIC. Find the same quality 65-quart rotomolded cooler for $100 less than Yeti. Price: $250 and up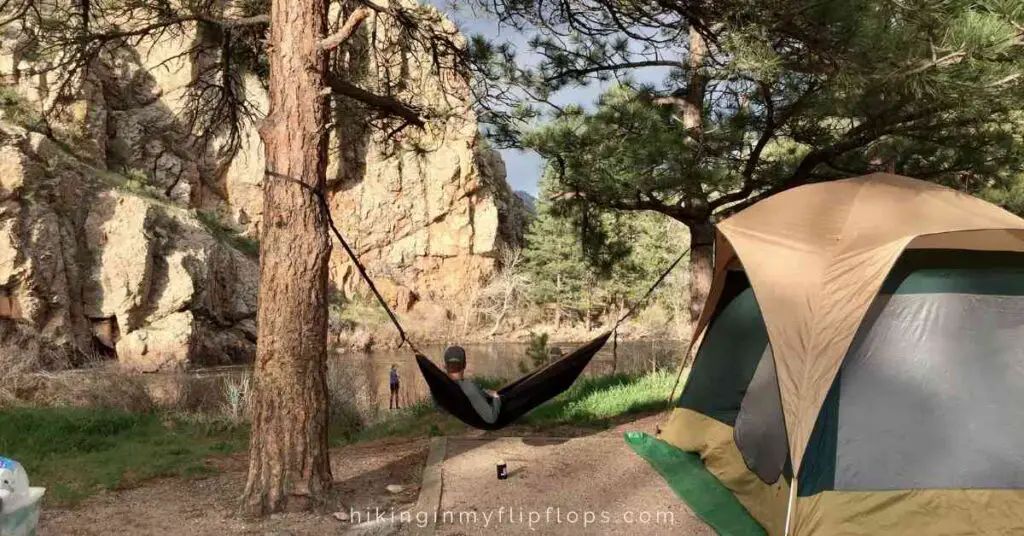 Variable Expenses in the Cost of Tent Camping
Once you have your setup, the tent camping costs go way down. These are the expenses campers should plan for on each trip.
The Average Campsite Cost Per Night
The cost of the campsite you choose is generally related to the amenities available. The cheapest may or may not have picnic tables, restrooms, or restrooms (if they do, it is likely just a vault toilet).
On the low end, it's easy to find free camping across the country. Check freecampsites.net, or the BLM (Bureau of Land Management) website for places to (legally) set up a tent for the night for free. Other campsites with some services are as low as $10/night. These are primitive sites, meaning you'll be camping without electricity.
Mid-range options have some amenities, usually limited to bathrooms (flush or vault toilets), drinking water, and firewood for sale. Larger state and national parks often sell camping supplies and ice and may have some sites with hookups for RVs. Camping fees usually include access to other features within the park, like fishing and hiking but may not include park entrance fees. The average campsite cost per night generally ranges from $20-50 (or more for a site with electricity). Plan to pay a service fee of up to $10 per reservation.
Camping "resorts" are the most expensive way to camp. These campgrounds can be filled with plenty of amenities and organized activities. While these amenities can be especially great for anyone new to camping, you should also expect additional fees for activities not included with your stay, service fees, and even some fees to select a specific campsite.
Money-saving tip #3 – saving on the cost of a campsite: plan camping trips for off-season dates or weekdays. Some campgrounds charge higher rates when demand is high.
Budgeting for Food While Camping
Cooking in the great outdoors doesn't usually cost any more than you would spend cooking at home. When budgeting for your camping trip, use the meal ideas below to save or splurge on your outdoor meals.
Inexpensive meal ideas: hot dogs and a can of baked beans, spaghetti and pasta sauce, and sandwiches are cheap and easy options for lunches or dinners at the campground.
Have a little more to spend? Shop for foods that will save time and create less mess, like pre-made salads, just-add-water pancake mixes, or precut melon and pineapple from the store, which saves extra chopping and cleaning at the campground.
If a weekend in the wilderness means epic outdoor meals to you, then go all out with a more elaborate camping menu. There is just something different about a steak grilled over the campfire. Plan big breakfasts and dinners that take all day long to cook over the campfire.
The Cost of Firewood
You'll also need to budget for firewood in the cost of tent camping trips. While we provide a budget-friendly, mid-priced, and high-end option, these options to save or spend aren't always available.
Low spend: bring your own firewood from home, BUT this should only be done if you live near the campground. Transporting firewood is a significant cause of introducing non-native species into an area, which can have devastating effects on the ecosystem (like beetle kill). Alternatively, you may be able to gather firewood from around the campsite, though this is rarely permitted (ask a ranger or camp host if you don't see it in the campground rules)
It will cost a little more to purchase firewood from the campground if they sell it or pick up firewood from a grocery, home improvement, or convenience store on your way to the campground. There are sometimes discounts when purchasing multiple bundles. Price: budget for $5-10 a bundle
Higher priced option: if there are fire restrictions or you just don't want to deal with making a fire, consider a portable propane fire pit. We purchased this portable gas fire pit when Colorado was under extended fire bans but allowed the use of anything that could be extinguished immediately. Price: $100-200, including the cost of a propane tank.
Money-saving tip #4 – how to save on firewood: research firewood policy in advance so you can transport your own or can plan your purchase ahead. Sometimes campers will leave their extra firewood at the campsite for the next person, but not something you can count on. If you have firewood leftover at the end of your trip and room to transport and store at home, save it for your next trip.  
Spending on Activities and Entertainment
There are a lot of costs to factor in for activities and entertainment while camping. These are just a few ideas to get you started.
No-cost options for camping activities: pack up board games, a deck of cards, your guitar, coloring books for the kids, and download a good camping playlist. if you have a decent pair of shoes (or in some cases, flip-flops will even do!), it's almost always free to go hiking, and trails are often right near campgrounds. Price: $0
Mid-high spend: get some good hiking shoes, a backpack, and even trekking poles for longer hikes; basic (or even secondhand) fishing equipment, along with a fishing license if required, is a lower-cost activity for relaxing by a lake or river, or other gear to get out to enjoy the wilderness away from the campground. Check with the campground ahead of your trip for activities that may not be factored into the average campsite cost per night. Price: varies by activity and equipment
Money-saving tip #5 – saving on activities: use what you have at home and spend time using the amenities you are already paying for at the campground.
---
Click below to save this guide on the average cost of tent camping on Pinterest!