Packing for a family camping trip can quickly get overwhelming. It's enough work to gather all the gear you need to live in the wild, and getting it all into the car is a whole new challenge.
Don't get stuck will a car full of camping gear and no room for your family! These 11 easy tips make packing a car for camping easy and stress-free.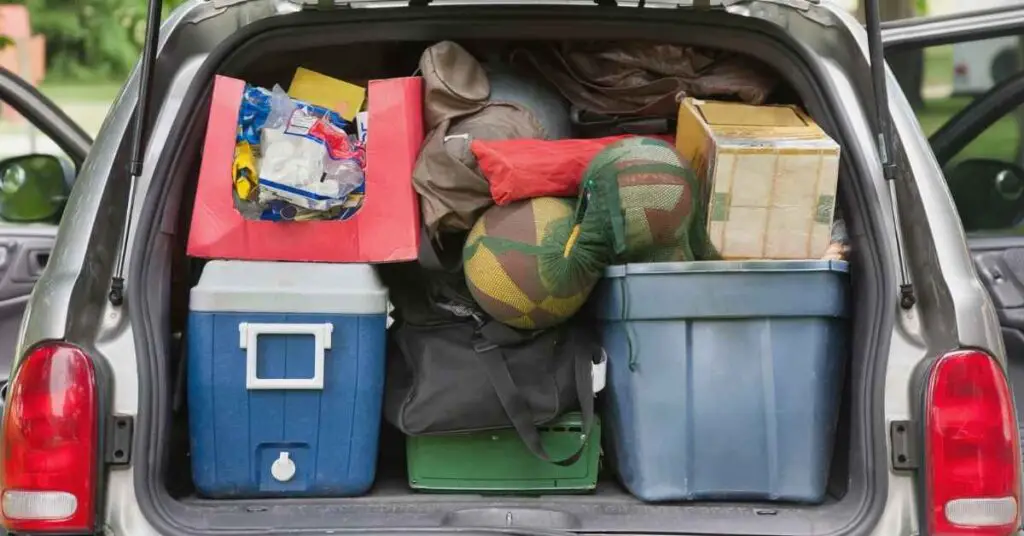 How to Pack a Car for Camping
Adding the stress of getting everything into the car is a mistake that can set a camping trip off on the wrong foot. Here's how to pack a car for camping to make it seamless and straightforward.
Keep in mind that there is still only so much space to work with. And the more people you have, the less room for gear. Have an idea of what you'll really need at the campground so that you're ready to cut out some things if there just isn't space for it all.
1. Start With a Clean Car
The first step to packing a car for camping is ensuring that the inside of your vehicle is clean. This keeps everything you don't need out of the way so you can focus on getting all that gear into the car.
Remove anything in the car that you won't need on your trip. This includes the floor mats and any items stored in the trunk of a crossover vehicle where they won't be used on your camping trip.
2. Use Small, Squared Totes
Smaller totes give a lot more flexibility in arranging and organizing inside your car – and they won't get as heavy when filled with gear. Look for totes that are squared, so there is less wasted space. Squared tote bags and large packing cubes are other great ways to use up every inch of space.
3. Order Matters
When packing a car for camping, think of the unpacking too. Pack things you'll need first into the car last, so they are accessible without unloading everything.
Arriving after dark? Put the tent and sleeping bags in last.
Camping in the mountains? Prep for lower temps by packing warmer clothes last.
Long drive to the campground? Have a quick dinner and snacks in an easy-to-access spot so you can feed your crew before setting up camp.
Expecting rain? Make sure that canopy is the first thing you can get out of the car.
You Might Also Like: The Ultimate Guide to Tent Camping for Beginners for an Epic First Trip
Layering order matters too. Always pack heavier items underneath lighter, more fragile items, so nothing gets crushed. It's OK to stack other gear on the cooler if you aren't making any stops between home and the campground. Otherwise, keep it accessible for drinks or snacks en route. (or pack a smaller cooler for quick and easy access to your road trip foods)
4. Compress Bulky Items
Sleeping bags, pillows, and tents can be compressed to save space. If any of your gear has the potential to compress down any more, buy a stuff sack to pack it down even smaller. We like the durability of the stuff sack from Alps Mountaineering.
If you're using hard-sided luggage, make sure to fill them as much as possible to take advantage of all the available space. Soft-sided luggage, like duffels, conform to their space and leave fewer gaps of wasted space when packing a car for camping. Use packing cubes to compress clothes, which work well for any type of luggage.
5. Fill Holes with Last-Minute Items
It's a rare occurrence to remember every single item when you're first packing the car for camping. Sneak those leftover items like shoes, umbrellas, sunscreen, and small hiking packs in the gaps between your totes and other camping gear.
6. Add Space with a Cargo Carrier
Make some useable space on the outside of your car too.
If you have a trailer hitch on your car, a tray hitch can be an effective way to add more space and makes packing a car for camping easier. We use this cargo carrier from Walmart, and it's a bit smaller than others but more durable.
Related Reading: 19 Common Camping Mistakes We All Make (and How to Avoid Them)
No trailer hitch? Rooftop carriers make packing space on top of your vehicle. Soft-sided rooftop carriers are easy to take on and off your car but can be less aerodynamic. Hardshell cargo boxes are more durable but are also more costly.
We use the hitch tray and a hard-shell cargo box to get as much space inside the car.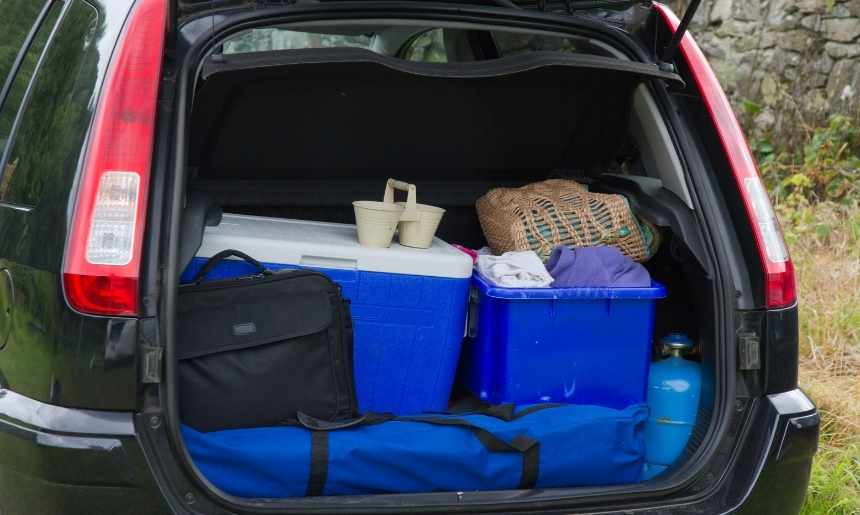 7. Reuse Those Amazon Boxes
Things seem to expand when packing the car back up at the end of a camping trip. To open up a bit of space, use those Amazon or other shipping boxes to pack up any items that won't be coming back home with you. This works exceptionally well with food (particularly bread and rolls that often get squished), kids' crafts, and firewood. When the boxes are emptied, toss them in the campground recycling bins. This won't save you space when leaving home but can save a lot of space when packing a car for camping after your trip.
We do the same with food containers, and we reuse Talenti and yogurt containers to store cut-up veggies, dips, and salads.
8. Secure Items in Hatchbacks
If you've ever experienced gear tumbling out of the car when opening the back of a hatchback or SUV, you'll know why this is a valuable tip. We try to use all available space in the car, right up against the rear door. But someone always forgets to pull gear out through the window first, and everything comes toppling out of the back when they lift the door.
Cargo nets to the rescue: one of these will help secure your gear and prevent everything from spilling out of the back when arriving at the campground. This versatile netting from Seven Sparta can be used for more than just the back of SUVs and hatchbacks.
9. Label, Label, Label
If you have a set of totes that look alike, label them so you can quickly tell what you have stored in which tote. Even if you use clear totes, this can be a time saver. All it took was a little duct tape and a sharpie so we could tell the difference between our "kitchen tote" and "outdoor fun" tote.
10. Consider Updating Your Camping Gear
If you frequently camp (or plan to), consider upgrading your gear for smaller, more packable versions of your camping gear. Just a few of our favorite collapsible and packable camping gear are found here, like sleeping bags, nesting pots and pans, and very packable towels.
You Might Also Like: How to Choose a Campground for a Camping Trip You'll Love (+ 11 Simple Tips)
Look for gear that is collapsible, nest-able, or built to be more compact than your current gear.
11. Take a Photo to Remember What Worked
Once you have everything perfectly packed and secured in your car, take a picture! It's the best way to remember what went where, so you don't have to go through the trial and error again the next time you're packing a car for camping trips.
Bonus Tip: Clean Up Before Repacking
Don't bring anything extra home with you. Sweep off gear with your mini broom (Coghlan's Tent Wisk is a classic, but I've had my eye on this one from Full Circle) when packing to go home. Getting the dirt and debris off camping gear prevents it from digging into fabrics, making it hard to remove.
A Long Story Short: How to Pack a Car for Camping
Packing a car for camping takes a little planning and some trial and error. Still, a few simple strategies will help you maximize your space – and might even give you enough room for a few more comforts of home for your trip into the wilderness.
Make the best use of space while loading up the car by minimizing wasted space with the right totes. And packing in the proper order will start your adventure on the right foot!
---
Click below to save these tips on how to pack a car for camping on Pinterest!