Nothing says winter adventure like getting out on the slopes for downhill skiing with the family, but the idea of family skiing for the first time can be a little intimidating. Figuring out the right equipment, finding the perfect ski destination, and learning how to ski is a lot of information that can take a lot of research. Plus, it's not the most budget-friendly outdoor adventure, so you want to save where you can.
If you're looking for new ways to get outside with the kids, skiing is one of the best activities to get your family outdoors in the winter. Our first season in the Colorado mountains with the kids taught us that skiing for beginners can easily be simplified. These essential tips for first-time skiers will get you set in the right direction and quickly confident on the slopes this winter.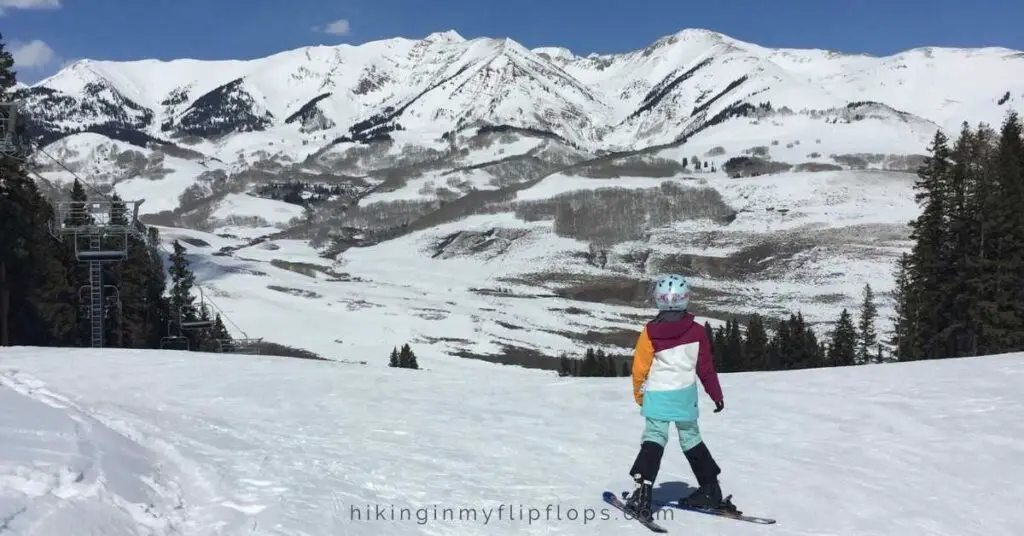 This article is focused on things to know about skiing for the first time rather than teaching you how to ski. We'll leave that to the pros! If you want a sneak peek at ski techniques taught during beginner ski lessons, this is a great intro video:
Planning Tips for First-Time Skiers and Boarders
1. Decide on Skiing or Boarding
There was a time when this wasn't even a question. There were few (if any) snowboarders on the mountain slopes, and lessons and information were geared just to skiing for beginners. Things have since changed, so you'll want to consider boarding as an alternative to skiing before arriving at the ski resort.
There isn't a correct answer – it's a personal preference. We know families who have their kids master skiing before trying out snowboarding, while others set right out with boarding.
We decided on one season on skis, then let the kids switch to boarding if they wanted to. We found that boarding was more natural for them, and they all picked it up quickly. Whichever you choose to start with, plan to take at least one lesson and give it some time before deciding if it's right for you.
2. Find the Right Ski Destination
Ski destinations can vary in their services, amenities, and onsite activities. Deciding what will make the perfect ski adventure for your family will help you pick the right place for skiing for the first time.
Ski Resort vs. Ski Area
Ski areas offer the basics for a day on the slopes. Equipment rentals, lessons, dining options, and a ski shop are almost always provided. An onsite lodge usually has some gear storage, restrooms, and a place to warm up by the fire.
Ski resorts are perfect for family ski vacations and a first-time skiing experience. Like a hotel resort, ski resorts have almost everything you need right there: shops, restaurants, lodging, and plenty of après ski activities. Many offer transportation from the airport, so you don't even need to rent a car.
Find the Best First Time Skiing Experience
Choosing your location based on trail difficulty will give you more options during your ski trip, one of the skiing tips for first-timers we still use today. We don't want to spend the day with few trail options, so we look at how many acres are open for our skill level.
Ski runs are graded on levels of difficulty: a green circle (the easiest), blue squares (intermediate), and black diamonds (runs for the expert skier are the most extreme). Ski areas websites often show the total number of skiable acres and the percent of trails or acres by each difficulty level. New skiers want mountains with plenty of easy runs, so you don't get bored on the same few trails all day.
Search "mountain information" or "mountain stats" to learn more about the trails. All of our favorite family-friendly Colorado ski areas have this information on their websites.
3. Know the Basic Ski Lingo
Navigate through your day of skiing for the first time with a basic knowledge of common ski lingo. This will help you ask questions (and understand the answers), steer you clear of runs you don't want to be on and give you some overall confidence.
4. Book Lessons for Snowboarding or Skiing for Beginners
Even seasoned skiers benefit from a ski lesson here and there. Taking a ski or snowboard lesson to learn the proper techniques before heading out on your own makes skiing a better experience for kids and adults.
There are generally 3 options for lessons, fitting different budgets and goals.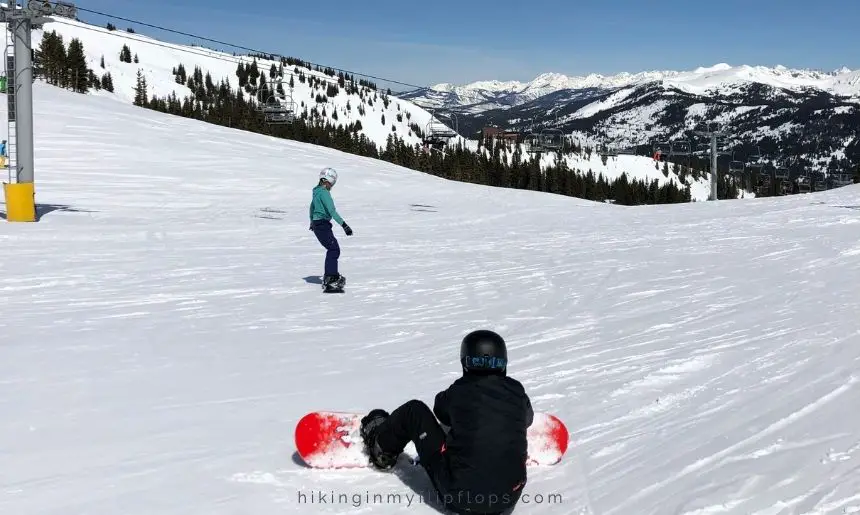 Group Lessons
Pros for group lesson: This can be the least expensive way to pick up some new skills.
Cons: The larger groups mean less individual attention from the instructors. Students are grouped by age and skill level, so you'll all learn the same skills. Group lessons are a good option for kids when the parents are experienced skiers, and mom and dad can spend the day skiing while the kids get lessons.
One-on-One Ski Lessons
Benefits of a one-on-one ski lesson: You'll get full attention from the instructor, who will tailor the instruction to your skill level.
But…: These can be expensive, but they can be worth it. If you've invested in a week-long ski vacation, you'll enjoy it more if you feel confident on more of the ski runs.
Family Private Lessons
After our kids learned the basics in a group lesson, we signed up for a private family lesson. This is right in the middle of group and one-on-one lessons. More targeted attention than group lessons, but more budget-friendly than one-on-one.
The lower student-to-teacher ratio helps everyone gain those skills much faster than in the larger group lesson, so everyone is ready to hit the slopes independently.
We added discounted lift tickets to our half-day lesson. We spent the afternoon practicing the skills we learned in the morning. 
5. Prepare for Storing Personal Items
It might seem a little ahead of the game to plan this in advance, but the day will go more smoothly if you do. Personal items, like sunscreen, water, and tissues, need a place to go while you ski or need to be carried with you.
If you have just a few items to bring with you, there may be enough space in your pocket to carry everything. This is especially easy if you plan to purchase lunch and snacks at one of the restaurants.
You can keep everything with you on the slopes by wearing a backpack. This can get a little annoying on the lifts but is otherwise an easy option. Choosing a backpack that holds a water reservoir makes it really easy to stay hydrated.
Renting a locker in the lodge is a good option if you don't want (or need) to carry everything with you, but don't want to take the time to trudge back to the car (which may require a shuttle ride). The cost varies by locker size and ski resort, but we generally pay $10-20 per day.
Keep personal items in your car. Lunchtime picnics in the parking lot are actually kind of fun. This is easier when you're able to park reasonably close to the lifts.
Money-Saving Tips for First-Time Skiers
6. Free Ski School for the Kids
The Epic SchoolKids Pass program is the best place to start. The program is available at Vail Resorts in Colorado and Utah (update: this program is now offered at Whistler Blackcomb in British Colombia beginning in the 2018-2019 ski season). The program offers free ski passes, one beginner lesson, and one equipment rental (which does not include goggles) for kids in Kindergarten through 5th grade.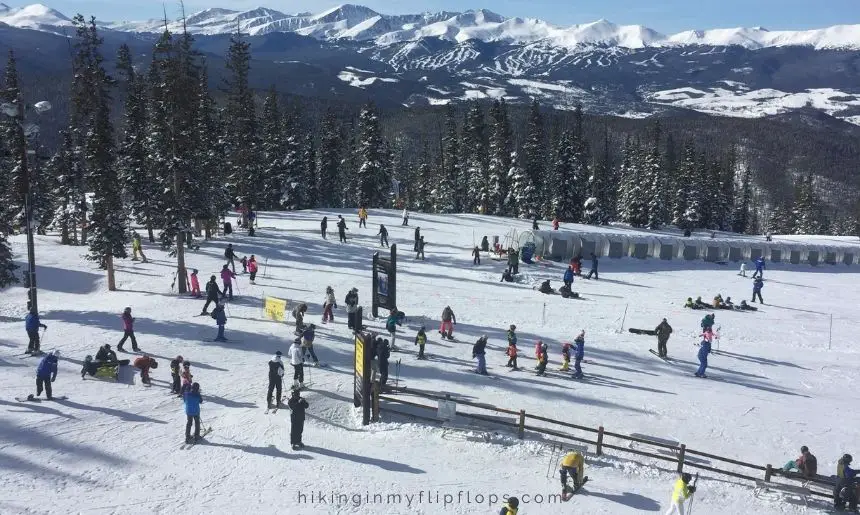 Remember that the free ski (or snowboarding) lesson is expressly focused on skiing for beginners, meaning anyone who has never put on a pair of skis. Instructors teach the kids about the equipment, putting on their ski gear, and moving around once the skis are on. This program is also available for snowboarding.
Pro tip: When the kids are signed up for ski school, parents who aren't skiing may get a discount to ride the gondola to watch the kids. Ask at the information desk or ticket window.
7. Pack a Lunch and Snacks
Buying lunch and snacks at the ski lodge can get expensive, so packing your own lunch can save you a lot of money. You'll see many people pack their own food for the day, so you won't feel out of place. If you want to maximize your time on the mountain, carry lunch with you in a backpack to avoid the haul back to your car in ski boots.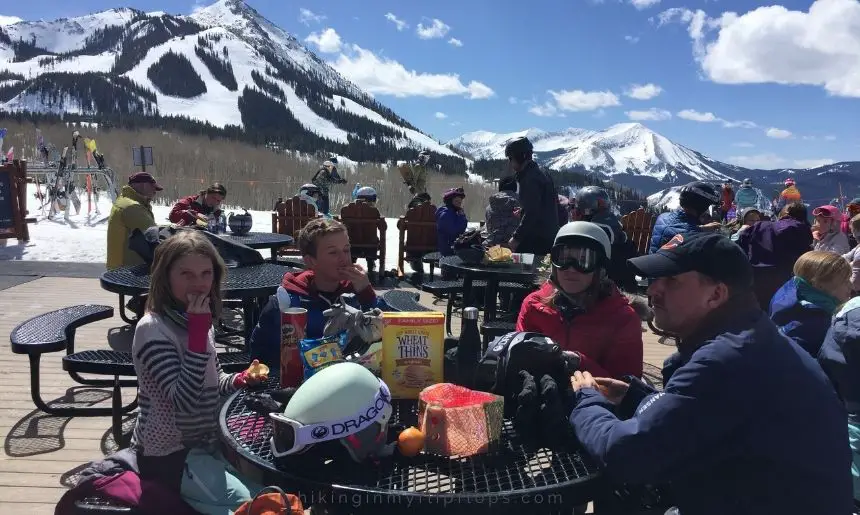 8. Rent Ski and Snowboarding Gear
One of the best money-saving tips for first-timers is getting equipment rentals. Rentals from the resort are more convenient (some even deliver right to your room the night before) but can cost more. We have found rentals of the same equipment at less than half the cost from ski shops offsite. Check around for rental prices ahead of time. Rentals don't include goggles, though, so it's recommended to purchase those even if you plan to ski only a few times.
Arriving at the Ski Destination
9. Start the Day with an Early Arrival
It can take a surprisingly long time to get to the lift in many ski areas from your parked car. Getting all the gear on, picking up a shuttle at the bigger ski resorts, and hitting the restroom before making your way to the lift takes time. If you have a lesson scheduled or want to get there before the crowds get big, make sure you arrive early.
If taking lessons and renting gear at the ski resort, make sure to arrive early enough to get fit for equipment. Otherwise, "first chair" is usually at 9 am, with lifts closing between 3:30 and 4 pm.
10. Get Familiar with the Ski Resort
Pick up a map, find restrooms, and get a locker if you need it (you can also store your personal items in your car). Also, take the time to plan to meet up with the rest of the group – for lunch or après ski – if you're going separate ways.
On the Slopes: Skiing Tips for First-Timers
11. Relax and Don't Fear the Falls
You will fall, and you will have some trouble getting up. The tenser you are, the more this will happen. Keep calm and relaxed, and have that fake-it-till-you-make-it confidence. Before you know it, you'll be carving turns with fewer and fewer falls.
12. Prep for the Ski Lifts
The ski lifts can sometimes be more challenging to learn than learning to ski. When you're new, especially when skiing for the first time, let the liftie (ski lingo for lift operator) know that. They can give some instruction, slow the chair to make it easier to get on, and radio to the lift operator at the top to slow the chair so you have time to safely get off the lifts.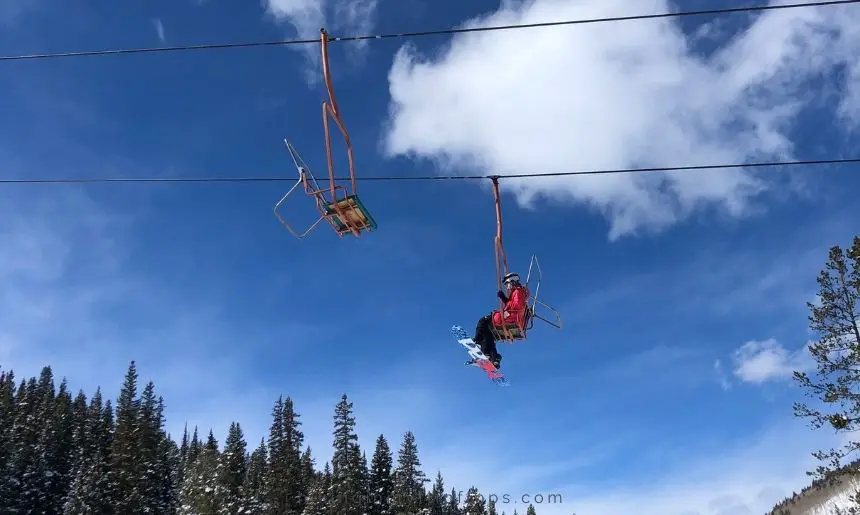 Safety Tips for First-Time Skiers and Boarders
13. Wear Your Helmet
Growing up skiing, no one wore helmets. That's all changed now and you'll see even the most advanced skier wearing a helmet. Some resorts require them, and for a good reason. Wearing a helmet has saved countless lives on the slopes. They prevent head injuries if skiers lose control and hit any obstacles (including other skiers or boarders) on the runs.
14. Protect with Sunscreen
There are few things better than a sunny day in the mountains, but that sun beats down hard. Even if the sun is just barely peeking through, slather on that sunscreen to protect your skin. If nothing else, it will prevent weird goggle- and gaiter-shaped tan lines on your face.
15. Follow the Posted Rules
Slow down where marked, stay off closed trails, and watch for those in front of you. These are just a few ski area rules you are likely to see. Familiarize yourself with regulations on the posted signs to keep everyone safe and traffic flowing.
16. Take Plenty of Breaks
Skiing and snowboarding are surprisingly exhausting. You would think that since your equipment is doing most of the work and a lot of time is sitting on the chair lifts, this wouldn't be the case. Take some time to get out of the sun, hydrate, and relax for a minute to maintain focus on practicing your new skill.
If your skiing adventure is planned for a few days on the slopes, taking a day off from the slopes is always a good idea. Skiing and snowboarding can take a lot of mental focus, so take time off for other adventures like exploring Ice Castles found in Colorado and other ski regions of the US.
17. Dress in Layers
Believe it or not, it can get HOT skiing on sunny days. We had a day in the Colorado mountains with highs in the 10s, but it was still beautiful and sunny. By mid-day, we were removing uncomfortably hot layers. The weather is unpredictable in the high elevations, so dress so you can flex with the temps.
Start with a base layer, then add a mid-layer (comfortable pants and long-sleeves will do). Add your ski jacket and snow pants on top and you'll stay warm and dry.
Skiing for Beginners: Packing List & Tips
Skiing is one of the few activities we do as a family that doesn't require consulting an extensive packing list. You don't want to carry too much with you on the slopes.
The first things on our list are ski gear and clothing to keep warm (we even borrow a few tips from keeping warm when camping in cold weather).
Ski Equipment to Rent When Skiing for the First Time
skis (or snowboard)
ski boots (or snowboard boots)
poles (skiing only; these are often not used with kids skiing for the first time)
ski goggles (the rental shop may not offer goggles, so consider purchasing these if they do not)
ski helmet (if you choose to buy helmets for the family, our kids like the helmets from Giro and we like the Smith Optics helmets)
Consider purchasing the insurance for any rental equipment. It typically costs only $2 per day and will protect against any damage to the gear.
What to Wear When Skiing for the First Time + Gear to Bring
Personal Items to Pack
sunscreen (we love the Sun Bum line)
water – either a small bottle (there are refilling stations around the resort) or a hydration pack
lunch
tissues (a pack for each person)
a battery pack to keep your phone charged (cold weather drains smartphone batteries quickly!)
If you don't want to worry about carrying a backpack around all day, ski lodges almost always have lockers to store gear while you're on the slopes.
Frequently Asked Questions
How do I prepare for skiing for the first time?
Skiing is a sport for almost everyone, but strength and balance come in handy for a day on the slopes. Plan to rent ski gear (skis, poles, helmet, and goggles) instead of making the investment to buy these items for your first-time skiing experience. Dress in layers, with a waterproof outer layer (like ski jacket and snow pants) to prevent melting snow from reaching your skin. First-time skiers should also book a ski lesson to learn basic techniques to make skiing fun and safe.
Is it easy to ski for the first time?
Skiing is not challenging, but it does take practice, patience, and confidence. New skiers can rent skis that work better for beginners and should choose trails and runs rated for skiing for beginners.
How many days skiing is enough?
Long days in the sun, intense focus, and early mornings can make skiing tiring. If you're planning a vacation with multiple days of skiing, consider including a one or two-day break from the slopes during your trip. One day will likely be spent learning (or re-learning) on skis, then plan another day or two to really take advantage of ski runs.
Can you learn to ski at 40?
If mom and dad want to ski with the kids, they can definitely learn to ski at 40 or even older.
Is skiing easier than snowboarding?
Yes and no. It's said that snowboarding is easier to learn but harder to master. Some people don't like that both feet are connected to the snowboard, but it's also easier to slow down and stay in control with a snowboard.
Why is skiing so expensive?
There can be a lot that goes into skiing. Weather-appropriate clothing, ski gear, lift tickets, and lodging all add up quickly. It's easy to reduce the costs with used (or rental) equipment, season tickets or multi-day lift tickets, and packing your own food.
How many lessons does a beginner need?
At least one. Then spend a few days practicing what was learned in the lesson and building confidence on the slopes. Then consider going back for a more intermediate lesson.
Have you recently taken your first family ski trip? Let us know your essential first-time skiing tips in the comments!
Click below to save these tips for first-time skiers for later!