Of all the gear needed for a family camping trip, the tent is the biggest and perhaps most complicated purchase. Tents come in a wide range of sizes, shapes, colors, materials, and more features than you can begin to imagine. So how to choose a tent for your next camping trip? Our tent buying guide breaks it down into 3 simple steps to quickly get you out on your next camping adventure.
How to Choose a Tent in 3 Simple Steps
Step 1. Choose the Size of the Tent
The first step in choosing a tent is to narrow it down to the right-sized tent. This means both the square footage and the height.
Tent sleeping capacity is simply based on how many sleeping bags can fit in the tent. It does not mean the number of people the tent will hold comfortably.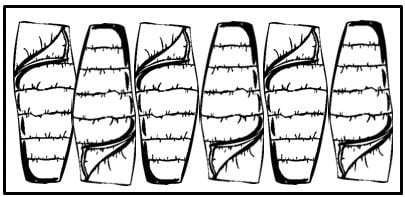 Pro Tip:
As a rule of thumb, subtract 2 from the sleeping capacity to get to that "comfort" sizing. A 6-person tent will sleep 4 comfortably (with gear). If you want more space for items like side tables or organizers, go even bigger.
As a rule of thumb, subtract 2 from the sleeping capacity to get to that "comfort" sizing. A 6-person tent will sleep 4 comfortably (with gear). If you want more space for items like side tables or organizers, go even bigger.
Still, sleeping capacity is not standardized across manufacturers. The Alps Mountaineering Taurus 6-Person Tent has about 30 sq ft more floor space than Kelty's 6-Person Wireless Tent. Most provide the tent floor square footage in addition to using people-capacity for size, so compare this across your final choices.
Pro Tip:
Maximize floor space by using cots over air mattresses or pads by storing gear underneath the cot.
How to Choose a Tent Height
Height is also a factor and depends on preference. Look for a peak height that is tall enough to stand in, or be prepared to crawl or stoop throughout the tent.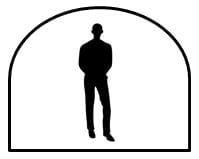 The shape of the tent determines how much of that height is usable. Cabin (like this 6-person tent from Outdoor Products) and tunnel tents have more standing room than dome (like Coleman's 6-person dome tent) or A-frame tents.
Cabin and tunnel tents have the most flexibility in standing space with little to no sloping in the tent.
The peak height in A-frame, geodesic, dome, and teepee tents may allow for only a small area tall enough to stand in.
Pro Tip:
Cots and other bedding with height can have limited placement in tents with sloped walls, like dome or A-frame.
Step 2. How to Choose a Tent Based on Your Budget
Tent prices can range from well under $100 to several hundred dollars. Size, brand, pole construction, tent weight, and material all factor into the price of a camping tent.
There is typically a tent for every budget, so the next step is to focus on the tent features that are most important to you.
Pro Tip:
If you're just starting out, go for lower-priced tents. You'll learn what really matters to you in a tent and will be more confident in your purchase when you're ready to upgrade.
Sale
Coleman 6-Person Dark Room Sundome Tent, Green/Black/Teal
Dark Room technology blocks 90% of sunlight so you can sleep in past sunrise; it also reduces temperatures inside the tent for a comfortable night's sleep
Stay dry thanks to the Weather Tec system with its tub-like floor, patented corner welds, and protected seams to help keep water out
Strong frame has been tested to withstand 35+ mph winds
E-Port makes it easy to bring electrical power inside your tent
Measures 10 ft. x 10 ft. with 6 ft. center height; fits 2 queen-size airbed
Step 3. Select the Most Important Tent Features
There are many different features in camping tents and how to choose a tent from all the options can quickly get overwhelming. Below is a list of the most common features people consider when choosing a tent. Quickly narrow down the options by choosing features that are most important to your family.
Number of Doors & Windows
---
Most tents have 1 or 2 doors, but some tents have more.
Why this may be important: 2+ doors if you don't want to worry about which way the tent is facing when you set it up, or if you want separate exit/entryways for middle of the night restroom breaks.
The number of windows (and size of windows) can vary greatly. Some have full stargazing ceilings, while others have no windows at all. The no-see-um mesh material of windows allows for cross breezes and stargazing, but less insulation in colder weather and less privacy.
Pole Construction
---
Poles can be made of fiberglass, aluminum, or steel. 
Fiberglass poles are lightweight and are the most affordable option, but can splinter easily.
Aluminum tent poles are also lightweight but are less prone to damage. These poles can pose a safety risk in a thunderstorm, however, and will corrode over time.
Tent poles made from steel are the most durable but are also the heaviest. Exceptionally large tents, or those made with heavy material such as canvas, use steel poles.
Our recommendation: most affordable tents come with fiberglass poles. Even though they can splinter, it's unlikely you will be left without a place to sleep for the night, as the tent can be propped up enough to get through the night (we know from experience!). They are easy and inexpensive to replace.
Ease of Zipper
---
Some tents highlight one-handed zipper operation. This feature is great when your hands are full with the little ones. 
Ease of Setup
---
Instant (poles come attached to the tent and simply need to be connected) and pop-up (folded up and secured into a bag) tents are a breeze to set up, while a typical tent can take a little more time and people to get set up.
Core tents are popular for their easy, instant setup.
Sale
CORE 6 Person Instant Cabin Tent with Awning Green/Gray
Instant 60 Second Setup; Sleeps 6 people; Fits two queen air mattresses; Center Height: 72".
CORE H20 Block Technology and adjustable ground vent.
Features a "T" style door and awning, gear loft with lantern hook and large wall orgnanizer to keep items neat and off the tent floor.
Pro Tip:
Focus your search on instant tents when there is only one person setting up the tent.
Vestibule
---
A vestibule is an added area usually in front of the tent. This space is covered on the top and sides, but not on the bottom. These are also called a gear garage, screen room, or front porch. A good spot to store your gear (but not food!) out of the elements but not in the tent. Also great for escaping light rain without being fully inside the tent.
They vary in size, so if this is an important feature, be sure to verify the dimensions. Our Kelty Trail Ridge is only large enough for shoes, while our Wawona 6 from The North Face has plenty of space for 2-3 camp chairs.
Keep In Mind:
Large vestibules can add more weight and bulk to the tent but can be a great alternative to packing a separate canopy to protect from rain or direct sun.
Gear Pockets
---
Integrated pockets for storing phones, glasses, headlamps, and other valuables that are easily lost in a tent (or can be otherwise hard to find in the dark). They are generally small (at best, these may fit a pair of flip flops), but great for organizing small items.
Number of Rooms
---
Larger families may want additional privacy offered with separate rooms within the tent. Rooms are often created by hanging room dividers included with the tent, and are a common feature in large camping tents.
Sale
UNP Camping Tent 10-Person-Family Tents, Parties, Music Festival Tent, Big, Easy Up, 5 Large Mesh Windows, Double Layer, 2 Room, Waterproof, Weather Resistant, 18ft x 9ft x78in
100-percent-polyester
【Spacious for 10 Person】Unique 18ft x 9ft x78in, well fitting 10 sleeping bags or 3 queen air mattress, ideal for family camping.
【Easy up Tent】Attach FRP poles onto the cabinet tent completely by J hooks, no trouble of inserting poles through sleeves. Patented foot sleeves make it conveniently to set up this family tent more securely and windproof. No particular skills are needed. Two persons can set it up in 8 minutes. Bigger carry bag size at 25.6x10.2x10.2 inches will let you feel relaxed and easy to repack the tent.
Warranty
---
A very excited puppy once tried to claw her way through the mesh of our Kelty. We contacted Kelty for recommendations on how to best fix the hole and they offered to do the repair at no cost to us.
Tents tear, zippers break, and poles snap, so a good warranty (or company that stands behind their product) may be important, especially with more expensive tents.
Weight
---
This feature is particularly important if you will be carrying the tent for any distance. Tent size, material, and pole construction all factor into the weight of the tent.  
Pay attention to the weight if you'll ever consider backcountry camping with your tent.
Waterproofness
---
It's Murphy's Law – no matter the forecast, it seems to always rain when you are camping. If you camp in areas where this happens often, look for tents with high waterproofness: the tent's ability to stay dry.  Tent manufacturers give a lot of technical specs on waterproofness, but little explanation.
All tents will keep you dry in light rain, but there are clear differences between the tents' ability to stay dry in long heavy rain. If you plan to stick it out in heavy downpours, then consider a tent rated "best" for waterproofness. Marmot's Limestone is a highly rated tent with a high waterproof rating.
Marmot Limestone 6-Person Family or Group Camping Tent
6 person, 83.8 square foot lightweight tent ideal for group or family camping; includes seam taped, full coverage weatherproof rain fly
Catenary cut fly and tent body to increase air flow, keeping occupants cooler and drier
Color coded "easy pitch" poles and clips for quick and easy setup
Zone pre-bend construction creates vertical walls for roomier interior; front double door for easy entry and exit
One D-shaped door, one vestibule
Season Rating
---
2-3 season tents are the most common for car campers because they allow for flexibility in a range of temperatures and inclement weather.
When to look at a 1- or 4-season tent: if you plan to camp exclusively in certain climates. 1 season tents are best for warm, dry weather. They are breathable, but that also means not very insulating or waterproof. 4 season tents are very insulating and weatherproof but can be stuffy in warm temps.
Single Wall vs. Double Wall Tents
---
Single walled tents have an integrated rainfly, so you never need to worry about last minute sprints to get the fly on when an unexpected rainstorm comes in. The thicker walls can make a tent stuffy in hot weather.
Double walled tents have a separate rainfly for the waterproof layer. The thinner walls in this type of tent are more breathable and give some flexibility in warmer weather.
We recommend double walled tents for the flexibility in rain, heat, and cold weather.
The North Face Wawona 6, Golden Oak/Saffron Yellow, OS
A CAMPER'S RETREAT. Virtually a portable chateau, this durable, single-wall tent boasts room for six people with ceilings high enough to stand. Large windows for expansive views and exceptional airflow, and a color-coded easy-pitch design.
SPACIOUS DESIGN. This family tent features a large double-door front vestibule and a rear door and vestibule. Full stand-up height makes maneuvering around a breeze. Two large windows provide great visibility and breathability on warm days.
INTEGRATED STORAGE. Internal dry lines, hang loops and a hook-and-loop lantern loop offer everyday conveniences when you're out camping. A tablet pocket plus extra mesh pockets help keep your essentials handy.
WATERPROOF CONSTRUCTION. The single-wall design is fully waterproof and makes for easy pitching. This tent's fly, canopy and floor are made from durable polyester with a PU-coated, water-resistant finish. Large top vents help prevent condensation.
DETAILS. Stuffsack: 10" X 27" (25.4 cm X 81.3 cm). Packs into a duffel-bag style stuffsack. Weight: 20 lbs 15 oz . Floor Area: 86.11 square ft. Peak Height: 80". Heavy-duty, 14-mm pre-bent poles provide more interior space. Footprint sold separately.
Where to Buy the Best Camping Tent Brands
Where to buy your tent is almost as important as how to choose your tent. Whether you choose to buy direct from the manufacturer or from another retailer, there are plenty of buying options for the best camping tent brands.
REI
REI carries top camping tent brands such as Kelty, Eureka, and Marmot, in addition to REI branded tents
Cabela's also has their own line of tents and a great selection of heavy-duty canvas tents
Find Coleman, Kelty, Eureka, and Field & Stream branded tents at Dick's Sporting Goods
Target has store branded tents (Embark) as well as a selection from brands like Core and Klymit
Walmart sells are variety of camping tent brands, including their own line of tents (Ozark Trail)
While REI is probably our favorite place to shop tents, Amazon is a close second with their large selection of tents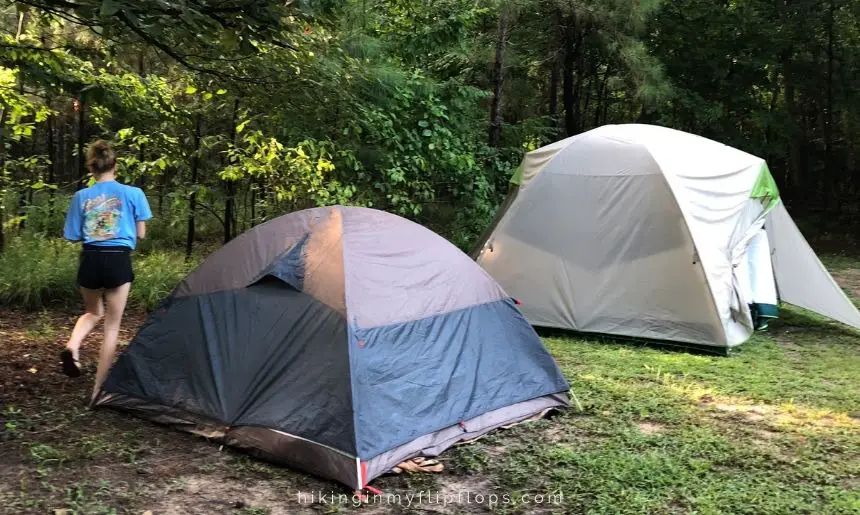 Tent Terminology Explained
Manufacturers and retailers may describe or refer to other common tent features. Knowing what it means can help make your tent selection easier. Understanding what those features are will help with how to choose a tent for your family.
Footprint
A footprint is a custom-fit protective layer between the tent and the ground.
Footprints can be purchased separately if a tent does not come with it, but a tarp underneath the tent works just as well and is a cheaper alternative to a footprint.
Rainfly (or fly for short)
A separate layer over the tent to protect from the elements, particularly rain. The fly is more waterproof than the tent material itself to keep the tent dry inside.
Ground cover
Sometimes called the ground cloth, this is a layer (usually just a tarp) between the tent and the ground. This extra layer protects the floor of the tent from damage or water.
It's not custom fit like a footprint, but any tarp as big or bigger than the tent itself will work.
Guy lines
The ropes or strings that are used to secure the tent to the ground. The lines come attached to the tent and are held in place with tent stakes.  
Tub floor
The floor of the tent is the most durable part (footprints or ground covers are still recommended), but water can seep into a tent at the seams where the walls meet the floor. Tents with tub floors have these seams a few inches off the floor (creating a tub shape) reducing the risk of leaks in heavy rains.
No-see-em Mesh
Tent windows are made from mesh that is breathable enough for breezes – and rain – to come through but prevents the tiniest of bugs from getting into the tent.
Gear loft
Storage space at the top of the tent. A mesh or other lightweight material ties to the top of the tent for organizing lightweight gear.
Tent Stakes
Tents are secured by pinning the guy lines to the ground with stakes. Car camping tent stakes are generally made from steel, while lighter weight aluminum stakes are found with backpacking tents. 
Freestanding Tent
Some tents are set up by first securing them to the ground with tent stakes, then standing up with the tent poles. Freestanding tents don't require stakes for set up. This allows for repositioning or moving the tent without having to take it down.
Tents that are not freestanding tents are less common and are used more often by backpackers to reduce the weight of the tent. This one from River Country makes use of trekking poles (not included with tent) to stand the tent up so the only additional gear needed are stakes to secure the tent in place.
River Country Products One Person Trekking Pole Tent, Ultralight Backpacking Tent - Green
Super Fast and Easy set up! Great for Hiking, camping, or adding to your survival bag, this compact tent will fit into your backpack without filling it up.
Has a protected vestibule for all your gear.
Trekking Poles are NOT included (for the combo pack with trekking poles look here www.amazon.com/dp/B07L3D4R4M ), this tent is intended for use with your own Trekking Poles, but can also be used by tying the peak to a low hanging tree branch - see pictures.
This Tent includes 9 ultralight red aluminum stakes.
2.8 lbs, 48 inch center height,
What tips do you have on how to choose a tent for family camping? Let us know your tips in the comments!
---
Click below to save this tent buying guide on Pinterest!
Back to the top of How to Choose a Tent Perfect for Your Family in 3 Simple Steps