Camping is one of our favorite ways to escape the chaos of everyday life. But many of us still crave the comforts of home when sleeping under the stars. 
One of the biggest challenges of sleeping in nature is camping without electricity. You can't bring popsicles for the kids on a hot day or curl up in your tent to watch your favorite Netflix show when an unexpected rainstorm comes through. Or you might not be able to power your CPAP machine.
Even if there are no electrical hookups at your campsite, it's still possible to enjoy your weekend roughing it. Whether you want to forgo the electricity for a primitive camping experience or are seeking alternative ways to power your gear, follow these tips for camping without power.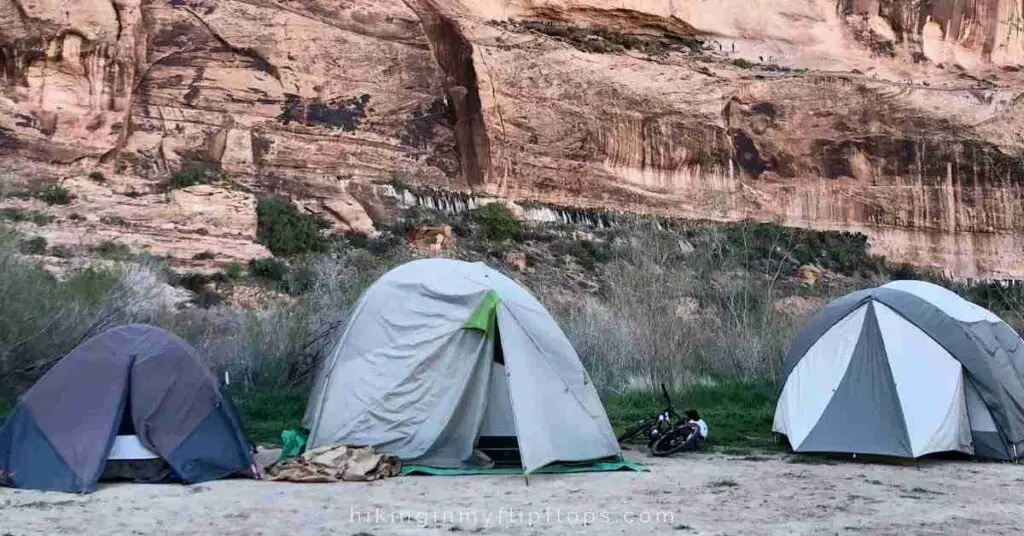 Do All Campsites Have Electricity?
They don't. In fact, many campgrounds do not have any electric hookups. Sites labeled "RV Site" (or something similar) have a much better chance of having electric hookups. Check the campsite description if you absolutely need access to electricity at your campsite. Some campgrounds do allow tents at RV sites. If you're a tent camper that can't go camping without power, check with the campground before reserving an RV site for your tent.
How to Go Camping Without Electricity or Running Water
Whether you are tent camping or are in your RV, dry camping or boondocking means camping without power or a water source. You may also see primitive camping at some campgrounds. These sites are also without water or power.
Here are tips for beginner campers (and those who have plenty of experience sleeping outdoors) to stay comfortable at the campground when you don't have access to electric hookups or potable water.
1. Staying Cool in the Heat 
Tent campers often rely on power for air conditioners in the summer heat. During a July camping trip in Texas, we learned first-hand why access to power can be crucial. There are other easy ways to keep cool when camping with no electricity:
use a canopy for shade from the sun
camp near a lake or river for cooling off
freeze a water bottle or two for each person before your camping trip to have access to cool drinking water
bring cooling towels to lower body temperatures
Find more tips on camping in hot weather here
2. Keeping Warm in the Cold
Staying warm can be a little challenging in a tent without electricity at your site. But there are a few ways to get cozy on cold nights. Once you leave the warmth of the campfire and head into the tent for the night, try these tips:
Read more on keeping warm when camping in cold weather
3. Making Coffee When Camping Without Power
You need to find another solution for your morning coffee when you can't just plug in the drip coffee maker. As long as you have a way to boil water when camping, coffee is easy to make.
use a French press or pour-over coffee maker for your morning coffee at the campground
instant coffee is another way to get your morning at the campground
4. Inflating the Air Mattress
If a plug-in air mattress is a crucial part of your camping equipment, inflating it can be challenging. Even if you locate an electrical outlet somewhere around the campground, you might have trouble getting an inflated mattress through your tent door (we speak from experience!).
we've since opted for a self-inflating bed that doesn't need an electrical power supply
get an adapter for the cigarette lighter to reach the air mattress from your car
change to a hand pump to inflate your mattress
5. Cooking without Electricity
Many camp chefs rely on an electric skillet for outdoor meals, especially when it's too hot to cook over a campfire. And that refrigerator in your RV? It will take a loud generator to keep it cool enough to store food.
If you don't have access to potable water at the campground, boil any water before using it for cooking or drinking.
Shelf Stable Meal Ideas for Your Camping Menu
breakfast: banana wraps (spread peanut butter on a tortilla and wrap around a banana)
lunch: tuna with packets of mayo that don't need refrigeration
dinner: spaghetti and pasta sauce
6. Storing Food
keep perishable food cold in a cooler that is appropriately chilled and packed
store all food out of the sun, especially foods with moisture (like bread and rolls) that will grow mold
7. Washing Dishes
8. Lighting Your Way Around the Campsite
choose solar-powered lanterns that can recharge during the day and double as a backup phone charger
have at least one battery-operated camping flashlight in case there is not enough sun for recharging
swap plug-in string lights for solar-powered string lights for softer lighting at the campsite
9. Hygiene
buy an inexpensive 5- or 10-gallon jug to bring water from home for washing hands
pack hand sanitizer to limit water use when you don't have access to potable water
baby wipes are great when you can't get a shower during a short trip
on extended trips, head into town for showers at truck stops, recreation centers, or gyms
invest in a solar-powered shower
Alternative Power Sources
Just because there are no electrical hookups at the campground doesn't mean you need to go camping without power altogether. Here are a few alternative ways to power up your camping equipment. 
A portable power station has electrical outlets to charge phones while camping. If needed, make sure it can charge larger devices, like laptops. When choosing a power station, know your power demands to ensure it can handle your CPAP machine, coffee maker, and laptop. If you know you'll use it frequently, investing in optional solar panels will extend the power.
A small portable charger for your cell phone. Some power banks can charge a phone 3 or 4 times. Choose a power bank that is solar-powered if you need to get multiple charges during your trip.
Choose solar-powered or battery-operated camping gear (don't forget to pack an extra battery or two)
If you must have comforts like air conditioning, bring a generator that can power an AC unit (check campground for rules on using generators)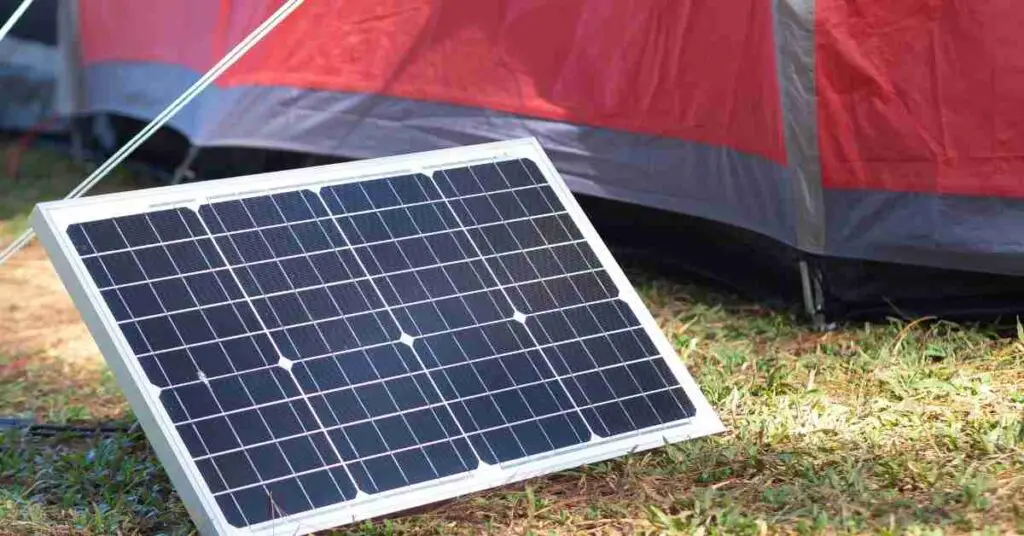 RV Camping Without Power
Many people think of camping in an RV or camper as having unlimited access to electricity, but that's often not the case. You can get by with some power from the battery, but it doesn't get you too far. Bringing your RV to camp in remote areas with epic views usually means dry camping.
fully charge the "house battery" (the battery that powers the equipment in your RV or camper), so you have some access to power
use campground amenities as much as possible so you don't drain your own resources
start your camping trip with an empty black and gray water tank; the freshwater tank should be full 
plan meals to avoid using the microwave, which uses the battery quickly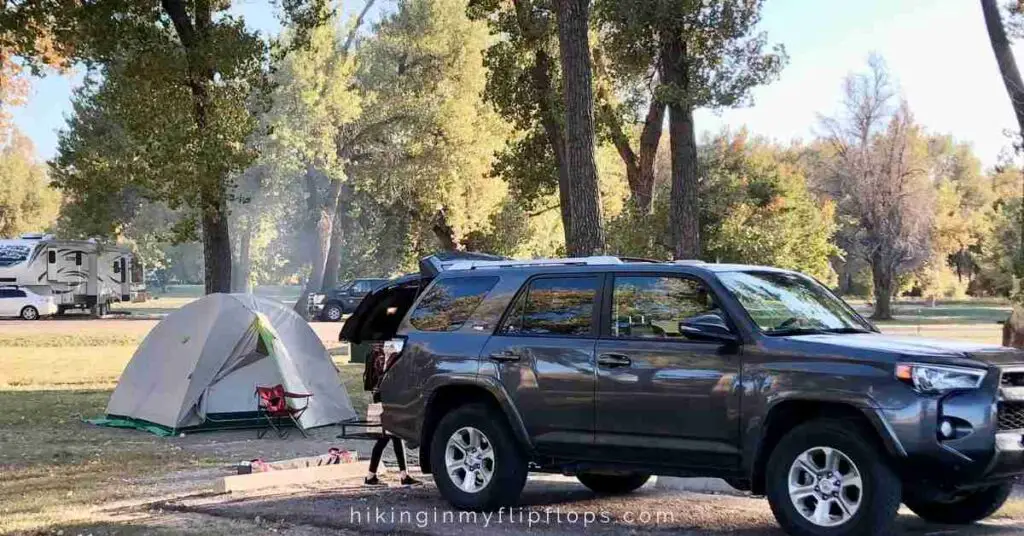 Embrace the Adventure
Sure, we want to be comfortable when sleeping under the stars. But camping isn't really about comforts; instead, it's about getting away from it all, connecting with nature and our friends and family. Rather than worry about missing out on those luxuries that are powered by electricity, embrace the adventure!
A Primitive Camping Checklist
You might want to add a few items to your camping gear when you have no electricity on your camping (or glamping) trip.
solar power string lights and lanterns
battery pack
French press or pour-over coffee maker
camp stove
cooling towels in summer
an indoor-safe heater for colder months
Frequently Asked Questions About Camping with No Electricity
---
Camping doesn't have to be uncomfortable or difficult without the convenience of electric hookups at the campground. With the proper preparations, you can have a great time sleeping under the stars when tent camping without power. These tips for camping with no electricity will have you relax and enjoy being surrounded by the beauty of nature.
---
Click below to save these tips for camping without electricity on Pinterest!