Ever wonder what people actually DO while camping? We know it's all about sleeping in a tent, but now that you are inspired to get into the great outdoors, are you left wondering how campers spend their time each day? Maybe you are simply looking for new ideas or are entirely new to camping. Either way, this list of things to do while camping will keep everyone in the family entertained and enjoying every moment in the outdoors.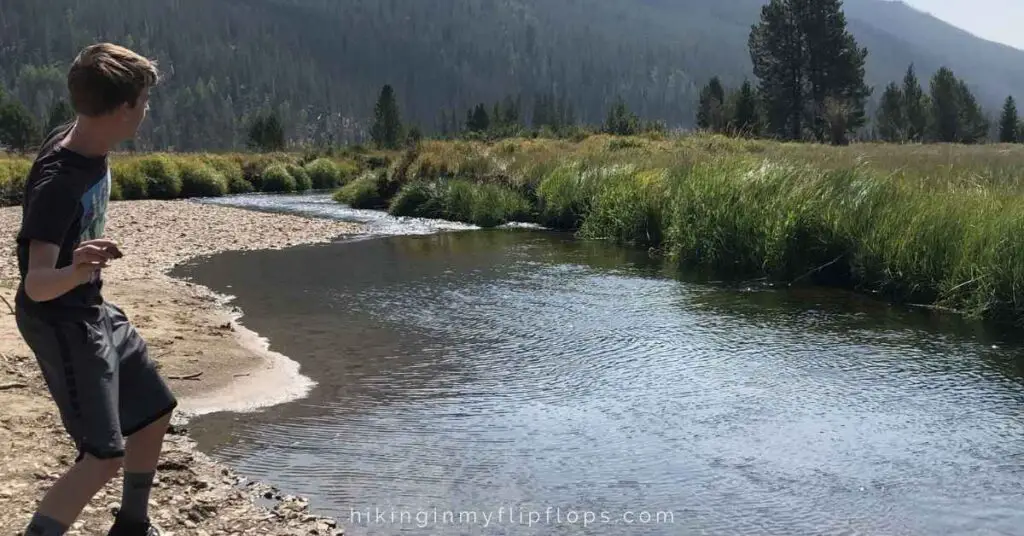 Things to Do at the Campsite
Most of the fun of camping is hanging out with friends and family at the campsite. Believe it or not, there are plenty of fun camping activities to do right at your site.
1. Paint Rocks
Painting rocks has risen in popularity over the past few years. People are painting rocks more than ever, whether it's for creativity or a fun way to spread a little joy.
You need smooth (and flat) rocks, acrylic paints, and brushes. You can also use a paint pen for less mess. Paint little pictures on your stones, or write inspirational messages on them.
Then "hide" rocks around the campground, parks, or other high traffic areas for people to easily find.
Remember that when you collect rocks from the outdoors, it may be the home to a little critter. It's best to purchase rocks from a landscaping or craft store.
2. Crafts and Nature Art
The campground can be a great place for crafting. Nature-inspired crafts like these fireflies can be used to light up the campsite when the sun goes down.
Or make your art using what you find in nature. Use twigs, leaves, flowers, pine cones, and more to create a work of art. Just bring paper and glue for your creations.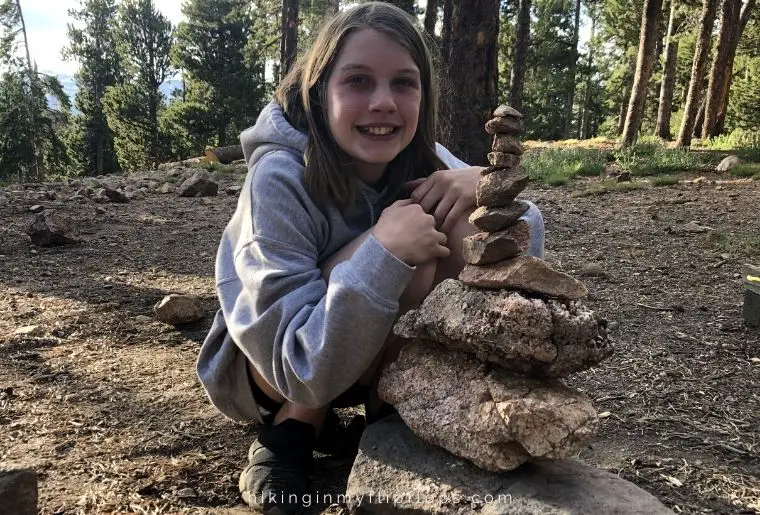 3. Stacking Rocks
If you've ever seen the inspiring creations from Gravity Glue (one of our favorite local creatives in Boulder, CO!), you probably already know how cool this activity is.
Use caution with this one, however. Rock stacking in many places (like outside a developed campsite) can be harmful in natural settings. Stacked rocks, also called cairns, are used for directing hikers along a poorly marked trail. Rocks are also homes to many critters, and moving them could disrupt the ecosystem.
You May Also Like: 17 Fun and Entertaining Camping Activities for Rainy Days
4. Play Outdoor Lawn Games
Outdoor lawn games are a great way to spend an afternoon at the campsite, especially for larger groups. Find versions that collapse for easier transport.
Look for favorite family games like cornhole (bean bags), washers, Klub, bocce ball, or ladders.
5. Toss a Frisbee
We have a Frisbee in each of our cars and our camping totes. They are so easy to pack, can be played with any number of people, and entertain for hours.
6. Slackline
The slackline is still probably our favorite addition to our camping gear. It's an entertaining exercise for the kids and a fun challenge for everyone – and it packs down small enough to fit easily in our equipment.
Before heading to the campground, make sure there are no restrictions for tying things to trees.
7. Decorate Your Campsite
The tent is usually the star, but you can make your campsite a home away from home by adding a personal touch with lights, flags, and flowers.
Add a table cloth to your picnic table, along with lanterns, flowers, or holiday decor
Hang a decorative yard flag at the front of your site
8. Practice Survival Skills
Get prepared for bigger adventures by learning or practicing the survival skills needed for the backcountry.
knot tying (see video below for tips and how-tos)
building a shelter
starting a fire
9. "Whip" Up Dessert
Making homemade ice cream or whipped cream right at your campsite is easier than you think.
Fill a bag with cream and sugar to make ice cream, then place it in a bigger bag filled with ice and salt. Find more details on making homemade ice cream in a bag here.
Whipped cream is even easier. Fill a mason jar with whipping cream and sugar. Shake until the cream is thickened and becomes solid. But be careful – if you shake it too much, it will turn into butter!
10. Yoga
The quiet of the campground early in the morning is perfect for meditation and yoga.
A yoga mat is easy to pack and can double as a (thin) extra layer of padding on the ground or insulation on a cot.
11. Whittle Wood
Whittling takes focus but is surprisingly calming. Kids that are old enough to handle a pocket knife can get started whittling too.
Things to Do While Camping with Kids
Kids can easily entertain themselves while out in the wilderness but have a few ideas if they get bored. There are many things to do around the campsite to keep even the younger kids busy and entertained.
12. Find Critters and Bugs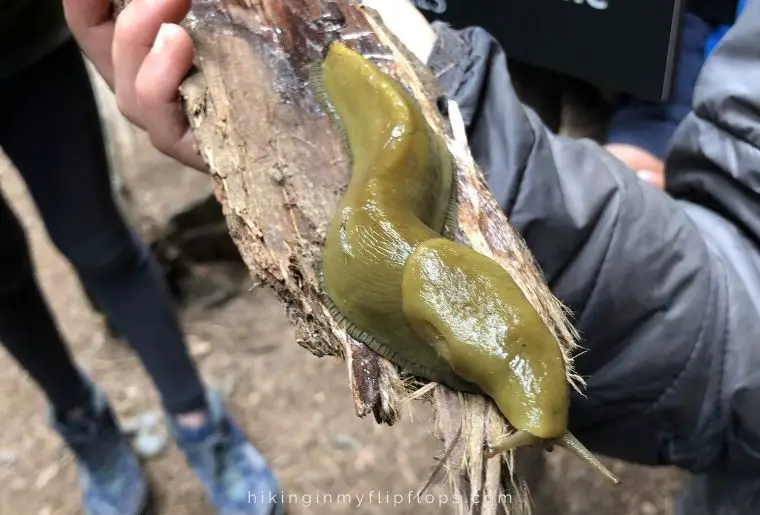 Get kids comfortable with creepy-crawlies by finding bugs and other little critters in a clear container (with tiny holes so they can get air!). Let them watch the bugs up close for a short period, then release them back to their homes.
13. Play Tag
Teach the kids all of your childhood favorites, like freeze tag or TV tag. Or learn some new versions of tag with these ideas.
14. Chalk
Many campgrounds have paved driveways at the campsite, perfect for chalk drawing. Play hopscotch games like tic-tac-toe, or draw nature scenes.
15. Relax in a Hammock
Chilling in a hammock is one of the best ways to spend a lazy afternoon at the campground. Check ahead to make sure the campground allows things tied to trees – and that there are trees at the campsite. If not, bring a collapsible hammock stand or try an inflatable lounger.
16. Make Snack Necklaces for Hiking
Thread finger foods like cereal, dried fruits, and pretzels through the string long enough to be worn as a necklace, then let the kids wear their necklace during a hike so they can snack as they please.
17. Water Games
Water balloons, water gun fights, or even a big tub of water to splash around in can entertain for hours and keep everyone cool on hot days.
18. Help with Cooking and Cleaning Up
Just like at home, kids can get involved in making meals. Younger kids can help with mixing and adding ingredients, and older kids can help with measuring and chopping. After the outdoor meals, everyone can jump in to help with washing the dishes and cleaning up.
19. Make a Campfire Meal
Teach older kids how to cook meals over a campfire. Roasting hot dogs and marshmallows is a great start. Foil packs and dutch oven recipes are good ways to get kids into campfire cooking.
20. Make a Slingshot
Crafting a slingshot is another good project for older kids. Pack an elastic band, and use Y-shaped wood found at the campground.
21. Blow Bubbles
This is an easy way to keep little ones occupied while getting dinner prepped or setting up camp.
22. Play with Toys From Home
Sometimes kids are happy to have a few things from home to play with while away. Pack a small tote with trucks, sand toys, or other favorites that are ok to get a little dirty.
23. School Work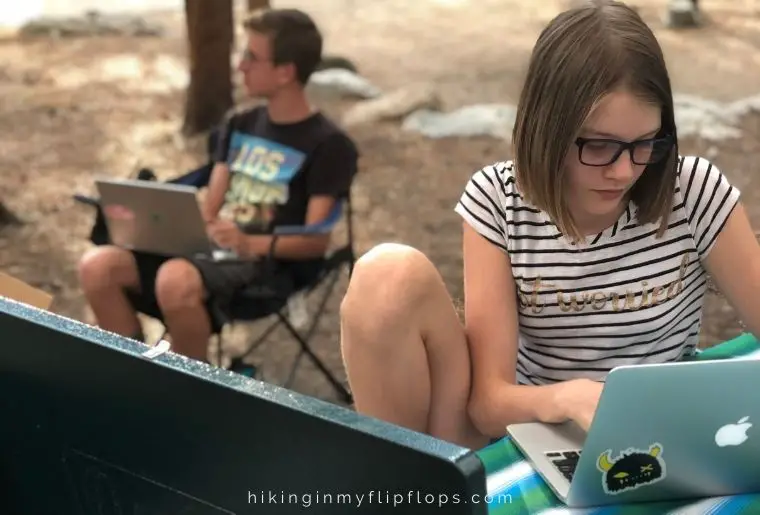 We're trying to make this list full of fun things to do while camping, but if you can do school work remotely, why not do it in the middle of nature? Make a desk out of the picnic table and complete school assignments at the campground.
Check ahead for cell service or WiFi. If online connections are not available, download what you can ahead of time.
24. Nothing
Yep – Not. A. Thing. Just allow the kids to be kids, to roam and explore. Give them time to be curious, lead the way, and become comfortable with nature. The older they are, the more they can set off doing this independently.
Things to Do Around the Campground
Some campgrounds offer just the basic amenities, but others have a variety of activities and fun things to do. Either way, there are many outdoor activities around the campground.
25. Foraging
Find edible mushrooms, berries, and plants to add to your outdoor meals. Make sure to research your area in advance, so you know how to identify safe and delicious ingredients!
26. Pick Up Litter
Public lands, in particular, may not have a budget to staff enough people to keep up with the littering at campgrounds and on trails. Bring an extra trash bag (and gloves) along on your walks and hikes to pack out what others didn't.
27. Take a Bike Ride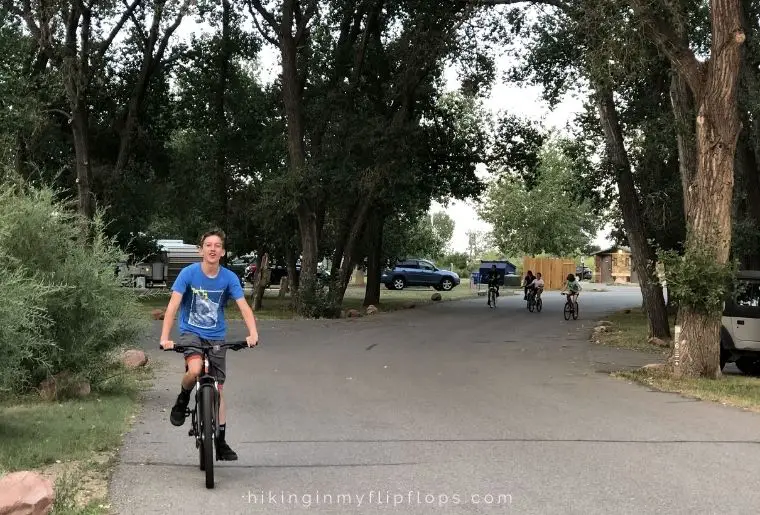 Roads throughout campgrounds tend to be wide and flat – perfect for younger bikers. Look for bike trails nearby for longer rides.
28. Go Geocaching
This app-based treasure hunt is so much fun for all ages. There are caches hidden all over the world and logged in this app. Find one near your location, read the clues, and locate the hidden treasure.
Some will be filled with little trinkets for you to take, but make sure to have something to replace them with.
29. Photography
There isn't a better time to practice your nature photography. Capture trees, critters, and mountain views. Take photos from unexpected angles. Or create a photo journal of your camping adventure.
30. Meet New Friends
Campgrounds are filled with people that love camping as much as you do. Get to know people from other states or people who may be neighbors you've never met. Share camping tips and hacks or a few stories around the campfire.
31. Bird Watching
Many people think of bird watching as an activity for our grandparents, but people of all ages have taken up this outdoor activity over the past few years.
All you need is a pair of binoculars and a bird-watching book to get started.
32. Scavenger Hunt
Give younger kids a list of simple items that include things like pine cones, trees, and squirrels.
Older kids can do a selfie scavenger hunt. Have them capture shots eating a s'more, in a tent, or by the posted campground rules.
33. Hunt for Sticks
Sticks for hiking or sticks for roasting hot dogs and marshmallows. Take a walk through the campground, searching for the perfect camping accessory.
34. Build a Fort
Let the kids take a few blankets and tarps to build their own fort for hiding out for the afternoon.
35. Identify Your Discoveries
From plants to animals, it's fun to find out what is around the campground and on the hiking trails. Find a plant species you've never heard of, or figure out which critters are visiting your site while you sleep.
Find a book specific to your region for the best of luck finding a match.
36. Go for a Picnic
Get a change of scenery from your usual lunch at the campsite and find a picnic table or park. Find one in the campground, or take a short drive to find a good picnic spot.
Plan ahead with a meal that can be easily transported to another location.
Take Advantage of Campground Amenities and Features
A few campgrounds offer nothing more than a fire ring and picnic table, while others have many things to do in and around the campground. These are opportunities you don't want to miss.
37. Hike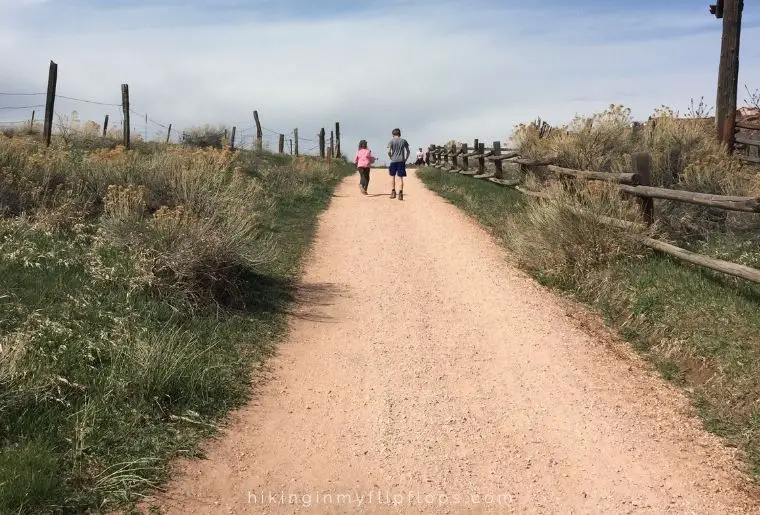 Taking a hike during a weekend in the woods is one of the more common things to do while camping on public lands, like State and National Parks. If there isn't a hiking trail at the campground, search apps like AllTrails for other options in the area.
If nature seems a little sparse around the campground, urban hiking is a thing too!
38. Play Ball
Look for spots around the campground to play volleyball, kickball, basketball, or soccer. If there are no open spaces or courts, a game of catch is just as fun.
39. Visit the Playground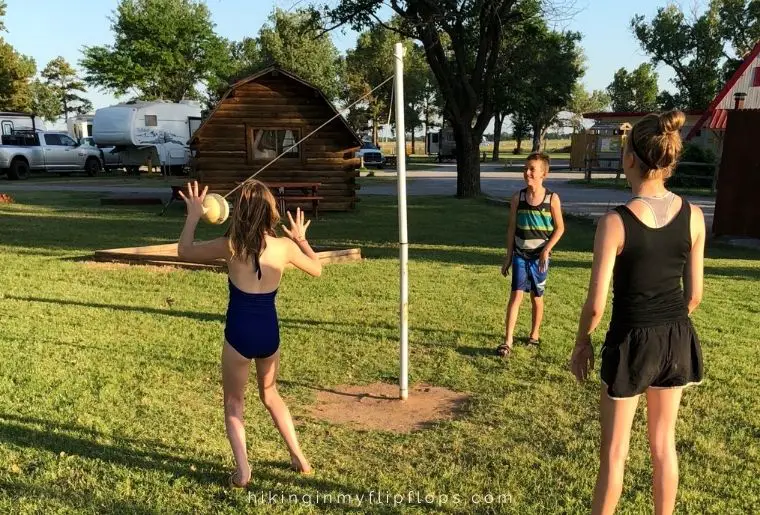 Playgrounds are a little more fun when they are at a campground. Bonus if it is close enough to your site to keep an eye on the kids while you get dinner ready.
40. Go Scrambling
Scrambling might be a good option when you're not quite into the technical gear needed for climbing.
Scrambling requires less equipment, it is easier to get started than with climbing, and it is an adventure that is more fun for the kids than just hiking.
41. Participate in Organized Activities
Some campgrounds have scheduled activities like bingo, scavenger hunts, and holiday activities.
National and State Parks often have ranger-led activities where kids and adults can learn more about nature and wildlife found in the park.
Things to Do in the Water
Many campgrounds have lakes or rivers nearby or a pool onsite. Do your research ahead of time, though, so you bring the right gear. Some don't allow swimming; others allow only certain types of watercraft.
42. Get Out on the Water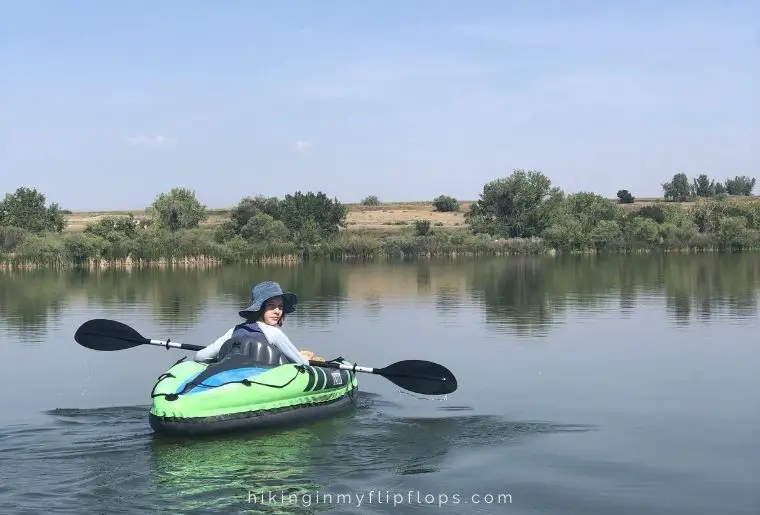 Pack up your kayak, canoe, or SUP to launch it into the lake. We love inflatable versions since they don't take up as much room.
If the lake allows swimming, you may also use any inflatable swim tube.
43. Take a Swim
Look for campgrounds with access to rivers, lakes, or pools for swimming. Just don't forget to pack up your beach or pool bag with swimsuits and towels!
44. Go Fishing
Research the area around the campground for fishing opportunities, then pack up a fishing pole and bait. If a fishing license is required, make sure you can access one.
Bring a few fish back to the campsite for dinner if the fishing area isn't catch-and-release only. We learned how to clean fish when ice fishing on our trip to Fairbanks, AK, and it's so much easier than you'd think! The video below has an excellent lesson on preparing the fish for cooking.
45. Learn to Skip Stones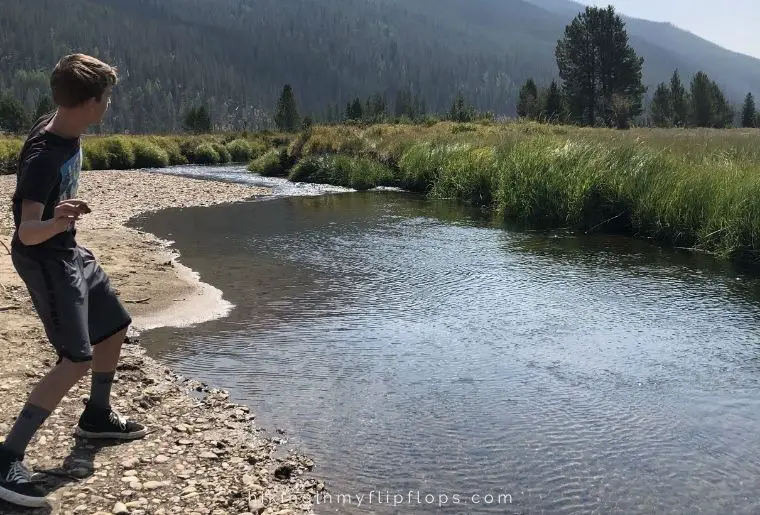 Find smooth, flat stones and practice skidding them across the water. Have a contest to see who can get more "skips" in their throws!
---
Camping is a great way to get back to nature and spend time with family and friends., but if you're not sure how to spend your days at the campground, this list of fun things to do while camping will give you plenty of ideas. Whether preparing for bored kids or making your camping trip an epic adventure, be ready for hiking, swimming, playing games, telling stories around the campfire, or simply relaxing in nature. Do you have favorite things to do when camping? Let us know your favorite activities!
---
Click below to save these ideas for fun things to do while camping on Pinterest!