The nighttime glow from a campsite is one of my favorite things about camping. Whether it's from campers sitting around the campfire's glow, string lights around your site to set the mood, or creating a soft glow from the tent, it's one of the best ways to cozy up a campsite. Good lighting around your site is more than just the ambiance, though. Adequate lighting keeps everyone safely moving around your site after dark.
There are a lot of different lighting options out there. We cover the most popular campsite and camping tent lighting ideas, including how they work best in different situations. Perfect solutions for campers who want to be able to see everything they need while enjoying their next trip outdoors.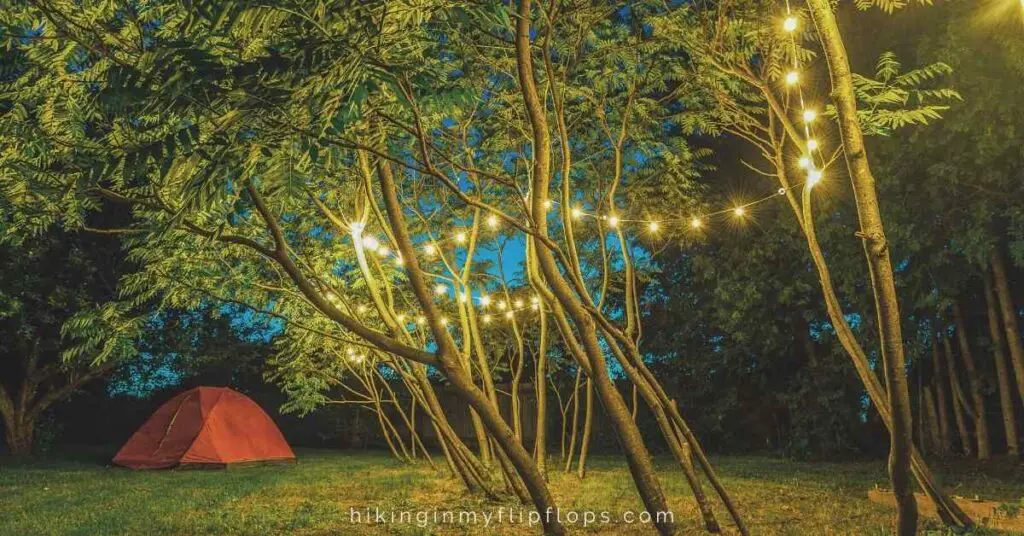 Camping Tent Lighting Ideas
Look for battery-powered lights and don't have any cords for the best lighting inside the tent. They cast a soft glow and can be used to read, set up your sleeping area, or play games. LED lights work best because they don't emit a lot of heat like other types of lighting.
Avoid camping tent lighting that casts a direct light like flashlights (including from your phone) because the light is effective in a narrow scope. Hands-free or headlamp lights are the best options because they allow you to use both hands for tasks while still providing light.
We also recommend lightweight camping tent lighting that is easy to set up, durable, and waterproof. An adjustable dimness setting makes it suitable for different scenarios.
1. Hanging Light Bulbs
What's more appropriate for lighting up your tent than a light bulb? This camping tent version at least looks like a light bulb, and it can be hung from the top of your tent to give you all the light you need after dark.
each light bulb in this 4-pack gives off 150 lumens of light
the attached clip makes it easy to hang in a tent or under a canopy (available in closed-hook and open-hook models)
powered by 3 AAA batteries, giving at least 10 hours of the brightest light
3 light modes (high, low, strobe) for just the lighting you need
2. Fan-Integrated Lighting
Camping in the hot summer months means you're also finding ways to stay cool. Combine your gear with a tent light integrated with a fan to get two camping products in one.
USB rechargeable light weighs just 1 lb
one charge lasts 10 hours at high speed
hang in the tent or from a tree by the hook, or collapse it to use on a tabletop
3 brightness settings for the right amount of light
3. DIY Lantern: Headlamp on Water Bottle
While your trusty headlamp is great for lighting the way in front of you, it isn't usually thought of for mood lighting around the campsite. Just add a water bottle, and you have one of the most effortless camping tent lighting ideas we've found.
We can't take credit for this idea – it's all over the camping corner of the internet. But it sure is easy and effective. Simply bring a gallon (or large Nalgene bottle) of water into the tent and wrap your headlamp around the bottle. Flip the light to face into the water, and you have yourself a perfect little glow that is perfect for a tent.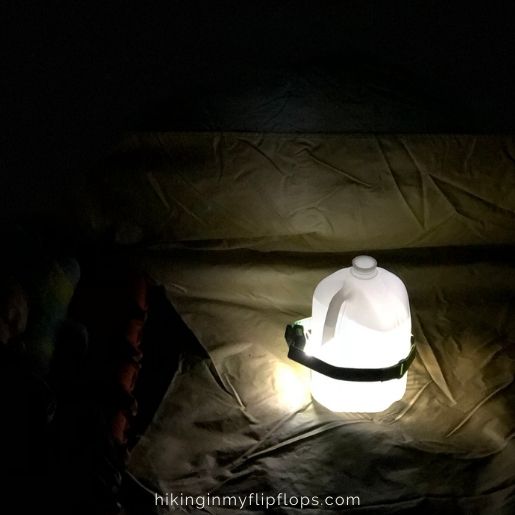 the 7 light modes include red light to protect from light pollution
adjustable to fit adults, kids – and water bottles
weather and shock-resistant
estimated around 200 lumens in comparison to the brightness of other lights
4. Hands-Free Flashlights
The Nite Ize BugLit is a small and lightweight, hands-free flashlight that lets you direct light anywhere you need it.
powered by a lithium metal battery that lasts about 10 hours
the bendable light shines where you need it and away from where you don't
6 lumens of direct light on the high setting, 1 lumen on low
5. Light Diffuser for Smartphones
This fun attachment makes terrific use of the flashlight on your phone. This little "lamp" creates just enough light for bedtime reading in the tent, giving a softer glow instead of the beam of light from your phone.
uses the flashlight app on your smartphone
it uses light from your phone, so no charging or batteries are needed
weighs less than 2 oz
6. A Soft and Gentle Glow Light
It's not just for nurseries – these are also ideal for camping with little ones. The glowing egg-shaped light gives off just enough light for parents to find their way around the tent when the kids are sleeping, but not so bright that it will wake up the kids.
the small light weighs just 7 ounces
can last up to 200 hours on one charge (on the dimmest setting)
save energy with the built-in timer to shut off when not needed
approved for indoor and outdoor use
You Might Also Like: 31 Great Outdoors Quotes and Nature Captions to Inspire Adventure
7. Disk Lights
We have two favorite brands for lighting for our camping trips. MPOWERD is one, and the other is Nite Ize. They quickly easily earned two spots on our list for favorite tent and campsite lighting ideas.
The micro lantern from Nite Ize is a small disk that provides the perfect glow in the tent.
USB rechargeable
60 lumens of light for 10 hours on one charge
compact design easily fits in the palm of your hand and weighs just 1.2 ounces
the swivel design lets you direct the light to where you need it
a built-in clip to hang from anywhere in the tent
8. Book Light
A book light might be the most underrated on the list of camping tent lighting ideas. The rechargeable light is lightweight, compact, and versatile. It makes a great camping gift for your favorite bookworm.
USB rechargeable, with 20 hours of battery life
small and lightweight (weighs just 2 oz), this light can be clipped onto your book or anything else in your tent
3 brightness modes to control the amount of light
flexible neck to angle the light anywhere you need it
Camping Tent Lighting Ideas That Are Bright Enough to Light Up Your Campsite
These lighting ideas work well in your tent, and they are also just bright enough to provide the lighting you need around your campsite.
9. Solar String Lights
The most festive of the campsite lighting ideas, string lights set a fun ambiance at the campground. Hang them from trees (if allowed) around the picnic table, or drape them in or around your tent.
We always love solar because you don't get stuck with dead batteries, and you can't go wrong with Luci lighting from MPOWERD. We were so excited about their new solar-powered string lights that they were our first pick for our camping gift guide this year.
18 feet of 100 lumens of light to light up your campsite
comes with clips for hanging
lasts 20 hours on a single charge
weights less than a pound
the solar charge can also be used to power up small devices with a USB cord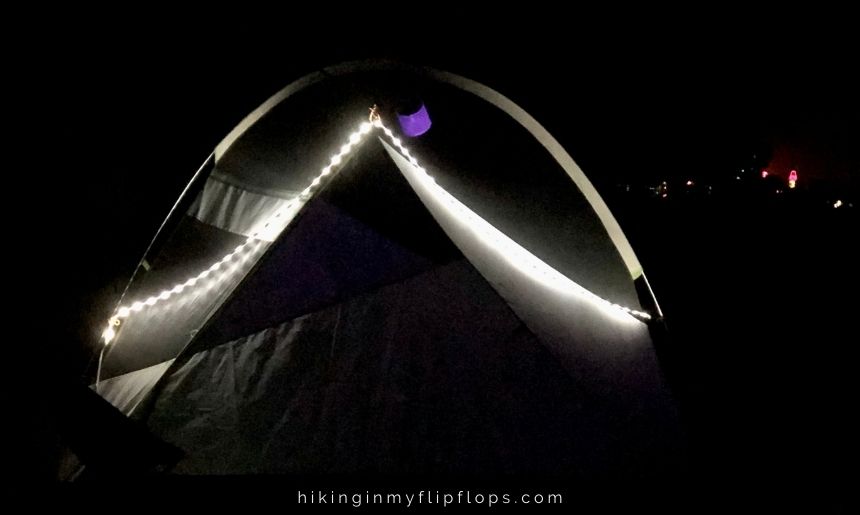 10. Rope Lights
String lights are one of the more festive campsite lighting ideas, but we prefer rope lights because they don't tangle as easily as string lights. The "rope" prevents the lights from catching on each other and causing a mess of lights.
The Luminoodle rope lights are powered with a battery pack, which you probably already have for your devices. (We use a solar-powered battery pack, so we don't need to worry about finding a place to recharge).
these waterproof rope lights can be used in two ways: you can string them at your campsite or in your tent, or you can light them up while in the bag to use as a lantern
less likely to tangle than string lights
if stringing around the campsite, buy the 10ft
also need to have a battery pack to power them
11. Collapsible Solar Lanterns
Collapsible solar lanterns are a great portable light source for camping and backpacking. Collapsing makes them easy to carry, and the solar light means you don't need to take extra gear to keep them powered throughout your trip. They can be hung or set on any flat surface, so you don't have to worry about cords that get in your way.
It's no secret that this is one of our most coveted pieces of camping gear, mainly because it packs down small and is easy to store. We have both MPowered Luci and LuminAid collapsible solar lanterns. They are lightweight and one of the most effective camping tent lighting ideas from the soft glow of light.
The downside to solar lanterns? They're tough, but they can still be punctured (though we've had ours for years, and it's never happened). And if you don't remember to set them out to charge, you're going to be out of light for the night.
65 lumens provides a gentle but still bright glow
one full charge gives 24 hours of light
this lightweight lantern weighs just 4.4 oz and collapses to 1.5 inches
4 light modes: low, medium, high, and flashing
the battery indicator lets you know when a charge is needed
12. A Lantern That Doesn't Collapse
This is the newest item on our camping gear wish list. A structured, durable lantern will keep the lights on without any risk of popping or collapsing – or even blowing away in high winds (because, yes, that's happened to us).
doubles as a power bank for charging other devices
up to 400 lumens when at the brightest of the 5 settings
USB rechargeable
anti-glare lighting is easier on the eyes
great for in the tent or lighting at the campsite
13. Battery Operated Lantern
Sometimes you just don't have the time (or sun) to charge up your camping tent lights. We always pack a few battery-operated lights so we still have light even if we have no time, power, or sunshine to charge lights before the sun starts to set. This highly rated battery-operated light from Core (known for its quick and easy instant setup tents) collapses for easy storage in your camp gear.
uses 3 AAA batteries (your first set is included)
adjust brightness with high, low, and nightlight settings
100 lumens (when brightness is set to high)
weighs about 7 oz. (with batteries)
steel hook sets this light up to hang in your tent or prop up on a table
weather and water-resistant (just don't submerge in water)
Bright Lights That Make the Best Campsite Lighting Ideas
14. Corded String Lights
If the sun isn't expected to appear during your camping trip, consider corded string lights if you have a site with electric hookups. You don't need to rely on solar power to light up your campsite. Solar energy isn't always reliable whether the sun doesn't show up for your camping trip or simply forgot to charge them up.
at 49 ft, these string lights will reach all around your campsite, and you can link up to 5 strands if you want excellent coverage
a dimmer switch gives you the option of turning the brightness down when needed
Related Reading: The Ultimate Guide to Tent Camping for Beginners for an Epic First Trip
15. Motion Sensor Lighting
If you only want campsite lights when you need them, you might consider motion sensor lighting. There is no need to fumble around in the dark when you need to take that middle-of-the-night trip to the bathhouse. These are awesome because they wrap around posts, trees, or anything else at your campsite. Because they are exceptionally bright, use them with caution so you don't disturb other campers.
1400 lumens provide very bright lights
solar powered
these lightweight lights are just 1.6 lbs, making them very portable
Campsite Lighting Ideas to Light Your Path
These subtle campsite lighting ideas aren't enough light to get chores done or for many nighttime camping activities, but they are fantastic ways to prevent tripping in the dark or finding your way back to your campsite or tent after dark.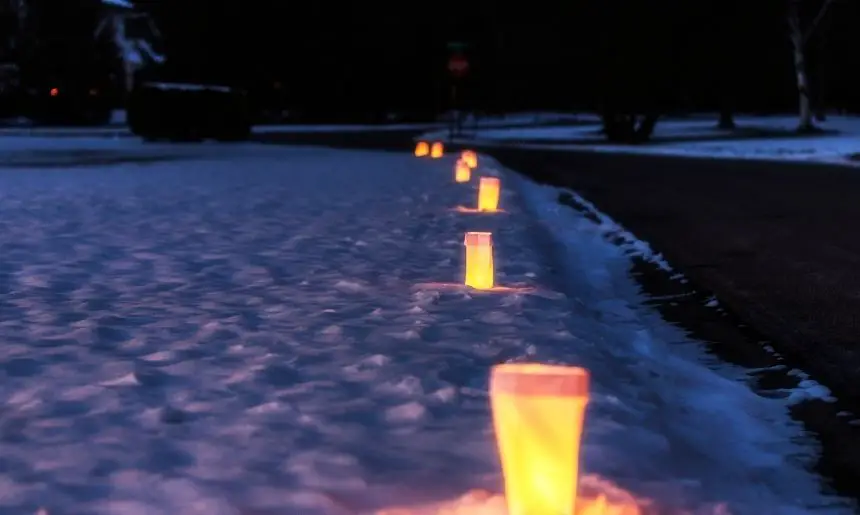 16. Glow Sticks
Sometimes it's like the guy lines of your tent are trying to trip you on purpose, the way they stick right out in front of where you're walking. Highlight all the tripping hazards that seem to come out of nowhere in the dark by attaching glow sticks to them.
Glow sticks are only one of the camping tent lighting ideas that don't really provide much light. But they do work for adding a gentle light to areas that are tripping hazards or anywhere else that can cause injury in the dark. Use zip ties to attach these to the guy lines of our tent and sometimes to the edges of the picnic table.
18. Landscape Lighting
There are many ways to use landscape lighting when camping.
create a pathway of lights to your campsite
remove the base and set a few lights in mason jars for tabletop lighting
stake a few lights at the entrance to your tent
strategically place them around tripping hazards
small and lightweight, making them easy to pack up as many as you need for your trip
each solar-powered light lasts up to 10 hours on a full charge
5 lumens give just enough light to guide you to your tent in the dark
19. Tea Lights
Battery-operated tea lights give a soft glow, and you can set them around the tent where you need just a little light. Some can even be put on timers, making these good lights for little ones who head into the tent before everyone else.
each battery-powered light weighs just 5 oz
this set comes in a pack of 12, so you can place a few wherever you need them (including in luminaries!)
gives about 100 hours of light on one battery
Bonus: Light Up the Dog!
In the spirit of lighting up areas of your campsite for safety, we thought we'd include one to help keep your pup safe, too. Even though dogs should be on a leash when camping, some tend to be escape artists, and it can be tough to locate them in the wilderness; when they do, this collar will make them much easier to find. It's hard to hide when you're lit up like a Christmas tree!
USB rechargeable dog collar lasts 8 hours on one charge
see your dog from up to 350 yards away
3 light modes include on, strobe, and blink
What to Consider When Buying Lights for Camping
When shopping for lights for your tent or campsite, pay attention to the features. Brightness, type of lamp or lightbulb (LEDs use much less energy than standard bulbs), and how the light is powered should all be a factor in your purchase.
Lumens
Choosing the best campsite or camping tent lighting ideas for your camping trip depends on how much light you need for different situations. Lumens are necessary for understanding how much light you'll get. Glow sticks can be seen in the dark but barely provide any light. On the other hand, lighting with high lumens can light up the campground. If you want to get really technical, read more about lumens here.
To be a good camping neighbor, don't overdo it with bright lights. Many campers escape to nature to get away from noise, crowds, and lights. Make sure your lighting isn't making its way into other campsites or is otherwise disturbing your neighbors.
Weight and Size
When you're packing up everything you need to live in the wilderness, space to fit it all in can come at a premium. Make sure the lighting you choose fits in with your gear. And if you have a walk-in campsite or are backpacking to your site, weight indeed becomes an issue.
Power Source
There are 4 main ways to power your light sources at the campground: solar, USB rechargeable, battery, or corded electric.
Solar-powered lighting is excellent because you don't need extra batteries or cords to keep the lights on. But you do need sun – and remember to set the lights out to charge ahead of time.
USB rechargeable lighting requires a simple power source, like a portable power bank, so lights will generally work while plugged in and can be charged at any time. You need to make sure you have a way to keep the power bank charged, though.
Before we had solar-powered and USB rechargeable lighting, we only had flashlights that needed batteries. When the batteries in your flashlight died, you simply replaced them. However, the downside of batteries is making sure you have the correct replacements packed in your gear.
Corded electric lights primarily apply to string lighting. They are an easy and effective way to light up your campsite or tent as long as you're not camping without access to electrical hookups.
Camping Tent Lighting Ideas: To Make a Long Story Short…
There are many ways to brighten up your campsite and camping tent, whether it's for utility (cooking in the dark or reading before bed) or to set that outdoorsy mood at the end of the day. When choosing the lighting that works for you, consider how it's powered, how you'll pack it in with your gear, and how you'll be using it.
What do you look for in lighting up your night at the campground? Let us know your favorite campsite and camping tent lighting ideas in the comments!
---
Click below to save these tent and campsite lighting ideas on Pinterest!