Glamping (short for glamorous camping) is a fantastic way to get the best of both worlds. You can enjoy the beauty and solitude of nature with the comfort and amenities of civilization. Whether you're not up for "roughing it" or are trying it out before tent camping, it can be the perfect opportunity to get outdoors and enjoy nature no matter what time of year.
But if it's not quite camping, you might be wondering what to bring glamping. So whether you've already booked your trip or are researching what to pack for your glamping trip, this is the list you need. Like any type of camping, you want to prepare for your time in nature. Here is everything you need on your glamping checklist – plus the extras you'll need to consider.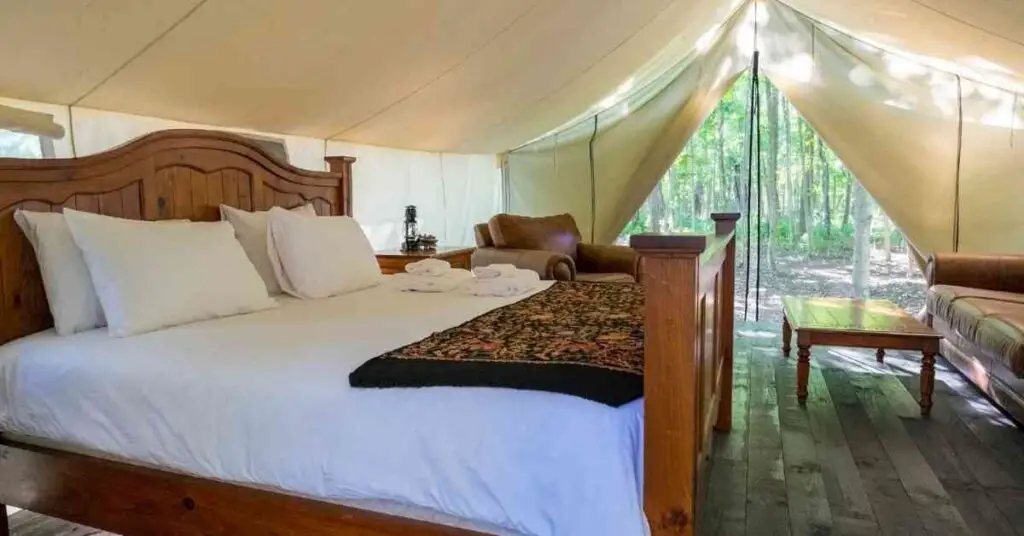 How is Glamping Different From Camping?
Glamping is a camping experience with a little more glam. Glamping.com describes it as "where stunning nature meets modern luxury."
One difference between glamping and a traditional camping experience is that you don't need to bring a tent. Instead, you sleep in a permanent or semi-permanent structure. This may be a canvas tent, a yurt, or even a simple cabin.
Some glamping campsites offer a private bathroom, but many are like campgrounds and have bathhouses that you walk to. There may be a cooking area inside, but it will be sparse.
7 Tips for Planning Your Glamping Packing List
1. Pack Light
One of the great things about glamping is that some of the gear is provided for you. There is no need to pack a tent, and beds and bedding are also usually offered. Take advantage of everything provided at your glamping site and pack light, especially if traveling in a small car.
2. Do Your Research
Call ahead to find out what amenities are at your glamping destination. This will help ensure you bring everything you'll need and don't bother with what you don't. Ask about things like coffee pots, bedding, and camp chairs.
3. Leave the Scented Items at Home
Like camping, what you bring can attract critters. Even though you are better protected from critters in your glamping accommodation, pack unscented items to avoid attracting wildlife, like bears.
4. Pack Your Outdoor Clothes
Even if your destination is more like a hotel than a campground, pack comfortable clothes and shoes that you don't mind getting dirty. Glamping often means more time outdoors than in!
5. Consult Your Camping Checklist
If you are a seasoned camper, you probably have a good idea of what to pack for a camping trip. Use that same list for your glamping packing list, removing items provided at your destination. New to camping? Use our camping checklist for an idea of what to bring camping.
6. Consider the Weather
Like any trip, always check the weather at your destination. In the summer months, bring extra ice and cooling towels. In cooler weather, throw in an extra sweater and a beanie. Keep elevation in mind too. Nighttime in the mountains can be chilly, even in the summer.
7. Plan Your Activities
Gear for activities can take up a lot of space. Fishing equipment, kayaks, hiking boots, and trekking poles all take up valuable space. Know what activities are available near your glamping site and which ones you're likely to do so you don't bring more gear than you'll use.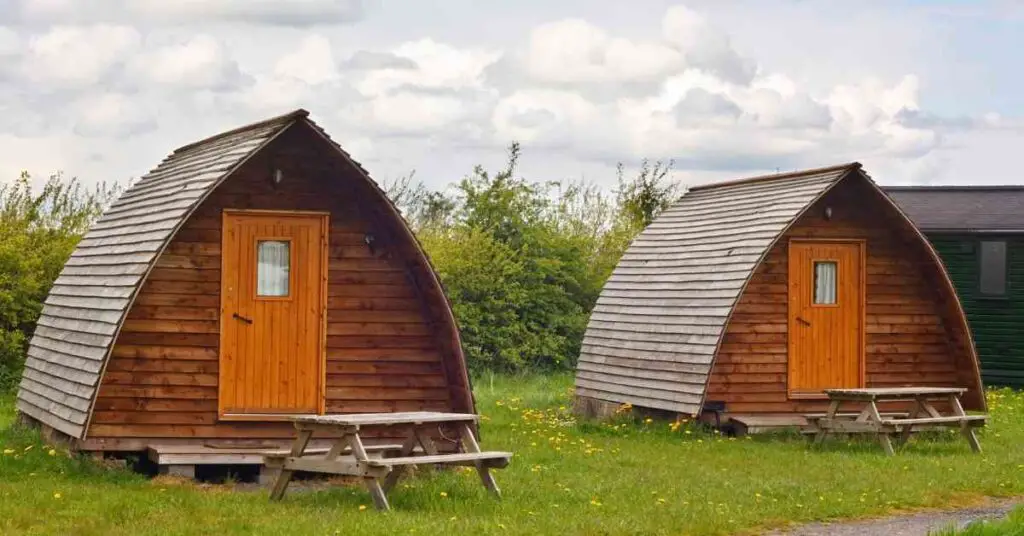 Things to Take Glamping
Your list of what to bring glamping looks a lot like the list for camping. In some cases, the only thing you can take off the list is a tent. Some glamping spots have full beds, seating, and a small dining area, while others are sparsely furnished.
What to Wear Glamping
Just like camping, dress for the weather when glamping.
extra layers, especially in the spring and fall when the weather can be unpredictable
If there is a chance of rain, don't forget your rain jacket or an umbrella
if you're glamping in the winter, pack your coziest sweaters, comfiest pants, and warm slippers and socks
flip-flops or other slip-on shoes for around the glamping tent, so you don't track dirt inside
What to Bring Glamping for Your Outdoor Adventures 
Chances are, your glamping experience is all about spending time in nature, so there are probably some outdoor adventures on your itinerary. You may want to add to your glamping packing list:
sturdy hiking boots or shoes
mountain bikes
inflatable kayaks
sunscreen
insect repellent
brimmed hat
swimsuit and towel
fishing equipment
backpack for hiking or other activities
reusable water bottle to bring hiking or on other adventures
a camera to capture your glamping memories!
Bedding for Your Glamping Checklist
These items may be provided. If that is the case, you can skip this section. Some glamping spots have full beds, so you don't need to pack any bedding. Others have platforms with pads, so have these items on your glamping checklist. It's best to call ahead to see what bedding is provided, so you only add the necessities to your glamping packing list.
sleeping bag or sheets and blankets
pillow
Food & Cooking
Glamping sites may have some kitchen amenities, or it may be more like camping. Amenities can range from a fully-equipped community kitchen to a small dorm-size fridge, microwave, and/or hotplate for cooking. Most will allow campfires for cooking. When you call ahead to ask about bedding, ask about kitchen and cooking amenities too. 
cooler for keeping perishable food cold
plates and cups
eating and serving utensils
bottle opener and/or wine opener
paper towels to use for clean-up or napkins
pots & pans
camp stove
trash bags
supplies for washing dishes (biodegradable soap, dish towel, dish cloth or sponge, and wash bin)
French press or pour-over for coffee
insulated coffee cups
oven mitt or campfire cooking glove
food storage containers for any leftovers
any cooking equipment needed for meals, like a cast-iron skillet, aluminum foil, spatula, or can opener
Camping Gear for Your Glamping Checklist
flashlight (and campsite lighting if not provided)
first aid kit
camping chairs (may already be provided)
campfire supplies: firewood, fire starter, and matches or a lighter (if a firepit is provided)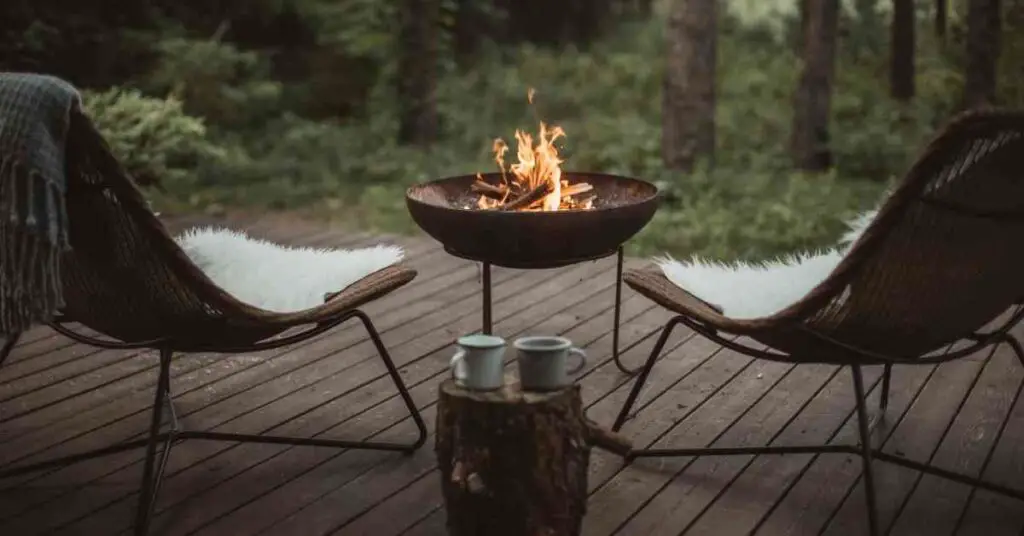 Personal Items & Toiletries
In addition to toiletries you usually travel with, like a toothbrush & toothpaste, there are a few things to take glamping: 
deodorant
baby wipes for quick clean-ups
toothbrush & toothpaste
lip balm
face and body lotion
hair brush or comb
glasses and/or contacts
tissues
feminine products
If showers are available, add the following items to your list of things to take glamping:
shampoo & conditioner
body wash or bar soap
washcloth
towel
Entertainment
When you're not off on your outdoor adventures, you'll likely be spending time at your glamping site, taking in the views or solitude of nature.
deck of cards or board games
headphones
playlist
portable speaker
books and magazines
phone and charger
portable charger
outdoor games (if you have extra room after packing the car)
Printable Glamping Packing List
A glamping adventure is a great way to enjoy the outdoors without giving up all of the comforts of home. This outdoor adventure still requires gear for sleeping, cooking, and entertainment. Use this list to ensure you have everything you need for your glamping getaway, and you'll be set for the perfect outdoor adventure.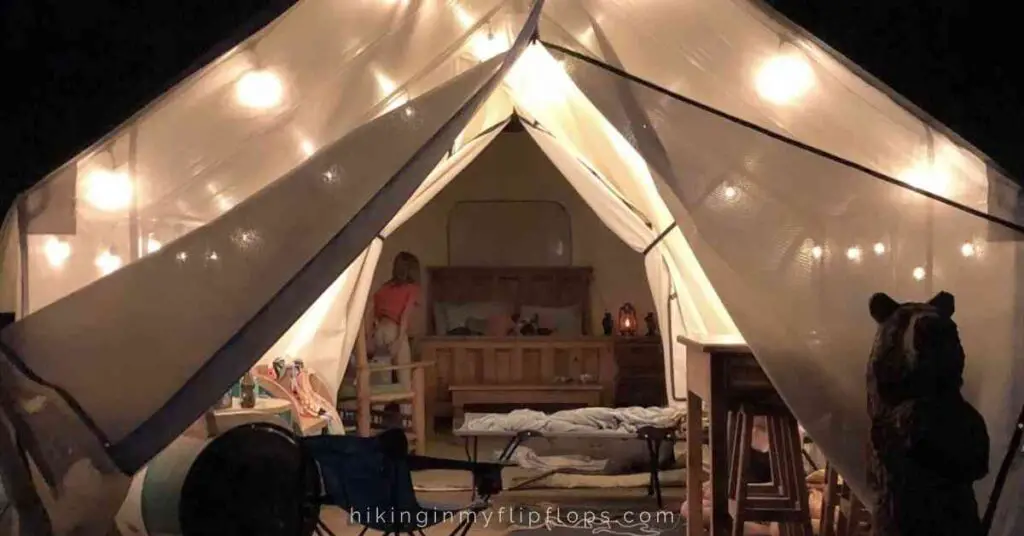 Frequently Asked Questions About Things to Take Glamping
---
Glamping can be a fun and comfortable way to enjoy the outdoors. With this list to guide you through what to bring glamping, you're ready to embark on an unforgettable adventure. Don't forget to research your destination ahead of your trip to plan exactly what you need. And be sure to pack your sense of adventure and enjoy the great outdoors in comfort!
---
Click below to save this list of what to bring glamping on Pinterest!