I'm not great at cooking because I always seem to forget something, whether it's an ingredient I forgot to buy or a meal that takes longer to cook than I thought. At home, it works out because there is always a backup. 
But backup plans are harder to come by when we go on a camping trip, so I need to plan our camping menu very carefully. It's tougher to deal with missing ingredients or cooking equipment when preparing those delicious meals in the wild.
This camping meal plan template is my lifeline on every camping trip!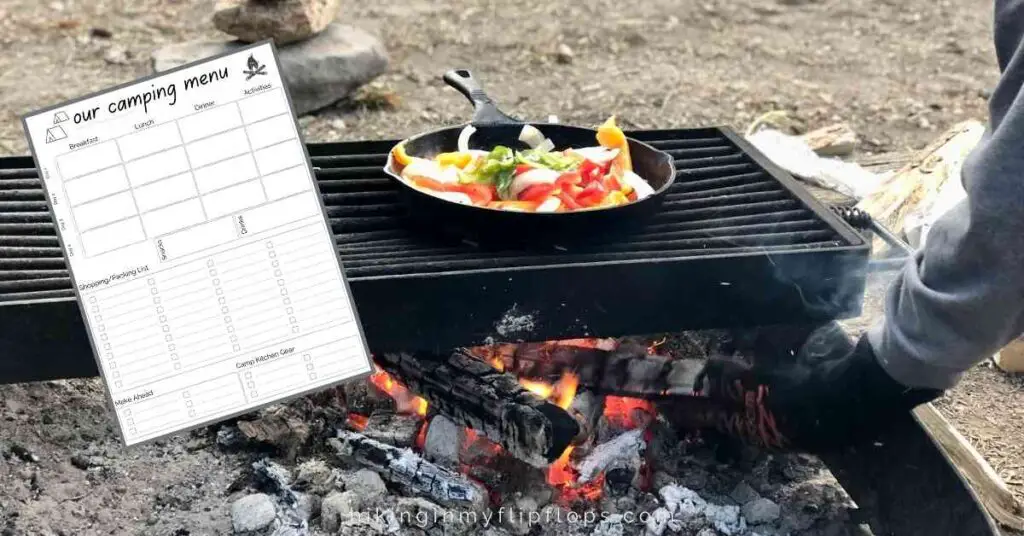 Why Use a Camping Meal Planner?
Knowing how to plan food for a camping trip leads to less waste and makes packing easier.
From backcountry to RV and campervan meals, a camping meal planner ensures you don't forget anything you need for your camping menu. Whether it's butter for the pan to make pancakes or the can opener for the baked beans, you can ensure your outdoor meals go off without a hitch.
Our camping menu planner template (snag a copy for yourself below!) has most of the work done for you and makes meal planning a breeze. (You can use it for more than camping – I'm using it right now to plan meals and pack for our beach trip next week!)
Tips for Planning Your Camping Menu
1. Plan to Use Perishable Foods First
Anything that needs to stay cold should be used early in your trip. Cook raw meats on the first or second night. Make sandwiches with deli meat early in the trip too. Frozen items should last a few days, so freezing ahead allows you to use those ingredients later in the trip.
2. Consider Cooking Time
Don't plan meals that take much cooking or prep time when you're out adventuring all day. Plan a quick and easy camping breakfast if you're getting an early start. Or, if you're arriving back at your campsite late, plan a quick meal before bed.
3. Plan Your Cooking Equipment Too
We don't like to travel with anything we don't need. Just like we leave the hammock at home if the campground doesn't allow anything attached to trees, we'll leave the pie iron and campfire cooking grate at home if we don't need them for our meals. But make sure you do have the camp kitchen essentials you need. Add measuring cups, large bowls, and any other equipment to your packing list required for your menu.
4. Consider Weather and Activities
On hot days at the campground, you may want to plan no-cook lunches, so you don't need to cook over a campfire or camp stove. Have a backup plan for meals usually cooked over the campfire if rain is in the forecast.
5. Plan for the Unexpected
On more than one occasion, our camping meal plan has been disrupted by unexpected rain that soaked our firewood. Since we couldn't start a fire with wet wood and our foil packets wouldn't be as good cooked on the camp stove, we feasted on ramen noodles we packed as a backup plan.
6. Number of People and Preferences
If you're planning meals that include foods someone doesn't like, you'll waste time and effort (and likely food) on that. Consider everyone's preferences and dietary restrictions by planning meals everyone can and will eat, and let each person participate in the meal planning. And don't plan to feed a big crowd when you don't have one to avoid storing too many leftovers. 
7. Remember the Condiments
It can be easy to forget ketchup for the hot dogs or mayo for the sandwiches. Don't forget to write down everything you'll need for your camping meals.
8. Pack the Cooler Properly
Having a good cooler to keep your food cold is important, but properly preparing and packing your cooler will ensure everything stays cold and safe to eat.
9. Plan for Leftovers
We tend to plan for each meal while we are out in the wilderness, but the longer we're gone, the more leftovers we end up with. For every 2-3 days of camping, plan for a meal that uses up those leftovers.
10. Only Pack What You Need
In the days ahead of our camping trips, I start saving takeout containers and emptied jars and bottles. I find a smaller bottle to store the right amount of maple syrup. Large strawberry containers protect bread. Decant large containers of food into something smaller to make packing for your camping trip easier.
11. Research the Campground and Local Area
If the nearest market is an hour away, be extra diligent in using a camping meal plan template to ensure you have everything you need for meals. There may be a store nearby or a general store at the campground that sells anything from hot dogs and buns to hot pizzas for takeout.
12. Know What You're Up For
I love the idea of cooking gourmet meals outdoors, but when it comes time to prep and cook, I often lose interest. My camping meal plan template usually starts with a lot of prep, but I've learned to focus on making meals in advance (like a pot of chili) or prep-ahead (chopped veggies or marinated meat) options. But sometimes, a stew simmering over the campfire all day long is the perfect meal to end the day on a fall camping trip.
13. Don't Forget the Snacks & Drinks
Don't just plan meals. Pack foods like chips, fruit, veggies, or other snack options while dinner is cooking. In addition to everyone's favorite beverages, pack plenty of drinking water for everyone if you don't have access to potable water at the campground. This is especially important when camping in hot weather.
14. Double-Check Your Camp Kitchen
If you use a tote to store all of your camp kitchen essentials, don't forget to double-check that everything is stocked and refilled before your trip. Check items like paper towels, aluminum foil, and coffee filters. Make sure kitchen equipment needed for each meal is also included, like heat-resistant gloves for campfire meals and a can opener for canned goods.
15. Use Our Camping Meal Plan Template!
It's the easiest way to ensure you have everything you need, maximize cooler space, and plan meals around your camping activities. Scroll down for our free printable camping meal planner (there are also links to digital versions of our camping menu planner template!)
Get a Copy of Our Camping Meal Plan Template
How to use the camping menu planner:
Write down meal ideas for your camping menu. Include camping food ideas for breakfast, lunch, and dinner, plus ideas for snacks, desserts, and drinks.
Write down the ingredients you will need for meals, snacks, and drinks. Don't forget to include condiments for your meals. This includes items like mustard for hot dogs or syrup for pancakes.
Add anything you don't have to your shopping list. I go through this step two times. The first time is to check off if I have the ingredient, so I know what to add to my grocery list. The second time is for packing those ingredients in the cooler or our pantry tote. This way, I make sure I bring everything I need and remember to pack it for the trip.
Include any cooking equipment you'll need for each meal. Pay particular attention to any kitchen gear that doesn't get neatly stored in your camping totes for each trip.
Get the free printable camping meal planner here: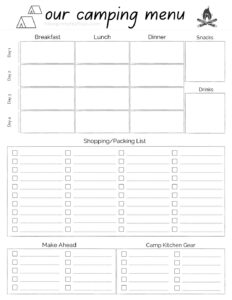 Want a digital version of the camping menu planner template? Get a copy of the camping meal planner spreadsheet in Google Sheets here. (an Excel version is coming soon!)
---
With this camping meal planner, you'll be able to pack everything you need for a successful trip. You'll know what ingredients and kitchen supplies to bring, and you'll have a plan for using up perishable foods before they go bad. Plus, with simple meals planned for busy days, you won't have to worry about wasted food on your trip. Print off the camping menu planner template for planning your next camping adventure!
---
Click below to save this camping meal planner template on Pinterest!