There are many different kinds of tents available for camping. Some are designed for backpacking, while others are meant for car camping. Camping tent options vary in shape, size, materials, price – and even by how they are used. [See our guide on how to choose a camping tent here.]
This guide focuses on the shapes and functions of tents to help you understand the differences because camping with the wrong type of tent can make your trip a little less fun. While there is no perfect tent for every camper, knowing the basic types of tents for how you like to camp can make your trip more relaxing and enjoyable.
Whether you're looking for comfort or a tent that can withstand the elements, this guide covers 14 different types of tents for camping to help ensure the most important item on your camping checklist is the right one for the job.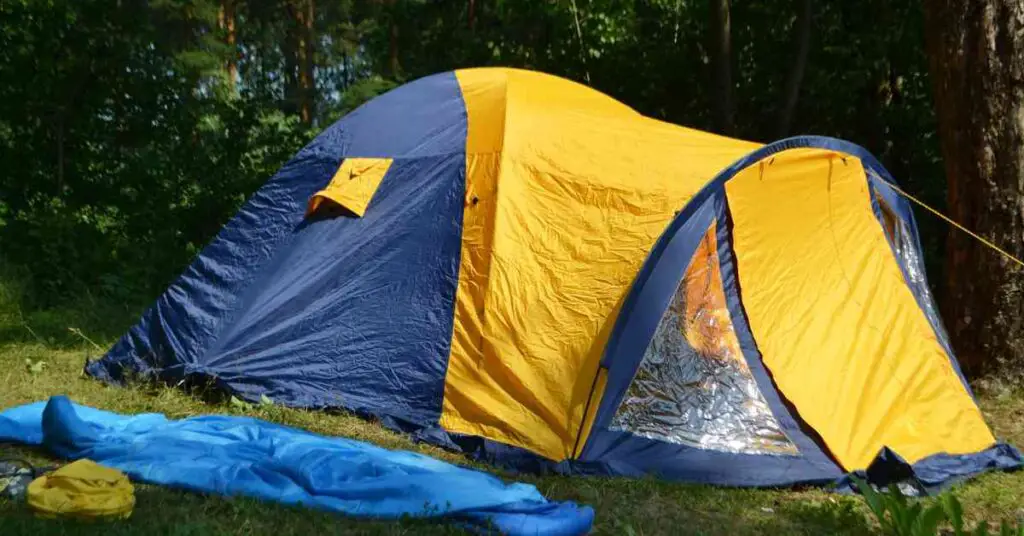 Different Types of Camping Tents: Shapes
Campers often choose from different types of tents for their shape. Their performance in weather conditions, the amount of interior space, and the tent's weight can all be factors of a tent's shape.
1. Dome Tents
Coleman's Sundome Camping Tent is an example of a dome tent
Dome tents are one of the most common types of tents for camping. Set up requires crisscrossed poles to connect the opposite corners of the tent floor. The dome shape means there is no place for water to pool when camping in the rain. This freestanding shelter doesn't require tent stakes or guy lines unless there are strong winds.
⛺ Choose this type of tent if you camp in windy or rainy weather or need a relatively lightweight option. The lower height also means less air to keep warm when camping in cold weather.
Keep in mind: that a dome tent has little to no standing room, so you'll spend your time in the tent hunched over.
2. Tunnel Tents
Similar to dome-style tents, tunnel tents are longer and more cylindric. More poles are needed to support this shape and hold the tunnel structure than a dome tent.
⛺ This is the tent for you if you want lots of space for sleeping and living, plus plenty of headroom.
Keep in mind: If you're camping in windy conditions, position a tunnel tent where the wind hits the narrow side (usually the door). These can also be a bit challenging to pitch because the center can sag if not done correctly.
3. Cabin Tents
Cabin tents are named for the cabin-like shape when pitched. These have near-vertical walls and the flattest roof of all the different types of tents.
⛺ A cabin tent is for you if it is essential to have ample standing room rather than crouching all the time. It's also great for those who choose to sleep on cots because the height of the cot doesn't hit the sloped walls of other tents.
But keep in mind that the extra material used for all that headroom creates bulk. The shape also makes cabin tents less wind-resistant and prone to water pooling on the roof in heavy rain.
Many instant tents and multi-room tents are cabin-shaped.
Related Reading: Easiest Tent To Set Up By Yourself: 6 Best Instant Tent Picks for This Season
4. Ridge Tent (or A-frame Tent)
Eureka! Timberline Backpacking Tent is a classic A-Frame design
The most iconic of all the different kinds of tents, the Ridge or A-Frame tent has two poles in the front and two in the back. An additional pole along the top connects the two, creating an "A" shape.
Choose a Ridge tent if you like a lightweight tent with a simple and classic design and good protection in inclement weather.
There are better types of tents for those who want plenty of standing room.
5. Geodesic or Semi-Geodesic Tents
Another extension of the dome tent, geodesic tents use more poles for support and stability in harsh conditions. While poles typically cross at a single point in a dome tent, geodesic tents have multiple cross points. Semi-geodesic structures have fewer poles than geodesic but more than a dome.
⛺ This tent is an excellent option for those who need protection in extreme weather conditions.
Keep in mind that all the poles make geodesic or semi-geodesic tent set-up time-consuming.
6. Tipi Tents (or Pyramid Tents)
OneTigris Rock Fortress 4-Person Tipi Tent
Like the Ridge tent, Tipi tents are a simple design with one pole in the center (this can be a trekking pole in some pyramid tents). The rest of the tent structure is provided by stakes and guy lines. You may also see these spelled as Teepee tents.
⛺ Consider a tipi or pyramid tent if you want something extremely lightweight. This type of camping tent also tends to be on the smaller side, making it best for 1-2 people.
Keep in mind that the single-wall construction of pyramid tents makes them prone to condensation.
You May Also Like: Camping for Beginners: 13 Useful But Simple Tips for First-Time Campers
7. Bell Tents
Regatta Canvas Bell Tent from WHITEDUCK
Many think of circus tents when they see a Bell tent. The circular shape has straight walls and a tall center pole for height. Bell tents often have plenty of sleeping space and standing area. They are usually made of canvas with many ventilation points to provide excellent temperature control.
⛺ This tent is the perfect choice for those who camp all year round or prefer a spacious glamping experience when camping.
Many Bell tents are made of canvas. While durable, canvas tents can be heavy and expensive. And some find the central pole can be a nuisance.
The Types of Camping Tents for Their Function
These tent types differ in their use or set-up and can take on a variety of shapes and sizes. Consider the style of tent for the kind of camping you're doing.
8. Pop-up Tents
ayamaya 6 Person Pop Up Tent
Instant tents are known for their ease of set-up, but pop-up tents are even easier. This tent type usually has one or two flexible poles built into the tent that coil for storage. The tent simply pops into shape when set up. Pop-up tents come in dome or tunnel shapes.
⛺ This is the tent for you if you want the most uncomplicated tent to pitch without keeping track of tent poles.
Keep in mind: pop-up tents are not great in bad weather as they are often made with flimsy materials.
9. Inflatable Tent
Inflatable tents are relatively new to the easy-to-set-up tent market: remove the tent from the bag, attach the air pump, and inflate. Opt for a cabin-style inflatable tent for headroom or dome-shape if camping in bad weather. 
⛺ Choose an inflatable tent if: you want an easy set-up or like to have the latest gear at the campground.
Keep in mind: you'll need to remember to pack the air pump to pitch an inflatable tent.
10. Rooftop Tents 
A tent that is a semi-permanent attachment to the roof of your vehicle is aptly called a rooftop tent. Installing these can be challenging, but the hard part is over once it is installed. These are often cabin-shaped tents but don't have the standing room of a standard cabin tent. Most rooftop models are set up by unfolding or popping the tent up, then locking it into place. 
⛺ Choose this type of tent for camping trips if you want to be off the ground and away from critters when tent camping. Rooftop tents also mean you don't need to search for even ground comfortable for sleeping.
Keep in mind: rooftop tents aren't cheap, and the added weight to your vehicle lowers your gas mileage. 
Truck tents are an alternative to rooftop or car-top tents. They, of course, require a truck bed but are set up for each use rather than the more permanent installation. The drawback of a truck bed tent is limited sleeping and storage space.
11. Multi-Room Tents
UNP 10-Person-Family Camping Tent
Multi-room tents are connected spaces that create a large tent (dividers are sometimes used to make rooms). The cabin or tunnel shapes provide ample headroom.  
⛺ Large groups who want plenty of space are an excellent match for multi-room tents. They are also ideal for long camping trips to give extra space for the comforts of home.
Keep in mind: some campgrounds require tents to fit entirely on the tent pad, so make sure these large tents fit the dimensions.
12. Backpacking tent
Backpacking tents are merely lightweight counterparts of family camping tents. They are often made of quality materials to stand up against the elements in the backcountry. The size and shape often use less material (dome, tunnel, or geodesic).
⛺ Choose a backpacking tent if you're looking for an ultralight tent that you plan to carry for long distances in the backcountry.
Keep in mind that backpacking tents tend to be small to reduce weight. Families may need to have two tents so everyone sleeps comfortably.
13. Bivy Tent and Hammock Tent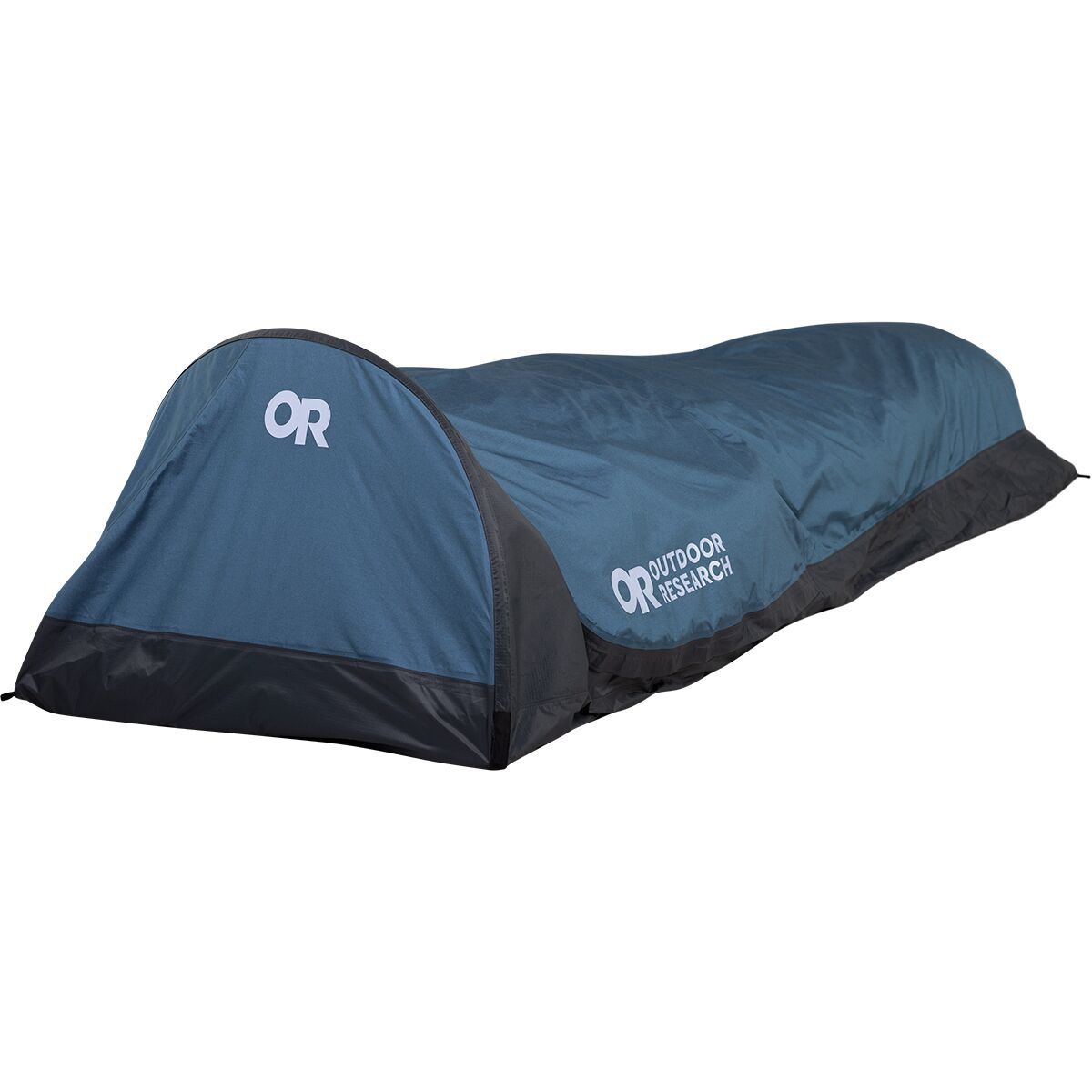 You'll rarely find a bivy tent at a campground, as these low-profile tents are made for backcountry campers. These ultra-small tents fit just one person with just enough material to protect from the elements. Bivy, short for bivouac, also goes by bivvy tent, bivy bag, or bivy sack.
The closely-related hammock tent has the size and shape of a bivy tent but is attached to trees to keep you off the ground.
⛺ Choose this tent if you are a solo backcountry camper who needs to keep gear at a minimum.
Keep in mind that these types of tents for camping have no space for gear.
You Might Also Like: The Best Large Camping Tents (2022 Guide and Reviews)
14. 4-Season tent
A fourth-season tent is a better name than a four-season tent. Constructed with heavier materials to trap warm air in and keep cold air out, they aren't the best option for summer camping. The lack of ventilation can be too hot and stuffy in hot weather.
⛺ Look for a 4-season tent for winter camping in the snow or extremely low temperatures.
Keep in mind that you'll also want to purchase a 3-season tent for summer camping trips.
---
With so many different kinds of tents available, the options can be overwhelming. One of the best ways to narrow down these options is to understand how the types of camping tents perform in different conditions and what makes you most comfortable on a camping trip.
---
Click below to save this guide on the types of tents for camping on Pinterest!