Nothing beats the classic s'more. The perfect combination of graham crackers, chocolate, and roasted marshmallows is hard to beat. Still, sometimes it's fun to mix things up. Try these new s'mores ideas for camping on your next weekend of adventure in the outdoors.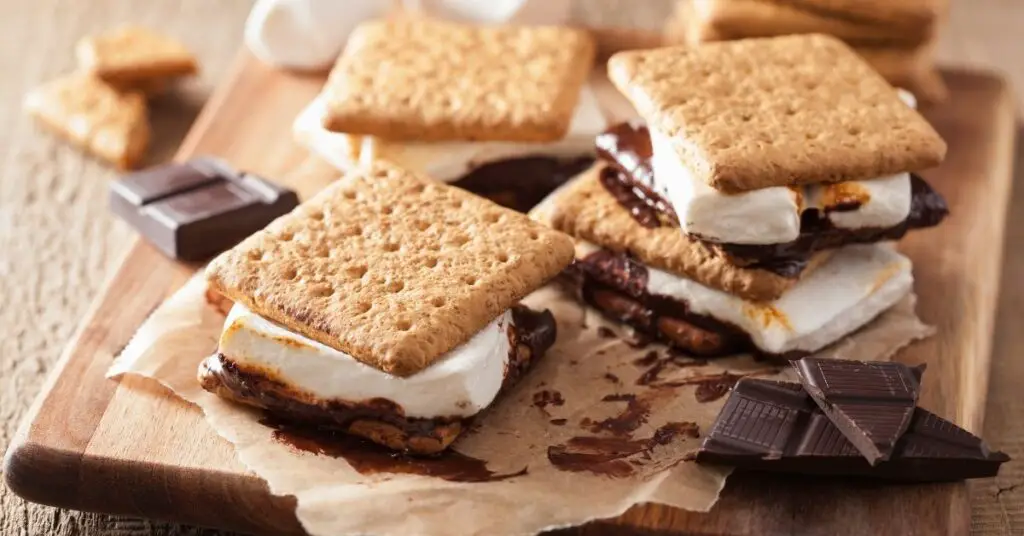 Have you ever wondered why they're called s'mores? The original name for this campfire treat was simply a Graham Cracker Sandwich. It was loved so much, everyone was asking for some more. This was soon shortened to s'more! It has become the quintessential campfire dessert for experienced and new campers alike.
Whether you go classics or try one of these new s'mores ideas for camping, everyone loves spending the evening around the campfire making this gooey dessert.
How to Make the Perfect S'more
There can't be an easier camping dessert than the classic s'mores.
Step 1: Get your roasting stick (sticks can also be foraged in the woods, choosing one that is strong and has a very narrow end)
Step 2: Prep your chocolate and graham cracker. Set out two graham cracker halves, with chocolate on one half.
Step 3: Roast your marshmallow to a perfect golden brown. Pro tip: roast marshmallows over glowing logs rather than over the flames. This will give your marshmallow a golden brown outside with a warm, gooey center.
Step 4: Assemble your s'more by sandwiching the marshmallow and chocolate between the graham crackers.
Step 5: Enjoy the gooey deliciousness, then have s'more!
Ditch the Stick for These Alternative S'mores Ideas for Camping
Go beyond roasting your marshmallows when making s'mores. Many delicious s'mores ideas for camping put a little twist on the classic campfire dessert.
1. Make a S'mores Dip
Create a base with a single layer of broken-up graham crackers. Add chocolate pieces (broken-up chocolate bars or chocolate chips) and mini marshmallows in a pie tin. Cover with foil and "bake" over the campfire until the marshmallows and chocolate are warm and melty.
Use graham crackers to scoop up the dip.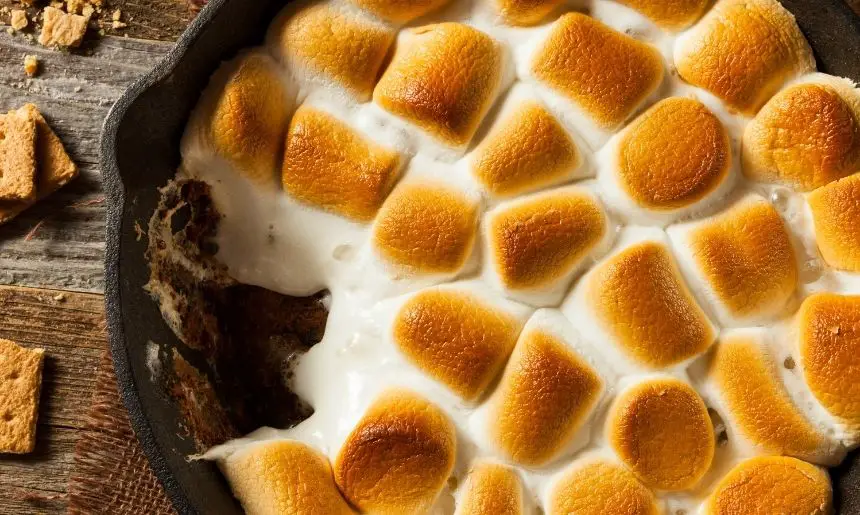 2. S'mores in a Cone
Fill a sugar cone with mini chocolate chips and mini marshmallows. Wrap in aluminum foil, and warm over hot coals in the campfire.
When the marshmallows and chocolate chips are soft and melty, your s'mores cone is ready to eat. (Just make sure it's not too hot to eat.)
3. Walking S'mores for Camping Adventures
Walking tacos is one of the top requested camping meals, so naturally, this method is a favorite s'mores alternative.
Add a roasted marshmallow and chocolate pieces to a single-serve bag of Teddy Grahams or Fudge Stripe cookies.
4. Banana Boat S'mores
Cut open a banana lengthwise and fill it with mini marshmallows and mini chocolate chips. Wrap in foil and place near the hot, glowing logs in the campfire until warmed through.
When the chocolate chips and marshmallows are melted, allow them to cool a bit before diving in.
5. Marshmallow Dippers
There is still a stick used in this new s'mores ideas for camping, but it's not for roasting. Use forks or small sticks to pick up a marshmallow and dip it in melted chocolate. Then sprinkle your favorite toppings on top, like crushed graham crackers, shredded coconut, or chopped nuts.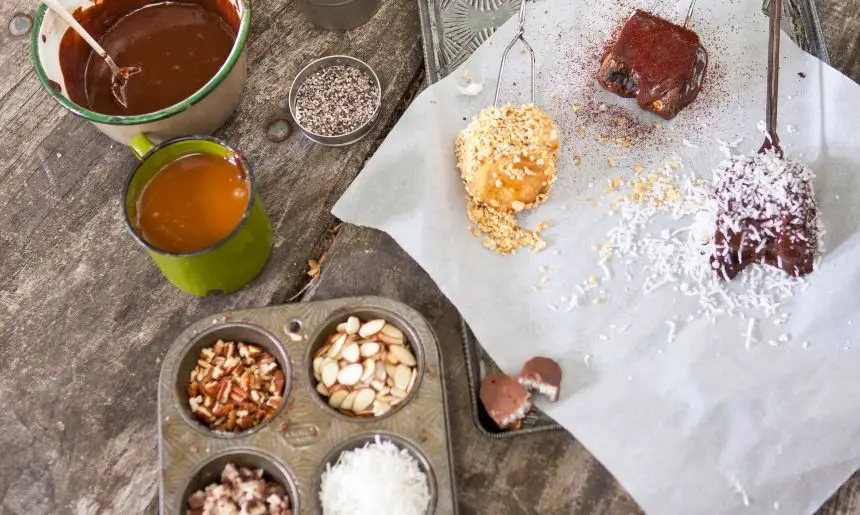 Instead of Chocolate Bars, Try These New Flavors 
The classic Hershey bar is one of the best parts of a s'more, but there are many other ways to add deliciousness. Swap out the traditional chocolate bar for one of these alternatives for some unique s'mores ideas for camping trips.
6. Lemon Curd
We read about this idea long ago and have rarely camped without lemon curd ever since – it's become our go-to s'mores for camping recipes. Spread lemon curd on a graham cracker and top with a roasted marshmallow and another graham cracker for a s'more that tastes like lemon meringue pie.
7. Peppermint Patties or Peanut Butter Cups
Our venture into new s'mores ideas for camping trips came to life on one Halloween camping trip. The kids once collected a wide assortment of candy during that weekend at the campground. Not only did we use the mini Hershey's bars for s'mores, but we also let the kids experiment with different sweets on their s'mores.
You Might Also Like: 3 Delicious Ways to Make Camping Pancakes
We made grasshopper s'more with peppermint patties, chocolate-peanut butter s'mores with the peanut butter cups, and even tested fruit-flavored candies. The peppermint and peanut butter cups were winners.
8. Nutella
For some hazelnut-infused deliciousness, spread chocolate hazelnut spread like Nutella on the graham crackers. After s'more night, we like to use the rest of the jar of Nutella on lightly toasted bread for a quick and easy camping breakfast on another day.
Swap Out the Graham Crackers
9. Cookies
Almost any cookie will work, and Keebler Fudge Stripe or Deluxe Grahams has extra chocolate built into the graham cracker. Or try shortbread cookies, ginger snaps, chocolate chip cookies, or Oreos.
Store-bought cookies are great, but homemade cookies are even better!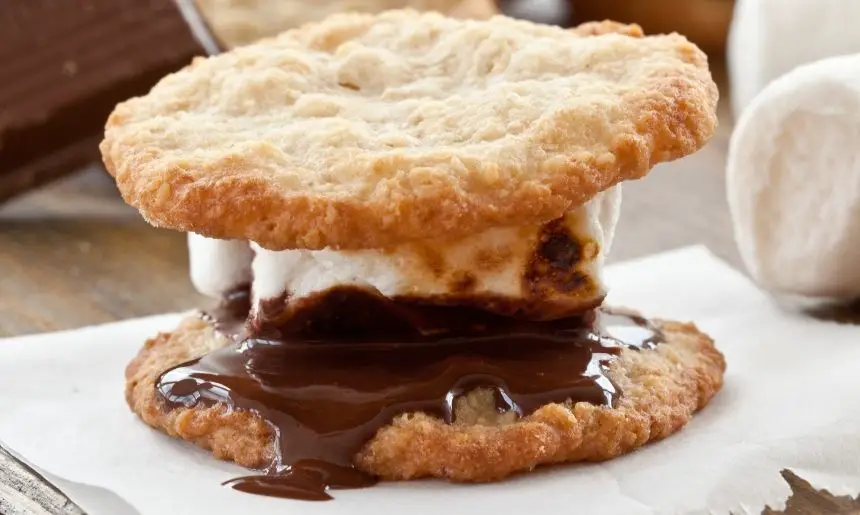 10. Homemade Graham Crackers
Make a batch of homemade graham crackers if you're feeling ambitious before your camping trip.
11. Pretzel Thins
Sweet and salty is always a good combination, and pretzel thins are perfect for making a sandwich of chocolate and marshmallow.
Delicious Additions to Classic S'mores
Who says s'mores are made from just marshmallows, chocolate, and graham crackers? Pile on more flavor the next time you make s'mores for camping trips!
12. Fresh Fruit
Thinly sliced strawberries, peaches, and bananas pair perfectly with chocolate and marshmallows. If you can't get to fresh fruits, try the freeze-dried versions, jams, or even pie filling (we think cherry works the best). Canned or frozen may work in a pinch but can make your s'mores soggy.
13. Bacon
Who doesn't love some bacon? Save some bacon from breakfast to add to your campfire s'mores after dinner. About a 1/2 a slice of bacon is the perfect addition to a s'more.
14. Caramel
Drizzle some caramel over the chocolate and marshmallow before assembling your s'more. To keep the caramel pour-able, place it in a bowl or pot of hot water to thin it slightly.
Related Reading: 19 Awesome Campsite and Camping Tent Lights to Light Up Your Campsite
Or try wrapped caramels, gently roasted on a stick over the campfire – just enough to soften.
15. Peanut Butter
Spread the graham crackers with peanut butter when getting your s'mores ready for the roasted marshmallow.
If your peanut butter is too thin to spread on the graham crackers (this is common with just-opened jars of natural peanut butter), mix the peanut butter with powdered sugar to pile it higher.
What are your favorite ways to make s'mores? We'd love to hear your s'mores ideas for camping in the comments!
---
Click below to save these s'mores ideas for camping on Pinterest!