We've had more than our fair share of camping in the summer months, where we experienced too many hot and humid nights spent in campgrounds in Texas, South Carolina, and other southern states.
We were miserable until we figured out a few good ways to enjoy camping despite the heat. Here is what we learned about how to keep cool while camping in those hot summer months.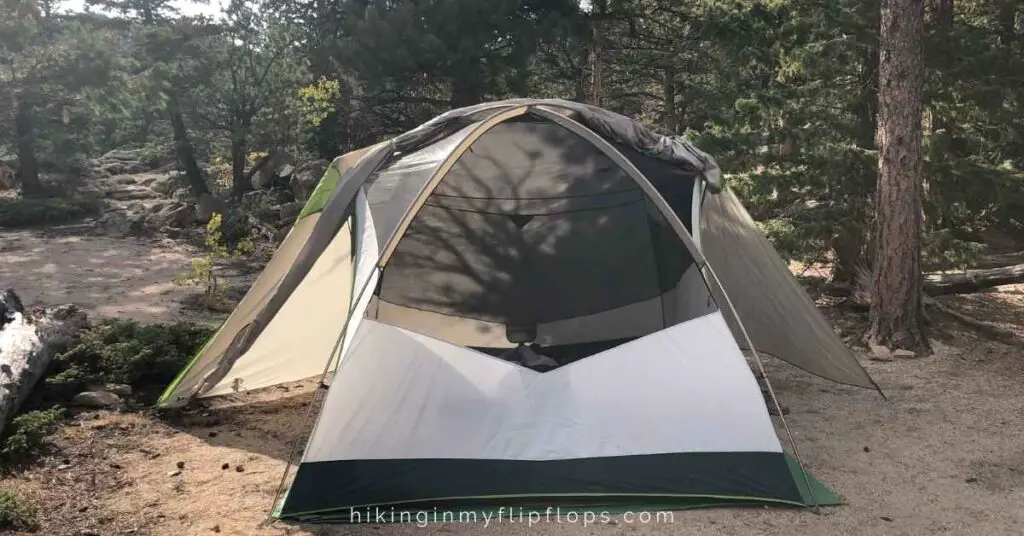 How to Keep a Tent Cool in the Heat
The only thing worse than scorching hot days outdoors is trying to sleep during the hot nights. Knowing how to keep a tent cool will help everyone sleep much better during the night.
1. Pitch Your Tent in the Shade
Direct sun rays that beat down on your tent all day long will heat your tent up throughout the day. Prevent rising temperatures by pitching your tent under the shade of the trees. The best spot is where there are multiple trees to block the sun from every direction, so you get more than a partial day of shade.
2. Create Additional Layers to Block the Sun
Bring an extra canopy or tarp for another layer to block the sun as it shifts or provide shade at campsites with too few trees. Prevent heat transfer from the canopy by keeping about a foot of space between the two.
3. Collapse the Tent During the Day
Yes, this can be a lot of work, especially if you have your tent set up with gear stored inside. But this is one of the best ways to keep a tent cool and is worth the effort, especially if you can't get a shady area at your campsite.
4. Set Up for Ventilation
If there is no rain forecast, remove the rainfly and open any vents. This will get the breeze and air through the tent. But always keep the rainfly close by in case of any surprise storms.
5. Use a Double Walled Tent
This simply means that the rain fly is a separate layer from the tent itself. Removing the rainfly of a double-walled tent gives better airflow to keep you cooler on hot summer nights. And if rain is in the forecast, the rainfly can go on to keep you dry.
Avoid single-walled tents with thicker, more waterproof tent walls and restrict airflow. This option can make the tent stuffy and hot in the summers.
6. Skip the Tent and Sleep in a Hammock
The ultimate in air circulation is found in a hammock. Our kids will choose to sleep in their hammocks over the tent any day – especially in hot weather. There is nothing to block the cool breezes and plenty of air to cool you from underneath the hammock too.
Related Reading: The Ultimate Guide to Tent Camping for Beginners for an Epic First Trip
If you're camping where bugs are an issue in the summers, get a bug net to attach to the hammock.
7. Pitch the Tent in the Right Spot
Pitching the tent on a grassy area will be the best option for keeping cool while camping. If there are no grassy areas, the next best option is over the soil. Try to avoid concrete if you can. Unfortunately, some campgrounds have concrete tent pads, which are not only uncomfortable if you sleep on the ground but can be extra hot in the summer sun.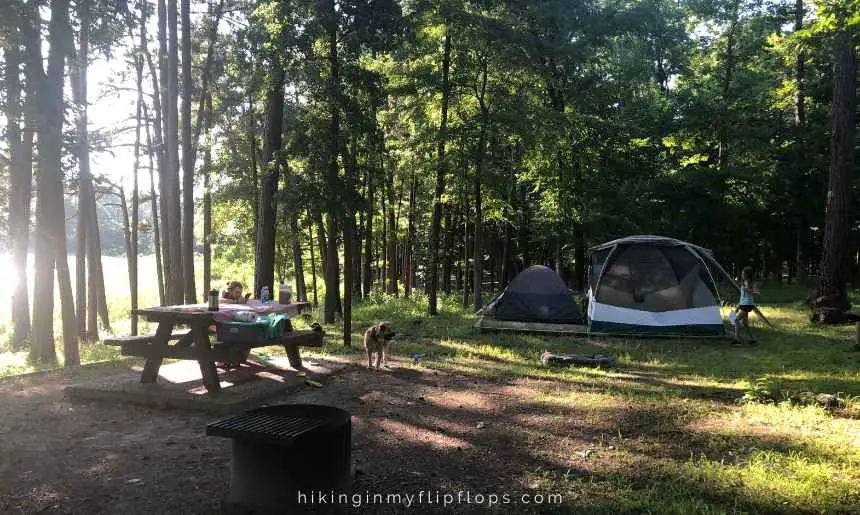 8. Use a Large Tent
We recommend smaller tents with low peak height to trap in the warmth when camping in cold weather. But in the summer heat, big tents are the way to go. More space in the tent creates better airflow and ventilation. This reduces body heat and helps everyone stay cooler in the tent. Get our recommendations for the best large tents (sleeping 8 people and bigger) here.
9. Reflect the Sun Away From Your Tent
Don't give the sun a chance to heat up your tent by reflecting the rays away with a reflective blanket. Get detailed instructions on fitting your tent here.
How to Keep Cool While Camping
These tips for camping in hot weather will help you lower your body temperature and make you more comfortable in the heat.
10. Sleep On Your Sleeping Bag, Not In
Summer definitely doesn't require high-tech low-degree bags. But even sleeping bags made for warmer weather can be hot and stuffy. Instead, sleep on top of your sleeping bag and cover yourself up with a sheet. Silk sleeping bag liners also work well in the summer months.
11. Sleep When It's Dark
The early morning sun can heat a tent up quickly. And if there is any moisture in the air, tents can soon feel like a sauna in the morning, making it hard to sleep once the sun comes up. Late nights can make it tempting to sleep in, but getting to bed early will have you up before the heat sets in.
12. Use Water to Keep Cool
One of our best tips for camping in hot weather comes from my broke college days in Arizona. To save on A/C in those sweltering summers, I would hop in the shower before bed without completely drying off. The water evaporating from damp skin and hair has a remarkable cooling effect. If showers aren't available, try a cooling towel. Simply wet and activate the towel and drape it on your back or where ever it keeps you the coolest.
13. Plan Adventures for Early Mornings and Late Evenings
The midday heat can make adventures in the outdoors miserable and sometimes unsafe. Take hikes, go for a swim, or play lawn games in the cooler morning and evening hours when the sun isn't as hot. Instead, spend the day's hottest hours lounging under the tree's shade.
14. Dress for the Warm Weather
Wearing loose and light color clothing will help keep you cooler on hot summer days. Clothes made of cotton, linen, or jersey are the most breathable and comfortable in the heat. Materials like polyester, nylon, and silk have the opposite effect, making hot days feel even hotter, so skip these.
15. Pack up a Portable Fan or Mister
Small fans – corded if you have access to electricity or battery operated if you don't – circulate air to cool you down. Look for battery-operated models that can be hung from the top of the tent for the best air circulation. A simple spray bottle of water works well too!
16. Bring an Inflatable Kiddie Pool
They're not just for kids – when there are no pools, lakes, or streams at the campground, kiddie pools are a fun way to cool off at the campsite. Inflatable versions are easy to pack, and even just dipping your feet in feels so good when it's hot.
Related Reading: 25 of the Best Night Time Camping Activities
17. Take Advantage of Frozen Water Bottles Packed in Your Cooler
If you've seen our tips for keeping your cooler (and food) cold on your camping trip, you'll likely have a few bottles of icy cold water in your cooler. If they are no longer needed to keep your cooler cold, then take advantage of the extra bottles of freezing-cold water.
drink icy cold water to lower your body temperature
hold a frozen bottle against your skin for a moment for an instant cooling effect
set the bottle in front of a fan to blow cool air around the inside of the tent
18. Stay Hydrated
Hydration is crucial in hot weather for safety reasons, but it will also keep you cooler. Pack plenty of water for your summer camping trip, and always drink before feeling thirsty.
Keep your water from getting too warm by keeping it iced down in an insulated bottle, like ones from Hydro Flask or S'well (particularly the large, wide-mouth versions from either brand).
You Might Also Like: A Comparison of Insulated Tumblers: How the Budget-Friendly RTIC Stands Up Against the Pricier Competitors
19. Plan No-Cook Camping Meals
There is nothing better than meals cooked over the campfire, but a hot fire does nothing to keep you cool while camping in the summer heat. Meals cooked on the camp stove give off much less heat, but no-cook meals are best. Sandwiches, salads, and cold fried chicken are perfect summer camping meals.
Choose the Right Campground for Summer Camping
Tips for camping in hot weather include choosing the right campground for your trip. Amenities and locations can make a camping trip in the heat of the summer more fun.
20. Stay at Campgrounds with Pools, Lakes, or Rivers
Find camping spots with water access to cool off on those hot summer days. Even shallow streams where you can dip your feet in cool water can lower your body temperature.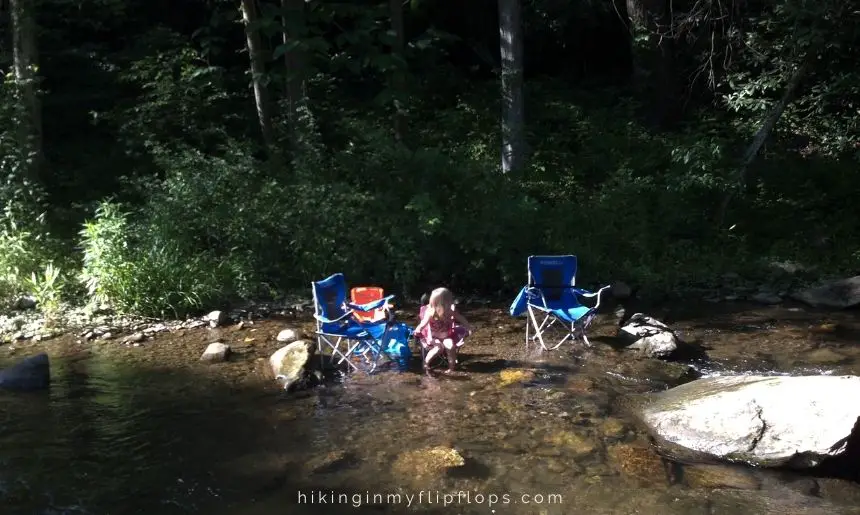 21. Choose High Elevations or Wooded Areas
Head to the mountains for your summer camping trips, where summertime temps can be a bit lower than in lower elevations. Heavily wooded campgrounds are another excellent option for staying cool while camping, where there is plenty of full shade all day long.
You Might Also Like: Decoding the Types of Camping: Which is the Right One for You?
High elevations can also offer relief from the high temps at night when the temperature can dip once the sun goes down.
The Best Tents for Hot Weather
If your summer camping trips are in areas with unbearably high temps, you'll want a tent that stays cool despite the heat. There are a few things you can look for in a tent that will help your family stay cool while camping.
high peak height for air circulation
electrical ports to run cords for fans into the tent
if camping with air conditioning is the way to go for you, then choose a tent with vents made to fit an A/C unit
dark room technology to keep the sun from heating up the tent
screen porches or large vestibules for additional shade
We love Coleman's line of Dark Room tents because they are specifically made to keep heat out, giving you a tent that stays cool on the hottest days. We also like the Klondike Tent from Wenzel because the large screen porch attached to the tent provides additional space to escape the sun. The well-ventilated Eureka! Copper Canyon LX is also one of the best tents for hot weather, chosen for the excellent airflow to keep you cool camping.
Coleman Steel Creek Fast Pitch Dome Tent with Screen Room, 6-Person , White, 10' x 9'
Wenzel Klondike 16' x 11' 8 Person 3 Season Large Outdoor Camping Tent with 60 Square Foot Screen Room, Mesh Windows, and Carry Bag, Green
Eureka! Copper Canyon LX, 3 Season, Family and Car Camping Tent (12 Person)
Coleman Steel Creek Fast Pitch Dome Tent with Screen Room, 6-Person , White, 10' x 9'
Wenzel Klondike 16' x 11' 8 Person 3 Season Large Outdoor Camping Tent with 60 Square Foot Screen Room, Mesh Windows, and Carry Bag, Green
Eureka! Copper Canyon LX, 3 Season, Family and Car Camping Tent (12 Person)
Checklist for Camping in Summer
Our gear list has a few more things for the summer months to help us stay cool while camping in the heat. Packing up just a few additional things keeps us cool and safe from the scorching sun.
Sunscreen It's important to protect your skin from the sun all year round, but especially important in the summer months when there are longer periods of direct sun.
Bug spray Camping in the summer also brings on the mosquitoes, especially in the humidity. Pack up insect repellent to keep these critters off your skin and clothes. We like the more natural products like Johnson's Baby Creamy Oil Lotion with Aloe and Vitamin E (this lotion works surprisingly well to keep the mosquitoes away) and OFF! FamilyCare Insect Repellent.
Hats and sunglasses When you're spending your days outdoors, you'll want to protect faces and eyes from the harsh sun.
Chacos or flip-flops Of course we'll have our flip-flops! Sandals, like these from Chaco, are perfect for short hikes and protecting feet in rocky stream beds.
Fresh fruit Chilled fruits like pineapple, watermelon, and grapes are refreshing and hydrating, keeping you cool in the heat
Bagged ice Ice will melt faster in the hot weather, so pack up an extra bag of ice in a small, separate cooler (we like the RTIC Soft Pack cooler for this). Keep this cooler closed until the ice is needed to prevent it from melting.
Cooling towels We love these towels for hiking, paddleboarding, or even sleeping when camping on hot summer nights. These highly absorbent towels are cold-activated by water. Keep one around your neck, on your back, or anywhere else to help cool you off. Pick up a 4-pack (or two), so everyone in the family can get their own towel.
Portable fans If you have electricity at your campsite, run small corded fans right into your tent for a cooling breeze. If you don't have electric hookups, bring a fan that is battery-operated, USB powered, or solar-powered. Maximize the breeze with 2 or more fans for cross ventilation.
Extra water We double up on the water in the summer because we go through more than usual. If potable water is available at the campground, we will also bring a 5-gallon collapsible jug, so we're not using up gear space with bulky water.
Tent air conditioner Ok, so this isn't really on our list, but is a good option if it keeps you comfortable on your summer camping trips. Some tents actually come with a vent to place an A/C unit. Just make sure to book a campsite with electricity or have a generator to run the unit. Learn more about the best air conditioner units for tents and how to use them in your tent here.
Canopy We bring our canopy to protect against rain and sun on our camping trips, but extra tarps and bungee cords will do the job too. This Coleman Instant Canopy has served us well over the past few years – everything from blocking the sun in the shade-less Great Sand Dunes National Park and Preserve to rainy camping weekends in the Colorado mountains!
---
If you're gearing up for a summer camping trip, we hope these tips for how to keep cool while camping will help make your experience more comfortable. Whether you pick one of the best tents for hot weather or simply follow tips like staying hydrated, taking breaks in the shade, and enjoying those cooler evenings under the stars, these tips are sure to keep you cool on your summer camping trips.
---
Click below to save these ideas on how to keep cool while camping on Pinterest!