Fall often tops the list of favorite camping seasons as a welcome break from the hot summer nights. But as the weeks move closer to winter, nights start to get really chilly. Instead of skipping out on these perfect camping nights, take some of these tips for cold weather camping and learn how to keep a tent warm in the winter and fall months.
We've had our fair share of cold weather camping, and too many times, we were unprepared (one of those camping mistakes we all tend to make).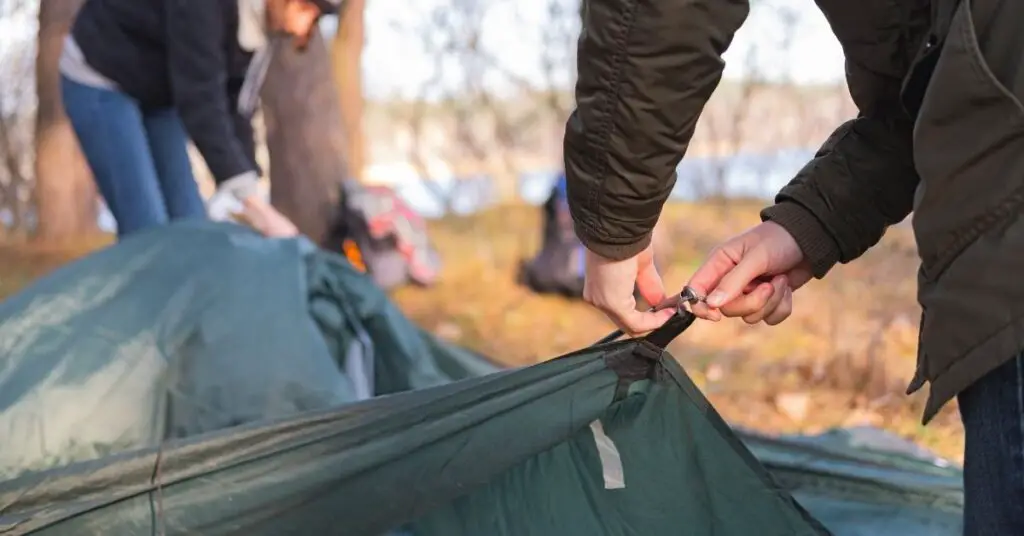 Like the one 4th of July camping trip in Colorado, where nighttime temps were in the 20s, and there was still snow on the ground at our campsite, we didn't even own sleeping bags at the time. We had to run home for more blankets and clothes.
On another trip to the North Carolina mountains, we figured we would be plenty warm in our camper. But there was an unexpected snowfall, and our propane tank ran out in the middle of the night. I think we were colder than the tent campers on the other side of the campground.
We definitely have tent camping in mind with these tips. However, you can still use this guide to prepare for different types of camping in the cold weather, even when camping in an RV or travel trailer!
Tips for Cold Weather Camping
You don't need to be an expert camper to get out there in the chilly months of the year. Even if you're new to camping, these tips will help you stay warm and cozy on cold nights under the stars.
Always check the weather before your camping trip. The only camping trips ruined by bad weather are those you're not prepared for. Pack the right gear, plan ahead, and it could even end up as one of the best camping trips, no matter how cold it gets.
Use any combination of these tips for your next cold weather camping trip, but always be armed with a few options in case any don't work out as planned.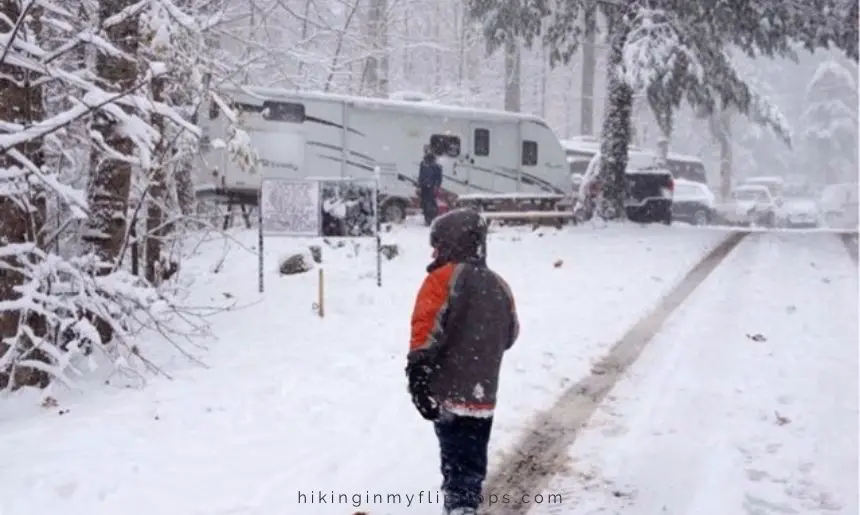 How to Keep A Tent Warm in Winter and Chilly Nights
These tips for cold weather camping will help you fill your tent with warmth on cold camping nights and keep it a cozy space all night long.
1. Add Layers of Insulation to Your Tent
Create an extra thick barrier between you and the cold ground by lining the tent floor with blankets (try moving blankets or made from wool), foam pads, or rugs. Survival blankets, silver side up, also work well and are easier to pack in with other camping gear. Avoid the inexpensive Mylar emergency blankets because the noise will probably keep you up more than the cold.
Prevent warm air from escaping from the top with an insulating barrier between the tent and the fly.
2. Avoid Tents That Are Too Large
We usually recommend a tent sized for 2-3 more people than in your group to give you plenty of space to move around and store gear. However, when camping in cold weather, that means more air to heat. We put all 5 of us (plus the dog!) on freezing nights into our 6-person tent. Filling up the space with people creates more warmth and reduces the amount of cold air in the tent.
For the warmest tent in cold weather, use one that is low profile (low peak height). Choose dome or A-frame tents over cabin tents.
3. Open the Vents to Prevent Condensation
It may sound counterintuitive to allow a space for warm air to escape, but the goal here is to prevent condensation. When it's cold outside and warm inside the tent, condensation will start to build up in the tent. The only thing worse than cold is cold and wet and can make cold mornings miserable.
This is one of many lessons we learned while camping in the mountains of South Dakota this fall. We managed to keep toasty warm all night, only to wake up to the sound of water dripping onto our gear from all the condensation that had built up. If this happens to you, make sure to get clothes, equipment, and sleeping bags out into the sun to dry off before the temps go down again at night.
4. Use an Indoor-Safe Heater in the Tent
If you have access to electricity at your campsite, bring an electric space heater for your tent. Don't forget to pack an extension cord to reach from the hook-up to your tent.
Camping without access to power? Plug a space heater into a Jackery Portable Power Station 500 (check that your heater doesn't exceed the max wattage). Alternatively, use the indoor safe propane heater from Mr. Heater.
Pro Tip: While indoor heaters are safe to use in a tent, they should still be used with extreme caution. There is a risk (even if small) of carbon monoxide poisoning or fires if the heater tips over. We recommend only running the heater while someone is awake and turning it off before going to sleep.
5. Pick the Right Spot to Set Up Your Tent
Look for a campsite or spot for your tent away from wind and colder air. Avoid hilltops and open fields where there is nothing to block the wind. But because cold air sinks, you also want to avoid the lowest elevation spots.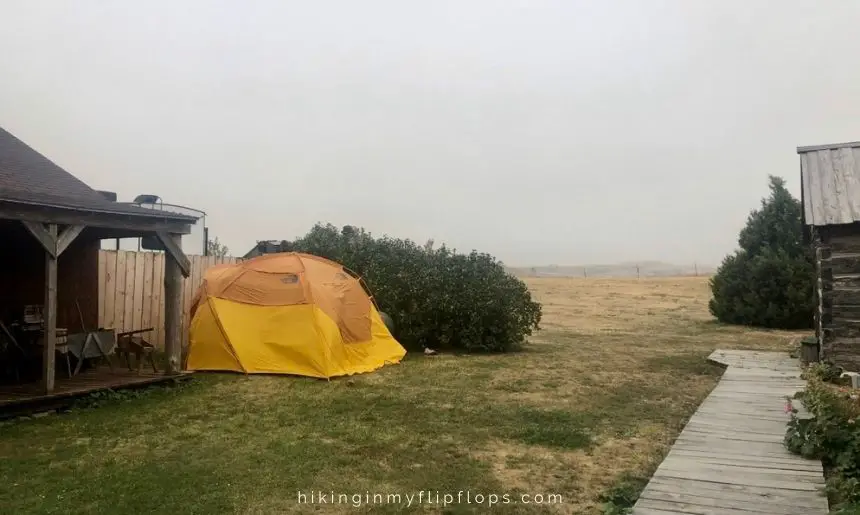 Create a Cozy, Warm Space to Sleep
Putting together the right sleep system will do a lot to keep you warm on cold camping nights. With just a few key pieces, you'll stay warm and toasty all night long.
6. Have a Temperature-Rated Sleeping Bag
A good sleeping bag rated for low temperatures is the best start for staying warm while camping in winter and other chilly nights.
Sleeping Bag Temperature Ratings Explained
When choosing a sleeping bag for cold weather camping, check the temperature rating to make sure the bag will keep you warm enough. Keep in mind that this is approximate, as there are a lot of variables that impact the warmth of a sleeping bag.
Related Reading: 25 of the Best Night Time Camping Activities
If the sleeping bag temperature rating is described as "comfort rating" or "lower limit rating," then they have been rated by ISO, the International Standards Organization. Find more information on their process for sleeping bag temperature ratings here. Other bags may have temperature ratings that are estimated by the manufacturer (these are typically more casual-use sleeping bags meant for warmer temps).
7. Line Your Sleeping Bag
It always surprises me how effective this is. Adding even just a thin liner to your sleeping bag is a simple way to keep you warm camping on cold nights. We most often use a twin sheet in our sleeping bags. While they are effective, they do get tangled up and lost throughout the night, so I'm now in the middle of a project of sewing 2 sheets together for each of our bags. Not up for a DIY project? Check REI or Amazon to buy sleeping bag liners, often made to custom fit your sleeping bag.
8. Dress for Sleep
Avoid layering up too much. Especially if you use too many of these tips for cold weather camping, you may get too hot and sweat. When sweat evaporates, you'll end up cold.
Wear a base layer made from merino wool or synthetic materials, with socks to keep your feet warm. Then top it all off with a beanie to trap in the warmth. Avoid cotton, which is terrible for wicking any moisture away from your skin.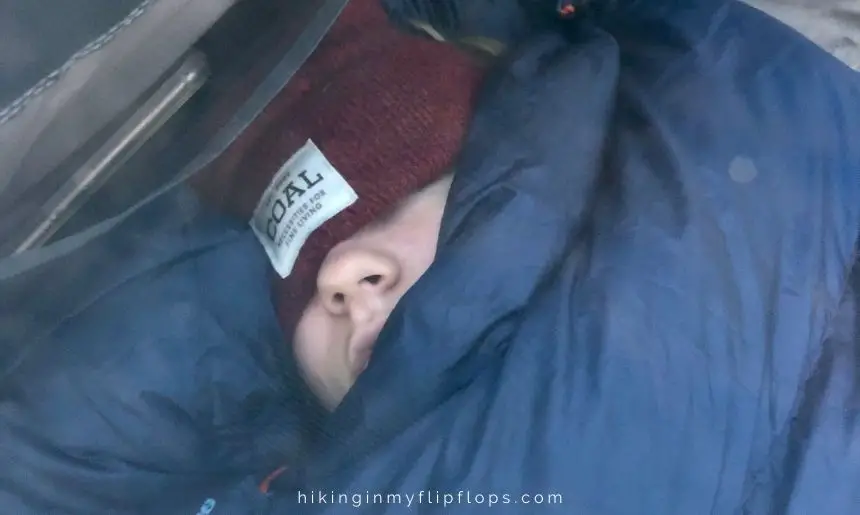 9. Use an Electric Blanket
If you have access to electricity at your campsite, an electric blanket is a simple solution to keep you warm through the night. Look for blankets that have an auto-shutoff in case you fall asleep while it's still on.
10. Add a Non-Electric Source of Heat
There are so many creative ways to get a little heat into your tent or sleeping bag that don't require any electricity.
A few of our favorite ideas for how to stay warm camping in a tent:
get disposable hand warmers, or try the Zippo Heatbank Rechargeable Hand Warmer if you often camp in the cold
add large rocks to your campfire until they get toasty warm, then bring them into the tent (placed where they can't melt any part of the tent, like on a heat-resistant table)
the rock method can also be used with canned goods and should also be placed on something away from the tent fabric
fill a cloth bag with rice and sew shut, wrap it in foil to warm in the campfire, then cozy up with the warm bag of rice in your sleeping bag
you can also curl up with a bottle of hot water in your sleeping bag, like a Nalgene or S'well bottle, or a rubber hot water bottle – but be aware that this method can backfire if your bottle leaks! [find methods for boiling water when camping here]
11. Choose Sleeping Pads For Your Sleep System
Choose a sleeping pad over a cot or air mattress.
While we love the space to store extra gear under a cot, the cold air circulating underneath will make it difficult for you to stay warm. You can make a cot a little warmer by adding layers between you and the cot to insulate from the cold air.
Air mattresses are always a favorite for camping in comfort, but they can be more uncomfortable in cold weather. When the air in the mattress lowers, the mattress deflates. You may be able to combat this by topping off the air right before going to bed. And even insulated air mattresses are a little chilly at night, so they also benefit from additional insulating layers between you and the mattress.
Sleeping Pad R-Values
Sleeping pads use R-value to indicate warmth. The higher the R-value of the sleeping pad, the more it resists heat loss – which keeps you warmer. In colder months, we'll sleep on our Exped MegaMat with an R-value of 8.1 instead of our NEMO Switchback Sleeping Pads with only 2.
More Tips for Cold Weather Camping
12. Layer Up Before You Get Cold
It's harder to warm your body up than it is to stay warm. As soon as the temps start to drop, and before you even start to feel cold, start adding layers to stay warm. Start with base layers that you can sleep in, and don't forget warm, dry socks, mittens, and a hat.
You Might Also Like: 11 Effective Tips For Keeping Dogs Warm While Camping In Cold Weather
If you're too late and you are already cold, do some light exercises to get the blood flowing to warm up. Keep it to a minimum, though, because you don't want to break a sweat. As the sweat evaporates, it will just make you colder.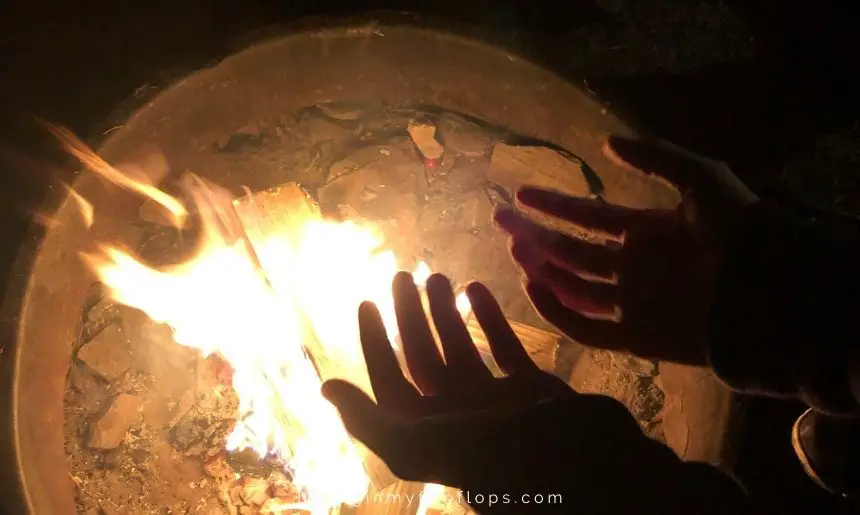 13. Make a Stash of Warm Clothes
Stash an extra layer of clothes to the bottom of your sleeping bag. They'll fill up any dead space in your sleeping bag. In the morning, you'll have a warm, toasty layer to put on before venturing out of the tent. Or, if you find you need more layers in the middle of the night, you'll have warm clothes without getting out of your sleeping bag to find them.
I usually keep a pair of socks, a Merino wool long-sleeved shirt, and leggings wrapped around my feet in my sleeping bag.
14. Eat Something Before Bed
A meal or snack high in protein and (healthy) fat before bed will keep your digestive system working through the night. This will both help keep you warm and prevent hunger from waking you up in the middle of the night – especially if the day's adventures burned a lot of extra calories.
Choose foods like nuts, cheese, and avocado. We'll sometimes bring out a small charcuterie board for a nighttime snack.
15. … But Limit Drinking
While it's important to stay hydrated, try not to go overboard. Drinking too much before bed – whether it's adult beverages or just water – leads to middle-of-the-night trips to the bathhouse. Do what you can to avoid getting out of the tent and into the cold.
That said, if you have to make a run to the bathhouse, just do it. Your body will use more energy, resulting in heat loss, but try to avoid a trip out into the cold.
Bonus Tip: Keep Your Devices Warm Too
While you may not be camping in temps so low that it can damage your phone or other devices, it's always good to check on the minimum recommended temperatures. The cold can also drain your phone's battery quickly, so we like to keep devices insulated. Tucked into a duffel bag and wrapped in clothes usually keeps them warm enough to protect the battery from draining through the night.
Related Reading: How to Charge Your Phone While Camping: 7 Easy Ways to Stay Connected
Cold Weather Camping Checklist
The right gear is the best way we know how to keep a tent warm in winter (and you warm too!). Use this list to make additions to your camping checklist, so you don't forget to bring anything to make the best of cold camping nights. Depending on how cold it will be and the gear you have, you probably won't need all of these.
Tent-safe heater
Blankets or other insulating layers for the tent floor, over the tent, and between you and the cot or air mattress
Electric blanket
Sleeping pad with a high R-value
A sleeping bag rated for low temperatures
Sleeping bag liner or extra sheets
Hand warmers or other items to curl up with in your sleeping bag
Clothes, hats, and socks made with wool or synthetic materials
High protein snacks
An insulated tumbler to keep coffee and hot chocolate warm
---
Even if cold temperatures are in the forecast for your camping trip, you don't need to miss out on a fall or even winter camping trip. From using body heat to taking advantage of hook-ups for an electric heater, anyone can learn how to stay warm camping in a tent in cold conditions. So gear up and take advantage of the quiet campgrounds in the off-season!
---
Click below to save these tips for cold weather camping on Pinterest!