I always dream of elaborate, rustic breakfasts at the campground – until I start making our camping menu. When the ingredient and kitchen gear list starts getting really long, I shift gears and end up with a menu from these simple and easy breakfasts for camping trips.
The easiest breakfasts for camping don't require cooking, don't leave us with piles of dishes to wash at the campground, and take little prep. But they still fill us up for a day of exploring and adventuring. These 15 camping breakfast ideas are not only family favorites; they are also quick prep and clean-up. Whether you are a seasoned camper or just setting out on your first camping trip, these breakfasts make morning meal time easy.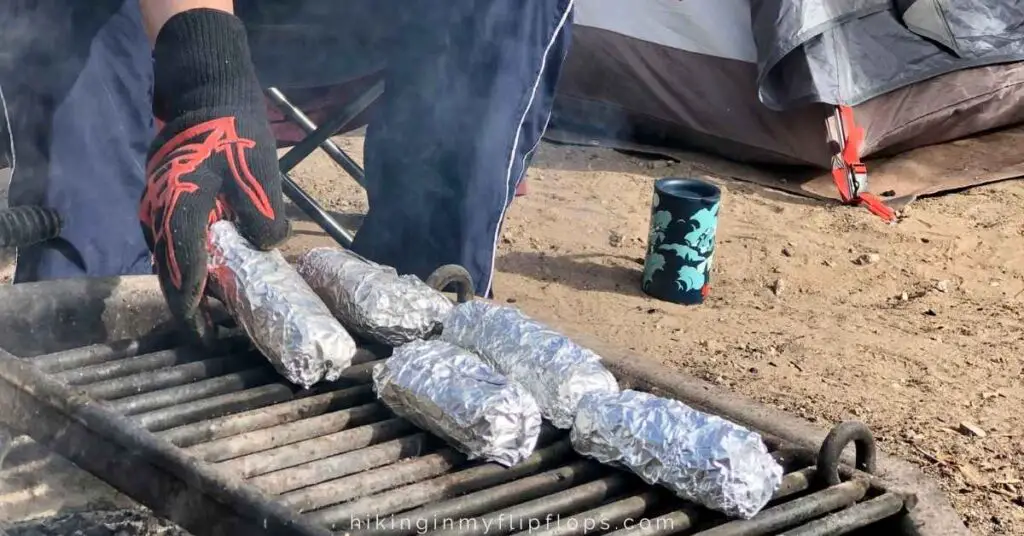 A No-Cook Breakfast for Camping
It's an easy favorite when it's a no-cook breakfast for camping, and we're not spending the day with campfires and cleaning up after our morning meal. Some of our favorite camping breakfasts are low prep, but others require some prep at home.
1. Donuts and Yogurt
It's not the healthiest, but it tops our list of quick and easy breakfast ideas for camping. We love this one for the last day of our trip. Everyone is focused on breaking camp, so we're not looking for more to add to the list of things to get done.
Choose drinkable yogurts, smoothies, yogurt tubes, or pouches, and you won't even need to get out the utensils. Switch the donuts up with easy-to-pack Pop-Tarts (this sweet breakfast is a favorite when camping with our teens), muffins, or Danishes from the bakery.
2. Hard-Cooked Eggs and Energy Bites
The eggs and nut butter make this grab-and-go breakfast high in protein. If I don't have protein in my breakfast, I usually find myself ready for that second breakfast. Cook the eggs and make the energy bites at home, so there is no prep at the campground. You can even peel the eggs ahead of time and store them in a sealed container in your cooler at the campground.
There are so many healthy and delicious recipes for energy bites all over Pinterest, but the simple recipe for Power Balls we found on PBS Kids is our go-to for camping and road trip breakfasts.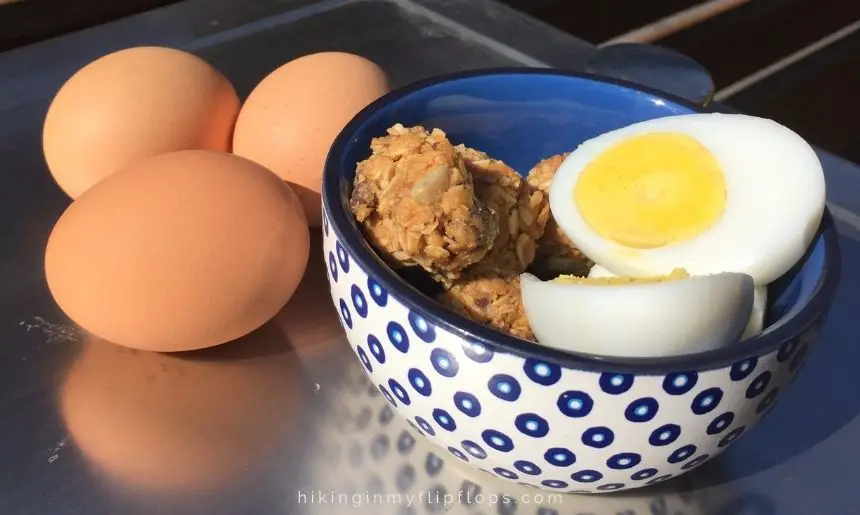 3. Bagels and Cream Cheese
It's as simple as that. Bagels and cream cheese (or peanut butter for a shelf-stable breakfast) are a top pick for easy breakfasts for camping – and it's quick to make, low mess, and filling too. Make it a more substantial meal by pairing it with easy-to-pack fresh fruit like pears, grapes, or oranges.
4. Banana and Nut Butter Wraps
This banana wrap is an absolute favorite in our house, even when we're not camping. It is insanely easy to put together – so easy that the kids can make this on their own. The short and simple ingredient list makes this breakfast easy to pack up for our trip (which is good when trying to stay on a budget for our camping trip).
Simply top tortillas with peanut butter and wrap them around a banana. Serve wrapped like a burrito or slice and serve as breakfast "sushi"! We use peanut or almond butter, but any nut butter will work.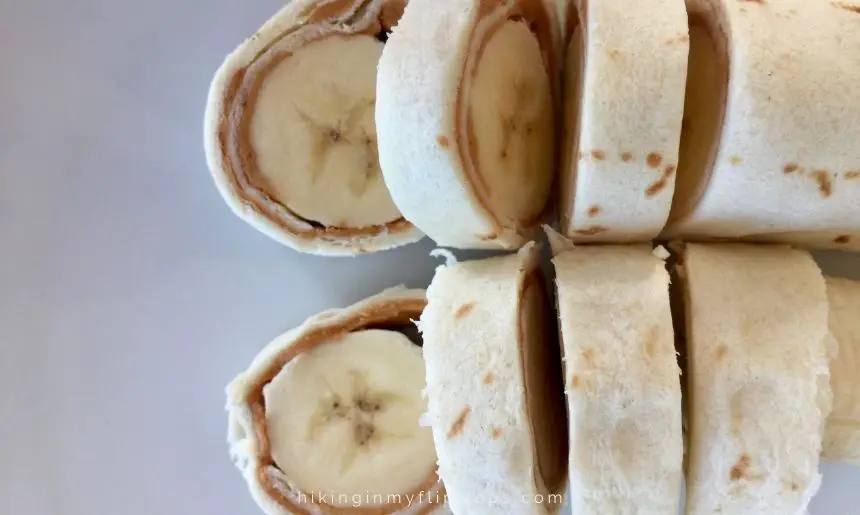 5. Yogurt Parfaits
Yogurt parfaits can be prepped at home and finished with the last few ingredients before serving. Layer plain Greek yogurt with fruit, chia seeds (aka "yogurt sprinkles" – with kids, the name can make all the difference), nuts, and a drizzle of honey. Save up a few Talenti jars before your camping trip to use to build your parfaits. In the morning, top with granola, and breakfast is ready.
Try this version from Iowa Girl Eats that uses oatmeal to boost the fiber content to make it a little more filling.
6. Cereal and Milk
Easy breakfasts for camping don't get easier than this. Cereal is great for summer camping trips when you don't want the heat from the campfire. Grab a box of cereal to pack up for your trip. Or, let everyone choose their favorite individually packaged cereal (this no-cook breakfast for camping is also low mess by eating straight from these packages).
7. Breakfast Cookies
When you have a day of adventure planned, you don't want to spend the morning cooking and cleaning up after the first meal of the day. This is why we love camping breakfast ideas that we can grab quickly and set out on our hike or a day on the lake. This recipe for the giant, filling, and nutritious Pumpkin Breakfast Cookies is our go-to recipe – especially for fall camping trips.
8. Overnight Oats
Oatmeal is almost always on the menu for chilly mornings at the campground, but no one is interested in hot oats when camping in the heat of the summer. And it's simple to make ahead. Fill individual jars (another great use for empty Talenti jars) with 1/3 cup rolled oats. Add 1/2 cup milk (dairy or non-dairy) and 1-2 teaspoons of a sweetener, like honey, maple syrup, or brown sugar. Refrigerate overnight. Toss in fresh berries or sliced bananas before serving.
Since rolled oats will stand up to the milk overnight, you can mix everything up the night before for a grab-n-go breakfast in the morning.
When cold weather camping season rolls around, but we still want the easy clean-up, we'll pack up pre-made oats. Just add boiled water and eat straight from the container.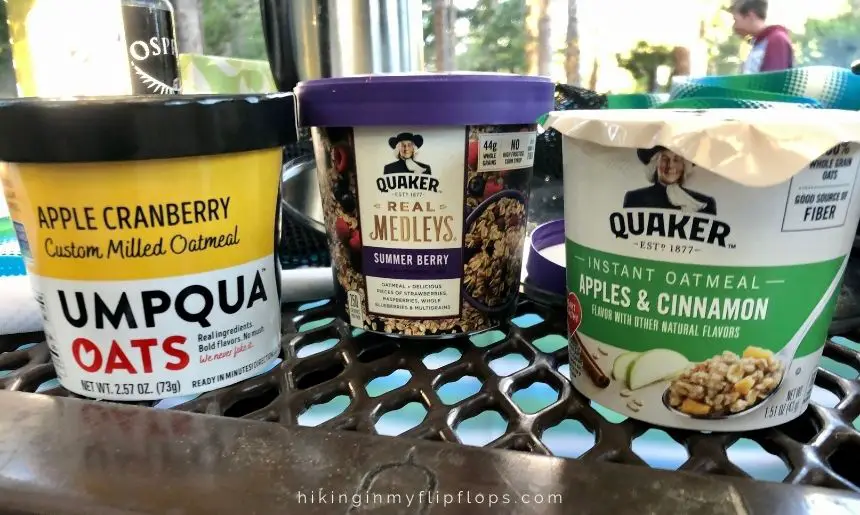 Easy Camping Breakfasts with Quick Clean Up
We love a hot breakfast, like Dutch Baby pancakes or traditional campfire French toast, in the morning at the campground. But these breakfasts can be time-consuming to cook or clean up. Instead, we reach for these quick and easy breakfast ideas for camping trips that help us quickly get on with our adventures.
9. Breakfast Sandwiches
My favorite version of this sandwich is made using English muffins because they can stand up to all of the fillings I like to pile on.
Thin-sliced bagels or hearty bread work well. Or use tortillas to make a wrap.
Layer scrambled eggs, ham or bacon, cheese, and veggies onto a toasted English muffin. Spinach, tomato, avocado, sweet red pepper, and mushrooms pack in the nutrients and are easy additions to breakfast sandwiches. Hit the fridge for your leftover vegetables and cheeses and pile them on!
Eggs, veggies, and meats can be cooked over the campfire, but a camp stove works well for this easy camping breakfast if pressed for time. Bring a portable grill grate for cooking over the campfire in case the campsite doesn't have one.
10. Camping Breakfast Burritos
Breakfast burritos are one of the best of the easy breakfasts for camping. It's a make-ahead and hearty breakfast – and absolutely no mess other than a handful of aluminum foil when breakfast is over. And everyone can choose their favorite breakfast burrito ingredients:
eggs
potatoes
bacon or sausage
jack or cheddar cheese
black beans
veggies (like onions and bell pepper)
salsa
sour cream
Assemble the burritos at home, wrap each burrito in foil, and store them in a gallon zip-top bag in the cooler. To cook, place over hot embers in the campfire until warmed through. Heat-resistant campfire cooking gloves make it easy to move the burritos on the grill to heat them evenly.
Tip: Try breakfast quesadillas as an alternative to burritos. Instead of wrapping ingredients, layer them onto a flat tortilla, fold in half, and cook in a skillet on your camping stove or over the campfire until cheese is melted and warmed through.
11. Toad-in-the-Hole
This classic camping breakfast goes by more than one name, and you might know it as egg-in-a-hole, egg-in-a-nest, or one of many other variations. Whatever you want to call it, it's always one of the most delicious and easy breakfasts for camping.
No time for a campfire in the morning? This one is easily made on your camping stove.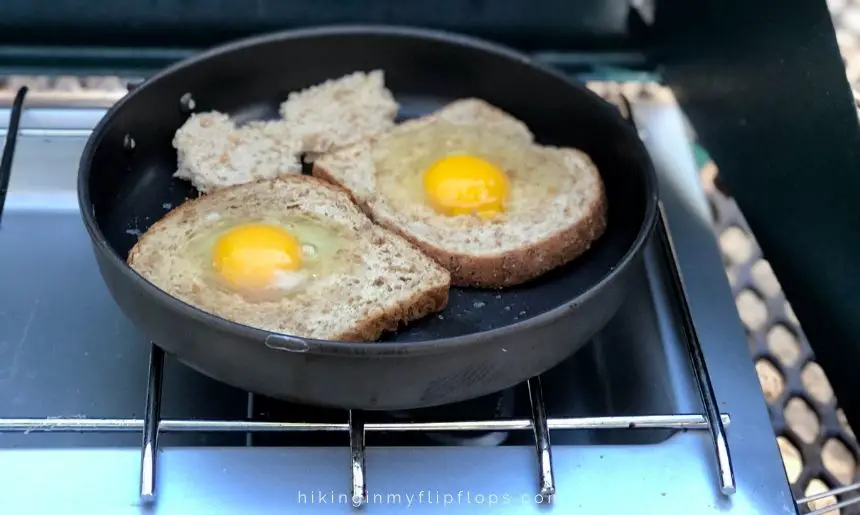 12. Omelet in a Bag
We tried this one with a lot of skepticism. The idea was simple: put eggs, cheese, veggies, and any other favorite omelet ingredients in a freezer zip-top bag (quart size works well) and drop in simmering water until the eggs are cooked through. But the sous vide-like method works beautifully.
13. Pancakes
Make pancakes at the campground super easy with a just-add-water mix. We often use this pancake mix because it doesn't even require a bowl for mixing the batter!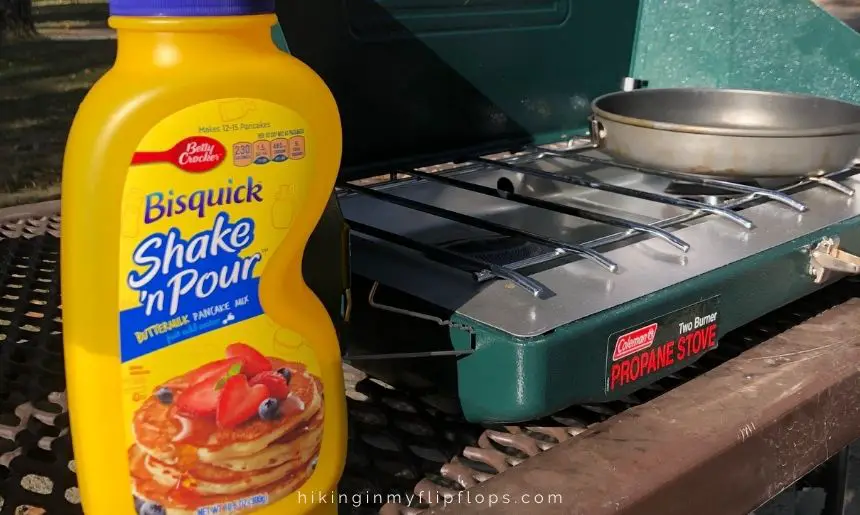 Or skip the batter altogether. Make the pancakes at home, then reheat them on the camp stove or wrapped in foil over the campfire. This post has our 3 favorite ways to make pancakes at the campground.
Tip: if you have extra bananas that need to be used, mash and add them to the pancake batter along with chopped walnuts and cinnamon to make banana bread pancakes. 
14. Breakfast on the Grill
This sweet and salty breakfast works so well for camping that it's been on our camping menu for years.
It's like French toast, without the mess of the egg mixture, so it's easier to clean up than a traditional French toast recipe. If you don't have access to a grill at the campground, cook it over the cooking grill grate over the campfire or on hot coals.
15. Breakfast Skillet, Hash, or Scramble
Scramble eggs, cubed potatoes, peppers, onions, cheddar cheese, and bacon or sausage in your cast iron skillet over the campfire for a hearty and filling start to the day. Make prep faster by par cooking the cubed potatoes at home and storing them in the cooler until you're ready to start cooking.
If you are more of a recipe follower, here are a few good ones to try:
16. Cinnamon Rolls
Bring ready-to-bake Pillsbury Cinnamon Rolls and bake them over the campfire. Line a Dutch oven with tin foil or parchment paper and add the cinnamon rolls. 
Place Dutch oven on a grate over the campfire (not directly over the flames) and bake for 25-30 minutes until done.
Tip: if oranges are packed in your stash of hiking snacks, use a knife to peel the fruit and save the peel to make oranged-infused cinnamon rolls. We like the recipe found here.
17. Leftovers for Breakfast
Don't overlook using up your leftovers for quick and easy camping breakfasts. Anything goes here – if you love pizza for breakfast at home, it's even better at the campground. And anyone with a sweet tooth can dig into the camping desserts from the night before!
When you're looking for some ideas for easy camping breakfasts, use this list for some inspiration. With a little bit of advanced preparation, most of these breakfasts can be made ahead of time or don't require cooking at the campground. So whether you're an experienced camper or this is you're new to camping, here's to a hassle-free yet delicious breakfast to start your day!
---
Click below to save these ideas for quick and easy breakfast ideas for camping on Pinterest!