Who knew how much adding a pair of gloves to our camp gear would change our outdoor cooking game? Campfire cooking gloves keep your hands protected from the intense temperatures when cooking over the fire. 
While oven mitts protect against cooking over the campfire, they can be challenging to grip pots, grill grates, and logs. Campfire gloves make it easy to handle hot food while protecting you from high temperatures. Check out these 9 picks for the best gloves for campfire cooking that keep your hands protected.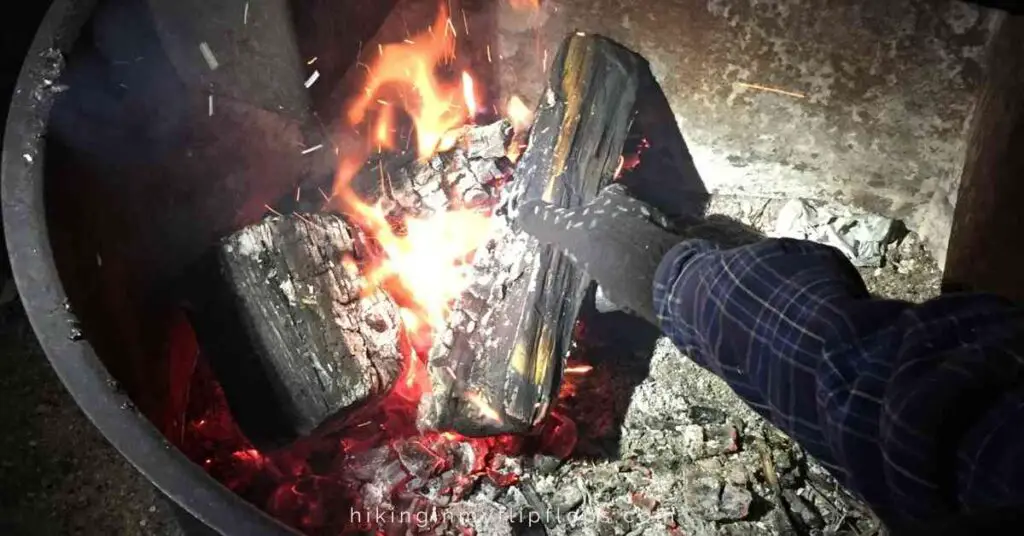 Benefits of Campfire Gloves
Do you really need campfire cooking gloves? Well, no, but they do make handling logs in a campfire much easier. And a good pair of gloves for campfire cooking protects your hands while handling your cast iron skillet or campfire burritos for a hot camping breakfast.
Campfire cooking gloves provide better dexterity than hot pads when moving the Dutch oven from the campfire. And they double as a hot pad to protect surfaces against dishes that are hot off the fire or grill.
And if you're worried about adding even more campfire cooking tools to your gear, campfire gloves take up very little space. In fact, they are much easier to pack than a fire poker.
More in Camping Gear: The Best Large Camping Tents for Families (2022 Guide and Reviews)
How To Choose Campfire Cooking Gloves
You want something you know will protect your hands from intense heat when you're cooking your famous camp stew over the campfire. Here's what to look for in a pair of campfire gloves:
Heat-resistant material, like those made with aramid fibers
A well-fitting glove that is comfortable
Flexible materials securely grip or handle food, pots, and firewood
Cuff length to protect wrists and forearms
Product ratings, like EN 407 rating (for protection against heat) and EN 388 (cut-resistance rating)
Interior linings that wick moisture away
Max temperature ratings that can withstand extreme heat
The Best Gloves for Campfire Cooking
These 9 campfire cooking gloves are our top picks for protecting your hands when cooking those delicious outdoor meals.
All the gloves we feature here are highly rated and cost $50 or less (most are less than $25). This budget-friendly addition to camping gear makes a great gift for your favorite camper!
Aramid Fiber Gloves
These gloves are made from a breathable material that provides excellent protection from heat, but not from hot liquids.
1. The Ove Glove
This is our go-to glove for campfire cooking and is one of our favorite things on our camping gear checklist. The Ove Glove protects up to 540°F. Made from Kevlar and Nomex, these gloves also feature a silicone grip to make handling pots and pans easier.
Machine washable
Maximum temperature: 540°F
Materials: Kevlar, Nomex, and silicone
Not waterproof (does not protect against hot liquids)
---
2. Grilling Gloves by Hostaque
These aramid and silicone gloves are EN407 certified and can withstand up to 1472°F (800°C). The extended cuff provides protection for your wrists, and a loop sewn into the cuff of the gloves makes it easy to hang to dry.
The 5″ cuff protects forearms from the heat too
These gloves are not waterproof, so they don't protect against hot liquids
Machine washable
Maximum temperature: 1472°F
Materials: Aramid and silicone
---
3. Jomac By Wells Lamont Heat Resistant Gloves
The Jomac gloves are not only heat resistant, but they are also cut-resistant. Stay protected from sharp knives when prepping your outdoor meals. The terry cloth material wicks moisture away for added comfort.
Maximum temperature: 700°F
Machine washable (warm water only)
Materials: 100% Kevlar, lined with virgin wool
5″ gauntlet cuffs protect wrists from heat
More in Camp Cooking: 15 Make-Ahead Camping Desserts that are Both Easy and Delicious
---
4. Fireside Outdoor Thermal Protection Gloves
There are 4 layers of protection in these gloves from Fireside Outdoors. The outer layer of silicone With 100% cotton liner is layered with aramid fiber, Nomex, and then silicone for maximum protection. The 4″ cuff provides protection for your wrists too.
Maximum temperature: 932°F (EN407 rated)
Materials: silicone, aramid, Nomex, and cotton
Cut resistant (EN388 rated) materials for additional protection
---
5. Blackstone Griddle Gloves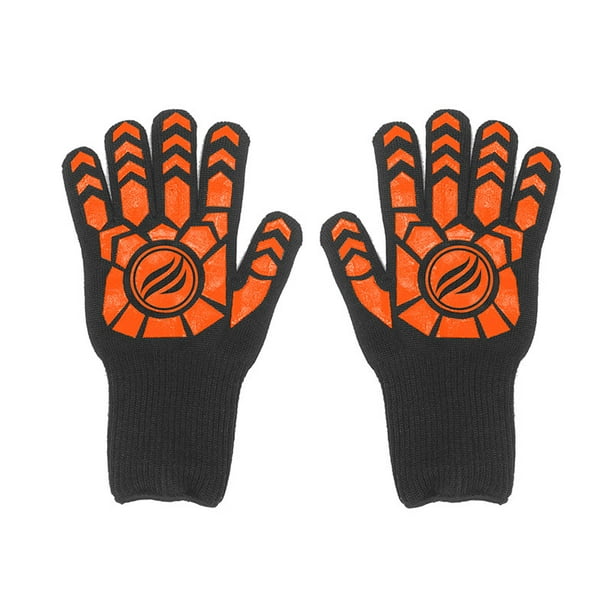 Blackstone Grills might top the list of favorite gear for many campers. And fans of the brand will love their heat-resistant gloves for campfire cooking that feature the famous Blackstone logo. 100% silicone palm pads provide grip, and the aramid and cotton materials offer protection from the heat.
Heat resistant up to 500°F
Hand wash
Materials: cotton, aramid, and silicone
---
Silicone Campfire Cooking Gloves
Silicone gloves provide excellent heat protection, but the bulky material can make grabbing small items challenging. They are also nearly effortless to clean.
6. Auzilar Silicone Grilling Gloves
Handle temps up to 464°F with these silicone grilling gloves that work great as campfire cooking gloves. The waterproof material makes them extra easy to clean, and the 3″ cuff provides extra protection for the wrists.
Maximum temperature: 464°F
Materials: 100% food-grade silicone, cotton
3″ cuffs protect wrists from heat
Hand wash only
More in Camping Gear: 19 Awesome Campsite and Camping Tent Lights to Light Up Your Campsite
---
7. Silicone Heat Resistant BBQ Gloves
We like silicone gloves because they are so easy to clean. The downside of silicone is that they are a little more challenging to grip anything too small, but these are made to maximize flexibility. Available in 2 sizes and 11 colors.
Handles temps up to 500°F
Materials: cotton and silicone
Easy to hand wash while wearing the gloves
---
Leather Gloves for Campfire Cooking
Choose a pair of leather gloves when you want the most durable and cut-resistant material.
8. Heat Resistant Welding Gloves
Premium leather gloves are heat- and cut-resistant for maximum protection when cooking outdoor meals. The reinforced wing thumb will hold up against wear and tear from moving firewood and more. The moisture-wicking cotton liner keeps them comfortable in the heat.
Materials: cowhide leather
5″ cuff for wrist and forearm protection
Abrasion-resistant
---
9. Grain Leather BBQ & Grill Gloves
Extra-long design of these cowhide gloves extends heat protection to forearms. The durability of these gloves goes beyond the campfire: they protect against sharp rose thorns in the garden and knives when prepping outdoor meals. Also available with a food-grade neoprene exterior that protects against hot liquids and is easy to clean
Heat resistant up to 400°F
Materials: cowhide leather with cotton lining and Kevlar stitching
Related Reading: Up Your Outdoor Cooking Game With a Portable Campfire Grill Grate
---
Campfire Cooking Gloves FAQs
---
If you're looking for a way to make campfire cooking easier and more enjoyable, add a pair of campfire cooking gloves to your camping gear. With a good pair of heat-resistant gloves, you'll be able to handle food safely while it's hot and keep your hands protected from the flames when keeping that campfire going at night. Add this essential camping gear to your packing list, and you'll be ready to cook some fantastic outdoor meals!
---
Click below to save these picks for the best gloves for campfire cooking on Pinterest!