It's so easy to pack way too much camping gear on a car camping trip. All the things you need (like your tent, food, and clothes) already take up a lot of space. Then add all the things you want (comfy camp chairs and games for the kids), and it really starts to eat up space in your car.
No matter what type of camper you are, you're sure to find plenty of space-saving camping gear and ideas to increase storage space to make your next outdoor adventure a whole lot easier.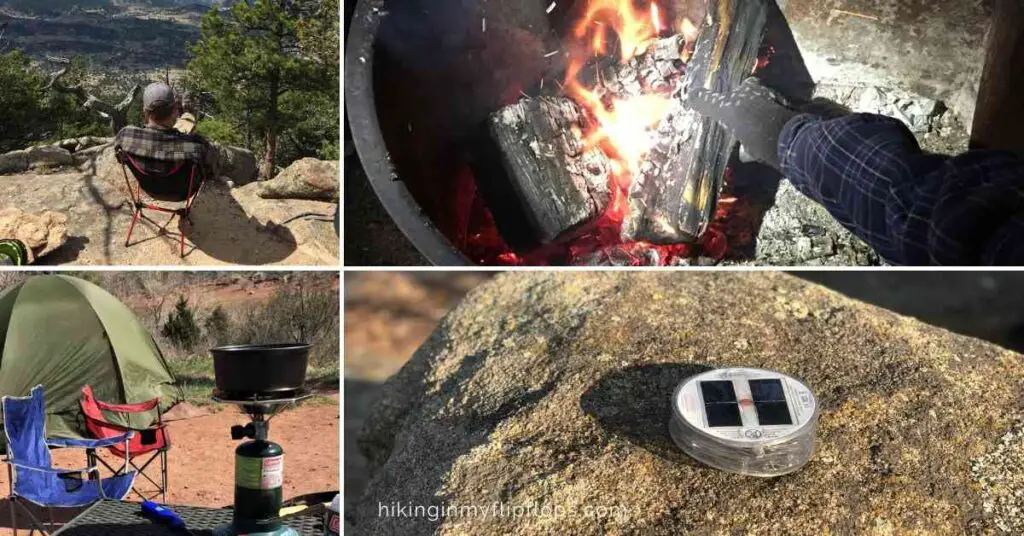 The Best Space-Saving Camping Ideas (and Gear)
Don't resort to stuffing things under seats and on the kids' laps. Instead, try these easy space-saving camping ideas and gear recommendations for your next camping trip.
1. Repack Food and Other Items Into Smaller Containers
When the container takes up more space than the actual food or gear, decant it into smaller containers to save a lot of space in your camping supplies.
We use containers from home rather than buying a separate set for camping (which means we don't need to dig through camp gear when getting ready for a trip).
Crack eggs and store in a plastic bottle – or cut the egg carton down to size if you're not using the whole dozen.
Save space with condiments by using leftover fast-food packets of ketchup, mustard, and mayo. Or buy the smallest versions of condiments to rinse and reuse just for camping trips.
Tear off a few feet of duct tape instead of bringing the entire roll. Wrap the tape around a pen or water bottle.
>> Reusable Bags
You don't need to worry about constantly restocking zip-top bags when you have these durable storage bag alternatives. They come in several shapes and sizes – and can be used to store more than just food.
>> Silicone Travel Size Bottles
Full-size dish soap, body wash, shampoo, and conditioner definitely take up too much space in your gearbox. These silicone tubes are great because it's easy to get all the product out and refill when needed.
2. Plan Camping Meals Ahead
Avoid bringing full containers of ingredients for your camping meals. Instead, plan your meals ahead of time. And making a meal plan for your camping trip helps you avoid bringing food and kitchen equipment you won't use.
3. Prep Meals Ahead
Packing individual ingredients takes up more room than prepared meals. Even partial prep, like making spice mixes or chopping veggies, can be excellent camping space savers.
Pre-mix dry ingredients for your camping pancakes
Make marinades at home and store them in a leak-proof jar
Chop fruits and veggies at home
4. Pare Gear Down to Only What You Need (or Will at Least Use)
We want to be prepared for everything in the wilderness. But we often don't use most of what we bring (an all-too-common camping mistake).
Pack only the gear for your camp kitchen you need for your menu. If mountain pies and stew aren't on the menu, leave the iron pie maker and Dutch oven at home.
No rain in the forecast? Don't worry about bringing extra tarps and bungee cords.
If you're camping near a town, consider making a trip to town for any emergency items you might need.
Plan a few camping activities that don't require bulky gear. Opt for a game of tag and scavenger hunts instead of corn hole or bikes and bike helmets.
Pro tip: During your camping trips, make notes of items you bring but very rarely need and items you really wish you had.
5. Get Water and Firewood at the Campground
With limited space in your car, don't transport anything you can get at the campground.
Bring a collapsible water container to fill with drinking water at the campground instead of gallons of water or cases of bottled water.
Many campgrounds sell firewood so that you can skip packing that into your car too. Plus, it's always best to buy firewood at – or at least near – the campground to avoid bringing any insects that can infest the area.
>> Collapsible water containers
This water cube takes up little space in our camp gear storage and is easy to transport to the campground. We use it to store drinking water and to rinse dishes or dirty hands. The 5-gallon capacity is heavy when filled with water, especially for younger kids, so we've had our eye on these smaller water storage cubes.
Pro tip: look for information on the availability of water and firewood at the campground ahead of time. These may not be available at the campground, or access may depend on camp store hours.
6. Space-Saving Camping Gear That Collapses or Compresses
As you add to, replace, or upgrade equipment in your camping arsenal, look for nesting, compressible, or collapsible camping gear. Anything that can get smaller in size for transport will take up less space.
>> Packing Cubes
We love packing cubes for two reasons. They help organize clothes (like separating PJs from shirts and pants or outfits by day) and compress clothes for camping so you can get more into smaller spaces.
>> Collapsible Lanterns
It takes up less space when packing up your gear, and it's also solar-powered, so you don't need to pack backup batteries that take up even more space. The Luci lantern gives off the perfect amount of light around the campsite or in your tent. Just make sure you charge it in advance if arriving at your site after dark.
>> Collapsible Laundry Baskets
These laundry totes pack flat on the way to the campground and pop up when you need them. And while they're intended for laundry, they can also be used to haul out other lightweight items like pillows and blankets.
We love these so much, they are now our laundry baskets for home too!
>> Collapsible food storage containers
Plastic containers for food storage are great for camping, but these can be collapsed to save space when not in use. We use these for everyday food storage (including school lunches) but I grab them for our camping trips too.
>> Compression Pillow
Just like other bedding, pillows take up so much space! Many people have their clothes work double-time by using them to fill an empty pillowcase to make a pillow, but I'm a little too high maintenance for that. These pillows squish down to get really compact but are just as comfy as the pillows we use at home and are now on our road trip checklist too!
>> Stuff Sack to Compress Bedding
Bedding and other squishable items get packed smaller when tucked into stuff sacks. If your sleeping bag doesn't come with a stuff sack or you sleep with sheets and blankets, packing them into a stuff sack helps compress your gear down to a much smaller size.
Pro tip: Protect the filling of your sleeping bag by storing them in something other than the stuff sack. Large totes or pillowcases work well for off-season storage.
>> Collapsible Roasting Sticks
Yes, going into the woods to find nature's roasting stick for s'mores and hot dogs is really the best option. However, it's not always reliable, especially if it's dark and the kids are hungry. And the length of the metal roasting sticks we've always carried with us is nearly impossible to pack or store. These extend enough to keep a safe distance from the fire but are compact enough to pack away in a smaller tote.
>> Nesting Pots and Pans
If you're trying to keep the cost of camping down rather than investing in more camping equipment, the pots and pans you use at home will certainly do the job just fine. I just don't like how much space they take up, and the handles always get in the way when packing them up. These pots have removable handles, so they don't get hot when sitting on the fire (or camp stove) and nest, so they never take up more than the space of just one pot.
Pro Tip: store your pots and pans with thin dishtowels in between so the coating doesn't get scratched while stacked.
7. Consider Compact Gear
Like compressible and collapsible gear, look for compact camp gear that takes up less space. Equipment that packs small is easier to organize and contain.
>> Compact Camp Chair
This is the next best thing to pulling up a log by the campfire (and a lot more comfortable). Camp chairs are one of those bulky items that quickly take up a lot of space when you need to pack a chair for everyone in the family. This compact version can make a huge difference. These can cost a bit more than a regular camp chair, but this is a great quality chair at less than $40.
>> Travel-Sized Games
These games are super portable and can entertain for hours at the campground. The waterproof cards protect against the elements and are glow-in-the-dark, so the fun doesn't need to stop when the sun goes down.
>> Packable Towel
Towels are a must for showers and swimming, but packing them can get bulky fast. While small towels are a good option, they don't often go far with heavy or frequent use. These super absorbent towels pack small and dry quickly, so they are ready for when you need them next.
>> French Press Coffee Cup
Skip the coffee pot and bring this coffee cup with a built-in French press. We saved a good amount of space by making this switch. This cup is also insulated, so the coffee doesn't go cold on those chilly fall mornings.
>> Compact Dinnerware
Paper plates and bowls are always a convenient option, but if you want to reduce the trash on your camping trip, you'll want to bring a set of non-breakable dishes. These kid-sized dishes are compact but large enough for our needs, and they're budget-friendly, giving them a top rating in our space-saving camping gear. I also love the lip on the plates that help prevent spills while balancing in camp chairs.
>> Activities For the Kids
Sometimes you just want an afternoon to relax in your camp chair with a book or a magazine, but the kids want to play. Our solution? Pack up games and toys that will entertain them while we chill. Ladderball and corn hole (aka bean bags) take up a lot of space, but a slackline is perfectly compact. It fits right under the car's seat, so we always have it with us, even if we aren't camping. Bonus: learning to balance on a slackline is excellent for building gross motor skills.
>> Single Burner Propane Stove
This is our backup for getting dinner cooked when a campfire just isn't going to happen or we need a way to boil water when camping. Whether there is unexpected rain or we don't want to use up the firewood just for a pot of coffee.
We also like the single-burner version of a standard camp stove. It's larger than the bottle-top burner but still small enough to make it on our list of space-saving camping ideas (check out this one at REI).
8. Look for Multi-Function Gear
Some camping gear can be used for more than one purpose, so you can trim down what you bring.
Nalgene bottles have fluid ounces marked on the side and can be used for measuring liquids.
Paracord can be used as a lightweight rope, crafts, and some small fixes or repairs.
In a pinch, tarps can be used to block the sun, provide shelter from the rain, or even reduce the impact of high winds instead of bulky canopies.
>> Paracord for Fun and Function
This is a must in the camping gearbox, with so many uses for ropes and lines while camping. String them between 2 trees to create a line to dry clothes and towels. In an unexpected rainstorm, use to tie up a tarp and stay dry. There are also instructions for making bracelets when the kids need some entertainment!
>> Multi-Function Utensils
Instead of a fork and spoon for each person, this fork/spoon combo works better than a spork and cuts down on gear to pack up. For more durable versions, shop for titanium utensils, like Light my Fire Titanium Spork.
>> A Kitchen Gear Combo
The best space-saving camping ideas are often finding gear that has multiple uses. And this one has three functions for just one thing in the gearbox. Give veggies a good rinse, then collapse the colander into a cutting board to chop them up. After dinner, pop it back out and use the plug to convert it into a bin for washing dishes after your outdoor meal.
>> a Hidden measuring cup
We discovered this when we realized we forgot to pack a measuring cup. Not only do the measurement markings on the sizes of Nalgene bottles help monitor water intake, but they are also perfect for using the bottle as a measuring cup.
>> Heat Resistant Gloves
We've saved the best for last! A heat-resistant campfire glove has become the favorite of our space-saving camping gear and one of the most valuable items in our camping essentials tote. We love this one so much that our son received one for his birthday this year as a rite of passage in manning the campfire with Dad. This glove is meant to protect against the heat and makes moving logs around to keep that campfire roaring super easy – plus, it's much easier to pack than a fire poker.
9. Skip the Giant Totes and Pack in Smaller Totes
Raise your hand if packing up your car for camping is a game of Tetris! These smaller totes will help you win every time. The smaller size allows you to arrange them and fill in empty spaces. They may not seem like they hold much, but you can get a lot packed in with a bit of planning. Kitchen supplies, pantry foods, and general camping items each get their own tote. They are ready to grab for your next trip, and because they are small, they are more flexible in packing the car for your camping trip.
You Might Also Like: The Ultimate Guide to Tent Camping for Beginners
These camping space savers also make great gifts! If you're looking for even more ideas, check out these perfect camping gift ideas and outdoorsy gifts for your friends and family who love to get outside.
---
Make venturing out for a night under the stars easier and less stressful by replacing bulky camping gear with more compact options and using any of these space-saving ideas for camping.
Instead of living in the wilderness without the comforts of home, look for space-saving camping gear to get extra space in the car. Our favorite compact camping gear (pulled right from our camping checklist) maximizes camping comfort but takes up minimal space in your vehicle. If you have any camping space savers, we'd love to hear your favorite ideas, tips, and gear in the comments!
---
Click below to save this post on camping space savers on Pinterest!