There was that one hike where I swear we weren't even 5 minutes in before hearing the first "are we almost there???" whine.
A day on the trails with the kids has to be one of the easiest ways to get them to spend time outdoors, connecting with nature. But if you've ever been out there with the little ones (or even bigger ones) in tow, then you've also probably experienced your fair share of whines and complaints. To help you get through the trails with happy little hikers, we've pulled together our kids' favorite ideas for how to make hiking fun for kids.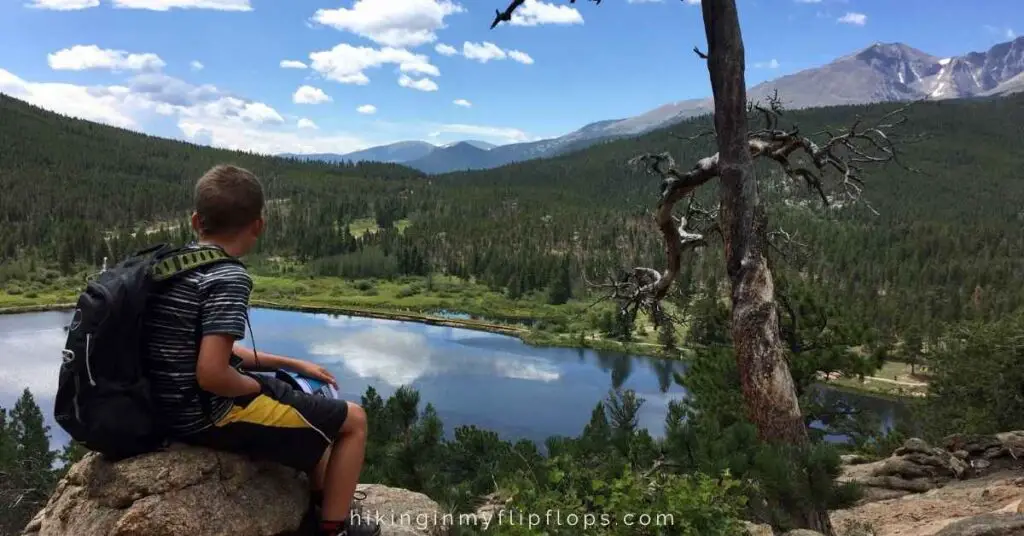 How to Make Hiking Fun for Kids
Hiking with kids can be challenging for sure. We might be happy enough with a few stops along the way to take in the views, but kids often see tree after tree or rock after rock. And when they get bored, and it feels like work, it's not much fun for anyone. It doesn't have to be that way, though. 
With just a little planning ahead, you can arm yourself with a few hiking activities for kids and other tips for the trails, including some fun hiking conversation topics. They'll see the trails as a whole new adventure. And you never know – they may end up liking hiking so much they write a school report on it. Read our third-grader's essay on hiking tips here! 
1. Load Up On Snacks or Plan a Picnic
Snacks work in about every situation with kids, so of course, it's one of our top tips for hiking with kids too. 
Pack up an assortment of easy, healthy hiking snacks for your afternoon on the trail. Or pack up a full lunch to make a picnic a part of your day on the trails. Take your time at the summit or anywhere along the way for a leisurely lunch.
Make it even better by letting them help plan and pack the food for the trails. Our kids love to help make the same trail snack I had as a kid: Backpacker Bars.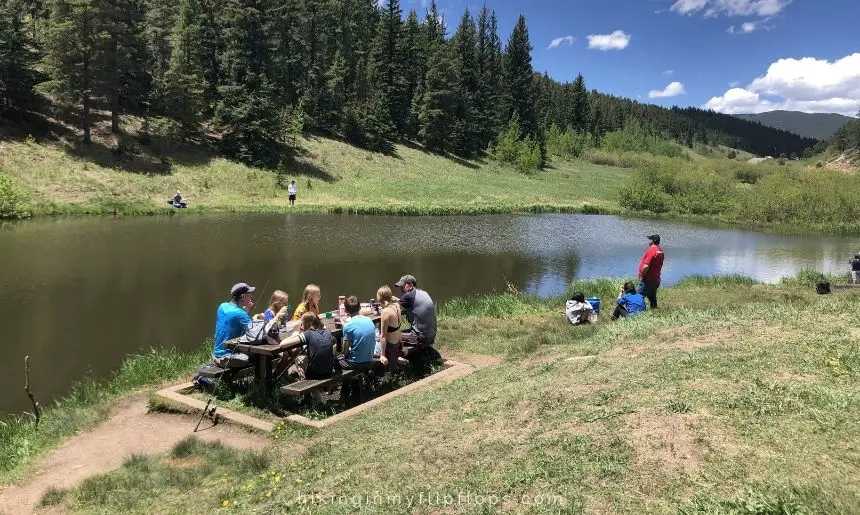 2. Keep Them Busy With a Scavenger Hunt
Not only does a scavenger hunt distract kids from the long and "boring" walk, but it also helps them connect with nature. Along the trail, encourage kids to be on the lookout for wildlife and other forest surprises. Give them a list of things to find and let them check off their findings along the way.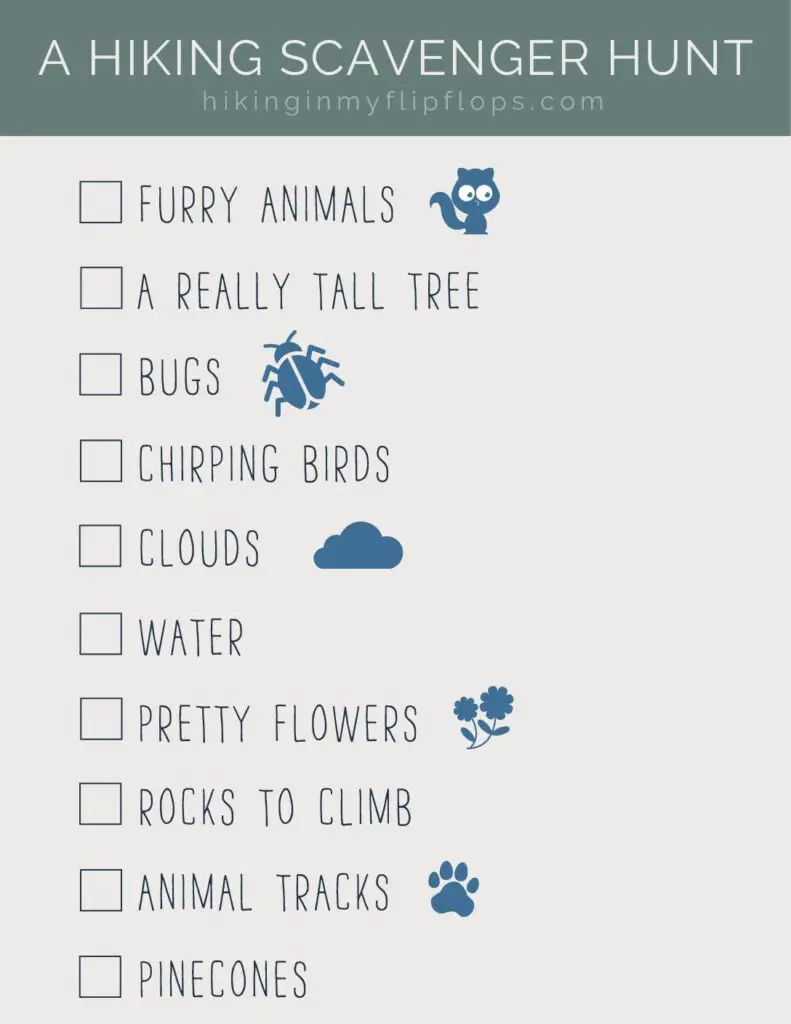 3. Uncover Hidden Treasures with Geocaching
This is an excellent activity for hiking with teens but definitely works for younger kids, too. Way back when geocaching first started getting popular, it required a particular GPS device. Today, the popular outdoor activity is much more approachable because there's an app for that! The GPS built right into the phones we now carry everywhere we go makes it super simple.
Before setting out on the hike, check the app for any caches in the area you'll be hiking. Be sure to respect the land and not travel off the trails unless stated explicitly as ok to do. (New to geocaching? Learn more about geocaching here)
Bonus: Caches can be hidden everywhere, from deep in the forest to the middle of the city. You can always check the app for caches whenever you need to keep kids entertained.
4. Bring a Friend
Almost everything is more fun when you have a friend along. Make a play date with a friend to join in on the fun hiking activities for kids. Or bring together a few families for a group hike so mom and dad can bring along a friend too.
Can't coordinate a group hike? Furry friends like to hike too. And if the trail allows, consider bringing your dog on your hike too!
5. Add a Destination
Another great tip on how to make hiking fun for kids is to find a trail that leads to something. A waterfall, a lake, or a spot to play or climb. Or trails that lead to historical sites, like the trails at Caribou Ranch Open Space in Colorado, are fun places to explore. A destination creates a goal and something fun for the kids to look forward to. 
Make sure to plan ahead to pack the appropriate gear for any activity. If there is water, bring packable towels and a change of socks. 
Streams and rivers are a favorite for our kids. The second we see water, we see shoes and socks already piled up on the river bank. We used to try to move them along after playing for just a few minutes but found it's better to just let them play and explore until their heart is content.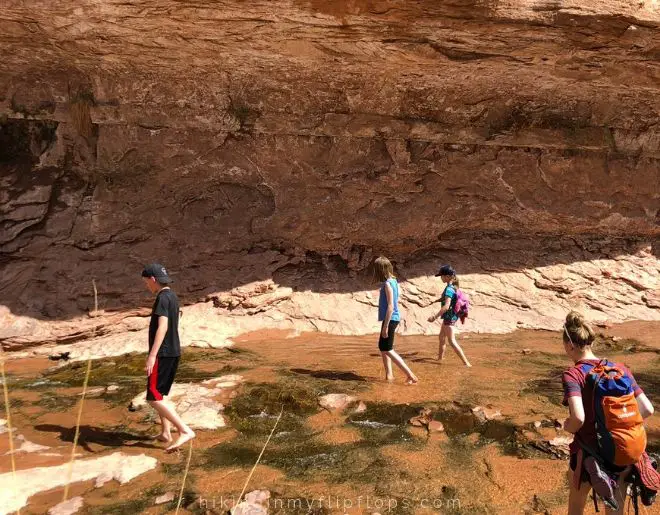 6. Take Pictures
We had found ourselves with a small collection of old digital cameras and smartphones that we would give the kids to take their own pictures when they were younger. They now have their own phones, so we each take our own photos along the way. Sometimes we'll do themes – wildlife, trees, or pictures from unique perspectives.
The variety of photos is a fun way to look back on the day's adventures. Want to make it even more fun? Try GoPro's video editing app to quickly create a video out of the images.
7. Play Some Games 
Not all games need boards, dice, or cards. You probably have your family favorites, but our two favorites are "You Don't See That Every Day!" and "Going on a Picnic."
"You Don't See That Every Day" is more of an activity than a game (no one really "wins" in this game). Anyone can call out, "you don't see that every day!" whenever they see something new and different along the trail. A tree with an intriguing shape, a new insect, or a critter trying to steal a snack – anything goes. Then on the way home, it gives us a way to remember all the cool things we saw that day.
"Going on a Picnic" starts with the first person saying, "I'm going on a picnic, and I'm bringing [something that starts with the letter A]." The following person says the same line, including the item that starts with "A," then adds something that begins with the letter B. Continue down the alphabet, going as far into the alphabet as you can. The game ends when someone can't recall the complete list.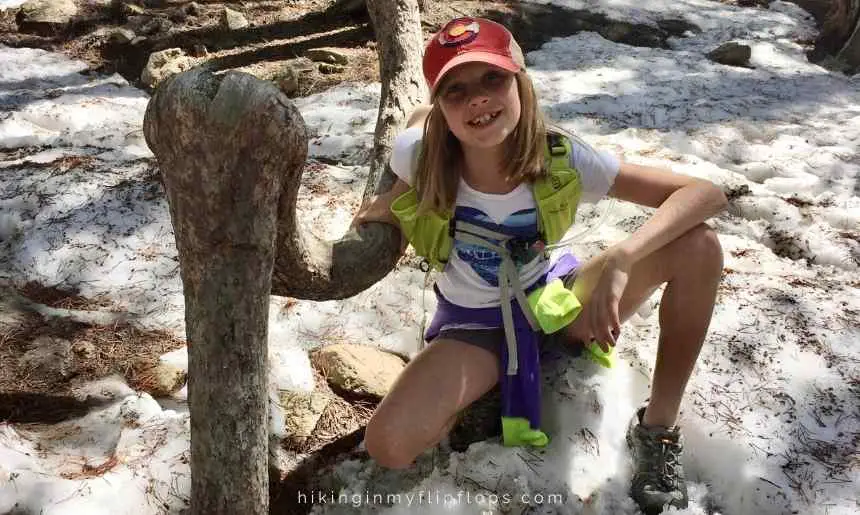 8. Just Talk While Walking Along the Trail
There is little distraction out on the trails, which makes this one of my favorite hiking activities for kids. This is especially true while hiking with tweens and teens that don't always open up as much. Here you have the time to focus on the family without getting distracted by cooking, work, or texts.
If your kid isn't much of a talker, prep with some hiking conversation topics ahead of time. These are our favorite ways to get the conversation going (and also good when you're without the kids and getting out for a hiking date):
Would You Rather? 
Describe your perfect vacation
What is your favorite thing to eat or drink after a long day on the trail?
Two truths and a lie (one person tells the group 3 things, where only 2 things are true and everyone needs to guess the lie)
What is the most interesting thing you've seen in nature?
What is one adventure you want to try?
9. Hike at Their Pace – Not Yours
Sometimes we tend to rush along the trail to reach the summit rather than enjoy the journey. Take your kids' pace and take in all the things you see along the way. Play in the water, climb the rock, check out that tree, and take in the views. Take it slowly on the steep parts, and stop to rest when you're tired.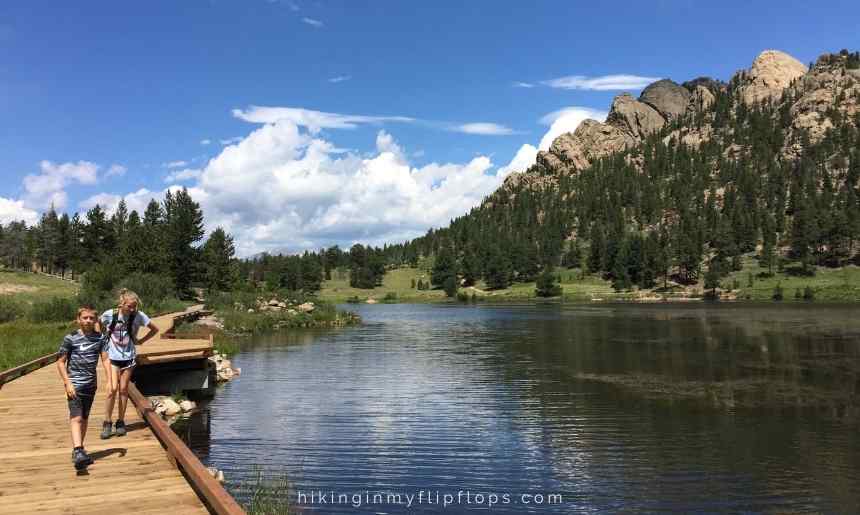 10. Don't Call it Hiking
It might be simple, but one of our best tips for hiking with kids is to stop calling it hiking. It's really just a walk anyway – it's just in the woods on a dirt path, right? 
This is especially effective if the kids already think of it as work and you're finding yourself figuring out how to make hiking fun for kids.
11. Let Them Take the Lead
Kids love to be the leader of the pack. Letting them lead the group and set the pace, decide on snack or rest time, and where to stop to play, climb, and explore.
A Long Story Short: Tips for Hiking with Kids
If you're wondering how to make hiking fun for kids, simply focus on the journey rather than the destination. Let them interact with nature, make some of the decisions, and give them things to do along the trail. Get them excited about exploring, climbing, and playing along the way, and they won't even notice the miles under their feet. And that's how to make hiking fun for kids!
---
Click below to save these tips to refer back to these tips on how to make hiking fun for kids on Pinterest.