Many of us go camping to get away from it all, but that doesn't mean we want to be disconnected entirely on our camping trips. From entertainment to emergencies, camping often means bringing your cell phone or other devices – especially when camping with teens!
But if you don't have electrical hookups at your campsite, keeping your electronic devices alive can be challenging. Knowing how to charge your phone while camping will ensure you stay connected even when you're far away from civilization.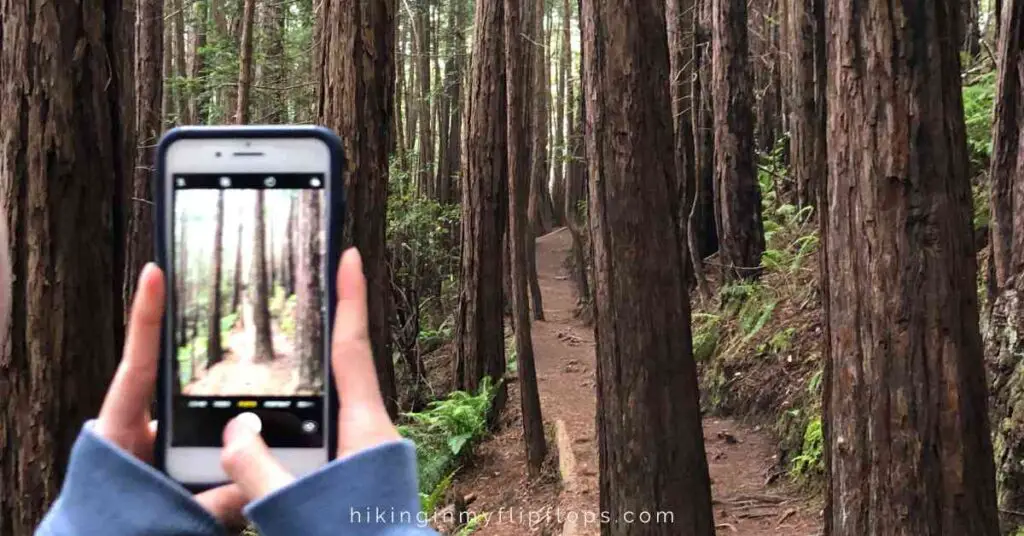 Why is Charging Your Phone When Camping Important?
Camping might be our escape into nature, but we bring our phones camping for many reasons.
entertainment during a storm
capture the scenery (and memories) with your phone's camera
get to those outdoorsy apps for birdwatching and constellation-finding
online research when the trip isn't going as planned
to be accessible in case of an emergency at home
making calls in case we have an emergency
How to Charge Your Phone While Camping
These methods work for more than just phones. Use these to charge your smartwatch, tablet, 
Bring a Portable Power Bank
Best for: charging phones on short backcountry and car camping trips
A portable power bank is an easy and inexpensive way to get a few charges for your phone. Most are small and easy to carry, while larger options provide more charges and can handle larger devices. 
Power banks need to be plugged into a wall outlet to charge, and some have a built-in solar panel for another source for recharging. While solar power banks are ideal for trips into the wilderness for extended periods, you'll need direct sunlight for the solar power to be sufficient.
some can charge laptops – check if you need this
easy and inexpensive
very portable option that can also be used for hiking, travel, or other adventures
a portable battery pack with a lithium-ion battery needs to be fully charged before your trip
Our recommendation: Annero Portable Camping Solar Power Bank
20,000 mAh should be around 4 complete charges
the built-in solar panel provides another way to recharge this power bank
other features include a built-in flashlight and compass
Find Power Sources Around the Campground – and Beyond
Best for: camping at developed campgrounds 
This tip works when camping at a developed campground or when you plan to spend time in town during your trip. You'll need to remember your wall charger, so you don't need to hunt that down as well.
Around the campground, you may find a wall outlet in:
the bathhouse
laundry room
community space at the campground
Around town, you may be able to get a charge:
at a coffee shop
using a public charging station (at Target, for example)
Related Reading: Camping for Beginners: 13 Useful But Simple Tips for First-Time Campers
Use a Hand-Crank Charger
Best for: emergencies in the backcountry
Kinetic chargers are a decent backup for charging your phone while camping but are best left for emergencies. A hand crank is used to convert kinetic energy into electricity that can then be used to charge your phone. While it's the most reliable access to power for your phone when there is no other power source, a full charge can take 3-5 hours from a hand-crank charger.
takes a lot of effort to get just a small charge
doesn't require anything to charge
should be a backup solution to charge your phone when camping
Our recommendation: Hand-Crank Portable Charger
solar panels provide a backup charging option
two USB ports to charge multiple devices at once
can also be used at home during power outages
Buy a Portable Generator
Best for: powering or charging larger electronic devices
When you also want to power more than your phone battery, upgrading to a generator might be for you. Generators can charge laptops and power CPAPs, coffee makers, and more. It's the most expensive of all the ways to charge your phone when camping, but there are many more benefits than keeping your mobile device powered. 
Choose a generator that is powered by gas, solar, or lithium-battery
Portable power stations, like the Jackery, is a lithium battery generator that needs a full charge from a power outlet to be reliable.
Solar panel-powered generators can be recharged even when you're away from another power source, but these can be expensive.
Gas powered are loud, and some campgrounds may restrict running them through the night. If not well-ventilated, these can be hazardous.
Keep in mind: a generator is heavy and bulky to transport, so make sure you have the space to pack it for camping.
Our recommendation: Jackery Portable Power Station Explorer 240
top pick for charging devices while camping, from phones to laptops
solar panels, for an additional recharging option, is sold separately
noise-free alternative to gas-powered generators
Capture the Power from Your Car
Best for: a short charge when car camping
If you're car camping rather than backcountry camping, use your car's battery power to charge your phone. While taking advantage of this power source when driving somewhere is best, you can also run your car for a few minutes to charge your phone battery.
if you don't have USB ports in your car, buy an adapter for the cigarette lighter
requires running your vehicle, so make sure you have enough gas
don't run too long and drain the car battery
works when you are camping near your car
 A car power inverter plugs into the cigarette lighter for faster charging. This one has two outlets for wall chargers and 4 USB ports.
Our recommendation: Foval Car Power Inverter
plugs into your vehicle's cigarette lighter
2 standard outlets and 4 USB ports allow for simultaneous charging
You May Also Like: How to Go Camping Without Electricity: 9 Easy Tips and Solutions
Choose Multi-Purpose Camping Lights or Other Gear
Best for: a backup power source when car camping or backpacking
When upgrading or replacing your gear, choose options that do double duty. Many camping flashlights and lanterns have USB ports and rechargeable batteries that can be used to charge devices. In our experience, this is best as a backup power source. 
The BioLite Campstove 2 is another dual-purpose addition to your camp gear. This lightweight camping stove turns heat into electricity for convenient charging on a backpacking trip.
Our recommendation for backpackers: BioLife CampStove 2+
a lightweight camping stove the size of a 32-oz Nalgene bottle
burn twigs and small sticks for charging devices while camping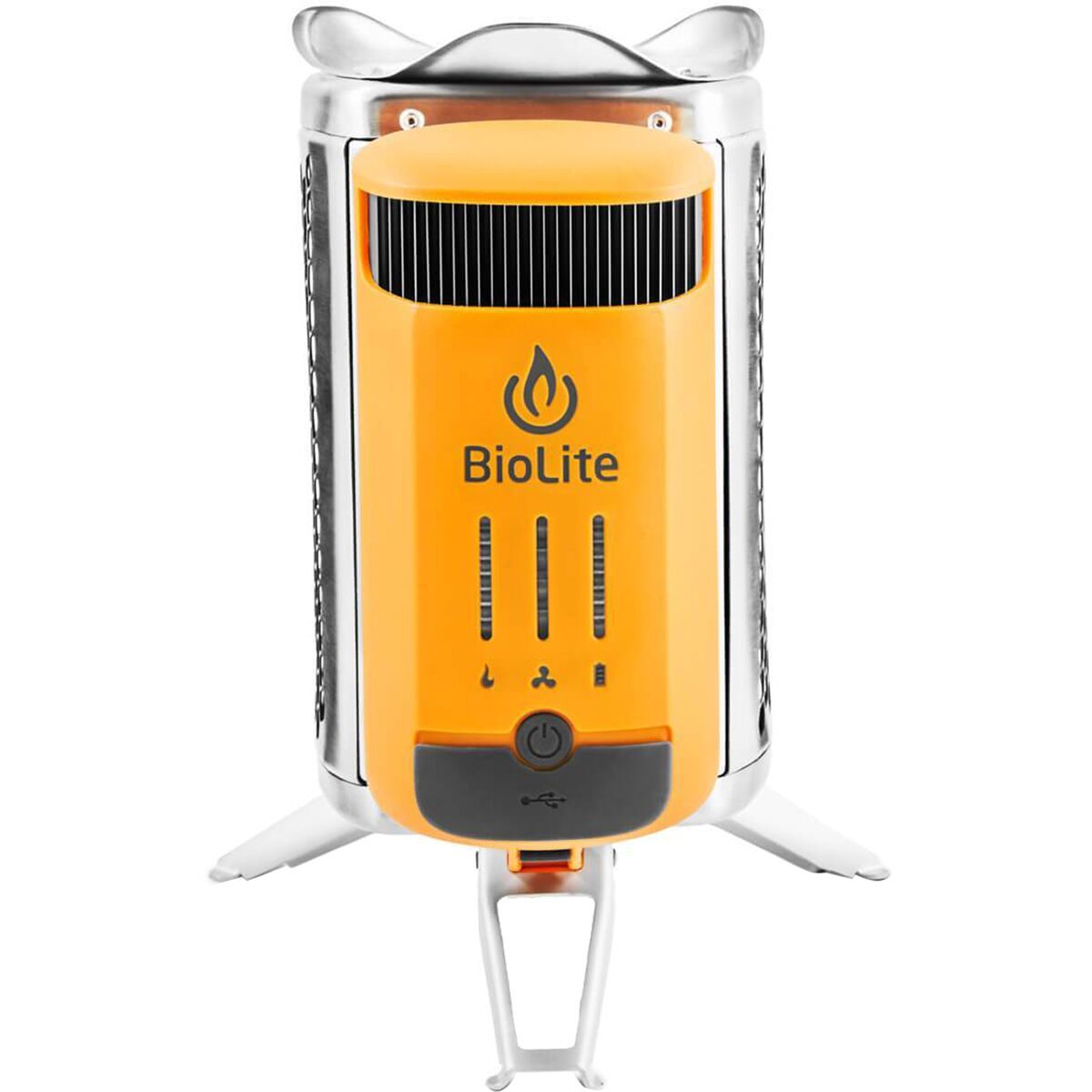 Get a Phone Case with a Built-In Battery
Best for: short camping trips that don't require multiple charges
The newest mobile phone cases are made to extend your battery life with built-in batteries.
Keep in mind: wireless charging is a newer phone feature, so older phones may not be able to use this method for charging your phone. Make sure to check that the phone case is compatible with your phone.
Tips for Making Phone Battery Last Longer
When power sources are hard to come by, use these tips to extend the battery life of your phone. The more you save your battery, the less you'll have to worry about charging devices while camping.
Cold weather will drain your cell phone battery, so use your body heat to keep your phone warm.
Put your phone on airplane mode to prevent your phone from searching for cell phone towers. 
You can also put your phone on the power-saving mode, which dims the screen brightness to extend the battery life.
When you're not using for phone, power it off.
Frequently Asked Questions
---
Knowing how to charge your phone when camping will ensure you stay connected during your trip. Whether it's for entertainment or emergencies, use this guide to be prepared for your time in the outdoors. And don't forget to add your USB cord to your camping checklist!
---
Click below to save tips on how to charge your phone while camping on Pinterest!