A plate full of hot pancakes drizzled in warm maple syrup is one of the best ways to start the morning at the campground (and might be just as quintessential as s'mores around the campfire). We think scratch-made pancakes whipped up at the campground is the best way to make camping pancakes. But we have a few other favorites for days when there just isn't enough time for a big breakfast – and the clean-up that comes with it.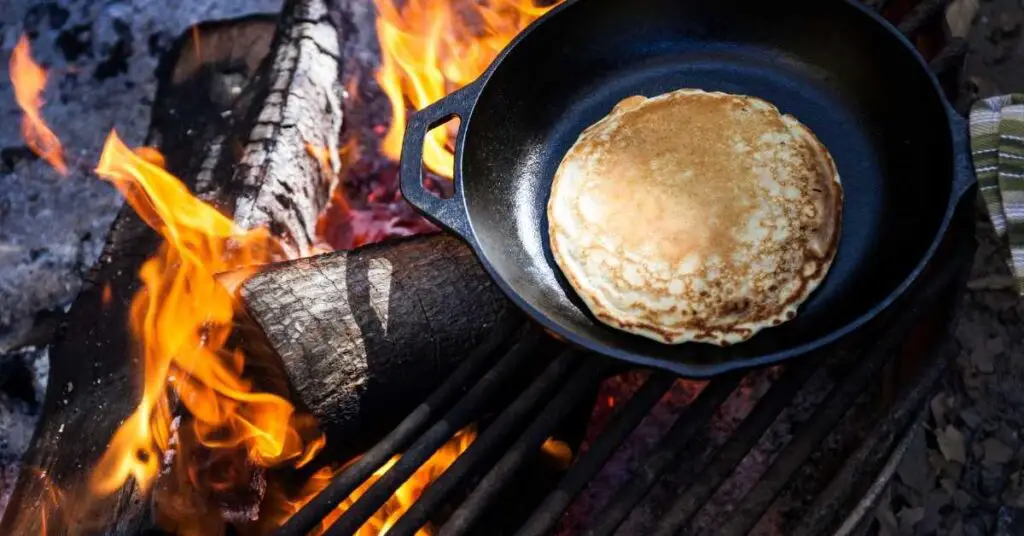 1. Homemade Camping Pancakes at the Campground
We all have our favorite pancake recipes, and any will work just fine at the campground. Remember to bring your favorite add-ins, like chocolate chips, blueberries, or mashed bananas.
The Best Camping Pancake Recipe
Ingredients
1 1/2 cups all-purpose flour
2 tsp baking powder
1 Tbsp sugar
1 tsp salt
1 egg
2 Tbsp butter, melted
1 1/2 cups milk
canola oil (for frying)
butter and maple syrup (for serving)
Directions
At Home: Start your dry pancake mix recipe for camping by mixing the dry ingredients (flour, baking powder, sugar, and salt) at home. Pack into a sealed container or bag to bring to the campground.
At the Campground:
add egg, butter, and milk to dry ingredients, mixing well (but not over-mixing)
heat oil in a skillet over a camp stove or campfire
add about 1/4 cup of batter to the pan, frying until cooked through
serve with butter and maple syrup
Swedish Pancakes at the Campground
We've started making Swedish pancakes at the campground too. These work well for camping because the ingredient list is shorter, so there is less to pack up.
And the recipe is so simple: mix together 1 cup flour, 2 cups milk, and 3 eggs. I'll add about a tablespoon to the batter if I have sugar for another camping meal. These are delicious when served with maple syrup, powdered sugar, jam, or a squeeze of lemon and sprinkled with sugar.
Coat the skillet with the batter and cook through, flipping once.
Make Ahead Pancake Batter for Camping
We see this method come up a lot in camping pancake recipes. It's great for camping because both the prep and clean-up are easy. But the pancakes aren't as light or fluffy as if you cooked them immediately after mixing the batter.
Related Reading: 15 Quick, Easy, and Delicious Camping Breakfast Ideas
For this method, simply follow your favorite camping pancakes recipe, but don't cook them until you are at the campground. Store in a jar or bottle (in the cooler), and the mix will be ready when you are.
2. Store Bought Camping Pancake Mix
Our favorite pancake mixes for camping need only water added to the mix. It eliminates the mess of cracking eggs and measuring milk, especially when we already have our cooler filled with food to keep cold. Pancake mixes like Kodiak Power Cakes Flapjack & Waffle Mix are really good with just water.
If you want to make clean-up super easy, just add water to the Bisquick Shake 'n Pour Pancake Mix container and shake until mixed through. No bowls or spoons are needed for this mix, so we love this option for impromptu trips and for anyone just getting started with camping and wants to make it easy.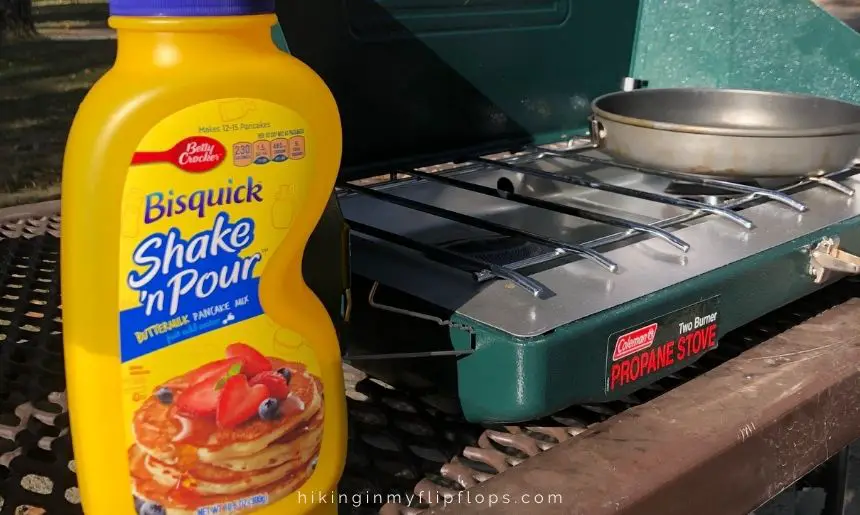 3. Make Ahead Camping Pancakes
When the kids ask for pancakes at the campground, but I know we won't have much time for clean-up in our adventure-filled days, I go for the complete make-ahead pancake method.
In the days before our camping trip, I'll make up a batch of pancakes, wrap them in foil, and store them in a gallon zip-top bag in the freezer. At the campground, place the foil-wrapped pancakes over hot coals in the campfire until warmed through.
Make-ahead camping pancakes isn't our favorite method, but it is quick, easy, and minimal clean-up at the campground.
Related Reading: Camping Meals Made Easy with the Camping Menu Planner
Tips for Making the Best Camping Pancakes
Cook the pancakes in a cast iron skillet for an easier clean-up
Non-stick cast iron is also great when you only have a metal spatula, so you don't scratch the non-stick coating of your camping skillet.
If cooking over a campfire, don't place the skillet directly over the flame
Instead, place the grate over hot coals for better temperature control.
Use a neutral cooking oil, like canola, instead of butter for cooking
I think butter tastes better, but it burns faster – and you probably won't have enough ingredients to make another batch.
Swap jam for syrup on pancakes for less mess
Maple syrup spills will attract ants or other unwanted critters to your campsite.
Serve pancakes with pre-cooked bacon or turkey sausage for easy clean-up sides
Pre-cooked bacon and sausage don't create as much grease, making washing the dishes challenging.
---
Click below to save these ideas for easy camping pancakes on Pinterest!