If family camping trips are always competing with video games and time with friends, you are not alone. Or maybe your teen just isn't sure what to expect.
But it's one of the best ways to get family time outdoors and everyone away from their phones and other electronic devices, so we were determined to get our three teens to enjoy our nights sleeping under the stars. These 9 tips will help ensure they (and you) have a fantastic time at the campground.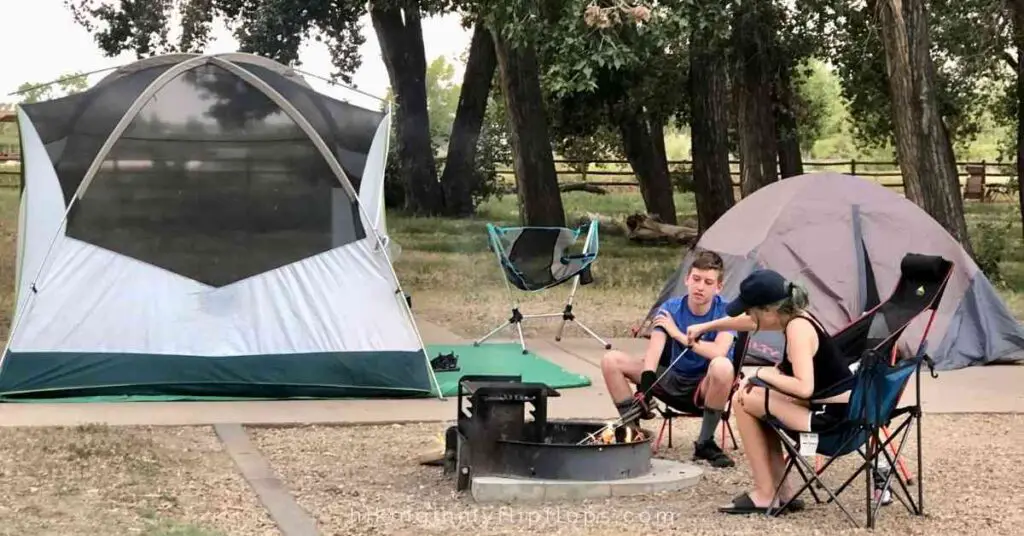 9 Tips for Camping with Teens
We have been camping as a family since the kids were infants. The older they got, the more they loved it – that is, until they started to like it less and less. In fact, as I was writing this and asked them what makes the best camping trip, one kid responded, "not going."
Of course, we're not doing that, but here are our best tips and tricks for making a family camping trip more fun for them as teens.
1. Let Your Teen Help Plan the Camping Trip
When mom and dad do all the planning, teens are less engaged in the trip. Planning is most of the fun anyway, right? Letting them take the lead on planning the camping trip also gives them some control (with boundaries) and allows them to make a trip they'll enjoy. Not only will they be more likely to enjoy a trip planned on some of their terms, but it'll also give you a break from all the planning!
Let your teen choose the destination, perhaps near a favorite city, the mountains, or the beach.
Direct them to some resources to find a fun campground.
They can also plan some activities at the campground or in nearby towns.
Have them manage the camping checklist, ensuring all the camping gear is restocked and packed.
Pro Tip: Plan the camping chores ahead of time too. Talk about what you'll need their help with, and allow them to choose chores that interest them the most. There are many ways they can help, including setting up and breaking camp, mealtime, and building campfires.
2. Make Sure There Are Plenty of Outdoor Activities for Teens
While our teens think the nightly campfire is one of the best parts of camping, keeping busy during the day always makes a better camping trip. When planning your trip, choose a campground with plenty of amenities and things for teens to do.
Traditional camping activities, like hiking, biking, and swimming, are always great options.
Campground amenities like pools, mini-golf, or game rooms aren't the most outdoorsy activities, but it gives your teens something to do on their own.
Like stargazing and more challenging hikes, ranger-led programs add a sense of adventure for more adventurous teens.
Lakes or rivers near the campground give your teen a chance to try something new, like stand-up paddleboarding and fishing.
Pro Tip: Read up on campground amenities before your trip in case you need to make any reservations ahead or add items to your teen's camping checklist.
3. Invite a friend on the Camping Trip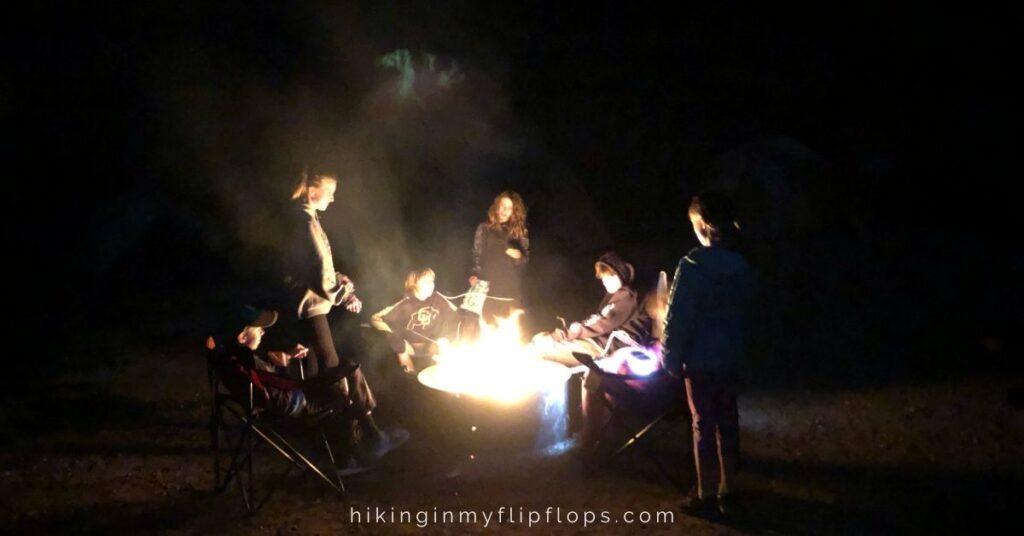 Much to our dismay, teens don't love hanging out with mom and dad all of the time. Teens are often more comfortable camping with someone their own age that they know well. Bringing a friend on a camping trip is an excellent way to not spend time with mom and dad at the same time. It also relieves some of the pressure on you since you won't have to entertain your teens 24/7. Letting your teen bring a friend camping can help make the experience more enjoyable.
Better yet, get a few families together to plan a trip camping with your teenager and a few of their friends.
4. Plan Fun Camping Activities for Teenagers
Be ready with a few camping activities for your teen so that they won't even miss the screen time.
Do a camping selfie challenge.
Download some outdoor apps, like SkyView Lite for stargazing or PeakFinder to identify nearby mountain peaks.
Have a budding musician? Bring instruments to play around the campfire.
Make a YouTube video about the camping trip.
Bring fun camping games like board games and card games.
Plan a scavenger hunt – or if there are little ones in your group, have the teens plan a scavenger hunt for them.
5. Make Sure Your Teen is Comfy at the Campsite
An uncomfortable teen is often a grumpy teen, so get ahead of anything that might make camping with your teenager miserable. And the more fun the campsite is, the more they will love it.
Consider a glamping campground with canvas tents and real beds for your camping trip. It might not be the real thing, but it'll be close.
Choose a campsite with electric hookups for small heaters when camping in colder weather.
In the summer months, get ahead of biting mosquitoes and other bugs.
And, of course, make sure to get them their own comfy camping chair for relaxing by the campfire.
Camping in the summer heat? Use these tips to keep cool in the hot temps.
6. Get Them Their Own Camping Gear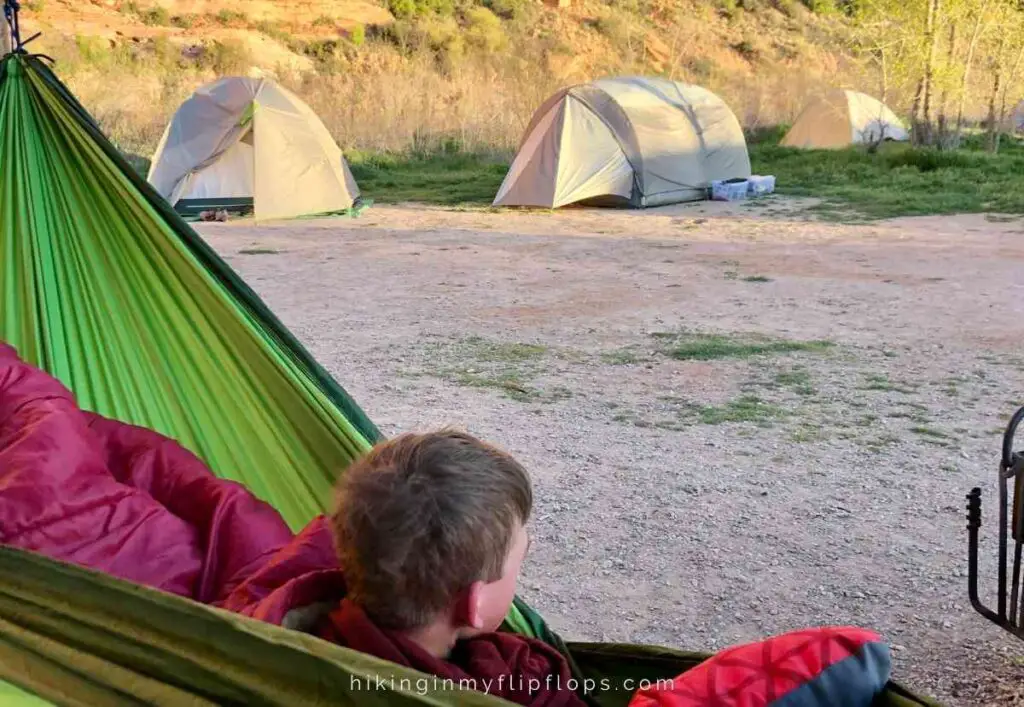 We had no idea how well a separate tent for the teens would work. It started out when our oldest found my 3-person tent from my college days and slept in it on our next trip. She eventually bought her own tent, and the two older kids always sleep there. They are responsible for pitching and taking the tent down.
Is your teen a little more adventurous? Let them sleep right under the stars if they want to. Set up a hammock at the campsite to use at their bed for the night.
Birthdays and holidays are a great time to get in some early preparation by gifting outdoor gear that they'll be excited to use on the next camping trip:
Cots make a comfier place to sleep.
A hatchet or pocket knife to help with chores like building the campfire.
Tent lighting to decorate their space.
Pro Tip: Some of our teens' favorite outdoor-themed gifts inspired these ideas for outdoorsy families and these camping gift ideas.
7. Put Favorite Foods on the Camping Menu
If they're not planning the meals themselves, make sure to include your teen's favorite foods on the camping menu. We try to keep sugar to a minimum at home, so the kids are excited when they see things like Pop-Tarts and donuts on our camping breakfast menu. Since we only make mountain pies when camping, that's always the top request for dinners at the campground.
And don't be afraid to change things up by having pizza delivered to the campground or picking up takeout when you run into town to restock on anything. We got lots of bonus points when we had pizza and wings delivered to our glamping tent at a KOA in the middle of Kansas!
Keep in mind: It's not the time to try new foods if you have a picky eater.
8. Give Them Down Time When They Need It
Camping can get exhausting with all the activities, extra work to prepare and clean up after meals, and often late nights around the campfire. If your teen sleeps until noon at home, let them sleep in at the campground too. Don't force them to participate in every family activity and allow them to have some alone time when they need it.
9. Know Your Teen
This is by far the most important tip for camping with your teenager. Know what they are up for and what they are not.
If the outdoors isn't your teen's thing, then go glamping.
If it is, consider backcountry camping.
Teens who can't live without their phones in hand may need a heads up if there is no wifi – or if you expect less screen time on your camping trip. Make sure they also have a way to charge their phones while camping if they're using them.
If daily showers are critical, find a campground with showers.
Pro Tip: Ask them what they think! It's much easier to prepare if you know what makes them reluctant to go on that camping trip.
The Camping Checklist for Teens
When you're camping with teens, there are a few more things you might add to your family camping checklist.
do allow them to bring their devices
favorite books, games, or other activities
a small table for their tent
a comfy camp chair
---
Camping with your teenager doesn't have to be a stressful or frustrating getaway into the wilderness. Getting your teen involved in planning the camping trip will ensure they have a great time camping. And if they have fun, you'll have a great time too!
---
Click below to save these tips for camping with teens on Pinterest!