Camping will never be a seamless adventure. And while that's all part of the fun, we still always want the most enjoyable camping trips possible. We read up on all the tips, hacks, how-to resources, and anything else for ideas on what TO do, but we don't often get to the what NOT to do.
Keep this list of common camping mistakes close by. Whether you're an avid camper or a beginner camper, reference this before each trip for a quick reminder of how to make your camping adventure as epic as it should be.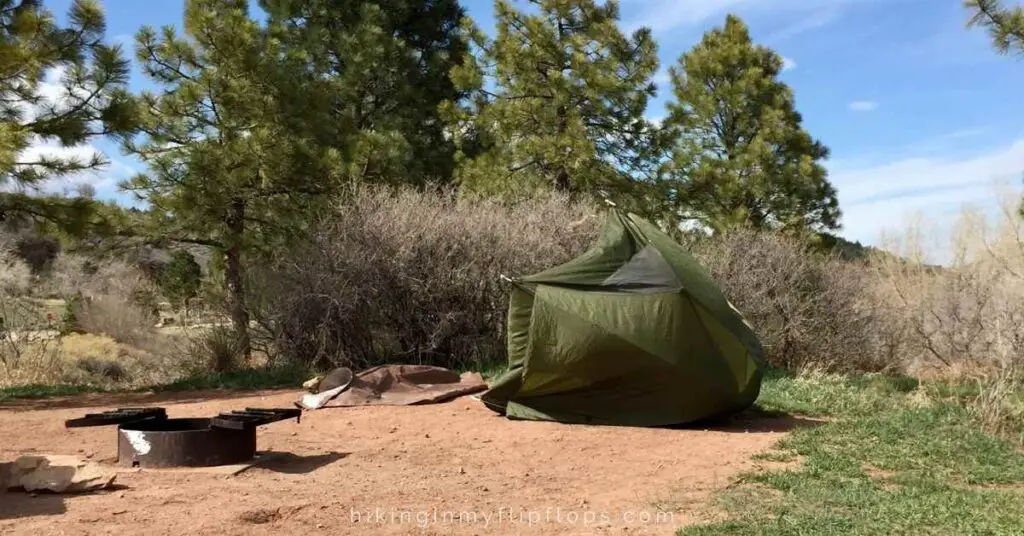 Common Camping Mistakes When Planning Your Trip
1. Expecting a Campsite to Be Available
I remember a time when spontaneous camping trips were a thing. There was little to no planning for these last-minute adventures – just grab your gear and head to your favorite camping destination. 
These days, though, not planning ahead is one of the biggest mistakes campers can make. We're booking campsites six months out. Even first come, first served sites are taken early, especially on weekends and holidays, when campers snag them mid-week. Not reserving a spot in advance, or researching how busy the campground can be, can leave you without a site for the night.
To avoid this camping mistake: The best bet for getting a site at that great campground is going off-season and booking early in advance. Or take the opportunity to try out a more remote campground that tends to get less traffic.
2. Not Knowing What Type of Camper You Are
Following other campers' advice on gear (like from someone who really means backpacking when they say camping) can lead you to a more primitive experience than you find comfortable. Or a car stuffed with gear you don't care to use.
If camping to you means big breakfasts cooked over the campfire, you probably don't need a JetBoil. But if you're looking to truly get away from it all, then the camping ice cream maker (as fun as it is) is probably not worth adding to your camping gear.
How to avoid this mistake: Have an idea of what type of camping experience you want. Are you seeking solitude and losing yourself in nature? Or a glamping experience with as many comforts of home? Getting the right experience will make any camping trip better.
3. Not Making a Checklist
It's so easy to leave gear at home, and it's worse when it's an essential piece of gear. Missing equipment can range from a slight annoyance to a more primitive camping experience than planned (which may be a bigger mistake when camping with teens who are reluctant to be in the outdoors).
Even if you keep all of your camping gear neatly organized and stored away in totes, it's easy to forget to replace (that borrowed flashlight) or refill (paper towels near the end of the roll). Make a point to restock as soon as possible, so you have everything for next time.
How to avoid: Make a camping gear list of everything you bring on each trip. Mark things off your camping checklist as you pack them into totes or the car. It's a surefire way always to have what you need. 
4. Forgetting to Bring a Backup Plan for Campfire Meals
We love a good outdoor meal cooked over the campfire. Foil packs (or hobo dinners) and mountain pies are some of our favorite camping meals but just aren't going to happen without a campfire. Unplanned events like high winds, damp firewood, or matches left at home can throw a wrench in your dinner plans.
Related Reading: Tent Camping for Beginners: The Essential Guide to Your First Camping Trips
How to avoid this common camping mistake: If you're not already bringing a camp stove, a single burner propane stove doesn't take up much room and is a good backup plan for cooking meals. Throw in a few shelf-stable meals that won't go bad if not used. Try mac-n-cheese, ramen, or canned soups.
5. Not Researching the Campground Rules and Amenities
You can save so much space in your camping gear if you know exactly what you don't need to bring to the campground. It might mean you can skip out on packing certain camping items – like your dishwashing tubs if there is a dishwashing station on site. Campground regulations like not tying anything to trees means you can unload the slacklines and hammocks from your gear totes.
You can also take advantage of all the campground amenities and activities if you bring the items you do need. You don't want to forget swimsuits if there is a pool or lake. Or an electric heater on chilly nights if there are hook-ups. If you have a walk-in site, you may want to pack up a wagon to haul gear from your car.
How to avoid this common camping mistake: Check the campground website for posted policies, regulations, and amenities. However, some things aren't always posted online, so look for campground reviews online and check reviews on Google for recommendations from others. Read more about choosing a campground here.
6. Not Checking the Weather Forecast (and Skipping the Details)
Our first camping trip in Colorado was a bit of a shock to our system. We checked the weather for that 4th of July weekend, and the forecast had perfect days ahead in the high 70s. What we didn't pay close attention to were the lows. The temps dipped into the 20s overnight, and we were terribly unprepared for those weather conditions. That night was miserable, and no one slept well. Fortunately, we were close enough to run home for better gear the following day, and we salvaged the rest of the trip. 
Related Reading: 17 Fun and Entertaining Camping Activities for Rainy Days
How to avoid: It's not always worth the stress and hassle to prepare for everything, but if there is any indication of sweltering heat, bitter cold, or drenching rainstorms, pack up what you need to make your family comfortable and happy. If you hate camping in the heat, pack for temps a little warmer than forecasted – just in case. Same with camping in the cold or rain. 
Also check the humidity when camping in the summer, which can attract mosquitoes and other bugs. Be prepared with bug spray and other tactics to keep the mosquitoes away from your campsite. 
7. Not Preparing for Arrival Time
My perfect camping trip starts with a late afternoon arrival. We have plenty of time to leisurely setup camp and cook dinner over a campfire. Then everyone is off to bed early and well rested for a day of adventure ahead.
But then the trip there takes longer than we expect, and we arrive after dark. Or we arrive just as the rain starts (when the forecast promised a 0% chance of rain). Setting up camp and making dinner in the dark or in the rain is an extra challenge that can add some unwanted frustration.
How to avoid this common mistake: Late-night arrivals can make set up a little trickier in the dark, so you'll want to have headlamps and lanterns easily accessible. If rain is in the forecast, pack your canopy and rain gear where you can grab it without unloading the entire car.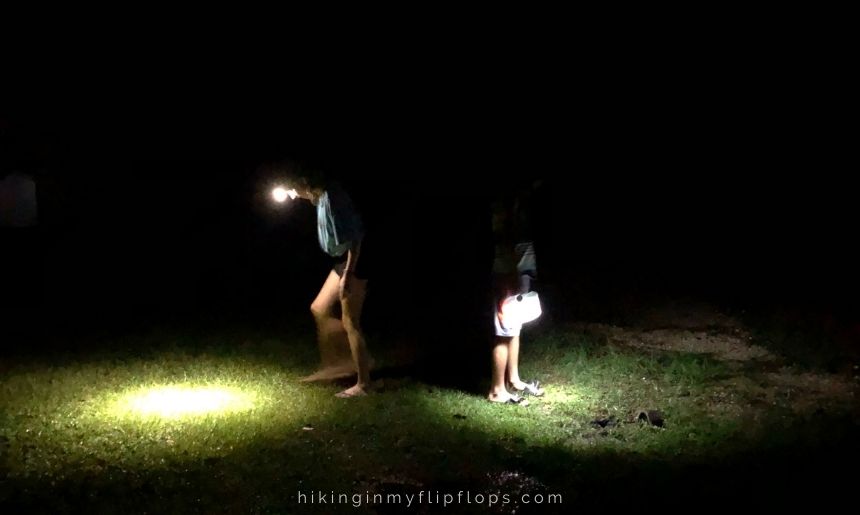 8. Bringing Firewood From Home
We have lost many lodgepole pines to mountain pine beetles here in Colorado. Not only has it ruined the scenery, but it has also made some areas dangerous, with the weakened trees falling and becoming a fire hazard.
While the pine beetle infestation isn't necessarily a direct result of transporting firewood, the result can be similar. Non-native bugs and other infestations carried in on firewood can bring invasive species to areas and have a significant impact. 
How to avoid: Check ahead of time to make sure firewood is sold at the campground – or if downed wood near your campsite can be collected and burned. If not, plan to stop at grocery or convenience stores near the campground.
9. Not Carefully Planning Meals
Planning meals for the outdoors takes some effort. If not well planned, ingredients can be forgotten at home, perishable foods can go bad in a cooler of melted ice, or you could end up with no way to cook your meals.
How to avoid this camping mistake: We have a few loose rules when planning our camping meals:
simple meals on the day of arrival
plan meals with the most perishable ingredients first (like raw meats)
freeze what will be used later in the trip (chili, hot dogs, even cheeses freeze well), which will be thawed when ready to use
cross reference your meal plan with kitchen and cooking equipment, so you have everything you need
have a backup plan for when the campfire just doesn't work out
10. Not Charging or Testing Your Gear
Solar lights are great because you don't need to worry about backup batteries. But if night falls and you haven't charged them, you're out of luck. Or when something in the gear tote knocks into your trusty camping flashlight, turns it on, and drains the batteries. You don't want to be left without light at the campsite.
How to avoid this common camping mistake: Get your solar-powered lighting into the direct sun for a few hours before your trip to make sure you have a full charge – or at least enough to get you through the first night. As you're going through your checklist, do a quick test of battery-powered gear to ensure everything turns on. Even if all your camping essentials get a clean bill of health, they're not guaranteed to make it through your trip, so pack backups and spares just in case.
11. Not Properly Packing the Cooler Full of Food
Even the best of the best, the highest-end coolers (looking at you, Yeti), won't keep your food cold for your camping trip if not appropriately packed. This means a daily run to restock the ice or end up with lunch meats and veggies floating in cold, melted water. Worse, you risk losing raw meats and other perishable camping foods on the menu for the end of the trip.
How to avoid this camping mistake: There are many ways to keep food cold in your cooler. Keep separate coolers for food and drinks, so the cooler lid stays shut and keeps the cold from escaping. Pre-chilling the cooler with ice is another effective way to keep the cooler at the proper temps.
12. Breaking Out the Brand New Gear for the First Time
There are few things better than using your brand-new gear on a camping trip. But tearing that package open for the first time on a camping trip can lead to frustration and disappointment. Pitching a tent for the first time at the campground is one of the most common camping mistakes, but we all do it with other gear too. Your new gear could have missing or broken parts, or there may be necessary items that are not included to properly use the gear.
How to avoid: Take a moment to break into your gear before your trip. Turn it on, try it on, or do whatever you need to give it a quick test run. Scan through the directions or product information to ensure you'll have everything you need to enjoy your new gear.
Tents deserve a little more attention, though. Take the time to put the tent up before your trip, and do it more than once to get the hang of it. The first time you'll be working along while reading the setup instructions. It's worth the extra time to set it a few more times, though, to start to commit the setup to memory and work out any other kinks in the process that wasn't there the first time.
Bonus tip: As you unpack your tent for the first time, take pictures along the way. This will help when repacking, so you can avoid the frustrating process of getting a big tent into what feels like a way-too-small bag.
Common Camping Mistakes at the Campground
13. Luring Wildlife to Your Campsite
It doesn't take much for wild animals to figure out where the food is, and they're good at detecting snacks – and getting to them. Critters easily find their way into trash cans, tote boxes, and even cars. to track down food. Leaving food where animals and bugs can find it – and easily get to it – puts the wildlife in harm's way. You may be left with a big mess to clean up, and in some cases, it puts you and your family in harm's way.
How to avoid: Clean and pack up all the food from your campsite and store it in your (locked) car and not your tent. Trash should also be kept in the car at night if you don't dispose of it in the dumpsters each night. This is particularly important in bear country. You should store anything that has a scent in your vehicle, covered with a blanket.
If you are camping in bear country, it's always a good idea to check the campground website or with local rangers to see if bear canisters or bear spray is recommended (or even required).
14. Not Scoping Out the Best Spot for the Tent
Campgrounds with tent pads usually have the work done for you, with a smooth, flat, and sometimes raised surface to pitch your tent. Other times, that's not the case. Setting up in a low-lying area can set you up for leaks in your tent in the chance of rain. In the heat of the summer, avoiding shady spots can trap heat in your tent.
How to avoid this common camping mistake: The best spot for your tent can depend on the weather. If it's raining, put your tent up on higher ground to prevent flooding. In hot weather, the best place to pitch a tent is under the shade of a tree.
15. Tucking the Tarp Incorrectly
Rainy days or nights can still make great camping weekends – unless the water finds its way into the tent. Once the tent floors, sleeping bags, and clothes are soaked, all bets are off. Good quality tents and extra waterproofing will help you get ahead of leaks. Still, if you don't tuck the ground cloth under the tent correctly, water will pool under the tent, where water can slowly seep in.
How to avoid this camping mistake: Ground cloths should be folded entirely under the tent floor, making a perfect fit. Fold the edges of the tarp down and tuck the extra material underneath the tent. This way, water won't pool under your tent and will keep you dry inside.
16. Not Being Prepared to Improvise
When camping, you always have to expect the unexpected. Whether it's your trusty camping gear that fails, unexpected weather moves in, or the campground was just not what you expected. Sometimes, campfires just don't light, the camp store is closed, or you left the can opener on the counter at home.
How to avoid: You can't prepare for everything in the wilderness, so the only way to avoid this is to prepare yourself to think creatively and be ready for some problem-solving.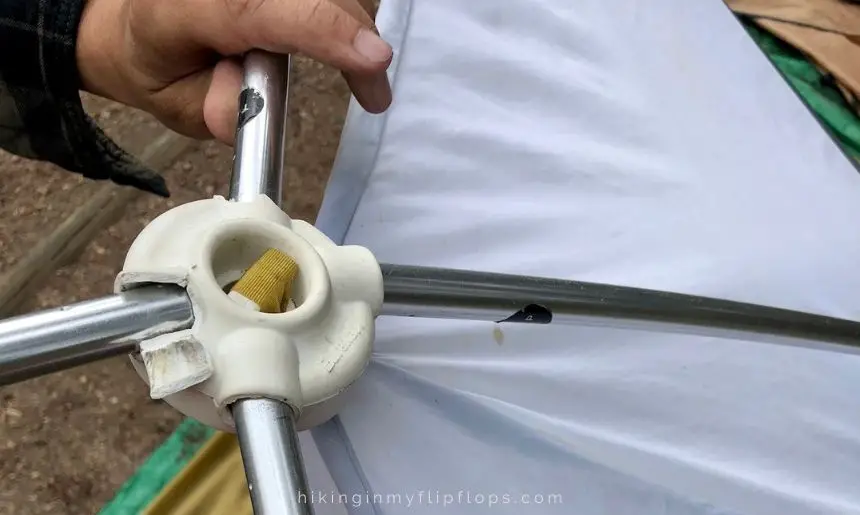 17. Not Putting the Campfire Out Completely
This can be a significant safety issue, especially in hot, dry weather. After an evening around the campfire and leaving you with just a few smoldering embers, it's still crucial to douse the fire with plenty of water. One little spark can pop out of the fire right faster than you'd expect and start a fire while everyone is fast asleep in their tents or campers.
How to avoid: This is one of the most serious common camping mistakes. Have a bucket, jug, or large bottle nearby to fill and use to completely put out the campfire. Even if it looks like it's entirely out, it's always best to pour water over it, just in case there is a burning ember or two in there.
Tip: Bring a pair of heat-resistant gloves for the campfire to spread out hot logs when you want the fire to start dying down.
Common Camping Mistakes to Avoid After Your Trip
18. Not Drying or Airing Out Gear
No one likes breaking camp. The trip is over, and everyone is tired and just wants to get home and into a hot shower. We tend to stuff dirty dishes in totes, shove clothes into any duffel with space in it, and cram the tent and sleeping bags into their stuff sacks. The dishes will get done, and the clothes will get unpacked, but we often forget to get the camping gear back out before our next trip.
Over time, this will take a toll on that gear. Even if there was no rain on your trip, moisture from the morning dew on the tent could lead to mildew. Sleeping bags stored in stuff sacks too long will compress the insulating materials and trap any moisture.
How to avoid this common camping mistake: Make an unpacking routine similar to your preparation before a camping trip. Include unpacking your tent and hanging it to dry (indoors works in bad weather at home). Remove sleeping bags from their stuff sacks, and hang them to dry and air out.
19. Not Repairing or Replacing Gear
The flashlight with dead batteries. The broken tent stake. The roll of paper towels with only 4 sheets left. Many of us won't remember to check these details when we run through our checklist for the next camping trip. We'll find ourselves with the same unusable gear again and again.
How to avoid: All equipment that needs to be repaired, refilled, or otherwise maintained can be packed up in a separate tote or bag. You're more likely to remember to take care of your gear before getting everything reorganized into your camping bins and stored away. If your tent needs a good cleaning, REI has a good guide on getting it done right.
Have you made any of these common camping mistakes? We'd love to hear about it in the comments!
---
Click below to save these common camping mistakes on Pinterest!