When we start planning camping trips in those colder weather months (which can include summers here in Colorado!), the kids always ask if we can bring our dog with us on the trip. The answer is almost always yes, as long as we're not camping where dogs aren't allowed. It can be tough enough to keep us warm during these camping trips, but we have to make sure we do what we can to keep our dog warm too. These essential tips for keeping dogs warm while camping will undoubtedly keep your pet warm and safe too.
How to Keep Your Dog Warm While Camping
Despite having their own built-in coat, dogs can get cold and it's important to know how to keep your dog warm while camping in cold weather. Some of these tips are the same ideas that work keeping our families warm on chilly nights too.
1. Bring a Blanket for Your Dog
A simple, extra layer can provide extra warmth for your dog. If your pup has a favorite blanket that he or she uses at home, that is a great option for camping too.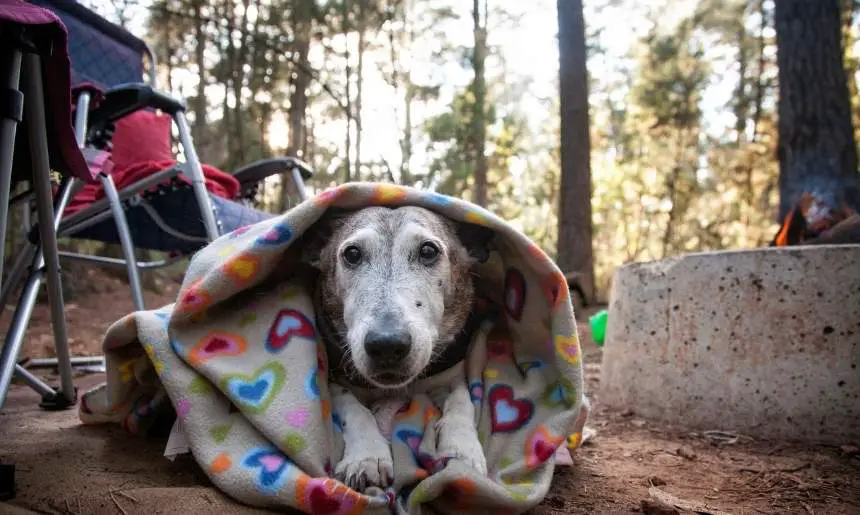 2. Keep Warm with Snuggles and Cuddles
There's nothing better than dog cuddles through the night, and snuggling in the tent with your dog will give you both the extra body heat to keep you warm and cozy. For extra warmth, make sure your tent is right-sized for the number of people so there is less cold air settling in the tent with you.
3. Have Nutrient Rich Treats – and Plenty of Water
Filling his or her belly with high-protein, nutrient-rich food is a great option for keeping dogs warm while camping. Nutrient-dense foods give your dog the energy he or she needs to keep body temps up to stay warm through the chilly nights.
Hydration is important for keeping your dog warm too, so pack some extra water in with your gear.
4. Let Your Dog Sleep in Your Tent with You
Most of us already do this, but it's a good reminder if you're ever tempted to let your dog sleep right under the stars. It can get extra cold out in the elements, especially if your dog isn't able to find a natural source of warmth away from the tent. The best place for keeping your dog warm while camping is right in the tent with you.
5. Keep Warm Together By the Campfire
When it's time to snuggle into the tent for the night, it is more difficult to get warm than it is to stay warm. Before it's time to head into the tent for the night, let your dog hang out by the warm campfire with you. Let the heat of the fire keep the chill off, so he'll be nice and warm when it's time for bed.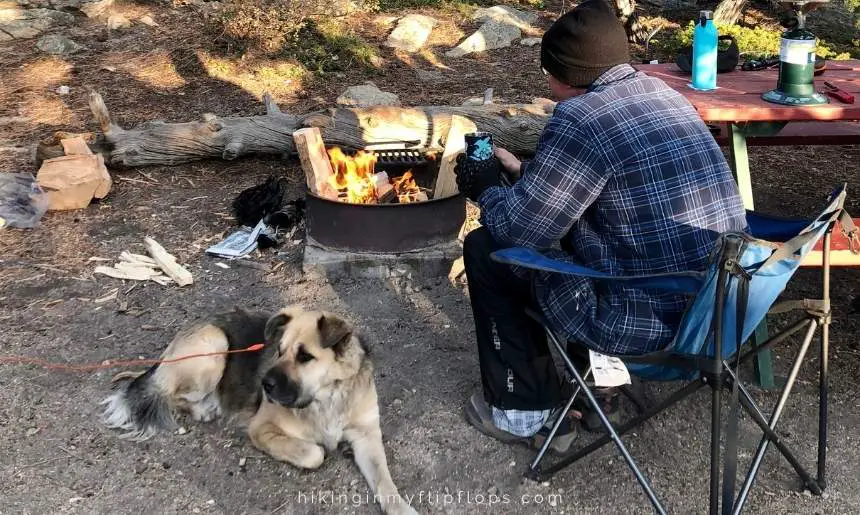 6. Use a Bottle of Warm Water
Filling a hot water bottle to keep close by in the tent is a good source of warmth for your dog. We like the rubber hot water bottles because they are better at preventing leaks. Bottles with cotton covers prevent any burns from water that is too hot for your dog's skin.
7. Protect and Warm Paws with Booties
Booties made just for your dog will help to protect their paws against the cold, icy ground and make them more comfortable in the cold.
Your dog is more likely to love wearing booties if the fit is right. Brands like Ruffwear make booties in many sizes, so you can find a nearly custom fit. This more affordable option found on Amazon still has 7 sizes available, so you're bound to find a good fit for your dog.
8. Keep Your Dog Dry
Just like with people, staying dry is one of the best methods for keeping dogs warm while camping. Avoid playing in the water before settling in for the night, or at least make sure your dog is completely dry before bed.
9. Warm Up with Some Active Play
Active play helps us, and our dogs, stay warmer in cold weather. Play catch or get out for a brisk walk around the campground to warm your pup up before snuggling into the tent for the night.
10. Give Your Pup a Coat of Their Own
An extra layer for hikes or hanging out at the campsite gives a little more protection from the cold weather. A well-fitting coat made specially made for dogs can give them enough warmth to make the cold a little more comfortable. The Powder Hound line from Ruffwear might be the warmest dog coat out there and is a must-have in your cold-weather camping gear for dogs if you plan to camp in really low temps. This price-friendly Kurgo Loft Dog Jacket also gets great reviews and is available on Amazon.
11. Consider a Pet Sleeping Bag
If you have a dog that likes to curl up under the blankets of your bed, you might consider a pet sleeping bag that is sized for your dog. These sleeping bags provide an extra layer between your pup and the ground to keep her warmer, and the materials are made to be easy to clean. This budget, but very highly rated option on Amazon is a good way to try a sleeping bag out for your dog. This high-quality sleeping bag for dogs from Ruffwear is also a solid option.
Cold Weather Camping Gear for Dogs
When we're camping with our dog, we have a few extra items we add to our camping checklist. These items will help with keeping dogs warm while camping in those chilly winter months.
Frequently Asked Questions
How do I know if my dog is cold at night?
Do dogs get cold when camping?
Yes, they absolutely do! Dogs may have their own built-in coat for protection from the elements, but for many breeds, that will only help to certain temperatures. Create a safe and comfortable environment, and make sure to watch for signs that your dog is too cold for the temperatures. These tips for how to keep your dog warm while camping will prepare you and your dog for the lower temps.
How cold is too cold for dog camping?
Should I cover my dog with a blanket at night?
Covering your dog with a blanket is good for keeping dogs warm while camping in chilly weather. Pack an extra blanket with your camping gear for your dog to use in the tent.
How do you keep a dog warm in a tent?
Many of the methods we use to keep us warm in a tent are also how to keep your dog warm while camping in a tent. Make sure your dog is warm before going to bed for the night and has extra layers of protection from the cold. Snuggling and cuddling with your pup is also great for keeping dogs warm while camping!
Final Thoughts on How to Keep Your Dog Warm While Camping
You certainly don't need to leave your dog at home for those cold-weather camping trips. As long as the temps stay above 20°F, he or she can be perfectly safe and comfortable in most temperatures. All it takes is a little preparation and planning, with the proper cold weather camping gear for dogs.
Have you camped with your dog in cold weather? We'd love to hear your thoughts on how to keep your dog warm while camping in the comments!
---
Click below to save these ideas on how to keep your dog warm while camping on Pinterest!
Back to the top of 11 Effective Tips for Keeping Dogs Warm While Camping in Cold Weather