Cooking up delicious meals over the campfire is one of the best things about camping is being able to cook meals over an open fire. But when there is no stable surface to set the Dutch oven for your camp stew or the grates provided are grimy from all the previous campers, it can be more frustrating than fun.
Adding a portable camping grill grate to your camping gear lets you cook burgers and hot dogs without worrying about food falling into the fire. It also provides a stable place for a pot of chili or boiling water for coffee.
Here are our recommendations for the best campfire grill grates to bring on your next camping adventure.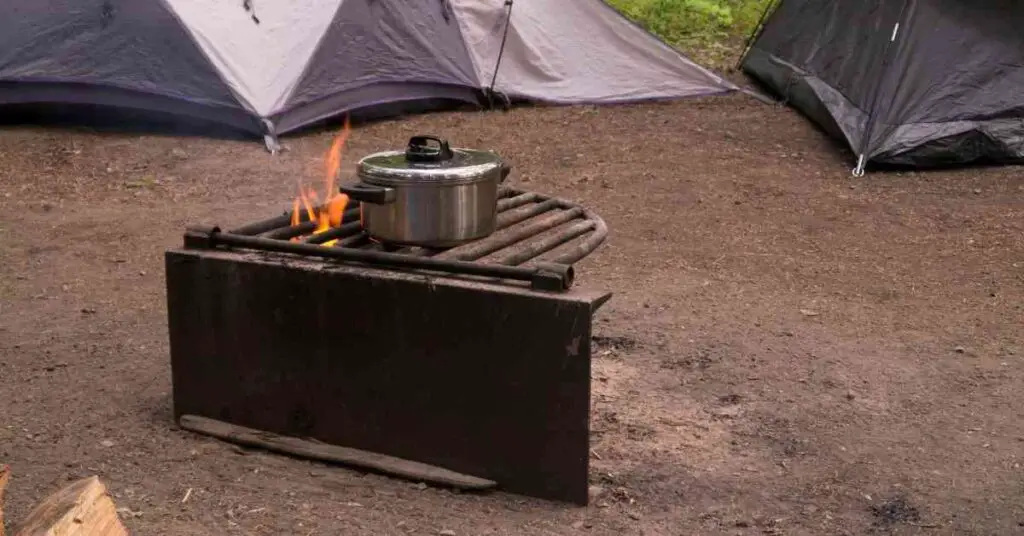 What is a Campfire Grill Grate and Why Should I Use One?
A camping grill grate might be one of the outdoor cooking tools you never knew you needed. Sure, you can cook outdoor meals on the camp stove, but there's just something different about meals cooked over the campfire.
You need a stable surface for cooking over the campfire. A portable campfire grill provides a stable cooking surface to make coffee, simmer a campfire stew, and make perfectly grilled steaks.
There's no need to pack up the gas or charcoal grill for your camping trip. A grill grate will let you use the campfire like a grill.
Up your campfire cooking game. With larger cooking surfaces and adjustable heights on the grill grates featured here, it's easy to cook big meals at the perfect temperatures.
Food just cooks better. The cooking surface allows food to cook more evenly.
Campfire Grilling Grates: A Buyer's Guide
What to look for in campfire cooking grates:
Grilling surface. Use the dimension to find the total cooking area in square inches, so you choose a large enough grill for your meals.
Grill grates with adjustable heights to control the temperature by moving the cooking surface closer to or farther from the heat.
Quality construction. The grate should be sturdy enough to support your cooking equipment, like a heavy Dutch oven or cast-iron skillet.
Extra features, like swivel designs to remove food from the heat altogether or storage bags to keep other camping gear clean.
A price that fits your budget.
The Best Campfire Grill Grates for Campfire Cooking
1. REDCAMP Folding Campfire Grill 
REDCAMP's portable campfire grill has 3 available options: a standard grill grate with folding legs, a grate with a larger cooking surface that folds in half for easier transport, and one that comes with an extra set of extra high legs for height flexibility.
All versions are made with cold-rolled or alloy steel, depending on the model, and fold flat for storage and transport.
Standard Model
Cooking Surface:
17″ x 12″ (204 sq in)
Height:
8″
Folding Model
Cooking Surface:
24″ x 16″ (384 sq in)
Height:
10″
High Leg Folding Model
Cooking Surface:
24″ x 16″ (384 sq in)
Height:
8″ and 17″
---
2. Hikeman Folding Campfire Grill
Hikeman's cold rolled still camping grill grate is anti-rust and heat-resistant.
Cooking Surface: 22″ x 12″ (264 square inches)
Height: 7.5″
---
3. Viator Outdoors Campfire Grill Grate
This stainless steel, two-tier portable campfire grill has a total of 100 inches of grill surface for cooking your outdoor meals. The multi-level cooking surface makes this grill highly versatile – keep your breakfast burritos warm while boiling water for coffee!
Cooking Surface: 19″ x 10″ (bottom tier) and 8″ x 10″ (top tier)
Height: 6″ (bottom tier) and 12″ (top tier)
---
4. Folding Stainless Steel Campfire Grill
This durable campfire cooking grill is anti-rust, heat-resistant, and corrosion-resistant. Though the stainless steel is easy to clean, the included carry bag ensures any food residue doesn't leave marks on your other camp gear.
Cooking Surface: 17″ x 13″ (221 square inches)
Height: 6″
---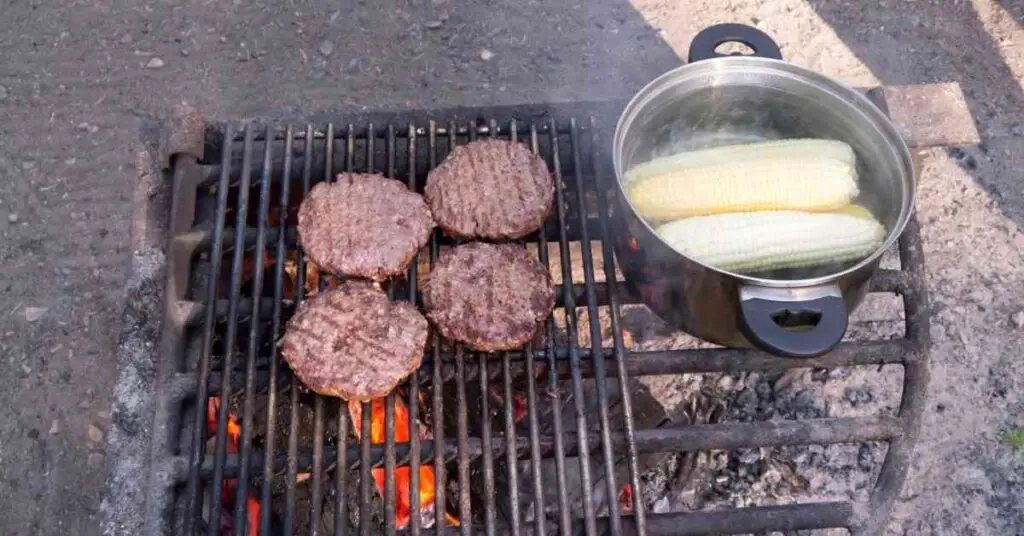 5. Stainless Steel Portable Mini Camping Grill
This little guy is perfect for when you don't want to take over the entire campfire for cooking. The durable cooking grate folds flat for storage and is small enough for backpacking.
Cooking Surface: 7″ x 6.5″ (45 sq inches)
Height: 5″
---
Related: Make Campfire Cooking Easier and Safer: 9 Picks for Best Heat-Resistant Gloves for Campfire Cooking
6. The Bushcraft Backpacker's Grill Grate
This stainless steel campfire cooking grill is ultra-lightweight (6.5 oz) for backcountry camping or if you just want a backup plan on your camping trips. There are no legs on this portable grill to make it extra-compact for transport in the included storage bag. Other models are available in various sizes.
Cooking Surface: 9″ x 5″ (45 sq inches)
Height: n/a
---
7. Wolf and Grizzly Compact Backpack Grill
It's not a cheap grill grate by any means (in fact, it's one of the most expensive on our list of best campfire grills). Adjust the height to just where you need it with this durable, stainless steel grill that can hold up to 30 lbs. Backpacking foodies will love the cook set that goes with this grill grate.
Cooking Surface: 11″ x 11″ (121 sq inches)
Height: 6-8″ (adjustable)
---
8. HellFire Bushcraft Grill Stainless Steel Campfire Cooking Grate
An ultra-portable grill grate is another on our list of best campfire grill grates that are excellent for backcountry camping. If you want to keep weight at a minimum, this one weighs only 5 ounces – but has no legs to keep it lightweight. Comes in a pack of 2.
Cooking Surface: 6″ x 11″ (66 sq inches)
Height: n/a
---
9. Coleman Tripod Grill & Lantern Hanger
One of the most famous names in camping gear makes a tripod version of a campfire grill grate. The galvanized steel grate can be adjusted to just the height you need for your outdoor meal. Includes a lantern hook for those late-night meals.
Cooking Surface: 17″ diameter (227 sq inches)
Height: n/a
---
You Might Also Like: Best Flashlights for Camping: Top 15 Picks to Light Your Way this Season
10. Adventure Seeka Heavy Duty 24″ Folding Campfire Grill
This coated steel grate provides more cooking options. One half is a grill grate, while the other is a griddle. The handles that make it easy to transport when folded also make it easy to adjust the grill when in use.
Cooking Surface: 24″ x 12″ (288 sq inches)
Height: 9″
---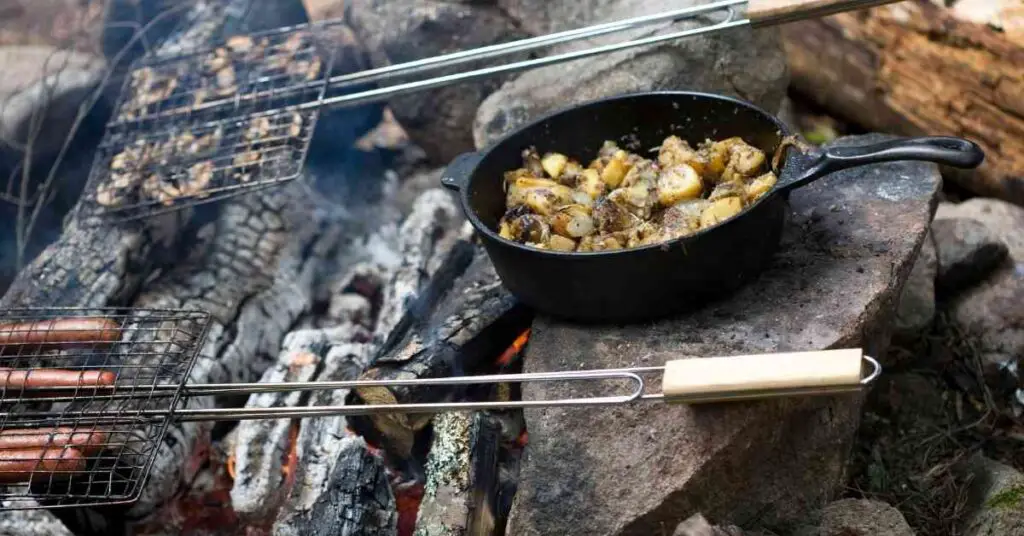 11. Steven Raichlen Best of Barbecue Tuscan BBQ Grill
Steve Raichlen is the king of BBQ, so it makes sense that he has a fantastic portable campfire grill for outdoor cooking. This extra-durable grate is made of cast iron but can be more challenging to transport with legs that don't collapse.
Cooking Surface: 14″ x 14″ (196 sq inches)
Height: 4.5″
---
12. Texsport Heavy Duty Extra-Large Camping Grill
Cook up an outdoor feast with the largest on our list of best campfire grills. The easy-to-store, heavy-duty welded steel grate features foldable legs to make it easy to pack in your car for camping.
Cooking Surface: 36″ x 18″ (648 sq inches)
Height: 8.5″
---
13. Texsport Heavy Duty Adjustable Outdoor Camping Rotisserie Grill and Spit
The multi-function stainless steel grill grate has a rotisserie attachment to elevate your camp cooking experience. Both the grill and the rotisserie are adjustable heights to maintain the perfect temperature for your outdoor meal.
Cooking Surface: 24″ x 16″ (384 sq inches)
Height: 6.5-21.5″ (adjustable)
---
You May Also Like: The 27 Best Heavy-Duty Camping Chairs for Ultimate Durability
14. Stromberg Carlson Stake and Grille
A portable campfire grill that works on any size and shape of firepit. Use the 36″ vertical support stake to hold up the grate and easily adjust the height anywhere you need it. The turned-up edges prevent brats and hot dogs from rolling. Perfect for keeping food warm, like your camping breakfasts while waiting for sleepy campers to wake up.
Cooking Surface: 22″ x 15″ (330 sq inches)
Height: adjustable
---
15. Sunnydaze Dual Campfire Steel Cooking Grill Grate
An alloy steel campfire cooking grill has a total of 540 square inches of cooking space for up to 32 lbs of food for big outdoor meals. Shift food away from the heat when needed and maintain the perfect temps with the adjustable height.
Cooking Surface: 22″ diameter (380 sq inches) and 16″ x 10″ (160 sq inches)
Height: adjustable
---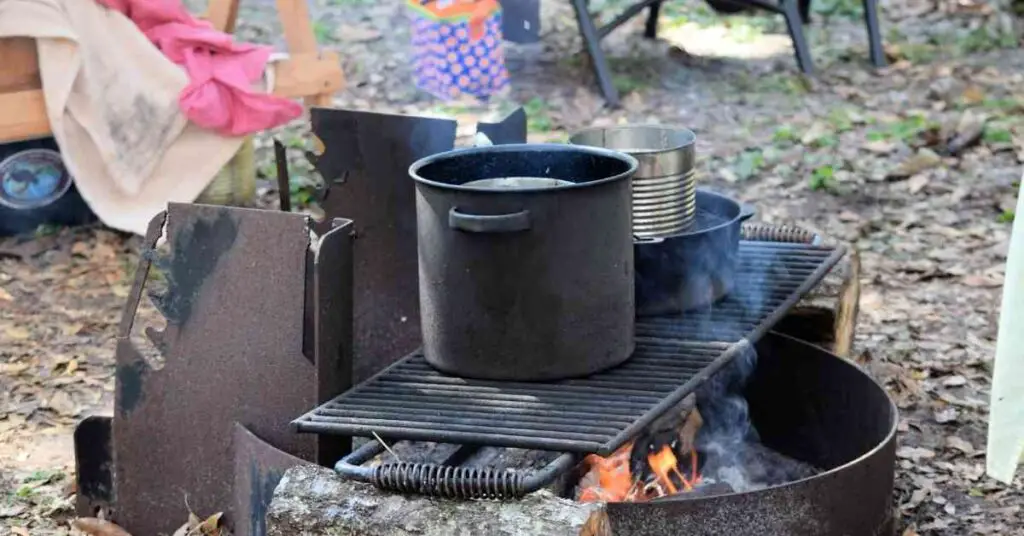 Additional Resources
Remember that the surface gets very hot when using your grill grate, so be extra careful around the kiddos. In case of an accidental burn, visit Burns – Diagnosis and treatment – Mayo Clinic for first aid instructions.
Make sure you cook responsibly, especially when camping where fire risks are elevated. Get safety tips from the National Fire Protection Association and read these tips from Ready for Wildfire.
---
Campfire grilling grates make it easier to cook meals over the fire and are great to have in your camping gear for times when there isn't one at the campsite. Choose one that folds flat for easy storage or one with features like a rotisserie to make gourmet camping meals. A campfire grate is a must-have addition to your camping checklist if you're looking for an easy way to grill food while camping.
---
Click below to save these picks for campfire cooking grills on Pinterest!