Update for 2021: we still love and use this tent, especially in the warmer months. We've had more than 20 nights camping in this tent and are happy to be able to give a great Kelty Trail Ridge 6 review.
Sadly, this is now one of the discontinued Kelty tents. We've done a little research and found there are 2 other great options available, though.
The Kelty Wireless 6 is one of the newest models but is out of stock on the Kelty website (at the time of publishing). Another similar model, the Kelty Sequoia 6, is available on Amazon. A similar stargazing roof makes this a great alternative.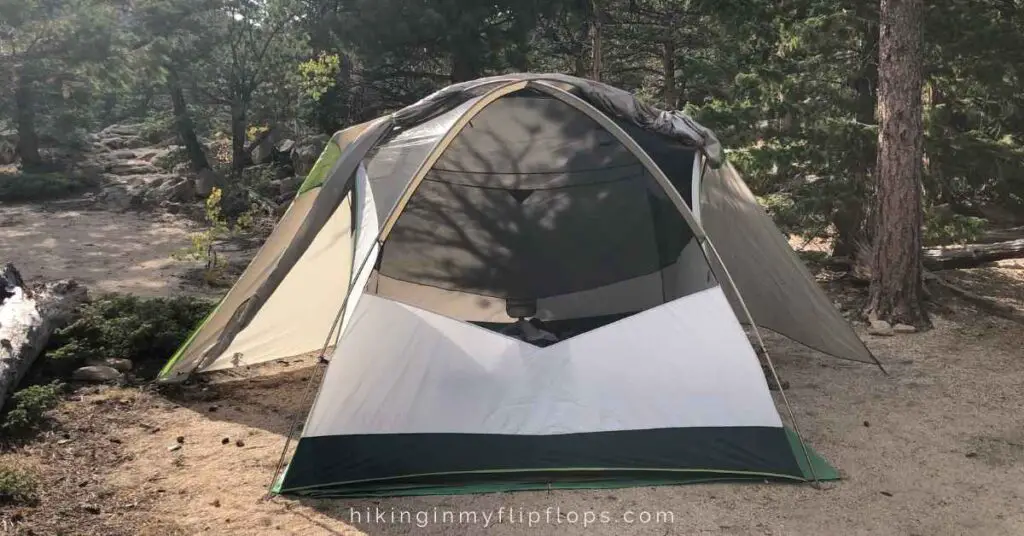 Kelty Trail Ridge 6 Review
Why We Love It
The Kelty Trail Ridge 6 is a great family tent that makes you feel like you are sleeping right under the stars. The trade-off, of course, is very little privacy, but with so many other great features in this tent, we are willing to work around that.
Pros
Cons
A Search For a New Tent
After 10 years (and three children), our beloved Eureka! Headquarters tent was on its last legs. 
There were mounting issues that kept popping up – tiny holes in the floor, zippers not working correctly, and seams that were starting to split. Despite all the minor problems, that tent with loaded with camping memories, so we were going to delay replacing it for as long as we could.
But then came that camping trip with the wind and rain, and our tent was done for.
Tent Research
We wanted a 6 person tent. We definitely aren't beginner campers, but that was about all we knew. With that as starting point, the search was on (find tips on finding the perfect tent that we learned along the way here). 
And there were still over 70 tents.
Sifting through height, floor space, waterproofness, and more, we landed on the Kelty Trail Ridge 6. The most significant selling feature was the stargazing roof.
Putting the Trail Ridge to Use
Just a few short days after getting the tent, we put it to the test so we could share our Kelty Trail Ridge 6 review here. This tent was our home away from home on our summer road trip that brought us to 11 different campgrounds over 25 days.
Sleeping Capacity
While the sleeping capacity on this Trail Ridge ridge model is 6 people, you also have to consider gear. As a general rule of thumb, the sleeping capacity should be reduced by 2 for any tent that sleeps 4 or more people. That means this family tent, rated for 6 people, sleeps 4 comfortably with gear.
Our setup includes a Coleman cot, two sleeping pads, and all the other camping gear for a family of 5 (two of the kids sleep in their own tent).
The 82 sq ft of floor space is small compared to other family tents, primarily the 100 sq ft of our Eureka! Headquarters. Floor space was our biggest concern with the Kelty Trail Ridge 6, but that extra space has not been missed yet.
This tent does come in other sleeping capacities of 4 and 8 people if you need something smaller or bigger.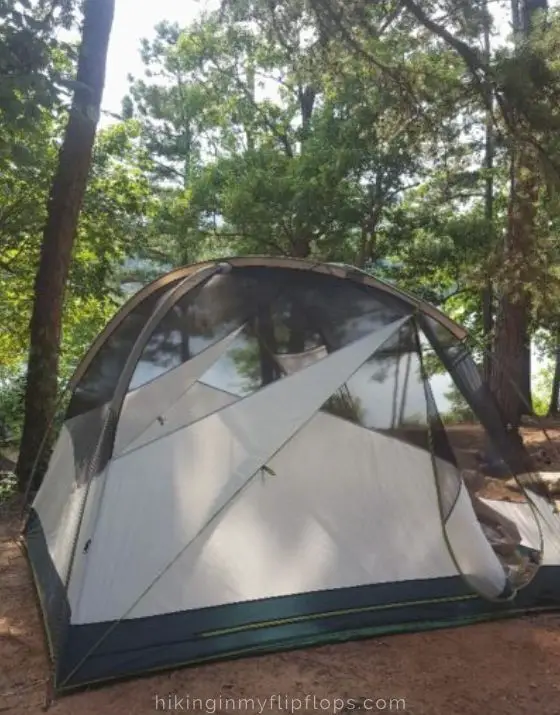 Waterproofness
The Kelty Trail Ridge 6 floor and rainfly have a waterproofness rating of 1800mm.  If that rating doesn't mean anything to you, all you really need to know is that the higher the mm number, the better the waterproofing.
We consider 1800mm on the better side of waterproofness from our research. (In our good-better-best rating of waterproofness, "best" is 2000mm and above, "better" is between 1000mm and 2000mm,  and "good" is below 1000mm).
The stargazing roof means mesh walls that offer no protection from the rain. If rain is in the forecast, the rain fly must go on. 
The Perfect Weather Test
While we had the misfortune of camping in a ridiculous downpour at Sam Houston Jones State Park in Lake Charles, Louisiana. We now know this tent holds up in the heaviest rains.
It poured for over 2 hours and knocked out the power to the campground. And the inside of our tent stayed completely dry, and I was shocked at how well the tent held up in the downpour.
Peak Height of the Kelty Trail Ridge 6
The tent felt much roomier than I had expected. 
The peak height in the tent is 72 inches (6 ft). I am 6 ft and expected to feel a little cramped for headroom. But I didn't feel closed in at all and had plenty of room to move around. 
Tent Weight
This is a car camping tent, so weight is not a huge priority (unlike backpacking tents, where weight is everything). At 15 lbs 10 oz, the Kelty Trail Ridge 6 is a lightweight tent that is easy to pack.
The tent fits into a duffel bag a can easily be stored in the trunk or roof cargo box.
The weight and duffel bag storage are my favorite features of this tent.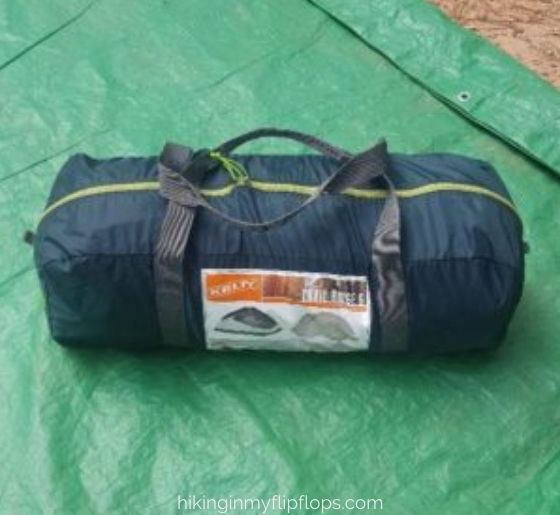 Other Highlights of the Kelty Trail Ridge 6 Review
Stargazing roof:  This was the main selling feature for my wife. It is excellent for getting that outdoor feeling inside your tent. The lack of privacy is a significant trade-off to that stargazing experience.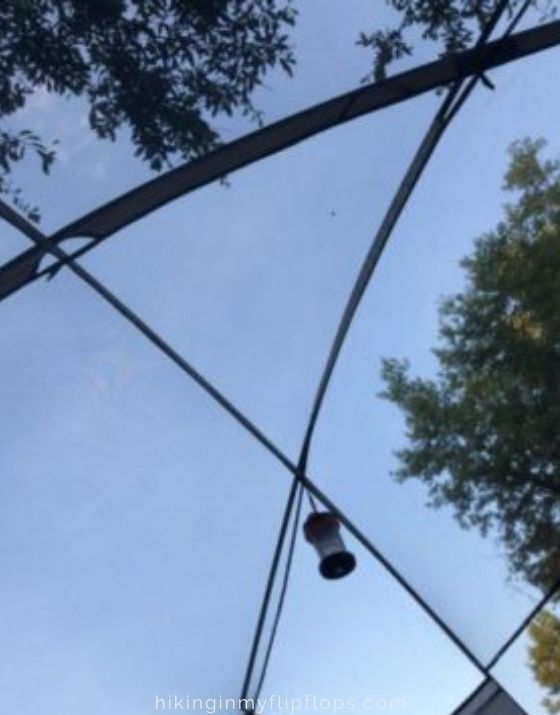 Aluminum Poles:  The strength and weight of the aluminum poles is an upgrade over fiberglass poles.
Color-Coded Connectors:  These make the tent easy to put up and position on the tent pad. Set up is still a two-person job, but the color-coded connectors simplify the job.
Gear Loft: It's a nice feature to have, though we never use it.
Two Doors:  I like the 2 doors as it allows for some flexibility in positioning and getting in and out of the tent.
No-see-um Mesh: This mesh material has smaller holes than a typical mesh material to keep even the tiniest of bugs out of the tent. 
Night Light Pocket:  I thought this was a little gimmicky at first, but these pockets are pretty handy in lighting up the tent with a headlamp or the flashlight on your phone.
Noiseless Zippers:  This would be great for those early morning risers who want to quietly sneak out of the tent in the morning without waking others. However, we really didn't find the zippers any less noisy than in our last tent.  
Two Vestibules:  These add a little extra room around the 2 doors. The vestibules are created when the rain fly is put on the tent. While they are great, you have no vestibules if you don't have the rain fly on.
Price
The MSRP on the Trail Ridge 6 is $399.95.  This price puts this car camping tent in the high range of 6-person tents. We were able to find this tent for about $100 off that price, putting this premium tent into the mid-level of family camping tents. 
The Bottom Line
This is a great family tent, and we couldn't have asked for a better replacement for our 10-year-old tent. 
My wife loves the stargazing roof, and I love the weight and duffel bag carrying case. This tent easily fits into the duffel bag, so there is no struggle to pack it up every time we break camp. 
The waterproofness was fantastic; the rainfly and the floor stayed completely dry during a 2-hour downpour. The vestibules give that additional space for gear and the night light pockets were an unexpected surprise.
All-in-all the tent has delivered. We can't wait to get more use out of it in the fall!
We have yet to test it out in the Colorado mountains. We do a lot of camping above 8000 ft, so I am anxious to see how it holds up with some colder conditions (and will post an update once we do).
If privacy is not a significant concern for you, we highly recommend the Trail Ridge 6 tent.
Have you tried this tent? We'd love to hear your Kelty Trail Ridge 6 review in the comments!
---
Click below to save this Kelty Trail Ridge 6 review on Pinterest!