Pitching the tent could be one of the most stressful parts of family camping, and it's even worse when you're in a hurry or you've arrived after dark. Figuring out which poles go where, holding your tent up while connecting the poles, and tripping over poles during the process can all start a camping trip off on the wrong foot.
That's why both experienced and those new to camping are falling in love with quick-pitch tents – they are the easiest tent to set up by yourself so you can get to the fun part of camping.
Read on to learn more about these quick set-up tents, how to choose the best instant tent, and our top 5 picks for your next camping adventure.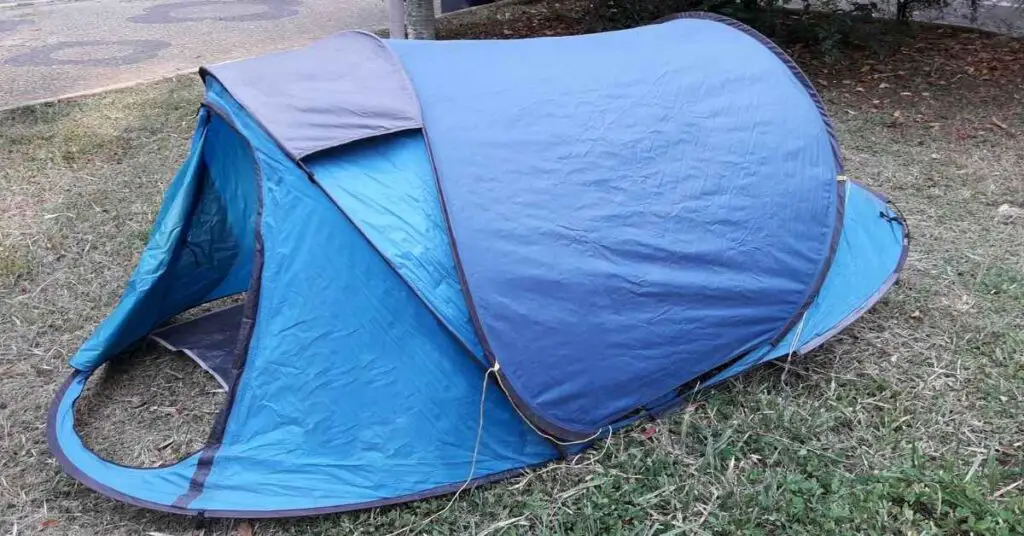 What is an Instant Tent and How Do They Work?
You might find them called instant, pop-up, or quick set-up tents, but they are all a breeze to pitch – often in a minute or less. We certainly love our Kelty Trail Ridge 6, but it sure took some practice to set it up. While the names are frequently used interchangeably, they can vary slightly in their setup.
Both have poles already attached to the tent, and the poles in instant tents typically need to be locked into place. On the other hand, Pop-up tent poles are bendable enough to twist in and out of shape to support the pitched tent or when packed down for transport.
Both styles save time and frustration when setting up camp when you can pitch your tent in just one minute or less.
The Benefits of Quick Setup Tents
Quick pitch tents are the easiest tent to set up by yourself, making them perfect for people looking for a frustration-free tent setup.
instant tents are the easiest tent to set up by yourself and are ideal for beginner campers who have little experience with pitching a tent
they are an excellent solution for camping with kids because you can put the tent together without worrying about tripping over poles lying on the ground during setup
it makes setting up camp quick and easy during late night or rainy day arrivals to the campground
Related Reading: The Best Large Camping Tents (2021 Guide and Reviews)
The Disadvantages of Easy Setup Tents
these tents can be heavier than traditional lightweight or ultralight backpacking tents, so they might not be as ideal for those looking for something that's light and portable
quick set-up tents are definitely the easiest tent to set up by yourself, but taking them down is another story – some can be more difficult to break down
they can be less weatherproof than traditional tents
How to Choose the Best Instant Setup Tent
Deciding on the best instant setup tent for you is just like choosing any tent for family camping. It's always important to think about the specific features that matter most to you and your family.
As with choosing any tent for family camping, pay attention to the floor area, height, weight, and price.
The Best Quick Setup Tents for 2022
Our recommendations for the easiest tent to put up are available from Amazon or Walmart. We choose these because they are accessible to nearly everyone in the US. Still, if your local small business carries any of these tents, we always encourage you to support your community.
These tents are all highly rated. They each have an average of at least 4.5 stars (and 90% of reviewers rated the tent at least 4 stars).
Moon Lence Instant Pop-Up Tent
The maker of one of our favorite outdoor chairs also has an easy-setup tent.
sleeps 4-5 people, with just under 100 square feet of floor space
the 5-walled tent reserves space to store gear in the corners but can also result in wasted space
weights about 10 lbs
while claiming to be fully waterproof, some customers have found that there tend to be leaks in heavy rains
See the Moon Lence Pop Up 4 Person Tent in action
Teton Sports Vista 2
available in 1 or 2 person
sleep off the ground with custom-fit cots (sold separately)
weights under 5 lbs (for the 1-person tent; the 2-person Teton Sports Vista weighs just over 6 lbs)
while the low peak height is reasonably standard for small tents, some find it tough to move around in
See Teton's Vista Quick Tents in Action:
Related Reading: 14 Types of Tents for Camping: A Simplified Guide to Styles and Best Uses
Core Equipment 9-Person Instant Cabin Tent
Core Tents are known for its line of instant tents, and campers can't recommend them enough.
the 9-person tent fits 2 queen air mattresses
a peak height of 6 ft 6 gives full standing room for most campers
this tent weighs 30 lbs, making it tough to carry too far
while this is one of the easiest tents to put up, it's recommended to have one person stabilize the tent while another locks the poles in place – but it's a great way to have the kids jump in to help!
See Just How Easy it is to Setup the Core Instant Cabin Tent
Gazelle Tents™ T8 Hub Tent
Gazelle pop-up tents are like a hidden little secret that more and more campers are raving about.
the 8-person with a total of 110 square feet of floor space
a peak height of 6 ft 6 gives full standing room for most campers
coming in at a hefty 56 lbs, this tent is heavy!
this tent is like 2 4-person tents with an expanded flex space for sleeping, storage, or living
See more of the Gazelle T8 Plus
You Might Also Like: 19 Awesome Campsite and Camping Tent Lights to Light Up Your Campsite
Zomake 4-Person Pop Up Tent
This off-the-radar tent is budget-friendly but gets some very respectable reviews from campers. This version is a true pop-up-style tent that twists to fold back into storage. This tent doesn't even have poles to lock for setup. Pitch this tent in just 10 seconds – indeed, the easiest tent to set up by yourself!
a 4-person tent large enough to fit one queen air mattress with plenty of room for gear
the low peak height (just over 4 feet) doesn't give a lot of standing room
the flat disc shape, when packed up, makes it easier to pack in the car
campers find this tent to be easy to fold back up for storage
Coleman FastPitch Instant Cabin 6
Coleman is a very familiar camping brand, and its tents are loved by many.
comes in 4-, 6-, and 10-person styles
peak height increases with tent size; the tallest campers will enjoy plenty of standing room in the 6 feet 7-inch high 10-person tent
Coleman's WeatherTec system is highly waterproof
the Dark Room Technology can be a lifesaver for getting kids down for afternoon naps
Check out the Coleman FastPitch Instant Cabin 6
Tips for Caring for Your Easy Setup Tent
store your tent dry and free of moisture
don't set up your tent in high winds that can catch and blow away a tent that is not correctly staked or weighted down with gear
sweep out the inside of your tent before storing away, so dirt and insects aren't stored away with your tent
store your tent in a bag to protect it from dirt, dust, and objects that might poke holes in the fabric
read the manufacturer's information and reviews on weatherproofing and, if needed, seal the seams to prevent leaks
Related Reading: The Best Camping Gifts for Your Favorite Tent Camper or RV Owner
A Long Story Short: The Easiest Tent to Set Up by Yourself
Instant, quick setup, or pop-up tents are by far the easiest tent to set up by yourself. If you frequently need to pitch your tent without an extra set of hands or need to work quickly in the dark or the rain, try one of these quick set-up tents for your next camping adventure.
---
Click below to save these top picks for the easiest tent to put up on Pinterest!