When you're looking forward to a season of family camping trips, you want to have the right tent for the job. These top picks for larger tents give the family lots of space for camping gear, relaxation, and privacy.
Whether on a tight budget or seeking a top-quality tent, any of these 17 picks for the best large camping tents will prepare you for an epic camping season with your family.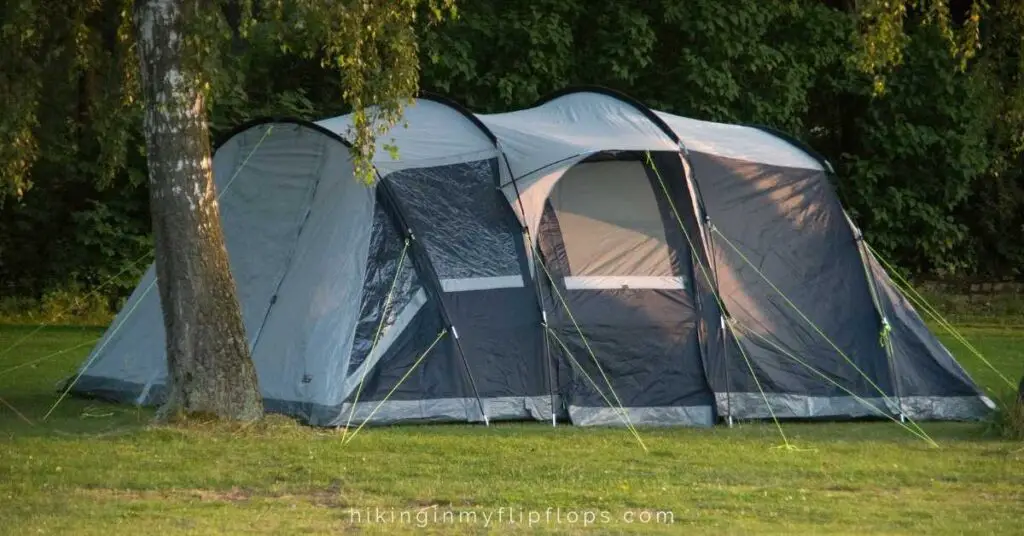 What is a Large Family Camping Tent?
Sleeping capacity defines a tent's size (the number of sleeping bags that will fit in the tent). But with few industry standards, square footage varies by tent manufacturer.
For example, Eureka's Copper Canyon LX 6 and The North Face's Wawona 8 have about 100 square feet. Yet the Wawona is packing two more campers into the same space as Eureka.
When finding the best large camping tents, we've looked at tents with at least 100 square feet of space instead of just sleeping capacity.
How to Choose the Right Size Tent for Yor Family
Sleeping bags take up about 18 square feet of space, and a queen air mattress is approximately 33 square feet. That means a 100-square-foot tent has plenty of sleeping space for a family of 5.  
If you have more than five people or need additional space for camping gear, then you'll want to look at larger tents. Plan for about 18-20 square feet per person. 
We've also included extra-large camping tents in this list that are large enough for families of 7 or campers who need additional storage space or a living area. These tents are at least 150 square feet of floor space.
When you need a spacious tent, you already know to look for a higher sleeping capacity. But with no industry standard, pay attention to the total feet of floor space too.
What to Look for When Choosing a Large Camping Tent
Before investing in large or extra-large camping tents, consider how the extra space will be used and what features you want in a tent.
You Might Also Like: 19 Awesome Campsite and Camping Tent Lights to Light Up Your Campsite
Type of Tent: Cabin and extended dome tents are the most common types of larger tents. The near-vertical walls of a cabin tent provide plenty of standing room and fit tall air mattresses and cots well.
Ease of Setup: The extra material in a large family camping tent can make the pitching more challenging than for a 2- or 4-person tent. Consider an instant setup tent with pre-attached poles. Color-coded poles are another helpful feature for quick setup. 
Other Features: Gear lofts and storage pockets keep things organized and valuables within reach. No-see-um mesh windows are fantastic for stargazing and keeping bugs out but take away privacy. Removable dividers for extra privacy are other nice features in a family tent.
Find more tips on choosing the perfect family camping tent here.
Pros and Cons of Large Camping Tents
Camping in large or extra-large family camping tents isn't for everyone. Here is what to consider before making your purchase.
Pros
Plenty of space for bedding that takes more space than sleeping bags, like tall cots and queen air mattresses.
There is lots of space for extra gear, such as side tables, heaters, or fans.
Large tents are made in styles with generous standing room for tall campers.
Cons
The size, especially extra-large family camping tents, can be too big for tent pads at developed campgrounds. Check campground rules to ensure your tent meets any restrictions.
While tall tents have ample space for standing room, it can take extra effort to warm that space while camping in cold weather.
Even the best large tents can get heavy and bulky, making packing and transport tricky.
The Best Large Camping Tents
When your family needs the space to sleep comfortably and store all the gear on your camping checklist, these picks for the best tents for large families will do the job. Starting at 100 sq feet of floor space, here are 17 tents to consider for your next family camping trip.
1. Gazelle T4 Plus Hub Tent With Screen Room
Best for those who don't always need a lot of sleeping space
We like this tent over the Gazelle T8 Hub Tent because of the flexibility when you don't need as much space. The Gazelle T4 Plus is made from two connected 4-person tents, an excellent feature for large groups who want personal space. And each room has separate entry doors for additional privacy. The removable floors convert one of the areas to a screen room when the extra space isn't needed.
The pre-attached tent poles in the Gazelle make setup quick and easy.
---
2. The North Face Wawona 8 Tent
Best for those who need extra weather protection on camping trips
We camp in the Wawona 6, and we love it. The North Face Wawona 8 is the same excellent quality with even more space for gear and people.
The large vestibule provides a space to keep you and your camping gear dry in bad weather.
While this tent comes with a 45-square-foot vestibule, the additional storage space described in the product description is sold separately. The Wawona Front Porch Vestibule provides an additional 73 sq ft of vestibule space.
Last year, we recommended the REI Kingdom 8 tunnel tent, which is no longer available. The largest tent in its replacement line, the REI Co-op Wonderland 6 Tent, is about 80 square feet, which is too small for our list of the best large tents.
---
3. NEMO Wagontop 8 Tent
Best for campers who want a great quality tent that lasts
With a peak height of close to 7 ft throughout the tent, the NEMO Wagontop 8 is ideal for tall campers. This tent includes a separate space to store or to sit out rainstorms. The Wagontop is new and improved in 2020, with better windows and more durable floors. The unique tent design is similar to a cabin-style tent, but the sloped ceiling provides additional weather resistance.
---
4. Core 9-Person Instant Cabin Tent
Best for campers who need a super easy tent setup
People love the instant tents from Kansas-based Core Equipment for the minimal setup time. The pre-attached poles mean no fumbling with connecting them to hooks or loops.
Core H20 Block Technology helps keep water out, and the hinged doors make it easy to get in and out of the tent.
---
Related Reading: Easiest Tent To Set Up By Yourself: 6 Best Instant Tent Picks for 2023
5. Campros 8-Person Camping Tent
Best for campers who are more interested in a reliable tent at a reasonable price than the brand
California-based Campros, an under-the-radar outdoor equipment company, has been making high-quality tents at an affordable price for over ten years.
This tent is lightweight enough to use as a backpacking tent when you want to head into the backcountry with the family. The mesh ceiling makes it perfect for stargazing and camping in hot weather. The included rainfly keeps light rain and cold air out in less-than-ideal weather conditions.
The lack of windows on the back of the tent creates a built-in movie screen for families who camp with a projector.
---
6. Coleman Dark Room Instant Cabin Tent
Best for camping in hot weather
The Coleman 10-Person Dark Room Instant Cabin Tent is a great summer tent, especially in areas that frequently get unexpected rains. The included rainfly has a Dark Room technology that blocks 90% of sunlight to keep the tent cool and a WeatherTec system to ensure rain doesn't make its way into the tent.
The cabin-style tent means more headroom and standing space for the adults, reaching 6 ft 7 at peak height.
---
You Might Also Like: 14 Types of Tents for Camping: A Simplified Guide to Styles and Best Uses
7. Browning Camping Big Horn Two-Room Tent
Best for tall campers
Browning specializes in hunting gear and is part of the same company that owns ALPS Mountaineering, so there is a history of durable outdoor products behind this brand.
This is our pick for tall campers with a peak height of over 7 feet that spans most of the tent area. It's also one of the more spacious in our list of the best large camping tents at 150 sq feet of sleeping space. The two-room design gives privacy or extra living space.
The Best Extra-Large Family Camping Tents
These highly rated extra-large family camping tents have more than 150 square feet of sleeping area. These tents will all sleep families of 7 or more.
8. Wenzel Klondike 8
Best for campers who need some flexibility with their tent and are on a budget
Like the Gazelle T4 Plus Hub Tent, the Wenzel Klondike 8 has a separate space that can flex between extra sleeping space or a screen room. But this tent is a more budget-friendly option.
The main room of the tent is large enough to sleep a family of 5. The screen room has ample space to sleep additional people or be used to store camping gear or as a living space.
Related Reading: The Best Camping Gifts for Your Favorite Tent Camper or RV Owner
---
9. Eureka! Copper Canyon LX 12-Person Tent
Best for another excellent pick for tall campers
I'm a little partial to this brand since my camping trips as a kid were always in Eureka tents. The company has roots in making wagon covers in the late 1800s, so they know a thing or two about shelter in the outdoors.
At 7 feet tall with near-vertical walls, there is lots of space for tall campers to walk around in the tent.
Recent updates to the Copper Canyon LX line include an extended fly for better weather coverage and replacing toggles for the zippers on the mesh windows.
There are smaller versions of the Copper Canyon if you don't need the amount of space in the 12-person tent. The Eureka Copper Canyon LX is also made in 6-, 8-, and 10-Person tents.
---
10. Core Equipment 12-Person Straight Wall Cabin Tent
Best for tall campers who want the room to move around
Core Equipment is primarily known for its highly-rated instant setup tents, and they also make great tents with a more traditional setup. They've still made it easy, though, with color-coding all the parts to minimize setup time.
The removable room divider creates separate spaces that you can use for additional sleeping, lounging, or use as a few extra feet of storage space.
---
11. Coleman Evanston Screened 8 Tent
Best for camping in cold weather and windy conditions
There may be better options than the dome-style tent for tall campers, but the lower profile does well in windy conditions and is better at keeping in the heat in cold weather. You'll stay warmer through the night with less air in the tent to heat.
We love this spacious tent for families ready to take their first camping trip. At less than $150, this inexpensive tent is a low investment for anyone just starting out camping. The Evanston line of tents from Coleman has a 50 sq ft screen porch for a space to protect from sun or rain – or to store some gear.
---
12. Ozark Trail 11-Person 3-Room Tent
Best for new campers who want to start out on a budget
Priced at well under $150, Ozark Trail's 11-Person Cabin Tent is an inexpensive tent, which is ideal for new campers. The lightweight tent is very portable, which you'll appreciate at walk-in campsites. Electrical cord access to port electricity into the tent lets campers have some of the comforts of home.
---
13. Bushnell 12-Person Instant Cabin Tent
Best for hot weather camping
The Bushnell Instant Cabin Tent is sure to keep campers cool on hot nights at the campground. This Amazon-exclusive tent has an A/C vent and Heat Shield technology with a reflective coating to keep the tent dark and cool. The steel tent poles are very durable, which does add to the weight.
The two room dividers let campers create a 3-room tent for multiple sleeping or living zones, making this a great tent for camping with friends.
---
14. NTK Arizona GT 12-Person Tent
Best for campers who want an all-around good tent at a reasonable price
This tent has a little bit of everything: low weight, lots of headroom, and a good-sized floor area. The removable room divider provides privacy, and an electrical port makes running electricity into the tent easy.
The Nano-Flex technology used in the fiberglass poles for the NTK Arizona GT 12 is more durable than traditional fiberglass poles. We would still purchase a spare, just in case.
---
Related Reading: Kelty Trail Ridge 6 Tent: What to Know Before You Buy
15. Regatta Bell Tent from White Duck Outdoors
Best for glampers and long-term camping trips
Our pick for the best glamping tent is the largest and heaviest on our list of the best large camping tents. The 4-season Regatta Bell canvas tent will hold up in almost any weather.
A tall tent made with durable materials. A bell tent is like a teepee tent, but the vertical walls make better use of the space in the tent. The Regatta Bell Canvas tent has tons of space but is best for campers who often head out into the wilderness for more than just a weekend.
---
16. Ozark Trail 11-Person Instant Hexagon Cabin Tent
Best for those who need lots of storage space
This tent is huge! At over 250 square feet, there is plenty of room for the entire family, plus lots of space to store and organize gear. That extra space can come at a cost in cold weather, though, with so much air to keep warm.
While the setup of this instant tent is super easy, reviewers recommend reading the instructions to ensure it's done correctly. Otherwise, the tent may not hold up in low to moderate winds.
17. Ozark Trail 20-Person 4-Room Cabin Tent
Best for large families or groups who need lots of space for people and gear
Ozark Trail's 20-person cabin tent is the biggest family camping tent we could find. An impressive 283 sq ft tent sleeps up to 20 people (though it will be a very tight fit)—this massive tent with a floor plan that can accommodate six queen air mattresses.
At 50 lbs, it's lighter than some extra-large family camping tents featured here. The water resistant,  600mm coated rain fly will hold up in light rain.
---
Frequently Asked Questions
Comfortable campers are happy campers, and having the best large tent for family camping trips can make a big difference in your outdoor experience. No matter how you like to camp (or glamp) or how many people you want to accommodate, there's a large camping tent that is perfect for your family. Before purchasing, consider factors other than the interior space – like waterproofing, size, setup speed, and portability.
With our 2023 guide to the best large camping tents and reviews, you'll be able to find the perfect tent for your family's needs while also staying within your budget. 
---
Click below to save these recommendations for the best large family tent on Pinterest!