Updated on August 12, 2022
[Updated for the 2022 camping season!]
When you're looking forward to a season of family camping trips, you want to have the right tent for the job. These tents give the family plenty of space for gear, relaxation, and privacy – and are the perfect addition to your family camping checklist. These 17 picks for the best large camping tents will have you on your way to an epic camping season with your family.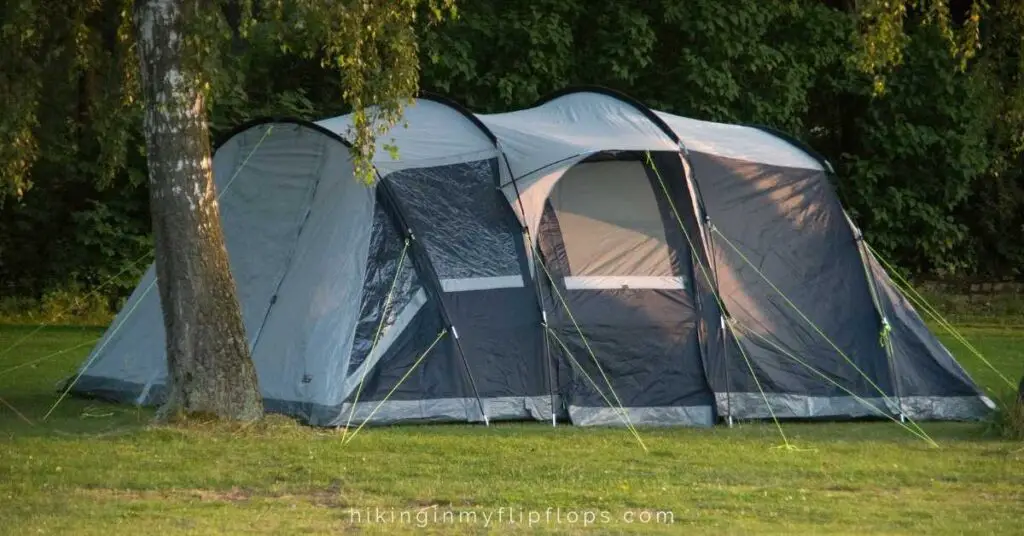 Large vs. Extra-Large Family Camping Tents
Once you've decided that a large tent is an ideal size for the family camping trip, the fun begins. Finding all the cool features tent brands add to their outdoor shelters gets you excited to test them out on your next trip. To keep the decision on the best large family tent for you from getting too overwhelming, we've got the best – and worst – features of the best large camping tents laid out right here for you.
After just a little bit of research on tents, you'll quickly realize there are very few standards on camping tent sizes. We're defining large camping tents as having at least 100 square feet of floor area to give a starting point for comparison. The manufacturers typically rate these with a sleeping capacity of 8-9, but that can vary.
The best extra-large family camping tents have a floor area of 150 or larger. These are often rated for 10 or more people, and sometimes less.
It's always best to look at the floor area in addition to the sleeping capacity before making a final decision on your tent.
The Best Large Camping Tents
Tents with at least 100 sq feet of floor space are great for families who want a bit of room to spread out and some privacy. Most of the tents featured here have sleeping capacities of 8 or 9, but the large camping tents we're featuring provide at least 100 sq ft of space.
1. Core 9-Person Instant Cabin Tent
Best for campers who need a super easy tent setup
People love the instant tents from Kansas-based Core Equipment because of how easy the setup is. The pre-attached poles mean no fumbling with connecting them to hooks or loops.
The H20 Block Technology helps keep water out, and the hinged doors make it easy to get in and out of the tent.
What We Love:
easily packs back into the carry bag
effortless setup
reasonably priced for new campers
What We Don't:
taking the tent down isn't as easy as setting up
tent stakes that are included don't hold up well
this tent is a bit heavy compared to others on the list of the best large camping tents featured here
---
2. Gazelle T4 Plus Hub Tent With Screen Room
Best for those who don't always need a lot of sleeping space
We like this tent over the Gazelle T8 Hub Tent because of the flexibility when you don't need as much space. The Gazelle T4 Plus is actually two separate areas, each with a 4 person sleeping capacity. And each room has a separate entrance for additional privacy. The removable floors convert the space to a screen room when the extra space isn't needed.
What We Love:
oversized storage bag makes packing up easy
easy, 90-second setup
Gazelle tents are backed by a one-year warranty
holds up well in heavy rains
What We Don't:
not only is this tent heavy, but it's also big even when collapsed (63″)
aluminum stakes will bend easily
---
3. REI Co-op Kingdom 8 Tent
Best for families who opt for walk-in campsites
The REI Kingdom 8 is the smallest on our picks of the best large camping tents and the lightest weight. This tent comes with a backpack-style carry bag, making walk-in campsites doable for family camping trips. The Kingdom Mud Room is an optional attachment (sold separately) for additional shelter or gear storage space.
This tent was updated just last year, with better stability and a more straightforward setup.
What We Love:
lightweight and backpack carry bag for easy transport
tunnel shape is roomier than other tent shapes
REI has an excellent return policy
optional mudroom can be used in place of a separate canopy
What We Don't:
higher price than many other great tents
tent stakes may not hold up in inclement weather
---
4. NEMO Wagontop 8 Tent
Best for campers who want a great quality tent that lasts
With a peak height of close to 7 ft throughout the tent, the NEMO Wagontop 8 is great for tall campers. This tent includes a separate space to store or to sit out rainstorms. The Wagontop is new and improved in 2020, with better windows and more durable floors.
What We Love:
includes a lifetime warranty
the door is fully enclosed, making this a good tent for colder weather
waterproof materials will hold up in heavy rains
What We Don't:
not the easiest to set up
this premium tent is not budget-friendly
no room divider for privacy
---
5. Coleman Dark Room Instant Cabin Tent
Best for camping in hot weather
The Coleman 10-Person Dark Room Instant Cabin Tent is a great summer tent, especially in areas that frequently get unexpected rains. The included rainfly has a Dark Room technology that blocks 90% of sunlight to keep the tent cool and a WeatherTec system to ensure rain doesn't make its way into the tent.
Related Reading: Easiest Tent To Set Up By Yourself: 6 Best Instant Tent Picks for 2022
The cabin-style tent means more headroom and standing space for the adults, reaching 6 ft 7 in at the peak height.
What We Love:
Dark Room technology to keep the tent cool in the summer
glow-in-the-dark guylines to keep the kiddos from tripping
quick setup (60 seconds!)
expandable carrying bag makes repacking easy
What We Don't:
sealing the seams is still recommended since the WeatherTec system seems to only apply to the tent material
the off-centered door can take some getting used to in the dark
this is a heavy tent, weighing 42 lbs
---
6. Ozark Trail 14'x10′ Family Cabin Tent (2 Room)
Best for new campers who want to start out on a budget
Priced at well under $150, this is a great starter tent. It's very lightweight for maximum portability, so campers won't have much difficulty if unknowingly booking a walk-in campsite. Electrical cord access to port electricity into the tent lets campers have some of the comforts of home.
What We Love:
very lightweight tent, even for the size
electrical port to run cords into the tent
budget-friendly for those who want to try camping
What We Don't:
tents stakes tend to need to be replaced
difficult to get back into the carry bag, especially with rainfly and poles
no separate door into the second room
---
7. Browning Camping Big Horn Two-Room Tent
Best for tall campers
This is our pick for tall campers with a peak height of over 7 feet that spans most of the tent area. It's also one of the more spacious in our list of the best large camping tents at 150 sq feet of sleeping space.
What We Love:
straight walls for maximum use of tent area
mesh roof for stargazing with privacy panels on the walls
easy setup and takedown, even with one person
backed by a lifetime warranty
What We Don't:
at 35 lbs, this is not the most lightweight tent
zippers on doors don't fully come together and leave a gap
---
8. OT QOMOTOP 10 Person Tent
Best for campers who are more interested in a reliable tent at a reasonable price than the brand
This tent, found only on Amazon, has some great reviews from customers, so we didn't want to dismiss it as an option for one of the best large camping tents on the market. The electric cord port makes it easy to get electricity into the tent. The attached doormat is a thoughtful feature that keeps some of the dirt and debris out of the tent.
What We Love:
rainfly is color-coded for quick and easy setup
includes a doormat
very lightweight tent
What We Don't:
tents stakes tend to need to be replaced
there doesn't seem to be a reputable outdoor company making this tent
---
The Best Extra-Large Family Camping Tents
These highly rated extra-large family camping tents have at least 150 square feet of sleeping area.
9. Wenzel Klondike 8
Best for campers who need some flexibility with their tent and on a budget
Like the Gazelle T4 Plus Hub Tent, the Wenzel Klondike 8 has a separate space that can flex between extra sleeping space or a screen room. But this tent is a more budget-friendly option.
Related Reading: The Best Camping Gifts for Your Favorite Tent Camper or RV Owner
What We Love:
relatively lightweight compared to other extra-large family camping tents
Wenzel tents are made in the USA
bathtub floor prevents leaks through seams
What We Don't:
no electrical port
lower peak height in the screened porch can take getting used to
no separate entrance to the main space of the tent
---
10. Coleman Evanston Screened 8 Tent
Best for camping in cold weather
The dome-style tent may not be the best option for tall campers, but the lower profile is better at keeping in the heat in cold weather. With less air in the tent to heat, you'll stay warmer through the night.
We love this tent for families ready to take their first camping trip. At less than $150, this tent is a low investment for anyone just starting out camping. The Evanston line of tents from Coleman has a 50 sq ft screen porch for a space to protect from sun or rain – or to store some gear.
What We Love:
an affordable price tag that is a great starter tent
continuous pole sleeves provide extra support
lightweight tent
low peak height helps keep the tent warm in cold weather
What We Don't:
quality may not stand up to heavy or frequent use
no wall to cover screens lets cold air in / warm air out
fiberglass poles are not as durable
---
11. Core Equipment 12-Person Straight Wall Cabin Tent
Best for tall campers who want the room to move around
Core Equipment is primarily known for its highly rated instant tents. Still, they also make great tents with a more traditional setup. They've still made it easy, though, with color-coding all the parts.
The removable room divider creates separate spaces, which you can use for additional sleeping, lounging, or storage space.
What We Love:
color-coded poles, sleeves, and joints for easy setup
roomy carry bag makes repacking easy
stargazing roof
adjustable ventilation for warm summer nights
What We Don't:
high peak height is harder to keep warm in cold weather
one of the heaviest tents featured here
requires multiple people to set up
fiberglass poles break or splinter easily
---
12. Bushnell 12-Person Instant Cabin Tent
Best for hot weather camping
The Bushnell Instant Cabin Tent is sure to keep campers cool on hot nights at the campground. This Amazon-exclusive tent has an A/C vent and a Heat Shield technology with a reflective coating to keep the tent dark and cool. The steel tent poles are very durable, but that adds to the weight.
The two room dividers let campers create multiple sleeping or living zones, making this a great tent for camping with friends.
What We Love:
2 room dividers for even more privacy options
steel tent poles that are heavy but durable
A/C vent and Heat Shield for keeping tent cool
very easy setup
What We Don't:
at over $500, this isn't a budget-friendly tent
a weight of 60 lbs is harder to transport
no separate doors to each sleeping area
difficult to get back into the carry bag
---
Best for those who need lots of storage space
This tent is huge! At over 250 square feet, there should be plenty of room to store and organize gear. That extra space can come at a cost in cold weather, though, with so much air to keep warm.
While the setup of this instant tent is super easy, reviewers recommend taking the time to read the instructions. Otherwise, the tent may not hold up in low to moderate winds.
What We Love:
quick, easy setup (2 minutes)
expandable carry bag makes packing up easy too
electrical port to run electricity
floor vents allow the air to circulate on hot days
What We Don't:
no room divider to give privacy
the awning, that doubles as a door, needs to be collapsed when privacy is needed
hexagon shape can be an inefficient use of space
---
14. Eureka! Copper Canyon LX 12-Person Tent
Best for another excellent pick for tall campers
I'm a little partial to this brand since my camping trips as a kid were always in Eureka! tents. The company has roots in making wagon covers in the late 1800s, so they know a thing or two about shelter in the outdoors.
The 7 ft height with nearly vertical walls has excellent space for tall campers.
Related Reading: Kelty Trail Ridge 6 Tent: What to Know Before You Buy
Recent updates to the Copper Canyon model include an extended fly for better weather coverage and replacing toggles for the zippers on the mesh windows.
What We Love:
nearly vertical walls are great for cots and air mattresses
electrical port (E! Powerport) make it easy to run electricity into the tent
steel and fiberglass poles give a balance of weight and durability
stargazing roof
What We Don't:
fitted footprint not available, but needed to protect the thin floor material
window closures are toggles instead of zippers, which can be noisy in windy weather
not the easiest to setup
not budget-friendly
---
15. NTK Larami 10 GT
Best for campers who want an all-around good tent at a reasonable price
This tent seems to have a little bit of everything: low weight, high peak height, and a good-sized floor area. The removable room divider provides privacy, and an electrical port makes running electricity into the tent easy.
The Nano-Flex technology used in the fiberglass poles for the NTK Larami 10 GT is more durable than traditional fiberglass poles. We would still purchase a spare, just in case.
What We Love:
very highly rated waterproofness on the rainfly
lightweight tent, especially for the size
simple, color-coded setup
durable floor material
What We Don't:
one door for 3 rooms means a bit less privacy
difficult to repack in the carry bag
heavily sloped walls can be hard to fit cots and air mattresses
---
16. Regatta Bell Tent from White Duck Outdoors
Best for glampers and long-term camping trips
The Regatta Bell Canvas tent is for campers who often head out into the wilderness for more than just a weekend. Our pick for the best glamping tent is the largest and heaviest on our list of the best large camping tents. The 4-season Regatta Bell Tent will hold up in almost any weather.
What We Love:
extremely durable tent, making it great for any weather
steel poles are very strong
includes a stove jack for cold weather camping
What We Don't:
the size and weight of this tent make it difficult to transport
no room dividers for privacy
this premium tent is not budget-friendly
---
Jump below to see number 17 on our picks for the best extra-large family camping tents!
What is a Large Family Camping Tent?
While there are no standards for tent sizes, large family camping tents are generally 100+ square feet and start at an eight-person sleeping capacity. Extra-large family camping tents have a sleeping capacity of 10 or more and have a tent area of at least 125 sq feet.
Keep in mind that sleeping capacity is determined by the number of sleeping bags that will fit in the tent, with little to no space between and without room for gear.
Things to Consider When Choosing a Large Tent
Before investing in any large or extra-large camping tents, consider how the extra space will be used and what features are important to you.
Check the tent specifications to ensure sufficient room since the sleeping capacity is based on a tight squeeze into the tent. Look for features like the tent floor area, peak height, and ease of setup (a pop-up or instant tent is definitely the easiest to set up). Room dividers offer extra privacy within a large tent.
Tent features like electrical ports provide a way of getting electrical cords into the tent without leaving a gap in the tent door. Vestibules or screen rooms offer a space to get out of the sun or rain, so you can skip packing a separate canopy.
You Might Also Like: 19 Awesome Campsite and Camping Tent Lights to Light Up Your Campsite
To protect the inside of the tent in heavy rains, choose a tent with an adequate protective coating on the rainfly (at least 75 deniers or 1,500mm coating).
And always check the warranty, so you are prepared for defects or other issues, especially on premium tents with high price tags.
Pros and Cons of Large Camping Tents
Tent camping in large or extra-large family camping tents isn't for everyone.
Pros
Plenty of space for larger bedding, like cots and air mattresses
Room for extra gear, such as side tables, heaters, or fans
Large tents tend to be made in styles that have generous standing room
Cons
The footprint, especially for extra-large family camping tents, can be too big for tent pads at developed campgrounds (be sure to check campground rules)
While peak height is great for standing room, it can take extra effort to warm that space while camping in cold weather
Even the best large tents can get heavy and bulky, making packing and transport tricky
Frequently Asked Questions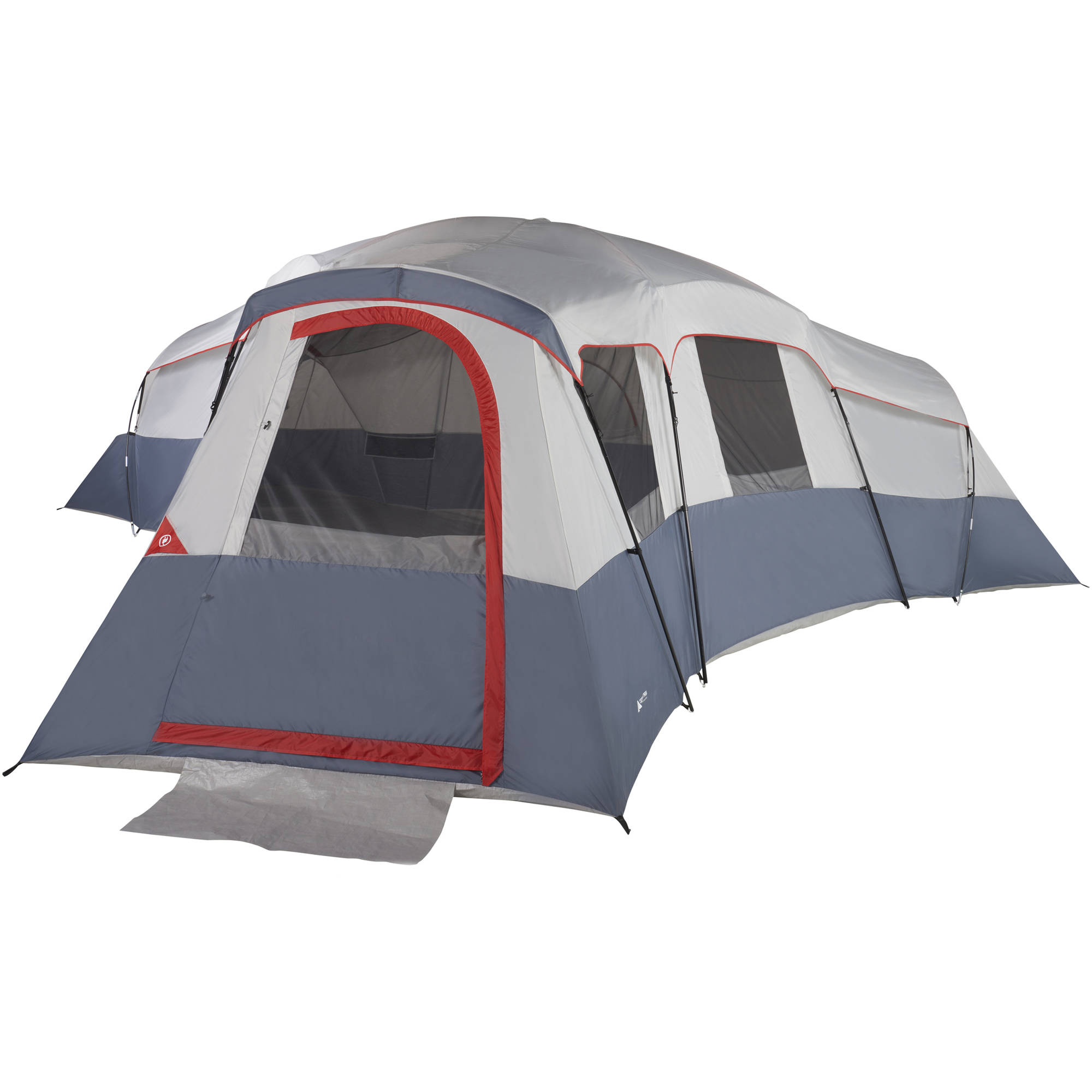 Let us know your favorite features in the best large tents for camping!
---
Click below to save these recommendations for the best large family tent on Pinterest!