You want to keep your cold drinks cold and your hot drinks hot. When camping, traveling, or hitting the hiking trails, knowing that you can count on icy cold beverages in the scorching heat is a must in the outdoors. Or starting the morning on a sunrise hike with a hot beverage that you know will stay warm.
Anyone looking to add an insulated tumbler to their outdoor gear is likely familiar with the top brands: Yeti, RTIC, and Hydro Flask. As we've recently collected tumblers from all three, here is what we love – and don't – about each. Read on for our comparison of the Hydro Flask vs RTIC vs Yeti tumbler.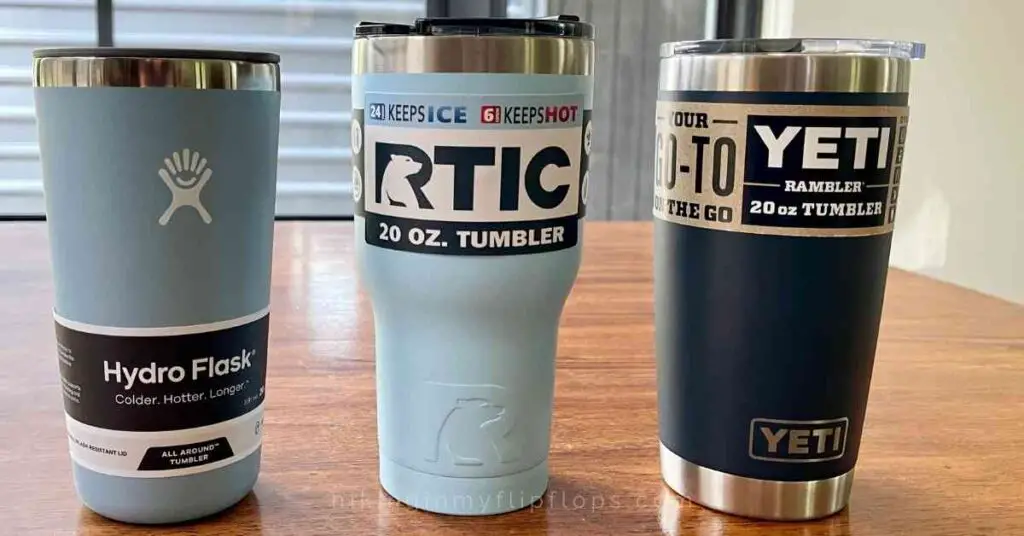 Benefits of Using an Insulated Tumbler
Wondering what an insulated tumbler is and why you would want to use one? From traveling to outdoor activities, there are a few reasons to reach for an insulated tumbler for your favorite beverages. They are designed to:
keep your cold drinks cold without the condensation of a regular cup
retain the heat in hot liquids without burning your hands on a mug
be easier to clean than an insulated bottle
withstand falls and drops, making them more durable than other cups
An Insulated Tumbler Buying Guide
The Insulation Mechanism
Many top insulated tumblers, water bottles, and mugs have double-wall vacuum insulation. This construction traps air between the inner and outer layer of the tumbler, preventing heat transfer from the air outside to the contents inside the container.
The Overall Durability
Most, if not all, insulated tumblers are made of high-quality and durable stainless steel construction. They may get scratches and some dings but will not break or crack. Frequent or particularly hard falls can compromise the seal between the inner and outer layers. Despite the durability, try to avoid drops to maintain the effectiveness of the insulation.
The Shape And Size
Insulated tumblers are built to fit into most cup holders, but larger tumblers may not fit in some car or camping chair cup holders. Check the width of the bottom of the tumbler to ensure it will fit in your cup holder.
The Lid
A well-fitting lid will help maintain the temperature of your beverages by slowing the escape of cold or heat from the tumbler. Choose one with an opening so you can drink from the cup without removing the lid. We also like a clear top to see what is in the tumbler.
Customizable Options and Accessories
From replacement parts to custom logos, manufacturers offer several accessories and customizations.
Temperature Retention 
Choose tumblers with high ice retention rates so you can be confident your cold drink stay cold. From manufacturer claims to customer reviews, you can get an idea of how long ice will last in an insulated tumbler. If you want to use the tumbler for hot beverages, check the specs for that as well.
The Insulated Tumbler Reviews
We initially set out to do an RTIC tumbler review to see if the lower-priced option held up to the claims of its pricier competitors. But, as researchers, our curiosity got the best of us, and we couldn't help to determine if Yeti and Hydro Flask were worth the extra cost.
Products from RTIC Outdoors have served us well in the past, from a soft pack cooler to a giant tote we use for all our beach gear. Yeti is an all-around go-to brand for insulating anything that needs to stay cold. And Hydro Flask is known for insulating beverages exceptionally well.
So we bought one of each. To make it a fair comparison of the Hydro Flask vs RTIC vs Yeti tumbler, we chose the one size that all three brands had in common: the 20 oz insulated tumbler.
Our Yeti Rambler Tumbler Review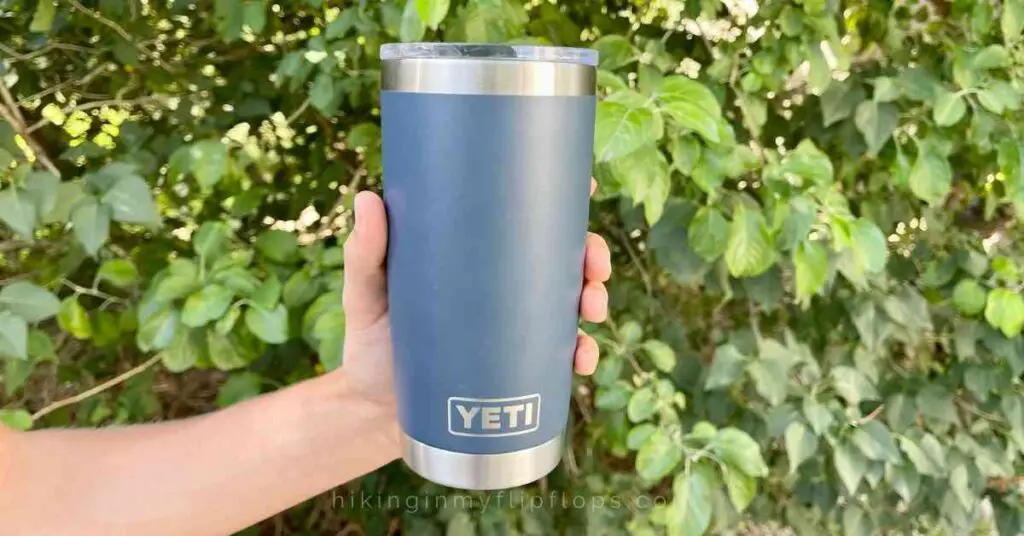 Everyone loves a Yeti; the name alone is reason enough for some people to buy from this top-quality brand.
Staying true to that quality, the Yeti Rambler is a well-made insulated tumbler that does very well with heat and cold retention. We love the wide range of colors. And the customization options make this tumbler an excellent gift idea for outdoorsy friends and family.
The biggest downside to the Rambler is the price, especially when compared to the RTIC.
Sizes: The Yeti Rambler is available in 10 oz, 20 oz, and 30 oz sizes. There are also "stackable" versions in 16 oz (pint) and 26 oz. All are designed to fit in most cup holders.
Color Options: At the time of publishing, there are up to 13 color options for the Yeti Rambler, which vary by size. In addition to color options, Yeti has options to customize text and images on the Ramblers (starting at $6)
Lid: The clear lid (included) shows the contents. All Yeti tumblers have a MagSlider lid that helps to keep it closed but doesn't provide insulation and is not leakproof. The exception is the stackable 26 oz Rambler, which includes a straw lid but is compatible with the MagSlider lid as an optional accessory.
Accessories: Several accessories are available for the Yeti tumblers, including a replacement MagSlider Lid and MagSlider. Add accessories like a straw, bottle sling, and handle to your tumbler.
Cleaning Instructions: Yeti tumblers (and lids) are top-rack dishwasher safe. Still, we prefer to hand wash ours to maintain the seal and finish.
Warranty: There is a five-year warranty on all Rambler products.
Price: The 10 oz Yeti Rambler is $20, the 20 oz costs $35, and the 30 oz is $38. Prices may vary by color or when purchased from a retailer (rather than directly from Yeti).
Where to Buy: the Yeti Rambler is available directly from Yeti, from Amazon, and is sold at REI. We bought ours from REI during one of its member sales to save 25%.
---
Our RTIC Tumbler Review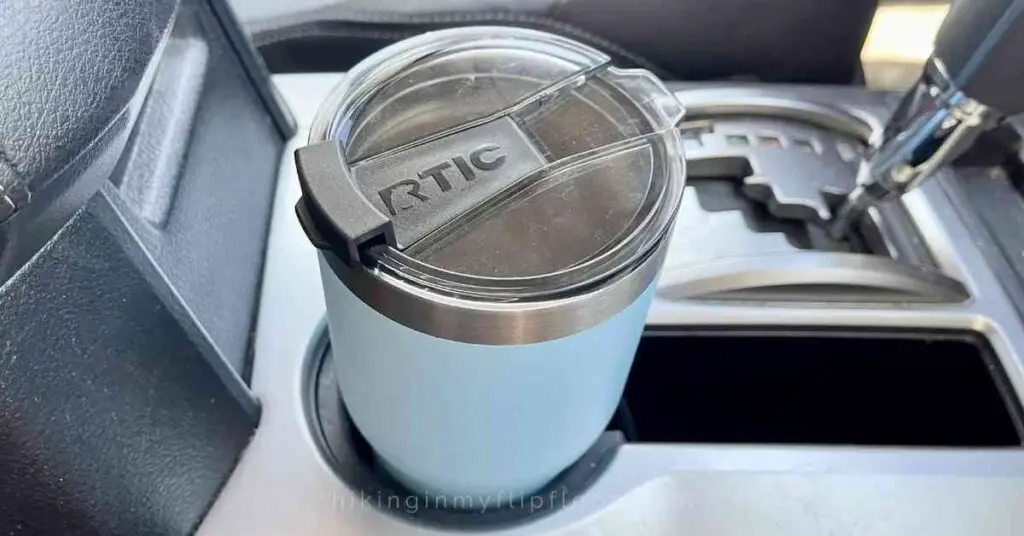 RTIC Outdoors offers affordable options on all its products, from high-end coolers to insulated coffee mugs. Like everything else we've tried from RTIC, the quality is just as good as higher-priced competitors. And the insulated tumbler is no different. Superior quality at an affordable price.
The only thing we were unhappy with in our RTIC tumbler review is the shape that is most uncomfortable to hold in the three tumblers we compared. It's also the only one of the three that is not dishwasher safe, but we hand wash all our insulated drinkware, so that doesn't bother us.
Sizes: RTIC tumblers are available in 20 oz, 30 oz, and 40 oz sizes.
Color Options: There are over 25 colors to choose from, depending on the size of the tumbler.
Lid: Like the Yeti, the RTIC lids are clear so you can check out the contents, like how much ice is left.
Accessories: In addition to replacement lids, RTIC has straws and handles for their tumbler.
Cleaning Instructions: RTIC tumblers are not dishwasher safe. They recommend hand washing your tumbler.
Warranty: Drinkware has a 90-day warranty with RTIC
Price: The 20 oz RTIC Tumbler is just $14, the 30 oz is $16, and the 40 oz is $18. Prices are the same for any color on the RTIC Outdoors website but vary when purchased from a retailer.
Where to Buy: The best place to buy the RTIC tumbler is directly from RTIC Outdoors. It is also sold on Amazon, where you'll often trade higher prices for an easier return policy. There are also more design options on Amazon like this camping-themed design!
---
Our Hydro Flask All Around Tumbler Review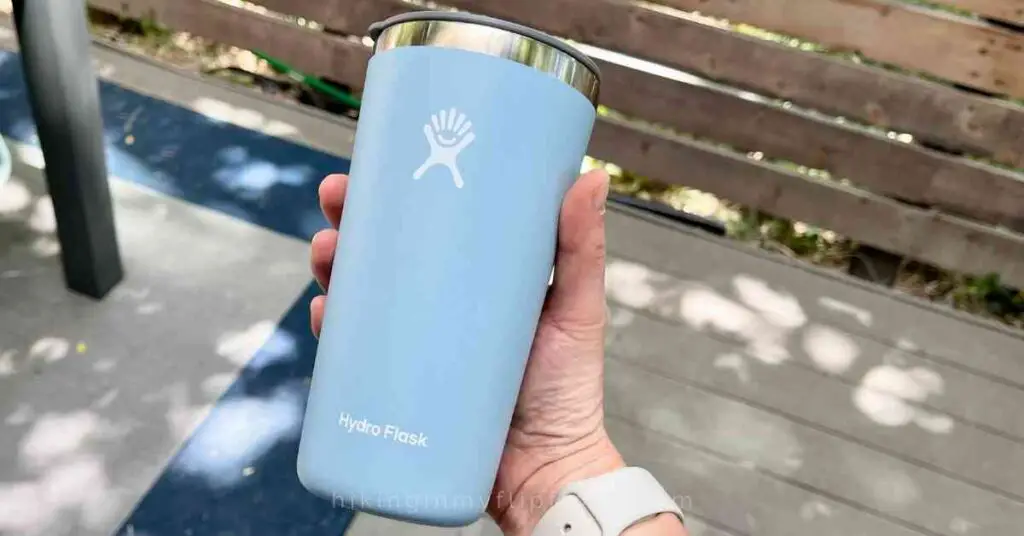 Hydro Flask is well-known for its bottles, but they also make excellent tumblers, putting this insulated tumbler in contention for our next tumbler.
While the price is more competitive than the Yeti, it doesn't come close to the RTIC tumbler. You really can't go wrong with the Hydro Flask All Around Tumbler, a solid insulated tumbler for keeping beverages at the right temperature. We aren't fans of the solid lid though, and wish we could see how much drink is left without removing the lid.
Sizes: Hydro Flask's tumbler is available in 4 sizes: 12 oz, 16 oz, 20 oz, and 28 oz
Color Options: As of this writing, these tumblers are available in 7-8 colors, with colors depending on the size.
Lid: The lid keeps splashes contained and has a slide cover for a straw, but unlike the RTIC Tumbler and Yeti Rambler, the Hydro Flask lid is not clear.
Accessories: Add a Press-In Straw Lid that retains temperature even better by creating a seal around your straw.
Cleaning Instructions: Hydro Flask tumbler is dishwasher safe, with the exterior color protected by a powder coat.
Warranty: Hydro Flask offers a lifetime warranty on their tumblers and other drinkware.
Price: The price ranges from $20 for the 12 oz tumbler to $33 for the 28 oz size.
Where to Buy: Hydro Flask drinkware, including the All Around Tumbler is available directly from Hydro Flask, at REI, and on Amazon.
A Tumbler Comparison: Hydro Flask vs RTIC vs Yeti Tumbler
Similarities of the Hydro Flask vs RTIC vs Yeti Tumbler
constructed with double-wall vacuum insulation to keep cold drinks cold and hot drinks hot
made from durable 18/8 stainless steel
include a spill-proof (but not leakproof) lid that can accommodate a straw
The Differences: Hydro Flask All Around Tumbler vs RTIC Tumbler vs Yeti Rambler
Tumbler Shape and Size
Winner: Hydro Flask and Yeti tumblers
This is purely preference, but smaller hands have a harder time holding the wider RTIC Tumbler.
The Hydro Flask and Yeti tumblers are similar in shape and size. Both gradually taper off with a bottom not much smaller than the top of the tumblers. In our RTIC tumbler review, we found the shape was slightly less comfortable to hold since the top is so much larger than the bottom.
The tapered design of the RTIC is great for larger tumblers that wouldn't fit in a cup holder but aren't necessary for the 20 oz size. All work well in a smaller car cupholder, but the narrower bottom left extra space for a less secure fit, causing the RTIC to wobble a bit.
Capacity
Winner: RTIC Tumbler
Given we are comparing 20 oz insulated tumblers, we didn't expect capacity to be a notable difference.
While all three tumblers hold up to 20 oz of your favorite beverage, there is no room to fit the Yeti and Hydro Flask lid when filled with that much liquid. They hold exactly 2 1/2 cups of liquid. The RTIC tumbler, however, has slightly more than 1/4 inch of space left after filling 20 oz, leaving plenty of room to put the lid on.
The Yeti and Hydro Flask hold about 18-19 ounces with the lid on.
Weight
Winner: Hydro Flask All Around Tumbler
For those who want to keep things lightweight, the Hydro Flask (10.3 oz) is about an ounce lighter than the RTIC (11.5 oz) and Yeti (13.7 oz) 20 oz insulated tumblers. Note: the weight listed on the Hydro Flask website (12.3 oz) is a couple of ounces higher than our findings using a kitchen scale. Similarly, Yeti notes a slightly higher weight than we found (14.4 oz). RTIC does not list the weight of their tumbler.
Cold Retention
Winner: RTIC Tumbler and Yeti Rambler, but not by much
Our tests did not show a noticeable difference in ice retention when comparing the Hydro Flask vs. RTIC vs. Yeti tumbler. The ice water we filled in each stayed at a constant 33-34° F for nearly 24 hours. The Hydro Flask was the first to add a few degrees to the temperature.
Heat Retention
Winner: RTIC Tumbler and Yeti Rambler, but only by a few degrees
Our test for the ability to retain heat had similar results to our cold retention test. The RTIC Tumbler vs Yeti Rambler didn't have any temperature differences. The Hydro Flask All Around, on the other hand, was a few degrees colder after a few hours.
Lids
Winner: Yeti Rambler
We didn't know how much we liked being able see how much was left in the cup with the clear lids until we tested the Hydro Flask. We're calling Yeti the winner over RTIC because of the cover for the opening. The MagSlide is a much cleaner mechanism than the flip-top of the RTIC.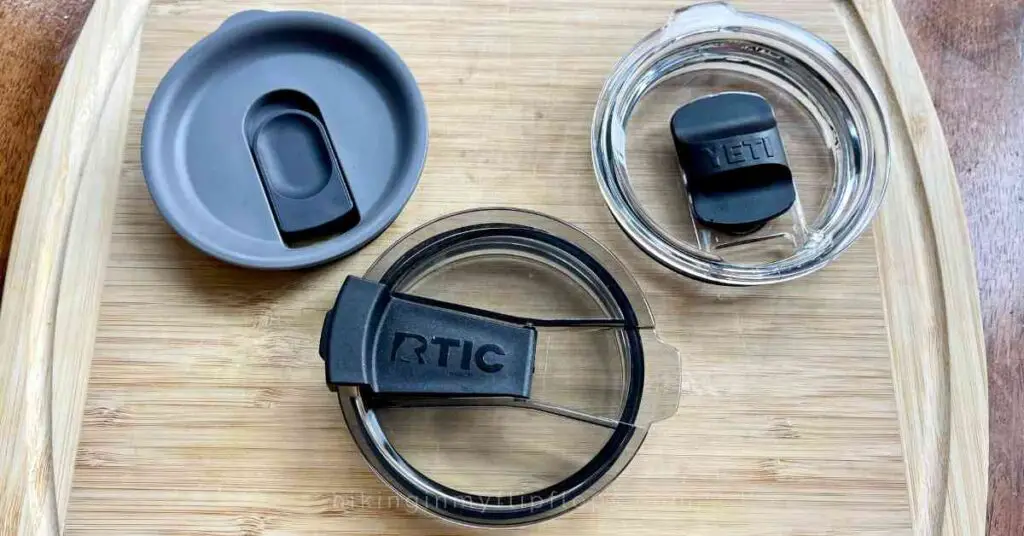 Price
Winner: RTIC Tumbler
At less than half the price of the Hydro Flask and Yeti, the RTIC Tumbler is a clear winner in price.
The Best Insulated Tumblers: Is RTIC Better Than Yeti or Hydro Flask?
After our thorough RTIC tumbler review, we think the low price does make the RTIC better than Yeti or Hydro Flask. Cold and heat retention are just as good, if not better than the pricier competitors. Our only complaint about the RTIC tumbler is the shape.
Related Reading: Soft Pack Coolers: The RTIC Soft Pack vs. the Yeti Hopper Flip
Frequently Asked Questions About the Top Insulated Tumblers
---
The three most popular insulated tumblers on the market today are those from Hydro Flask, RTIC, and Yeti. All three brands make high-quality tumblers that keep cold drinks cold and hot drinks hot. Before you buy, read this guide for all the differences between these three brands you should be aware of.
---
Click below to save this comparison of the Hydro Flask vs RTIC vs Yeti tumbler on Pinterest!
---