With the holiday season already upon us, it's time to start planning out gifts for friends and family. Make this year an epic one with these ideas for the best camping gift ideas for people who love to sleep under the stars.
We researched, talked with other campers, and even tried out some of the gear ourselves. Some of it we own (and love), and some we hope to own someday. No matter what type of camper you are buying for, these gifts will make perfect additions to their camping checklist.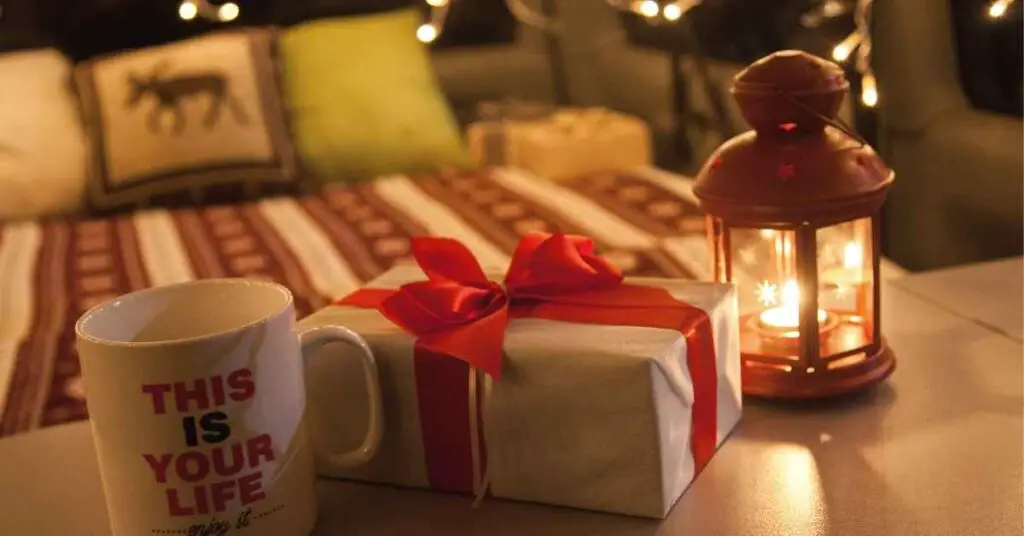 Gifts for Their Camp Kitchen
1. Aeropress Coffee and Espresso Maker
An Aeropress is an ultimate gift for campers who love their coffee. The coveted camping product makes great-tasting coffee on the go. The lightweight and portability make it a great gift for campers.
You can also buy an Aeropress at REI
2. Stanley Adventure All-in-One French Press
Another great gift for coffee lovers. The Stanley All-in-One is more than just a French press, and the Stanley All-in-One gets excellent ratings because it eliminates the need for extra gear. This French press coffee maker also boils water directly in the pot and can be used for other foods like soups or heating water for MREs.
3. Blackstone Table Top Grill
We have yet to meet anyone who doesn't absolutely love their Blackstone. Camp cooks love the large surface area for making delicious outdoor meals. The Blackstone grill uses the same 1 lb propane tank as most camp stoves, so there is no special equipment needed to use it.
REI carries a grill similar to the Blackstone
4. Collapsible Cutting Board with Colander
Multi-function products like this one make outdoor cooking and chore a little easier without packing all the gear into the car (or camper).
There is also a draining plug to use as a basin for washing dishes at the campground, and then it collapses to neatly store in the kitchen gear tote.
5. Master Cook Portable Camp Kitchen
Give the camp cook space to create their favorite outdoor meals at the campground. This camp kitchen has room to hold all the outdoor kitchen gear and folds down to the size of a lawn chair for easy transport to the campground.
6. Jetboil Camp Stove
One of the best camping gift ideas for backcountry campers who hike with all their gear, this efficient and compact camp stove is a must-have, but we also like it for car camping. It quickly and efficiently heats up water for coffee, pasta, and MREs.
We've recommended the Jetboil Zip model for the lower price.
REI also has a great selection of Jetboil products
7. A Bucket of Freeze-Dried Food
Freeze-dried meals are also an excellent gift for backpackers, but car campers love them too. They make a great backup when camping meals just don't work out as planned.
Like Mountain House Classic Bucket, buying in bulk saves a lot of money – meals are usually around $8-10 each when purchased individually.
Find an 18-pack of Mountain House meals at REI
8. Nesting Bowls and Measuring Cups
Whether your favorite camper enjoys the outdoors in a tent or an RV, they'll appreciate this space-saving bowl and measuring cup set. The colorful bowls can also be used for serving meals outside.
You Might Also Like: 15 Tips to Make Sure Your Food Stays Cold in the Cooler While Camping
Gear for the Best Night's Sleep
9. Exped MegaMat
If you know a camper who can't find the perfect fit between an air mattress and a sleeping pad, the Exped MegaMat is the best of both worlds. We sleep on the MegaMat Duo 10 and love it! It's bigger than a sleeping pad but has the comfort of an air mattress – without the bulk or risk of deflating.
We bought our Exped MegaMat at REI
10. The North Face One Bag
This sleeping bag has you covered no matter the weather (no pun intended). The North Face One Bag is another favorite addition to our gear because of the integrated layers that keep you comfortable whether camping in warm weather or on chilly nights.
You can also find The North Face One Bag at REI
11. A Comfy Cot
A cot does double-duty in a tent – it's comfortable for sleeping and provides extra space for gear storage underneath the cot.
We like this Coleman model (and the REI Kingdom cot) have a padded layer for warmth.
REI's Kingdom Cot is similar and just as comfy
Buying for someone who needs a packable, lightweight cot? Check out the ALPS Mountaineering Ready Lite Cot on Amazon or the Kelty Discovery Low Cot at REI.
Camping Gift Ideas that Help Them Stay Organized
Campers love to organize their gear. Having a place for everything gives campers quick access to their equipment in the dark, ready for an unexpected rainstorm or out of the dirt.
12. Camping Supplies Storage Strap
Organizing gear off the tent floor protects from water or dirt that can unexpectedly appear. It also frees up tent floor space.
13. Tent & RV Shelf Organizer
We have this on our list not only to keep clothes and shoes organized in the tent but because it collapses for easy transport to the campground.
Related: The Best Adventure-Inspired Gifts For Outdoorsy People in 2022
14. Packing Cubes from Eagle Creek
No matter what type of camper is on your gifting list, packing cubes are the organizational solution for packing in duffle bags and backpacks, so there is no rummaging to find the right outfit. We have a different pattern for everyone in the family so we can find our clothes quickly.
15. Yeti Camino Carryall
This tote is enormous. And durable.
We use it to corral all the items we decided to throw in at the last minute. During our trip, we use it to hold all our gear for the lake, beach, or pool. It's also fantastic for containing everything we need for a picnic. At the end of our stay, we toss all the stray items that don't get packed where they belong while breaking camp.
The Yeti Camino Carryall is also available at REI or from Yeti.com. Or, check out the more budget-friendly Large Tote from RTIC.
Gear to Light Up the Campsite
Camping needs lots of lights – lanterns for lighting up the campsite, flashlights for getting to the bathhouse, headlamps for hands-free, and string lights for setting the mood. Many of these are also small enough to add to a camper's gift basket.
16. Rechargeable LED Camping Light Bulb
Every tent needs excellent lighting, and this cute light bulb is perfect for hanging in the tent.
Find a similar bulb light from Nite Ize at REI
17. Luci Solar String Lights
Nothing feels as outdoorsy as string lights at the campground. MPOWERD (the maker of the Luci collection of lights) makes some quality outdoor lighting, and people love their solar string lights just as much.
I'm hoping to find a set in my stocking this year!
Find Luci Solar String Lights at REI or directly from MPOWERD.com.
18. Goal Zero Flashlight
Goal Zero is another much-loved outdoor lighting brand. The solar-powered Torch 250 Flashlight can be configured as a lantern, and it can even be used to give your phone a little extra charge when needed.
19. Coleman Quad Pro Lantern
We like this lantern for families because the four light panels detach for individual use. This lantern also has USB ports for charging other devices.
Hanging Out at the Campsite
20. Nemo Stargaze Recliner Camping Chair
Relaxing at the campground is one of our favorite camping activities. I got this chair as a birthday gift this year, and it's easily the best camping chair I've ever had. It swings, reclines, is easy to set up, and packs down pretty darn small. This chair is a camping gift idea that can be used beyond the campground – I've been known to get it out at home too!
The Nemo Stargaze Recliner is also available at REI
21. Portable Hammock Stand
While most people plan to hang their hammocks on two well-spaced trees at their campsite, it doesn't always go as planning. Some campgrounds don't allow anything to be attached to trees, and other campgrounds don't have many trees to get the proper setup. When camping with our teens, we make sure to have a hammock stand in case they choose a hammock over the tent (whatever we can do to make sure they love the outdoors!).
We finally bought a stand for our hammock, and we have no problem chillin' in our hammock no matter where we are. Hammocks like Eno are Brazilian style and work perfectly in this hammock stand.
Find a similar hammock stand at REI
22. JBL Waterproof Speaker
When you don't have someone around to play the guitar, use the JBL Flip 5 portable (and waterproof) Bluetooth speaker to play songs from your favorite playlist. We usually have The Zac Brown Band, Creedence Clearwater Revival, or Alabama Shakes playing in the background at our campsite.
REI also carries the JBL Flip 5
23. Outdoor Projector
An outdoor projector is glamping at its best. Watch a family movie (like The Great Outdoors, RV, or Without a Paddle) in the wilderness with a portable outdoor projector. Of course, it's also fun at home too!
24. Jackery Portable Power Station
The best camping gift idea for anyone who can't survive camping without electricity. Jackery has been making great power banks for cell phones for years, and now they have models that will charge almost anything you could need on a camping trip.
We like this over a generator because many campgrounds don't allow generators (which also require transporting fuel to power it).
Keep Cozy in Cold Camping Weather
Some of the best camping trips are in the fall and winter. Load your friends and family up with gear to keep them warm and cozy when the temps drop.
25. Pendleton Yakima Wool Camp Blanket
Curled up by the campfire, wrapped in a wool blanket may be the best way to spend time on a cold-weather camping trip. Pendleton's wool camp blanket is one of our favorite camping gift ideas.
Find a larger size of the Pendleton Yakima Wool Camp Blanket at REI
26. Booties for the Outdoors
Keep toes warm in the cold weather with The North Face Thermoball Insulated Traction Bootie. They're like slippers for the outdoors, so they're perfect for camping (or the ski lodge!)
Find Thermoball Insulated Traction Booties at REI too
27. Mr. Heater Portable Heater
An indoor-safe heater fueled by propane to keep warm in cold weather. Tent campers everywhere swear by the Buddy heater because it helps them extend their camping season.
While this heater comes with safety features such as an auto shut-off and low oxygen detector, we still recommend running the heater only before going to sleep.
Find Mr. Heater at REI too
Camping-Themed Stocking Stuffers (or a Camper's Gift Basket)
These camping gift ideas are perfectly sized for stockings. You can also turn this into a big gift by picking up a few of these and making a camper's gift basket for your favorite camper.
28. Cooler Shock Hard Ice Packs
Take a weekend camping trip without bags of ice. Saves space, time, and money on cooler refills. Just 2-3 of these packs will keep a 32-quart cooler cold for 2 days. Add more packs for larger coolers.
29. Car Power Inverter
True story: we once used an outlet outside the bathhouse to inflate our queen-size air mattress at a state park. We toted the giant mattress all the way back to our site, only to find it was now too big to fit through the tent door.
Tent campers often have a tough time finding electricity at their site, but having a converter in their gear is a great backup.
30. Paracord Bracelet
This fun camping-themed bracelet can also come in handy in an emergency.
31. Stasher Bags
We started seeing Stasher bags everywhere. After getting a few to try out, we know how great they are (and fantastic camping gift ideas!).
We use them to pack up meals and snacks or sometimes use them to corral small camping gear.
Stasher bags are also sold at REI
32. Solar Charger
Keep smartphones charged (for picture-taking, of course) in the wilderness with a solar-powered battery pack.
REI carries a similar charger, but the solar panel is sold separately
33. Heat Resistant Gloves
We are huge fans of our heat-resistant cooking gloves for camping. We even keep one in the car for impromptu fire-pit nights with friends.
Easily handle hot logs on the campfire without embers flying around.
34. Lighter Cubes
Help them get the fire lit no matter the weather with Weber's eco-friendly lighter cubes.
35. Mystical Flames Color-Changing Fire
After dinner, throw a few packs of Mystical Flames into the fire for some campfire entertainment. Add this to a stocking or camper's gift basket!
36. Merino Wool Socks
Merino wool is a perfect outdoor material. It's warm, UV resistant, softer than traditional wool, and odor-resistant. That means you can wear clothing made from merino wool multiple times before washing it.
These socks are 80% merino (the more, the better!)
The merino wool socks from REI are pretty great too
37. Cotopaxi Luzon Foldable Backpack
The Luzon backpack is always part of our camp gear recommendations. We literally have 6 of these bags. (And a Taal bag. And the Allpa.) They are lightweight, come with a chest strap that makes it easier to carry gear on hikes, and fold up when not in use.
We love the brand for its "Do Good" initiatives. And the Del Dia line is made from scrap materials, so each bag they make is like no other.
Make a camper's gift basket by filling this bag with lots of smaller camping gifts!
REI carries the upgraded Luzon 24L, a larger bag with external pockets (or check out all the bags on Cotopaxi's site)
The Beginner's Bundle for New Campers
If you have a family on your holiday list that doesn't camp but wants to, getting them set up for their first time camping with the basics could just be one of the best camping gifts they've ever received! We've included just the necessities, and almost everything else can be filled in with items they already have at home.
38. A Basic (But Good) Tent
Coleman makes ideal, no-frills starter tents. We like this one because it's large enough for a family of 4 and the dome shape gives adults a little bit of standing room in the tent.
39. Sleeping Bags
This Teton sleeping bag is a good starter bag for cooler temps, and it compresses to a size that makes it easy to pack.
REI branded sleeping bags are also great starter bags
You May Also Like: Camping Gear Picks That Pack Small to Save Space (Plus Space-Saving Tips)
40. A Camp Stove
Even when we plan all meals to cook over the campfire, we always bring a camp stove as a backup – just in case. We've also camped during Colorado fire bans, and it was the only way to cook.
The Coleman is a tried-and-true camp stove that comes at a great price.
41. Sleeping Pads
Closed-cell foam pads give just enough cushion to make sleeping on the ground a little more comfortable. They are super lightweight, fold up for packability, and don't pop, leak, or lose air like air mattresses.
And the price makes them good starter sleeping pads for new campers.
We use the Nemo Switchback Sleeping Pad that we bought at REI
The Best Camping Gift Ideas for RV Owners
RV and camper owners need a second set of almost everything for their home-away-from-home but have just a fraction of the space to store it all. They'll love these gifts that make their space a little more functional and homier. We even added gifts for RV owners to safely get them to their camping spot.
42. Camper-Themed Decorative Pillows
The perfect gift for camper owners to personalize their space and show off their love of camping. The removable pillow covers let them change things up, and the covers easily store away while not in use. Complete this gift with a set of pillow inserts.
43. Wireless Back-Up Camera
Backing up in a car can be stressful enough, and it's that much more challenging in a camper or RV. Make their drive to the campground a little safer with a wireless backup camera that is easy to install.
44. Collapsible Food Storage Containers
With less space to work with, camper and RV owners love things that collapse to save space when not in use. The first of a few collapsible products on our list are these silicone containers for food storage. Whether they fill with food at home or pack leftovers into them at the campground, these containers can be collapsed down to fit the volume of the contents.
45. Coghlan's Pop-Up Trash Can
Coghlan is the camping brand, and everyone loves their pop-up trash can. It's enormous, the top zips closed, and it stores away flat, making this one gift camper owners are sure to love.
46. Collapsible Laundry Baskets
It's not one of the most glamorous gifts for RV owners, but it sure will make life a whole lot easier at the campground. A 2-pack of laundry baskets with a carrying strap and store flat lets campers stow these away between trips. After their trip, they can be used to transport clean linens and towels back to their camper.
47. Collapsible Dish Drying Rack
RV and camper owners don't want to use their limited counter space on things like dish racks. Give them a gift that makes chores more manageable, then stows away neatly under the sink and out of sight after the dishes are washed.
48. Hose and Cord Caddy
Hooking up the camper requires running hoses and cords from the trailer to the hookups because it can look messy and be a tripping hazard. Instead, corral those cords and hoses neatly into the caddy.
49. Yeti Rambler Tumbler
Campers love their Yeti tumblers for keeping cold drinks cold and hot drinks hot. The holidays are the perfect time to give this gift to camper owners to make relaxing at the campground a little comfier.
Related: The Battle of the Insulated Tumblers: How the Affordable RTIC Compares to Its Pricier Competitors
The Yeti Rambler Tumbler with MagSlider Lid is also available at REI and from YETI.com.
Where to Buy the Best Camping Gifts
We love both REI and Amazon for camping gear. They have great prices on outdoor gear, but they both also make returns super easy if there is anything that isn't perfect about the gift.
And memberships only sweeten the deal: a $20 (for a lifetime) REI membership gives customers an annual dividend for their purchases. Amazon Prime members get free shipping and benefits like Prime Video and free photo storage (for all the pictures of outdoor adventures!).
All of our recommendations have a 4-star rating on Amazon. In most cases, at least 80% are 5-star ratings, so we can be sure most people have had great experiences with the product – not some who love it and some who hate it.
We love new ideas, so let us know the best camping gifts you've given (or received) in the comments!
---
Click below to save this list of the best camping gift ideas on Pinterest!
Find more camping and outdoorsy gift inspiration:
50+ Best Gifts for Outdoorsy Kids from Born to Be Adventurous
Best Gifts for Travelers + Frequent Flyers (They'll Actually Use) from Traveling Mel
Gifts for National Park Lovers from Yellowstone Hiking Guide
2021 Holiday Gift Guide for Outdoor Families from Play Outside Guide