Have you ever had that feeling of forgetting something the second you leave the house on a trip? Or do you get frustrated with all the things you packed but never used? Or maybe you're not even sure what you even need on your road trip. We've been there and know it can get downright overwhelming.
But now, after covering thousands of miles in the car with our three kids since they were babies, we've nailed down the perfect family road trip packing list. Read on for everything you need – and don't need – to have on your family road trip packing list. This list includes road essentials for toddlers, tweens, and teens.
This list of family road trip essentials – from snacks and entertainment to vehicle safety and navigation – will help make sure your next journey is memorable for all the right reasons.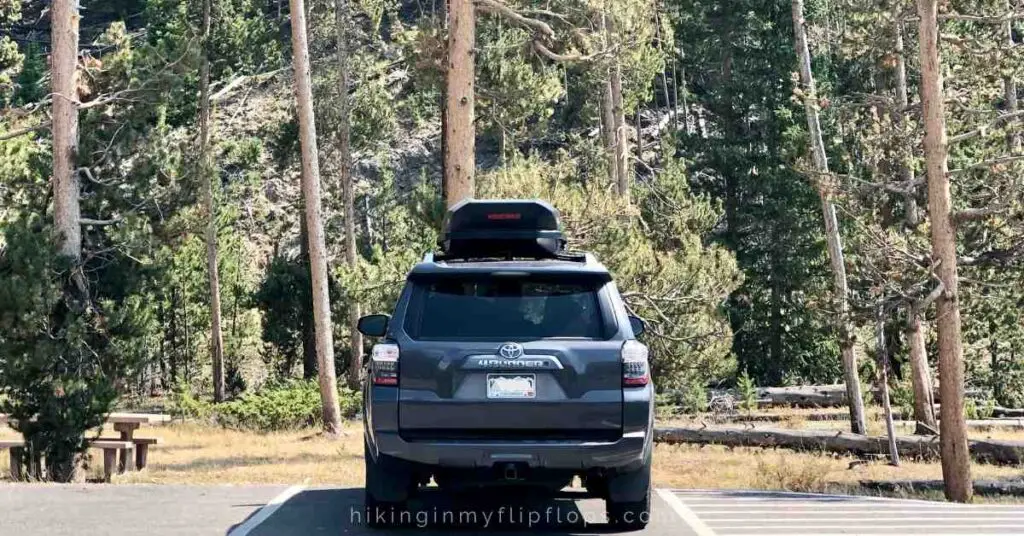 Why Road Trips For Vacation
Taking a road trip with kids is one of the best family trips you can take, filled with unforgettable experiences. Why not take the kids and explore new places?
A great way to enjoy an adventure with your children or even some time alone together in familiar surroundings is by taking them out into nature. Road trips offer endless possibilities. There's no wrong destination when you're driving down open country roads, detouring through the back roads, where every sight looks like something worth seeing.
Family Road Trip Essentials: Your Road Trip Packing List
Safety & Navigation
The most essential items on your road trip packing list are things that will get you where you want to go and do it safely. Have these items prepared before your trip, whether to help you find a detour around that traffic jam or get you back on the road after a roadside emergency.
Safety
A physical map or atlas in case of no cell service. The most epic destinations are through the most remote areas. Whether it's the mountains or the desert, you can't always count on cell service – or accurate GPS directions. Have a map in the car in case you need some old-fashioned navigation.
Waze or Google Maps to reroute you when traffic is backed up too much. Both apps will automatically reroute you in the case of accidents or terrible traffic, but you can also set your navigation to avoid highways when you want to avoid rush hour.
Car emergency kit that you hope to never use. We also have a car jump starter for those unexpected dead car batteries when there is no one around to give you a jump.
First aid kit for small cuts and minor injuries. 
Have a small flashlight for unexpected roadside stops. Whether you need to check out your tire or look at the engine, keep a flashlight in your glove box or your emergency kit to help you navigate after dark.
Your car documents are essential if you break down, get pulled over, or there are warning lights or sounds coming from your car. Bring your vehicle's manual, registration, and car insurance every time you hit the road.
Navigation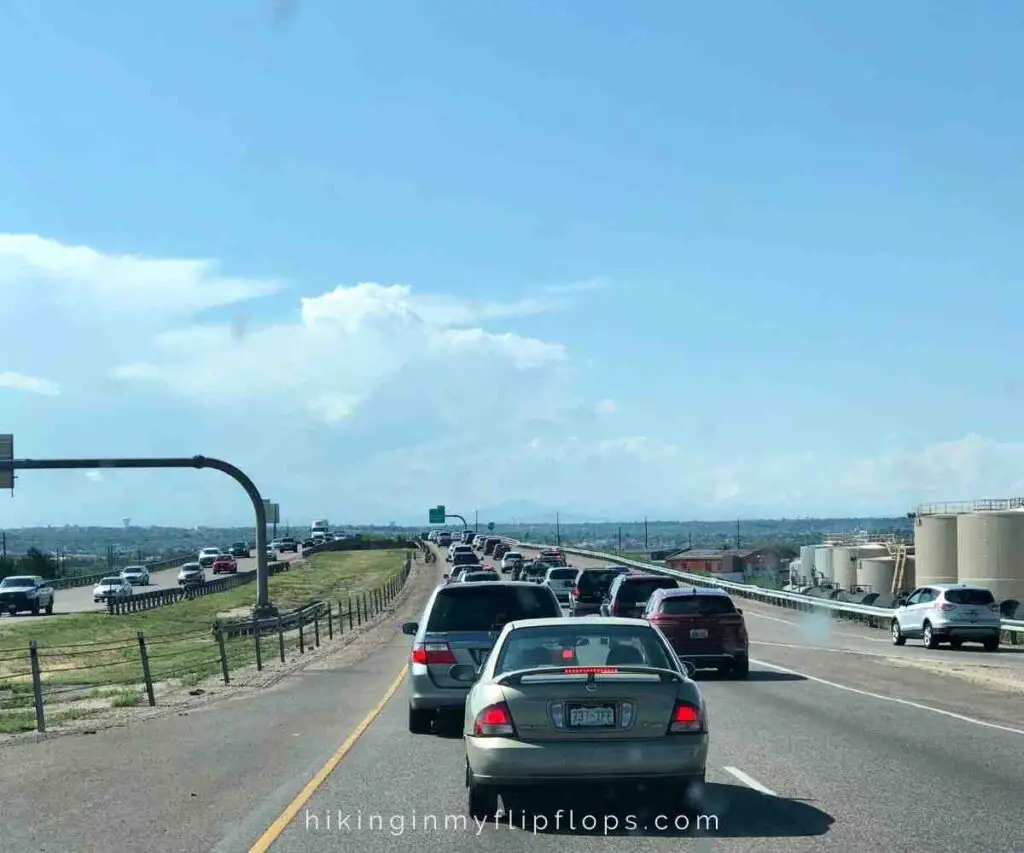 Download a few road trip apps like Roadtrippers, Outbound Collective, other road trip stop apps before your trip to find fun off-the-beaten-path stops along your way. It's how we found Bishops Castle in Colorado! (Join Roadtrippers Plus and get $5 off with code BTR5QTP)
Gas apps to find gas stations. Try the GetUpside app (also available for Android) that gives cash rebates at many gas stations. (Use code VQSME for an extra $0.15/gas off your first fill up)
Check to make sure you have your spare tire in case of a flat tire.
A tire pressure gauge to check your tires if the light alerts you of an issue.
Road Trip Activities & Entertainment
Electronics
As much as we don't like all the screen time in the car, we know it's inevitable.
Tip: With younger kids, allow screen time only in the last hour of driving for the day. This way, they have something to look forward to and are content and distracted while you navigate to your destination.
Headphones so everyone can listen to their own movie, podcast, or playlist.
A camera to snap pics of the journey. If the kids are too young to have phones, use the camera on an old smartphone.
A tablet or smartphone with downloaded movies or portable DVD player and DVDs.
Phone charger, cords, and adapters to charge in the car.
A battery pack / portable charger to charge when there is no access to outlets.
Downloads in case of no service areas, including audiobooks, podcasts, movies & TV shows, and playlists
Items to Limit the Screen Time
Have other things for everyone to do when it's not screen time, both in the car and when stopping for breaks.
Balls or frisbees to get legs moving at rest area and picnic stops.
A playlist of music for the entire family.
Small toys and a list of road trip games (find a list of ideas here)
Activity and coloring books with crayons and markers.
A travel journal for older kids to
Anything to read, like a book or magazine.
Road Trip Food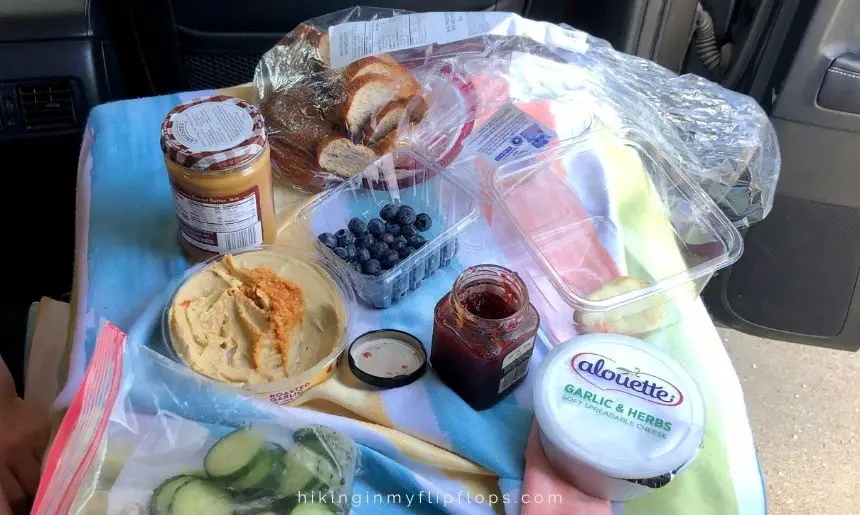 If you plan to make your meals on the road instead of eating out, you'll add more of these to your family road trip packing list than if you plan to visit the local restaurants along the way. We do both, so we want to have everything we need to prep and serve our road trip meals and snacks. Pack all the small items in a tote or bag that can be tucked away until you need them.
Pack up a cooler to keep perishable foods cold. This is especially essential if you plan to make meals on your trip.
Paper plates, disposable cups, and eating utensils for serving and eating. While we always opt for reusable items, it's tough to clean dishes on the road.
A cutting board and paring knife with a cover for slicing foods like veggies, fruit, and cheese.
Food storage containers to store any leftovers. You can even use these for leftovers from restaurants to skip the single-use containers!
A reusable water bottle for each person – we use the 16oz Nalgene bottles that are small enough to fit in any cup holder or insulated tumblers that are excellent at keeping drinks cold or hot.
Gallons or large bottles of water to refill bottles.
If you don't like your coffee from paper or styrofoam cups (it just makes the coffee taste different), bring your own coffee cups.
A roll of paper towels or a stack of napkins for meal and snack time.
Plenty of road trip snacks, like chewy granola bars and string cheese. Avoid messy foods like crunchy granola bars and juice boxes in the car.
A small table cloth for rest stop picnics. We like the Monkey Mat, which is easy to wipe clean.
Weather
Preparing for the weather can make your trip much more comfortable. Traveling in high elevations, like a road trip through Colorado, can be colder than expected, even in the summer months. Consider adding these items to your family road trip packing list depending on the season.
An umbrella in case of rain.
Layers if traveling in fall or spring, or if traveling in higher elevations (yes, summers can be cold in the Colorado mountains!)
Sunscreen, even for in the car. Those UV rays can go right through the car windows.
Bug spray for pesky mosquitoes in the summertime.
Sunglasses to combat the sun – especially for the driver.
In winter, bring an ice scraper to clear the windshield.
Comfort Items
Sitting in the car for hours on end can get a little uncomfortable, especially for the kids. The family road trip essentials are simply items from home that make riding in a car a little more comfortable and help with naptime.
Blankets for naps. We found the most packable and comfortable blanket is actually a bedsheet. It's thin and provides the right amount of warmth. We also like Turkish towels (like the ones from Sand Cloud) that double as a beach towel or blanket when needed.
A travel pillow or neck pillow. Really any pillow will work, but if you want to save space, something small and packable is best.
Add a sleep mask to your family packing list for those who need to block the light when sleeping. Our youngest won't leave home without hers!
Stuffies to snuggle with at naptime.
UV car window shade to block the harsh sun from the backseat windows. This shade from kinder Fluff blocks enough UV rays to be a substitute for sunscreen in the car.
Personal Items
When away from home, there are some things we have access to that we take for granted. Once you're on the road, you quickly appreciate having these small things that can make a big difference.
Wet wipes for quick clean-up without water, which is also less messy than pouring water to clean up.
You can't always count on hand soap in the rest areas and gas station bathrooms, so make sure to have hand sanitizer on your family road trip packing list.
A box or a few small travel packs of tissues.
Sometimes an emergency roadside stop is needed when the rest area isn't coming up quickly enough. Just in case, pack a roll of toilet paper for emergencies – especially when traveling with little ones.
Wind and heat can quickly lead to chapped lips. Pack lip balm, or better yet, the multi-purpose Smith's Rosebud Salve that can be used in so many ways. (It also comes in a tube)
Miscellaneous Items for Your Family Road Trip Packing List
There isn't a lot of space in the car after it's filled with kids, luggage, and all the other family road trip essentials. Keep things clean and organized so everyone has plenty of room and messes don't leave permanent marks in your vehicle.
Save a few grocery bags to collect trash and toss when making a stop. Want to be more eco-friendly? Bring a reusable trash bag to save the single-use bags.
Parking, drinks, and snacks at rest areas or roadside stands may all require cash, so have a little on hand for your trip (just avoid large bills).
We always have a sharpie packed for marking and labeling cups, water bottles, and snacks. With 5 of us, things get mixed up a lot!
Solve stale breath, plugged ears, and boredom with chewing gum. Add a pack or two to your family road trip packing list.
A small pair of scissors to open packaging or even tear a seatbelt in an emergency.
Use a seat organizer so you can find everything you need when you need it. Kids can have everything they want or need within reach with a backseat organizer. Or, if you're the only adult with the kids in the back, put a caddy on the front seat.
Kids (and I) love to take off our shoes as soon as we hit the road. But finding them and getting them back on isn't so fun, so we bring flip-flops or other slip-on shoes for quick stops.
Road Trip Essentials For Toddlers & Babies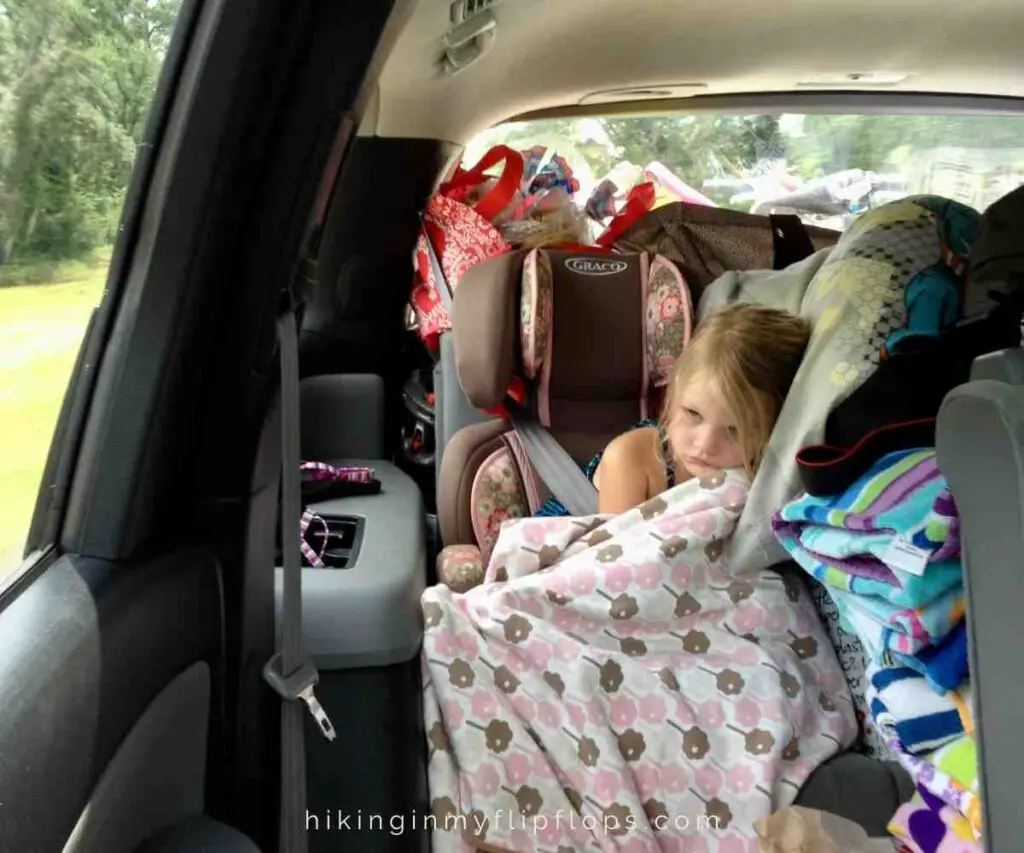 Quick-change diaper kit for changing diapers in the car.
A porta potty for potty-training toddlers
A car seat protector, especially if driving a rental car. Spills and crumbs are more challenging to clean while on the road.
Items for nap time, like blankets and stuffies.
Teenage Road Trip Essentials
Taking a trip with teens is a bit of a different experience. As the kids get older, the family road trip packing list changes from the road trip essentials for toddlers and babies to things the older kids need.
We have each kid pack things for the car in one of their travel backpacks. This limits what they can take and keeps their things organized. Sort of.
A laptop or journal to capture travel experiences. We try to have them recap our adventures each day of our trip. It's fun to go back and read those memories!
Books or other things to read.
Money for gas station snacks because nothing says road trip more than hitting the gas station for snacks.
Travel size games to give them a little non-screen time.
Frequently Asked Questions About Family Road Trip Essentials
---
Before setting off on an epic road trip, The last thing you want is to scramble around to find those last-minute items. Or worse, be thinking about everything you forgot to pack once you hit the road. Use our family road trip packing list to check everything off before you hit the open road. Getting prepared and staying organized will help make it the most epic road trip. We hope you have a safe and enjoyable summer journey!
---
Click below to save these family road trip essentials on Pinterest!