One thing I can tell you about me is that I am not much of a planner. I really love the spontaneity of last-minute plans, but that's not great for camping. Especially when camping in Colorado. A lot of campgrounds book up in advance, especially the good ones. And it's even harder to get a site on holiday weekends – like the 4th of July.
But I was determined to find something since this was our first chance to get out for a camping weekend since moving to Colorado. And since I never plan ahead, I knew it would take just a little research and perseverance to find some great camping nearby.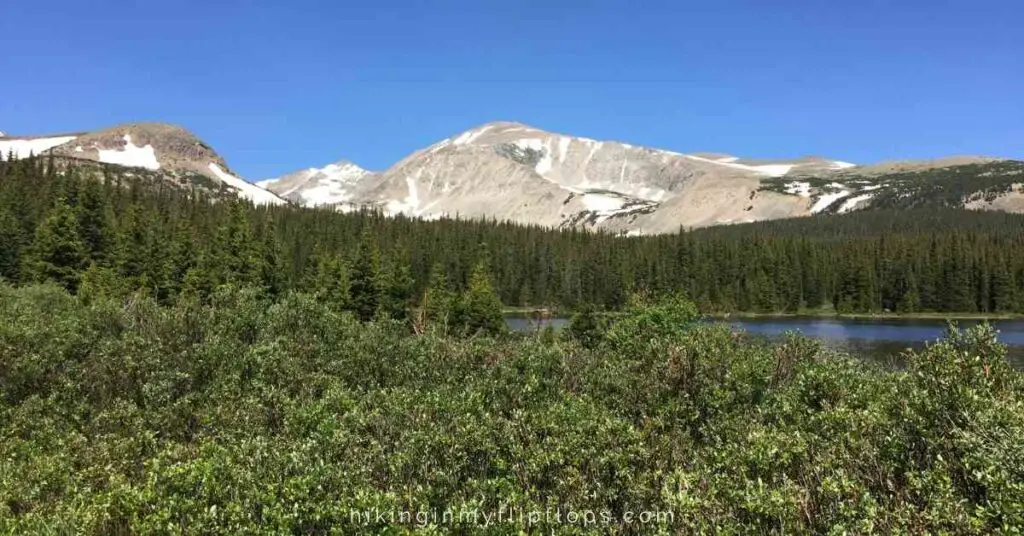 Pawnee Campground Quick Facts:
Facilities: vault toilets
Drinking Water: yes
Pets Allowed: yes
Nearest Town: Estes Park
Bear Lockers: yes
Camping at Pawnee Campground CO
On a busy weekend like this one, your best bet is to find a campground with first-come, first-serve sites – and get there early. On Friday morning, I loaded the kids, the dog, and a tent in the car and drove to the Pawnee Campground in the Brainard Lake Recreation Area to snag one of those sites. This was at the top of my list because it was only about an hour from Boulder.
And we lucked out with a great campsite in a gorgeous mountain setting!
Getting a Camp Site
The season is short at Pawnee Campground, with an opening date in late June and closing before the end of September.
The Pawnee Campground and the Brainard Lake Recreation Area are really popular. Whether you are camping or just visiting for the day, the lines to get through the gates can get long. Don't worry about competing for space with those you were waiting in line with, though. The traffic in and out is well controlled, so it doesn't feel crowded or busy.
You Might Also Like: Where to Find the Best Camping Near Boulder, Colorado
Make sure to bring some cash to pay for your site (if you didn't reserve in advance) and the fee to enter the park. The campsite fee does not include the park entrance fee ($11 will cover a car for 3 days).
Camping in Bear Country
This is bear country, but bear lockers are provided. Load your cooler and smellables (food, toiletries, and anything else with even the slightest odor) whenever you leave your campsite and before bed. Yes, camping in bear country freaked me out a little.  But if we are going to camp in Colorado, I figured we'd better just embrace it – and prepare. The Colorado Parks & Wildlife is a good resource for learning to keep yourself (and the bears) protected!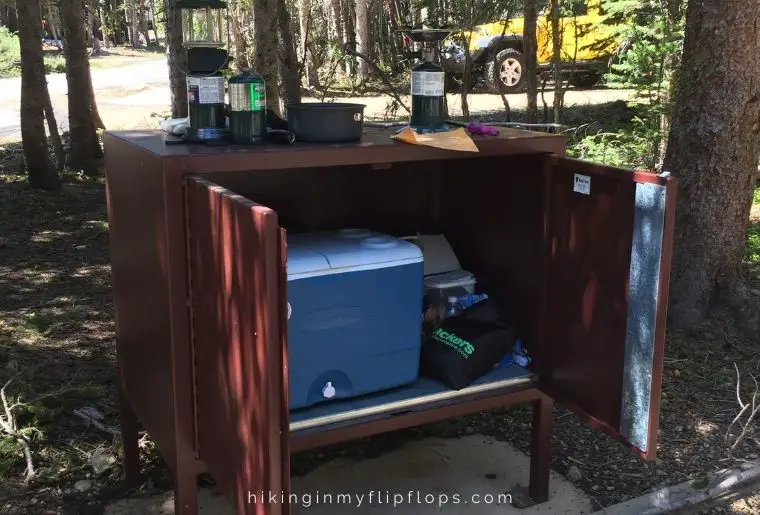 The campground doesn't have showers or flush toilets (only vault toilets). But there is drinking water available. Although I really didn't like the thought of using the vault toilets for 3 days, the camp hosts do a great job keeping things clean, and they really were not that bad!
The Best Campsites at Pawnee Campground
There are two main loops in the campground – the Elk Loop and the Moose Loop. The Elk Loop (to your right once in the campground) has both walk-to and (the more typical) drive-to sites. While the walk-to sites have plenty of tree cover, the drive-to sites are much more open. We wanted to park at our site for this trip, so we opted for a campsite in the Moose Loop where we could get more tree cover. I don't think there was a bad site in the entire loop, but you'll get some views of the mountains from sites 24, 25, 26, and 27.
Related Reading: Where to Find Unusual and Off-the-Beaten-Path Things to Do in Colorado
There is lots of space between the sites, so you still have plenty of privacy even when the campground is full.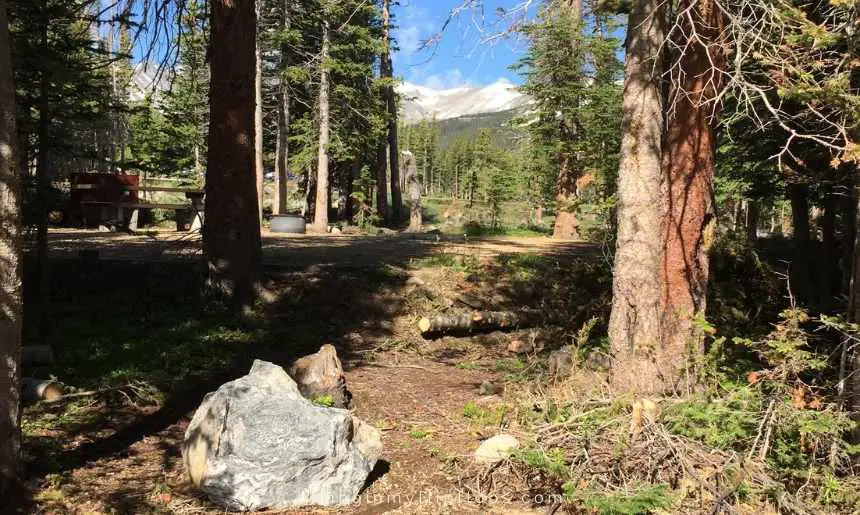 Be Ready For the Cold – Even in the Summer!
Even though it's just a short drive into the mountains, this campground is in high elevation (10,300 feet above sea level). It gets really cold at night – even in the summer months (read our tips on keeping warm while camping in the cold). Plan for frigid nights and warm days, and remember to bring base layers, hats, and warm bedding! The days do get warm enough for shorts, but the tree cover still provides enough shade to prevent all snow from melting. There was enough snow on the ground to close a few sites. (But playing in the snow with shorts on kept the kids entertained for quite a while!)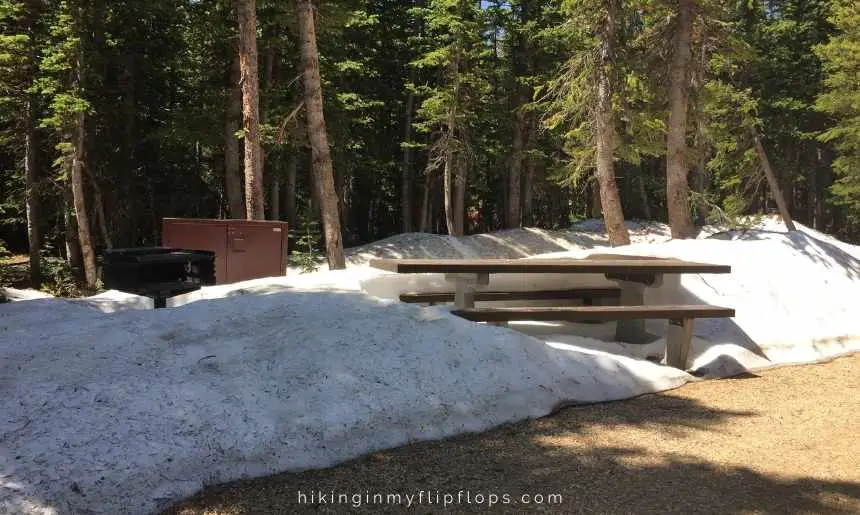 Things To Do While Camping at Pawnee Campground CO
Plan for some lake time.  Brainard Lake has a gorgeous mountain backdrop, and the lake is perfect for a kayak, canoe, or SUP. If you fish, this is an excellent place for it! The lake is just a short walk from the campground.
We didn't know to bring our kayaks this time, but we will definitely have them for next time.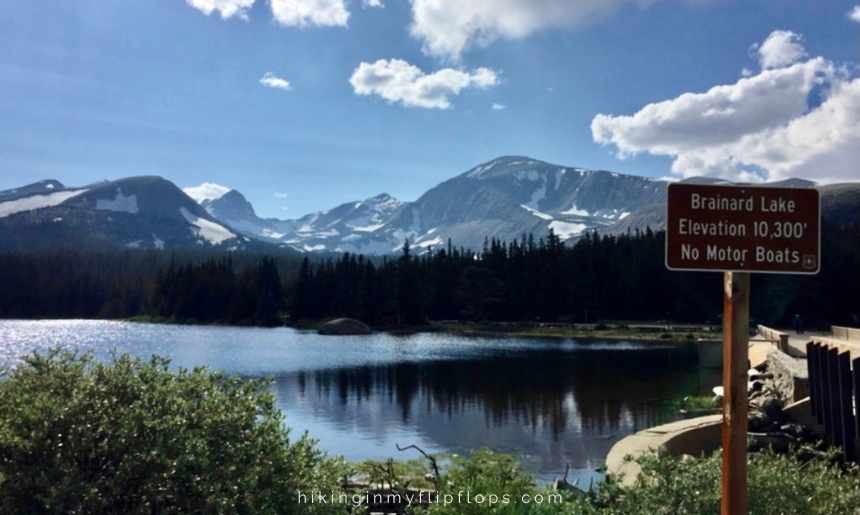 Take a walk around the lake or hike one of the many trails in the recreation area.  Many trailheads are right there by the lake, making it convenient to get on a trail quickly. We packed a lunch and hiked to Mitchell Lake for a picnic. There was quite a bit of cloud cover that day, but the views were still gorgeous. We even found a few moose grazing in the field across the lake.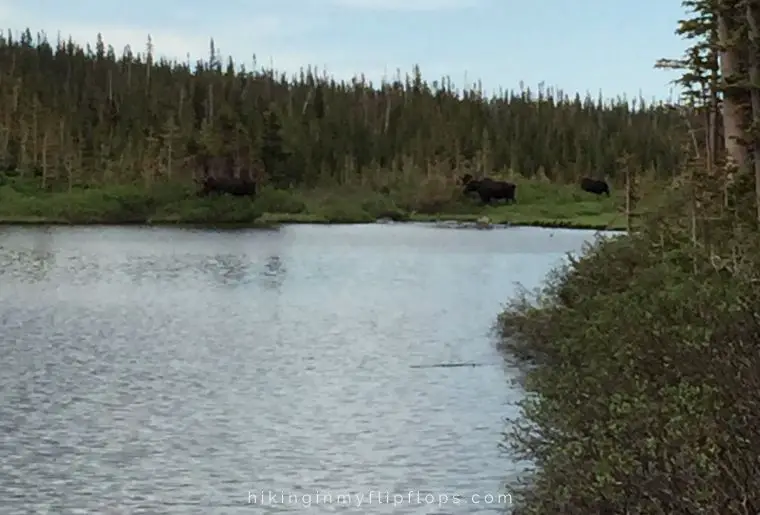 If you need to run to town for any essentials, Ward is just a short drive from the campground (though supplies might be limited in this really small town).
You Might Also Like: Estes Park's Best Camping at Hermit's Hollow Campground
We like to spend most of our time near the campground when we are just there for the weekend, but civilization isn't far if you want to get out for a few hours. Boulder is just an hour from the campground, and there is so much to do in the nearby college town. Estes Park is also about an hour from the campground, and Nederland is less than 30 minutes away.
Have you camped at Pawnee Campground CO? Let us know your favorite sites and things to do at Pawnee in the comments!
---
Click below to save these tips for your stay at Pawnee Campground on Pinterest!