It can be intimidating trying to figure out all the ski lingo and snowboard phrases and terms when you're new to the slopes. The snowboarding and skiing scene is unique, with its own vocabulary and slang. This list of 53 phrases will get you talking like a seasoned pro in no time at all!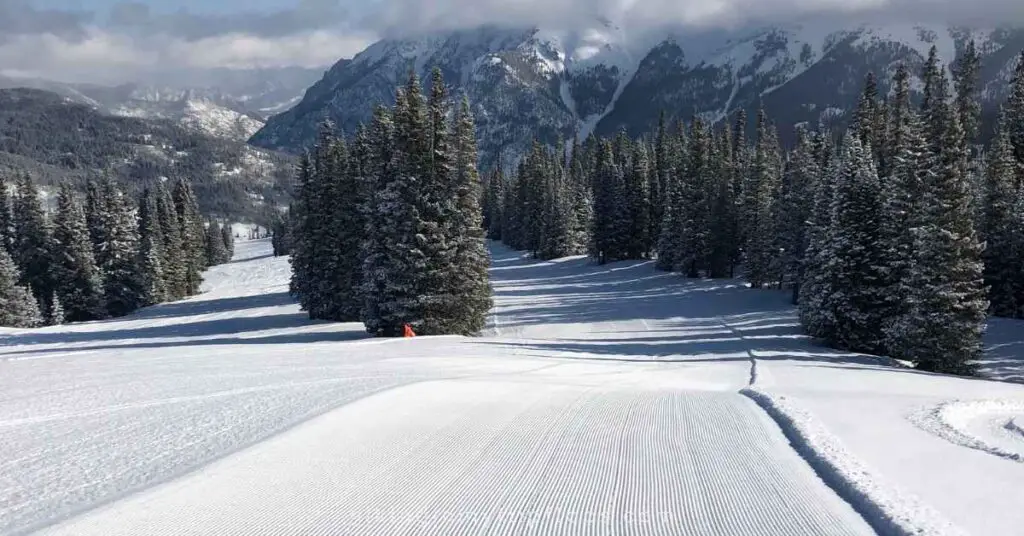 Phrases and Slang Terms to Describe Skiers and Boarders
It's more than just "skiers" and "snowboarders". There is a range of phrases used to describe who is on the slopes on any given day. On top of that, we've added a few ski phrases for other types of skiing.
a shredder is a snowboarding term for a snowboarder, as opposed to a skier
alpine skiing is another term for downhill skiing, where the boot is attached to the ski at both the toe and heel
riding (and shredding) are other ways to say snowboarding
nordic skiing (or cross country skiing) is a style of skiing that is done on long, narrow skis with special bindings to allow the heel to lift from the ski for walking or hiking motion to get around trails or wide-open spaces (hence the term "cross-country"); this type of skiing is self-propelled, unlike downhill skiing which relies on gravity
Ski Phrases and Snowboard Lingo for On the Slopes
From getting up the mountain to all the falls on your way down (which happens for beginner skiers and boarders), there are plenty of snowboarding and ski phrases to describe how we get around the trails.
french fries is a way to describe going down the hill with skis parallel, which is done to build up speed or momentum
pizza is a technique used in skiing to slow down; it means to ski with tips close together and the backs of skis apart to resemble a slice of pizza (also called snowplow or wedge)
carving turns is snowboard or ski lingo for making turns; this is when skiers and snowboarders turn by pressing their feet against each side of the board or skis to steer around bends
traversing the mountain is a technique used by new skiers to reduce momentum and avoid losing control; to ski or snowboard back and forth across a trail where there is less slope and turning on each side of the trail to lessen the grade of the slope; use caution with this technique though: crossing in front of other new skiers can result in collisions
scissoring happens when skis cross each other, often resulting in skiers falling or losing balance
bombing is when someone goes really fast down a slope – when they may or may not have control (ski patrol is usually around to stop those doing this intentionally)
similar to bombing, schussing is a type of fast descent down a hill on a pair of skis or a snowboard, generally implying they are in control
goofy is snowboard slang for riding with your right foot in front (vs. regular, which is positioning the snowboard binding to ride with the left foot in front)
Snowboard and Ski Phrases for Around the Ski Resort
To quickly and easily navigate the ski area, a few ski phrases will help you find your way around.
a liftie is ski lingo for the ski lift operator at the chairlifts and gondolas to help load skiers and boarders onto the lifts, check passes, and help anyone who needs it
the bunny slope is the beginner slope at many ski resorts and ski areas that is shorter than the other slopes, has gentle inclines, and is often a more manageable, less crowded alternative to the rest of the mountain
moguls are bumps of snow on a ski run, created by grooming equipment or can be man-made; they are found on trails for advanced skiers and sometimes in terrain parks
runs and trails are ways to reference the ski slopes
green (circle)/blue (square)/black (diamond or double diamond) are terms used to describe the difficulty levels of the runs or trails, where green is the easiest, blue is intermediate, and black is the most difficult; these are also described by shapes (noted in parentheses)
cat tracks are trails that are used as service roads in the summer months and have a very gentle, if any, slope to it (these can actually be frustrating for snowboarders because the lack of slope makes it hard to get any momentum to get down the mountain)
piste is french for "ski slope" and refers to a designated trail
backcountry (or also called off-piste) is a phrase that means that participants are skiing or snowboarding in an area that is not groomed or patrolled by ski resort staff; it requires a hike uphill and finding your own runs where you "earn your turns"—and it can be dangerous if conditions are extreme, you don't have the proper gear, and you or your fellow backcountry skiers and riders aren't experienced at this type of skiing
a snowcat (or trail groomer) is a vehicle used for grooming snow on ski slopes or pistes by pushing, tilling, and pressing the fresh snow; they are generally on the mountain through the night to prepare the trails for the next day
at the terrain park (where you find park rats hanging out practicing their aerial tricks), jibbing is when snowboarders or skiers ride features that are not snow-covered, for example, if they ride the rails at a skateboard park
Ski Phrases for Getting Up the Mountain
lifts are what get us all up the mountain, a device that uses steel cables, of which there are several types:
gondolas are enclosed cabins connected to cables and quickly move up the mountain with brief stops for loading and unloading passengers; these are usually the largest and typically seat 4-8 people
chairlifts are benches carried on a cable that can seat 1-6 people
a t-bar is a cable lift with a "T" shaped bar that is held by skiers and boarders to pull them up the mountain
a magic carpet is like a people mover that is covered in carpet and is another way to get skiers and snowboarders up the mountain
Phrases that Describe the Snow on the Trails
groomed trails are trails that are set and have been maintained by the ski resort or trail system and smoothed over with a snowcat to remove any obstacles that have formed from new snow or heavy ski use; groomed trails are a bit easier to ski on, so look at the trail information to avoid any ungroomed trails when you're just starting out
ungroomed trails that are open for skiers and snowboarders are trails that are not groomed but are still open to the public; these trails can be rough or smooth, narrow or wide, easy or difficult, so the unpredictable terrain is not typically the best option for beginner skiers
pow, pow-pow, or powder is the fresh, fluffy snow that has not been tracked out, and the days with lots of fresh snow are called powder days; experienced skiers and snowboarders love to ride on it because it usually makes for fast skiing or riding, but it can be dangerous if you're not very experienced at skiing or riding in fresh powder 
corduroy is groomed, but otherwise untouched snow, especially when pressed or packed down in parallel lines, making it great for skiing and riding!
crud is snow that is either wet, frozen, or sometimes both. and is usually found at the bottom of slopes
white-outs occur when heavy snow is falling, making it difficult to see ahead of you
trails that are tracked out happen when all the traffic from the day creates compacted snow that is no longer enjoyable to ski or ride
Ski and Snowboard Lingo for Gear
Most of the gear for skiing and snowboarding makes sense: like skis, boots, helmets, and goggles. But some aren't so obvious. Here are a few snowboard and ski phrases to help you find your way around the gear.
a balaclava, named for gear used in the Battle of Balaclava Crimean peninsula in the 1800s, is a knit hat with a face opening and an attached hood and worn under a helmet for warmth
a neck gaiter is a tube of fabric that covers the neck and head, keeping cold air from going down a jacket or coat collar, and can be pulled up far enough to cover the face and ears
bindings are the piece that keeps your feet attached to the ski or board; on snowboards, these are positioned differently for riders who snowboard goofy
tips are the front ends of skis, the middle section that touches the snow is the base, and the back ends are called the tails
on a snowboard, a stomp pad is a material on the board that prevents a boot from slipping and helps a snowboarder stay on the board when doing things like getting off a lift
salopettes is sometimes used interchangeably with pants, but it's actually a term for ski trousers
Ski and Snowboard Slang for Things that Happen on the Slopes
gnar (short for gnarly) is something that has a rough or difficult surface in terrain parks; it may be dangerous and/or may require significant effort to complete
scorpion in snowboard lingo means to fall and land on your stomach while the board swings back and towards the back of the head – and, according to our kids, can be quite painful
kicker refers to a large natural or man-made mound of snow to jump off of on skis or a snowboard or an obstacle at the take-off of a ski or snowboard jump that is larger than normal
avalanche, sometimes avy for short, is a mass of snow and ice that slides downhill as a result of gravity that typically occurs on steeper slopes where the snow is not as well-packed and has more potential to slide
chatter refers to the sound skis, or snowboards make when they go fast and when the edges of their metal or plastic bottoms grind into the snow
face shot is when snow is so deep, that it's flying in your face as you make your way down the mountain
bar down / bar up is a call to everyone in a chair to lower the bar (bar down) when starting up the mountain on a lift or to raise the bar (bar up) when safely approaching the end
skijoring is when one person is on skis and attached by a long leash or rope to a dog, another person, or a vehicle
a yard sale is when a skier or snowboarder falls and loses their gear – skis unclip, poles are dropped, and snowboard gloves get lost – and all the stray gear means a yard sale!
the uphill ski/downhill ski is a way to reference the position of skis when traversing a hill, where the ski on the uphill side is the uphill ski while the lower ski is the downhill
first chair is the first run of the chair lift up the mountain. the first few who are on the lifts in the day were there for "first chair"
strap in is a quick activity for boarders to get their snowboard boot locked into the binding after getting off the lift and before heading down the trail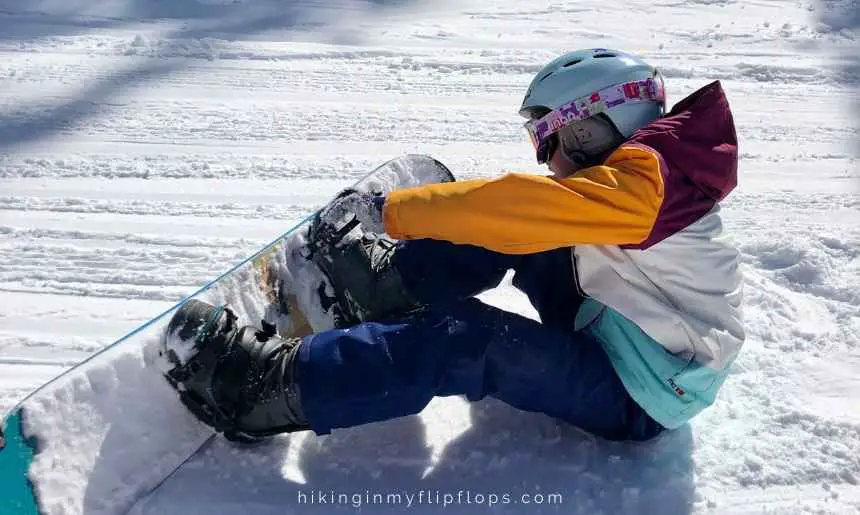 And the Most Important Part of a Day on the Slopes
après ski is ski lingo for the end of the day when skiers and riders head out for a drink, a meal, or anything else to relax after a day of excitement on the mountain – it translates to "after ski" in French
---
Click below to save these ski phrases and snowboard lingo on Pinterest!