Whether you live in the Centennial State or are planning a visit, we've collected the best of unique and unusual things to do in Colorado. We've searched high and low for the most interesting, fun, and unique sights, experiences, and family activities in Colorado.
Colorado is a HUGE state, so we've divided the list into two geographies. The Front Range (from Colorado Springs up through Fort Collins) and the Mountains (Vail, Steamboat Springs, Grand Junction – pretty much anything west of the Front Range). Since mountain activities are very different in the summer and winter months, we've separated these by season too.
Whether you're taking an epic road trip through Colorado or are looking for a few things to add to your visit, be sure to add at least a few of these stops to your itinerary!
Unique Things to Do in Colorado: The Front Range
The area of Colorado that sits just east of the Rockies is the Front Range and includes cities like Colorado Springs, Denver, Boulder, and Fort Collins. The elevation is about a mile above sea level on the Front Range, making it a great place to spend some time acclimating to altitude before heading to the mountains.
Get Outside: Family Activities in Colorado to Get You Outdoors
1. See The Inspiration For Disneyland's Main St USA
There's no doubt that downtown Fort Collins is one of the most iconic main streets. In fact, it's rumored that Main Street USA in Disneyland was modeled after downtown Fort Collins. Highlighted buildings include the Firehouse Book Store, the Old Linden Hotel, and the city hall. Spend the afternoon shopping, dining, and playing a tune on one of the pianos around town.
19 Old Town Square, Fort Collins
2. Celebrate Memorial Day in Boulder
Weekend events kick off on Saturday with the Boulder Creek Festival, held right along Boulder Creek. On Memorial Day, join 50,000 other runners in one of the top 10K races in the country: the Bolder Boulder. The race ends at the University of Colorado's Folsom Field with an event honoring those who have served our country.
13th St, Boulder 
3. Red Rocks Amphitheater
Morning yoga and concerts with a view and summertime movies under the stars are just a few reasons to visit Red Rocks Amphitheater in Morrison. Famous for the massive red rocks that create naturally occurring acoustics has a museum, gift shop, and a few nearby hikes. Or just go to tire the kids out on the stairs. Note that there may be limited access to the venue during events.
18300 W Alameda Pkwy, Morrison
4. Flower Trial Gardens
In Fort Collins, researchers at Colorado State University study how flowers grow in the Colorado climate, helping Coloradans know what to grow, when, and where. The 3-acre park, with 20,000 square feet of flower beds, is at the Flower Trial Gardens in Fort Collins and is open to the public. Find more information at http://www.flowertrials.colostate.edu/.
1401 Remington St, Fort Collins
5. Swim in Mineral Springs
Eldorado Springs Resort & Pool is a one-of-a-kind swimming experience nestled in Eldorado Canyon near Boulder. The pool is fed by artisan springs, which give the 76-degree water a bright blue hue.
294 Artesian Dr, Eldorado Springs
6. Stare at a Massive Field of Sunflowers
A short drive from Denver International Airport is a magnificent field of sunflowers on privately owned land. While it's said the owners don't mind visitors stopping by, they ask that no one enters the property or touches the flowers, which are at their peak in late spring / early summer. Find more information on where to find the flowers here.
Adams County CO
7. Garden of the Gods
Anyone's list of the best things to do in Colorado will include the Garden of the Gods because there's no doubt it's worth a stop. Stroll through wide, paved paths as you look in awe at the massive red rocks emerging from the earth. Spend the day hiking nearby trails, climbing rocks, and learning about the park's history. 
1805 N 30th St, Colorado Springs
8. Hang Out with Dinosaurs
Get up close and personal with the dinosaurs that once roamed nearby. Friends of Dinosaur Ridge in Morrison, Colorado, was initially founded to preserve fossils discovered in the surrounding area. Expansion efforts since then allow visitors to see dinosaur tracks, explore the dig sites, and learn about the history of dinosaurs.
16831 W Alameda Pkwy, Morrison
9.  Hunt for Denver's Street Murals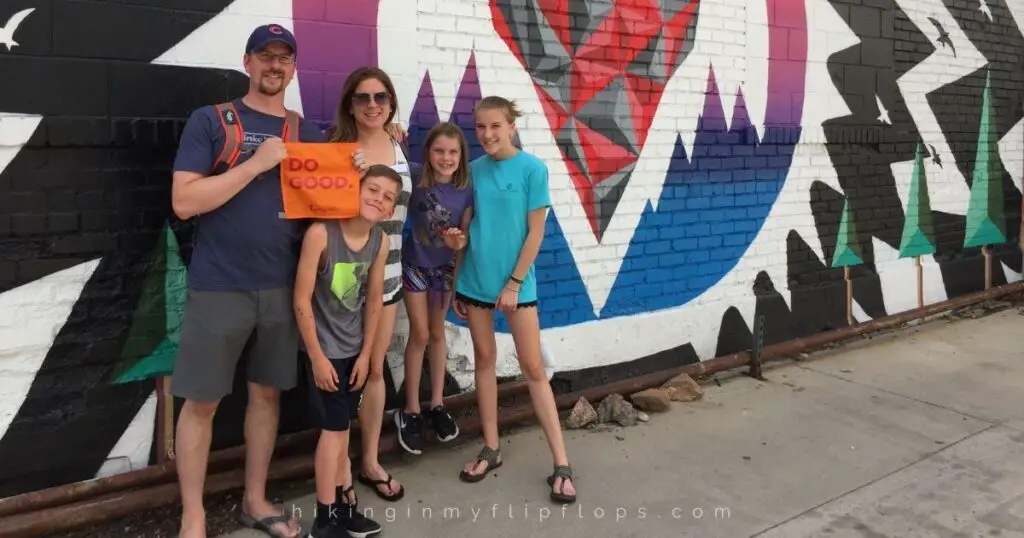 One of our favorite things to do when in Denver is to find all the street murals. They are even easier to find with Denver Arts' map of more than 120 of these murals featuring the talents of local artists. Discover works of art while exploring Denver's neighborhoods, restaurants, and shops.
Denver CO
Related: Hike to Hidden Treasures at Caribou Ranch in Nederland, Colorado
10. Explore Sculpture Parks in Loveland
Artistic talent runs through many Colorado communities, and we always think of Loveland for its sculpture gardens. Kids can run, play, and climb on the sculptures around the park. Stop by Benson Sculpture Garden & Park (2908 Aspen Drive, Loveland), Chapungu Sculpture Park (Sky Pond Dr, Loveland), or McWhinney-Hahn Sculpture Park (5400 Stone Creek Cir, Loveland).
11. Climb to the Last Manned Fire Lookout
Devil's Head Lookout Tower in Pike National Forest is the last manned fire tower operated by the U.S. Forest Service. Billy Ellis still does the daily climb to the lookout five months out of the year to watch for and report any sign of fires burning in the area. Hike to the tower on a moderate, 3-mile (round trip) trail. Get directions to the trailhead here. (Update 2019: Billy Ellis announced his retirement after 35 years on the job!)
Sedalia CO
12. The Manitou Incline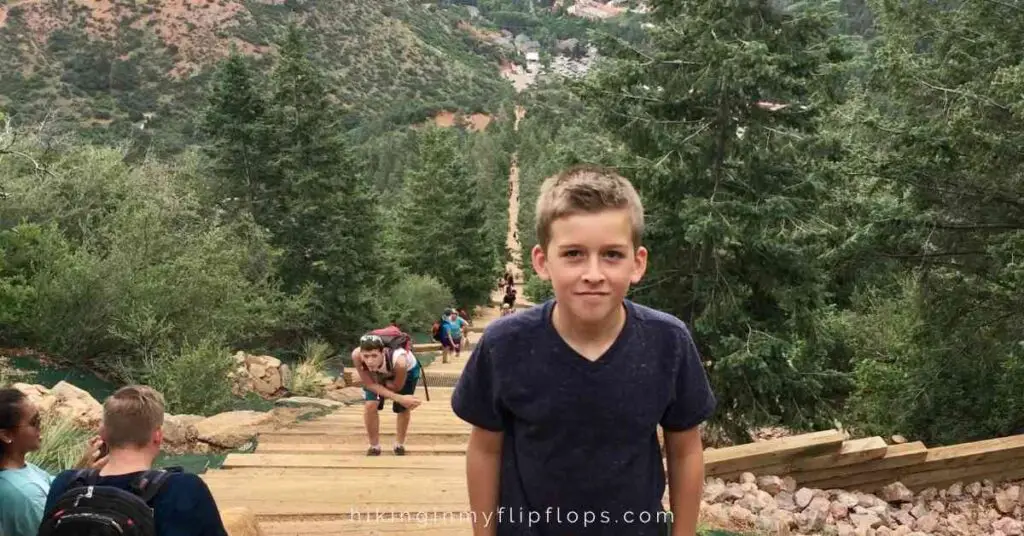 Ready for the workout of a lifetime? The Manitou Incline is not for the faint of heart and is a challenge for even the most athletic. These stairs rise 1,400 ft in elevation over just 0.9 miles. The descent is along the Barr Trail, which is also accessible from the 1/2 way point for those not wanting to go to the top.
7 Hydro St, Manitou Springs
13. Experience the Theater on the Trails
Hiking in Colorado takes a spot on many Colorado bucket lists, but you can make the experience even more interesting by adding a little theater to your hike. Hike the trails at Chautauqua with the actors, who make stops along the way to act out scenes of classic plays. Buy tickets early – this tops the list of things to do in Boulder and shows sell out quickly. See the schedule and buy tickets at http://www.artsintheopen.org.
Baseline Rd & 9th St, Boulder
14. A Hike for Everyone
With endless hiking options around Colorado, only a few are accessible to everyone. One of these trails is the Flagstaff Mountain Sensory Trail, a fully accessible trail in Boulder. Posted signs (also written in braille) encourage everyone to use all their senses (not just sight) to fully experience the beauty of nature.
Flagstaff Summit Rd, Boulder
You Might Also Like: Boulder Hiking Trails You Don't Want to Miss
15. Coast Through the Canyon on Bikes
Bike through Clear Creek Canyon on paved bike paths. Not interested in the uphill ride back? Park one car at the end of the trail in Golden and the other in the canyon to make it a one-way trip. Pack a lunch and picnic by the water in Parfet Park, right near the heart of downtown Golden CO.
32088 US-6, Golden
16. Take an Urban Biking Adventure
In Colorado, biking is to summer as skiing is to winter. Bike trails are found all over the state – in the cities and the mountains. Denver's Cherry Creek Trail bike path is accessible throughout the Mile High City, all the way to Cherry Creek State Park. The one-way distance of the trail is 11.2 miles.
1416 Platte St, Denver
Things to do (Mostly) Indoors
Family activities in Colorado to escape the heat or bad weather days
17. Stand At Exactly a Mile High
The mile-high step of the Colorado State Capitol building is marked right at 5,280 ft, so you'll know just where to go. While you're there, step inside the Capitol building for a self-guided tour (free guided tours are also available). You may even catch the House or the Senate in action.
200 E Colfax Ave, Denver
18. Visit the United States Air Force Academy
Spend an afternoon on the campus of the Air Force Academy in Colorado Springs. Free, self-guided tours are available to the public. Highlights include Cadet Chapel, hiking trails, and Visitor Center. During the academic year, you may also get the chance to observe the cadet wing marching to lunch.
2346 Academy Dr, US Air Force Academy
19. Reminisce About Campus Life at the University of Colorado
With a backdrop of the famous Flatirons, the University of Colorado at Boulder campus is the perfect place to spend an afternoon. The CU Boulder campus has free museums, a planetarium, and several other things to do in Colorado's biggest university. Relax under the shade of a tree while the kids play on one of the many grassy lawns.
Boulder, CO
20. Tour Glen Eyrie Castle
The Glen Eyrie Castle and Estate was once the home of William Jackson Palmer, a Civil War general, railroad tycoon, and founder of Colorado Springs. In the warmer months, stay for Summer Tea at the castle. Want to extend the experience? Glen Eyrie Castle also offers overnight accommodations.
3820 North 30th Street, Colorado Springs
21. Learn About the Unsinkable Molly Brown
The Denver home of Molly Brown is now a museum where you can learn more about her colorful life. Molly (whose name was actually Margaret) was most famous for surviving the Titanic but was also known for her philanthropy, advocating for education and women's rights, and fundraising activities.
1340 Pennsylvania St, Denver
22. Visit Buffalo Bill's Grave
The grave of William F. Cody is just a short drive from Denver. It's said that Buffalo Bill, named for his buffalo hunting skills, chose the spot for his burial because was so in love with the views from Lookout Mountain. There is also a gift shop, restaurant, and museum onsite.
987 1/2 Lookout Mountain Road, Golden
23. Learn About the Pioneers
Learn all about the history of Pikes Peak at this free museum in Colorado Springs. The Pioneers Museum is located in the former El Paso County Courthouse. Check their website for current exhibits and events.
215 S Tejon St, Colorado Springs
24. National Center for Atmospheric Research (NCAR)
Learn how art connects with science and how the atmosphere affects our daily lives at the National Center for Atmospheric Research. The research center, nestled in the Flatirons of Boulder, offers free guided tours during the week. Make sure to stop and play with the clouds on the interactive cloud maker while you're there.
1850 Table Mesa Dr, Boulder
It's not uncommon to walk right past this art collection in Denver – in fact, not many people know it even exists. The Dikeou Collection offers free tours, artist talks, and family events and is open to the public.
1615 California St. Suite 515, Denver
26. Tour Local Boulder Businesses
The city of Boulder is home to Celestial Seasonings (4600 Sleepytime Dr, Boulder) and Leanin' Tree greeting cards (6055 Longbow Dr, Boulder). Both are in the Gunbarrel area and offer free tours (with free product samples at the end of the tour). Locally owned and operated Glacier Ice Cream (4760 Baseline Rd, Boulder) offers tours for groups of 15 or more for a fee. Visit http://www.glaciericecream.com/tours/ for more information.
Related: A Local's Guide to Boulder: A 36-Hour Boulder Itinerary
27. … and Tours in Denver
Behind the scenes of candy making, sports teams, and printing money are all in the Mile High City. Stop by Hammonds Candy (5735 Washington St, Denver) and the Denver Mint (320 West Colfax Avenue, Denver) for free tours and reasonably priced tours of the Mile High Stadium (1701 Bryant St, Denver, CO) and Coors Field (2001 Blake St, Denver).
The Best Places to Eat on the Front Range
28. Feast on Local Produce
Fresh farm produce is abundant in Colorado, with many local farms offering dinners that feature locally grown ingredients. Three Leaf Farms in Lafayette is one of many farms that offers farm dinners in the summer months. The farm also supplies produce to its 6 Boulder-area restaurants, including the Chautauqua Dining Hall (900 Baseline Rd, Boulder) and Dushanbe Tea House  (1770 13th St, Boulder). See their website for the schedule and to reserve your spot at the table: threeleaffarm.com/farm-dinners/
445 S 112th St, Lafayette
29. Support the Community
While dining on fresh, local produce for lunch at the SAME (So All May Eat) Cafe, you also support the community. Everyone is welcome: those unable to pay may trade 30 minutes of their time working in the kitchen in exchange for their meal.
2023 E Colfax Ave, Denver
30. Dine at a National Historic Landmark
The Buckhorn Exchange is Denver's oldest restaurant, specializing in beef, buffalo, and game. Stop in for dinner and live entertainment, and check out the old west museum at this award-winning establishment.
1000 Osage St, Denver
Related: 6 Places to Find the Sweetest Treats in Denver, Colorado
31. Go for the Experience, Not the Food 
September 2021 Update: The creators of South Park, Trey Parker and Matt Stone, are the proud new owners of Casa Bonita. South Park featured the restaurant in several episodes.
While the cliff divers steal the show, there are many other activities throughout Casa Bonita. So many that purchasing a meal is required to enter. Any review you read will make it very clear that the food isn't great, but the delicious house-made sopaipillas with local honey make up for it.
6715 W Colfax Ave, Lakewood
32. Dine in an Airplane – an Actual Airplane
Get a table in a Boeing KC-97 at Solo's Restaurant, aka the Airplane Restaurant. Part restaurant, part unofficial aviation museum, kids (or anyone, really) with a fascination with airplanes can't miss this Colorado Springs restaurant.
1665 Newport Rd, Colorado Springs
33. Experience Colorado's German-Russian Culture
The state's northeastern region has a rich and unique history of Germans living in Russia who emigrated to Colorado (read more about Colorado's German-Russian community here). Krautburgers are one of the traditional foods they brought over with them, and it's still a popular menu item in the area today—one to try: Schwartz's Krautburger Kitchen (http://www.krautburger.com).
820 39th St, Evans
Local Breweries
Breweries are an integral part of the Colorado economy and culture and are a must-stop on any Colorado itinerary. Traveling with the kids? Most breweries are super family-friendly with games and activities, kid-friendly beverages, and food – – and many are dog friendly too!
34. Taste Local Brews in Boulder
Boulder tops the list with the highest per capita breweries in the US, making it worth a stop at any of the several breweries in the city. Don't worry if you're planning things to do in Colorado with kids. Most breweries welcome the kids with board games, outdoor space to run and play, and kid-friendly beverages. Favorites include Boulder Beer (2880 Wilderness Place, Boulder Boulder Beer has closed their taproom) and Avery Brewing (4910 Nautilus Ct N, Boulder).
35. … and Fort Collins 
The northern part of the state is home to more family-friendly breweries. Fort Collins is close behind Boulder on the list of per capita breweries, with 21 breweries, including New Belgium and Odell Brewing. Looking for something more mainstream? Budweiser is also in Fort Collins and is the home location of the Budweiser Clydesdales.
One more local brewery worth a stop: Oskar Blues
Oskar Blues is a pivotal part of the Boulder community and beyond (in 2017, the brewer halted beer production to can water for hurricane-impacted communities in Texas). Oskar Blues was the pioneer in canning craft beer to reduce the environmental impact of transporting the weight of glass bottles (and to make it more backcountry-friendly). The brewery also hosts the Burning Can Festival in June each year, featuring events for outdoor adventurers, camping, concerts, and, of course, local beer.
303 Main St, Lyons
additional locations in Longmont and Boulder
Unique Places to Stay on the Front Range
36. Rest in Luxury at The Broadmoor
The Broadmoor combines a luxury resort with outdoor and wilderness adventures. Multiple properties span over 5,000 acres, covering Pikes Peak. This Colorado Springs resort is the ultimate mountain luxury for your next family vacation with zip-lining, fly fishing, golf, horseback riding, and more.
1 Lake Ave, Colorado Springs
37. Sleep at the Drive-In 
One of the most fantastic Best Westerns ever is found in Colorado. The Movie Manor in southwestern Colorado has a drive-in movie theater! Watch movies from your room or car while parked right in front of the screen.
2830 US Highway 160 W, Monte Vista
In The Colorado Mountains
Unique Things to do in Colorado Summers
Most people think of the Colorado mountains for winter adventures. Skiing at resorts like Vail or Beaver Creek is one of the first things that come to mind. But there is SO much that Colorado has to offer in the summer too.
38. Take a Scenic Drive
Colorado has more designated scenic byways than any other state, offering many opportunities to experience the best of the Colorado landscapes. Get off the highway and drive through the most scenic areas for more photo ops than you can imagine. A few suggested routes are found here: https://www.colorado.com/articles/quick-guide-colorados-scenic-historic-byways.
39. Soar Through the Mountains on an Alpine Slide
Ride Colorado's longest alpine slide in Winter Park is a top pick for things to do in Colorado with kids. The 3,000 ft long, bobsled-like ride at one of Colorado's top ski resorts is probably the most exhilarating of the many summer activities on the mountain.
85 Parsenn Rd, Winter Park
40. Adventure in Whitewater Rapids
Whitewater rafting is one of the most popular things to do in Colorado, which makes sense because the state has some of the top whitewater rivers in the country. More than 15 rivers across the state have prime spots for this river adventure, either guided or unguided. River Runners offers options in the Royal Gorge, close to the Front Range.
44641 US Hwy 50, Cañon City
41. Camp at High Elevations
Colorado's camping community is very active, with all the natural landscapes and sweeping views across the state. One favorite spot is Pawnee Campground at the Brainard Lake Recreation Area. Spend the day hiking, paddling on Brainard Lake, and catching glimpses of moose in their natural habitat.
Brainard Lake Rd, Ward
Related: The 18 Best Places for Camping Near Boulder Colorado
42. Stop and Smell the Wildflowers
Springtime brings abundant wildflowers to the Colorado mountains. Green grass and colorful spring flowers against a snow-capped mountain backdrop are what Colorado hiking is all about. Maroon Bells may be one of the most popular places to see the wildflowers, but there are plenty of options throughout the mountain ranges.
43. Float Down Mountain Rivers
Instead of the adrenaline-filled rush of whitewater rafting, take a leisurely float in calmer waters. The North St. Vrain River in Lyons is the perfect spot to spend a warm summer afternoon. Bring your float and enjoy the scenery.
Lyons, CO
44. Meet the Donkeys of Cripple Creek
Imagine strolling through downtown and walking by a donkey, or two, or even three. While most might find this an unusual sight, it's not so uncommon in Cripple Creek, where donkeys are free to roam around town. You can feed and pet (but please don't ride) the animals. Learn more about when and where to find the Cripple Creek donkeys at http://www.cripplecreektoday.com/cripple-creek-donkeys/
Bennett Ave, Cripple Creek
45. Interact with Art 
The yearly WAVE: Light + Water + Sound in the ski town of Breckenridge brings interactive art installations that feature – you guessed it – light, water, and sound. The 4-day festival celebrating the arts is held each year in early June. The exhibits change each year, bringing something new to this mountain art festival.
Breckenridge, CO
46. Raft on a Camping Trip – or Camp on a Rafting Trip
Camping or rafting? Why not do both? Camp along the banks of the Colorado River on this multi-day adventure of a lifetime. Rimrock Adventures offers guided trips that range from family-friendly float trips to exhilarating whitewater rapids.
13 Rd, Fruita
47. Catch a Concert in the Canyon
The Mishawaka concert venue is hidden in the mountains and sits right on the Cache la Poudre River. Catch one of the live events or stop by the restaurant for lunch or dinner with beautiful canyon views and the calming sound of the river. In the summer months, watch whitewater rafters rushing by.
13714 Poudre Canyon Rd, Bellvue
48. Hit the Ski Resorts – in the Summer
Biking, hiking, dining, and mountain viewing are just a few of the summertime family activities at the Colorado ski resorts. Once the snow has melted, many ski areas open back up for warm-weather mountain activities. Spend a day at Copper Mountain (http://www.coppercolorado.com/things-to-do/activities-amenities) or other area resorts.
209 Ten Mile Cir, Frisco
49. Sail on Top of the Mountain 
The world's highest deep-water marina is right here in Colorado. Experience sailing and boating at an elevation of 9,017 feet in Dillon, CO. Boat rentals and lessons are available. Watch world-class sailing at the Dillon Open Regatta, held each summer on Lake Dillon.
Lake Dillon Drive, Dillon
50. Trek Through an Orchard with Alpacas
Not only are alpacas super cute, but they also produce fibers that are even warmer than wool. Alpaca ranches are widespread in Colorado, giving lots of opportunities to spend an afternoon with this llama cousin. Want to get really up close? Trek through the peach trees at SunCrest Orchards with an alpaca.
3608 E 1/4 Rd, Palisade
51. Tour the Mountains on an ATV
Hiking may be the most common way to explore the backcountry, but an ATV will get you to discover more of the mountain in less time. Rentals at Estes Park ATV Rental have the gear you need for a day of exploring in Roosevelt National Forest.
222 E. Elk Horn Ave. Estes Park
52. Drive Above the Treeline
Colorado is home to the highest paved road in the National Park system. Trail Ridge Road in Rocky Mountain National Park reaches altitudes as high as 12,183 ft over the 48-mile stretch that connects Grand Lake and Estes Park.
Rocky Mountain National Park
53. … or Brave the Road at THE Highest Elevation
Reaching an elevation of 14,130 ft above sea level, Mount Evans is the highest paved road in the US (narrowly beating the peak elevation of Pikes Peak Highway). Through hairpin curves and steep drop-offs, this drive is not for the faint of heart, but those who make the drive see the most stunning Colorado views as a reward. You can find directions to Mount Evans Road here.
Clear Creek County, CO
54. Ride Historic Railways
Nothing says Colorado more than trains through the Rocky Mountains. Ride the rails, dine, and take in the views from the historic trains. Try the famous Georgetown Loop Railroad (646 Loop Dr, Georgetown) or the Durango-Silverton Railroad (479 Main Ave, Durango).
55. Glenwood Caverns Adventure park 
Mountain landscapes add even more thrills to Glenwood Caverns Adventure Park, located between Aspen and Vail. Drop 110 ft into the underground on the Haunted Mine Drop. Soar over the Colorado River in the Giant Canyon Swing. Or take in the views from the Mine Wheel.
51000 Two Rivers Plaza Road, Glenwood Springs
Things to do in Colorado in the Winter
56. Climb Ice (Instead of Rocks) at Ouray Ice Park
Rock climbers looking for a new challenge or anyone looking for a unique winter adventure will find their answer at the Ouray Ice Park. Use of the park is free, with gear rentals and lessons available through independent outfitters and guides (see website for a list of recommendations).
280 Co Rd 361, Ouray
57. Frozen Dead Guy Days Festival
Attend one of the world's best festivals right here in Colorado: Frozen Dead Guy Days. A three-day celebration of the life (or death?) of Grandpa Bredo, who is kept on dry ice in a Nederland CO shed. With coffin races, parades, and a human Foosball game, this 3-day long festival in early March encourages spectator participation.
Nederland, CO
58. Have an Old-Fashioned Mountain Christmas
The setting of John Denver's The Christmas Gift is filled with the holiday spirit each year. The Georgetown Christmas Market, complete with chestnuts roasting on an open fire. is a free, two-weekend event. The exact dates and the schedule of events are posted on their website.
Georgetown, CO
59. Ski Like the Locals
One of the most popular things to do in Colorado in the winter is to spend a day skiing at any of the world-famous ski resorts. Many know the biggest resorts in Vail, Aspen, and Telluride, but many overlook the local ski areas. Enjoy the best of Colorado skiing with fewer crowds, lower lift ticket prices, and shorter walks from the car to the lift. 
60. Summit the Mountain on a Snowmobile
Take a break from skiing and tour the mountains on a snowmobile, with rentals available from Ice Pirates in Silverton. Don't want the little ones left out of the fun? Pint-sized Snowscoots are snowmobiles built just for the little ones at Colorado Adventure Park in Fraser (566 Co Rd 72, Fraser).
61. Sled with the Dogs
You don't need to go to Alaska for an afternoon of dog sledding with an experienced Iditarod Musher. Grizzle-T Dog Sledding in Steamboat Springs offers an experience of a lifetime with guided and unguided adventures with Alaskan Huskies.
Steamboat Springs CO
62. Drive a Snow Course
Winter driving can be a nerve-wracking experience, but this course in Steamboat Springs makes it fun on the ice and snow course at the Bridgestone Winter Driving School. Whether you are a beginner or are a well-seasoned winter driver, there is a lesson here for you.
2300 Mt Werner Circle, Steamboat Springs
63. Ice Skate the Old-Fashioned Way: on a Frozen Lake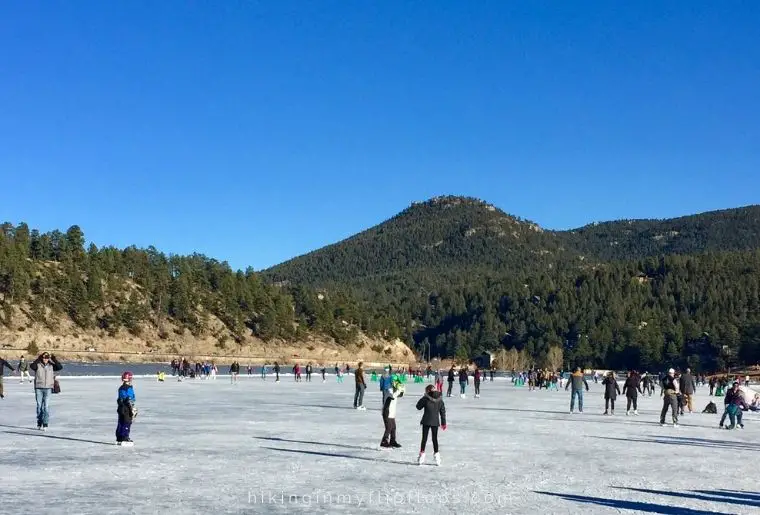 Less than an hour from Denver, the town of Evergreen sits nestled in the mountains, where cold winter temps create the perfect surface for ice skating. Lake Evergreen is large enough to accommodate sectioned-off skating, ice hockey, and ice fishing areas. Come back in the summer months for SUPs and kayaks on the lake. Visit evergreenrecreation.com for the season dates and schedule.
32003 Ellingwood Trail, Evergreen
64. Explore Ice Castles
Dillon CO is one of (currently) six locations in the US and Canada where you can explore the Ice Castles. Crews build massive ice structures and ice slides for families to explore and play on in the winter months. Visit http://icecastles.com/dillon/ for opening dates.
120 Buffalo St, Dillon
Fun and Unique Things to do in Colorado All Year Round
65. Watch Wild Horses Roam
Horses roam in their natural habitat at the Little Book Cliffs. Hike or drive (4-wheel drive is required) through the reserve to see any of the 124 wild horses living in the area. There is a map of where to find the wild horses here.
near Grand Junction CO
66. The Chapel on the Rock
St. Catherine of Siena Chapel still stands tall after surviving floods and fires. Perched upon a rock in Allenspark, just outside Estes Park, visitors can explore the area and inside the church. No masses are held at the church anymore, but the building is open to visitors.
10758 CO-7, Allenspark
67. Bishops Castle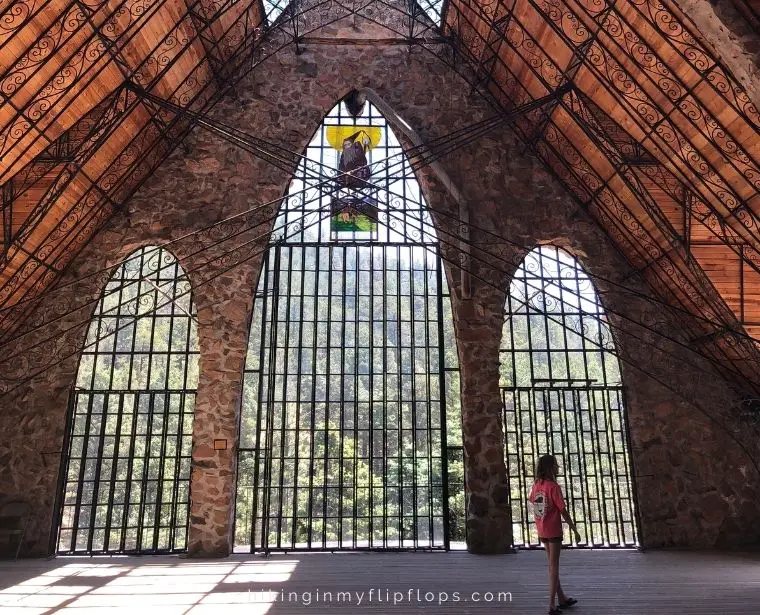 Jim Bishop has been constructing an impressive castle all on his own for the past 60 years. Visitors can climb, play, and explore throughout the castle on the edge of the San Isabel National Forest. Bishop Castle is open to the public to explore year-round, free of charge (though donations are accepted and appreciated).
12705 State Highway 165, Rye
68. Walk Along Gnome Road
Red Feather Lakes is a favorite mountain getaway for many Coloradans. A walk along Gnome Road is worthy of a spot on unique things to do in Colorado. This 1/4 mile dirt road is filled with woodland creatures, fairy doors, and, of course, gnomes.
Illy Road, Red Feather Lakes
69. Travel Through the Backcountry
Whether you embark on a summer hiking adventure or cross country skiing in the winter, traveling through this hut-to-hut system is a great lodging option. Trek through the backcountry with nightly stopovers at the system of huts, cabins, and yurts, managed by the 10th Mountain Division Hut Association. Family-friendly trip plans are available.
Most hut locations are between Aspen and Vail, CO – visit huts.org for a list of all locations.
70. Watch a Movie
Movie and history buffs will love visiting the country's oldest operating movie theater. Located right in the heart of Estes Park, catch new releases at The Historic Park Theater. The theater also hosts live events.
130 Moraine Ave, Estes Park
71. Explore Caves of the Winds
The family-friendly Discovery Tour at Cave of the Winds is appropriate for all ages. Other tours are available for older guests. Learn about the history and geology of the caves in the 45-60 minute guided tour. There is a restaurant, gift shop, and other attractions onsite, making it easy to spend the entire day here.
100 Cave of the Winds Rd, Manitou Springs
72. Royal Gorge Bridge
Head to Cañon City, Colorado, for a day full of adventure, including a walk across the highest suspension bridge in the US. The Royal Gorge Bridge spans nearly a quarter-mile over the Royal Gorge — almost 1,000 feet over the gorge! Gondola rides over the narrow canyon are included with admission.
4218 County Road 3A, Cañon City
73. Hang Out on Top of Kruger Rock
There are plenty of fantastic hikes throughout Rocky Mountain National Park, but we also love this one that is a short drive from the park.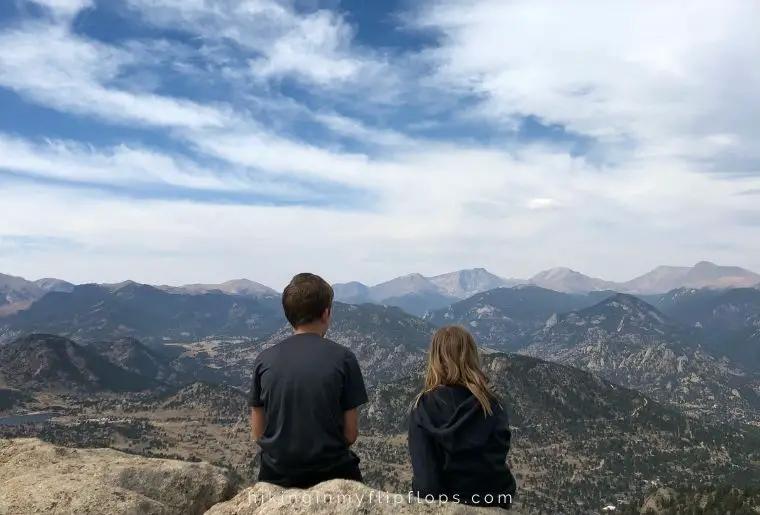 Reach sweeping views of Estes Park and the Rocky Mountains while perched upon Kruger Rock. This moderate hike brings you to the summit, less than 2 miles from the trailhead. The trail, located within the Hermit Park Open Space, is the perfect hike when camping at Hermit's Hollow Campground, also located in the park.
17 Hermit Park Rd, Estes Park
74. Sandboard (or Sled) at The Great Sand Dunes National Park & Preserve
Sandboarding and sledding down the massive dunes at The Great Sand Dunes National Park is a fun experience for all ages. Rent gear from local outfitters near the park entrance or nearby Alamosa, or go DIY with sleds from home.
11999 CO-150, Mosca (Visitor Center)
75. Explore an Ancient Cliff Dwelling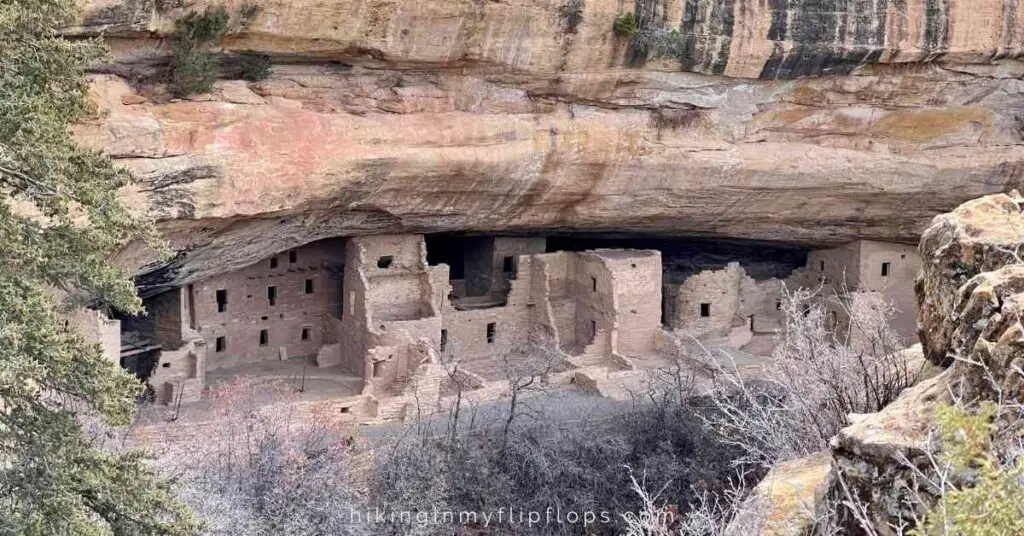 Explore the ancient cliff dwellings of Ancestral Pueblos, who constructed these structures nearly 1,000 years ago. Mesa Verde National Park offers guided tours of Cliff Palace, Balcony House, and Long House dwellings from April through October. Check the NPS website for tour schedules. Visit other dwellings within the park for self-guided tours.
35853 Rd H.5, Mancos (Visitor Center)
76. Visit Colorado's 4th National Park
Colorado's 4th park is often overlooked as many visitors opt for The Great Sand Dunes, Rocky Mountain NP, or Mesa Verde National Park. While the Black Canyon of the Gunnison National Park has fewer visitors than the other three, it is just as impressive. Enjoy the solitude of this southwestern Colorado National Park, known for the incredible and impressive gorge carved by the Gunnison River. People come for rafting, fishing, hiking, camping, climbing, and, of course, the views.
10346 Colorado 347, Montrose (South Rim Visitor Center)
77. Soak in a Hot Spring
Soak in the warm waters of the many hot springs across the state. The most popular are found in Steamboat Springs and Glenwood Springs. There are also several locations hidden in the solitude of the backcountry (just be aware of clothing-optional if visiting with the family!).
Mt. Princeton Hot Springs Resort (15870 Co Rd 162, Nathrop)
Old Town Hot Springs (136 S Lincoln Ave, Steamboat Springs)
Strawberry Hot Springs (44200 County Road 36, Steamboat Springs)
Glenwood Springs (415 East 6th Street, Glenwood Springs)
Where to Eat in Colorado Mountain Towns
78. Snack on Local Produce
The golden rule for travel is to eat like the locals. So when in Colorado, you must try Palisade peaches. If this western slope town is not in your travel plans, be on the lookout for these delicious peaches that are sent to the eastern regions of the state. One to try: Peaches from Aloha Organics (alohaorganicfruit.com)
3525 G Road, Palisade
79. Dine in the Old West
Stepping into the Strater Hotel in Durango is like taking a step back in history. This historic hotel is a living museum with roots in the late 1800s. Stop by the hotel for lunch or dinner at the Diamond Belle Saloon for that old west experience.
699 Main Avenue, Durango
80. Ride a Sleigh to Dinner
The ultimate winter dining experience is via sleigh ride in the snow-covered mountains. Keystone Ski Resort offers mountain-top dining is accessed by a 20-minute ride to a historic ranch for western-themed entertainment, stargazing, and time "meeting" the horses.
Keystone
Fun Places to Stay
81. Stay in a Yurt
These giant, insulated tent-like structures often come with electricity for the ultimate glamping experience. After a day exploring the cross country ski trails at Tennessee Pass, spend the night in a warm and cozy yurt. Pets are not allowed in the yurts at Tennessee Pass.
Leadville CO
82. A Historic (and Haunted?) Stanley Hotel
No visit to Estes Park is complete without a stop – better yet, a stay – at The Stanley Hotel. This historic hotel stands tall against a backdrop of the Rocky Mountains and overlooks the town of Estes Park. The notoriously haunted hotel is as much fun to spend the afternoon touring the grounds on your own or on a guided tour.
333 E Wonderview Ave, Estes Park
83. Stay in Comfort in the Rockies
YMCA of the Rockies has two locations, one right near the Estes Park entrance to the Rocky Mountain National Park (Estes Park Center) and one near the Grand Lake entrance (Snow Mountain Ranch). The cabins, yurts, and houses offer an inexpensive lodging option for groups or families spending a few days of adventure in the National Park.
2515 Tunnel Road, Estes Park
84. Sleep in a Tiny Home
Not quite ready to live in a tiny home? Get the small-living experience for just a night or two. Stay in one of the small yet efficient spaces in a community of tiny houses at WeeCasa.
501 W Main St, Lyons
85. Spend the Night in an Archaeological Preserve
Explore ancient Indian ruins, red-rock canyons, and orchards in Cortez, CO. Kelly Place Bed & Breakfast is located on an archaeological preserve that offers tent / RV campsites, cabins, and rooms in the main lodge. Accommodations include a full country-style breakfast.
14537 Road G, Cortez
---
Colorado is a state that offers countless sights and activities. Whether you are looking to enjoy the great outdoors, explore the history and culture of the area, or just relax at one of the resorts, there is no shortage of unique things to do in Colorado. Make sure to add these destinations to your itinerary the next time you're exploring Colorado.
---
Click below to save these 85 fun and unusual things to do in Colorado!