One of the first things we learned about camping in Colorado is that you have to plan ahead – way ahead. Campgrounds fill up fast, so there is little luck with impromptu camping weekends here. While Hermit's Hollow is often full, there seems to be a handful of sites available just a few weeks in advance.
Our second camping trip in Colorado was a beautiful early fall weekend at Hermit's Hollow Campground in Larimer County.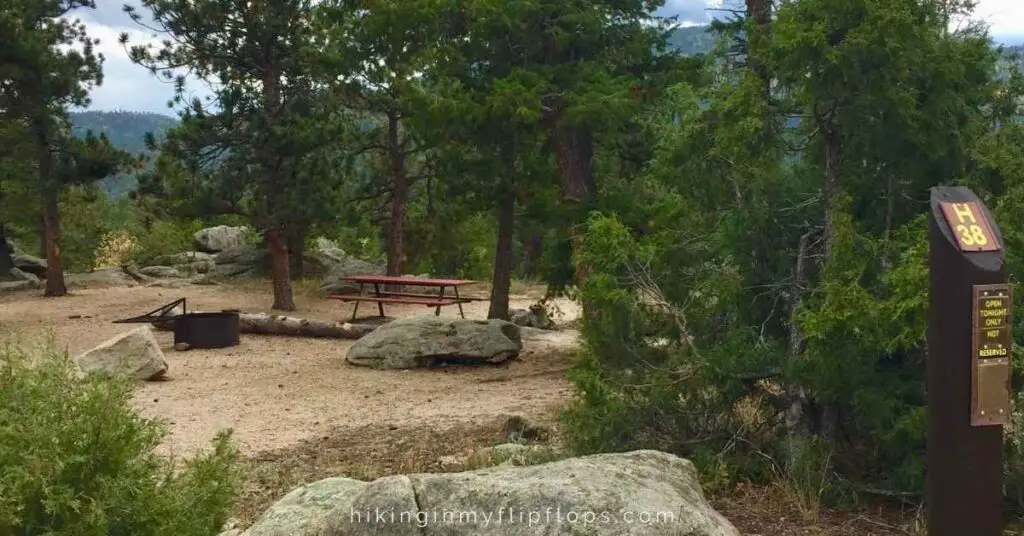 Hermit's Hollow Campground Quick Facts
number of sites: 42
types of sites: tent & RV
hookups: no
management: Larimer County
facilities: vault toilet
drinking water: yes
pets allowed: yes
nearest town: Estes Park
Camping Season: year-round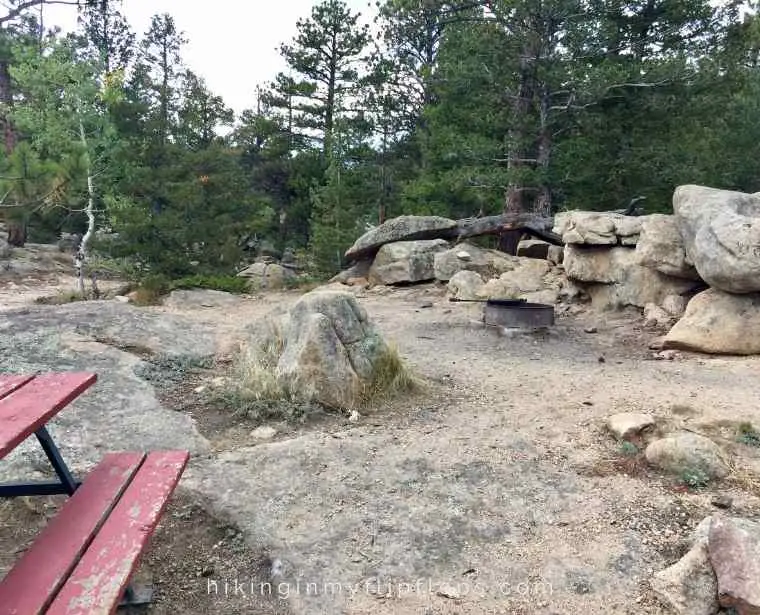 Campground Location
Hermit's Hollow Campground is located within Hermit Park Open Space. 
You can't miss the grand entrance sign on your left as you head towards Estes Park on Hwy 36.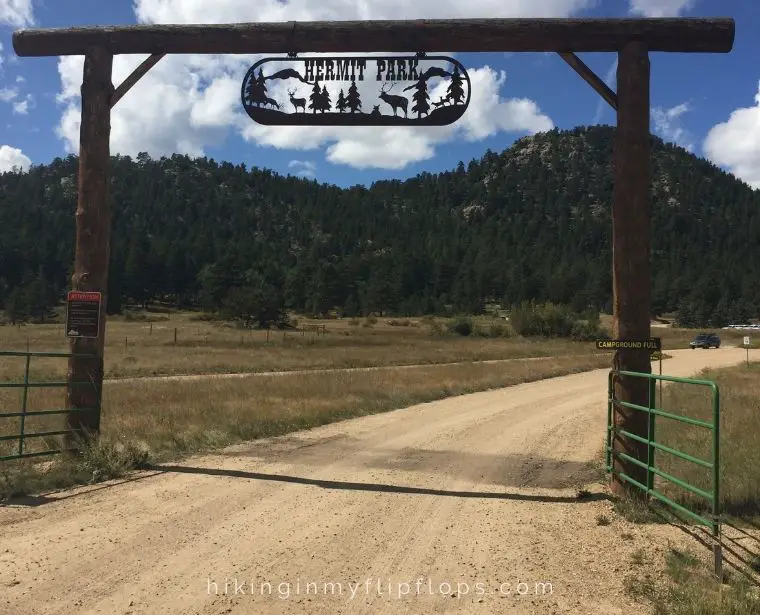 Hermit's Hollow Campground
Hermit's Hollow is one of a few campgrounds within Hermit Park Open Space, as well as several cabins. We didn't get a chance to see inside the cabins but noticed vault toilets at each one. According to their website, you'll need to bring a lot of your own gear, too, so opting for the cabins won't get you many comforts of home.  
We chose Hermit's Hollow Campground only because of availability.
The campground was packed on this mid-September weekend. We got the last available spot, but I didn't feel that these sites were in high demand, like Pawnee Campground (at the Brainard Lake Recreation Area) or other campgrounds found between Boulder and Estes Park.
Highlights of This Hermit Park Campground
One of our favorite things about camping at Hermit's Hollow is the space between many campsites. 
The kids have plenty of space to run and explore without getting into neighboring campsites – and the rocky terrain is the perfect place for climbing.
The Best Campsites
With the kids off school that Monday, we decided to stay Sunday night. By mid-morning, nearly everyone at the campground was gone. We took that rare opportunity to really check out all the other campsites. We scoped out the best campsites we would want the next time we camp here.
These sites top the list for our next trip to Hermit's Hollow Campground:
H16 / this site was mostly rock, which made it different from a typical campsite. There is space off the rocky area for a tent. (Combine H15 with this site for camping with another family).
H38 / a huge campsite with great views
H8 / another bigger site with good views, and plenty of space for the kids to play and explore nearby
H1 & H2 / these sites also offer good views but are quite small
Our site was right at the entrance, H42. It wasn't a bad site, but it was located at the campground entrance, and there was a lot of traffic from other campers. The site was a decent size, especially compared to some other campsites. We noticed the one right next to us (H41) was really small.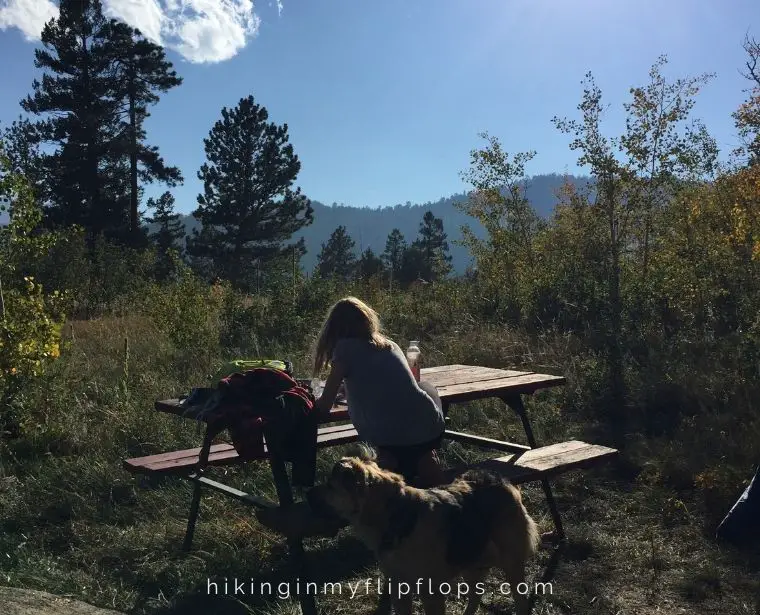 Amenities at Hermit's Hollow Campground
There are no showers or flush toilets (only vault toilets), but drinking water is available. The facilities are kept clean, so 3 days of vault toilets are tolerable enough.
Rather than a camp host typically found at many campgrounds, the park rangers make very frequent stops through the campground. With the reports of bears I had read about, we were thrilled to see that they were keeping an eye on things.
Firewood & Ice: sold at the office (near the entrance)
Drinking water: available near the park entrance and at the entrance to Bobcat Campground (another Hermit Park Campground)
Things to Do While Camping at Hermit's Hollow
Take a Hike
There are three hiking trails located right in Hermit Park Open Space.
Limber Pine Trail
The Limber Pine trail is easily accessed from the campground and is popular for hiking, mountain biking, and horseback riding. Take this trail from the campground to reach the Kruger Rock trail.  
Kruger Rock Trail (one of our favorite hikes in Colorado) 
This 4-mile (round trip) hike has one of the most amazing views from the top of the rock. Head out in the late morning with a picnic lunch, and plan to spend some time at the top of Kruger Rock. The trailhead can be reached by driving further into the park. Take a right out of the campground, or hike the Limber Pine trail from the campground.
Moose Meadows Trail
Continue past the pavilion to reach the Moose Meadow trailhead. This shorter hike has smaller elevation change, making it great for families and new hikers.
Visit Estes Park
If you want to take a trip into town, Estes Park is just a few miles up the road. There is so much to do in Estes Park; it's a vacation all on its own. Plenty of shops and restaurants, the iconic Stanley Hotel, and two entrances to the Rocky Mountain National Park are all just a short drive away. It's also a great place to grab any essentials you might need, with a grocery store right in town.
… or the quaint town of Lyons
Or head southeast on Hwy 36 to the town of Lyons. This quaint town also has shopping and restaurants, but with fewer tourists. Lyons is home to the original Oskar Blues, a great place to stop for a local brew and fantastic food.
Tips For Camping at Hermit's Hollow
Stay Safe in Bear Country 
Any camping trip that starts off with a phone conversation with the park ranger about recent bear activity at the campground is bound to be one of adventure. This was only our second time camping in bear country, so we were a little worried.
Our first Colorado camping experience eased us into camping in bear country, where lockers were conveniently stationed at each campsite. When I couldn't find any sign of similar lockers on the list of campground amenities at Hermit's Hollow Campground, I got just a little nervous for this trip.
June 2018 UPDATE: bear lockers were installed at Hermit's Hollow Campground at every campsite!
So the first thing you should know about camping here is how to keep bears from wandering into your space. The park ranger had a few tips for keeping the bears away:
Keep 'smellables' (food, toiletries, and anything else that might carry a scent) in your car, not your tent
Bears have no problem opening unlocked car doors, so make sure the car is locked
Cover coolers with a towel or blanket, so bears can't see them (yes, bears know a cooler when they see one!)
Other Tips for Camping at Hermit's Hollow Campground
The campsite fee does not include a $6 fee (per car, per day) parking fee
Alcohol can't be higher than 3.2%
We were told that nothing can be attached to the trees, though we didn't see this written in the rules anywhere. This means no hammocks or slack lines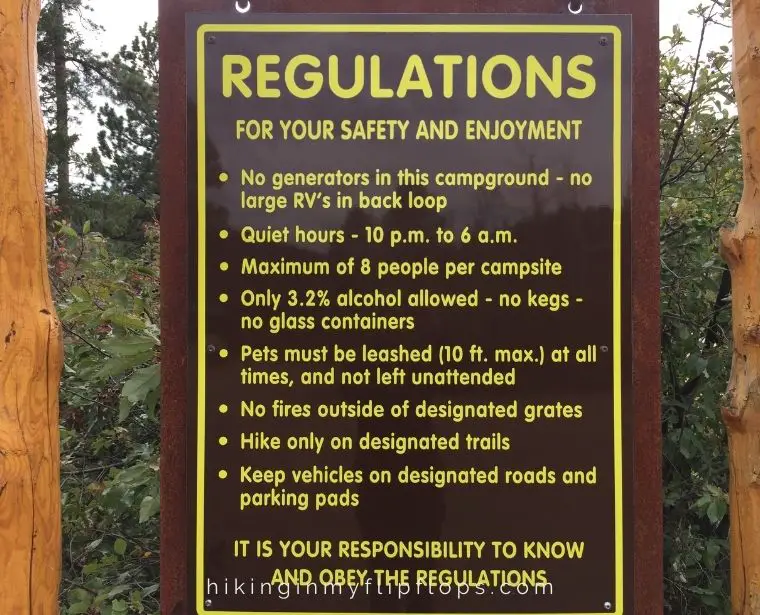 Have you visited this Hermit Park campground? If so, we'd love to hear about your favorite campsites and local activities in the comments!
---
Click below to save these tips for staying at Hermit's Hollow Campground on Pinterest!