Even if you only occasionally enjoy a good craft beer, you probably know that Boulder, Colorado, is blessed with an abundance of breweries. In fact, Boulder holds a solid position in the top 5 US cities with the most breweries (per capita).
Breweries are a part of life here in Boulder and significantly impact the local economy. They support our schools, employ our neighbors, and sponsor events, so almost all are family-friendly too. After many sunny afternoons at a local brewery, we have settled on a few favorites. Whether you're stopping by as part of your Colorado road trip itinerary or visiting Boulder for the weekend, here are our picks for the best breweries in Boulder CO that welcome families.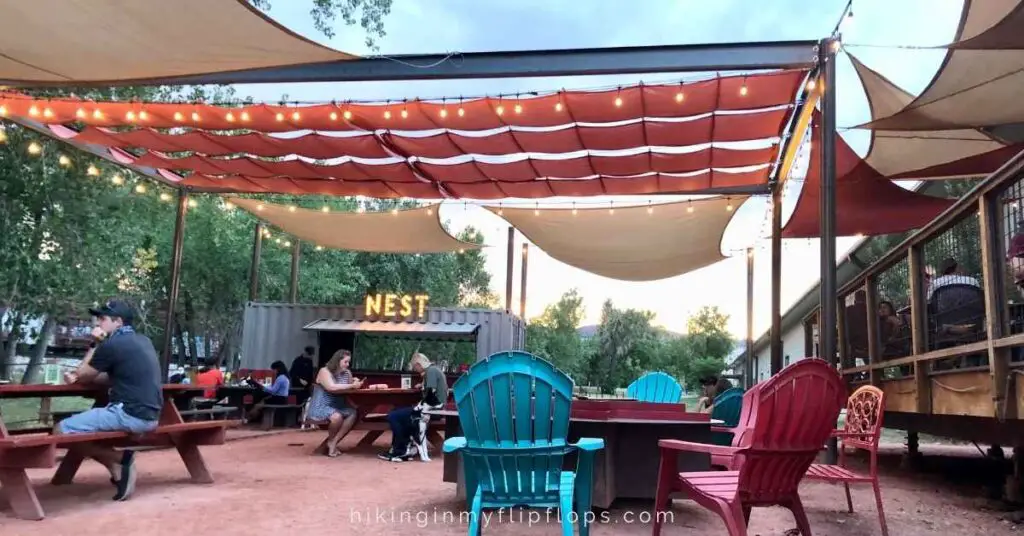 The Best Family-Friendly Breweries in Boulder: Gunbarrel Area
Gunbarrel is an unincorporated part of Boulder, a few miles north of downtown. We're starting with this area because of the number of Boulder breweries located in Gunbarrel. 
1. Avery Brewing Co.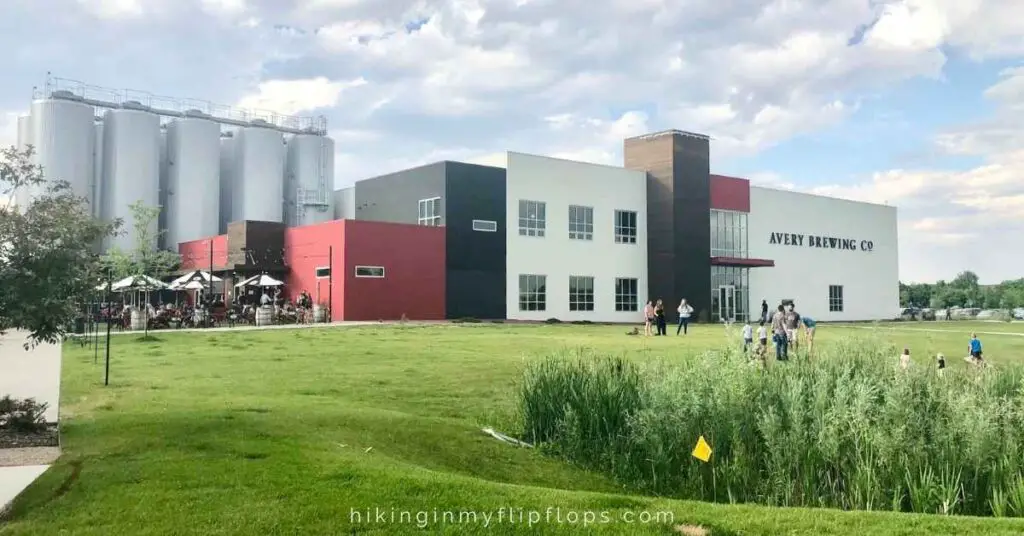 Best for: a sunny day outside
Avery Brewing Company's 67,000 sq foot facility holds 3 restaurant seating areas with both outdoor and indoor seating. The outdoor patio space where dogs are served bowls of water, so we consider it one of the most dog-friendly breweries in Boulder.
In addition to the restaurant, the space contains a shop filled with Avery merch and catwalks to see the brewing process and packaging in action. The outdoor patio has always been excellent but is even better since its expansion during the pandemic. Beers on tap include a selection found only at this location. Due to current restrictions, brewery tours are currently unavailable. 
Families love what is outside, though. Artificial turf in a fenced-in space has washers to play while tasting one of the many beers on tap.
Beers to try: Stampede (a collaboration with the University of Colorado), and Bug Zapper (a sour ale perfect for summer)
For the kids: plenty of lawn space to play and a full menu that includes some kid-favorite dishes
Food: Avery Brewing Company offers a full menu that includes plenty of vegetarian, vegan, and gluten-free options.
Pet policy: well-behaved dogs are welcomed in the outdoor space
Note: Avery Brewing Co. taproom is closed Mondays and Tuesdays
4910 Nautilus Court N
---
2. Gunbarrel Brewing Company
Gunbarrel Brewing Company permanently closed in May 2022. As one of the best family-friendly breweries in Boulder, it will surely be missed!
Best for: art markets and events
Check out the events happening at Gunbarrel Brewing. From art markets to kid-focused performances to yoga, there always seems to be something going on at one of Gunbarrel's newer breweries. There is also ping-pong, pools, board games, and an arcade onsite.
Beers to try: Gunbarrel Brewing's offering is constantly changing, so there is always something new to try (my favorite, which pops up every once in a while, is Wilson, a very tasty IPA)
For the kids: ping-pong table, pool table, and arcade games
Food: a food truck is often onsite (rotates)
Pet policy: one of the more dog-friendly breweries in Boulder, Gunbarrel Brewing welcomes pets in the taproom
Note: Gunbarrel Brewing Company is closed Mondays and Tuesdays
7088 Winchester Circle
---
3. Finkel & Garf Brewing Company
Best for the kid in all of us
This brewery screamed kid-friendly until recently when they pared things down quite a bit. There are still a few board games and some outdoor space for kids, so we'll still call Finkel & Garf Craft Beer one of the family-friendly breweries in Boulder.
Their selection of core beers on tap year-round includes one of the Great American Beer Festivals award-winning beers: Oatmeal Milk Stout.
Beers to try: our favorites include their American Lager and Dry Hopped Amber.
For the kids: board games and a lawn outdoors
Food: pick up sandwiches at Snarf's or Deli Zone about a block away
Pet policy: also one of the dog-friendly breweries in Boulder that allows dogs in the taproom
5455 Spine Rd
---
4. Beyond the Mountain Brewing Co.
Best for music fans
Gunbarrel's newest brewery has already racked up a number of award-winning beers. Beyond the Mountain Brewing Co. hosts local musicians on Wednesdays and Saturdays.
Beers to try: Klaus's Kӧlsch, Basil Saison, and Prima Mexicana are all award-winning brews from Beyond the Mountain
For the kids: board games; ginger beer, and inexpensive packaged snacks
Food: it's best to bring your own at Beyond the Mountain
Pet policy: pets are welcome in the taproom
6035 Longbow Dr
The Best Breweries in Boulder: Near Downtown
5. Mountain Sun Pub & Brewery
Best for a post-hike burger and a beer
This craft brewery has three locations in Boulder: Mountain Sun, Southern Sun, and Under the Sun.
After hitting one of Boulder's many hiking trails, we often head over to Mountain Sun Pub & Brewery for a burger and a beer. The menu is also filled with sandwiches, burritos, and more, but we almost always get the sweet and spicy Date Night burger!
In South Boulder is the aptly named Southern Sun Pub & Brewery with a menu similar to Mountain Sun. And on the ground floor of Southern Sun, you'll find none other than Under the Sun Pub & Pizza. All locations are cash-only but have ATMs onsite.
Update for 2022: The Pearl Street Mountain Sun location has reopened! This location is back to cash-only for the time being, while all other Mountain Sun locations are still accepting credit cards.
Beers to try: Colorado Kind
For the kids: the most delicious grilled cheese (in fact, delish calls it the best in Colorado!)
Food: all Mountain Sun locations are full-service restaurants
Pet policy: because Mountain Sun locations are full-service restaurants, they are not the most dog-friendly breweries in Boulder, though the outdoor patios created for the pandemic have provided some space that allows pets
1535 Pearl St (Mountain Sun); 627 South Broadway (Southern Sun and Under the Sun)
---
6. Oskar Blues Boulder Taproom
After the January 2022 acquisition of CANarchy Craft Brewery Collective (the parent company of Oskar Blues) by Monster Beverage Corporation, the Pearl Street taproom was permanently closed. Oskar Blues Fooderies is a separate entity that was not part of the sale, so there are still locations in Lyons and Longmont for a pint, including Dale's Pale Ale and, my favorite, Pinner Throwback IPA.
Best for: an afternoon stroll along Pearl Street Mall
There are two things we love most about Oskar Blues. First, they were one of the first (if not the first) to can craft beer, which is more environmentally friendly in the backcountry. Second, they fiercely support the community – including their craft beer "competitors" by offering draft selections from several local breweries in their taprooms.
The central Boulder location isn't the original, but you'll find all the best Oskar Blues brews right on Pearl Street. Oskar Blues has long-standing roots in Colorado, which started in nearby Lyons, and it's worth a stop on the way to Estes Park.
Most popular beers: Dale's Pale Ale, Mama's Little Yella Pils
For the kids: because it's a restaurant, this is a great family place for lunch or dinner
Food: a full-service restaurant serving food with a Cajun and Creole influence, plus more traditional bar and grill items
921 Pearl Street
---
7. Upslope Brewing Company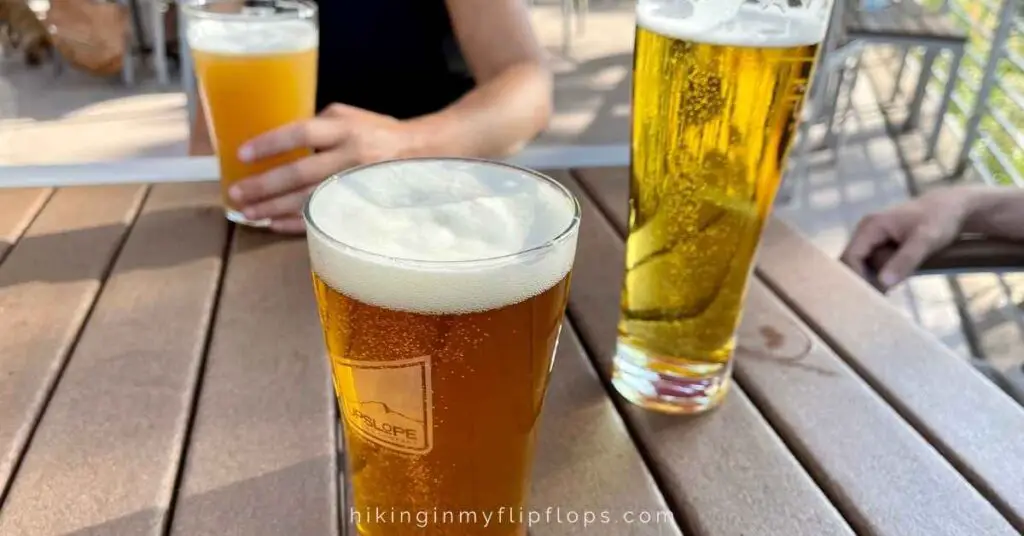 Best for family-friendly events
With the tagline Après Everything, Upslope Brewing Company is clearly driven by everything outdoorsy. They support the rivers (1% of Upslope Craft Lager goes to Trout Unlimited) and host pop-up locations in the backcountry. This Boulder brewery hosts two annual events that welcome kids, putting it on our list of family-friendly breweries in Boulder: The Upslope Get Down and the Backcountry Tap Room.
Visit one of two taprooms located in north (Upslope's original brewery) and east Boulder. 
Beers to try: their lineup of craft beers include Craft Lager, Citra Pale Ale (one of my all-time favorites), Rocky Mountain Kolsch, and Mary Jane Ale (core beers). and Spruce Tip IPA and Blackberry Lemon Sour Ale seasonal brews
For the kids: both of Upslope's biggest events are family-friendly, with plenty of activities
Food: The Mighty Burger has set up space at the Flatiron Park location, serving delicious burgers and more
Pet policy: well-behaved and leashed pets are allowed on the patio
1898 S Flatiron Ct (Flatiron Park); 1501 Lee Hill Dr (Lee Hill location)
---
8. Twisted Pine Brewing Company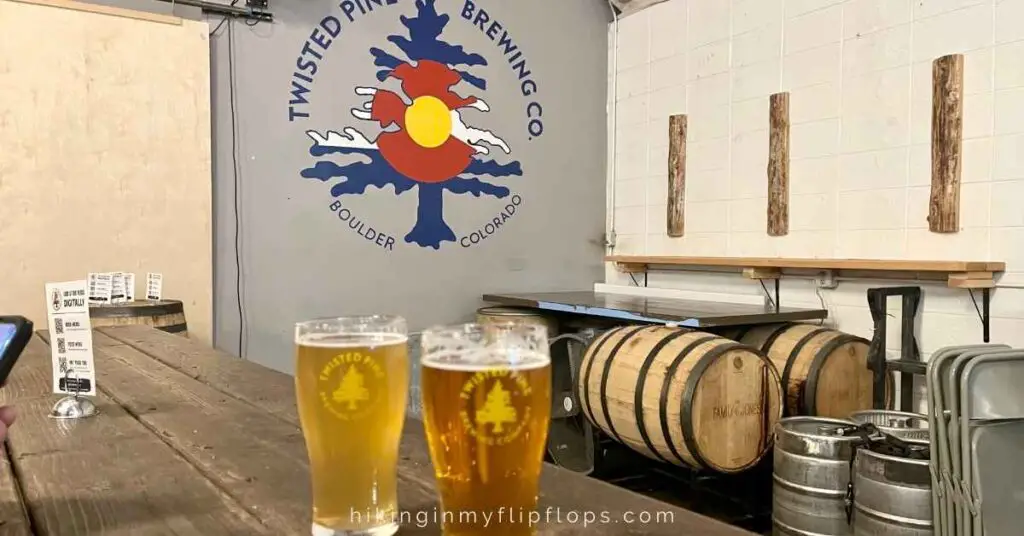 Best for pizza and wings
Twisted Pine Brewing Company is our favorite brewery for pizza and wings with our beer. Like many of Boulder's breweries, Twisted Pine is tucked back in an office park near ABC Kid's Climbing (where Meagan Martin of American Ninja Warrior teaches), making it a perfect post-climb stop for the family.
Beers to try: house brews include Homeslice German-style Kolsch and the award-winning Patio Pounder IPA and Big Shot Espresso Stout
Good for kids: plenty of kid-friendly beverages and a closed-off parking lot to stretch legs – plus pizza, of course!
Food: a variety of pizza, wings, salads, and appetizers
Pet policy: this brewery with a full-service restaurant chooses not to battle city regulations on pets, so only service dogs are allowed at Twisted Pine
3201 Walnut Street
---
9. Sanitas Brewing Company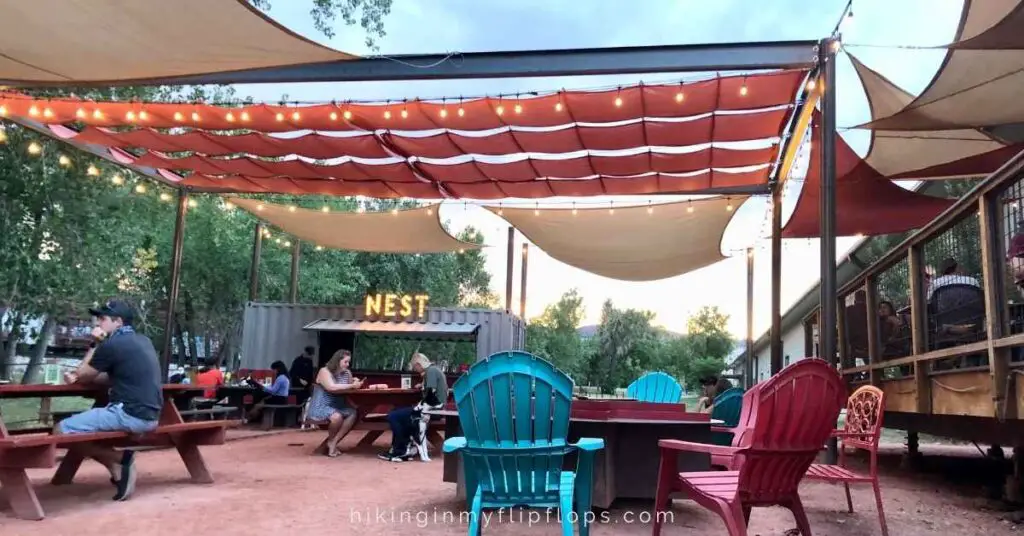 It's arguably the best brewery patio in Boulder, with fantastic flatiron views, and one of our favorite spots on a lazy afternoon. (I also might be partial to the owl logo, and I've acquired quite a collection of their merch. Of course, their delicious beers and McDevitt's tacos have something to do with how often we visit too!)
Sanitas Brewing Co. sits right by the train tracks that run through Boulder, and kids love when the trains roll by. Kid-friendly activities like corn hole and board games are also available.
Beers to try: we love the Bandito Mexican Lager (a collab brew with McDevitt Taco Supply) and the Sanitas IPA
For the kids: an outdoor space with lawn games and some board games
Food: McDevitt Taco Supply has a permanent space onsite, serving some of the best tacos in Boulder
Pet policy: well-behaved dogs are allowed in the ample outdoor space
3550 Frontier Ave
---
Bonus! Rayback Collective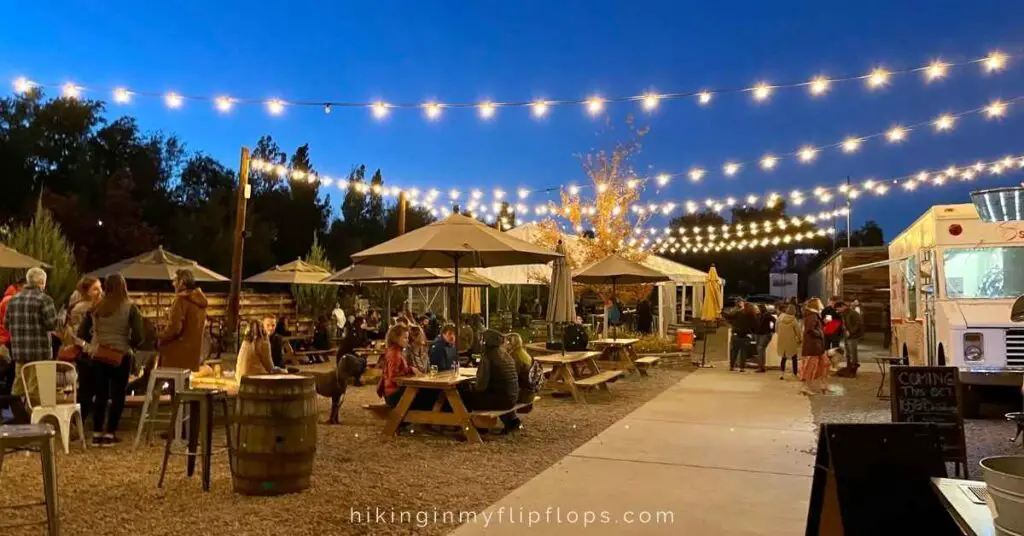 Best for a variety of beer and food trucks
We can't really count this one on our list of the best breweries in Boulder CO because it's not actually a brewery. But since The Rayback Collective serves several beers on tap from local breweries like Avery and Upslope, it's a great spot when you don't want to choose from just one brewery. There are more draft selections from breweries around Colorado and beyond, as well as spirits, wine, and a variety of non-alcoholic options like kombucha, coffee, and NA beer.
Rayback was also home to Rowdy Mermaid Kombucha for a while but has since been replaced by Collective Coffee shop.
Most popular beers: selections from Avery Brewing
For the kids: outdoor space to play
Food: a variety of food trucks
2775 Valmont Rd
---
Honorable Mentions
Breweries With Great Beer But Not As Much Fun for the Kids
We don't want to dismiss some additional great breweries around town, even if they aren't top spots to bring the kids.
Asher Brewing Co. (4699 Nautilus Ct S) is Colorado's first organic brewery. While it doesn't top the list of the most family-friendly breweries in Boulder, they do welcome the kids, and the closed-off parking lot nearby provides a space for kids to play.
VisionQuest Brewing Company (2510 47th St) brews up some delicious beers, but it's not the most fun spot for the kiddos. If you go, try the Coconut IPA.
Breweries We Lost During the Pandemic
Heard of a great Boulder brewery but can't locate it? Here are some favorite spots that have permanently closed.
Boulder Beer Company (2880 Wilderness Pl) was the first microbrew in Colorado. The central-Boulder taproom has closed, but a limited beer selection from Boulder Beer Co. is available at local grocery and liquor stores.   
Ska Street Brewstillery (1600 38th St), a collab between Peach Street Distillers and Ska Brewing, offers a line of creative brews
Bru Handbuilt Ales (5290 Arapahoe Ave) doesn't only serve delicious brews, but Chef Ian Clark has a delicious menu that includes homemade ketchup!
Boulder, CO Breweries FAQs
---
Click below to save these best breweries in Boulder CO on Pinterest!