I'll never forget the first time I saw Estes Park. We were in Colorado for a house hunting trip and decided to check out this mountain town, knowing it would be too far for a commute to work every day. As we turned the corner onto the final stretch of Hwy 36, those magnificent, snow-capped Rocky Mountains came into view. I was in awe.
That was over five years ago. Today, we live just about an hour from Estes Park and head over for a family-friendly mountain fix as often as we can.
With so many things to do around Estes Park, it can be hard to know where to start. Whether you're looking for an adventure-filled weekend or just a few activities when passing through on a Colorado road trip, this guide will give you all the info you need. We have the best places to explore and things to do in Estes Park with kids – or without.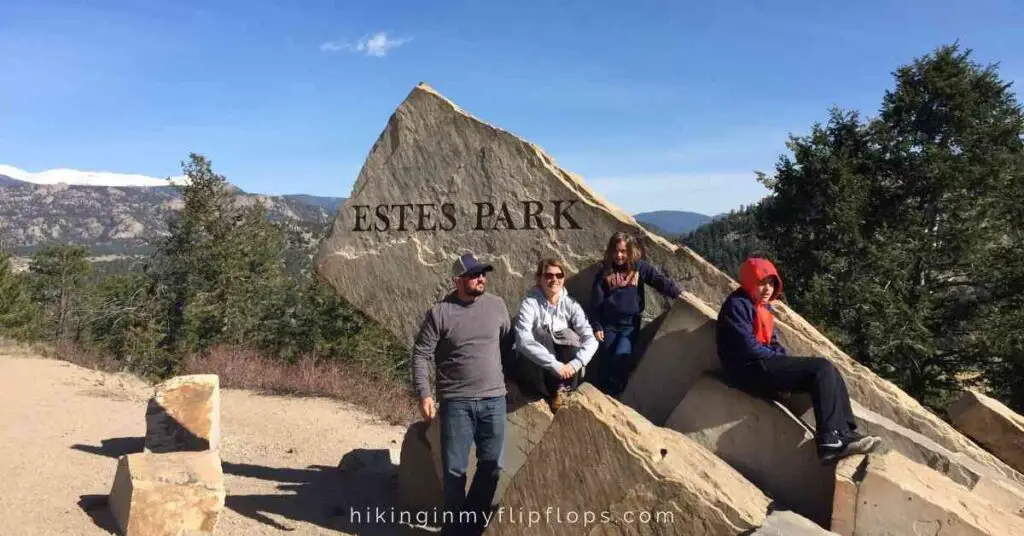 The Best Things to Do in Estes Park
Outdoor adventures and fun ways to spend a weekend getaway are plentiful in this Colorado town. Some things to do around Estes Park require reservations, so plan ahead to get in all the best activities during your stay.
Year-Round Things to Do in Estes Park, Colorado
1. Stroll Through Downtown Estes Park
Elkhorn Ave is where you'll find all the activity in Estes Park, lined with many of the best Estes Park shops and restaurants. There is a lot of activity on this main street of town, with plenty of shops and restaurants.
Pick up souvenirs (our favorite thing to shop for in Estes Park is Lazy One pajamas for the family) and stop into one of the three taffy shops along Elkhorn Ave.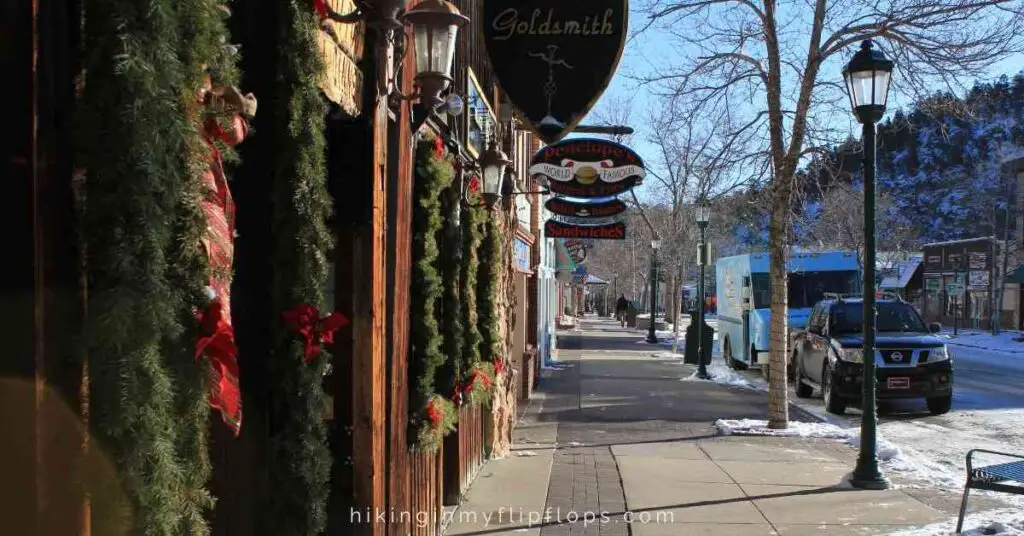 2. Take Some Outdoor Adventures in Rocky Mountain National Park
Often called the Gateway to the Rockies, Estes Park has two Rocky Mountain National Park entrances. Its location to the park makes it a convenient home base for those visiting this Colorado bucket list destination since Estes Park. Inside one of the most popular national parks, find plenty of hiking, wildlife viewing, and winter activities. Because of its popularity, Rocky Mountain National Park gets busy early, so plan accordingly. Plan to pick up shuttles to one of the many trailheads. In the summer months, drive along the highest paved road in the US: Trail Ridge Road.
3. See a Movie in a Unique Theater
This theater isn't just any movie experience. The Historic Park Theater in downtown Estes Park is the oldest movie theater in the US – and is still operating today. Catch a new release for a quiet night after a day of adventure in Estes Park. 2021 update: Check the website for closures or reduced occupancy at the theater due to COVID-19 precautions.
4. Visit the Historic Stanley Hotel
A visit to the Stanley Hotel is one of our top recommendations for any Colorado itinerary. Exciting history, including many tales of hauntings, fill this infamous hotel. They offer ghost tours on-site, gardens, and a maze to stroll through on the hotel's grounds. And don't miss the best pies from the Colorado Cherry Company (though we always prefer a stop at their primary location on Hwy 36, heading out of Estes Park).
The Stanly Hotel is probably best known as the inspiration behind Stephen King's The Shining.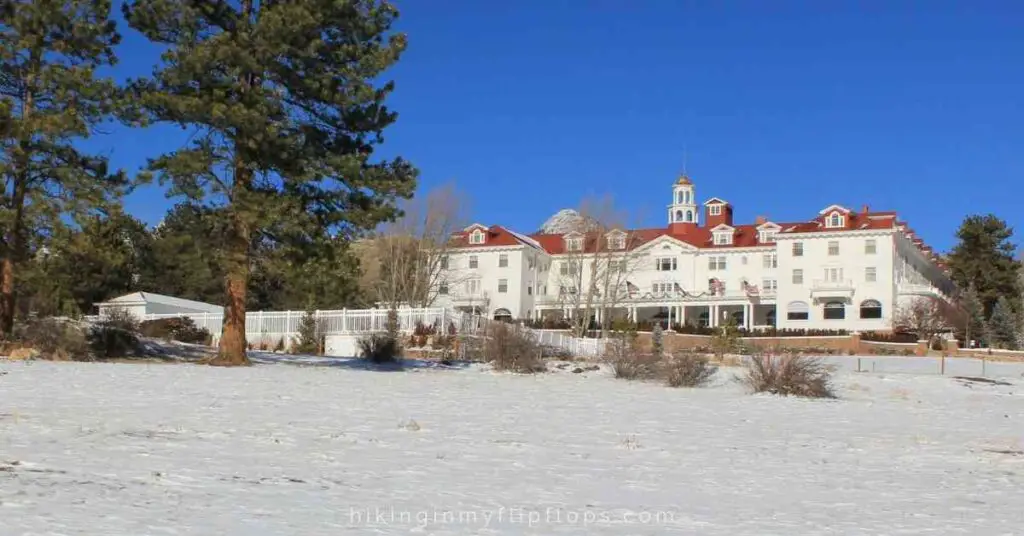 5. Take a Scenic Drive
The Peak to Peak Scenic Byway is a 3 hour (round trip) drive from Estes Park to follow the whole route to Black Hawk, Colorado. The road is one of the best routes for spectacular Colorado mountain views. Make it a day trip with a few stops along the way. Lily Lake is a short, easy hike that is part of the national park but is easier to access. Saint Malo's Chapel on the Rock has a beautiful mountain backdrop behind the church that has survived fires and floods. The quaint mountain town of Nederland has fantastic beer, pizza (we love Crosscut Pizza and Backcountry Pizza), and fun history of a frozen dead guy.
If you want a different route on the way back, we recommend the one that takes you through Boulder, Colorado.
6. Stop into the Estes Park Visitor Center
No matter where you're visiting, a stop in the visitor center is always a great way to learn about the area, get recommendations from the locals, and plan your visit. The Estes Park Visitor Center is an excellent addition to your top things to do in Estes Park, Colorado.
7. Estes Park Breweries
Coloradans love their local craft beers, and sampling them often falls on many Colorado itineraries. If it's on your list of things to do in Estes Park, you're in luck. Breweries like Lumpy Ridge Brewing Co. and Rock Cut Brewing Company serve their creations with fantastic mountain views. Or go for a variety at The Barrel in downtown Estes Park, where you can order from an assortment of Colorado brewers.
You Might Also Like: Bring the Kids! The 9 Best Family-Friendly Breweries in Boulder, CO
8. Explore Off-Road in a Jeep or ATV
Rent a Jeep or ATV from Backbone Adventures in Estes Park and start exploring deep into the wilderness on an off-road adventure. Traveling with your own off-road vehicle? There are plenty of fun trails in the Arapaho-Roosevelt National Forest.
Get off-road in the snow, too – this is also a perfect addition to things to do in Estes Park in the winter!
Things to Do in Estes Park in Summer
9. Take a Hike
Many hikes with incredible views are within Rocky Mountain National Park and around Estes Park. Our favorites are the Gem Lake trail (located behind The Stanley) and the epic views from the summit of Kruger Rock Trail (part of Hermit Park Open Space).
10. Play at Lake Estes
Coming into town, one of the first things you'll see is a view of Lake Estes. While they don't allow swimming on the lake, you can launch a kayak or SUP from Lake Estes Marina for some fun in the water. Or rent a bike and ride around the lake.
11. Ride the Estes Park Aerial Tramway
Catch perfect views of Longs Peak from Prospect Mountain after an ascent of more than 1,000 feet in less than 5 minutes on the Estes Park Aerial Tramway. The tram generally runs from Memorial Day to Labor Day, and tickets cost about $50 for a family of four to ride.
This popular Estes Park attraction doesn't take reservations, so plan to arrive early and prepare for a wait for a ride on the tram. Update 2021: the Estes Park Aerial Tramway is closed due to COVID-19 until further notice. There are tentative plans to reopen Memorial Day 2021.
12. Play Golf with Mountain Backdrop
Options include a 9-hole course, an 18-hole course, and even a disc golf course. Play a round of golf while surrounded by stunning views in every direction. Find more information at the Estes Valley Recreation and Park District website.
13. Explore the Rockies on Horseback
In addition to enjoying mountain views from scenic drives and hiking trails, why not get these views from horseback too? The family-run Elkhorn Stables offers guided horseback tours that cater to beginner and advanced riders. Jackson Stables offers trail rides within Rocky Mountain NP, and little ones can enjoy wagon rides and pony rides.
14. Trout Fishing
Most people know that Colorado is famous for hiking, camping, climbing, and skiing. There is another favorite outdoor activity in Colorado that not everyone hears much about: fishing! Estes Park sits next to the Big Thompson River, a popular spot for fly fishing. Schedule a guided fly fishing tour with Doc at Fly Fishing in the Rocky Mountains or visit Kirks Flyshop to rent gear and pick up a fishing license.
There are more casual options in Estes Park too. The Trout Haven Fishing Pond at Trout Haven Resorts is a great, inexpensive option for the kids.
You Might Also Like: Colorful Colorado: 9 Things to Do in Cañon City
15. Experience the Life of a Pioneer
Beyond The Stanley Hotel, nestled in the mountains, is the well-preserved, historic MacGregor Ranch. Explore the grounds on a guided tour and visit the museum to learn about the life of a pioneer family. The ranch is nearly 150 years old and unique to Colorado history. Not only is the ranch a slice of history, but the historic homestead still produces grass-fed beef today.
Estes Park Winter Activities
Winter months bring fun in the snow, and Estes Park winter activities bring on some epic outdoor adventures. Stop by Estes Park Mountain Shop to rent any gear you need – from clothing to equipment. Head out for a day of snowshoeing, cross-country skiing, or sledding in the Rocky Mountains.
16. Sledding in RMNP
What was once a downhill skiing spot in the national park is now a great place for sledding in Estes Park. Hidden Valley closed for skiing in the 1990s, but the bunny hill is now a fun sledding area. The Warming Hut provides a place to escape the cold for a bit and has restrooms. Tubes and sleds are not provided but are available for rent from the Estes Park Mountain Shop.
17. Snowshoe Adventures in Estes Park
Snowshoes make it possible to get out on the trails no matter what time of year. We love it because the routes are less trafficked, and there is a quiet and calmness that you don't find in the busy summer months.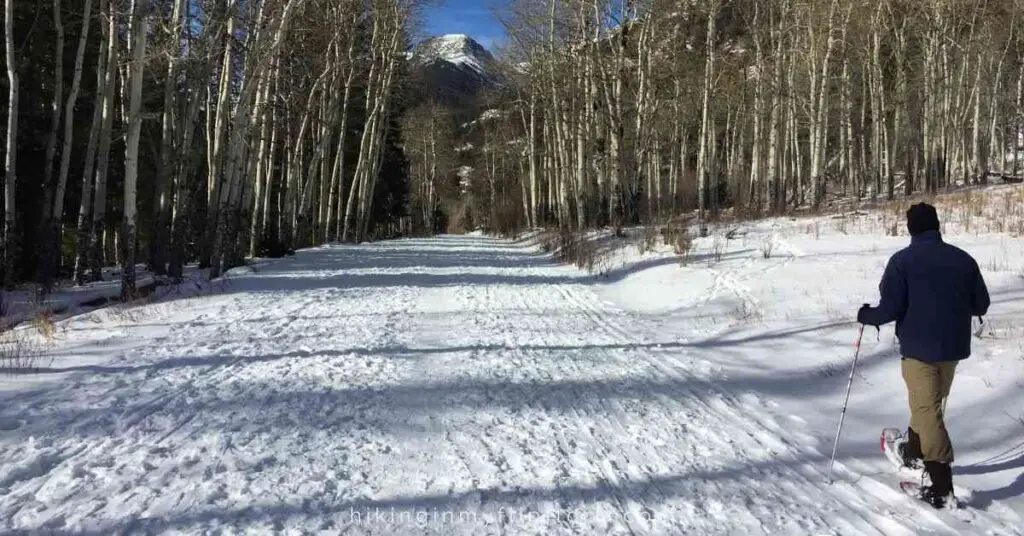 18. Snow Cat Tours
Want genuinely unique Estes Park winter activities? Check out a mountain tour on a snowcat! Get more information and schedule your tour with Estes Park Outfitters.
Things to Do in Estes Park with Kids
Most activities on our list of things to do around Estes Park, Colorado, are kid-friendly, but some are particular favorites for the kiddos.
19. Open Air Adventure Park
One of the most exciting things to do in Estes Park with kids is hanging out up in the air. This adventure park has an aerial course that is fun for both kids and adults, with fantastic mountain views from the top. Make reservations online here.
Looking for something closer to the ground? Bungee trampolines, a giant slide, and more at Fun City is another place to entertain the kids for an afternoon.
Or burn up their energy rock climbing at Kent Mountain Adventure Center!
20. Search for Pikas
At the Estes Park Visitor Center, pick up a map of where to find little statues of pikas hidden around downtown. Kids will love to explore the River Walk while searching for the little critters, and it might even get them excited enough to want to hike up to find real pikas!
21. Star Gazing at the Observatory
The Estes Park Memorial Observatory is a unique place for stargazing in the Rockies. Schedule a free tour for an opportunity to see stars and planets through powerful telescopes.
Update 2021: The Observatory is currently closed due to the COVID-19 pandemic. Check their website for updates on reopening.
The Best Restaurants in Estes Park
Like many towns with great food, one of our favorite things to do in Estes Park, Colorado, is eat. These are just a few of our favorite places to eat when we're in town.
Bird & Jim
This newer restaurant popped up on our radar shortly before our weekend in Estes Park. After another recommendation, while checking in at our hotel, we knew we had to try it. Bird & Jim specializes in locally sourced food and a curated wine and cocktail list, and they also have local craft beers on tap. We went for happy hour, which turned out to be the perfect time to see the sunset over the Rocky Mountains over drinks and a light dinner.
Related Reading: Things to Do in Evergreen Colorado: Big Adventure in a Small Town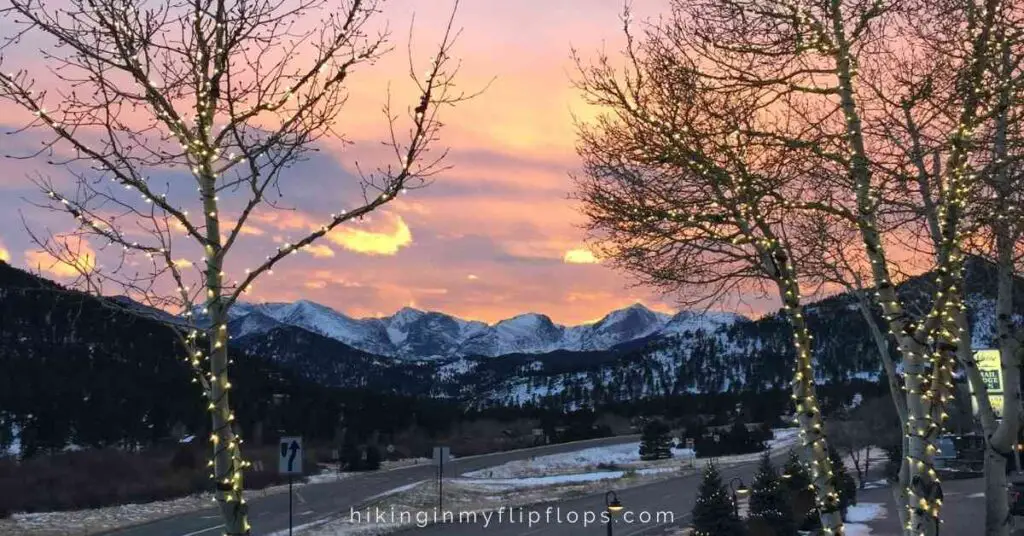 Peppers
Oh, how I love Mexican food. We stopped here because we were starving, and it was too early to get dinner. And a giant smothered burrito sounded like the perfect snack. Served with a side of rice and beans, the burritos here are easily enough for two.
Wapiti Colorado Pub
Soups, salads, sandwiches, and plenty of other dishes are on the menu at Wapiti Colorado Pub, conveniently located among many other shops and restaurants on Elkhorn Ave.
You Need Pie
Pie. Since moving here, we've learned that Coloradans really love their pie. And You Need Pie is a great place to stop for a slice – and lunch. Mostly diner fare, this is a great place to grab lunch away from the crowds on Elkhorn Ave.
Where to Stay in Estes Park
There are many options for places to stay the night in Estes Park. From cozy cabins (complete with hot tubs) to camping under the stars – you'll find it in Estes Park.
Cabins and Lodges
Cabins and lodges line the stretch of Hwy 34 that leads to the Falls River entrance of the Rocky Mountain National Park. We've been by many times and frequently see "no vacancy" signs, so be sure to plan ahead to stay here.
Try Rockmount Cottages by the River near the Beaver Meadows Visitor Center or Fall River Cabins near the Fall River park entrance.
Camping Near Estes Park
There are more options than a camper could ever ask for during camping season. Get a campsite within the national park, at the KOA located in town, or just a few miles from town at Hermit's Hollow Campground in the Hermit Park Open Space.
Moraine Park Campground is open for camping in the winter months but with few amenities available.
The Historic Stanley Hotel
The grandparents were in town, and our anniversary was quickly approaching, so we decided to make it a weekend for two. We decided it was the perfect time to brave a night at the historic Stanley Hotel without the kids. If you aren't familiar with this historic hotel and resort, you can read more about it here.
The inspiration behind Stephen King's The Shining, there are many accounts of hauntings in the hotel. We should note that The Stanley IS a family-friendly lodging option, but the rooms in the main building seem a bit limited in space. We didn't want to miss staying where all the action was for our first stay at the hotel. 
One Last Stop on the Way Home
If you are heading back on Hwy 36, don't miss a stop at the Colorado Cherry Company on your left (yes, the same one you saw at The Stanley). We stop here nearly every time we visit Estes Park and pick up one of their incredible cherry pies to bring home.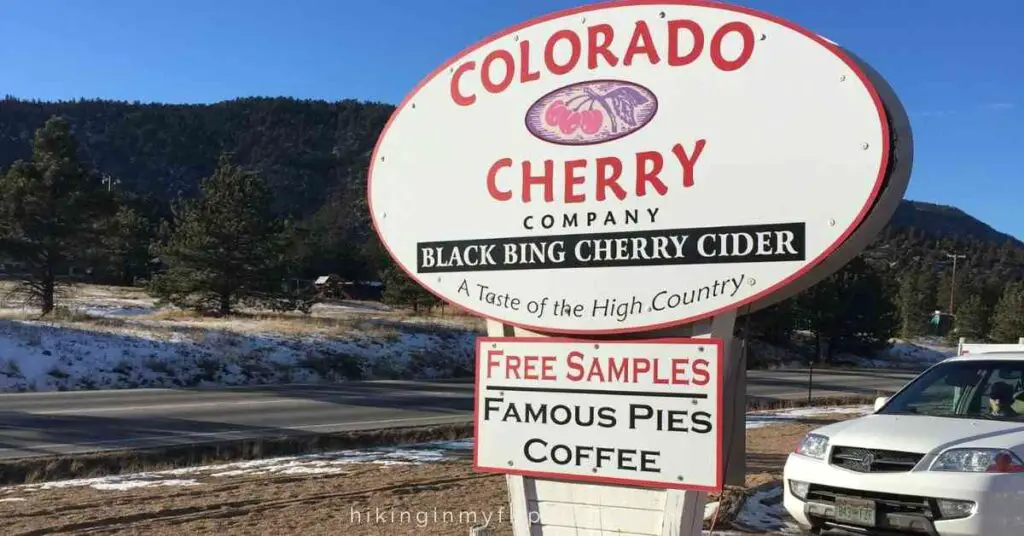 Frequently Asked Questions
What are the top attractions to visit in Estes Park?
The Stanley Hotel (the inspiration behind Stephen King's The Shining), Rocky Mountain National Park, and the Estes Park Aerial Tramway are the most popular and best spots to visit in Estes Park. Downtown Estes Park is also a popular place for visitors.
What are the best outdoor activities in Estes Park?
The mountain location and proximity to Rocky Mountain National Park make Estes Park a great destination for outdoor activities. Visitors enjoy hiking, fishing, off-roading (Jeeps and ATV), and boating on Lake Estes. Estes Park winter activities are also plentiful, including snowshoeing, sledding, and cross country skiing.
What are the best day trips from Estes Park?
We have three favorite destinations for day trips from Estes Park. 1) Take a day trip along the Peak to Peak Scenic Byway, which brings travelers from Estes Park, through the small mountain town of Nederland, to Black Hawk. 2) Estes Park is about an hour from Boulder, Colorado, which is a perfect day trip for great food, shopping, and more outdoor activities. 3) Drive Trail Ridge Road, through Rocky Mountain National Park, to Grand Lake. On the way, make a stop at the Holzwarth Historic Site.
What are the most popular things to do in Estes Park with kids?
There are plenty of fun activities and things to do in Estes Park with kids. Older kids will love the outdoor adventures at Open Air Adventure Center and off-roading. Kids of all ages enjoy watching wildlife, like elk, moose, marmots, and pikas. There are some easy nearby hikes for younger kids (Lily Lake and Bear Lake) and more adventurous ones for the older kids (Sky Pond and Gem Lake).
What is there to do in Estes Park in the winter?
There are many Estes Park winter activities for the cold, snowy months. Most are within Rocky Mountain National Park, where you'll find plenty of snowshoeing and cross country skiing options. There is a great sledding hill at Hidden Valley in the park. Things to do around Estes Park in the winter include guided snowmobile and snowcat tours.
---
When you're looking for a fun-filled weekend getaway or an extended vacation to the Rocky Mountains, add these things to do in Estes Park, Colorado, to your list. With plenty of activities and attractions available all year round, this charming mountain town will bring many memorable adventures to your family getaway.
---
Click below to save these ideas for things to do in Estes Park on Pinterest!