There is nothing more Colorado than an escape to the mountains. And while many Colorado mountain towns are best done on an overnight trip, the small town is just a few miles west of Denver. We've spent many day trips discovering all the adventures and things to do in Evergreen Colorado.
Whether you're planning an escape from Denver or using Evergreen as a home base for a drive up the scenic Mount Evans, here is everything you don't want to miss when planning what to do in Evergreen CO.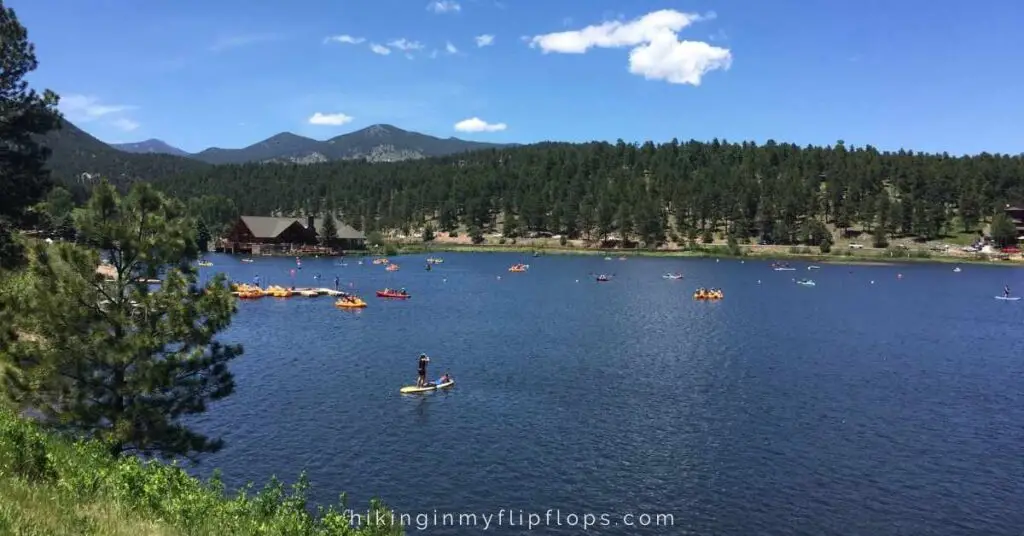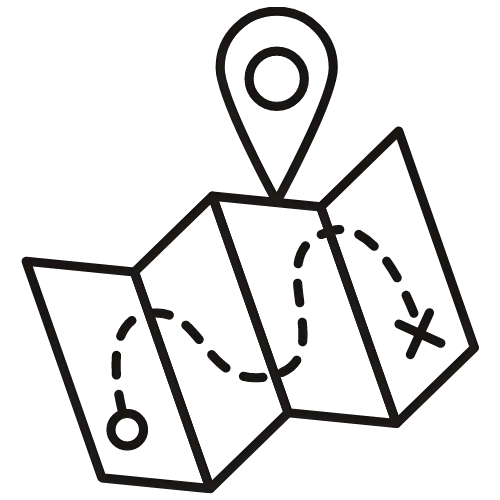 About Evergreen, CO
---
The mountain town is an easy day trip from many cities along the Front Range. About 45 minutes from Denver, an hour from Boulder, and 1 1/2 hours from Colorado Springs.
Originally named "The Post", the town's name changed to Evergreen for the forests of evergreens throughout the area.
There's more than outdoor recreation here. The town is also known for arts, music, and dining.
Evergreen, Colorado, has an elevation of 7,200 feet, making it an ideal mountain spot to acclimate to the altitude before heading further into the mountains.
Things to Do in Evergreen Colorado
The 45-minute drive from Denver (and about an hour from Boulder) makes Evergreen Colorado the perfect day trip for some of the best outdoor activities.
1. Spend the Day at Dedisse Park
29612 Upper Bear Creek Rd
Evergreen Lake is the highlight of the area, located within Dedisse Park. This area is filled with a wide range of outdoor recreation. In the summer months, you can't miss the colorful SUPs, kayaks, and paddleboats that dot Evergreen Lake as you come into town. 
There is so much to do, it's easy to spend the entire day at this mountain lake. 
There is no swimming allowed in the lake, but there are plenty of other ways to get out and enjoy the water:
Paddle On the Lake
Take your paddle board, kayak, or canoe out on the lake, or rent one from the Evergreen Lake House. Pedal boats are also available for rent.
Rentals are by the hour, and life jackets are required (also available for rent). Check the website for rental hours and rates.
Related Reading: 11 Memorable Things to Do at Great Sand Dunes National Park
Fishing is one of our favorite get-outside activities, and Evergreen Lake is the perfect setting to bring the kids out to see what they can catch. A Colorado fishing license is required for ages 16+.
Take a Stroll Around the Lake
Walk the mostly paved trail along the 1.3-mile path around the lake and watch people fishing and paddling on the lake. As you reach the back of the lake, you'll come to the dam and Bear Creek – a perfect spot for pictures and to dip toes into the water.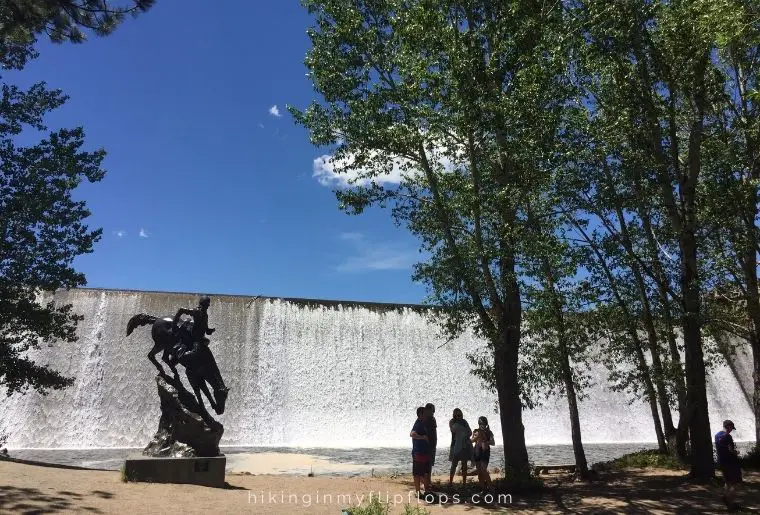 Visit the Evergreen Nature Center
The building that once served as the warming hut is now home to the Evergreen Nature Center. Let kids explore the interactive displays, like the Touch Table, and meet the Center's bull snake and tiger salamander.
Attend One of Evergreen's Events
Visit Evergreen during any one of the annual events hosted by the Evergreen Parks and Recreation District.
A free concert series on Wednesday nights on the lawn of the lake house. The Evergreen Lake Summer Concert Series schedule is posted on the website. 
The annual Easter Egg Hunt is a favorite springtime event for the kiddos. Meet the Easter Bunny, compete in games, and more. 
Compete in the Evergreen Trail Race Series, a three-race event held in June, July, and August. Kids can participate in August's Kid's Triathalon event.
The Dam Duck Derby, an event hosted by Downtown Evergreen, funds the Annual Downtown Evergreen Holiday Walk, held in December. And don't miss the Halloween Walk on October 31!
Experience Evergreen Lake in the Winter
Visiting in the winter? One of our favorite unique Colorado experiences is winter on Evergreen Lake. The adventure continues in the snowy months when the lake turns into the world's largest Zamboni-groomed outdoor ice rink. Admission is only $7, and skate rentals are available in the Evergreen Lake House. Lessons and food are also available on-site.
You Might Also Like: Experience Winter Magic at the Colorado Ice Castles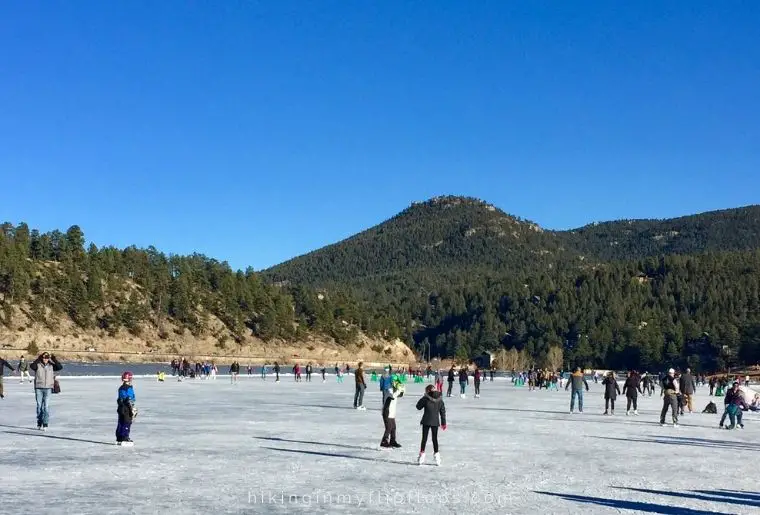 Play 18 Holes in the Mountains
29614 Upper Bear Creek Road
The Evergreen Golf Course, operated by Denver Golf Parks & Recreation, is an 18-hole executive course that sits at 7,200 in elevation (the perfect place to beat the heat in the summer months!). The mountain location makes it an ideal place to spot wildlife, like elk, on the course.
Looking for a place to work out during your stay in Evergreen or a place to escape for indoor activities when the weather isn't cooperating? Evergreen Park & Recreation District operates two recreation centers with facilities for weight lifting, cardio, climbing, indoor pools, and more. Check out Wulf Recreation Center (5300 Olive Road) and Buchanan Recreation Center (32003 Ellingwood Trail).
2. Drive Mount Evans Scenic Byway
Evergreen is just a short drive to Mount Evans, the highest paved road in North America. Drive the 14-mile Mount Evans Scenic Byway to one of Colorado's famous 14-ers (mountain peaks with elevations of at least 14,000 feet). It's one of only two 14-ers that can be reached by car (the other is Pike's Peak). The road is only open in the summer months and, due to its popularity, requires timed-entry reservations. 
Related Reading: Colorful Colorado: 9 Things to Do in Cañon City, Colorado
3. Explore Hiwan Heritage Park
28473 Meadow Drive
Explore indoors and out at Evergreen's historic 25-room home that is now listed on the National Register of Historic Places. The home was built in 1893 as a residence, then turned into a Hereford cattle ranch in 1938. Tours of the Hiwan Museum are free, but indoor tours require a reservation. 
4. Hiking in Evergreen Colorado
Those looking for a little more adventure than the path around the lake can hit one of the nearby hiking trails. Check out these three favorite Evergreen CO hikes found a short drive from downtown:
Easy Hiking Trails
Explore the 4-mile Elk Meadow Trail South Loop, rated easy for its relatively low elevation change (less than 600 feet). 
Moderate Trails for Hiking in Evergreen Colorado
The Maxwell Falls Lower Trail is a 4.2-mile moderate trail along Maxwell Creek for something a little more challenging. The waterfalls are at their peak in the spring, but the crowds are bigger then too. Arrive early to avoid the crowds.
Most Difficult Hiking Trails
If you want to make a day of it on an extra challenging trail, hike the 8.8-mile Bergen Peak Trail. 
5. Explore Downtown Evergreen Colorado
Follow the path around Evergreen Lake, down the river, and under the bridge to find shops and restaurants lining Bear Creek, or park your car right in downtown Evergreen.
Experience the performing arts at one of Evergreen's theaters. Center Stage (27608 Fireweed Dr) is home to the Evergreen Chorale and musical performances like Ragtime. You can also find performances at the Colorado Children's Theater (27972 Meadow Dr) and the Evergreen Players (27886 Meadow Dr).
Pick up souvenirs or find additions to your art collection at the shops and galleries along Bear Creek Road. Stop into shops like Silver Arrow Jewelry, Seasonally Yours / Mountain Man Fruit & Nut, Evergreen Crafters, and Evergreen Clothing & Mercantile.
The Best Evergreen Colorado Restaurants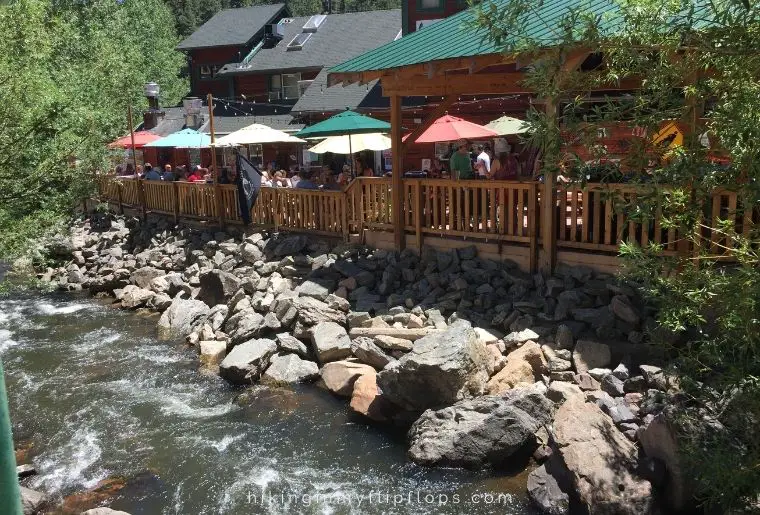 Cactus Jack's Saloon & Grill (4651 County Hwy 73) is an ideal spot along the creek with something for everyone. We loved the wings served with sauce on the side, so they stay crispy. There are also a lot of fun combinations for the burgers.
Want to fuel up before the adventures begin? Try the best brunches in Evergreen at The WildFlower Cafe (28035 Bear Creek Rd) or The Muddy Buck. The Muddy Buck (28065 Bear Creek Rd) is housed in a historic hotel that also once served as the town of Evergreen's ice house.
Murphy's Mountain Grill (27906 Bear Creek Rd), where you'll find salads, sandwiches, fantastic burgers, and milkshakes.
You can't visit Colorado without trying Colorado-style pizza from Beau Jo's Pizza (28186 Bear Creek Rd), another spot with waterfront seating.
Or, head out of downtown Evergreen to Echo Lake Lodge (13264 Chicago Creek Rd, Idaho Springs). There isn't actually a lodge here anymore, but there is an excellent restaurant (and gift shop).
You Might Also Like: The Best Things to Do in a Weekend Estes Park, Colorado
Evergreen Breweries
When in Colorado, one must end a day of adventure at a local brewery. Evergreen Colorado is home to two family-friendly breweries with full lunch and dinner menus. Lariat Lodge Brewing Co. and Evergreen Brewery & Taphouse are located a few minutes from downtown but worth the drive.
Where to Stay in Evergreen
Making it more than a day trip? There are plenty of excellent lodging options in Evergreen.
Comfort Suites (29300 US-40, near Evergreen Parkway) is the closest chain hotel.
For a stay with all the mountain vibes, check out The Alpen Way Chalet Mountain Lodge (4980 Hwy 73), with three suites and a cabin that are large enough for families, or Highland Haven Creekside Inn (4395 Independence Trail, near downtown Evergreen Colorado) with a selection of rooms, cottages, and even a treehouse.
Bring your tent and set up camp at the campground in Echo Lake Park. There are 17 campsites at Echo Lake Campground, for both tents and RVs.
---
Evergreen, Colorado, is an unforgettable mountain escape with plenty of outdoor adventures, shopping, arts, and more. This list has all the best activities to make it easy to plan what to do in Evergreen CO on your visit.
---
Click below to save these ideas for the best things to do in Evergreen Colorado on Pinterest!