As one of America's best places for outdoor adventure, you'd sure think camping in Boulder, Colorado, would have plenty of camping options, right? Surprisingly, no. While there are no places to put your tent up in the city, we went on a search to find some of the best camping near Boulder Co. All these camping spots are within (about) an hour from downtown – with many even closer.
Any of these great campgrounds are great picks for your next visit to Boulder, CO!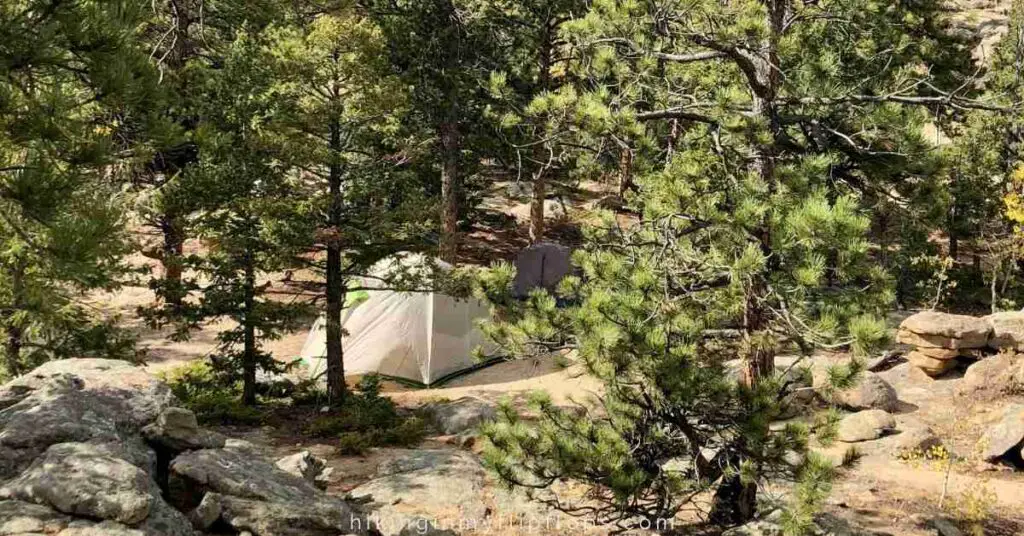 About This List of Campgrounds Near Boulder Colorado
Since we moved to Boulder, we've been getting recommendations from the locals on the best places to camp near Boulder for quick weekend getaways. We've been to several campgrounds on this list and hope to get to the rest soon!
And because it's the mountains, we quickly learned 2 things about camping near Boulder. One is to pay attention to the elevation. The higher up you go, the colder it gets at night – even in the summer months. The second thing is bear safety. There are bears in these mountains, so it's essential to be "bear aware," especially when camping. It's easier to do when there are bear lockers at the campsite, so we've included that information too.
National and State Parks Camping Near Boulder Co
1. Longs Peak Campground
The one national park campground on our list is Longs Peak. This campground is often filled will hikers preparing to make their way to Longs Peak, one of Colorado's most popular 14ers (mountains that reach more than 14,000′ in elevation).
While there is not easy access to the main areas of Rocky Mountain National Park, there is plenty of hiking, biking, and wildlife viewing near the campground.
For more information, visit the Longs Peak Campground page on the National Park Service website
---
2. Golden Gate Canyon State Park
This state park near Boulder has various camping options, from backcountry camping (permit required) to cabins and yurts. There are two campgrounds within the park with tent sites, including one that also has sites to accommodate RVs and trailers.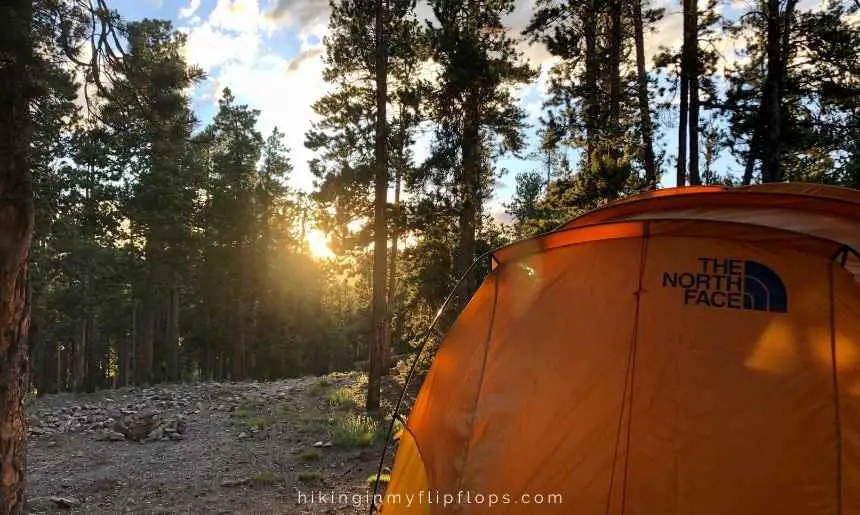 Distance from Boulder: 33 miles (just under 1-hour drive)
Reverend's Ridge Campground
---
Aspen Meadows
---
Reservations: make reservations at Reverend's Ridge or Aspen Meadows campground here
---
3. St. Vrain State Park
Even though St. Vrain State Park camping isn't miles away from civilization like many other campgrounds near Boulder, we found the lakes to be pretty peaceful. Bring a SUP or kayak and spend the day on one of the many lakes in the park.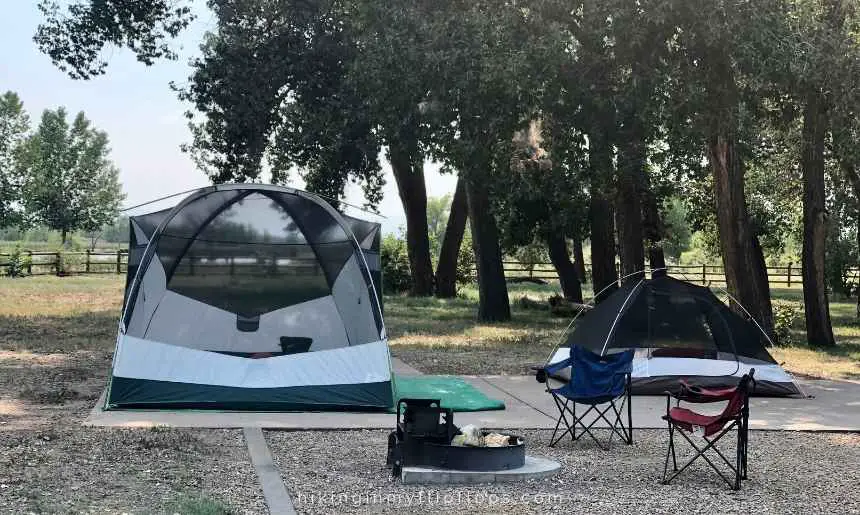 USDA Forest Service (Arapaho & Roosevelt National Forests) Camping
4. Winiger Ridge (Gross Reservoir)
This dispersed camping area sits on the western shore of Gross Reservoir, a water source for the city of Denver. There are no amenities or facilities at this camping area. There are plenty of outdoor activities nearby, including fishing and (non-motorized) boating on the reservoir, hiking, and mountain biking.
---
5. Gordon Gulch Dispersed Camping Area
A high clearance vehicle is helpful (and sometimes needed) to access campsites at Gordon Gulch. Spend the day hiking and exploring the area, or head into nearby Nederland to visit the small shops and restaurants.
---
6. Peaceful Valley Campground
Peaceful Valley is just off the Peak to Peak Hwy, one of Colorado's many Scenic Byways. Bring your mountain bike to ride one of the many trails near the campground. There is also convenient access to trails for off-road vehicles and horseback riding.
---
7. Camp Dick Campground
Just up the road from Peaceful Valley, Camp Dick has the same easy access to horseback riding, off-roading, and hiking. Some of the campsites sit close to the Middle Saint Vrain Creek.
---
8. Kelly Dahl Campground
This campground sits south of Nederland, along the Peak-to-Peak Hwy. The onsite playground at Kelly Dahl makes this one great for families.
---
9. Rainbow Lakes Campground
The high elevation of Rainbow Lakes makes it an even shorter camping season. Plan for chilly nights, even in the middle of summer. High clearance vehicles are best for navigating the 5-mile dirt road to the campground. Just use some caution when driving other cars.
---
Our first Colorado camping experience was at this campground. We learned a lot about camping in bear country and camping in the cold when nighttime temps were below freezing (in July) on this trip!
Brainard Lake Recreation Area has an abundance of hiking, fishing, backcountry skiing, mountain biking, and wildlife viewing. Bring your kayak, canoe, or SUP to launch in Brainard Lake.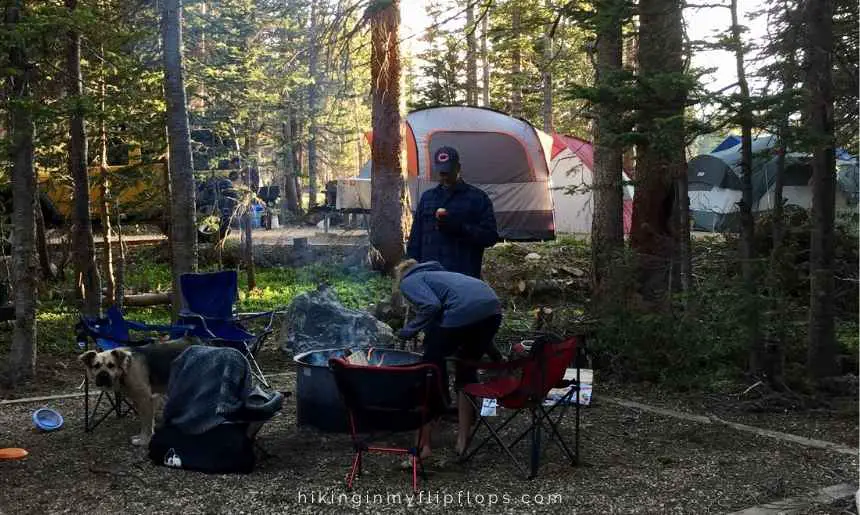 County, City, and Regional Campgrounds Near Boulder CO
11. Carter Lake
Carter Lake in Larimer County has 5 campgrounds: Eagle, South Shore, Big Thompson, Carter Knolls, North Pine Campground. Spend your weekend fishing, boating, swimming, mountain biking, or hiking at this campground southwest of Loveland.
---
12. Camping at Hermit Park
There are four campgrounds within the park, plus 13 camper cabins for those who don't have camping equipment or prefer more of a glamping experience. We found one of our favorite hikes in Colorado when camping at Hermit's Hollow. The Kruger Rock Trail, located within the park, has spectacular Estes Park and Rocky Mountain National Park views.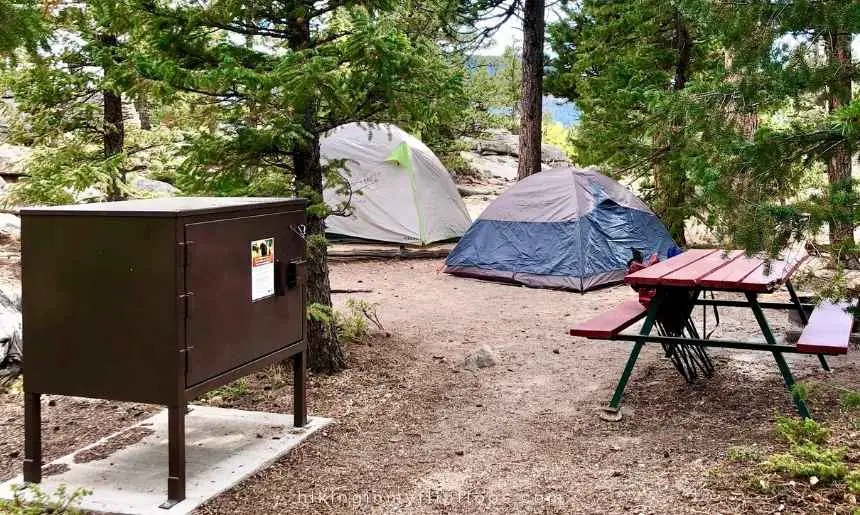 ---
13. LaVern M. Johnson Park
The downtown Lyons location is excellent, but this is one of the most restrictive campgrounds we've seen. In addition to no campfires, only one camping unit is allowed per site (one tent or one RV). Alcohol is also not permitted here.
---
14. Standley Lake Regional Park & Wildlife Refuge
Lower elevation camping close to Boulder. No camping gear? Try out one of their 6 tipis for rent!
---
15. RV Camping Near Boulder CO at Boulder County Fairgrounds
The Boulder County Fairgrounds in Longmont (just north of Boulder) has an onsite campground for RVs and trailers. While it's not that quintessential Colorado camping experience, we still included it on the list as a camping option for those who don't want to navigate through the mountains with their camper.
The campground is located next to a heavy retail area, where travelers can resupply if needed.
Find more information on camping at the Boulder Country Fairgrounds here
---
Glamping Near Boulder
Glamping gets you close to the camping experience without all the gear and a little more comfort.
16. Yogi Bear's Jellystone Park Camp-Resort
---
17. WeeCasa Tiny House Resort
This is a rare opportunity to stay in a tiny home!
---
18. Boulder Adventure Lodge (A-Lodge)
The A-Lodge has everything from a cabin for rent to tent camping (the only actual Boulder Colorado camping permitted within the city limits). The creek-side property has hiking and biking trails nearby and hosts scheduled events.
Have you been camping near Boulder, CO? Let us know your favorite Boulder Colorado camping spots in the comments!
---
Click below to save these campgrounds near Boulder CO on Pinterest!