Charlotte, North Carolina, holds a special place in my heart. My first 'real' job was in Charlotte, where I met my husband, and two of our 3 of our kids were born.
But have you ever wondered, what is there to do in Charlotte NC? We have. And it took moving all the way to Boulder, Colorado, to truly appreciate all the Queen City offers. And with so many fun things to do in Charlotte, NC, we make sure to squeeze in a few of our favorite spots when we visit friends and family. Here are our family's top picks for your weekend in Charlotte, NC!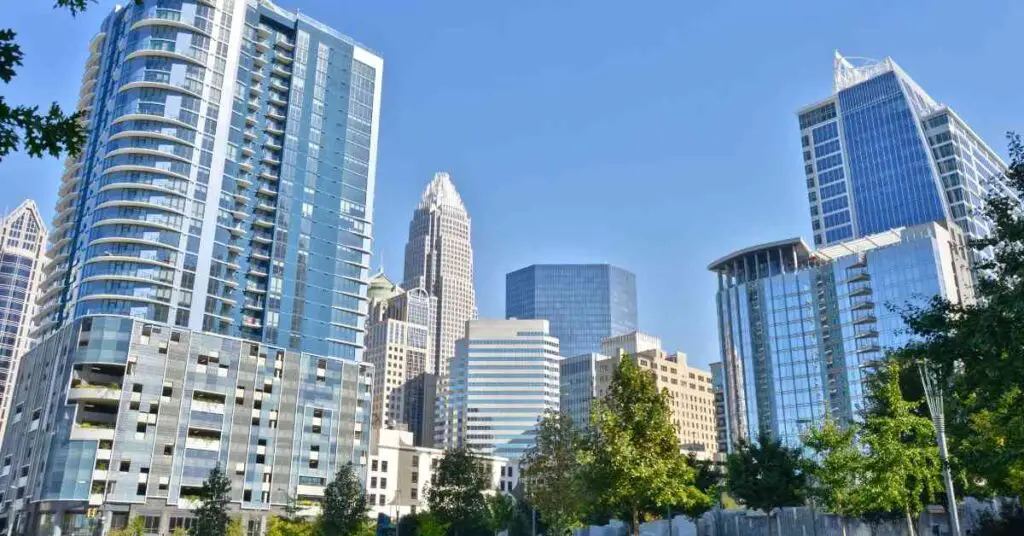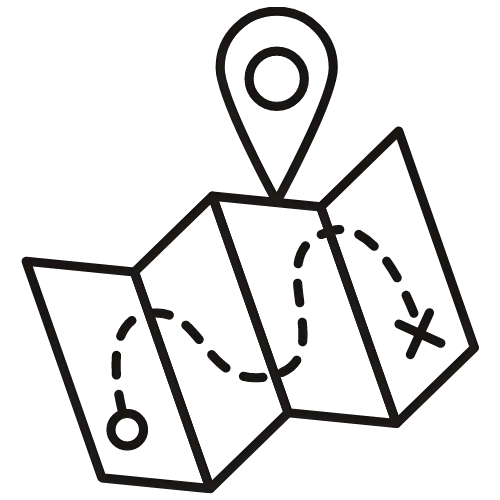 About Charlotte North Carolina
---
Charlotte's nickname, the Queen City, is for Great Britain's Queen Charlotte of Mecklenburg-Strelitz. And it's not only the name Charlotte that the area adopted: the city sits in Mecklenburg County.
Charlotte is North Carolina's largest city, with a population reaching 900,000. There are a total of 2.2 million people living in the metro area.
The downtown, or center city, is officially known as "Uptown" Charlotte.
Many consider Charlotte the Pimento Cheese Capital of the World. If you've never had pimento cheese, there is no better time to try it!
A second but lesser-known nickname for Charlotte is Banktown. Bank of America and Wells Fargo are just two of the banks that make Uptown Charlotte home to the second-largest banking center.
Four wards, divided by Trade and Tryon Streets, comprise Uptown Charlotte. The intersection of Trade and Tryon is known as Independence Square.
15 Fun Things to do in Charlotte NC
From art museums to whitewater rafting, these are our tried-and-true spots of all the fun things to do in Charlotte NC. Whether you're looking for what to do in uptown Charlotte or have time to explore beyond, there is something here for your itinerary.
What to Do in Uptown Charlotte North Carolina
1. NASCAR Hall of Fame
Think you have what it takes to be a NASCAR tire changer? Test your skills with the NASCAR Hall of Fame's racing simulators and step into the shoes of a NASCAR announcer. The interactive exhibits allow you to learn about racecar anatomy and racing history. And, of course, you don't miss the walk down NASCAR's Hall of Fame.
400 E M.L.K. Jr Blvd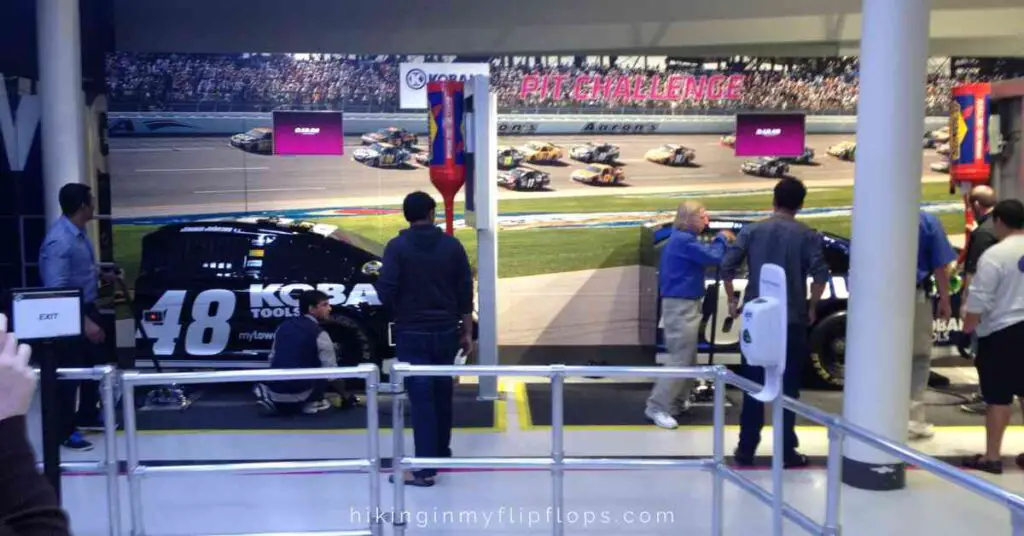 2. Discovery Place Science
When spending a weekend in Charlotte with the kids, this is a can't-miss spot for your itinerary. Immerse yourself in the world of science and technology. Kids (and adults) can explore the museum's hands-on exhibits. learning everything from electricity to dinosaurs at Discovery Place Science. The museum also offers daily programs such as "World Alive," where live animals come to life in an indoor rainforest.
301 N Tryon Street
3. Art Museums: The Mint Museum & Bechtler Museum of Modern Art
Charlotte's first art museum, The Mint Museum, features art from around the world and hosts live performances and events. The Bechtler Museum showcases modern art. No matter your style, you're sure to find works that inspire you at one of these art museums.
Mint Museum Uptown: 500 S Tryon St
Mint Museum Randolph: 2730 Randolph Rd
Bechtler Museum of Modern Art: 420 S Tryon St
4. Blumenthal Performing Arts Center
See everything from Broadway shows to music and comedy at The Belk Theater at Blumenthal Performing Arts Center. The Lion King, Wicked, and other Broadway favorites have all stopped at the Blumenthal. Check the schedule for the many family-friendly events.
130 N Tryon St
5. Levine Museum of the New South
The Levine Museum of the New South is one of my favorite museums and should be on every list of things to do in Charlotte. Walk through the museum to learn about the area's unique and rich history.
401 S Tryon St
You Might Also Like: The Best Things to Do in Dauphin Island, Alabama's Family-Friendly Beach Destination
6. Picnic at One of the Queen City's Public Parks
Romare Bearden Park 
We visited Romare Bearden Park during the opening festivities in 2016, right before we moved out of North Carolina. This beautiful park is the perfect setting for picnics, events featuring live music and cultural arts, and outdoor events.
300 S Church St
You Might Also Like: 10 Epic Things to See, Eat & Do for the Perfect Asheville NC Itinerary
One to Try Outside of Uptown Charlotte: Freedom Park
Between the Dilworth and Myers Park neighborhoods, Freedom Park spans 98 acres. There is a 7-acre lake, two playgrounds, a steam engine, and NFL Play 60 KidZone. If you're in Charlotte with the kids, add a stop at the nearby Discovery Place Nature.
1908 East Blvd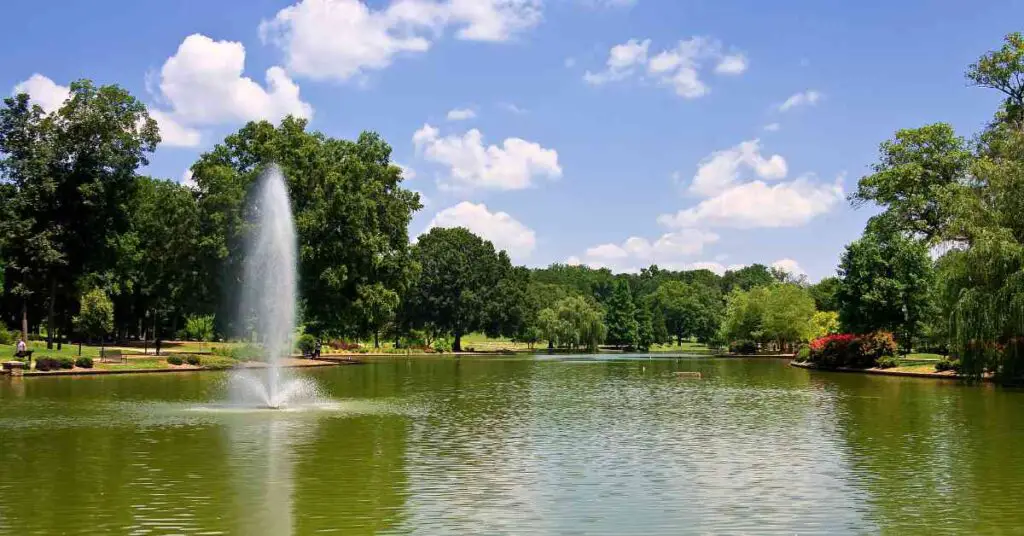 7. Catch a Game
There is no shortage of sports in Charlotte, North Carolina! It always seems to be gameday in uptown Charlotte.
Charlotte Knights, minor league baseball at Truist Field (formerly BB&T Ballpark) 324 S Mint St
NBA's Charlotte Hornets play home games at the Spectrum Center (333 E Trade St)
The Carolina Panthers represent both South and North Carolina in the NFL at Bank of America Stadium (800 S Mint St)
The Charlotte Knights aren't the only minor league team in town. We also love to watch Charlotte Checkers play minor league hockey. Catch a game at Bojangles Coliseum (2700 E Independence Blvd)
Head northeast of town to Charlotte Motor Speedway for some racing. The big race weekends are in May and October, but Concord, NC, has year-round racing events.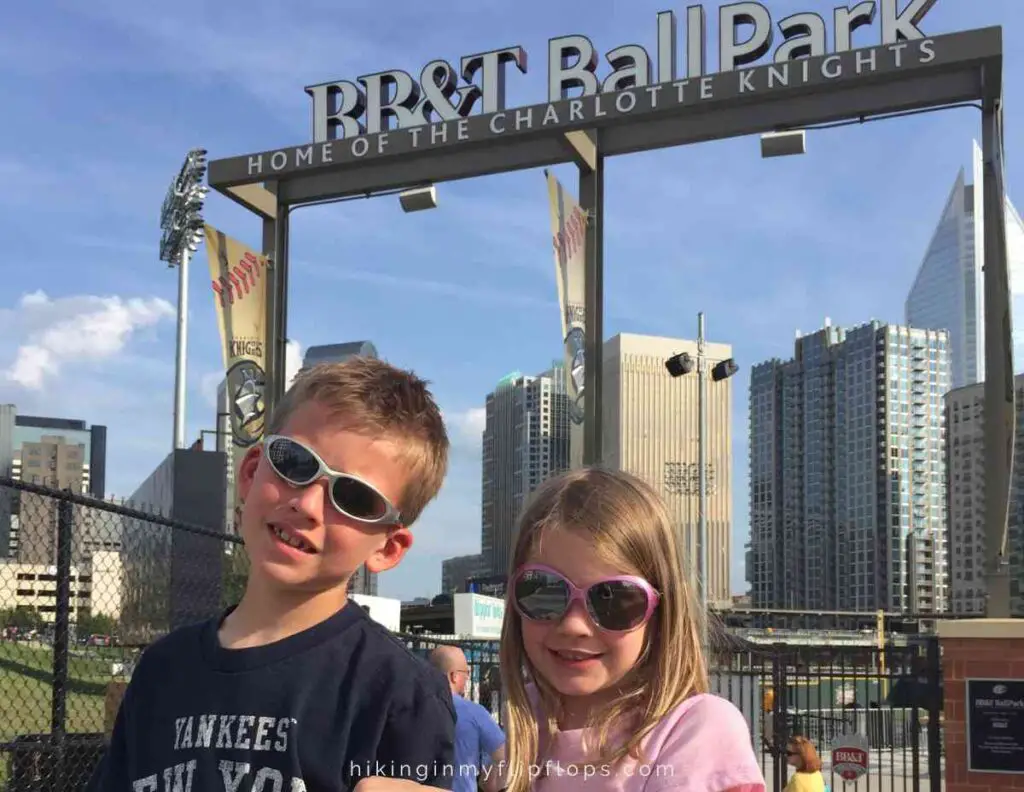 Fun Things to Do in Charlotte Beyond Uptown
While there are plenty of picks for what to do in uptown Charlotte, there are a few stops we like to add when we're in town.
10. Carowinds
This is the one we probably miss the most. From trill rides to family rides, it was one of our favorite things to do with kids in Charlotte when we lived there.
Carowinds amusement park sits right on the North and South Carolina state line. It's big enough to pack in many rides and activities yet small enough to cover it all in a day. The Fury 325, with one of the biggest roller coaster drops in the U.S., is a can't-miss ride for the bigger kids. Ride this roller coaster, and you'll cross state lines along your ride.
For younger ones, there is an entire Peanuts-themed area. There is something for everyone, from shallow wading pools to belly-dropping water slides.
300 Carowinds Blvd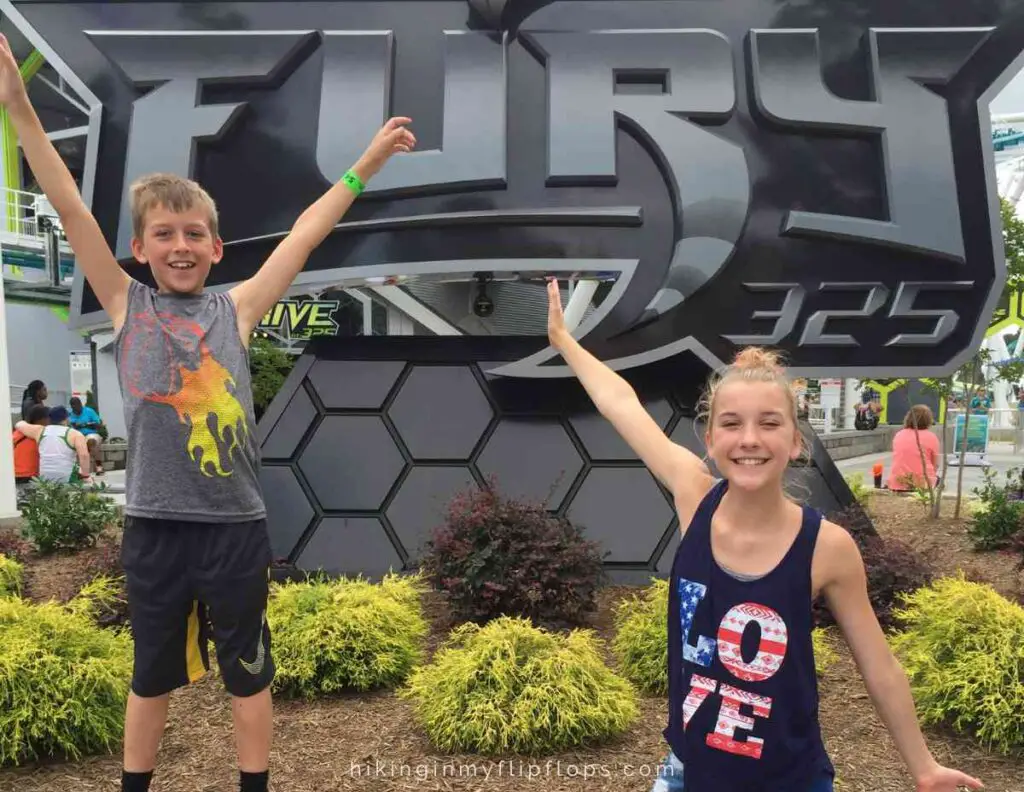 9. Billy Graham Library
Experience the life and mission of Billy Graham, one of the most influential Christian leaders of the 20th century. During his 50+ years of ministry, the Southern Baptist minister shared the Gospel message with millions worldwide. Tour the Billy Graham Library to experience his social justice and peacemaking work. The experience includes multimedia presentations, memorabilia, and the evangelist's childhood home.
4330 Westmont Dr
You Might Also Like: 12 Fun Ways to Spend the Weekend in Winston-Salem NC
10. Spend a Day at the US National Whitewater Center
If you need more ideas for what to do in Charlotte, NC, the U.S. National Whitewater Center just might be your answer. Raft on the artificial whitewater course or hop on for a ride on the zip line. Bike the trails or challenge yourself on the ropes course. The many outdoor activities at the Whitewater Center make spending an entire day there easy. End the day with dinner at the on-site restaurant.
5000 Whitewater Center Parkway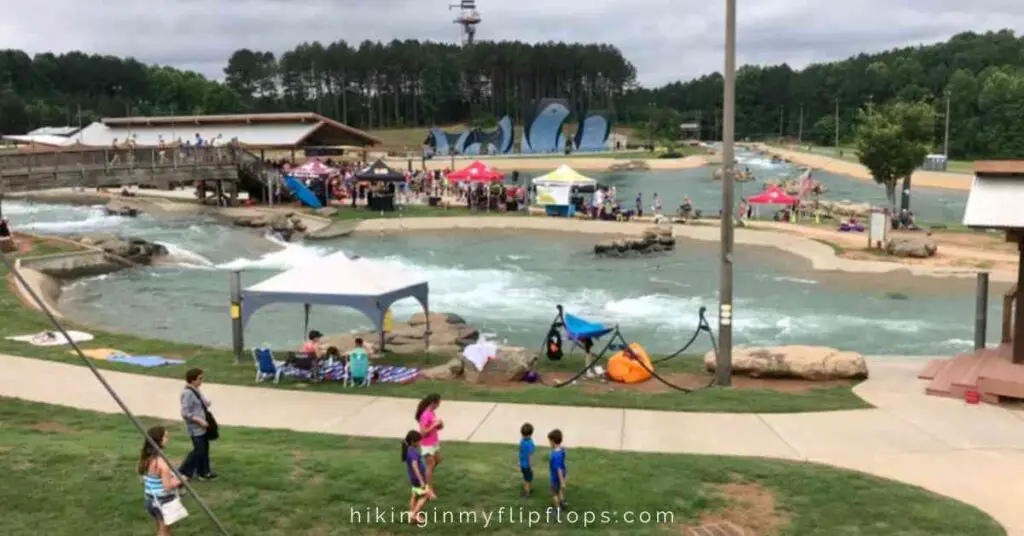 11. Carolinas Aviation Museum
The Carolinas Aviation Museum (part of the Smithsonian Institution) is located at Charlotte Douglas International Airport. Its mission is to preserve aviation history and promote education about flight. The museum features military and commercial aircraft, including "Miracle on the Hudson" exhibit. The plane, landed in 2009 by Captain Sullenberger in New York's Hudson River, is on display at the museum.
Update 2022: The museum is currently closed for renovations. The Carolinas Aviation Museum is planning a 2023 grand reopening.
4672 1st Flight Dr (at Charlotte Douglas International Airport)
More Fun and Adventure Near Charlotte
If you have a little more time to venture beyond uptown, here are a few more recommendations in Charlotte's neighboring towns.
12. Daniel Stowe Botanical Gardens
Just south of Charlotte, Daniel Stowe Botanic Gardens sits alongside Lake Wylie. The world-class gardens were a vision of a retired textile executive who dedicated 380 acres of lakefront land. The Canal Garden, the Orchid Conservatory, and the Dry Piedmont Prairie are just a few highlights. The park also includes a special children's garden called Lost Hollow: The Kimbrell Children's Garden.
While you're there: hike the Duke Kimbrell Trail, a moderate trail that connects the Gardens and runs along Lake Wylie.
6500 S New Hope Rd, Belmont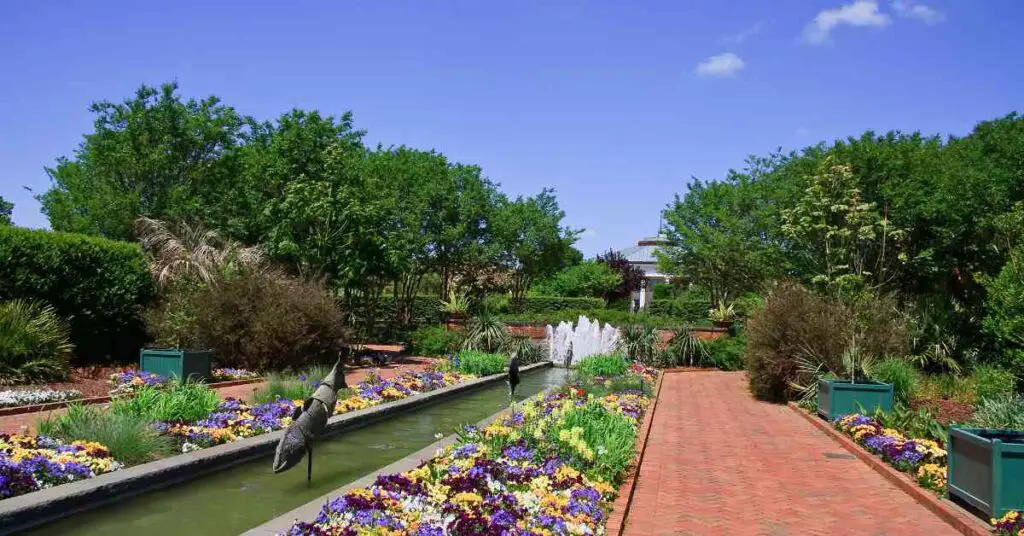 13. Carolina Raptor Center
Kids and adults will have a blast learning about the thrilling world of raptors. At the Carolina Raptor Center, experience close encounters with some of nature's most majestic creatures. Observe more than 30 birds of prey up close and personal while strolling along the 3/4 mile Raptor Trail.
6000 Sample Rd, Huntersville
14. Reed Gold Mine
This historical site in Gaston County is not your ordinary touristy gold mine. The Reed Gold Mine, one of the oldest gold mines in U.S. history, is where visitors can experience life during the early days of gold mining in America. Take a self-guided tour of the site of the first documented gold find in the U.S. Make sure to do some panning for your own gold while you're there.
9621 Reed Mine Rd, Midland
15. Historic Latta Plantation
Charlotte is home to many historical sites, including one located just north of the Queen City. Latta Place, dating back to the 1800s, features a restored antebellum house and gardens and guides wearing period attire. There are several living history events scheduled throughout the year.
Update: The historic site closed in 2021 while the future of the plantation is re-envisioned. Renamed Latta Place, Mecklenburg County expects to reopen the site in 2023.
5225 Sample Rd, Huntersville
Getting Around Uptown Charlotte
Quickly get around town on the trolleys or the Lynx Light Rail. Ride the trolley through uptown, or take the light rail from 7th Street Station down to the shops and restaurants in South End. We've been known to head uptown only to ride the light rail when the kids were young.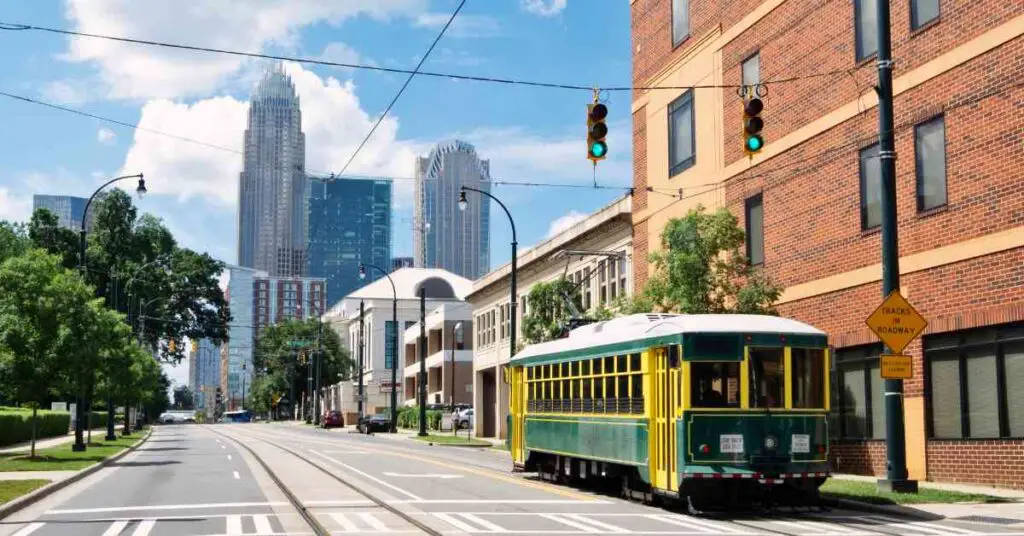 Best Places to Stay in Uptown Charlotte
We always stayed at the Aloft Charlotte City Center during a stay-cation weekend in Charlotte. Located in the Queen City Quarter (formerly the Epicentre), it's walkable to many places on this list. 
Where to Eat in Charlotte
Spending a weekend in Charlotte NC means you need to try the best local places to eat. From quaint neighborhood spots to local cuisine, we always plan a stop to one of these delicious spots.
The Market at 7th Street (224 E 7th Street, in the 7th Street Station) is a non-profit food hall with a wide variety of eateries, wine, and craft beer selections.
Mert's Heart and Soul (214 N College St) is a Charlotte icon, serving delicious soul food and Lowcountry dishes.
Alexander Michael's (401 W 9th St), a favorite neighborhood bar in Fourth Ward, was our go-to spot when we lived uptown.
Amelie's French Bakery (136 E 36th St) in NoDa (North Davidson neighborhood), where you don't want to miss the salted caramel brownies!
---
Charlotte is one of those off-the-radar vacation spots for many, but there are so many fun things to do in Charlotte. It's a great spot for a getaway the entire family will enjoy. The next time you're left wondering what is there to do in Charlotte NC, check these fantastic spots around the Queen City.
---
Click below to save these ideas for your next Charlotte NC weekend trip on Pinterest!