If you are one of the many people with a coveted travel bucket list, I will bet that Charlotte, North Carolina is not on that list. In a city where we lived and worked for so many years, we never realized that there are many things to do with kids in Charlotte.
Charlotte holds a special place in my heart. My first 'real' job was in Charlotte, where I met my husband, and where two of our 3 of our kids were born. Still, it took moving all the way to Boulder, Colorado, to truly appreciate what the Queen City has to offer. And with so many things to do with kids in Charlotte, NC, I now find myself planning a weekend to all our favorite spots when we go back to visit friends and family.
If you've never really given much thought to family things to do in Charlotte NC, here are the spots to add to your itinerary. These are our top adventure spots and favorite family-friendly activities for this southeastern city: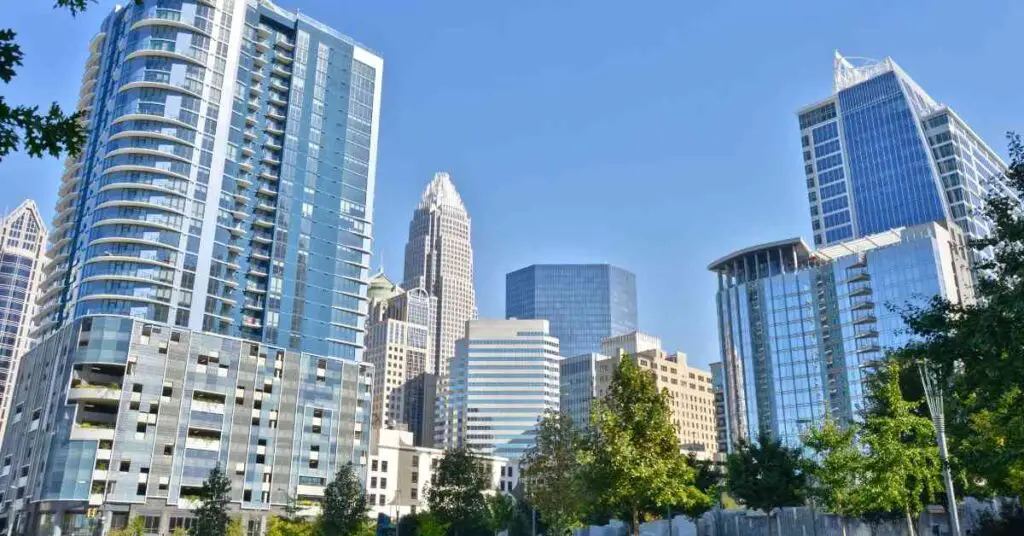 Things to Do With Kids in Charlotte: Uptown
Museums
There are a surprising number of museums in Charlotte that cover history, art, science, and sports. These are some of our favorite ones to visit during a weekend in Charlotte:
Discovery Place
Discovery Place has hands-on entertainment full of science- and nature-based lessons. For a more unique and unexpected experience, check the schedule for special events.
The Mint Museum
Find works of art at both locations of The Mint Museum (one right in uptown and one just a short drive away). With so many family- and kid-friendly activities, the Mint Museum is a great place for the kids to experience their first art museum.
Levine Museum of the New South
Levine Museum of the New South is one of my favorite museums and should be on every list of things to do in Charlotte. Walk this museum to learn about the rich history of the area.
NASCAR Museum
Think you have what it takes to be a NASCAR tire changer? Test your skills at the NASCAR Hall of Fame! See race cars up close and learn about the history of the sport.
Historic Neighborhoods and Afternoons in the Park
Grab a picnic lunch, then head to Romare Bearden or Marshall Park. Or walk along the tree-lined streets of historic Fourth Ward, Elizabeth, NoDa, or Dilworth and stop at one of the many local eateries along the way. Our favorites are Alexander Michael's in Fourth Ward and Amelie's in NoDa (we have a weak spot for the salted caramel brownie at Amelie's!).
Ride the Light Rail or the Trolleys
Quickly get around town on the trolleys or on the Lynx Light Rail. The trolley is a great way to get around the streets of uptown – and is super fun for the kids. The light rail is an inexpensive option to get you across town quickly. We love to start off at 7th St. Station and head down to the shops and restaurants of South End.
Catch a Game, Or a Race
There is no shortage of sports in Charlotte, North Carolina! Home to the Charlotte Hornets (NBA), Carolina Panthers (NFL), and the Charlotte Knights (minor league baseball). It always seems to be gameday in uptown Charlotte.
The Knights aren't the only local team in town – we also love to watch Charlotte Checkers play minor league hockey.
Or, head a little farther out of town to find the hub of NASCAR in Concord and Mooresville (Race City USA). These two cities are headquarters for many race teams. The big race weekends are in May and October, but there are year-round racing events in Concord, NC. The zMax Dragway and the Dirt Track at Charlotte both hold some really fun races, especially the World of Outlaws series.
…or a Broadway show
The Blumenthal Performing Arts Center has everything from Broadway shows to music and comedy. The Lion King, Wicked, and other Broadway favorites have all stopped at the Blumenthal. Check the schedule for the many family-friendly events.
Things to Do with Kids in Charlotte NC: Beyond Uptown
If you need more ideas for what to do in Charlotte NC, the Whitewater Center just might be your answer. Raft on the man-made whitewater course or hop on for a ride on the zip line. Bike the trails or challenge yourself on the ropes course. There are so many outdoor activities at the Whitewater Center, that it's easy to spend an entire day there. End the day with dinner at the on-site restaurant.
… or a day at Carowinds
This is the one we probably miss the most. It was one of our favorite things to do with kids in Charlotte when we lived there.
This amusement park sits right on the NC and SC state line. It's big enough to pack in many rides and activities, yet small enough to cover it all in a day. The Fury 325 is a can't miss ride for the bigger kids since it has one of the biggest roller coaster drops in the US. Ride this roller coaster, and you'll cross state lines along your ride.
For younger ones, there is an entire Peanuts-themed area. Then take a break from the heat and head over to the water park! Everyone will love the variety at the water park, which has everything from shallow wading pools to belly-dropping water slides.
Finding adventure in those not-so-obvious spots can be a welcome change from the typical tourist areas. We'd love to add more of these off-the-radar areas to our bucket list. Let us know your suggestions in the comments! 
Have you done a weekend in Charlotte NC? Let us know your favorite things to do with kids in Charlotte in the comments!
---
Click below to save these ideas for things to do with kids in Charlotte on Pinterest!