When you have just 36 hours in Boulder, you want to do it right. We're sharing our go-to Boulder itinerary for when we have family and friends visiting and we want to make sure they experience the very best of what our city has to offer.
This itinerary is built with all the things the locals love about Boulder, including many of the unique Colorado experiences and sights. We focus on things that you can only experience in Boulder. Follow the suggestions exactly or use them to guide your own perfect Boulder itinerary,
About Your Weekend in Boulder
Finding Where to Stay In Boulder
Boulder has a few great local lodging options, including historic spots like the Hotel Boulderado or the cottages at The Colorado Chautauqua National Landmark. We also like the centrally located Basecamp Boulder. There are also a few more familiar chains, from Hilton and Marriott, which are centrally located and within walking distance of many of our recommendations.
We often add a camping trip to our weekend getaways. While there are no campgrounds within the city of Boulder, there are lots of camping options close by. Click here for 18 campgrounds that are not too far from Boulder.
Getting Around During Your 36 Hours in Boulder
Boulder is very walkable – and bike-friendly. Take on Boulder by foot, or get around town with a bike share rental from B-Cycle (there are 45 stations around town) or get a rental from local bike shops like Beyond Boulder Adventures. Almost any Boulder itinerary will have plenty to do without needing a car, but there are some highly recommended sights that will require a car.
What to Bring on Your Boulder Getaway
Good walking shoes are a must. I get all around town with my Altra Lone Tree Trail Running shoes (find men's Altra Lone Tree here). I love these because they work well for both walking around town and hiking trails, so suitcases don't fill up with a different pair of shoes for every activity.
The sun shines brightly in Boulder, almost every day – including winter. Pack up plenty of sunscreen and a brimmed hat for all the time you'll be spending outdoors.
| Related Reading: Colorful Colorado: 9 Things to Do in Cañon City
All that sun mixed with our higher elevation means staying well hydrated too. We travel almost everywhere with Nalgene bottles, keeping a gallon or two of water where ever we're staying to refill the bottles as we go.
Boulder Itinerary, Day 1: Hikes, Views, and Brews
Start Your 36 Hours in Boulder With a Big Breakfast
As any good outdoor adventure should begin, we suggest starting with a big breakfast. We have a couple of favorite local spots, including The Buff, Tangerine, and The Parkway. Anything that comes smothered in green chili is usually a local favorite.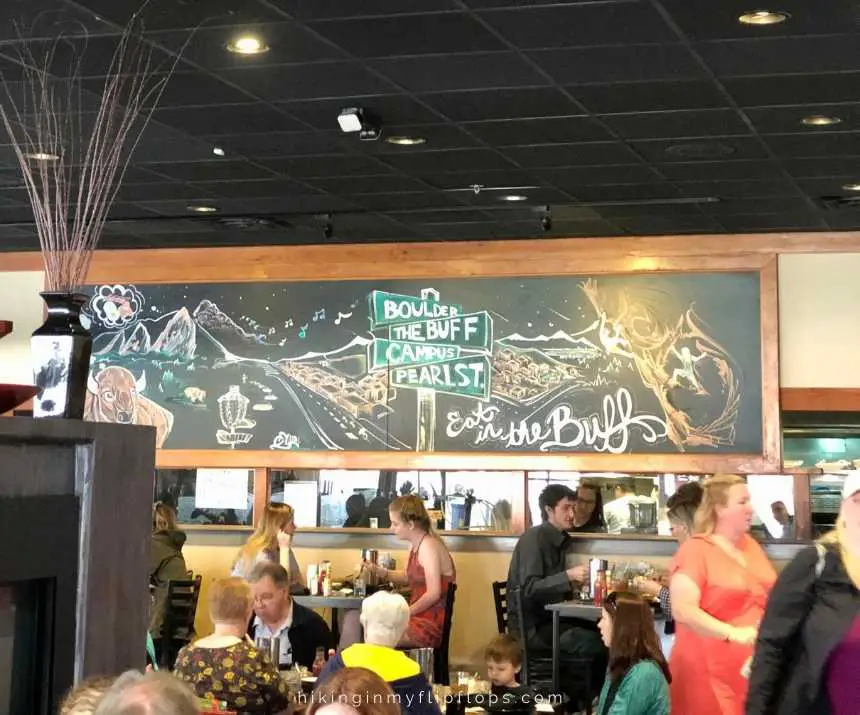 Hit the Trails
No trip to Boulder is complete without a hike. Boulder's Open Space & Mountain Parks maintains over 150 miles of hiking trails, and there is something for every skill level and intensity. The trails at The Colorado Chautauqua National Landmark (or just "Chautauqua") are by far the most popular since they sit at the base of the famous Boulder flatirons, but that means they are crowded. We still recommend one of these trails, though, because you can also wander around historic Chautauqua while you're there.
Our Chautauqua Trail Picks
Most Quintessential Boulder Hiking Trail: First and Second Flatirons
Best for Young Kids: Our pick for younger kids is the Enchanted Mesa Trail for most shade and changing scenery.
A Trail That Older Kids Will Love: Woods Quarry for the climb on the sandstone rocks at the top, that hikers have also used to build "furniture".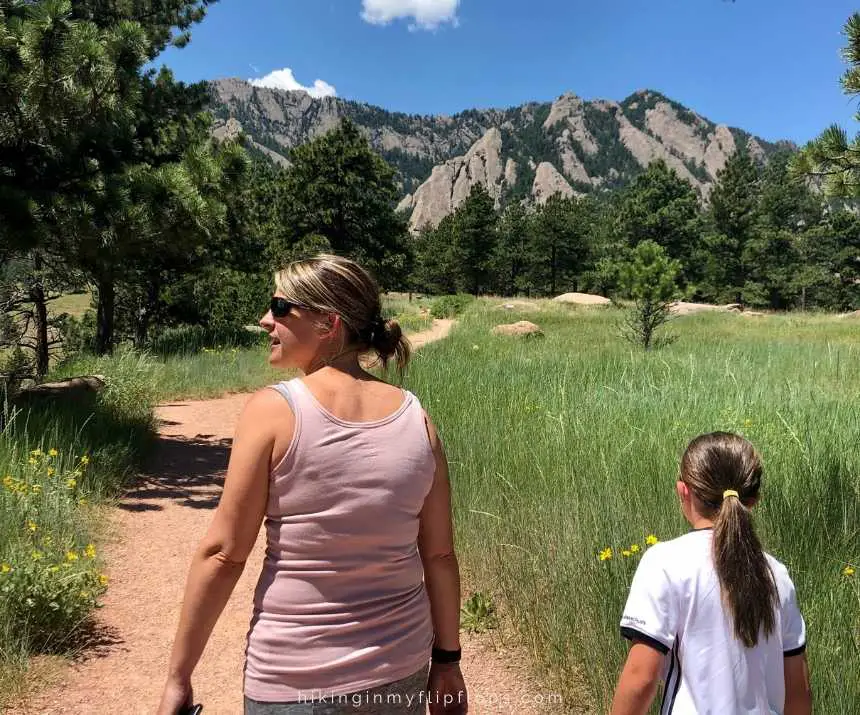 Alternative Outdoor Adventures in Boulder
If the hikes at Chautauqua don't fit into your Boulder itinerary, try the Boulder Creek Path. The wide, paved path runs along Boulder Creek, of course, and it is a great spot for tubing, fishing, and wading. You can pick up the path right at the Boulder Farmers Market.
Take in the Most Spectacular Views
After an afternoon at Chautauqua, head away from town and up into the mountain for a stop at what tops our list on a Boulder itinerary when we have out-of-town guests. Baseline Rd turns into Flagstaff Mountain Rd, and about 4 miles up the winding mountain road, you'll reach the Lost Gulch Overlook on Flagstaff Mountain. The views of the Indian Peaks Wilderness are incredible and it's the perfect backdrop for photos.
| You Might Also Like: Weekend Getaway: The Best Things to Do in Estes Park Colorado
Sampling Boulder's Best Brews
After your day of adventure, head over to Rayback Collective where you can try one of Boulder's local beers and get a snack from one of the food trucks on site. The outdoor space makes this spot kid-friendly. Or stop by Sanitas Brewing, one of our favorite breweries, located east of downtown and right off Pearl Street. McDevitt Taco Supply has a permanent spot at Sanitas Brewing and serves some of the best tacos and nachos in town.
Dinner and Another Brewery
We always make sure any breweries we visit are family-friendly, and local breweries with full menus always fit the bill. Southern Sun in south Boulder has great burgers (try the Date Night burger!), and pizza – and beer, of course.
Boulder Itinerary, Day 2: Arts, Food, and Shopping
Coffee and Pastries for Breakfast
We love to eat our way through town on any day. Start day 2 with a small breakfast at Spruce Confections on West Pearl Street. They have the most delicious breakfast burritos and pastries, plus amazing coffee and house-made chai.
A Taste of Boulder Area Produce
If it's Saturday, wander over to the Boulder Farmers Market after breakfast. The market, which has landed on some best farmer's markets lists over the years, has gorgeous local produce, honey, baked goods, and other items. If it's late summer, Palisade peaches from the western slope are a must!
| Related Reading: Evergreen Colorado: Big Adventure in a Small Town
If you've landed here around snack time, try something from one of the local food vendors that are onsite at the market.
Local Arts
The farmers market just happens to be right next to the Boulder Museum of Contemporary Art (BMoCA). It's well worth a short stop at the museum, especially with admission rates of just $2 per person (under 12 is free).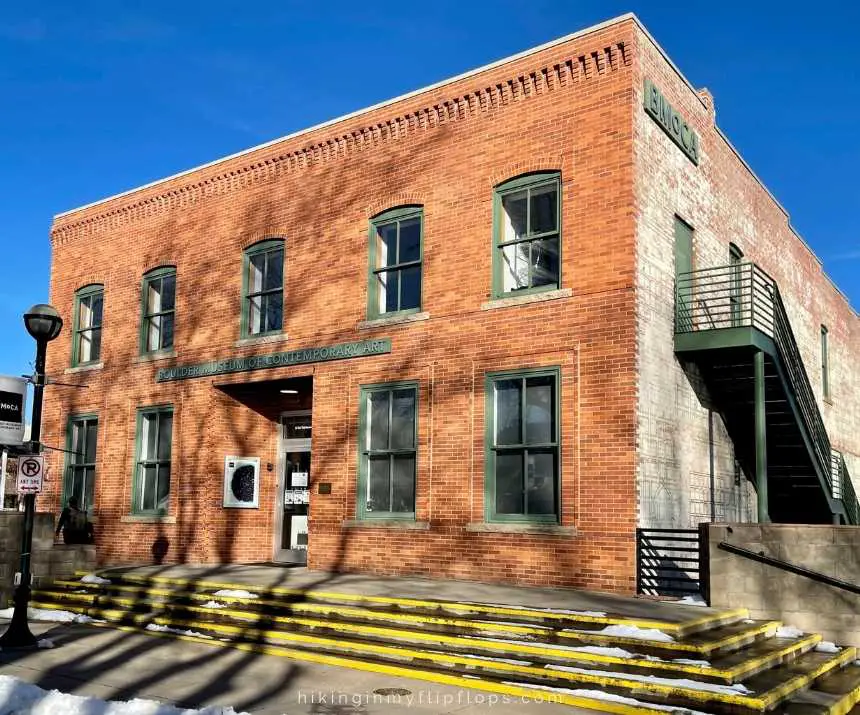 Snack Time on Pearl Street
When it's time for another snack and a taste of Boulder, head back to Pearl Street for scratch-made steamy buns at Zoe Ma Ma. Guy Fieri stopped by here a few years ago and you can see the video of mom making the steamy buns from that episode here.
Find Local Works of Art
If you hadn't already noticed the murals around town, you'll soon find how many there are, hidden in plain sight. Take a self-guided walking tour to find many works of art by local artists. This map has a list of murals you can find around town.
Head Back to Pearl Street for Dinner and Shopping
One of our favorite off-Pearl Street restaurants is the Bohemian Biergarten, described as a rustic, Czech-style spot serving traditional dishes. We love the Schnitzel (also offered as a sandwich) and Austrian Spaetzle. Alternatively, hit up Post Brewing right next door for their famous fried chicken.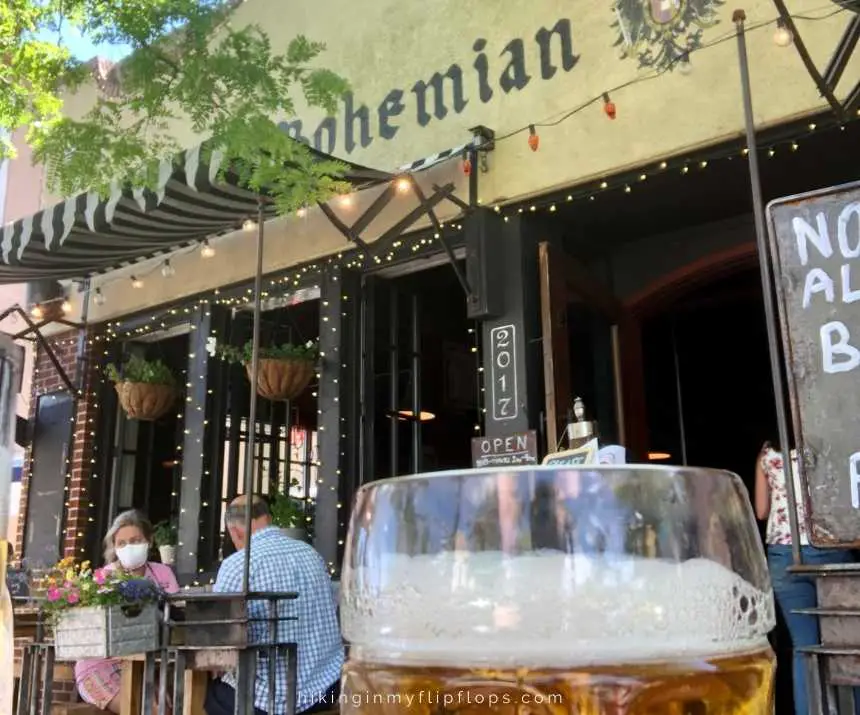 After dinner, stroll along Pearl Street Mall for some shopping. There are many local shops where you can find clothing, gifts, art, and so much more. On the west end of Pearl St, make sure to stop a Gelato Boy or Piece, Love, & Chocolate – both are highly recommended on your Boulder itinerary for sweet treats.
Have you been to Boulder? Let us know the top spots on your 36 hours in Boulder itinerary!
---
Click below to save this 36 hours in Boulder itinerary on Pinterest!
Back to the top of A Local's Guide to a Perfect 36 Hours in Boulder