Hiking in Boulder, Colorado, is one experience you can't miss when visiting the city that sits at the base of the famous Flatirons. Boulder is blessed with over 150 miles of hiking trails around the city. We've curated a list of the best hikes in Boulder, so you don't miss the experience of catching plenty of views of – or from – the famous Flatirons.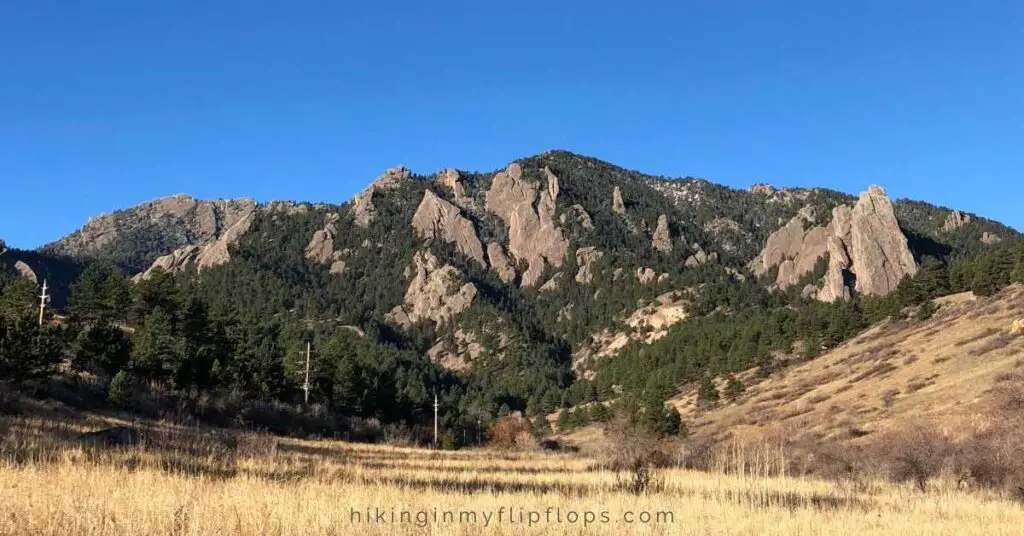 About Hiking In Boulder
Going hiking is a quintessential Boulder activity. The trails are filled with families out for a hike, groups of friends, and solo hikers on any day. Boulder trails are a favorite place to be from locals to out-of-town visitors who are exploring the town for a few days. Après hike, make sure to hit one of the many fantastic family- and dog-friendly breweries in Boulder!
Most trails in Boulder are dog-friendly, so you'll see many dogs on the hiking trails too.
Navigating Boulder Trails
Whether you take trail recommendations from this post or somewhere else, prep for your day out on the trails in Boulder. The interactive Open Space and Mountain Parks (OSMP) Trail Map makes planning easy.
The trails in Boulder tend to spider-web, so it can take a trail or two to get to the one you want. It can also be easy to pick up the wrong path, so watch for signs carefully. It's also easy to make your hike longer than the distances noted below by picking up an extra trail.
Be Prepared for the Trails
In the heat of the summer, many trails provide little shade. But even if you're hiking on a wooded trail, make sure to bring (and wear!) sunscreen.  
Most trails are open year-round, but use caution when hiking on heavily shaded trails in the fall and spring months. Icy spots tend to stick around for a while. It's best to hike with microspikes (also called traction cleats or crampons) for traction and/or trekking poles for balance. 
Spring and fall can also bring drastic temperature changes. You'll be hot in areas with little or no shade, then freezing as you climb and hike through wooded areas. Be prepared with plenty of layers. 
Best Hikes in Boulder for a View
Four of the best hiking trails in Boulder offer fantastic mountain views (to the west) and city views (to the east) from the summit.
1. Green Mountain West Ridge Trail
Distance: 4.0 miles (roundtrip) 
Difficulty: moderate
Elevation change: 721 feet
Dogs allowed: yes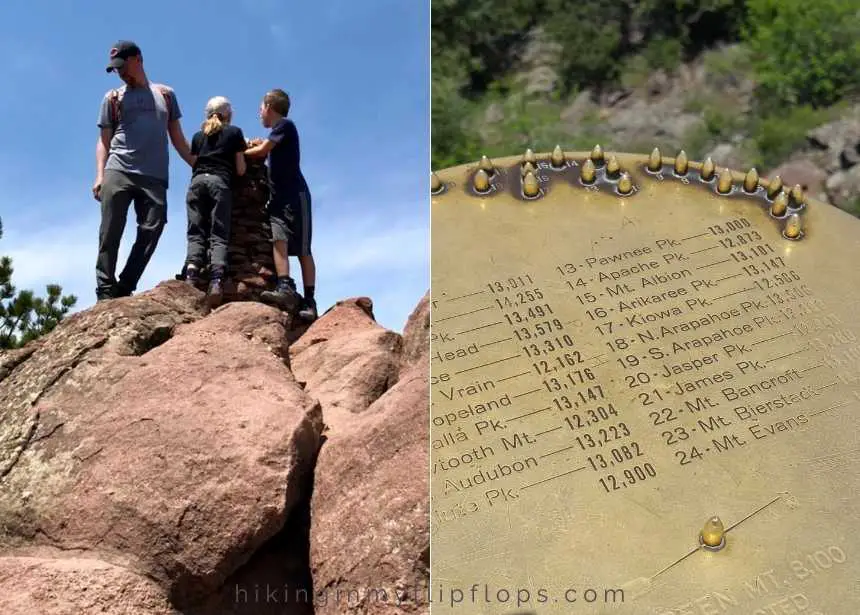 Green Mountain is one of 5 mountain peaks in Boulder. The network of Boulder hiking trails gives multiple options for reaching the summit of Green Mountain. Our favorite is via the Green Mountain West Ridge Trail. Find the trailhead about 5 miles up Flagstaff Rd, where you'll find roadside parking.

At the summit, take in views of Indian Peaks Wilderness to the west. To the east, you'll see views of Boulder and (wayyy) beyond.
Our favorite trail features: Your hike to Green Mountain isn't official until you climb all the way to the summit to tap the bronze medallion.
2. Red Rocks and Anemone Trails 
Red Rocks
Distance: 1.0 mile (RT) 
Difficulty: easy
Elevation change: 393 feet
Dogs allowed: yes
Anemone
Distance: 0.8 miles (RT) 
Difficulty: easy
Elevation change: 695 feet
Dogs allowed: yes
Looking for quick access to fantastic views of Boulder? Then Red Rocks is your trail. This Boulder hiking trail offers excellent city views, not to be confused with Red Rocks Amphitheater in Morrison, Colorado.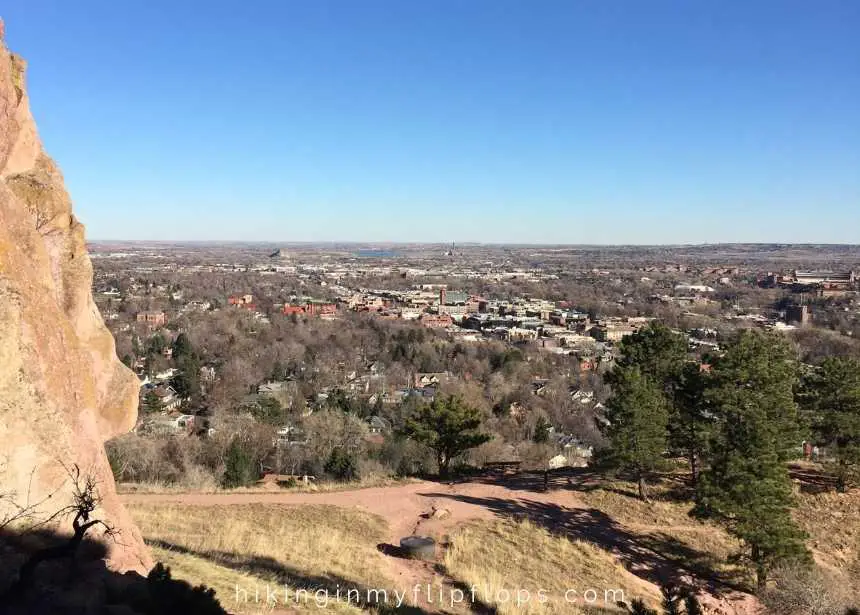 Pick up the Anemone Trail, then head west to the mountain peak. This trail is less than a 1/2 mile to views of Indian Peaks Wilderness.  
Our favorite trail features: Climb up, through, and around the massive rock formation. It's also a fantastic spot to catch the sun rising over Colorado.  
3. Mallory Cave Trail
Distance: 2.4 miles (roundtrip)
Difficulty: moderate
Elevation change: 803 feet
Dogs allowed: yes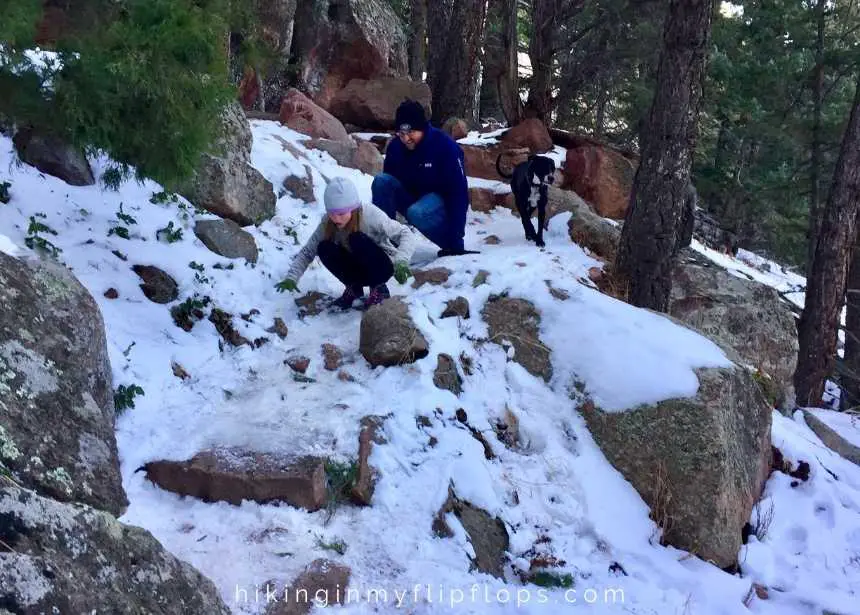 There are a few trails to take before catching the Mallory Cave Trail. From the NCAR parking lot, take the NCAR and NCAR West Tank until you reach the Mallory Cave Trail.
Our favorite trail features: At the end of the route, scramble up a rock to a cave entrance to see one of many roosting sites for bats in the foothills. The cave is closed to hikers to help protect the bats, but you can still take a peek at the cave entrance.
4. Enchanted Mesa & Woods Quarry Trails
Enchanted Mesa
Distance: 1.9 miles 
Difficulty: easy
Elevation change: 393 feet
Dogs allowed: yes
Woods Quarry
Distance: 0.8 miles (RT) 
Difficulty: easy
Elevation change: 230 feet
Dogs allowed: yes
You might already know how much we love adventures like Cotopaxi's Questival, where we've discovered many new things right in our own backyard. That's how we found the Enchanted Mesa Trail, tucked within Chautauqua Park.
The trail connects with the Woods Quarry trail (via the McClintock Upper trail), which is a trail we found one of the first times hiking in Boulder. It's also a trail that gets top votes from the kids.
Our favorite trail features: These are kid-favorite trails in Boulder. Trees wrap around the Enchanted Mesa trail, making it feel, well, enchanted. Woods Quarry ends at an abandoned quarry filled with sandstone once used for sidewalks and roads in Boulder. The climb up the sandstone is a little unsettling, but the adventure is worth it. Look for tables and benches formed out of the sandstone.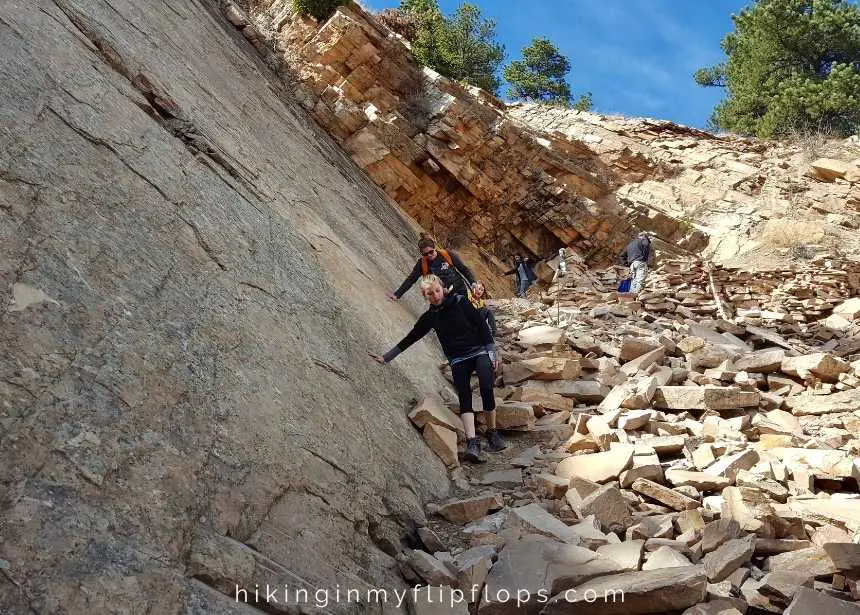 5. Mount Sanitas and Sanitas Valley Loop Trail
Mount Sanitas Trail is one of the more popular trails in town. It can get crowded, but the beautiful views from the summit are worth it.
If you're feeling really adventurous and staying in town, you can walk or bike to the Mount Sanitas trailhead.
Distance: 3.2 miles 
Difficulty: challenging, but the scrambling on the rocky terrain makes it fun for kids
Elevation change: 1,256 feet
Dogs allowed: yes, but one of the options to return to the trailhead is via Lion's Lair, which does not allow dogs
Best Hiking Trails in Boulder for Kids and New Hikers
Wide and flat trails make the best hikes in Boulder for kids – or anyone who doesn't want to do the climbs featured on other hikes around town.
6. Sawhill Ponds
Distance: 1.6 miles 
Difficulty: easy
Elevation change: 22 feet
Dogs allowed: yes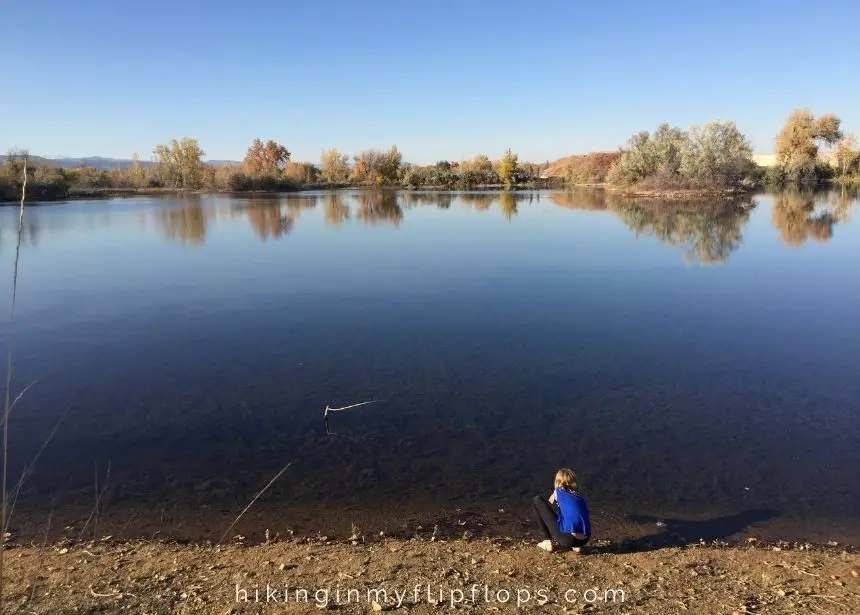 Wander through a cluster of ponds on trails that wind through Sawhill Ponds. Watch for wildlife, like ducks, fish, and reptiles. 
The ponds are also a great spot to spend an afternoon fishing with the kids. Check the OSMP website for more information.
Continue your hike through Walden Ponds, located right next to Sawhill Ponds. 
7. South Boulder Creek Trail
Distance: 2.8 miles (roundtrip)
Difficulty: easy
Elevation change: 170 feet
Dogs allowed: yes
This easy, flat hike is fantastic for younger kids and a great place to catch amazing views of the Flatirons. The trail runs along South Boulder Creek, with many spots to play in the creek. 
Park at the Bobolink Trailhead (find it on the corner of Baseline Rd and Cherryvale Rd), where you'll pick up the South Boulder Creek Trail. Then head south from the trailhead.   
The distance noted above reflects the section of the trail from the Bobolink Trailhead to South Boulder Road. The trail continues south, but we think this is the best section. The entire path is 6.6 miles (roundtrip).
Our favorite trail features: There are great mountain views from this trail. The kids love to explore and play in the creek.
8. Flagstaff Summit Trails
Flagstaff Summit is filled with a network of short, easy trails but still has incredible views of the mountains to the west and of Boulder.
You'll find the Flagstaff Nature Center in the upper parking lot. There is also a large pavilion with lots of picnic tables, restrooms, and the Sunrise Amphitheater (fabulous city views). Flagstaff Summit Rd is only open seasonally, so you'll need to hike up in the winter months.
When the road is closed, park at Realization Point and take the Range View or Ute trails to the top.
Our favorite trail features: The wheelchair-accessible Sensory Trail encourages visitors to use all their senses to experience nature.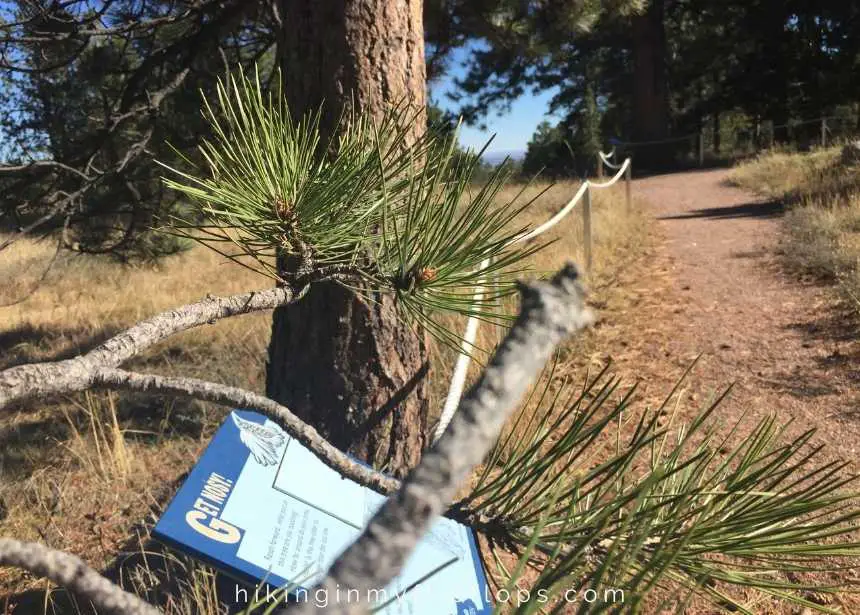 The Best Hikes in Boulder: Special Mentions
9. Eldorado Canyon Trail
This is the only trail on the list not managed by the City of Boulder's Open Space and Mountain Parks. Still in Boulder County, this trail is in Eldorado Canyon State Park.
Distance: 6.2 miles (roundtrip)
Difficulty: moderate (to hard)
Elevation change: 1,945 feet
Dogs allowed: yes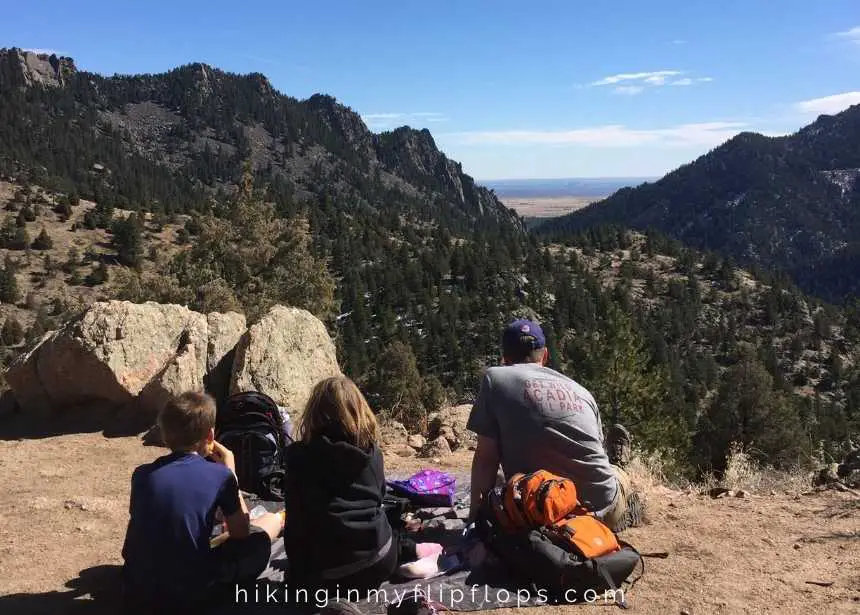 Eldorado Canyon State Park is most popular with climbers (it's one of the world's top climbing spots) and has some great hiking trails.
The Eldorado Canyon Trail has fantastic views in every direction, so this spot right at the top of the trail is a perfect place for a picnic.
The Flagstaff Star, a Boulder Tradition
2022 update: We're keeping this hike on our list of the best hiking trails in Boulder, but access to the star has been closed to the public for renovations and repairs. Since there is no noted reopen date, we've added another one of our favorite trails, Mount Sanitas, to the list.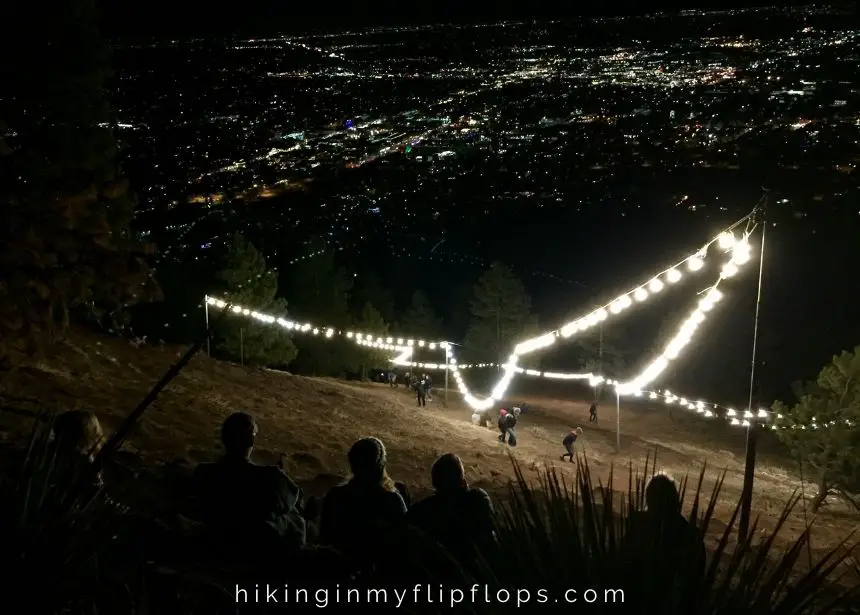 We think this one is most unique on the list of best hikes in Boulder, so if in Boulder for the holidays, it's a hike you don't want to miss out on.
Boulder's Flagstaff Mountain is lit up with a bright star every year from mid-November to early January. So it's a Boulder tradition to do the steep climb to the top of the star. This climb usually ends in sliding back down (so don't wear your favorite pants on this one!) and is especially difficult in ice and snow.
Find the star (also called the Boulder Star) across the street from the Halfway House on Flagstaff Road.
---
Boulder is a hiker's paradise, with trails to accommodate hikers of all levels of experience and fitness. Whether you are looking for an easy hike that the whole family can enjoy or a more challenging trek with incredible views, these picks for the best hikes around Boulder have something for everyone. So lace up your shoes and get ready to hit the trail!
---
Click below to save the best hikes in Boulder on Pinterest!