#optoutside always makes it feel like more of an adventure than any other day we spend outside as a family. The shift from a day focused on forging through crowds on no sleep just to find great deals to spending time outside with family is just refreshing to me.
It was a little too early in the season for a family ski trip into the mountains, so we went into Denver for some outdoor adventure. Biking through downtown on the Cherry Creek Trail was the perfect way to get outside this Black Friday.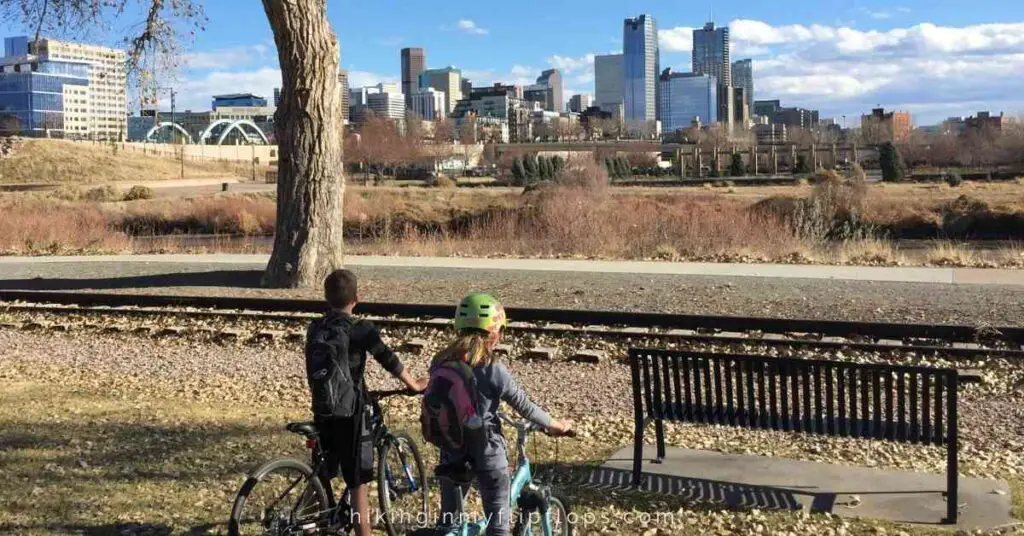 Getting on the Cherry Creek Trail
You can hop on the Cherry Creek Trail anywhere along the path, but the best place is right at mile 0. Across the Platt River from REI's Denver flagship store (fitting for #optoutside day, right??), you'll see the marker for the start of the trail.
The trail is a paved route that follows right along Cherry Creek. The entire 14-mile trail leads to The Cherry Creek Reservoir at Cherry Creek State Park. We decided not to press our luck and to just check out the first few miles.
Along the Trail
The trail takes you across the southern part of Denver, where there is easy access to 16th Street for shopping and restaurants. After getting through most of downtown, you reach the Cherry Creek Shopping Center. All the traffic and chaos we saw riding by the mall has never made me happier to not be out shopping on a Black Friday!
The relatively flat and paved route made for a nearly effortless ride. Along the way, you'll pass by some of Denver's iconic murals, tree-lined sections that make you feel like you are in the middle of nowhere, and along some city streets. Mile markers are posted every half-mile, so you'll know exactly how far out you are.
We reached the 5-mile marker and decided to call it a day. We hadn't yet done any long rides and didn't want to press our luck. Ten miles would be plenty for our #optoutside day. It just so happens there is a picnic table on the river – perfect for a quick snack or a picnic. Other than that spot, there were not many good places to stop in that 5-mile stretch as I had expected.
Biking the Cherry Creek Trail with Kids
While biking the trail was a great family activity, I wasn't quite prepared for what it would be like with the kids.
Some serious bikers were on the trail that day, and they had little tolerance for our slower pace. And while the path is wide with a dividing line down the center to guide the kids to "their" side, the fear of inadvertent weaving across that line had me on high alert at times.
Another spot to really keep an eye on the kids is between miles 3.5 and 4. The Cherry Creek goes into the Denver Country Club, and the trail diverts to a bikes-only sidewalk along 1st Ave. There is no buffer between the path and the heavily traveled road, especially when returning to downtown. And while that stretch of the trail is a "no passing" zone, it happens (especially behind slow families like us).
Be on the lookout for places to stop for a break. It was a lot like looking for rest areas along the highway – you can't really just stop anywhere. Make a quick stop when you get the opportunity, just in case.
Tips for the Cherry Creek Bike Path with Kids
But would we do it again? Absolutely! The kids quickly learned the importance of staying in their lane and listening for calls of "on your left!" from passing bikers. However, the further from downtown you get, the less bike traffic you run into.
Knowing what to expect along the way can help prepare you and the kids for the ride.
Listen for other bikers getting ready to pass you.  You'll hear bikers ringing a bell or shout of "on your left!"
Stop at a pull-off for a break if there is even a slight chance you need a break.  The next point to pull off may be too far ahead.
Use extra caution along 1st Ave!  Pay close attention to staying in your path and to other bikers.
Going back to ride all 14 miles of the trail is at the top of our list of things to do in Denver with the kids this year.
Visiting from out of town?
Even if you are visiting without your bikes, this trail can still top your list of things to do in Denver. Check out Denver B-cycle for quick and easy access to bikes all over the city. (Just be aware that there may not be any kid-friendly options for the bike rental system).
Since a pass will give you 30-minute rides all day long, take the opportunity to explore the sights of Denver on a bike.
Post ride @ REI + food
On any other day, we would have stopped into REI once we returned to mile 0. It really is a must-see if you haven't been to this location. An old brick building with multiple floors filled with all sorts of outdoor gear, it's the biggest REI I've ever been to. We could spend hours here.
But since REI was closed in honor of #optoutside and we were starving, we headed over to the other side of I-25 to check out a restaurant we've been waiting to try – the ale house.
The ale house has an extensive beer list for mom and dad. We skipped the kid's menu and ordered a regular lettuce-tomato-cheese burger and a PB&J burger. Yep, PB&J. This burger has secured a top position in my top favorite burgers EVER. It's sweet (the PB&J) and spicy (jalapenos and spicy bacon) perfection!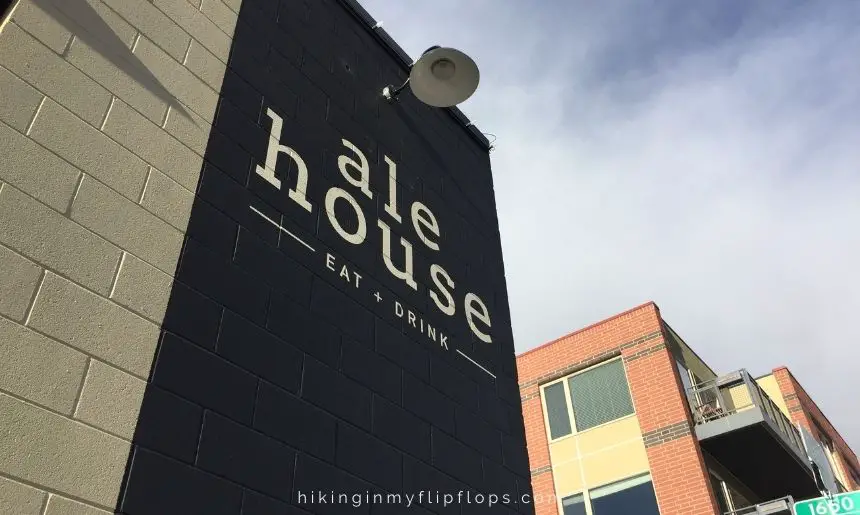 And since we were so close to Little Man Ice Cream, we couldn't help to continue the post-ride rewards. It's one of our favorite spots for sweet treats in Denver!
Have you biked along the Cherry Creek Trail in Denver? We'd love to hear about your adventure in the comments!
---
Click below to save this info on biking Denver's Cherry Creek Trail on Pinterest!