When the mountains are calling when planning your next vacation, it's no secret that Colorado is the place to go. The awe-inspiring mountain views, wildlife sightings, and epic outdoor adventures make it the ultimate mecca for all things nature and outdoor adventures. But with so many unique sights and activities in Colorado, planning your Colorado road trip itinerary can be just a bit overwhelming.
Fret not, because we've got just the perfect itinerary for you. Starting in Denver, this one-week epic road trip will take you straight into the heart of the Colorado mountains. You'll experience some of the best hiking trails and see the most mesmerizing views. So get your road trip packing list ready and prepare to encounter some of the most fabulous natural sights this great state offers.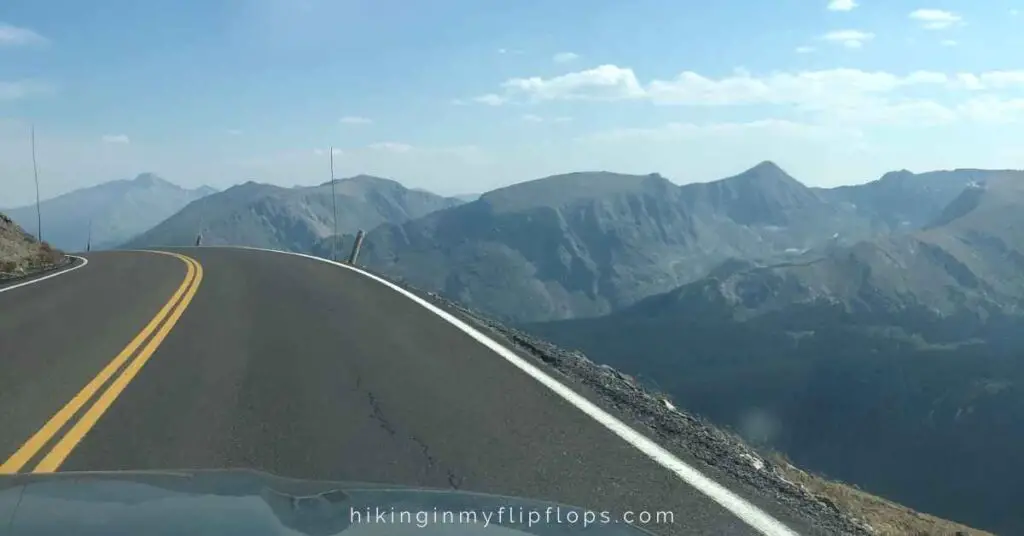 About This 7-Day Colorado Road Trip Itinerary
This itinerary has nature lovers and outdoor adventurers in mind. The scenic drive covers over 750 miles, with about 14 hours of driving through the most awe-inspiring areas of the western part of the state. We promise you'll be in awe at nearly every moment.
This itinerary does work year-round. If traveling in the winter months, be prepared for some seasonal closures. Reserve as much as possible ahead of time in the summer months, when things tend to book up quickly.
The Ultimate Colorado Road Trip Itinerary For Nature Lovers and Adventurers
This 7-day Colorado road trip itinerary is very family-friendly despite being filled with adventure. In fact, we've made many trips with three kids (and sometimes a dog) to these areas.
Day 1: Boulder
Drive from Denver International Airport to Boulder: about 45 minutes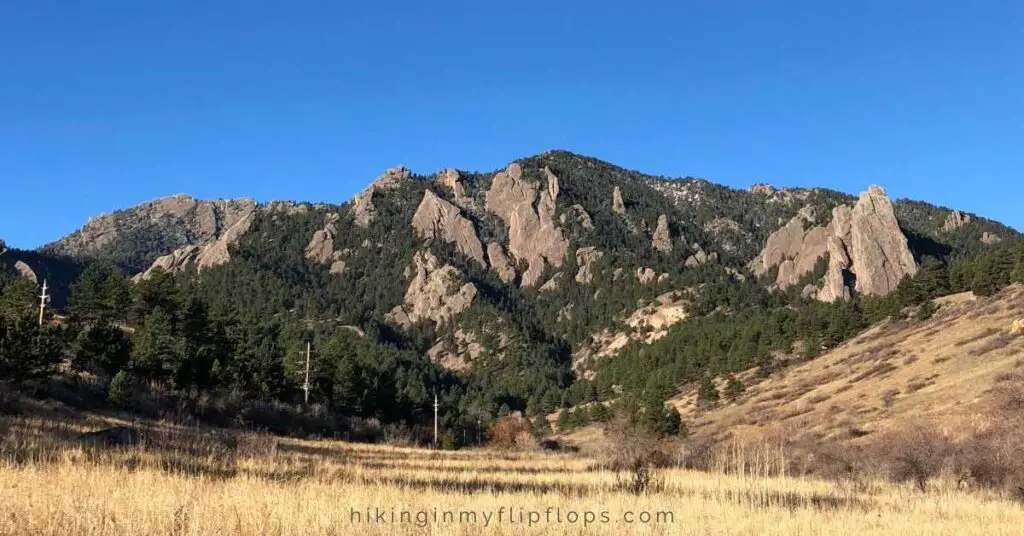 Set just a short distance from Denver, Boulder is the perfect starting point for any Colorado road trip itinerary. This quaint student town is a treat for artisan restaurants and exciting nightlife. And Boulder's surroundings are just the perfect place to warm up for more challenging hikes ahead.
The best way to explore the area is by heading to its gorgeous foothills and hitting a hiking trail or two. Depending on your skill level and how you're handling the altitude increase during your visit, you can opt for more accessible hikes in Boulder. Try trails that set off from the trailheads at Chautauqua Park or the People's Crossing, which provide unparalleled views of the surrounding area.
If you're keen on a challenge, though, take on the Boulder Skyline Traverse. This epic hike hits Boulder's five peaks: Bear Peak, South Boulder Peak, Green Mountain,
Flagstaff Mountain, and Mt. Sanitas. Make the adventure a more manageable 15 miles by taking an Uber to the South Mesa Trailhead and taking the short walk back downtown from Mt. Sanitas.
Where to Stay in Boulder on Your Colorado Road Trip Itinerary
The historic Hotel Boulderado is conveniently located near the Pearl Street shops and restaurants. We also like the adorable cottages at The Colorado Chautauqua for the incredible views of the Flatirons and access to hiking trails.
Marriott and Hilton have locations downtown if you're looking for more familiar brands.
Where to Eat in Boulder
Our favorite breakfast spots are The Buff and Foolish Craigs. Grab sandwiches from the Organic Sandwich Company or steamy buns from Zoe Ma Ma for lunch on a chilly day. We often head to Avanti Food & Beverage for dinner and exceptional Flatiron views or to one of Boulder's local breweries, many of which serve delicious food!
Days 2 and 3: Rocky Mountain National Park
Drive from Boulder to Rocky Mountain National Park: one hour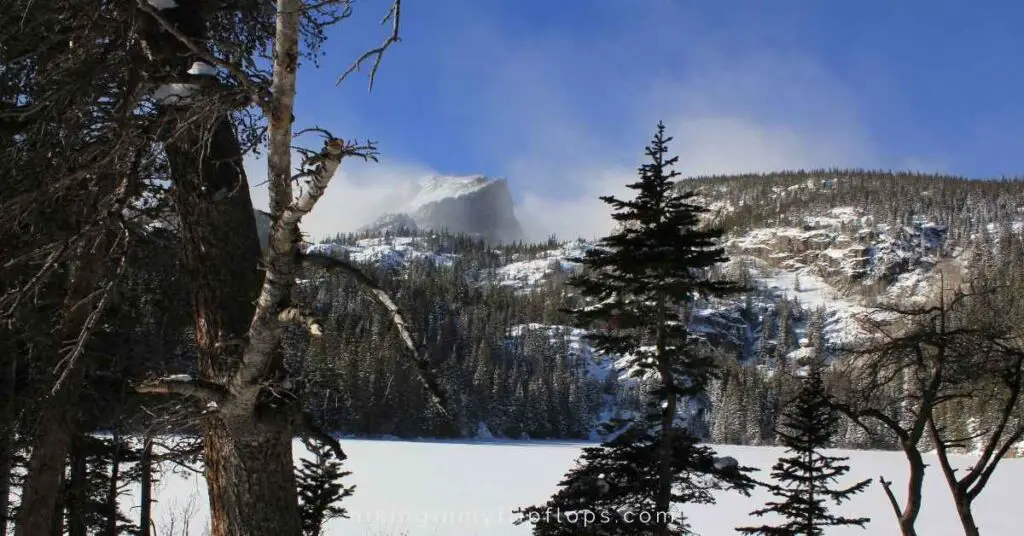 After a day spent adjusting to the altitude in Boulder, it's time to visit Colorado's most iconic national park. With over three hundred miles of hiking terrain, getting bored in The Rockies is a pretty tricky feat.
Moreover, this stunning national park boasts picture-perfect alpine lakes, exceptional views of snow-capped peaks like nowhere else in the world, and a vast array of activities ranging from kid-friendly lakeside strolls to scrambling up to conquer one of the tallest mountains in the state.
The truth is, you could dedicate your entire road trip just to exploring the park because there's simply so much to do here. We recommend hitting a few of the classic (and extremely scenic) hiking trails in Rocky Mountain National Park since we have only two days here. These include Emerald Lake, Bear Lake, and Sky Pond. Afterward, get the most out of your visit by driving down Trail Ridge Road, a drive that will have you dropping your jaw to the ground every mile of the way.
Where to Stay in Rocky Mountain National Park
If you want to keep the momentum of the adventure during your 7-day Colorado road trip itinerary, plan for camping in the national park. There are two campgrounds within the park, or opt for backcountry camping. Not up for roughing it? Opt for a haunted adventure at the historic Stanley Hotel.
Where to Eat in Rocky Mountain National Park
There are few dining options within Rocky Mountain National Park, so head into Estes Park for meals.
Day 4: Hanging Lake
Drive from Rocky Mountain National Park to Hanging Lake: 3 hours 30 minutes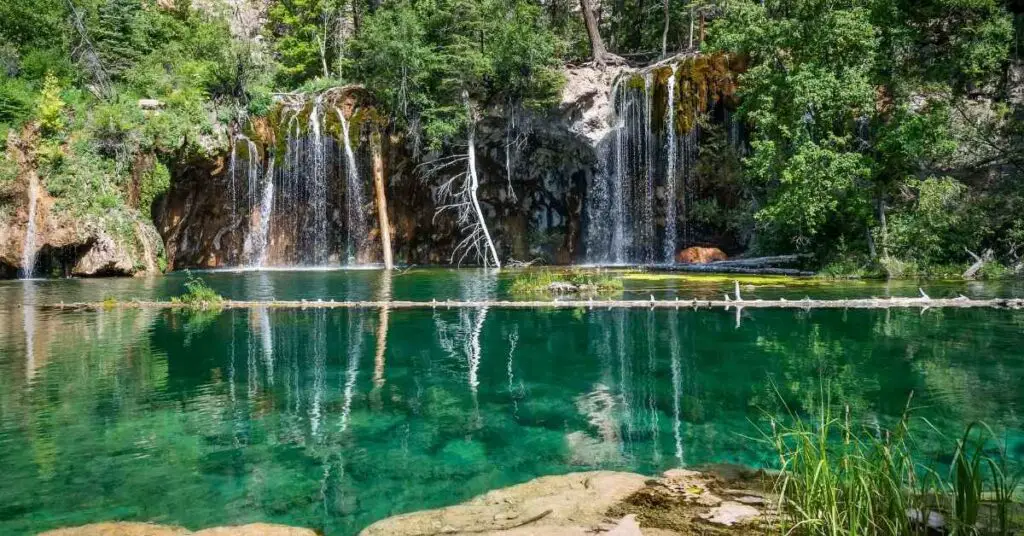 Want to feel as though you've transported into the movie Avatar? Hanging Lake is one of the dreamiest destinations in Colorado, and we're not exaggerating when we say you'll feel as though you're inside a fairytale during your visit.
Hidden deep inside Glenwood Canyon, a visit to Hanging Lake is a must on any Colorado road trip and a worthy spot on a Colorado bucket list. The entire scene will make you wonder if fairies are about to pop out from under the rocks. Stunning flora covers the walls of the unique geological formation, with teal-tinted water cascading down from the cliffs above.
Where to Stay in Hanging Lake
The nearby town of Glenwood Springs has plenty of lodging options, including the Glenwood Hot Springs Lodge, where you can soak in the warm springs during your stay.
Where to Eat near Hanging Lake
Check out Slope & Hatch to fill up on tacos after your day of adventure, or grab a pizza from Rocky Mountain Pizza Co. Midwesterners looking for a familiar menu will want to visit the nearby Culver's location!
Day 5: The Black Canyon of the Gunnison National Park
Drive time from Hanging Lake to the Black Canyon of the Gunnison NP: 2 hours 30 minutes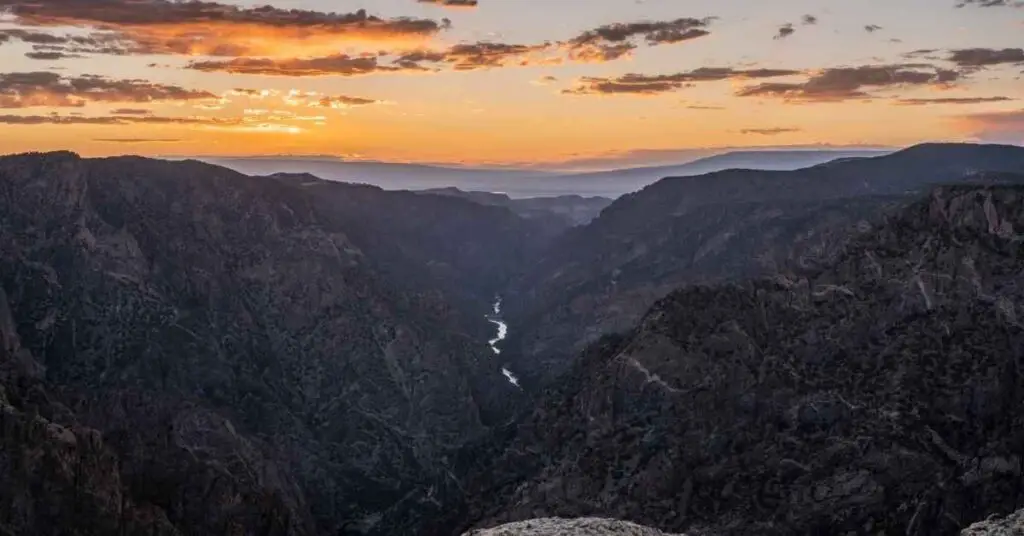 Located not too far from Ouray, Black Canyon and the Gunnison is an ideal stop to make before reaching the final destination in our itinerary. Often dubbed the "Grand Canyon of the Rockies," this gorgeous canyon plunges almost 3,000 feet down, making the entire scene look as though it belongs inside a Jurassic Park film.
One of the best ways to explore Black Canyon quickly is by driving along Rim Drive, which boasts 12 scenic viewpoints of the canyon, each more breathtaking than the last. If time permits, white water rafting is another must-do activity here. Not feeling that adventurous? Take a scenic boat ride to experience the canyon from up close.
Tip: If you have an extra day to spare, we recommend hiking down to the bottom of the canyon. The hike takes 5 hours and is considered challenging, but getting to see the canyon from down below is an experience worth the effort.
Where to Stay in The Black Canyon of the Gunnison National Park
The town of Montrose is a short drive from this national park, where there are plenty of 2- and 3-star hotels. The Montrose / Black Canyon National Park KOA is a fantastic place to stay if you want to be a little more adventurous but need access to some amenities after a few days on the road.
Where to Eat in The Black Canyon of the Gunnison National Park
When we're eating our way through our road trip, we like to find spots that are a little under the radar, like the Himalayan Pun Hill Kitchen in Montrose. But if you prefer to stick with the tried and true, head to Buckaroos Slices & Scoops for some of the best pizza around or Camp Robber for a southwestern menu.
Day 6: The Royal Gorge
Drive time from Black Canyon of the Gunnison to Cañon City: 3 hours 30 minutes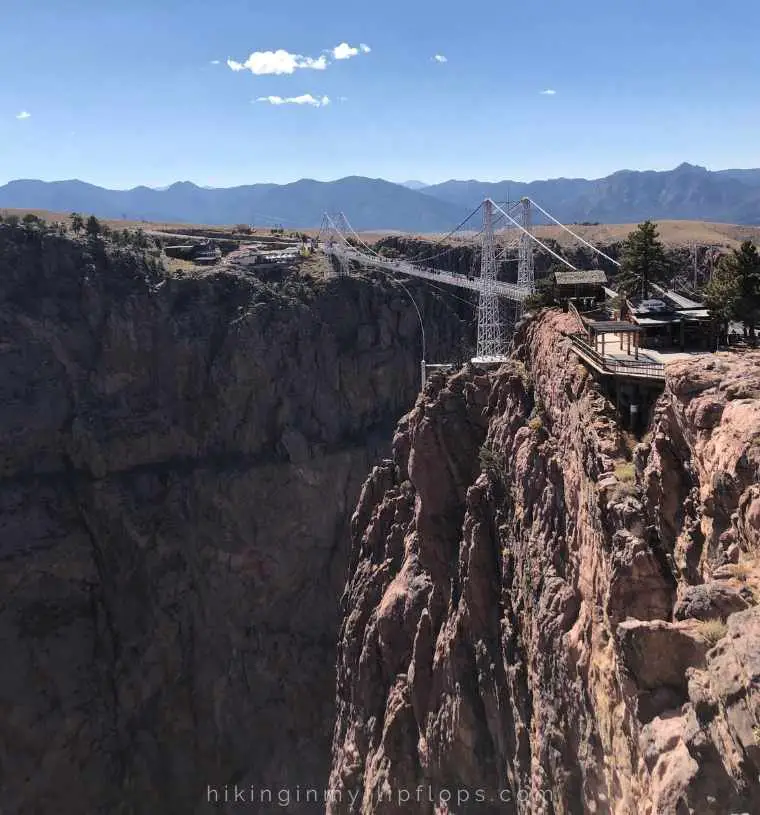 A visit to Cañon City and the Royal Gorge is worth at least a weekend visit. Still, when you want to get as much as you can onto your 7-day Colorado road trip itinerary, a day is enough to experience the best of the area.
Start your day at the Royal Gorge Bridge, where the entrance fee to the area includes a gondola ride across the gorge and a pedestrian-only bridge for traversing the narrow canyon. Adventure-seekers will want to add a zip line ride over the narrow canyon and the Via Ferrata climbing experience to their itinerary.
Where to Stay Near the Royal Gorge
Cañon City has several 2- and 3-star hotels, but when traveling with a family, our recommendation is a stay in a cabin to take advantage of the outdoor space. Try Echo Canyon Campground, Royal Gorge Cabins, or Royal Gorge / Cañon City KOA.
Where to Eat in Cañon city
Head downtown for the best pizza from Pizza Madness!
Day 7: Cañon City and Denver
Drive time from Cañon City to Denver: 2 hours
Spend the morning taking one last adventure and hit one of the trails in Cañon City for a bike ride or hike. Our pick is the flat but scenic Tunnel Drive Trail on the edge of town. Grab breakfast in town and take a stroll along the Arkansas River Walk Trail if you have a little extra time before heading back to Denver.
Breakfast and Coffee in Cañon City
How could you not mark the end of your Colorado road trip itinerary anywhere other than a spot with the name happy ending? The Happy Endings Caboose Café is located near the Royal Gorge Route Railroad and serves delicious coffee, crêpes, and more.
Have Extra Time to Spend in Denver?
The city of Denver is filled with fun sights and activities, so if you find yourself with extra time before your flight or hitting the road back home, here are a few things to check out in Denver:
Catch a game or tour the home of the Colorado Rockies at Coors Field.
Larimer Square, near 16th Street Mall, is home to some of the best shops and restaurants in the city.
Rent bikes and take an urban biking adventure along the Cherry Creek Trail.
Visit shops and restaurants at the historic Union Station. You can even get a ride to Denver International Airport from there.
Your Colorado Road Trip Map
Here is what your epic 7-day Colorado road trip looks like!
You can also see the route on Google maps to modify the route to fit your Colorado road trip itinerary.
Tips for Your 7-Day Colorado Road Trip Itinerary
Download your itinerary and Colorado road trip map for reliable access to the information you need. Traveling between mountain towns often has gaps in cell service.
If visiting in winter, have a vehicle or tires that are appropriate for the season. When winter weather hits, which can start as early as September and be as late as June in the high elevations, traction laws are put in place. This means 4WD/AWD, snow tires, or chains are required.
If possible, time your visit around "shoulder season." These spring and fall months bring weather and terrain that make outdoor adventures unpredictable. Trails are extra muddy or icy and potentially closed. Carry microspikes with you for hikes and wear waterproof shoes. We learned our lesson on a late June hiking in Breckenridge while wearing shorts on the snowy trail.
Be prepared for impromptu roadside stops. Even in more remote locations, you'll probably pass by something that is worth a stop for a closer look, like the Coney Island hot dog stand with a line out the door or the impressive Bishops Castle.
In the summer months, bring plenty of water and sunscreen. The sun is harsh in Colorado, so you'll go through a lot of both.
If you're anything like us, eating out for 7 days is a little much. Make a plan to stop for groceries to make simple road trip meals and snacks between the stops at restaurants.
If you want to add a quick Colorado ski trip to your itinerary, your best bet is to make a detour after Hanging Lake to Powderhorn Mountain Resort.
---
And that's your 7-day Colorado road trip itinerary! It could take a lifetime to see all that Colorado offers. Still, you can experience some of the best destinations on this week-long road trip, with stops at the most beautiful places in the state, including the Million Dollar Highway and three national parks. Make sure to save this list to start planning your Colorado adventure!
---
Click below to save this 7-day Colorado road trip itinerary on Pinterest to plan your next adventure!