Update for the 2022 season: the Ice Castles won't be returning to Dillon CO this season. There are 5 locations around the country that will be open this year, but most of these tips apply no matter where you find your magical winter experience this year!
A magical experience comes to Colorado every winter. If you haven't visited the Dillon Ice Castles before, this is a must-add to your list of winter adventures this year. Explore and play through 20 million pounds of ice for a winter experience like no other. And they're back this year for the Ice Castles Colorado 2021 season.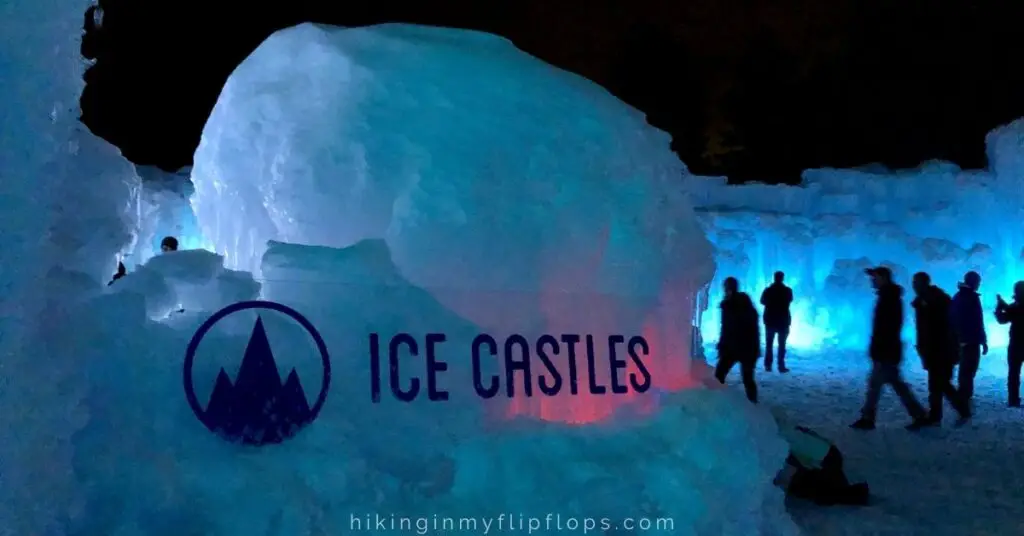 Experiencing the Magic of the Ice Castles
The Ice Castles are massive, hand-built structures created from 20 million pounds of ice. Explore what seems like a never-ending series of rooms, reached through icicle archways and slot canyons. Crawl through hand-carved ice tunnels, slide down 50-foot ice slides, and watch water shoot up from ice fountains.
During the day, the castles feel like a fairy-tale, as you're surrounded by awe-inspiring walls and archways of icicles. You won't be able to help from channeling your inner Elsa. At night, color-changing LED lights embedded in the ice structures give the castles an entirely different feel but no less impressive.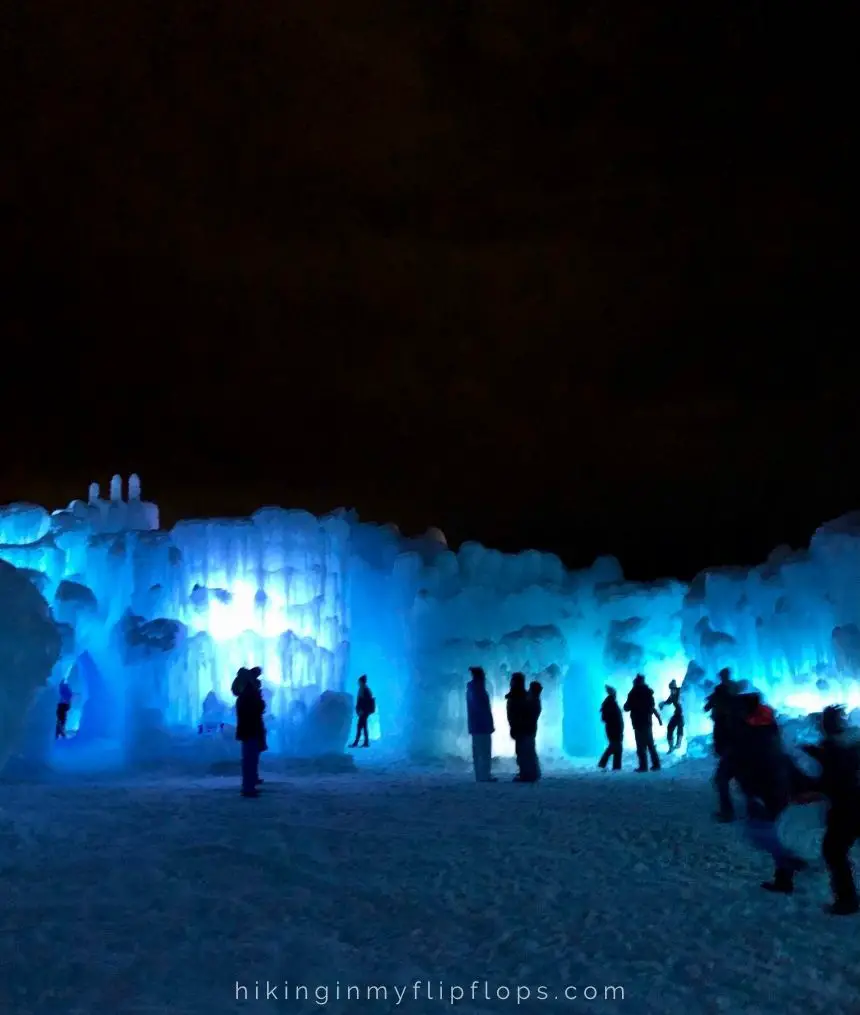 Other Ice Castle Locations
The Ice Castles will be in 3 other locations this season. In addition to Ice Castles Colorado 2021, you'll also find them in Midway, Utah; North Woodstock, New Hampshire; and Lake Geneva, Wisconsin.
COVID-19 Precautions at the Dillon Ice Castles
Like many other attractions, the Ice Castles Colorado 2021 season has put precautions to help prevent the spread of COVID-19. These changes include mask requirements (for guests and employees), one-way traffic through certain areas, reduced capacity, and hand-sanitizing stations throughout the facility.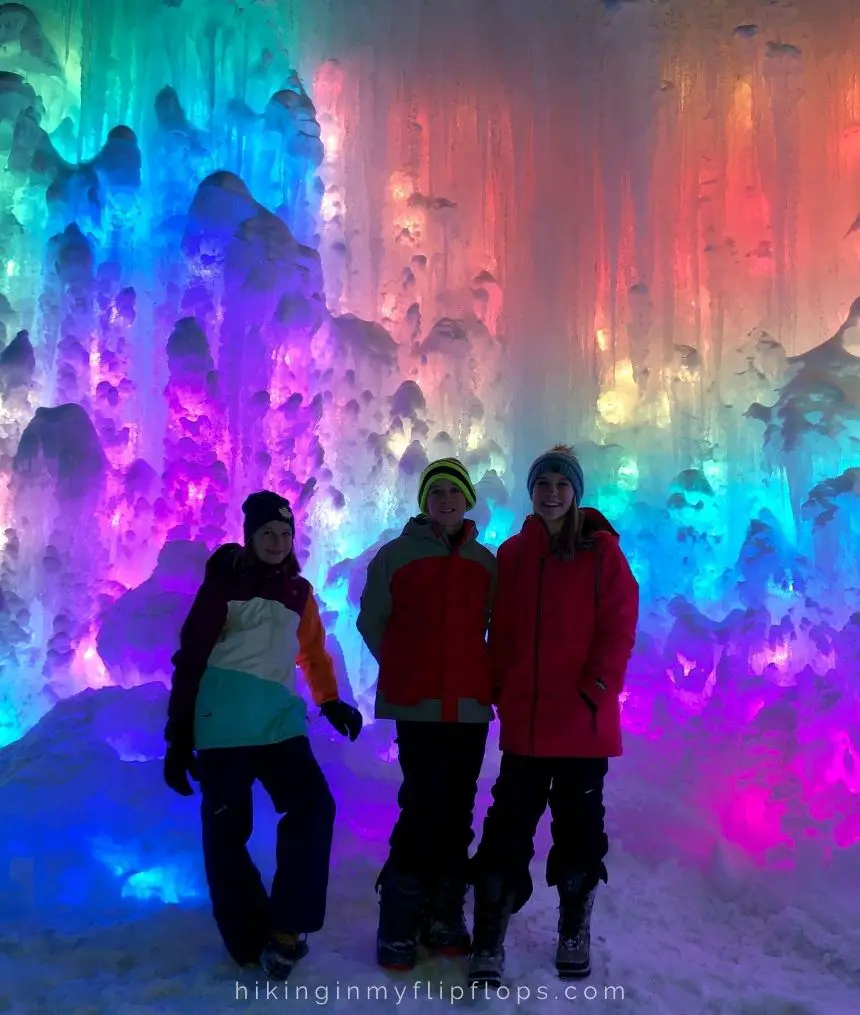 11 Tips for Visiting the Dillion Ice Castles
It's one of Colorado's most unique experiences found in the mountains every winter. Knowing what to expect before you go will ensure the entire family has the best experience at the Ice Castles in Dillon, Colorado.
1. Buy tickets in advance – and early
Tickets to the Ice Castles in Dillon sell out, so reserve your spot ahead of time. And since the season is so short, and buy your tickets early. Many time slots sell out quickly, and online ticket prices are also lower than tickets at the gate.
2. Leave pets at home
Dogs are unfortunately not allowed in the Ice Castles. And with the low winter temps in the Colorado mountains, you wouldn't want to leave your dog in the car while you spend time exploring the castles.
You Might Also Like: A Weekender's Guide to the Best Things to Do in Estes Park Colorado
However, service animals (but not comfort or emotional support animals) are allowed to accompany guests inside the castles.
3. Bring a sled instead of a stroller
While strollers are not allowed, sleds are permitted. Bring one along to tow the kiddos when their little legs get tired from climbing, playing, and exploring.
4. Wear the right shoes
The icy, packed snow can get slick. Winter boots are your best bet because of the cold, but any shoes with good traction will make walking through the structures much more manageable.
5. Hit the restroom before entering
There are portable restroom facilities near the entrance. If you think you'll need them, stop before going into the Ice Castles. There is no re-entry once you exit.
6. Be ready to play
The Ice Castles in Dillon are an interactive experience, and it's not just for kids! Mom and dad also get in on the fun, climbing through ice tunnels and soaring down ice slides.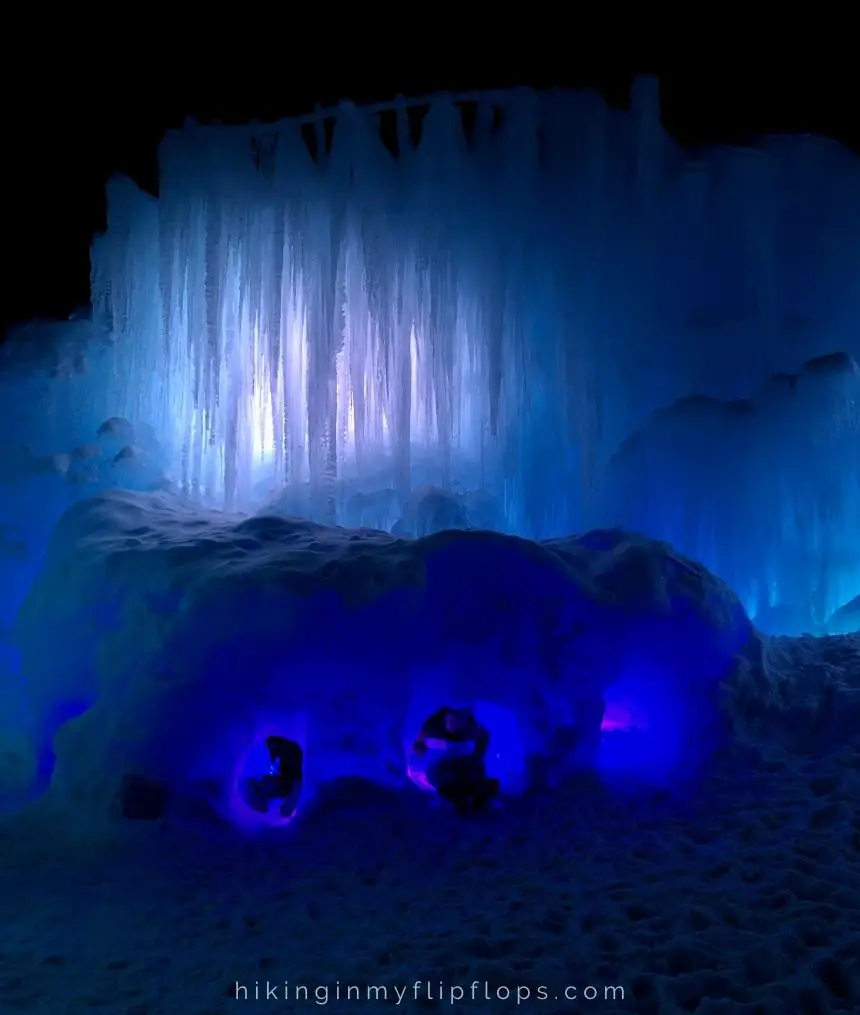 7. Plan to eat before – or after
Food and drinks are not permitted in the Ice Castles, so plan your visit accordingly. If there isn't time to grab a meal before your timed entry, bring snacks if you want something before entering the castles.
8. Bring your camera
As you can imagine, there are SO many incredible photo opportunities. So many that I had to force myself to put my camera down, so I wasn't just experiencing the Ice Castles through the camera lens.
Post your best shots on social media with the hashtag #icecastles.
You Might Also Like: A Denver Mountain Escape to Evergreen Colorado
9. Choose a late afternoon time slot
Daylight and nighttime hours make very different experiences at the Ice Castles. To get both experiences, time your visit for late afternoon, so you can stay until the sun goes down.
10. Visit during the week
Weekends (Friday-Saturday-Sunday) are the busiest time at the Ice Castles, so try to time your visit for Monday-Thursday. You're more likely to avoid the crowds, get the time slot you want, and save money on tickets during the week.
11. Don't hesitate to visit again
Once you've seen it, you've seen it, right? Well, not really. The magic of the castles changes from day to night, from season to season, and even within a season. It most definitely won't be the same experience twice.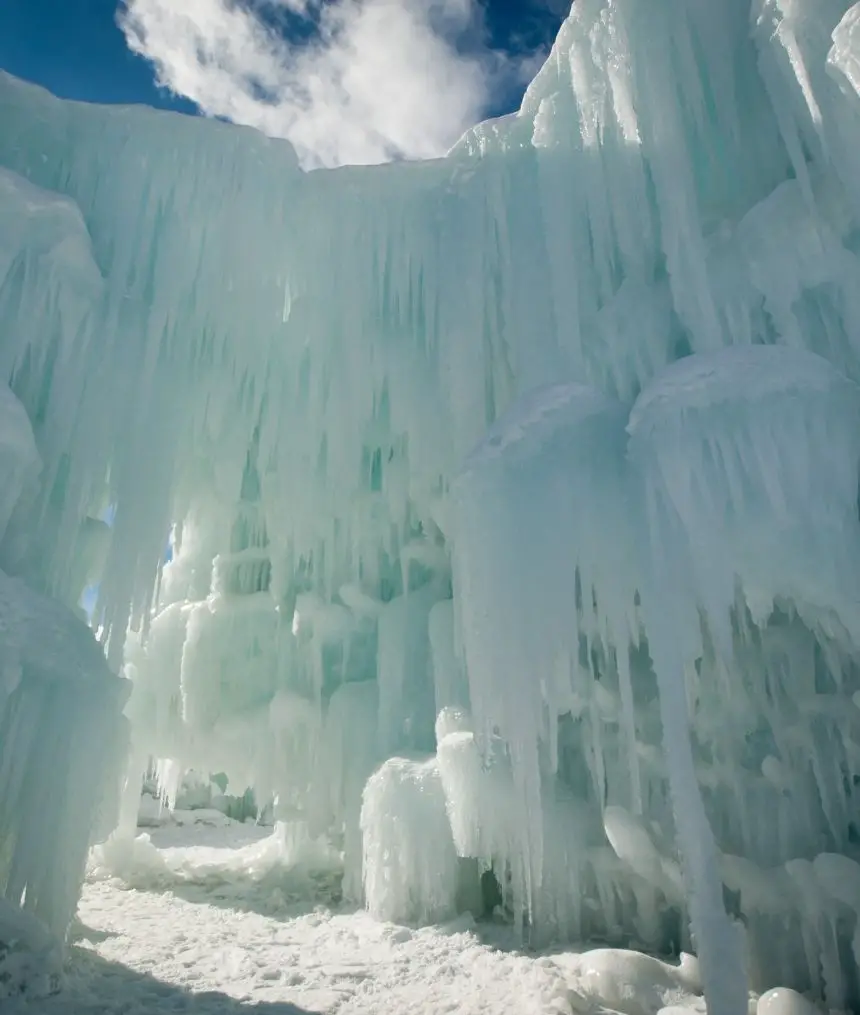 Frequently Asked Questions
Find more information on the Ice Castles Colorado 2022 season here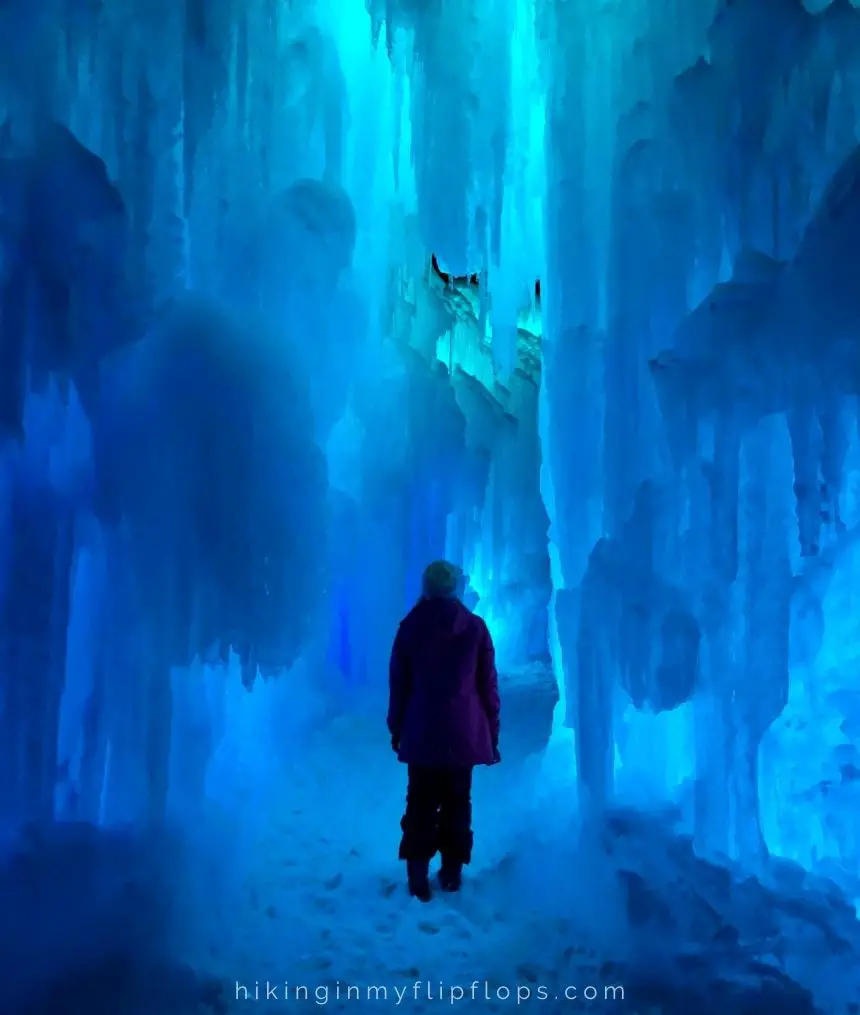 Where to Stay When Visiting the Ice Castles
We like quick and easy hotels when we're just looking for a place to sleep (and maybe swim!). The Best Western Ptarmigan Lodge in Dillon is just a 5-minute walk to the Ice Castles.
Rental homes and condos are also plentiful in Dillon. Check Airbnb or VRBO for available properties.
Other Things to Do While Visiting Dillon Colorado
Make your visit to the Ice Castles part of a winter getaway in the Colorado mountains.
Skiing and Snowboarding Near Dillon
Dillon is close to Keystone Ski Resort (10-minute drive) and Breckenridge Ski Resort (30 min drive), which makes a visit to the Ice Castles in Dillon a great addition to a day out on the slopes. Vail and Copper Mountain Ski Resorts are also short drives from Dillon.
Related Reading: The 7 Best Family-Friendly Ski Resorts in Colorado
Even if you're not a skier or boarder, each of these ski resorts offers shopping, restaurants, and other winter activities.
Snow Adventures at Frisco Adventure Park
Keep the winter experience going with tubing, snowshoeing, Nordic skiing, and more at Frisco Adventure Park is less than 15 minutes from the Ice Castles.
Shopping
We know not everyone is into a full day of outdoor adventures in frigid temps. And sometimes, a little retail therapy is in order. If that's the case, then we recommend a stop at the Silverthorne Outlet Mall.
Have you been to the Ice Castles in Dillon or another location? Let us know about your experience in the comments!
---
Click below to save these tips for visiting the Dillion Ice Castles on Pinterest!