Mount Rushmore is often the draw to plan a South Dakota road trip. Then you start to uncover all there is to do in just a few hundred square miles of the iconic National Monument.
Our most recent trip to western South Dakota was a whirlwind tour to the top spots in 3 packed days. While we could have easily spent more time in many of the places we visited, we could also get in everything we wanted to.
Most South Dakota must-see sights are public lands – state parks, national parks, and national monuments – but there are plenty more recommended stops. So get out for your family road trip packing list and set out for an epic South Dakota adventure!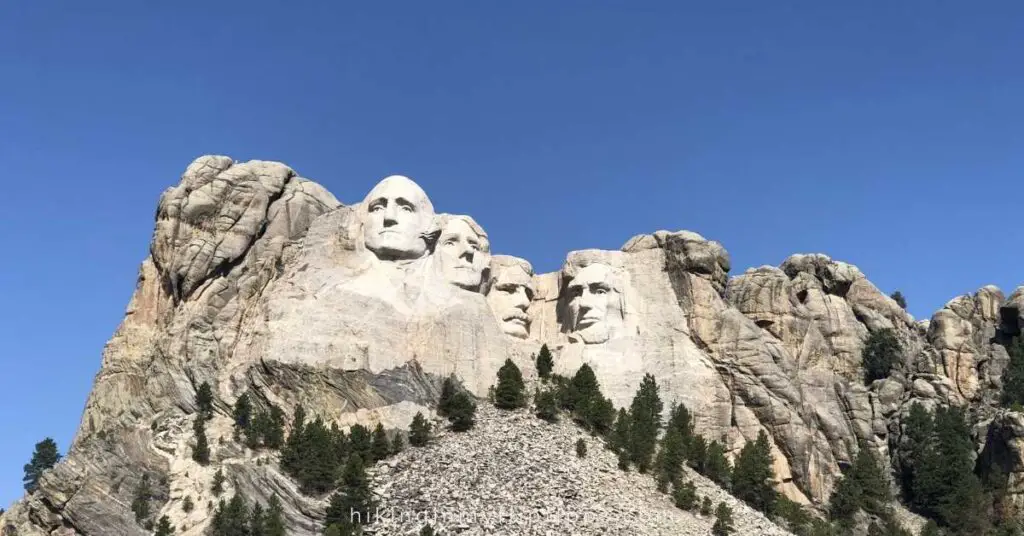 How to Plan a Trip to South Dakota
Western South Dakota has 3 major areas to plan a trip around, based on all the best sights and activities from lots of research and recommendations.
The first area, Spearfish Canyon and Deadwood, SD, is in the state's northwest region. The sights in this area can be brief, so they can easily be done in a day. Custer State Park and Mount Rushmore are a short drive south of Spearfish Canyon and Deadwood. There is a lot to do in this area, so if you have the time, plan 2 days here. Then head west to spend time in Wall and Badlands National Park. Plan for a full day here.
There are also plenty of worthwhile stops en route. When you plan a trip to South Dakota, build in time to visit these additional spots.
Spearfish Canyon and Deadwood, SD
There is less than a 30-minute drive between these two sights, so hitting both can be done in one day.
Spearfish Canyon
1. Drive the Scenic Byway
Alternate Hwy 14 is a 20-ish mile Spearfish Canyon Scenic Byway that runs through Spearfish Canyon in the Black Hills National Forest. The road is lined with limestone palisades and runs along Spearfish Creek.
If your schedule is tight, just the drive through the canyon is worth fitting into your itinerary. But if you have the time to make some quick stops, there are a few recommended sights along the way.
If hunger strikes along this scenic drive, stop at the Latchstring Restaurant, located in the southern half of the route, which gets excellent reviews from diners.
2. Stop to See the Waterfalls
Bridal Veil Falls, Roughlock Falls, and Spearfish Falls are worthy of pulling off to the side, even for just a minute or two.
Access to Spearfish Falls requires a short hike, but the 1.5-mile (round trip) trail is short and relatively easy. Keep in mind that access may be closed off when there is snow.
Where to stay in Spearfish Canyon: Rim Rock Lodge is located in the upper (northern) section of the Spearfish Canyon Scenic Byway. In the southern area, stay the night at the Spearfish Canyon Lodge. Both get excellent ratings on Google.
You Might Also Like: 5 Awesome Moab Hiking Trails Outside the National Parks
What to See in Deadwood, SD
Deadwood, SD, is filled with some of the most incredible histories of the Old West. It's aptly (and literally) named for the piles of dead wood found when the area was first discovered. With a creek filled with gold, the miners decided to stay.
Today, many people head for Deadwood to hit the casinos. If that's not quite your thing, there are other worthy sights in town.
3. Mount Moriah Cemetery in Deadwood, SD
Visit the Mount Moriah Cemetery to see the gravesites of Wild Bill Hickock and Calamity Jane. The paved paths throughout the cemetery roll along the hill, so you'll get a little exercise in this stop!
Parking is right outside the cemetery entrance, or get an even better workout by parking on one of the streets closer to Main Street and walking up to the cemetery.
4. Downtown Deadwood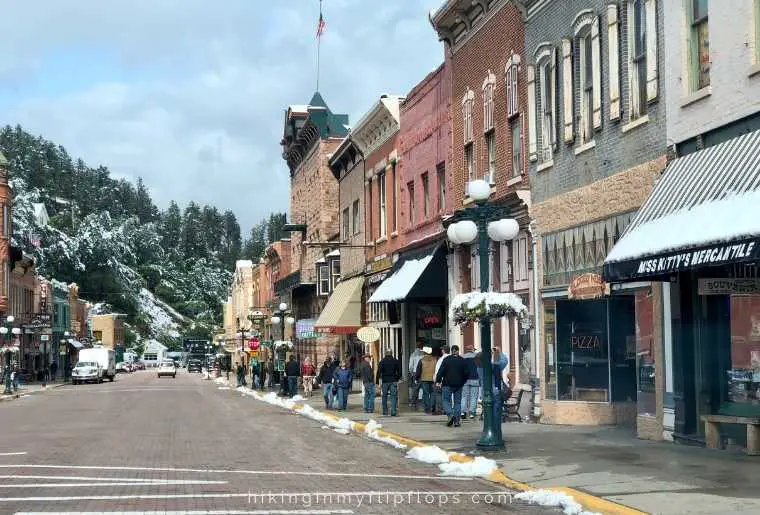 Main Street in Deadwood is a historic downtown area with lots of action. Take a stroll along the street lined with shops and restaurants, and hit the casinos if you are traveling without the kids.
5. Sandford Lab Homestake Visitor Center
A few miles south of Deadwood is the Sanford Underground Research Facility, where physics, biology, geology, and engineering experiments are conducted. While this area isn't open to visitors, the Sanford Lab Homestake Visitor Center is.
Learn about the research happening and see "The Open Cut" at this stop on your South Dakota itinerary. More than 1,000 feet deep, the surface mine was one of the most productive gold mines in US history.
Where to stay in Deadwood: several chain hotels, like Marriott and Hilton, are located just off Main Street in Deadwood.
Wall, SD and Badlands National Park
In many respects, Wall SD hardly compares with the Badlands. But when you're in the area, it's easy to put these two stops together in your South Dakota itinerary.
Wall, South Dakota
Wall, SD is a tiny town bustling with activity and fun history. Their claim to fame is all about a quirky little (or not so little) roadside tourist attraction.
6. Wall Drug Store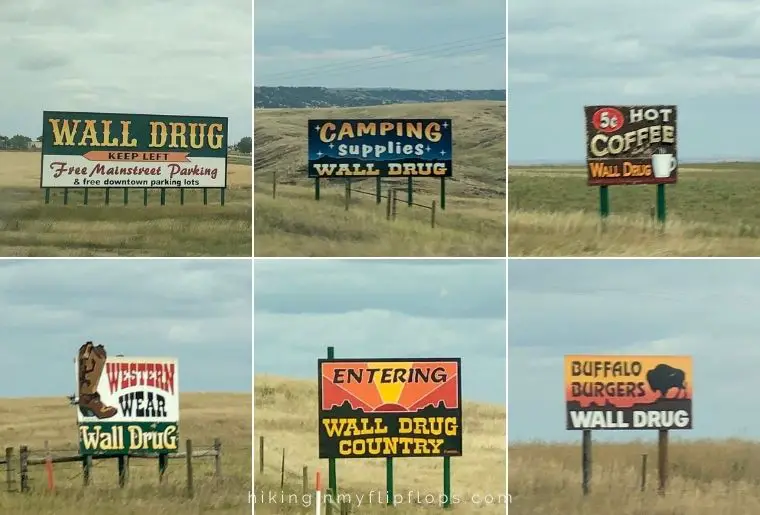 There is a lot to the famous Wall Drug Store. The history. Navigating through the building. How to spend your time there.
The consensus seems to be that Wall Drug is a worthwhile stop but not worth going out of the way to visit if you're in the area. And for the most part, we agree. If you plan to hit the Badlands, this is a must-see.
Shop
Browse through souvenirs, western wear clothing, jewelry, and other shops within this massive drug store. There's even a shop dedicated to camping and outdoor gear, with more Coughlin-branded items than I've ever seen in one place. Don't forget to pick up one of the free bumper stickers!
Eat
Time your stop for lunch or dinner to try their famous hot roast beef sandwich (it was ok, in our opinion, but we can now say we've had it!). Get it early, though, because they do run out. Their pies, donuts, and coffee are famous too. The pies got thumbs down from most of our group, but the donuts and coffee were pretty darn good. Don't miss the 5-cent coffee and free ice water!
Play
After lunch, head out the back of the store out to the playground to climb the jackalope statue.  
Where to Stay in Wall, SD: there is a small handful of 2-star hotels near downtown Wall. There is also a campground/RV park just about a block from Wall Drug.
Badlands National Park
When heading to the national park, we recommend a few stops near the park's eastern entrance.
If coming from Wall, head east in Interstate 90 to reach the road that heads into the Badlands. On your way, check out a few more fun sights.
7. Delta-09 Missile Silo National Historic Site
Back in the days of the Cold War, many spots in South Dakota held missiles buried underground. And you can peer down at a 1.2 megaton nuclear warhead at the Delta-09 Missile Silo National Historic Site.
If this is right up your alley, you'll also want to stop at the Minuteman Missile Visitors Center just up the road.
8. Prairie Dog Statue
This is another roadside attraction that is a quick stop. You can't miss the giant prairie dog statue right at the entrance.
The statue itself is a fun sight to see in a drive-by, or you can make a short stop here to feed the prairie dogs. The prairie dogs we have all over the city we live in scurry away before you can get too close. But these chunky little critters know they'll get fed, so they are more than happy to get up close to you.
If you want more prairie dog experiences – or more of the Old West – head up the road a little further to the Prairie Homestead.
You Might Also Like: 7 Seattle Sights that Aren't the Space Needle
9. Badlands National Park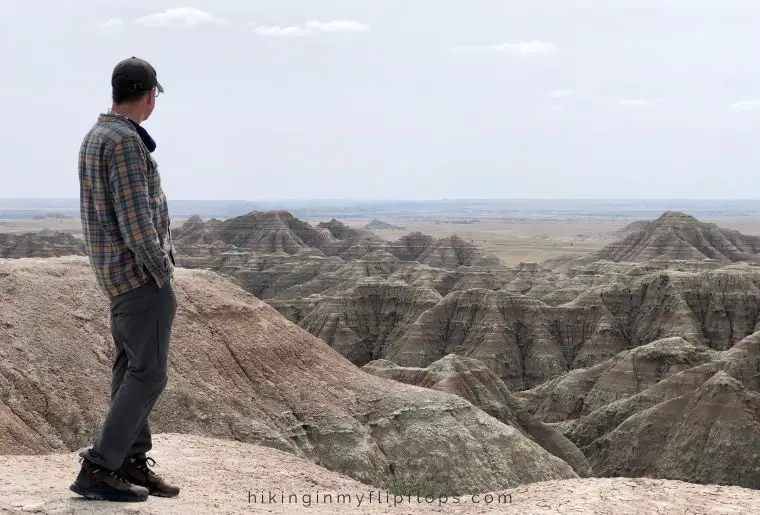 We spent about 4 hours exploring, which was plenty of time to experience the Badlands. We got in two short hikes during our time there, plus time at the visitor's center, a picnic, and stops at the best overlooks. Read more about planning a visit to the Badlands here.
Throughout your visit to the park, stay on the lookout for wildlife. Spot bison, bighorn sheep, and pronghorns are often found grazing near the side of the road.  
At the end of your day in Badlands, make your way to Custer State Park.
Where to Stay in the badlands: stay in cabins or at the campground (with tents and RV sites) Cedar Pass Lodge, located within the park. Sage Creek Campground offers additional tent sites.
Custer State Park and Mount Rushmore
Mount Rushmore
10. Iron Mountain Road Scenic Drive
Head north on Hwy 240 out of the badlands to leave the park at the Pinnacles Ranger Station. The quickest route to scenic Iron Mountain Road is through Wall, and if you didn't get there the first time, this is another chance to hit Wall Drug.
Continue towards Custer State Park, and head north on Iron Mountain Road immediately before the state park entrance.
One-lane tunnels and hairpin turns make Iron Mountain Road a bit of an adventure. Along this route, you'll get views of the Black Hills National Forest, drive through one-lane tunnels, and as you near the end of the road, unique views of Mount Rushmore.
This is a great time to hit Mount Rushmore for the evening light show if you're coming through in the evening. The $10 entry fee is good for one year, making it easy to visit twice on your trip.
11. Mount Rushmore National Historic Site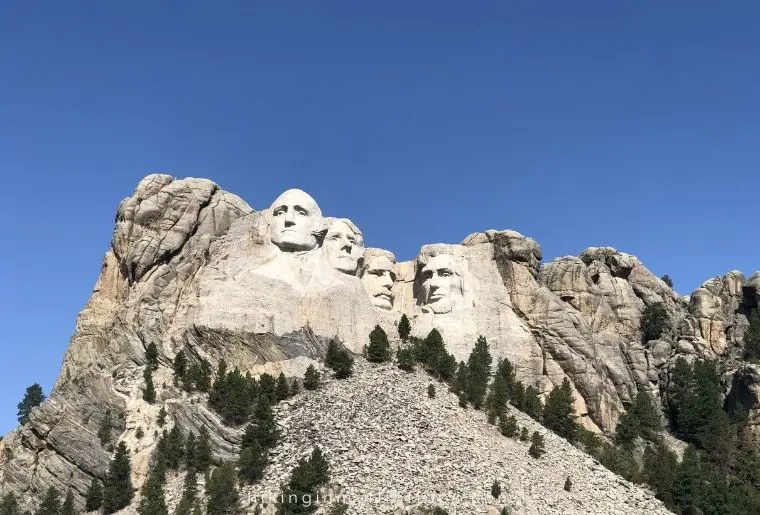 Mount Rushmore gets busy quickly, so get there early for unobstructed views of the state flag-lined path to the stone carvings of some of our past presidents.
Other than capturing way too many pictures of Mount Rushmore, we spent some time in the visitor center and gift shop. There is food sold onsite too.
12. Mount Rushmore KOA at Palmer Gulch
Public lands are our first choice for campgrounds, but we like the consistency and amenities at campgrounds like a KOA when we're on the road this long. We came here for the showers, laundry, and access to WiFi for school and work but found all kinds of events and activities at the KOA that are worth the stop even if you're not staying here.
They have everything from rodeos and UTV rentals to mini-golf and a water slide. There is a pancake breakfast each morning and a coffee shop on site. Almost all recreation is open from Memorial Day to Labor Day.
Where to Stay Near Mount Rushmore National Monument: there is plenty of places to stay near Mount Rushmore. Find chain hotels nearby in Keystone, SD, and many local hotels surrounding the National Monument. There is also a lot of public and private campgrounds in the area.
Custer State Park
13. Wildlife Loop Road
Wildlife Loop Road is another scenic route on our list. As the name implies, the drive throughout Custer State Park is a fantastic opportunity to see some wildlife. Take this drive early in the morning or evening for the best chance of seeing bison, pronghorn, elk, burros, and other animals.
Pro tip: bring some extra snacks. The burros are especially friendly here and have learned that visitors will share their snacks and lunches with the burros. While park rangers prefer you don't feed them, the "begging burros" won't hesitate to ask.
Wildlife on the roads means slower speeds and longer drive times. Plan for an hour or two to cover the 18-mile stretch of road.
14. Hike Sylvan Lake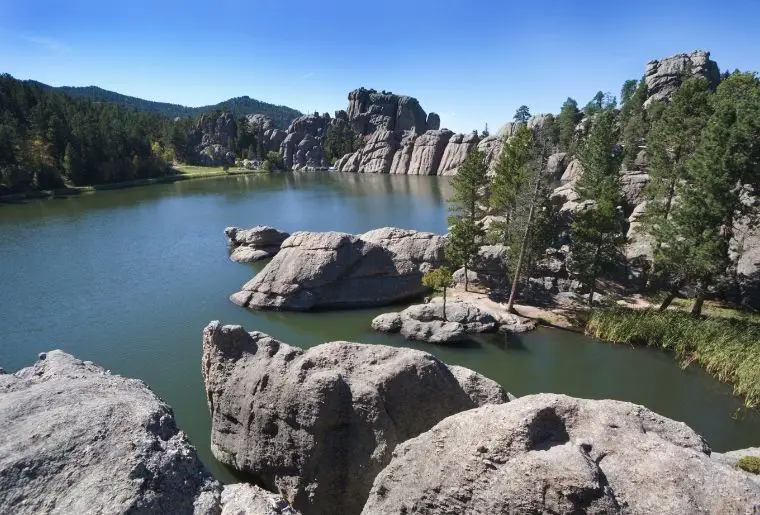 Start at the Sylvan Lake Shore Trailhead to hike a 1.1-mile loop around Sylvan Lake. This flat trail is excellent for kids.
Gather a few of your favorite road trip foods to couple this hike with lunch at the nearby picnic area and a stop at the General Store.
15. Chuck Wagon Cookout
Book a reservation with the Blue Bell Lodge for their nightly chuck wagon cookout. The evening begins with a scenic hayride from the lodge. Dinner is a choice of steak or burger served with lots of sides and "fixins."
Get dinner and entertainment for about $60 a person.
The Mount Rushmore KOA at Palmer Gulch also offers a chuck wagon cookout, but only during high peak season (generally Memorial Day through Labor Day).
You Might Also Like: The Perfect Family Itinerary for One Day at the Grand Canyon + the 10 Best Sights
16. Needles Highway
One more scenic route for you to plan a trip to South Dakota! Needles Highway is a 14-mile route that runs through Custer State Park, between Mount Rushmore National Monument and Crazy Horse Memorial.
This narrow and curvy road is closed in the winter and isn't RV-friendly.
17. Crazy Horse Memorial
Mount Rushmore isn't the only mountain carving you'll find in South Dakota. The work to create the Crazy Horse Memorial was started more than 50 years ago – and is still unfinished.
When visiting, spend time at the museums, gift shop, onsite restaurant, and on one of the tours that bring you up close to the Crazy Horse carving.
Where to Stay at Custer State Park: there are many camping options in Custer State Park, along with a few lodges in the park. Try Sylvan Lake Lodge (close to the Sylvan Lake Shore Trailhead) or Blue Bell Lodge (offering the chuckwagon cookout).
Plan a Trip to South Dakota With Stops En Route
When you plan a trip to South Dakota, there are plenty of stops to include en route and while you're in the area. We have a few recommendations for the most common routes.
Coming in from Colorado
From the northeastern corner of Colorado, through Nebraska, and into South Dakota, has plenty to see along the way.
18. High Plains Homestead (Nebraska)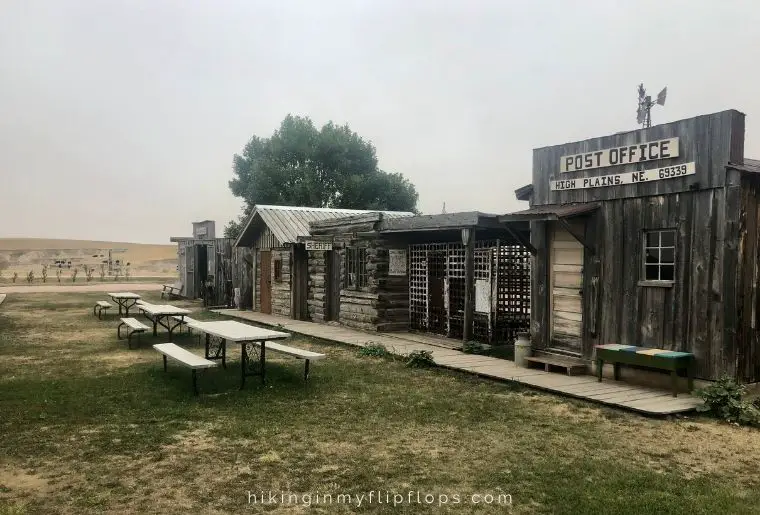 Stop by the High Plains Homestead (263 Sandcreek Rd, Crawford, NE)
to explore the old buildings and structures. There is an old jailhouse and schoolhouse and a pool onsite.
Stay the night in one of the cabins, or bring your tent or RV to set up on one of the campsites.
19. Toadstool Geological Park (Nebraska)
Just like the name says, you'll see toadstool-shaped geological formations at this park. Take the opportunity to stretch your legs on the one-mile hiking trail (loop). Make sure to pick up the interpretive brochure to learn more about the geology along the path.
20. Scotts Bluff National Monument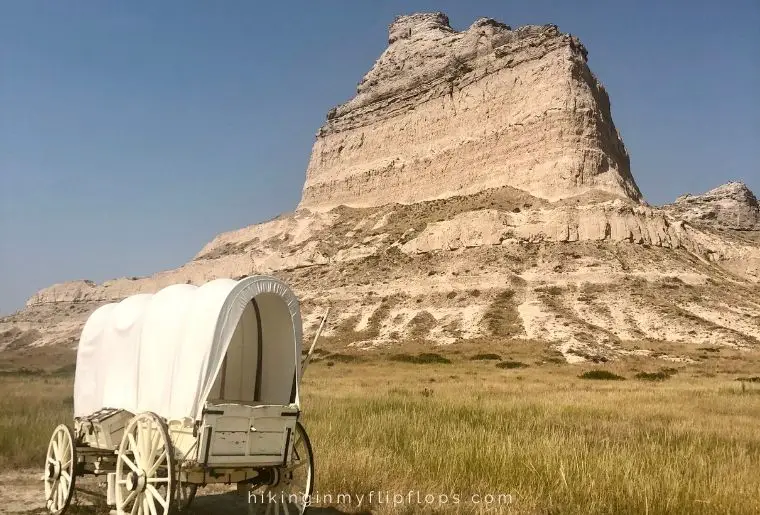 Not only are there gorgeous views in every direction here, but you'll also get to experience a little bit of the Oregon Trail.
From the entrance, drive right up the mountain that takes you through a few tunnels along the way. At the top, take the short, paved trails for views in every direction. Signs along the way explain the significance of the land in front of you.
This stop can be done in less than an hour, but walk the hiking trail at the top of the bluff if you have more time. If you have lots of time here, you can start the hike from the bottom.
Related Reading: 85 Awesome and Unusual Things to Do In Colorado for Your Next Trip
21. Wind Cave National Park (South Dakota)
We were unsure if this was worthy of putting on the list. There are currently no cave tours because of needed repairs at Wind Cave.
But there are still scenic drives, hiking, camping, and wildlife viewing at this national park. The visitor center is also open. So if you want to check another National Park off the list, this stop may be worth the slight detour.
22. The Mammoth Site (South Dakota)
The next stop is at the world's largest mammoth research facility: The Mammoth Site.
Take a self-guided tour, observe the action in the indoor active dig site, and see Ice Age fossils while you're there.
Coming in from Wyoming
23. Devils Tower National Monument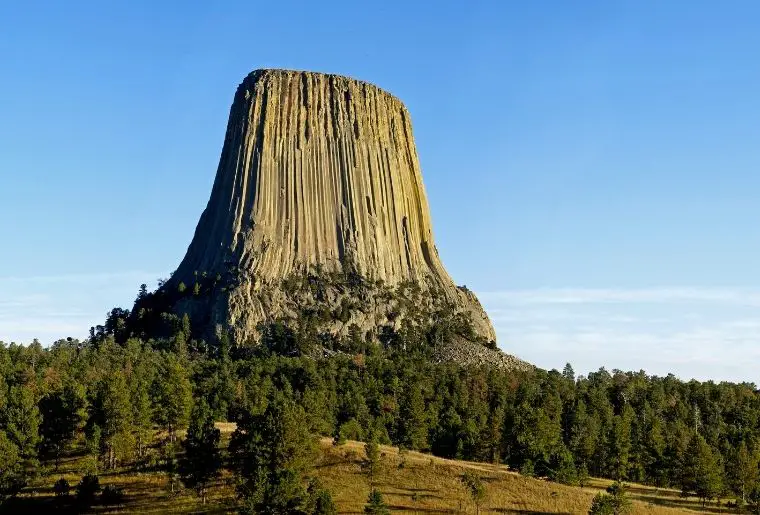 Hike, climb, stargaze, or just observe this impressive geological feature in Wyoming on your trip to South Dakota.
Devils Tower National Monument holds a strong connection with many of the region's Indigenous people. Learn about their stories here.
Coming from eastern South Dakota
These stops are ordered to plan a trip to South Dakota from the state's eastern side and head west. Plan them in reverse order if visiting these on your way home.
24. The Best Ice Cream in Sioux Falls
Swing by Stensland Family Farms Ice Cream for a cone filled with a locally made, farm-fresh frozen treat – oh, and it's been recognized as the best ice cream in South Dakota! The farm is located in Larchwood, SD, but they've set up an ice cream shop in Sioux Falls.
25. Porter Sculpture Park
Any stop that gives us the chance to get out and stretch our legs is a good one. More than 50 "larger than life" sculptures are at Porter Sculpture Park in Montrose, SD, including a 60-foot bullhead.
Visitors are welcome to climb the sculptures, which are situated in an 18-acre outdoor space.
26. World's Only Corn Palace
The original corn palace was originally built more than 100 years ago to demonstrate the region's vital agriculture. The constantly changing murals are a big draw to the roadside tourist attraction in Mitchell, SD.
You'll always find something different here, with the colorful themes changing annually.
27. Dignity of Earth and Sky
This 50-foot tall, 12-ton statue in Chamberlain, SD, was created to honor the Native Nations of the Great Plains. Dignity of Earth and Sky overlooks the Missouri River. You won't regret a stop to see this impressive work of art.
What is the Best Time to Visit South Dakota?
South Dakota is bustling with activity in the summer months, from Memorial Day through Labor Day.
Avoid the chaos, long lines, and sold-out lodging and events by visiting late fall, winter, and early spring. Also, keep in mind that there are some seasonal closures.
---
If you're looking for an unforgettable family adventure, plan a trip to South Dakota to explore all that the state has to offer. From the awe-inspiring Mount Rushmore National Monument to the endless beauty of the Badlands National Park, there's something for everyone in this stunning corner of America. Make sure to add Wall Drug Store and historic Deadwood to your South Dakota itinerary – you'll be glad you did!
---
Click below to save these ideas for your road trip through South Dakota on Pinterest!