Our annual summer family vacation to a beach house in Dauphin Island, Alabama, is one of our favorite trips of the year. As much as we love that vacation with the kids, packing up for that trip was never much fun. But we've finally perfected our family beach trip packing list to make getting ready for the trip a breeze. And now, we're sharing that list here with you to use on your next family trip to the beach. 
This list has it all covered. From sunscreen and swimsuits to beach games and boogie boards, check out all the essentials for your beach vacation checklist for family getaways, and get ready to have some fun in the sun!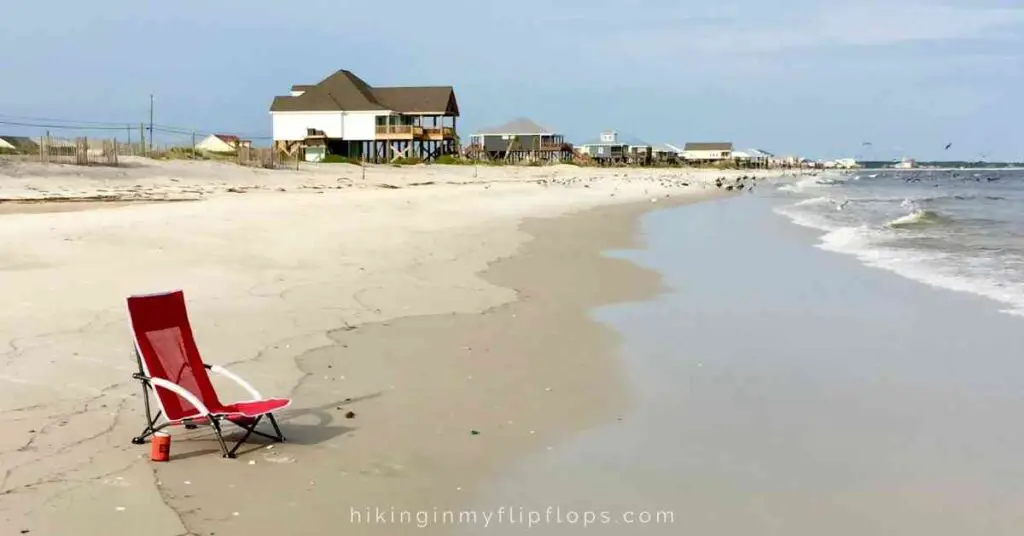 Tips for Making Your Beach Trip Checklist
If you don't have much room on your trip there, you can always buy cheap versions of some beach items at your destination. We sometimes purchase beach towels and an inexpensive cooler that we'll donate or leave at the house for the next guests. 
Summer clothing doesn't take a lot of room in your luggage, but you can save more space by doing laundry during your trip.
Don't overestimate all that you'll need for your trip. While it's nice to have things to entertain the kids with many different floats and sand toys, the stress of packing everything might not be worth it. 
Your family beach vacation packing list might look different if you stay in a hotel rather than a beach house rental. Add items if you will be cooking most meals at a house or if you will want a few more comforts of home at your hotel. Are you just taking a day trip? Skip over the last sections and make your list even shorter!
The Ultimate Family Beach Trip Packing List
No matter what beach destination you choose, you don't want to forget any of the beach essentials or personal items you need when you are not at the beach.
Beach Essentials for the Perfect Beach Day
This part of your family beach trip packing list includes anything you'll want to bring to the beach each day. These essential items are
Things for Getting in the Water
Swimsuit (or two) & rash guard for each person
Swim goggles
Water shoes for the water, but also to protect from the hot sand (flip-flops are good for the sand, but not for the water)
Water toys like floats, boogie/bodyboards
Waterproof case for your phone from the water
A Packing List for the Playing or Relaxing on the Sand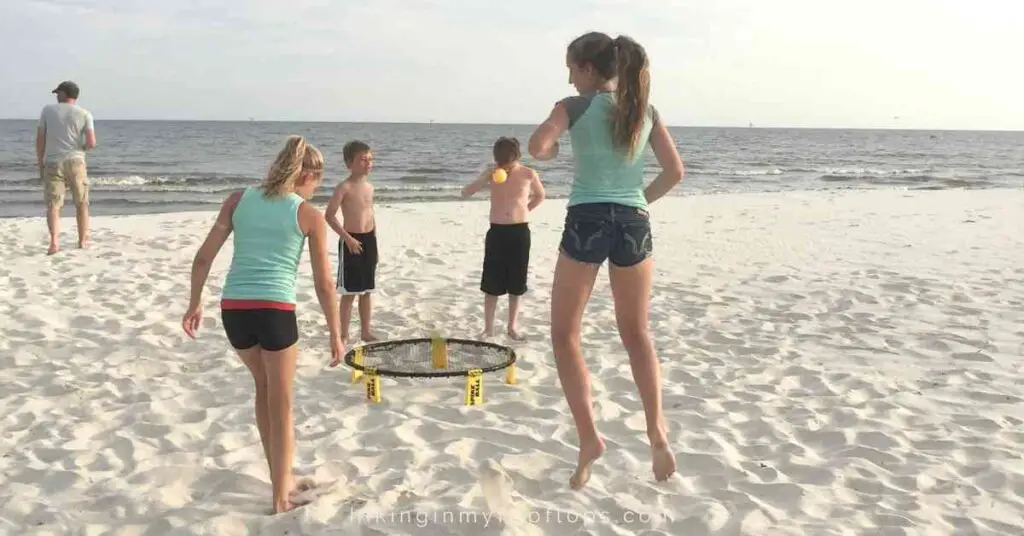 Sun protection, including sunscreen and wide-brimmed hats (don't forget to protect lips with a lip balm with sun protection)
Sunglasses
Beach canopy or beach umbrella for shade, especially if you'll have little ones napping on the beach (pro tip: pack empty sandbags to weigh down the canopy or umbrella)
Beach blanket for when towels are too damp to lay on
Beach chairs (or camping chairs)
Beach toys for playing in the sand
Spikeball or other fun beach games
Beach towel for each person
Books or magazines
A travel board game or waterproof deck of cards for breaks from the water
Miscellaneous Items for Your Day at the Beach
A large beach bag to keep towels and personal items organized
A portable speaker (a waterproof speaker is best for the beach)
Dry clothes to change into for the trip home, if you're not staying right on the beach (make sure to also pack a bag for wet clothes)
Beach cover-ups for walks on the beach or quick trips into a store or restaurant
Travel-friendly snacks (we pull a few ideas from our favorite hiking snacks and road trip snacks) and a reusable water bottle for each person (it's essential to stay hydrated!)
A small, properly chilled cooler to keep snacks and drinks cold
Aloe vera in case of sunburns
A rugged wagon to transport everything
What Clothes to Pack for a Beach Vacation
Because we're usually tight on space, whether we fly or road trip to the beach, we pack enough outfits for 2-3 days. Like most beach houses, there is a washing machine and dryer where we stay. Even if you're staying in a hotel, you may be able to do laundry there. If you're unsure, call ahead to see if laundry is available.
Shorts and tee shirts for exploring around town
Socks, bras, and underwear
PJs
Walking shoes
An outfit appropriate for dinner out
Workout clothes (I skip the running shoes and just run on the beach)
A light long-sleeve shirt for cooler, breezy nights
Toiletries for Your Family Beach Trip Checklist
This part of the list should be modified for your specific needs, but the simple list below will get you started. We need to add things like inhalers and Invisalign trays.
Hair products, including shampoo, conditioner, detangling spray, hair ties, and a hairbrush or comb
Glasses and/or contact lenses (don't forget your case and solution!)
Moisturizers
Medications
Face wash and body wash
Razor and shave cream
Deodorant
Toothbrushes and toothpaste
Family Beach Trip Checklist Personal Items
Devices and chargers
Sleep mask
Stuffies and blankets for little ones
Pillows, if you sleep better with your own
Additional items for your road trip to the beach, if driving to your vacation destination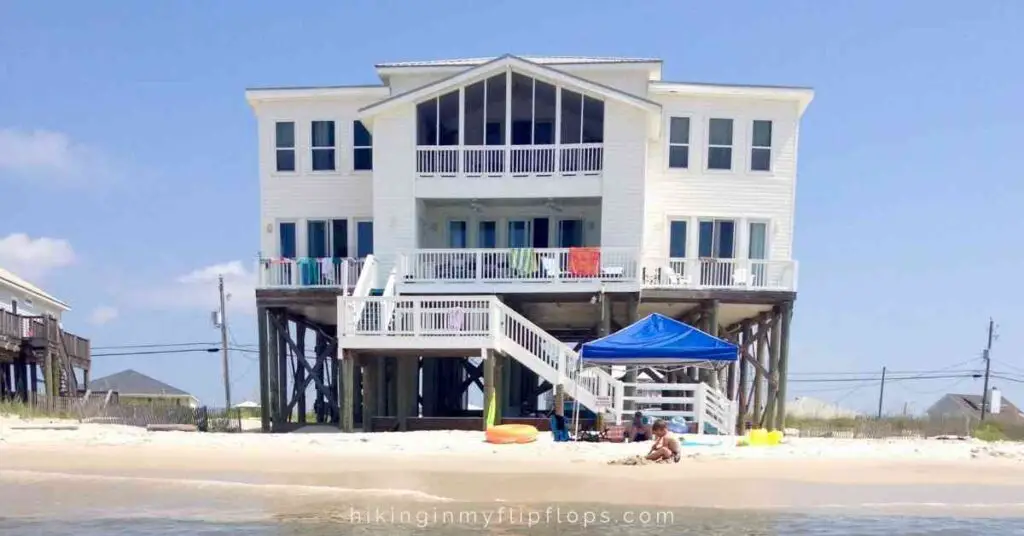 What to Bring to the Beach House
When renting a house for your beach vacation, consider adding a few items to take advantage of your home away from home. Whether you pack these items at home or add them to your shopping list when you arrive at your beach destination, consider including these on your family beach vacation packing list to make your vacation a little easier. 
If there is a washing machine, pack laundry detergent. Rentals often have some, but it might not be your preferred brand, or there may not be enough for all of your laundry.
We bring paper products, including paper towels, paper plates, and disposable utensils and cups. With so much activity during our beach trip, we don't always stay ahead of the dishes. We use these as backups when the dishes are all dirty, but we'd rather be out at the beach. 
Your favorite specialty kitchenware that may not be available at the beach house, like an immersion blender, citrus juicer, or garlic press.
We bring pre-mixed seasonings for planned meals, so we don't need to transport or buy full bottles of herbs and spices.
We also pack hand soap for the beach house because the small bars usually provided are very drying.
Extra toilet paper because the rental house often has only a roll or two. 
We like to keep this list relatively simple, so we're not overpacking. Here are more ideas to consider for your beach vacation checklist for family vacations when staying at a rental house.
Download Your Family Beach Trip Checklist
As we're packing up for our next beach trip, we made our checklist in a printable version for our readers. Click below to get a copy to print for your next family beach trip!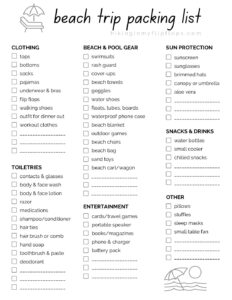 ---
When you're ready to hit the beach on your next family vacation, make sure you have everything you need with this family beach vacation packing list. This complete list will ensure you don't forget a thing from clothes and toiletries to sunscreen and snacks. All you need to worry about is relaxing by the sea.
---
Make sure to save this family beach trip checklist on Pinterest!